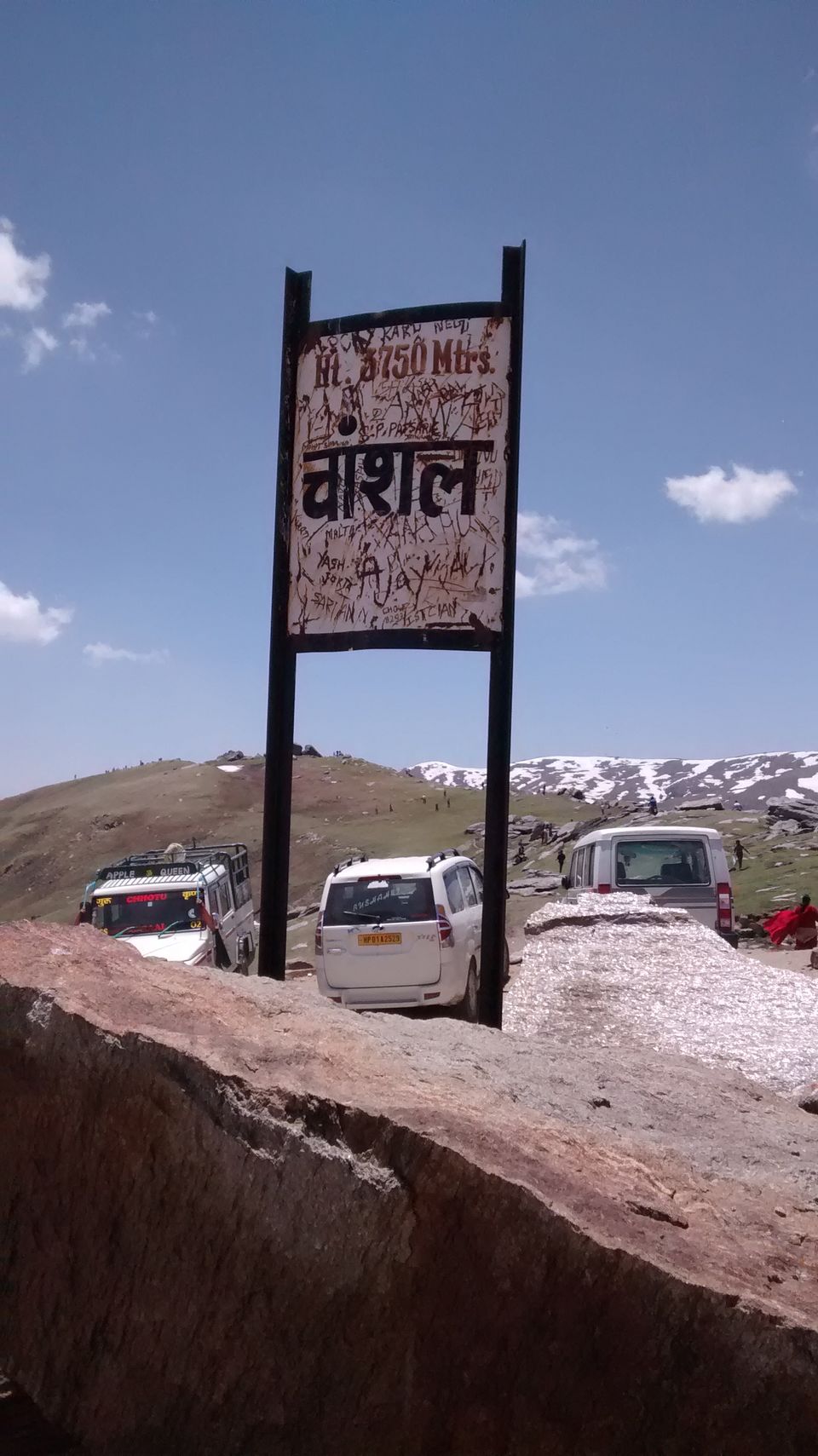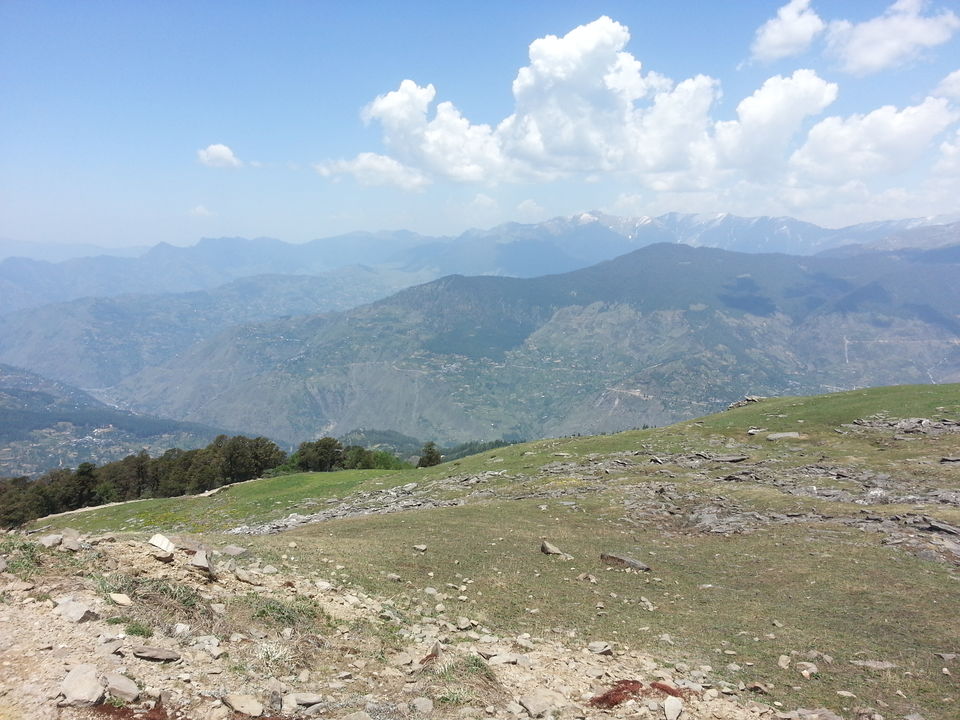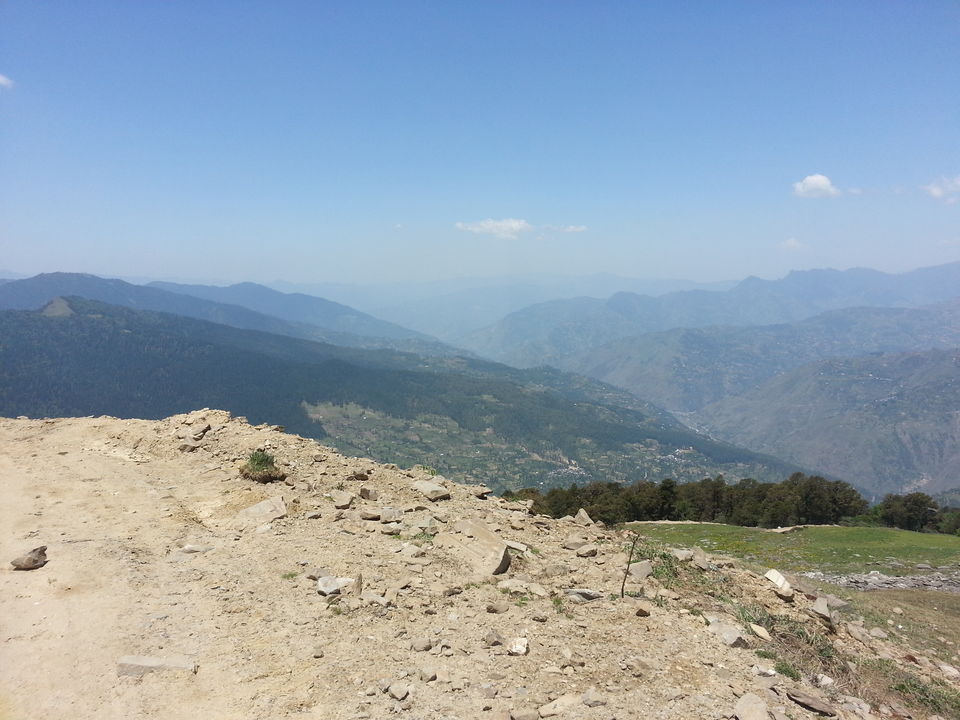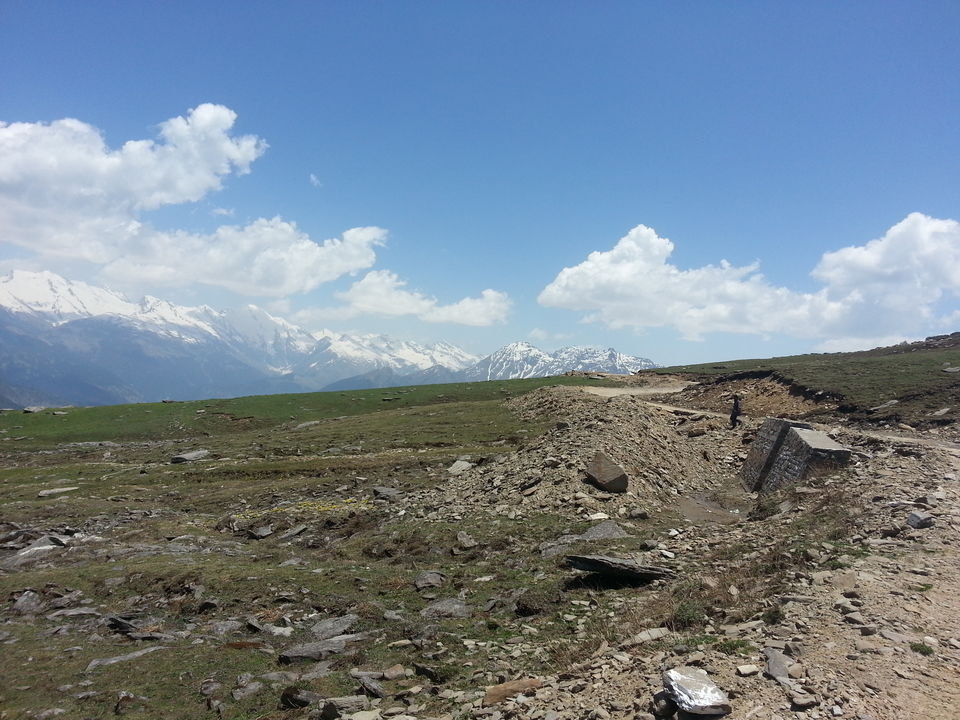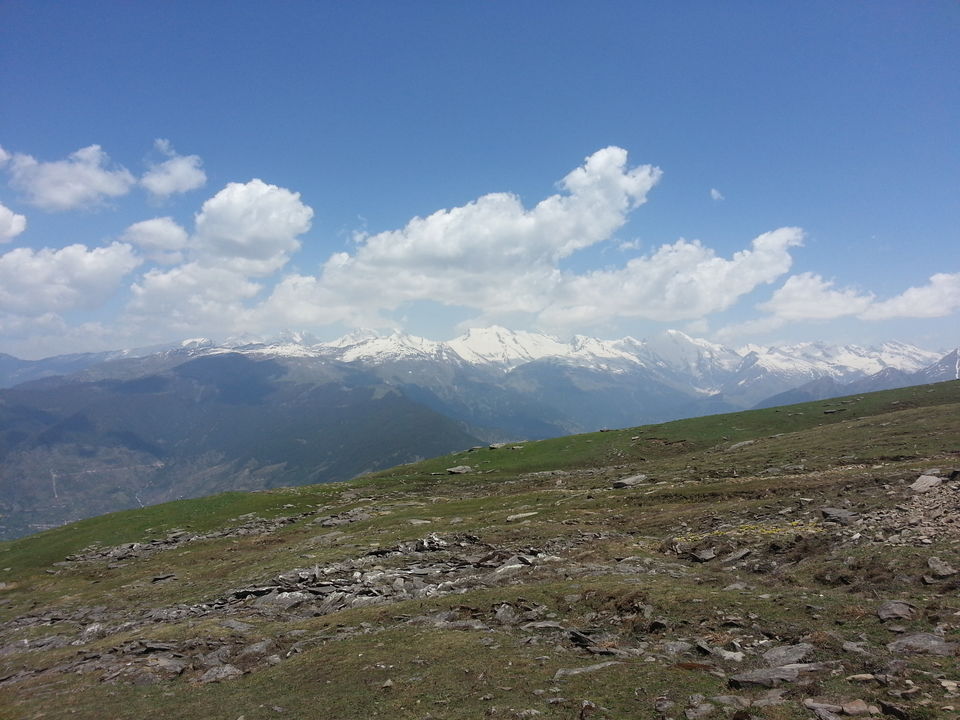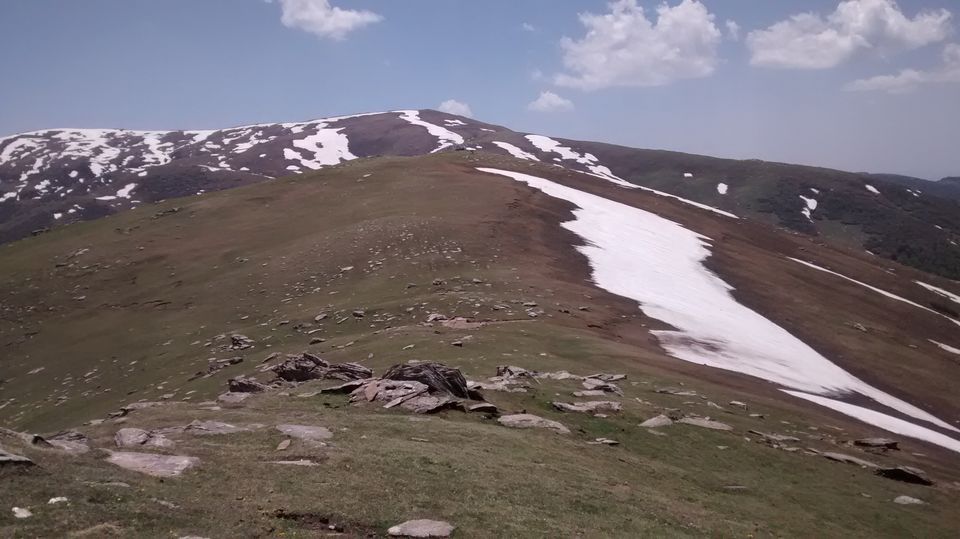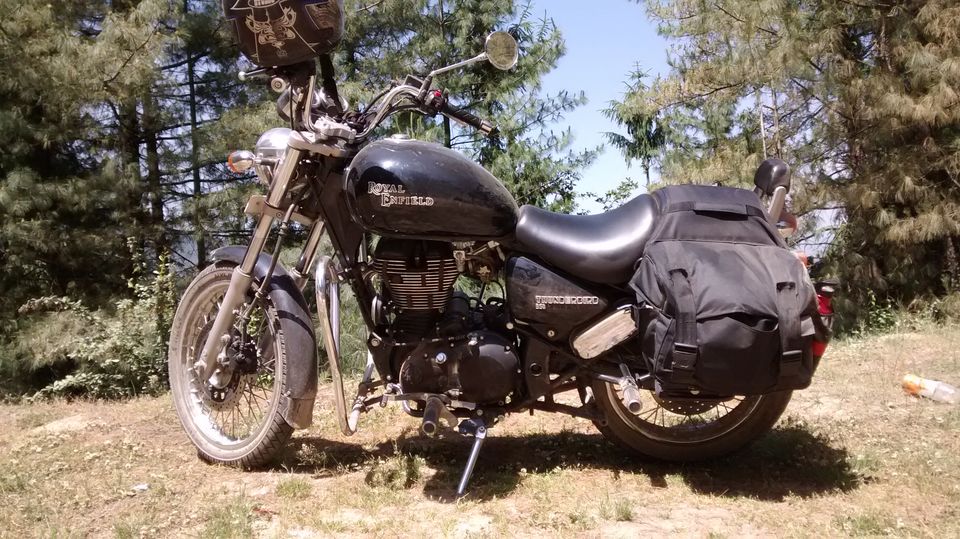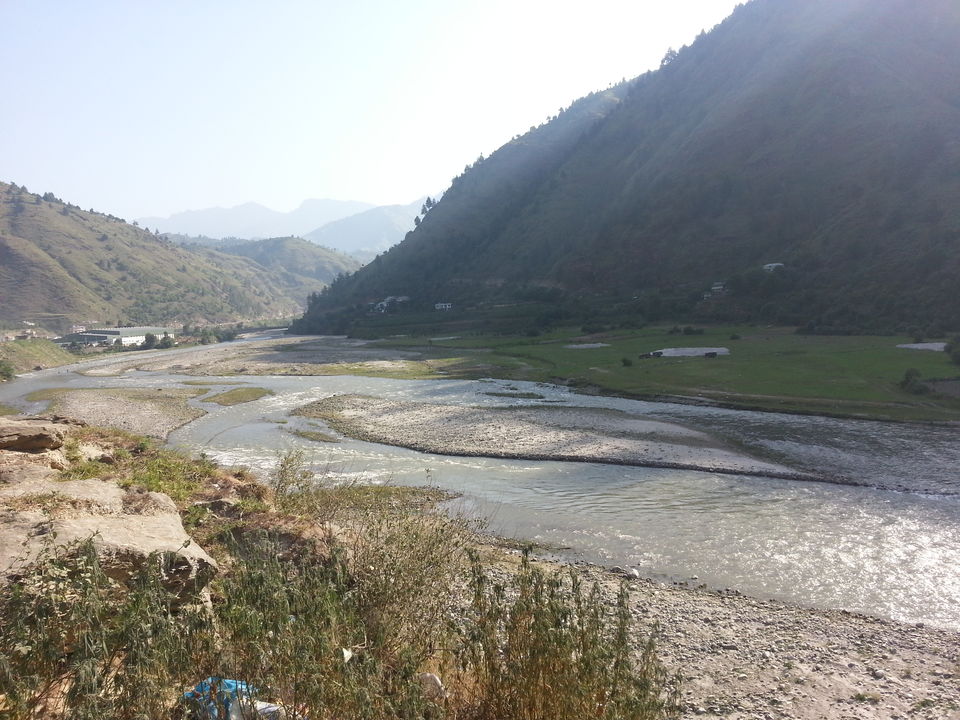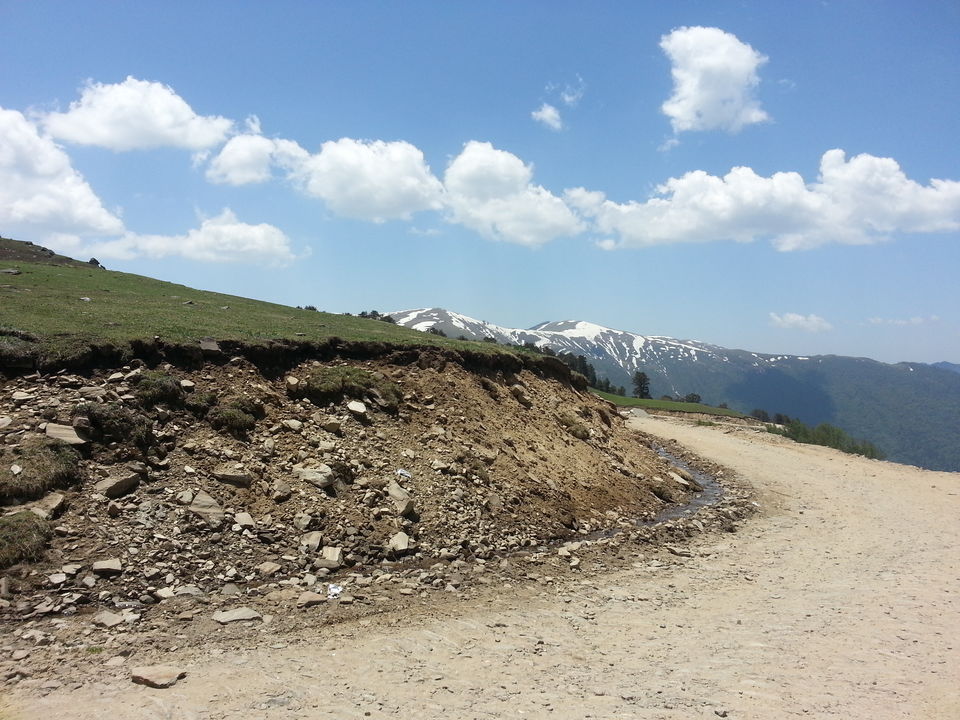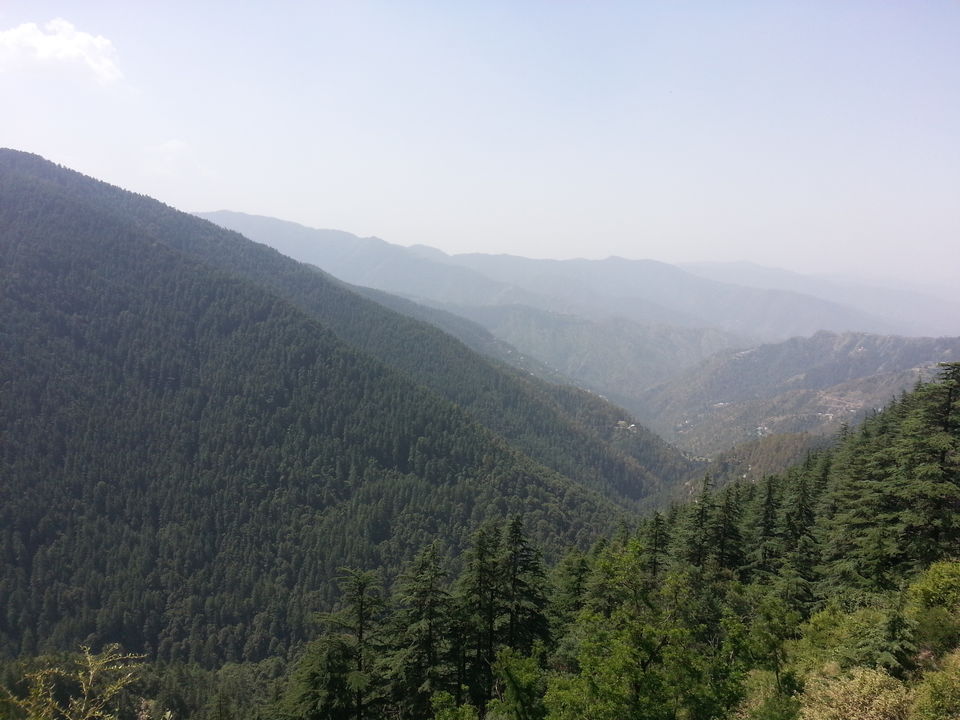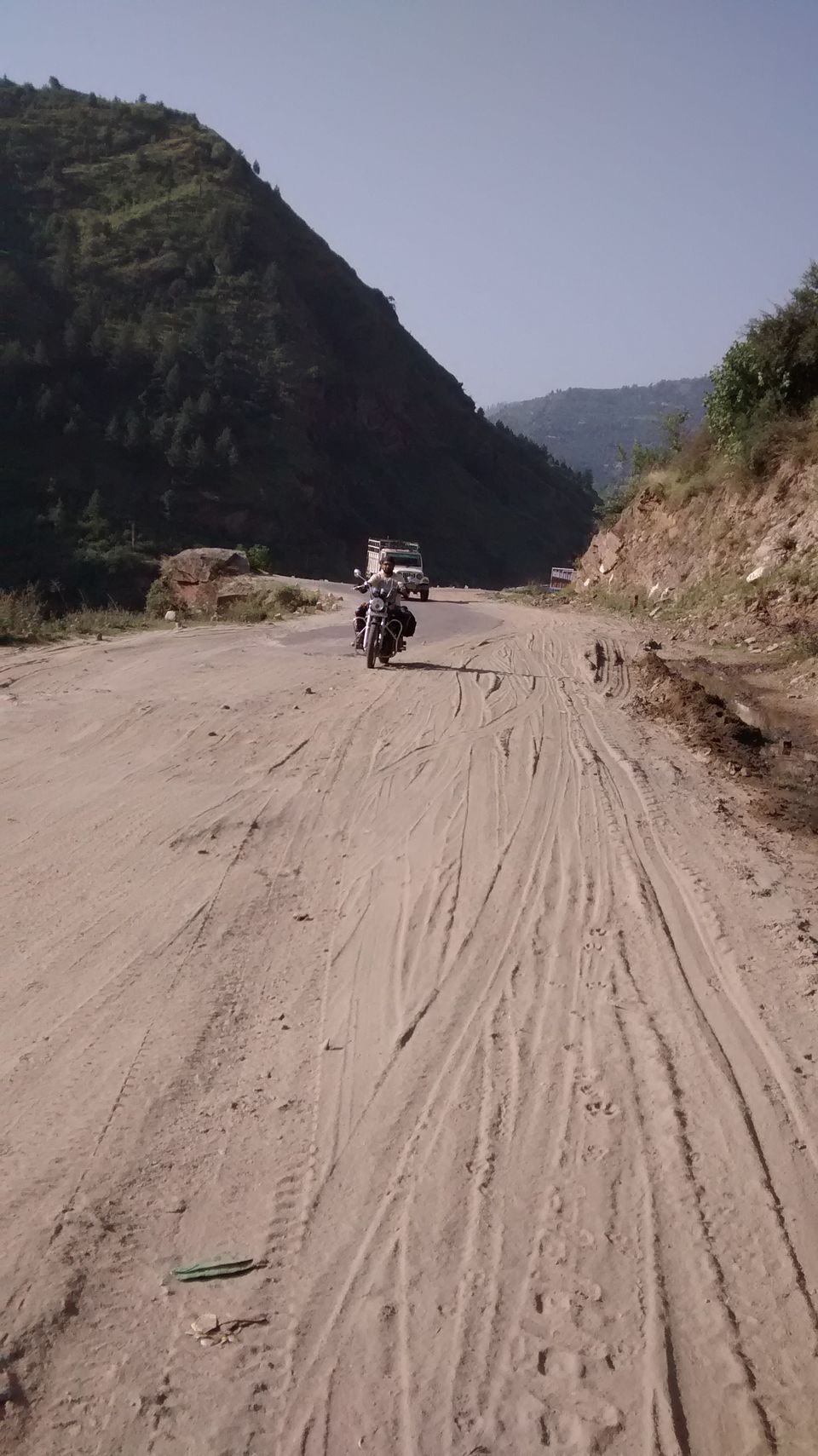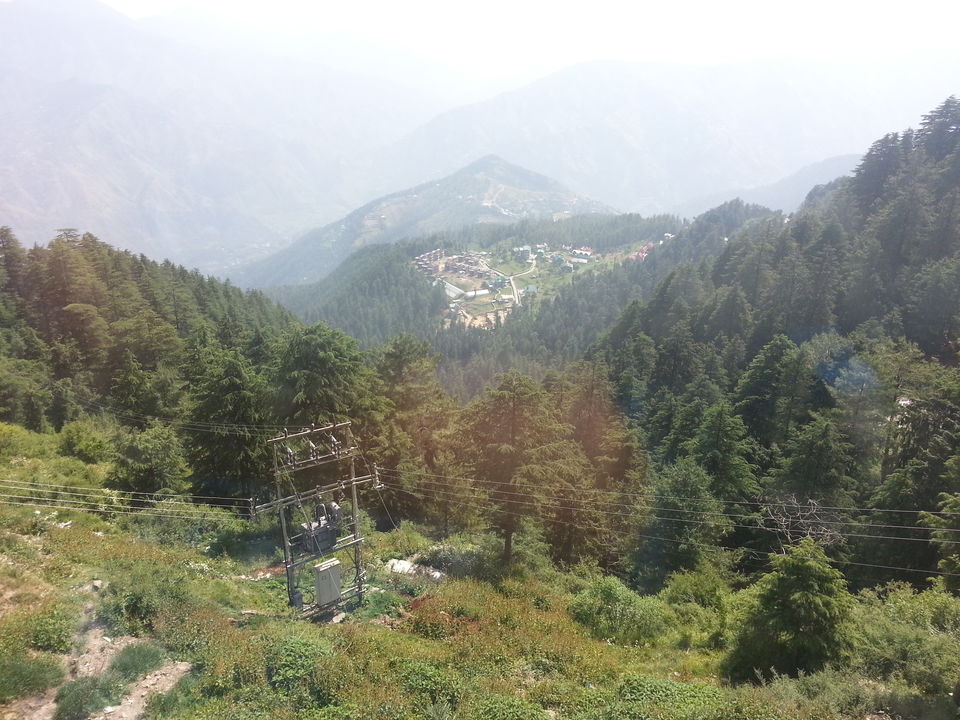 The Chanshal pass also known as Chanshal valley, located about 160kms from Shimla is one of the places which best serves the nomadic appetite of the otherwise shackled young brigade tired of the monotonous dawn to dusk schedules throughout the week. This place will definitely be better than a weekend spent doing rounds at the bar and you wouldn't end up burning a hole in your pocket. This is more like an extended weekend getaway which will leave you with memories to last.
The Valley sits on top of Chanshal peak which is the highest point of Shimla district. It is situated at height of 3750 Mtrs. The Chanshal Pass is a link (75Km) which connects Rohru & Dodra Kwar. The Chanshal Peak, which is the highest & best point of visit, is located at a distance of 50Km from Rohru. The valley is one of the best places for bike ride. Roads are steep and tough to drive.
The Valley is very peaceful and famous for its scenic beauty. You can have a view of hills covered with snow even in the month of June. You can park your vehicles on the road and trek to the top of hill. All hills are connected to each other and are easily accessible on foot. However, there is no place to stay in the Valley. Nearest accommodation available is in Rohru and there is only one guest house for stay (The Chanshal) by HPTDC. There are no shops for refreshments from Rohru till the Valley.
There are two routes from Shimla to Chanshal Valley:-
1) Shimla-Theog-Kotkhai-Kharapathar-Hatkoti-Rohru-Larot-Valley (160Km)
2) Shimla-Theog-Narkanda-Tikkar-Rohru-Larot-Valley (175Km)
The condition of road on the first route was terrible and hence is not suitable for the bike ride. Second route is well constructed as compared to first one but is a bit lengthy.
Hello everyone, Myself, Vishal is going to share my experience of bike ride from Gurgaon (Haryana) to Chanshal Valley along with my friend Rohit from 6th to 8th June 2014. It was the first bike ride for both of us, therefore we decided to take only one bike (Royal Enfield Thunderbird 350cc) to minimize the problems we could face during trip. If you are going for the first time on bike ride then there are some points you should keep in mind:-
1) Do not carry backpack or any other handbag. Buy special bags which can be attached to your bike so that you don't have to carry them all the time.
2) Keep First-Aid box with you. Wear elbow and leg guard for safety.
3) Do not carry too many clothes. In case of shivering, one can wear 2-3 shirts one over the other. But try to avoid woollen clothes.
Day 1:-We travelled from Gurgaon to Kharapathar and covered 484km as per bike meter reading.
1(a) Gurgaon to Zirakpur:- We started our journey on the bike on Saturday, 6th June 2014 at 5:45am. During morning hours we got saved from excess traffic and hence we crossed the Delhi-Sonipat border by 7.00am. From Delhi till Chandigarh, we took NH1 via Ambala. We crossed Karnal by 8.30am. Then, we had a halt for breakfast at about 10Kms ahead of Kurukshetra. We had a light breakfast and soon we re-started our journey at 9.45am. We reached Zirakpur flyover chowk by 11.30am and turned towards panchkula to avoid Chandigarh entry.
1(b) Zirakpur to Shimla:- Sun was on the top of our head and it seemed to be the hottest day of the year. We crossed Pinjore at 12:30pm. From Pinjore, hills started appearing in line and we got the feeling of an actual bike trip. As we were lagging behind the schedule we had to speed up our bike and reached Solan at 1.45pm. In Solan, we found Royal Enfield service centre and hence had a brief check on bike. In the meantime, we called "The Chanshal" Guest House reception, the only guest house in Rohru by HPTDC, for room availability and road condition from Shimla to Rohru. He informed us that road condition was not that good and it would take 4 hours to reach Rohru from Shimla. Thinking that sun would set at 7.45pm and we should reach there by at max 8.00pm, we left the place at 2.30pm. It took us 70 minutes to reach Shimla and thanks to local city traffic, we crossed Shimla by 4.00pm!
1(c) Shimla to Kharapathar:-We reached Kufri in 20 minutes and then Theog in another 20 minutes. From Theog, there are two routes for Rohru. One route is by Kharapathar and other by Narkanda. Being a short route, we decided to take Kharapathar route. At the starting, road was not good at all and we were expecting little better road. After 3-4Kms, we asked one local person regarding road condition and he told us that the road would be worse than this ahead. After another 2 Kms, thankfully we had been riding on a well constructed road. But that didn't last for more that 3kms. The road was full of patches. After around 15kms, road was getting worse and worse. We didn't even get a 100m stretch of well constructed road. At a place called Gumma, It seemed like road was never constructed before. Our bike average speed was not more than 15km/hr. It was already 6.30pm and still we had to travel 50kms to reach Rohru. Just have a look on photographs which I have attached. You can get an idea of the condition of the road. In meantime, we decided to find some place to stay in Kharapathar in case if we got late. It was already 7.15pm and we were still quite far for Kharapathar. Road was so bad that it seemed like Kharapathar would never come. At last, we reached Kharapathar at 7.45pm and there we asked for a place to stay. Luckily, we got guest house "Giriganga" managed by HPTDC. We checked in guest house and had a bath to feel fresh. Weather was too good and view from balcony was awesome. We had our dinner and a sound sleep.
Day 2:-We traveled from Kharapathar to Chanshal Valley and returned back to Narkanda. We covered about 190km as per bike meter reading.
2(a) Kharapathar to Rohru:-We checked out the guest house early morning at 6am and started our journey to Chanshal Valley. Guest house receptionist suggested us a better road as compared to the main road. New road was a single lane but well constructed as compared to the main road and it met the main road just 5kms behind of Rohru. We covered the distance from Kharapathar to Rohru very easily. The scenic beauty was awesome at the outskirts of Rohru. There was a river parallel to road but plains around the river were of main attraction. We clicked some photographs there. Finally, we reached Rohru at 8.30am. In Rohru, we found "The Chanshal" guest house and booked a room for night stay. We had a heavy breakfast as there would be no shops for refreshments in Chanshal Valley. During breakfast, we decided not to book a room and rather would try for Narkanda.
2(b) Rohru to Chanshal Pass:-After breakfast we started our journey to the destination "The Chanshal Pass" at 9.30am. We collected some information about the road from local residents. According to them, road was normal till a place called Larot but will get worsened from Larot to Chanshal Valley. On the way to Larot, road was not so bad and we covered 30kms from Rohru to Larot in 2 hours. As expected, the condition of road after Larot was bad. Actually saying, there was no road. The Department had just cut the hills to make road but it was never constructed. The road was full of sand and boulders. Our average bike speed was 5-6km/hr but after 7-8km stretch, we found better road. A stretch of around 15-20 meters was full of mud because of melting of ice. It was really tough to drive in mud. We were lucky as it was not raining that time or it would have taken a lot of time to complete the journey. There was Jungle all around and somehow we reached a place 3-4kms before Chanshal Pass where we found some area covered with snow. So we stopped our bike to have sightseeing. After this place, it looked like we reached on top of the hills and we were riding on the edge of the highest peak. Finally, we reached our destination "The Chanshal Pass" at 1.30pm.
2(c) The Chanshal Pass:- We found a sign board of Chanshal with elevation 3750 Mtrs written on it. There we saw that all hills are connected to each other and people are walking from one hill to another. Some areas were covered with snow and some with greenery. We parked our bike there and had some photographs with sign board and then start walking. I had never seen this type of beauty ever before. We climbed up the hills and clicked some photographs of scenic beauty. We moved from one hill to another which were adjacent to each other, all covered with snow. We played with snow. We spent some time there to enjoy the beauty, and weather too was pleasant. We didn't have much time, hence after spending good 1.5 hours we started for return journey to Rohru. On the whole, this place deserved a good 4-5 hours.
2(d) Chanshal Pass to Narkanda:-We left Chanshal Pass at 2.30pm. While returning, we drove a bit fast. As we didn't have lunch till then, we found a shop where we had maggi and tea. We reached Rohru at around 5.00pm. As we reached there we had some drinks and after asking for way to Narkanda road, we started for Narkanda. We didn't find the correct road to Narkanda and took the wrong path. We got confused and asked again and then found right path. Road was single but good for travelling. We drove fast as our target to reach Narkanda was at about 8.00pm. On the way, we got confused again and took the wrong path. Consequently, we covered extra 10kms and it seemed impossible for us to reach Narkanda on time. We found the badly constructed road from Tikkar to Narkanda. In the meantime, we decided to stay in Tikkar as there was guest house by HPTDC. But then we tried hard to reach Narkanda on time. It was dark after 8.00pm and road was also badly constructed. We drove carefully and finally reached Narkanda at around 9.00pm. There we found a hotel to stay. We were very tired and we just had our dinner and took rest to wake up on time in the morning.
Day 3:- Return Journey
Narkanda to home:-We started our journey back to home. From Narkanda to Shimla, the road was a state highway and doubly paved. We drove fast and reached Shimla on time. From Shimla, weather had a drastic change as expected. It was too hot. We reached Chandigarh at 2.00pm and then finally our destination, Gurgaon at 7.00pm.
Frequent Searches Leading To This Page:-
chanshal pass himachal pradesh, chanshal peak height, height of chanshal peak, chanshal pass snowfall, chanshal pass height in feet