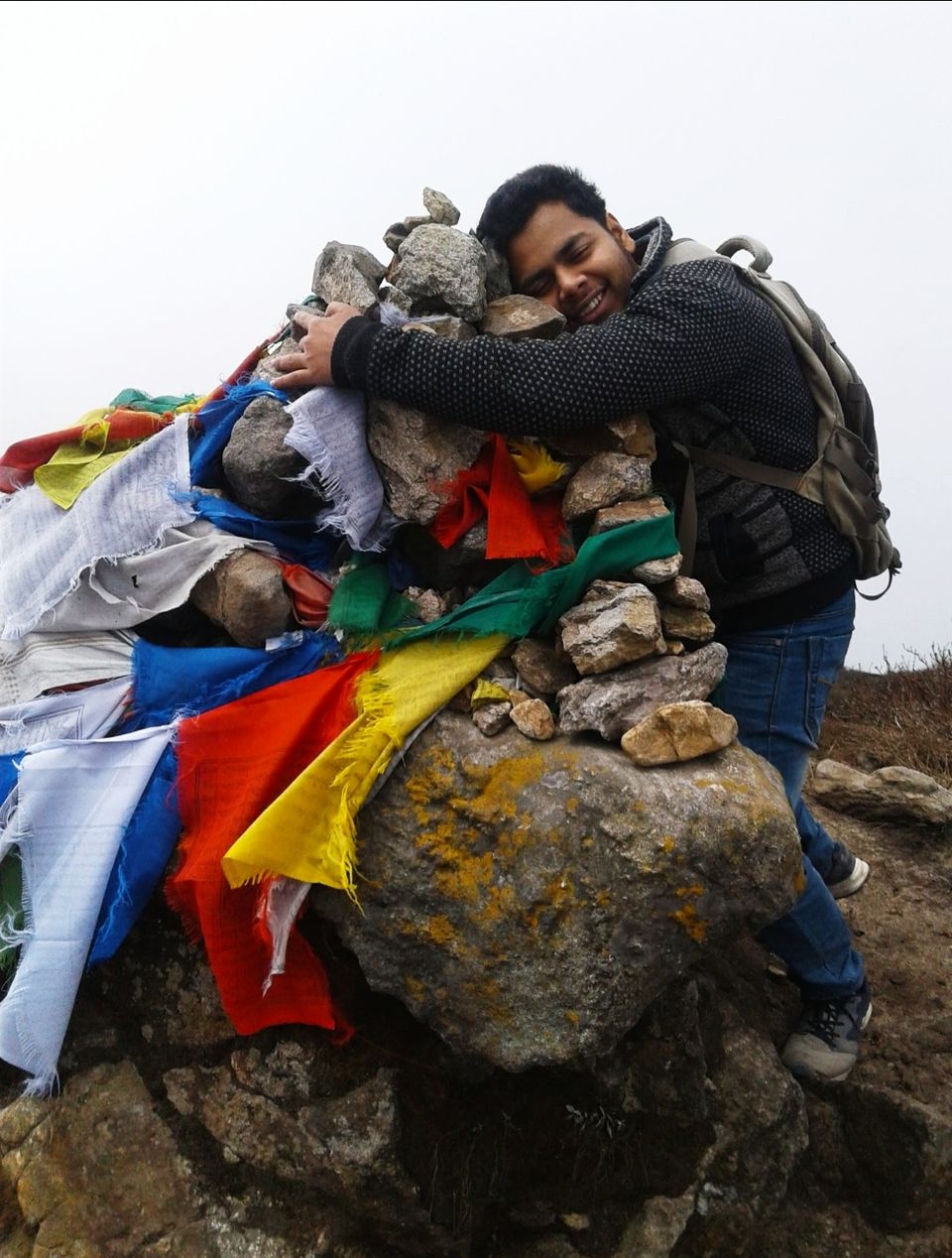 The crave for travelling is something that no one can teach you, it is inborn. I am lucky that I have felt that crave for roaming around the globe since childhood days. Today, I am here to share our experience of travelling to the peak of Sandakphu, the highest place to stand on in West Bengal. The term that literally means "The Valley of Poison". 
Smaller the team, better it is!
A journey is incomplete without a team that must comprise members teeming with energy for travelling. So here is our team; Arabinda, Avijit, Ramen, Santosh da and I.
We started on 30th April from Siliguri, although the real journey began on 2nd May from Manebhanjang (The Gateway to Singalila), 31 km away from Sandakphu. It is the place from where trekking adventure starts. Frankly, we didn't have that courage to start trekking on the very first attempt. So, a car rather a historical LandRover given by the UNICEF for Rural Health services (sometime in the past), was hired. We had been informed that it would be very costly to buy anything once we starts upward so we simply bought some packets of chips, cakes and most importantly 6 packets of Wai Wai.
It was one of the toughest roads I have ever been on, probably that's why people prefer trekking to being driven on a vehicle. It was going to be a long journey so the driver cum guide proposed to have 3 or 4 halts in between that seemed quite awkward to us in a journey of only 31 kms. Our first halt came within 15 minutes, much early than was expected. It was Chitra. After taking a few photos we restarted on our way.
We were on the famous Singalila range, no need to mention that this range acts as the boundary line between India and Nepal. The road is metalled only up to a military base camp, after which the toughest road begins that one can imagine of. Degree of inclination accompanied by boulder made surface makes it worse. The scenic beauty was beyond expression, after all we were on Singalila. The astounding natural beauty made us undermine the jerkings.
Another hour's journey via Megma took us to an unknown place. By that time it was very clear why the driver told us to take 4 halts. There, beside the road stood 2 small huts staying so isolated in that distant place. But what was more important, they had food and lodging facility. These small huts cum shops are there as the much needed components for trekkers who wish to continue their journey and need plenty of rest after a day's walking.
Avijit, the most inquisitive partner in our gang could not stop himself from climbing a tilla, from where he claimed to have seen nothing but Mount Everest. I don't know whether he was serious or just making fun but practically it was impossible to have a view from where he was, surrounded by hills.
 A rest of 10 minutes re-energised us to go on. Singalila range is famous for Red Panda, an endangered species found in India and probably nowhere else. We were looking around through the windows in the hope of seeing at least one of them. But to our misfortune, sound of engines kept them away from the road.
Now before it gets too late, let me introduce you to our driver cum guide. A 22 years old, young but experienced person who was continuously warning us about the "Altitude Sickness", a physical discomfort caused by the lack of Oxygen supply to brain. We had been to Baba Mandir, Sikkim (4200 M), a place much higher than Sandakphu, so we didn't pay any heed to his advice. But we were amazed to see how a person could talk and drive so smoothly at the same time on that terrain.
As we reached Garibas (8600ft) the weather started to be rather cool. Fortunately, we were carrying woollens. It was our 3rd halt. There we ordered for tea and momo. But Ramen who doesn't like tea that much, had coffee that cost him Rs 30.
As we were only 30 minutes away from our destination our car was passing by Kalipokhri (10,400 ft) a sacred lake or pokhri. It resembles the foots of lord Buddha.
We stopped 4 km down the hill at a small hotel where the driver advised us to lodge for that night. We were given a room at Rs. 1100 per day, "quite cheap" said the driver. It was not the room-fare but the rates of different items for dinner that made us feel giddy. Rs 100 for 4 rotis and sabji was complimentary. It wasn't dark yet. So we decided to walk up to the top that our driver promised us to take the next morning.
 A lonely road welcomed us. In hills one cannot get the correct idea about distance. Kilometre stones looked so distant. There were shortcuts for trekkers but that being even steeper some of us decided to follow the road. Walking one hour only we felt exhausted, as if something absorbed all our energy. It was only then that Auro realized how strenuous it would have been if we had planned to walk all the way from Manebhanjang.
The clouds carried by the stormy winds were gushing up from the valleys. It was quite strange to feel cold in the middle of summer.
We went on with taking rests for several times. And finally got there at the top before the sun set. To our amazement there were a few hotels in both Indian and Nepalese parts of the place. The time reminded that we couldn't stay there for long, we must come down before the freezing winds started blowing.
A delicious dinner was waiting for us. Although a whole day's hunger can make a person like the worst thing served but it cannot be denied that those rotis made by the hotel owner, a Sherpa, were very much different from what we regularly have at home. Completing dinner we went to bed as early as was possible.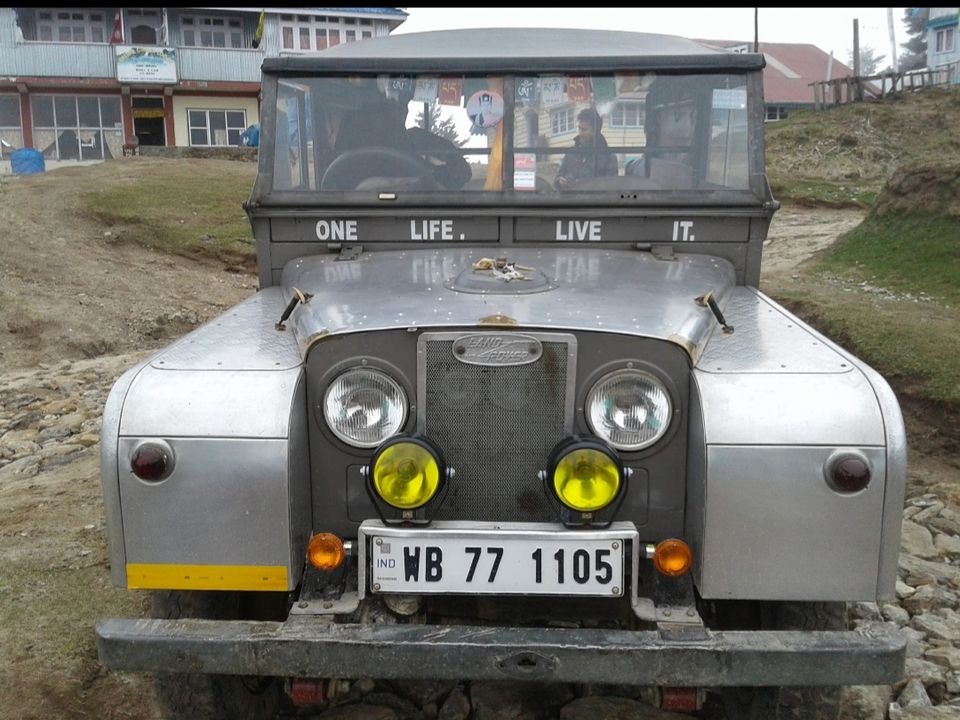 The next day didn't begin on a good note. We were late. How we could sleep for 11 hours at a stretch, that was the question roaming in our mind. But somehow we did, our extremely tired body made us do so. From the beginning we were in a hurry. By 8 we left the hotel and got on the car. 
We are at the Top
 Auro as usual was late. The car took only 20 minutes to reach where we got the previous day walking for 2 and a half hour.
Revisiting the same place on the very next day didn't make it less interesting. That time we came to know that there is a tilla which is the actual summit of Sandakphu. It was steep but not so much as to stop us from conquering it. It was the ultimate objective for which we had tolerated so much pain. It was 8:50AM of 3rd May 2017 that took a permanent place in the memory chip of our brains. Although we weren't so lucky to have a view of Mt. Everest due to overcast sky, we enjoyed ourselves thoroughly that 5 minutes at the top. It was felt predestined. Sandakphu was under our feet then. Avijit embraced the peak,Auro and Ramen took selfies and I, confused of what to do, placed a small stone over it making it an inch higher.
We thank God for helping us complete our journey. One life Live it.
One Life, Live it!