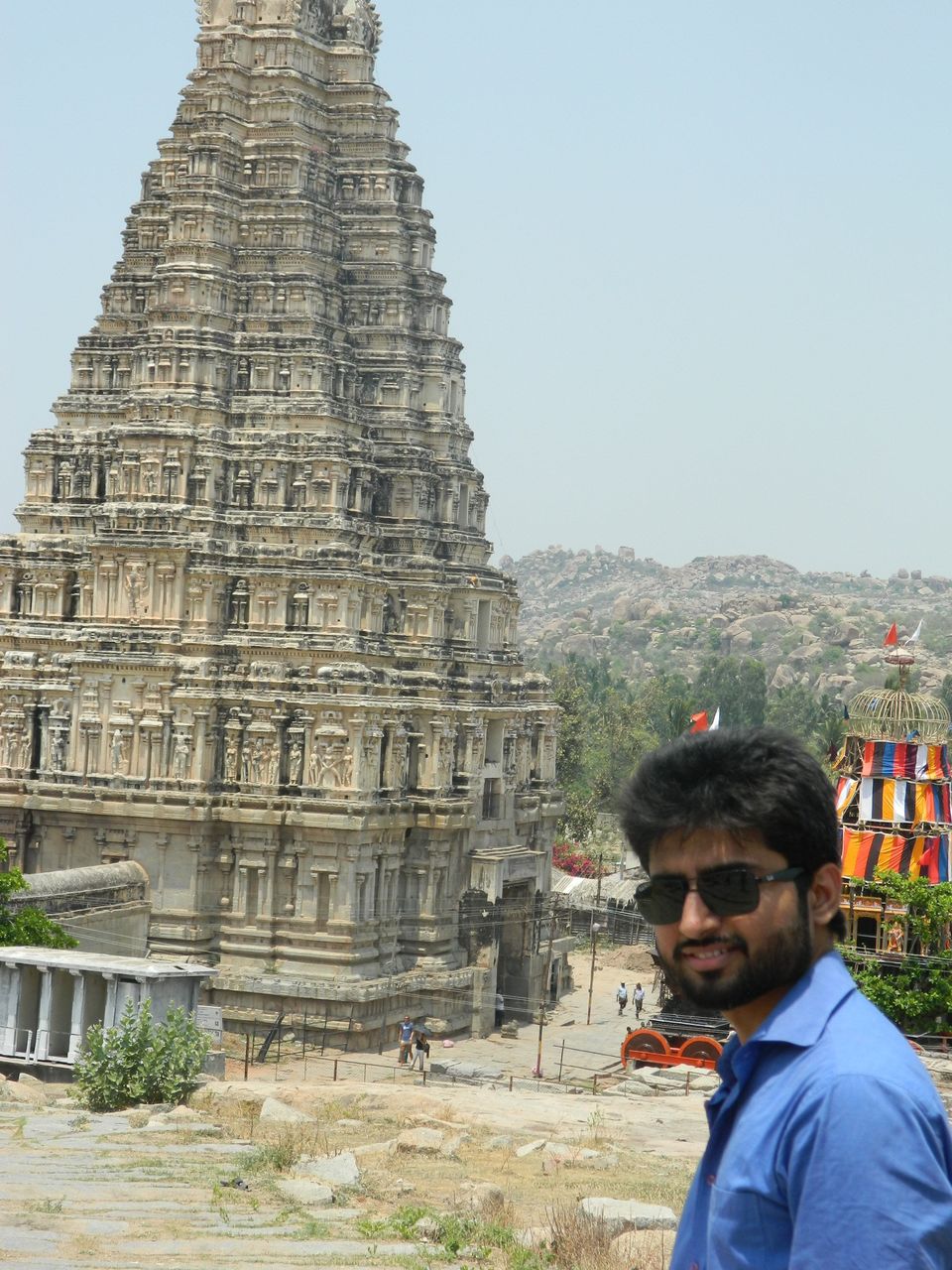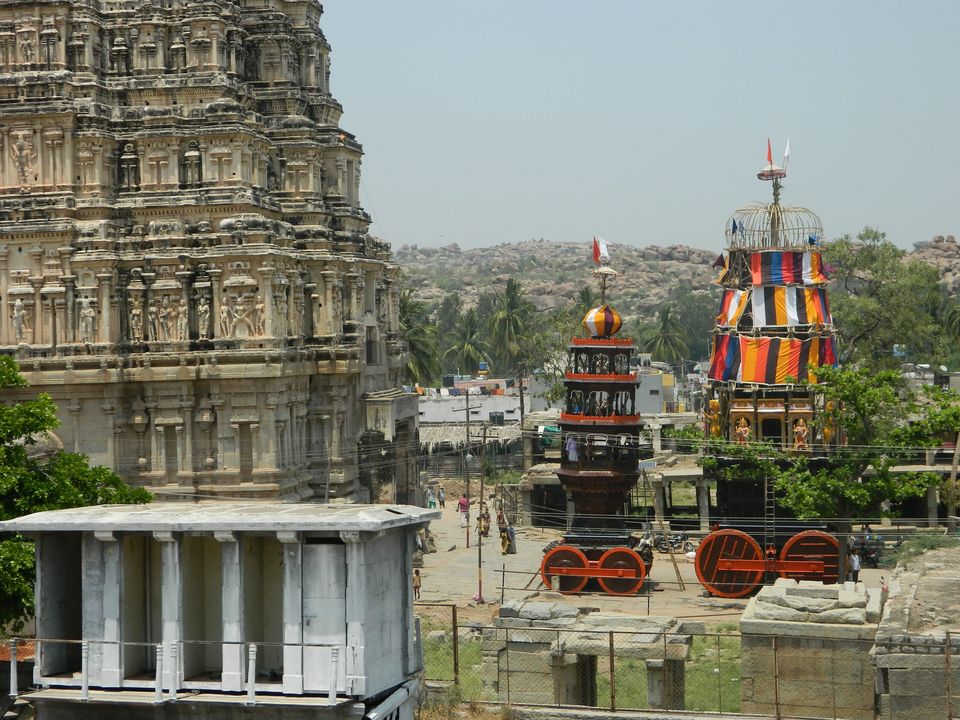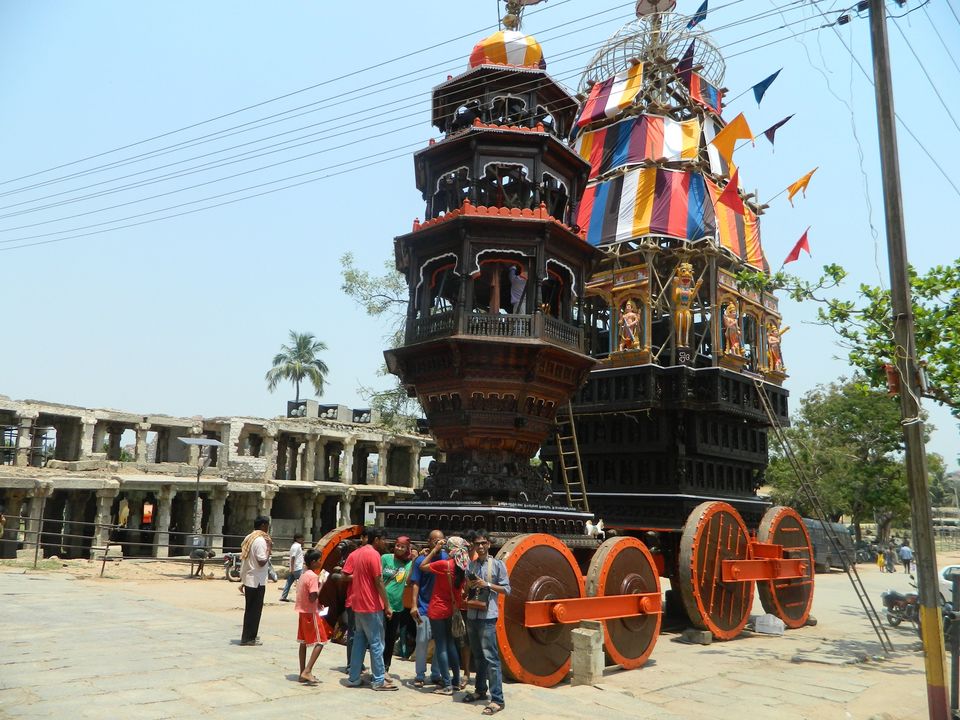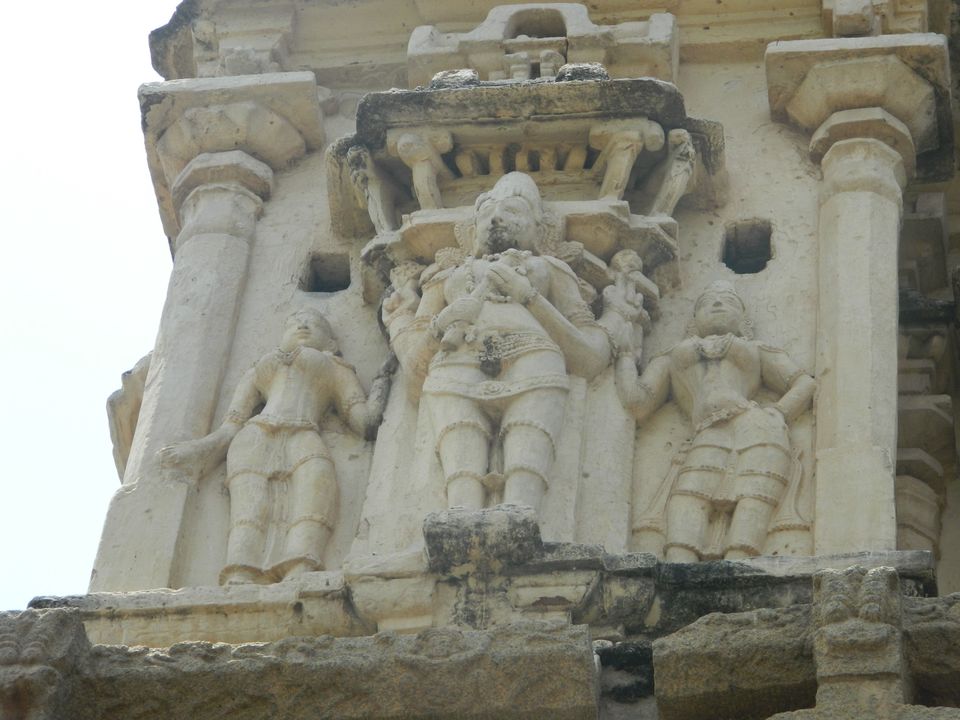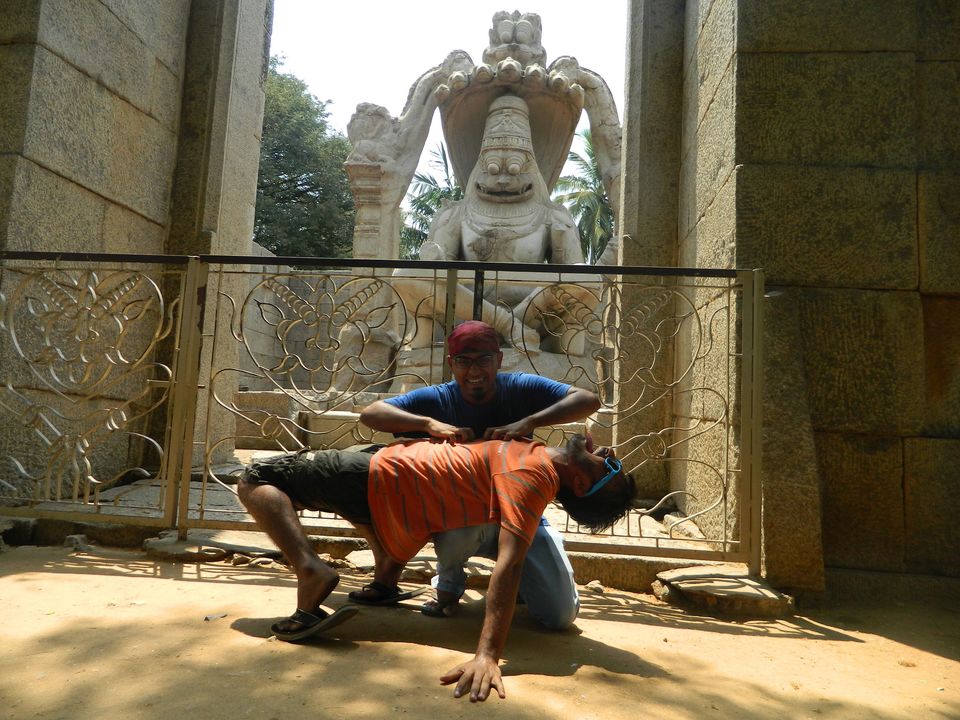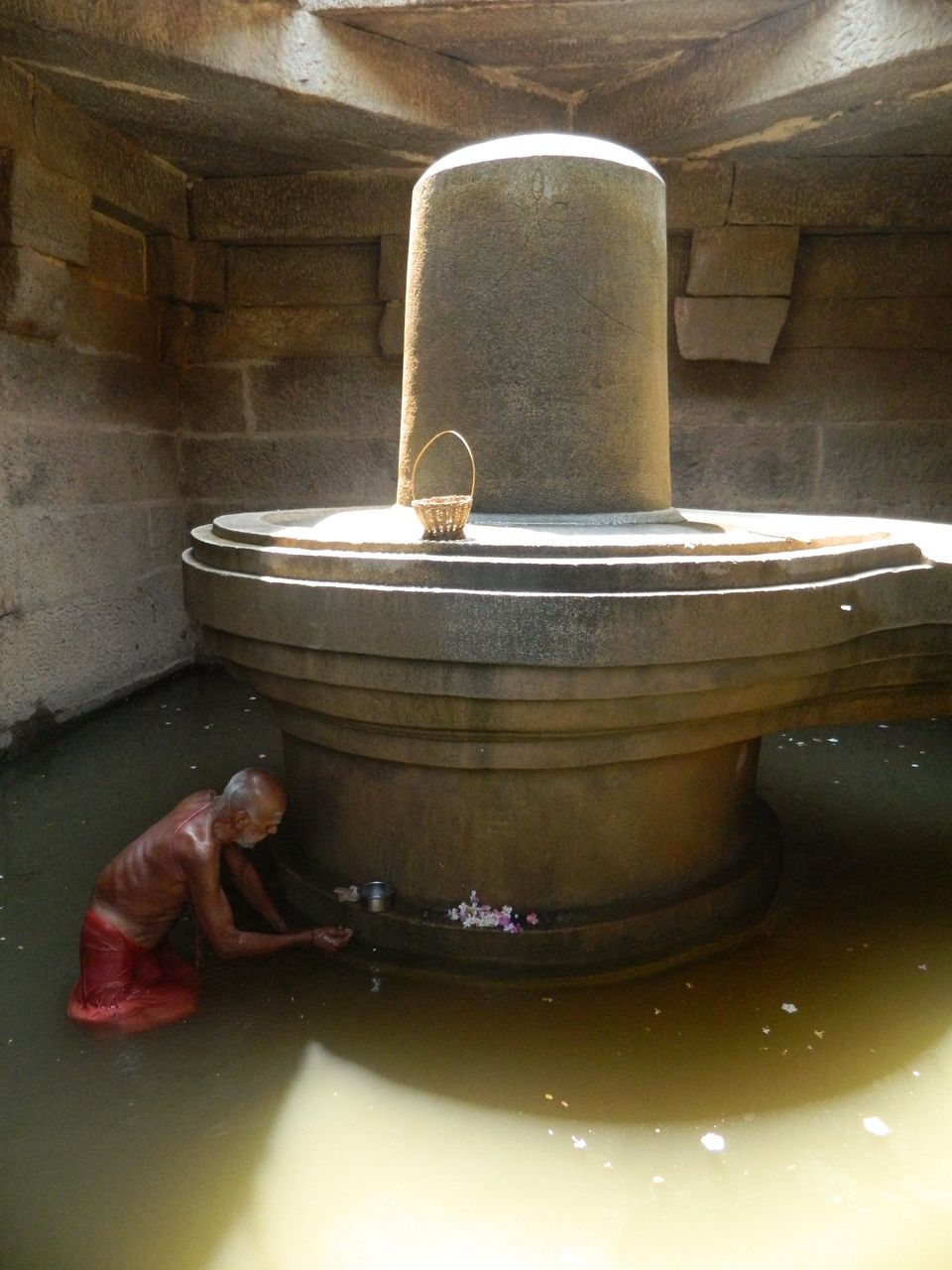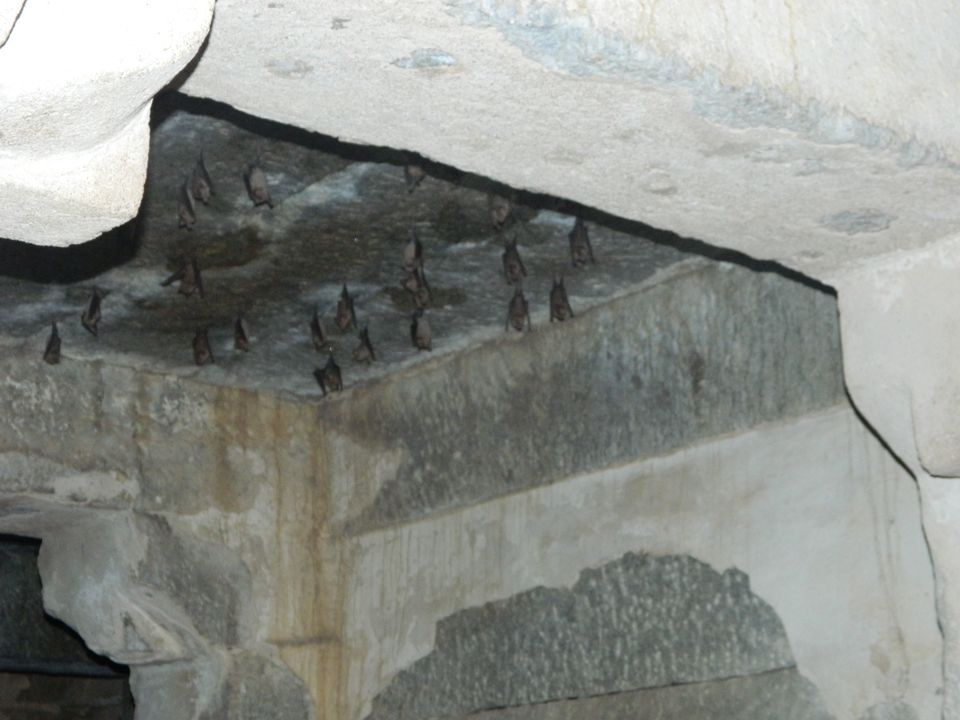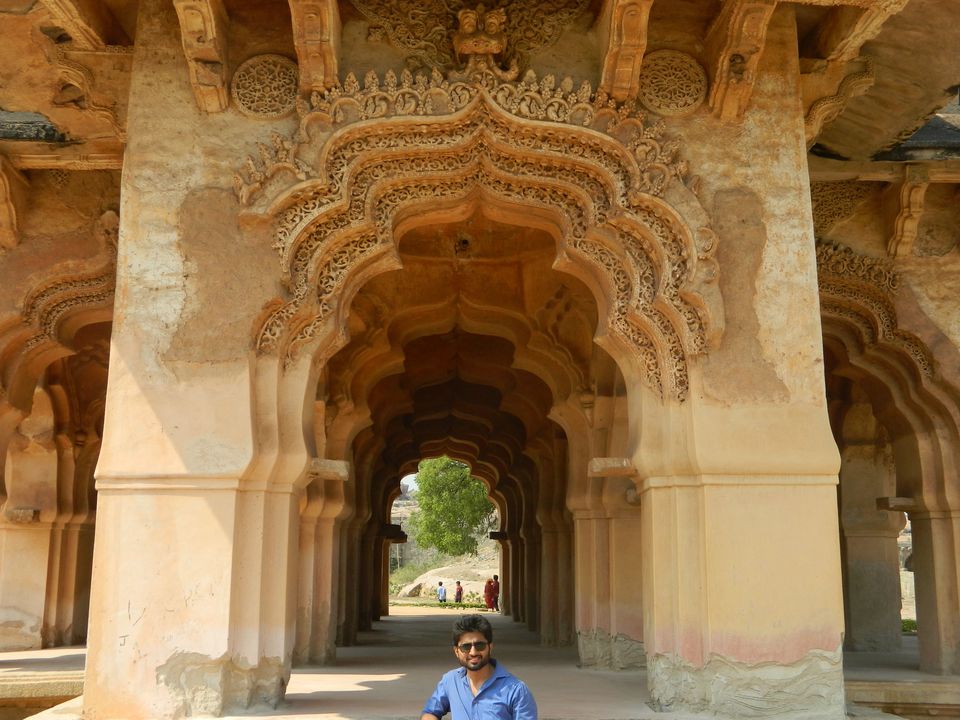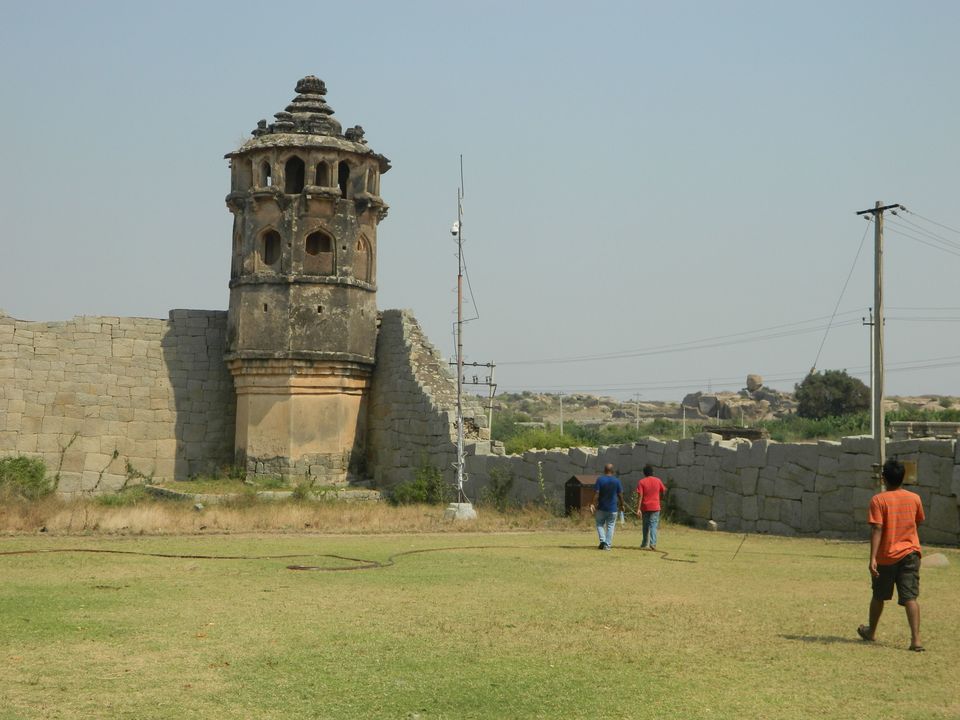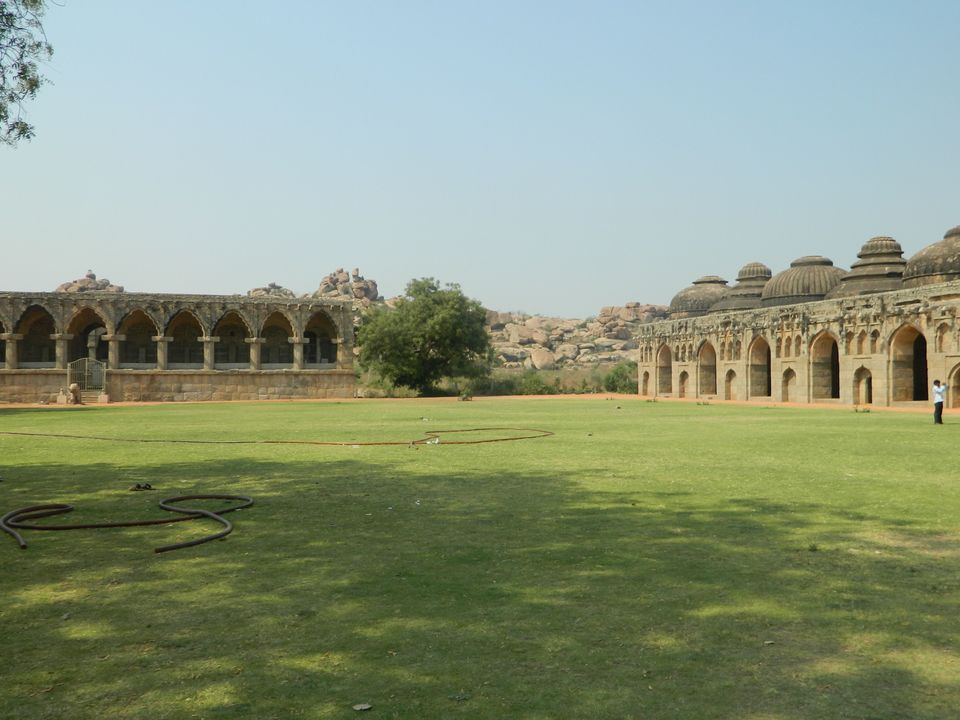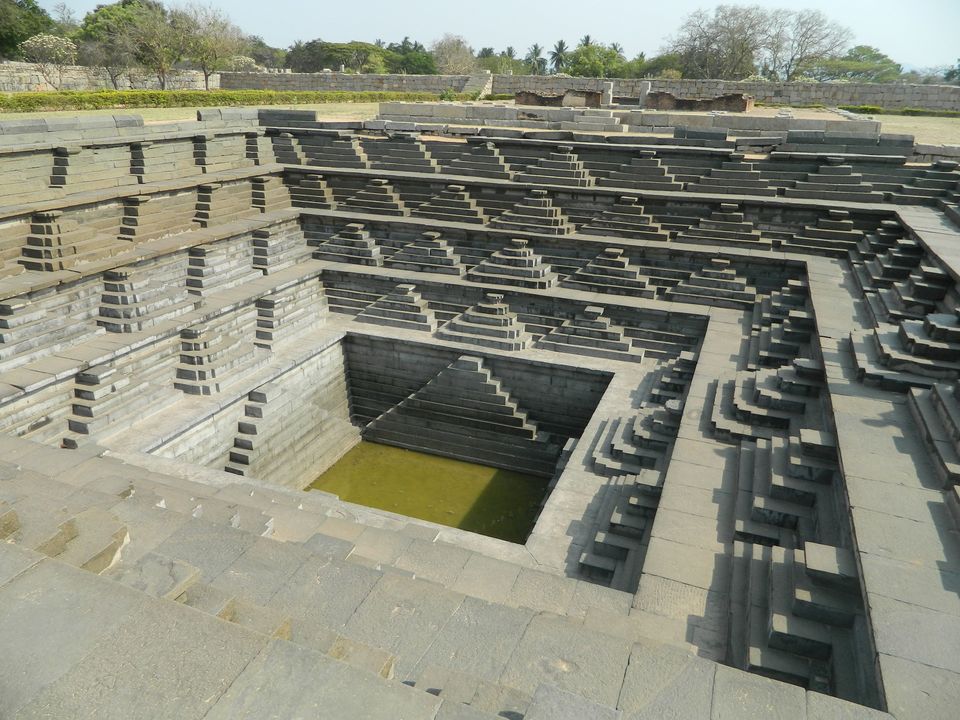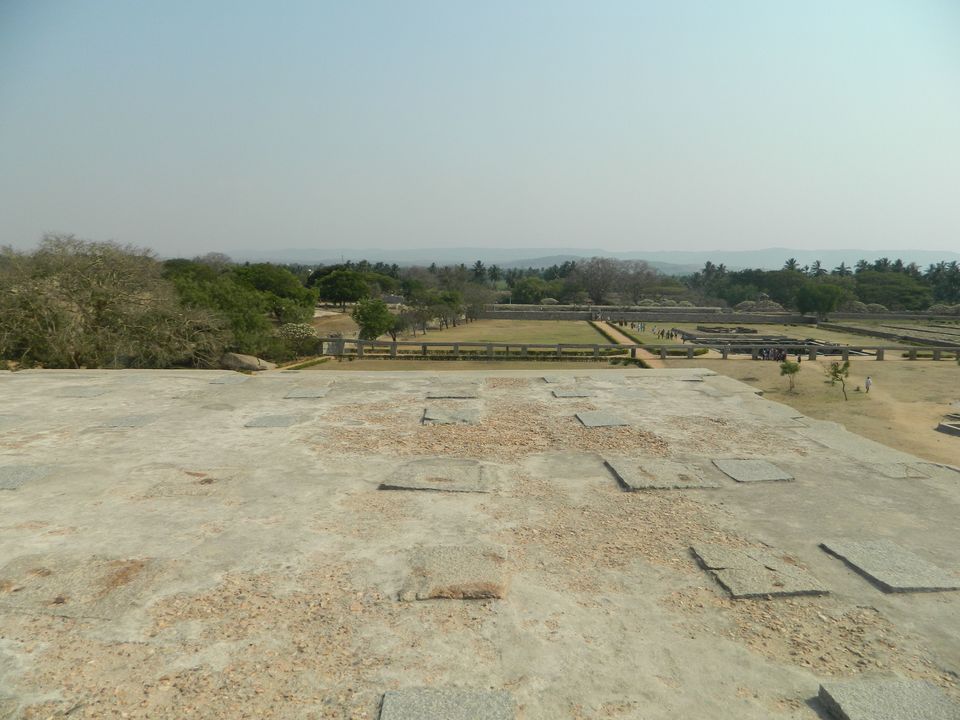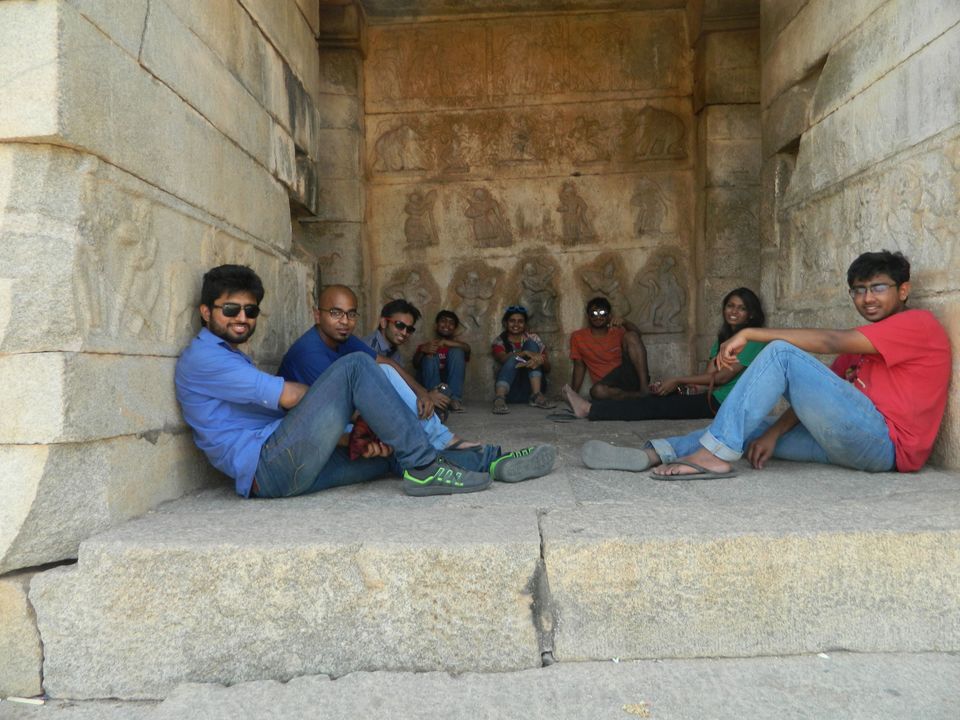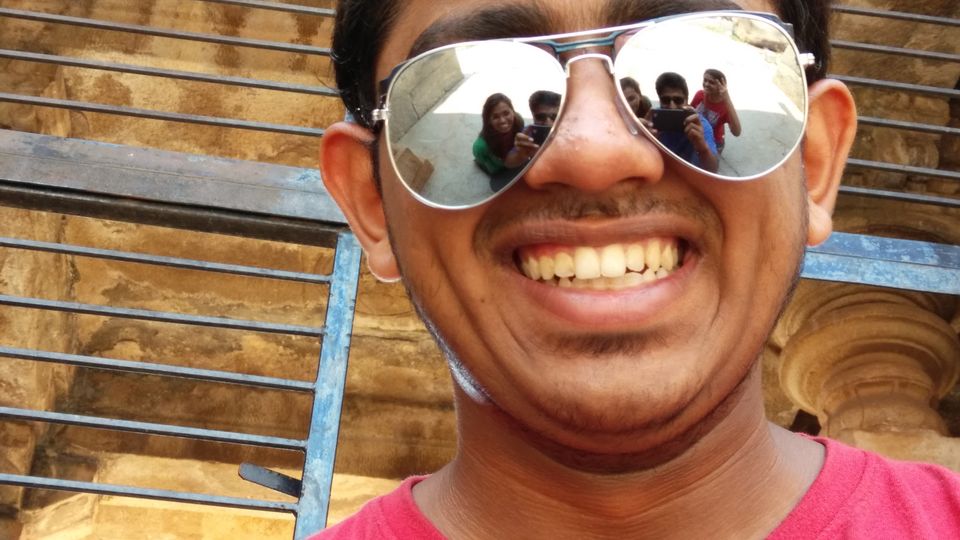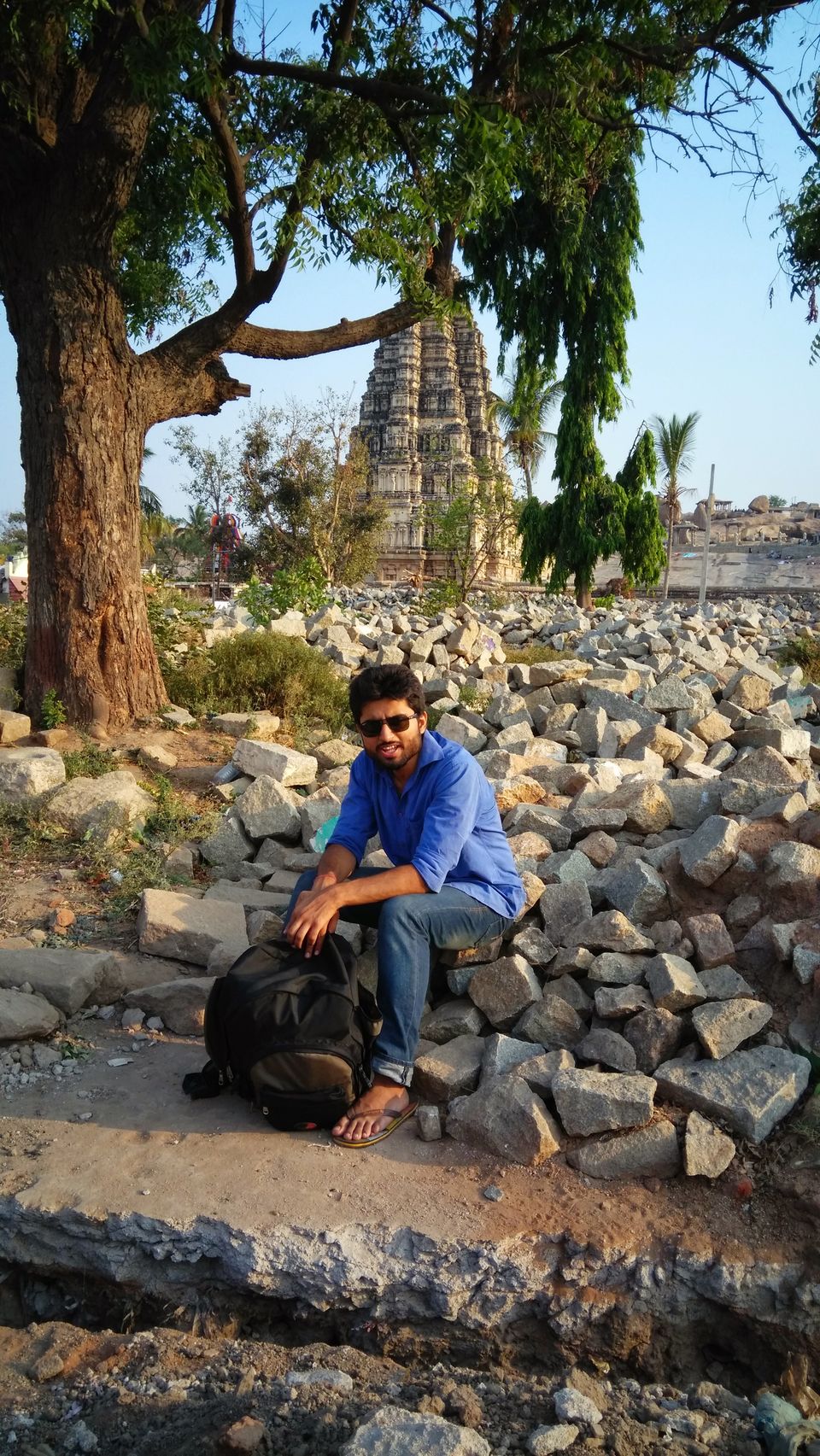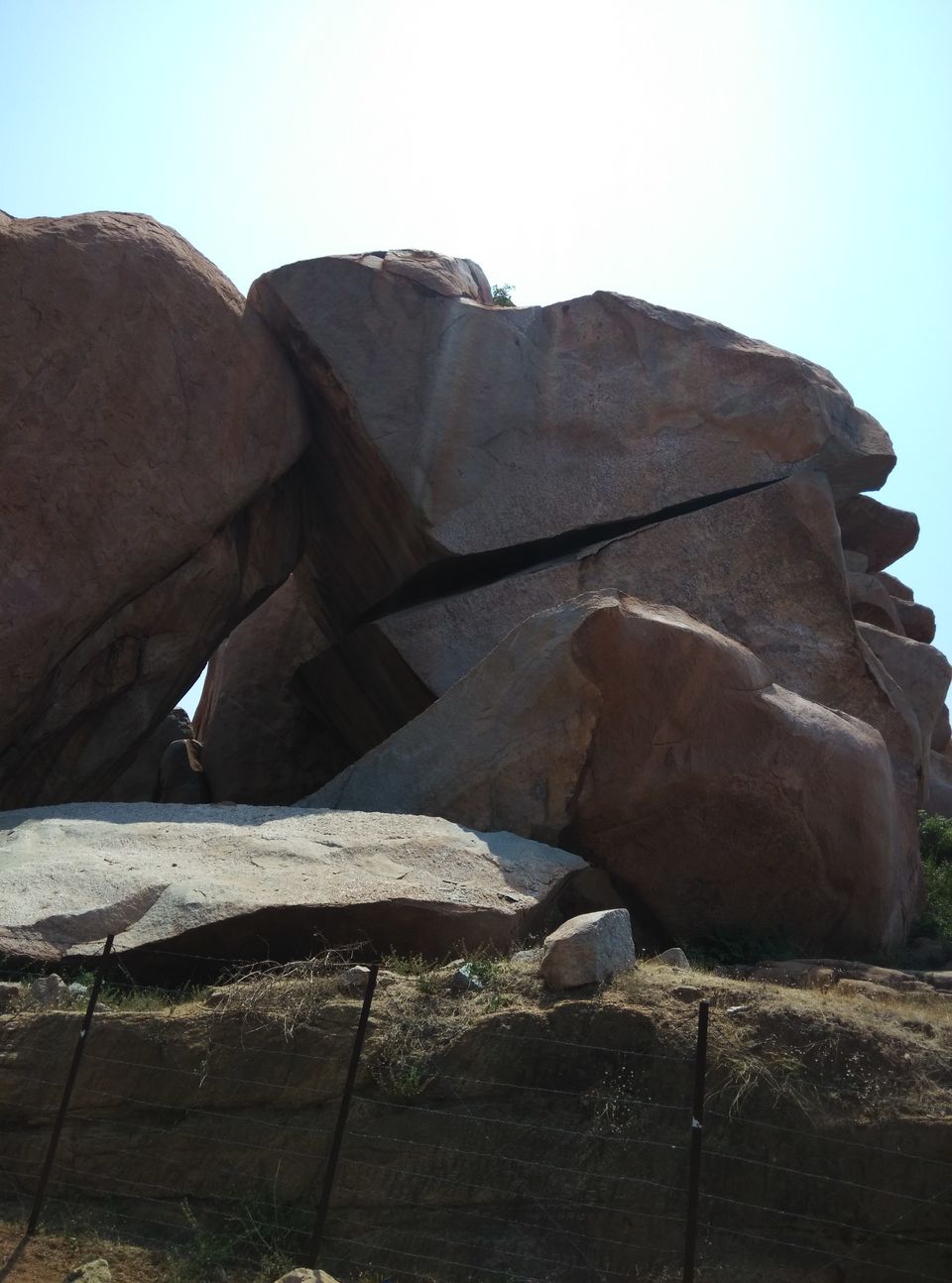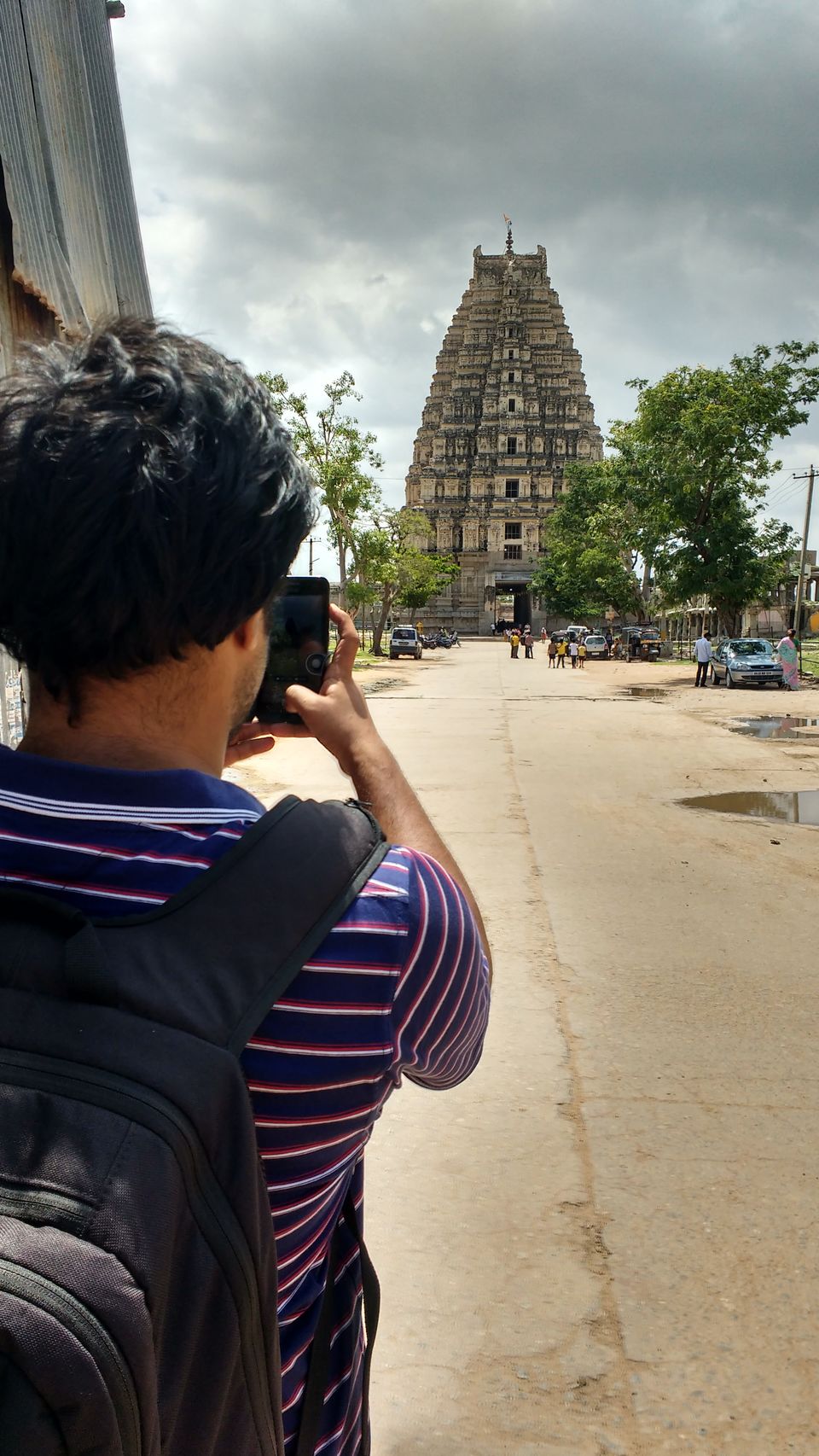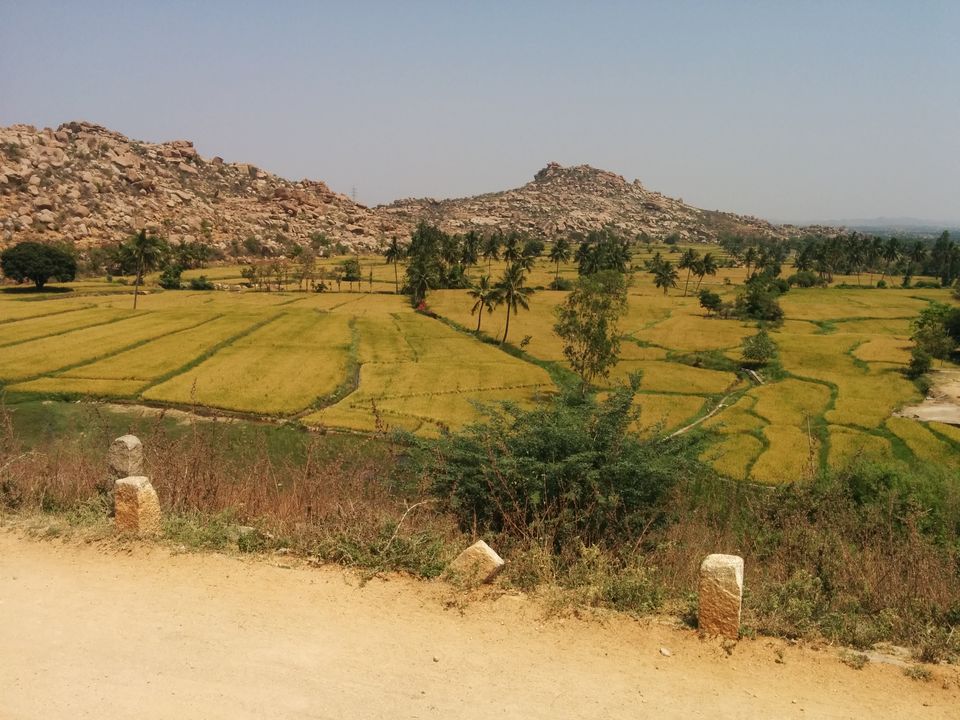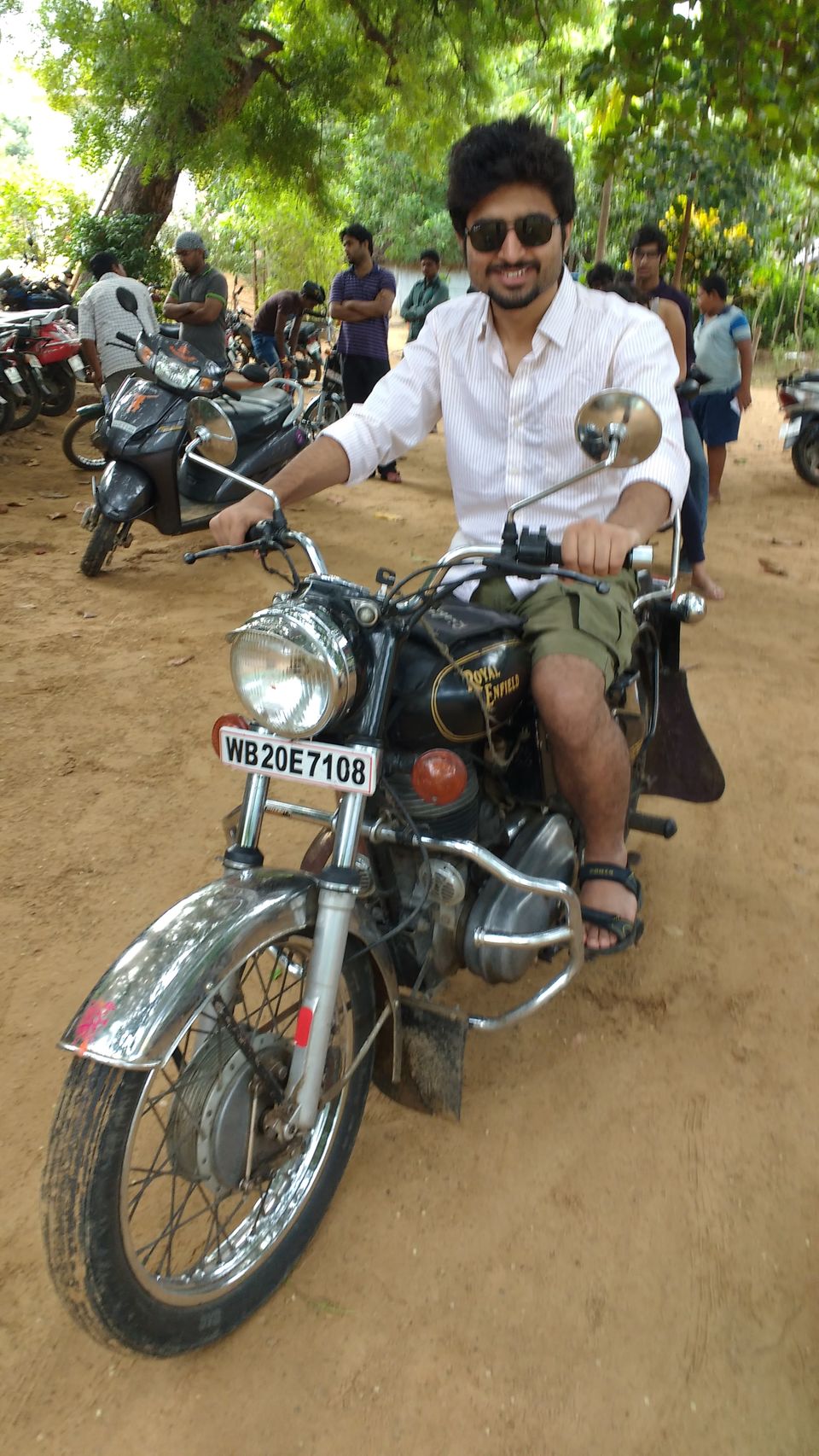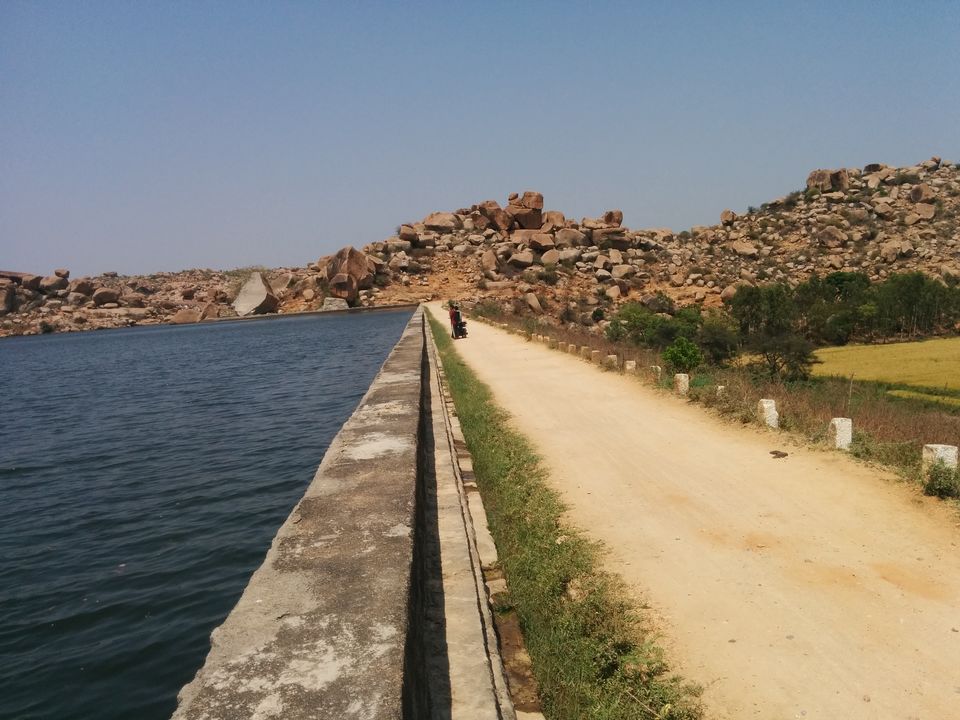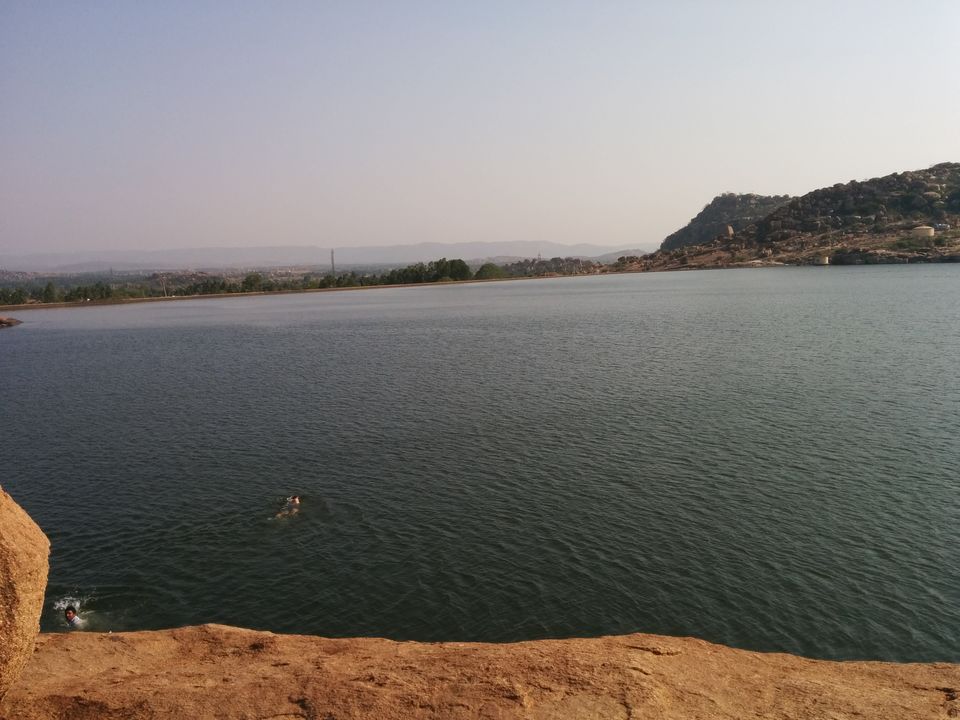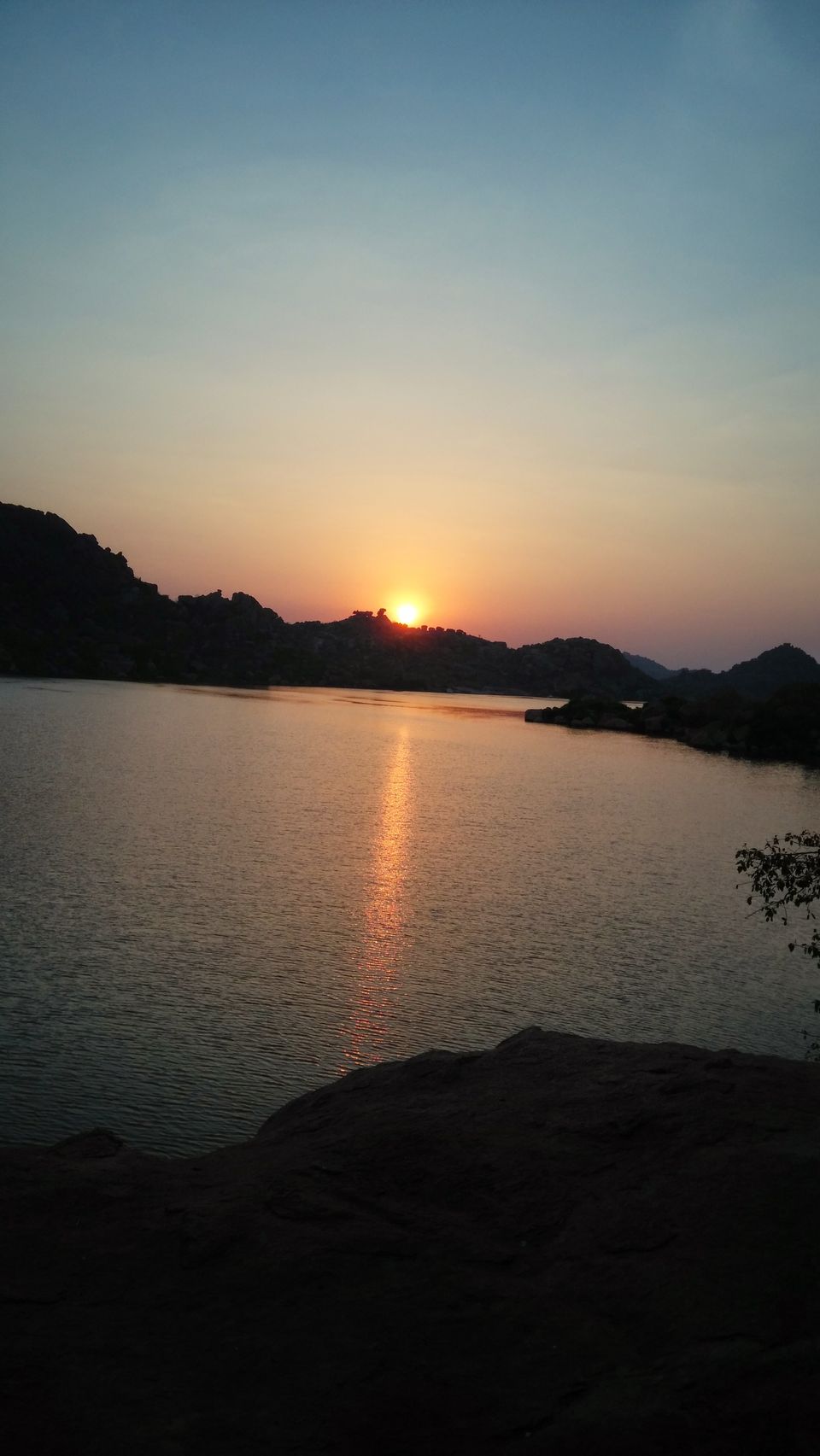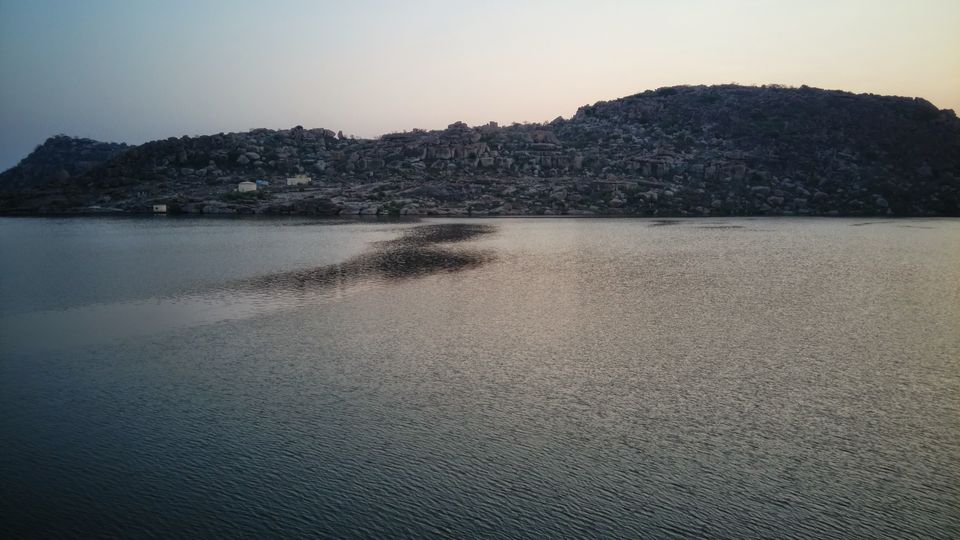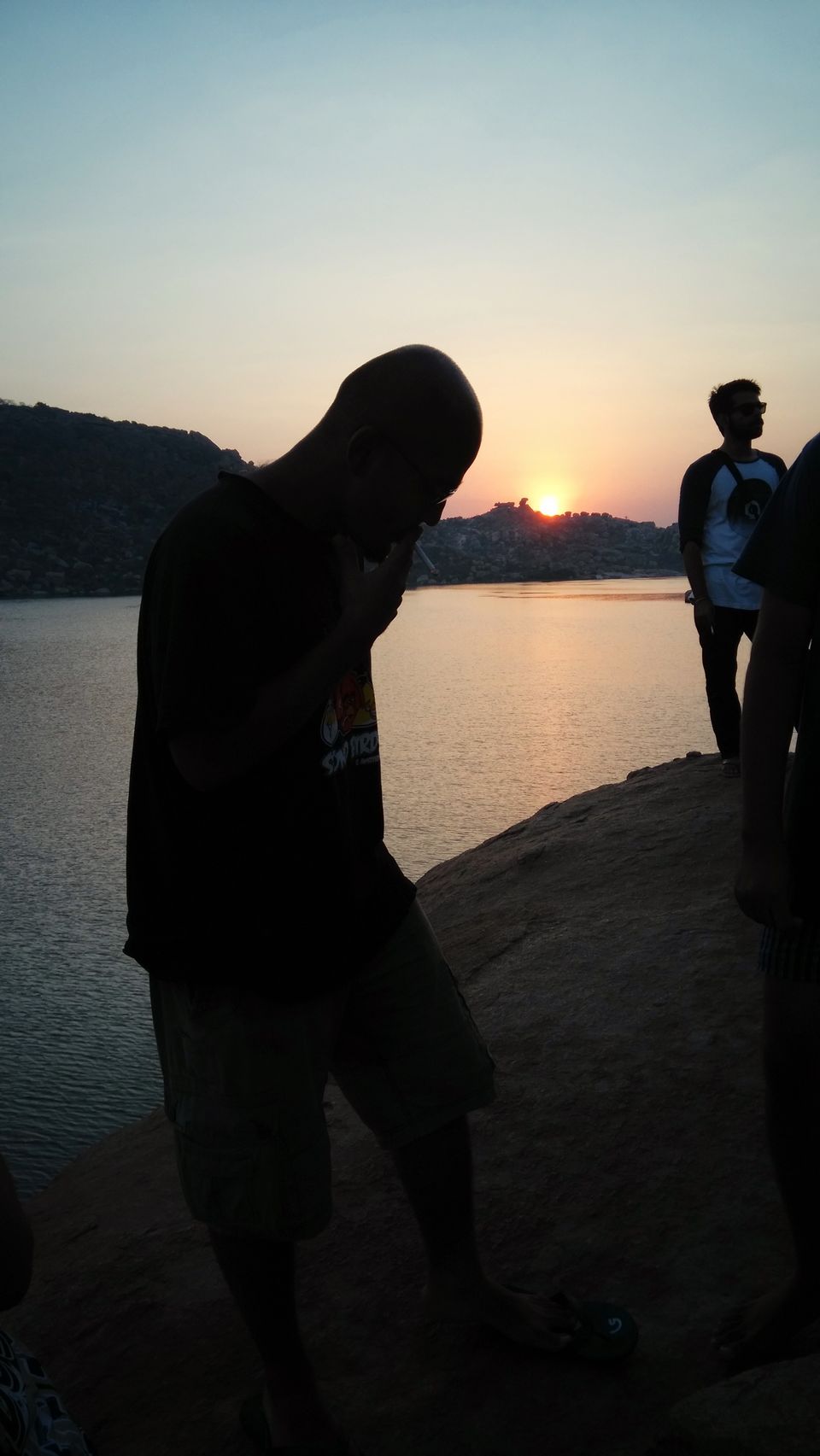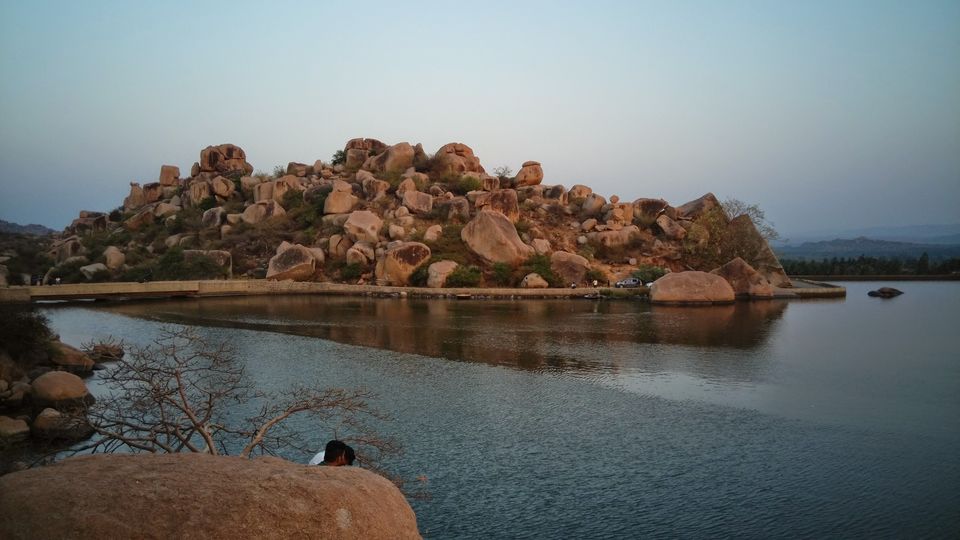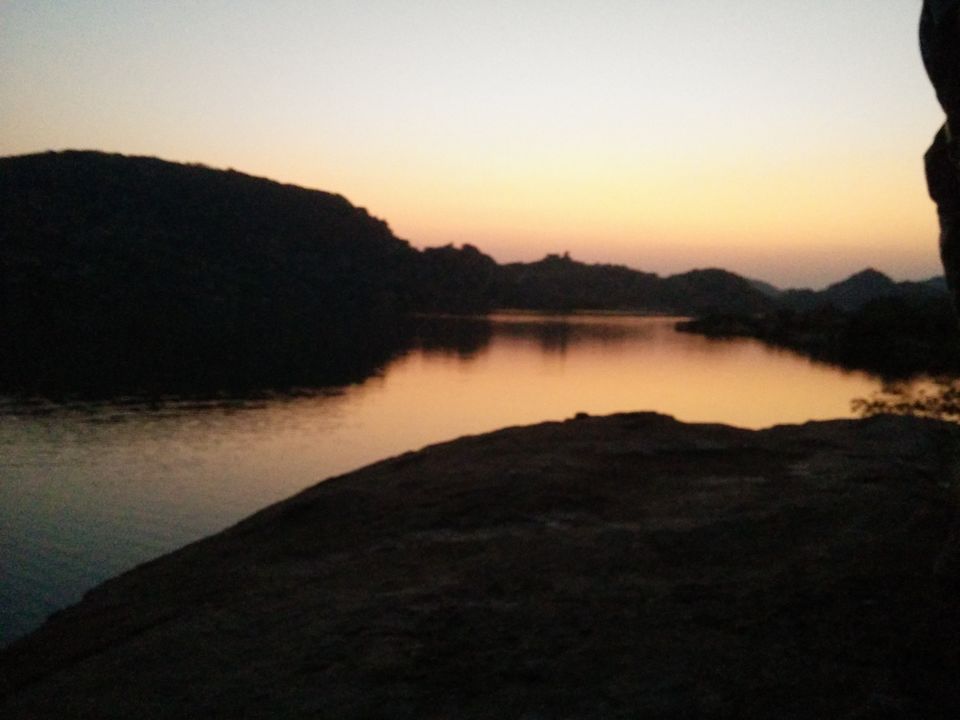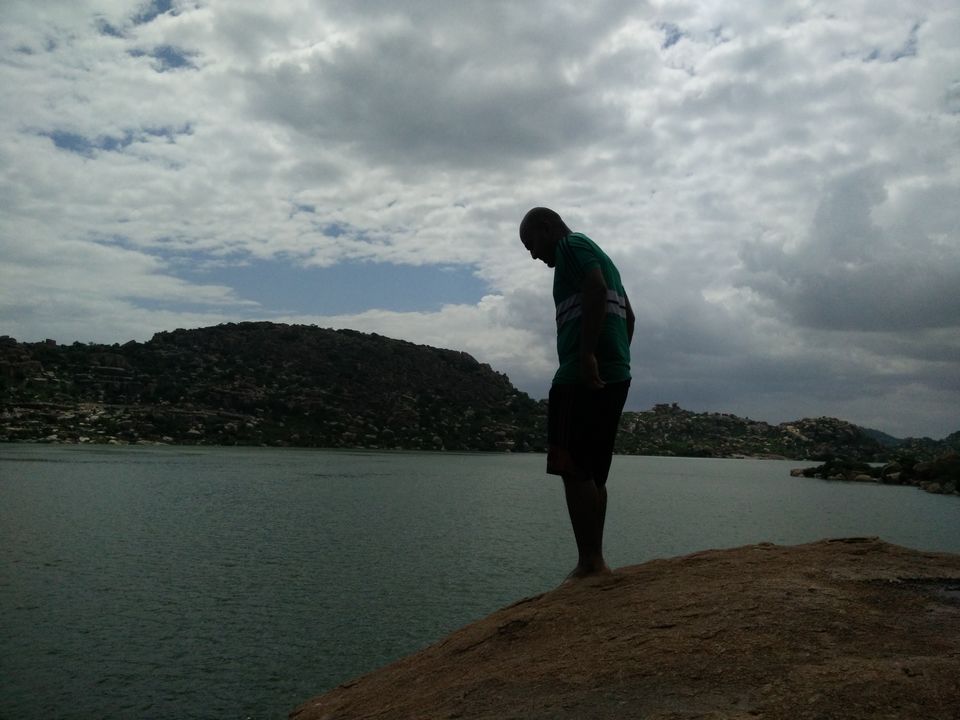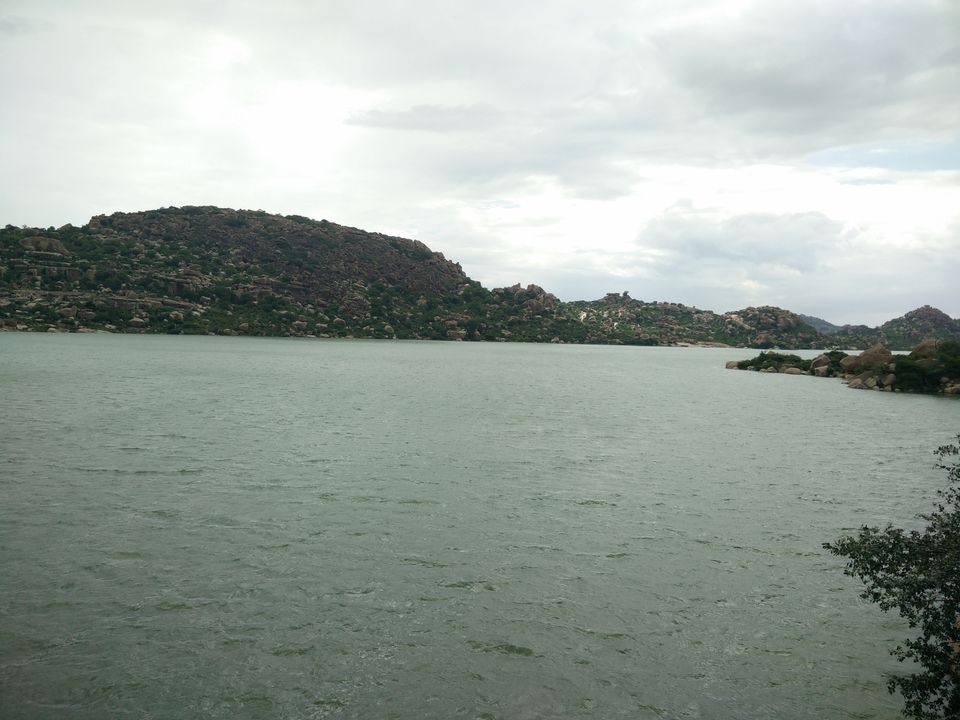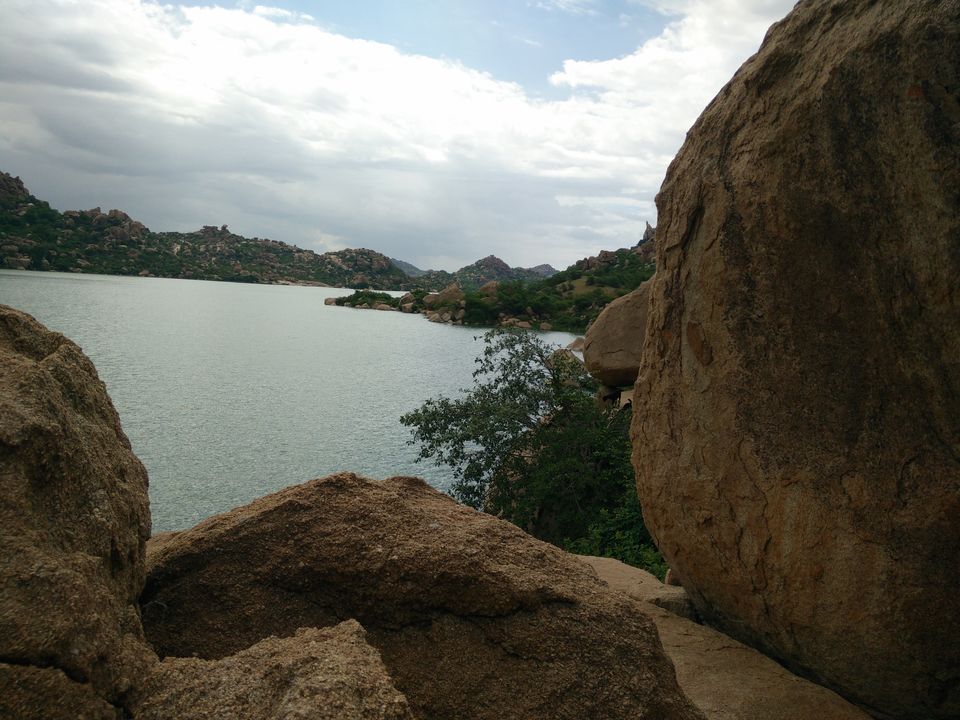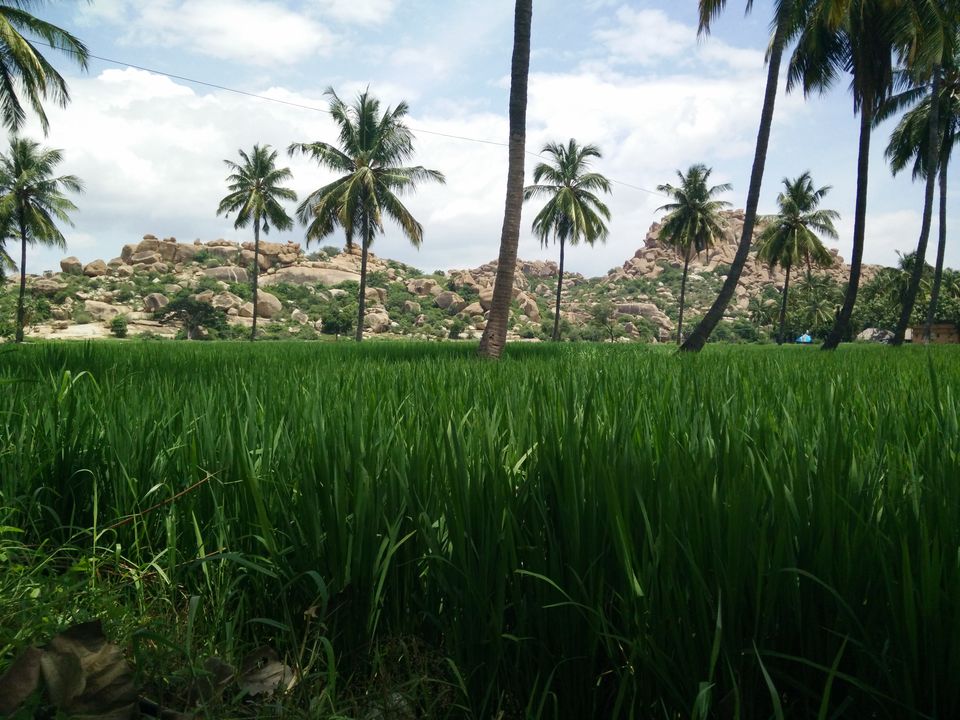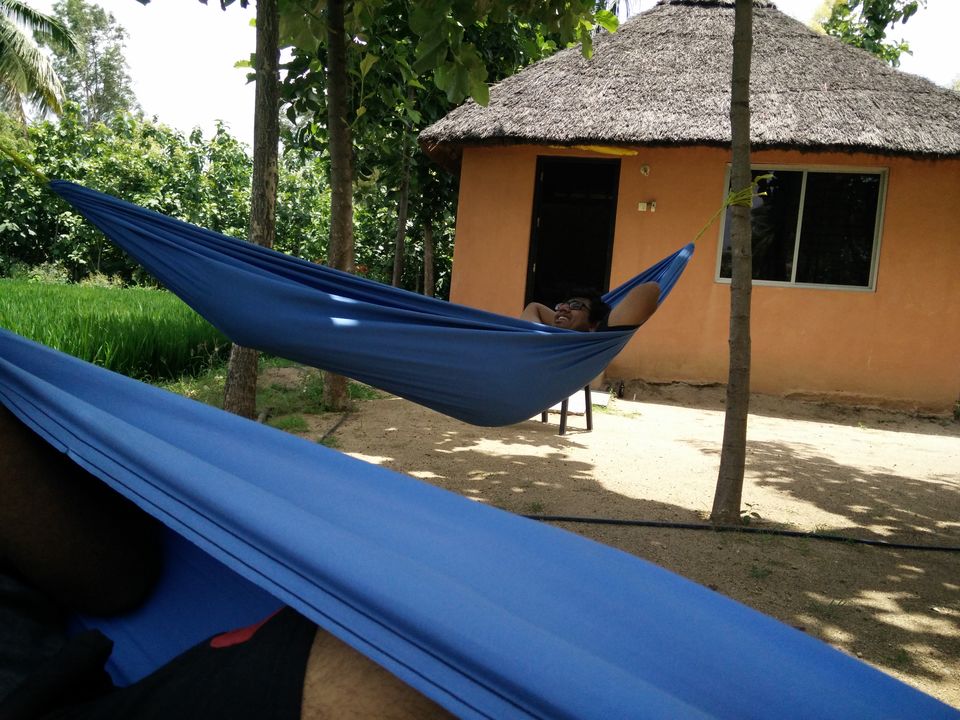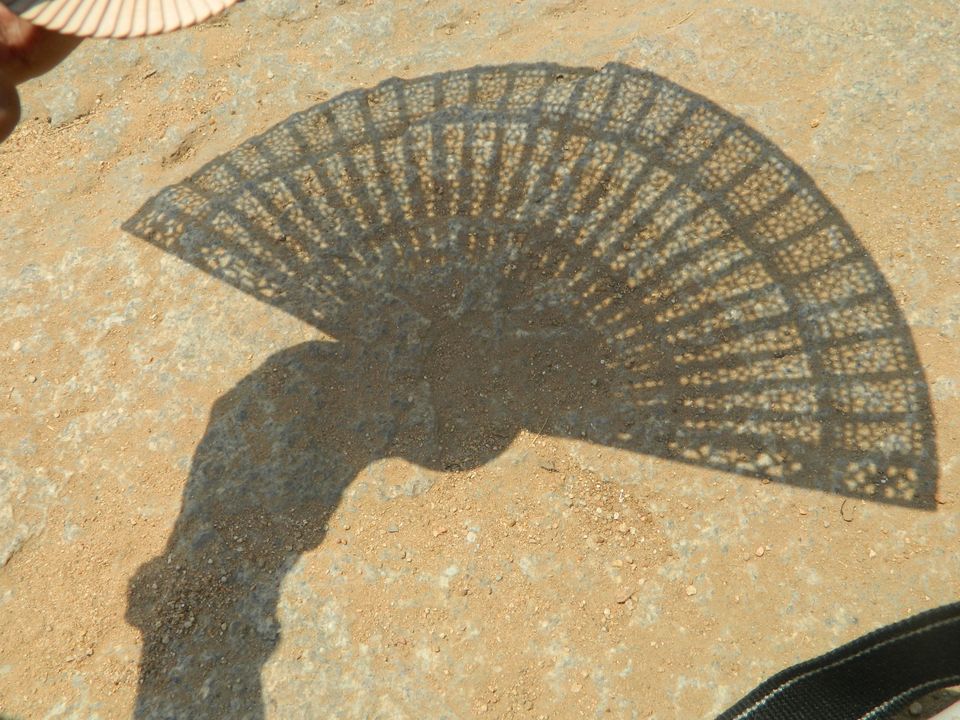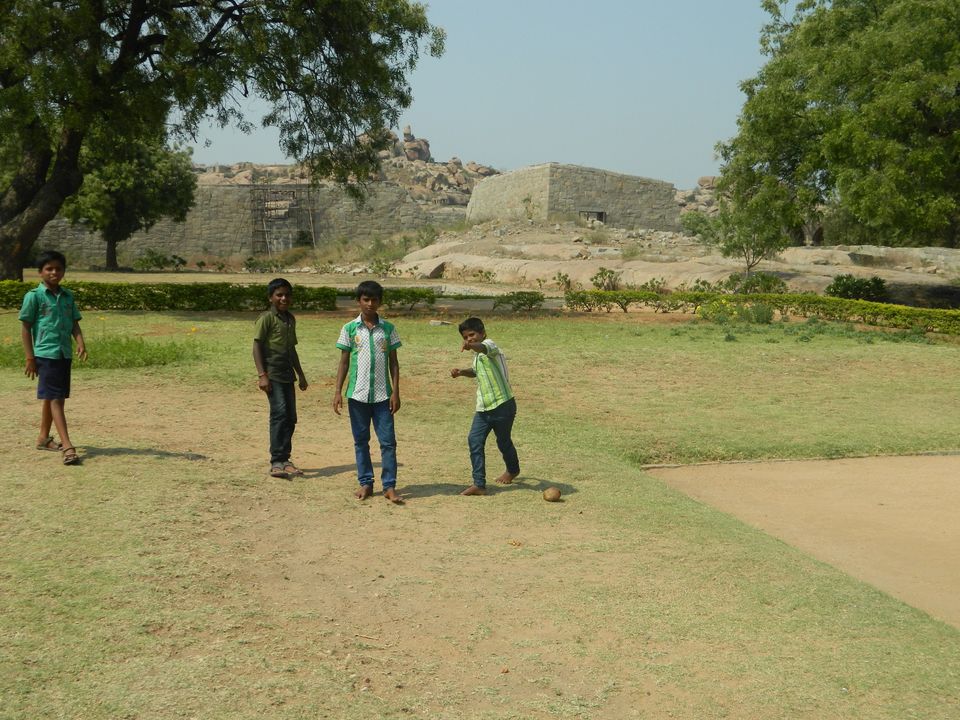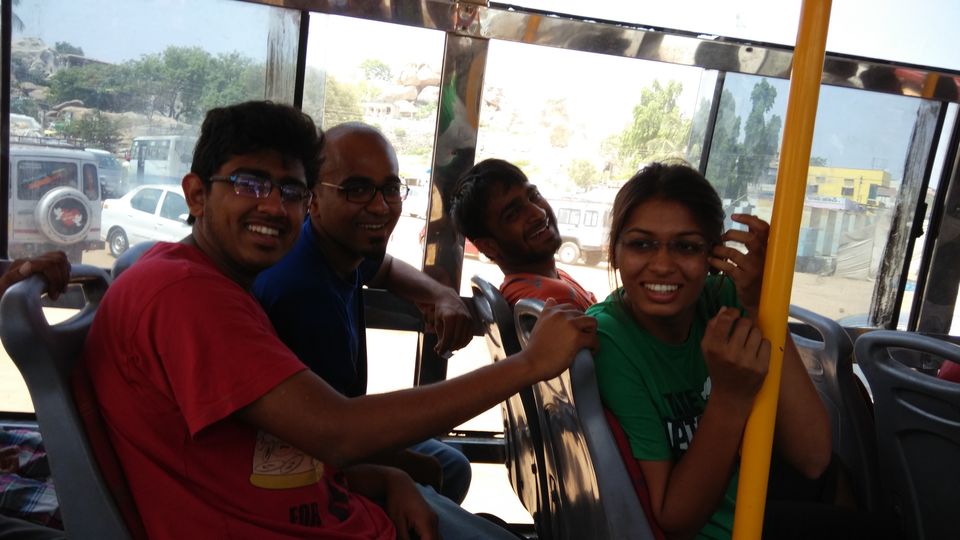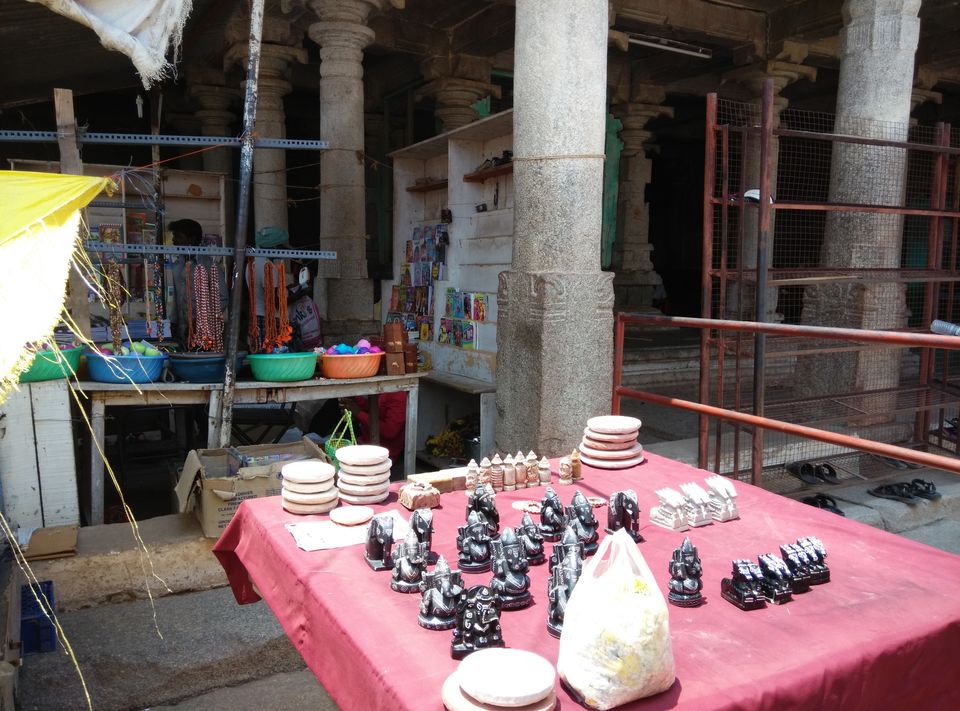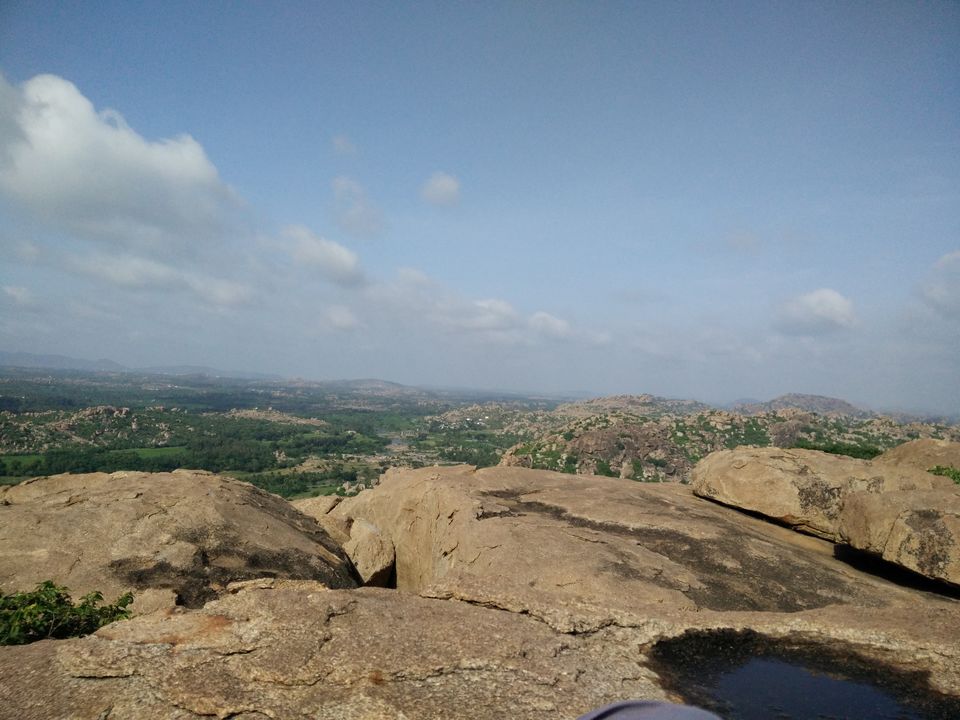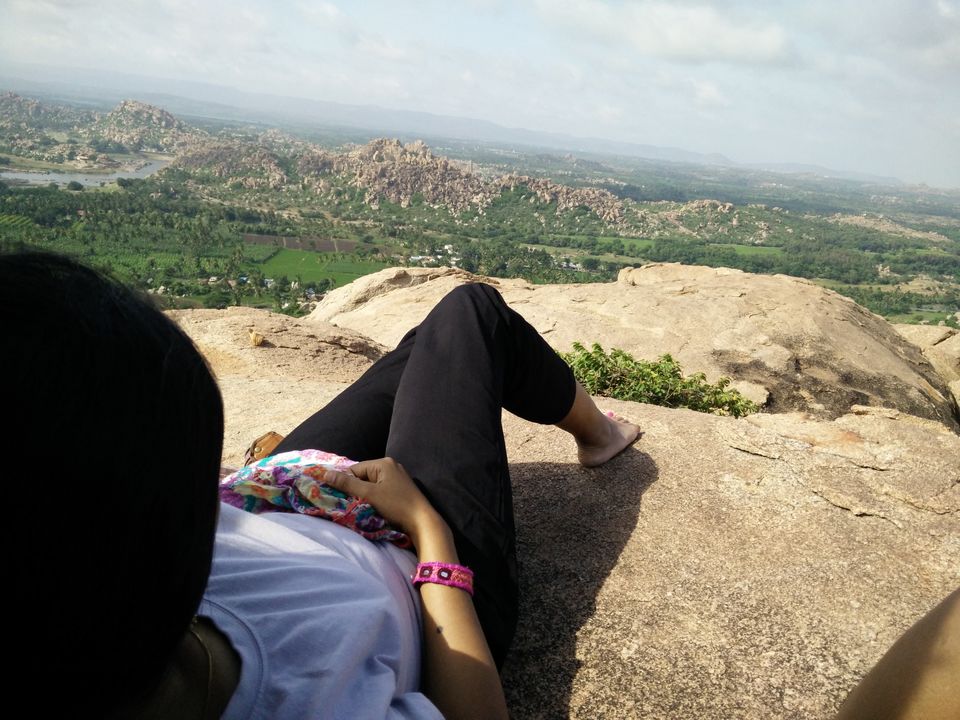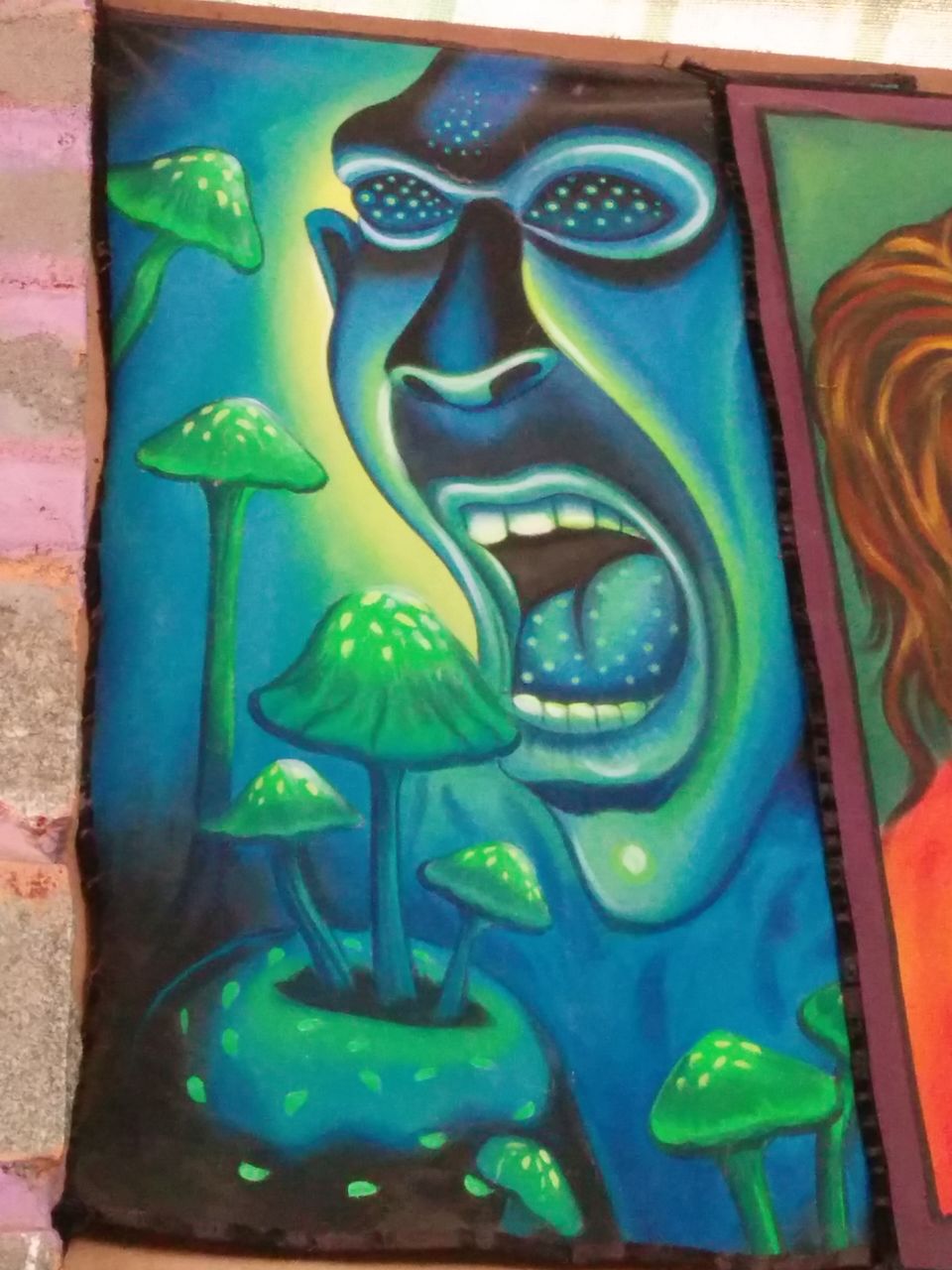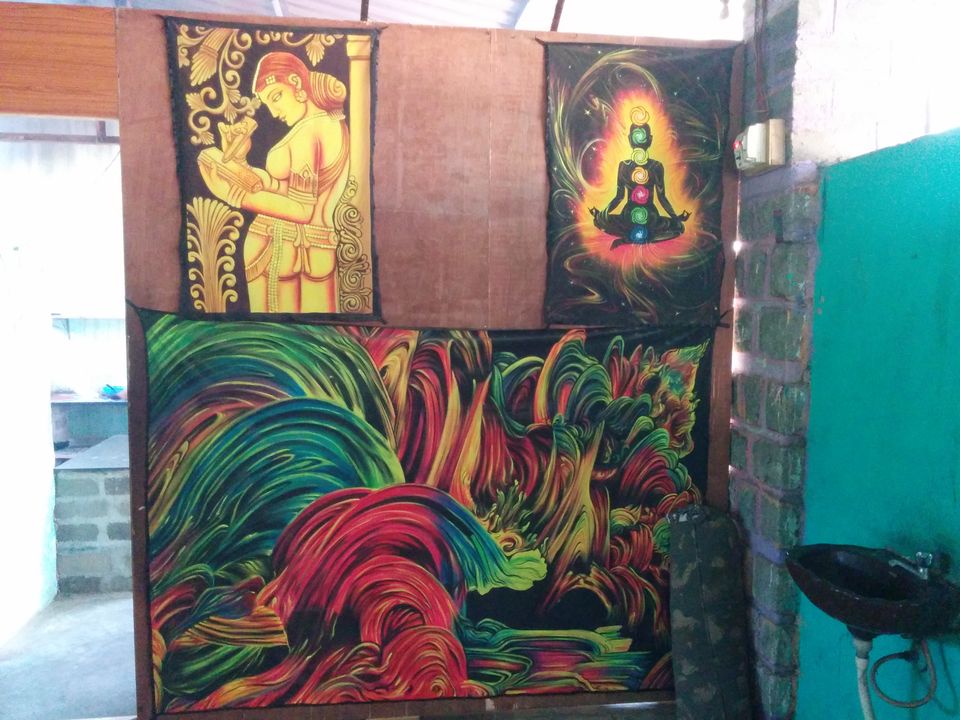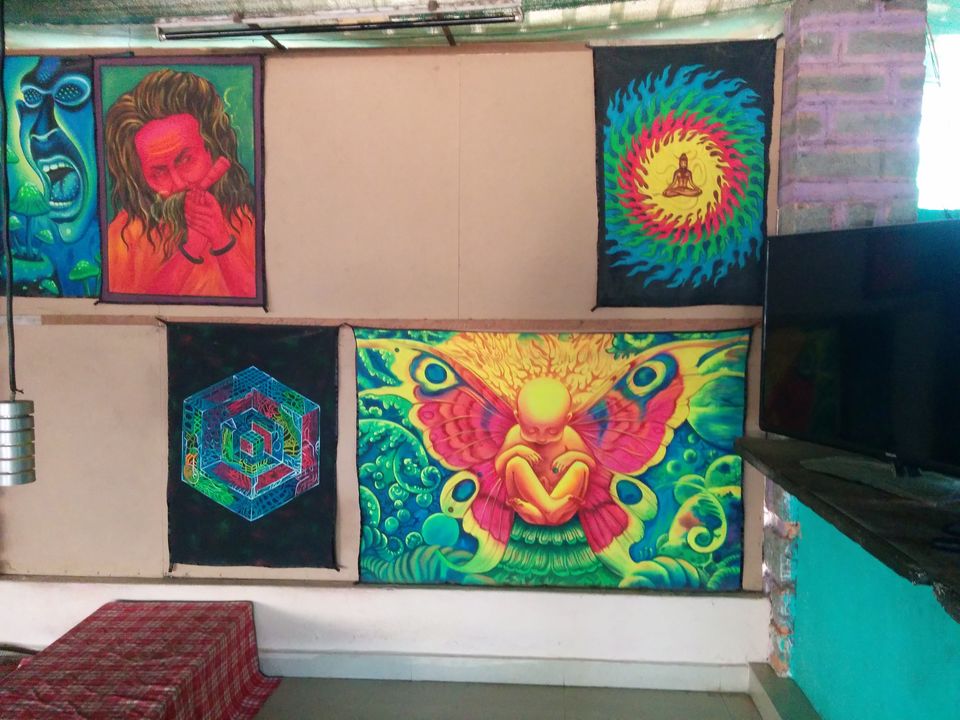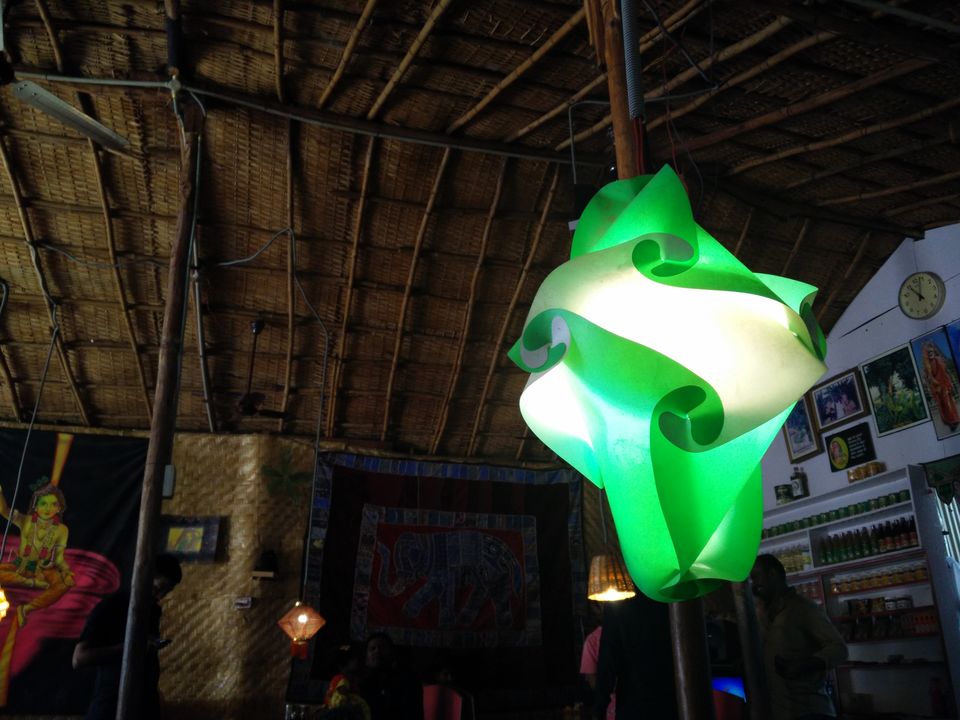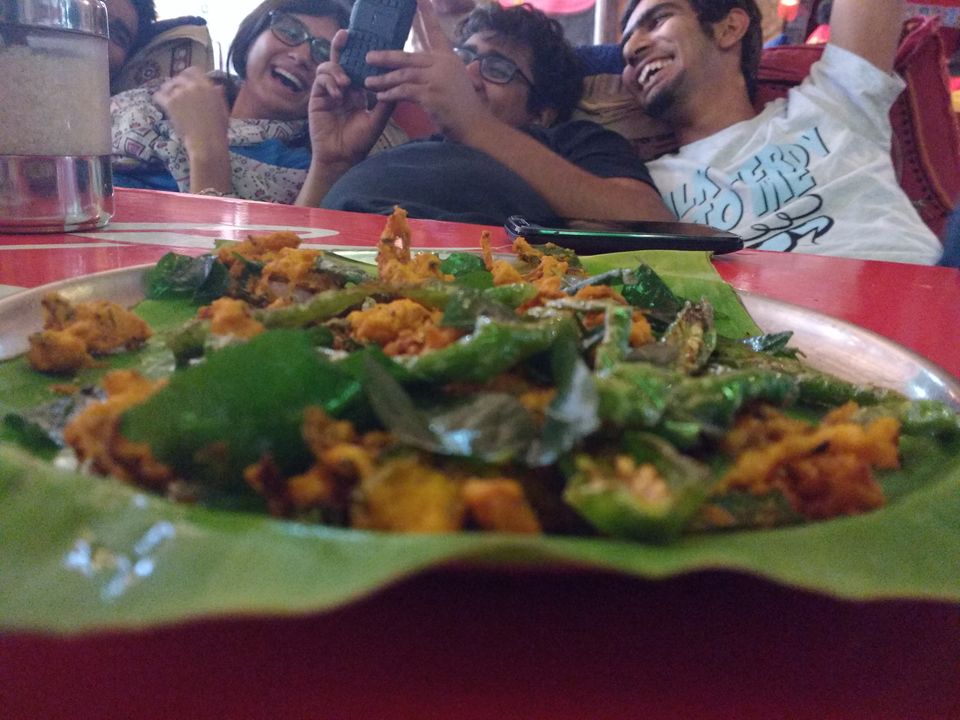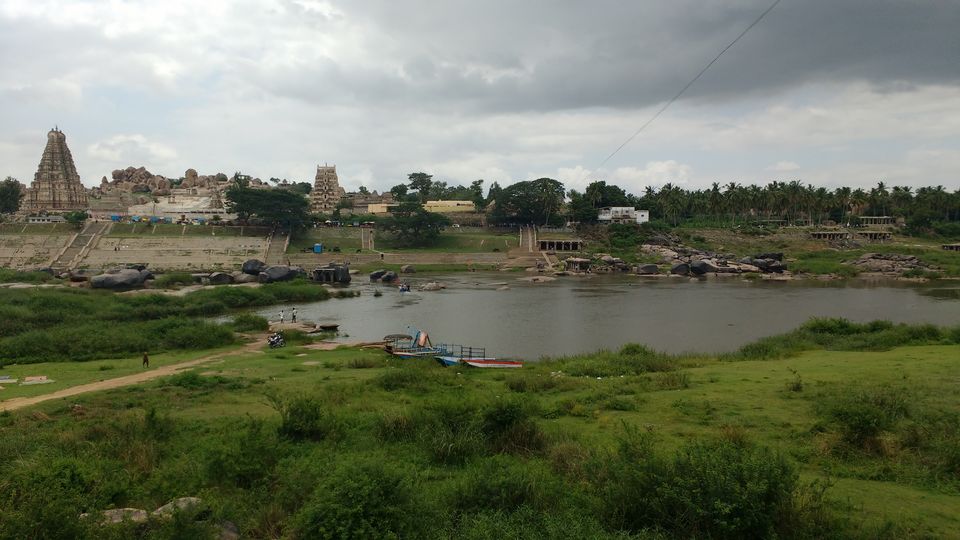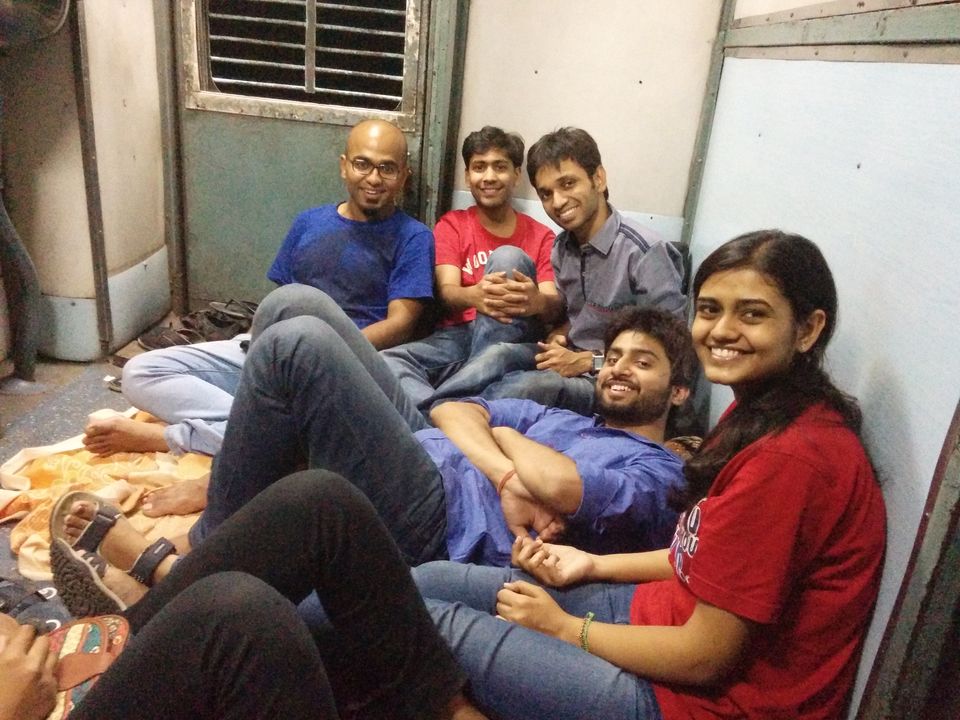 Expose yourself to as much randomness as possible. 
I tend to religiously follow this in my life and the return has been significant. This story started with total randomness. 
There was a cultural event going on in our college and it was supposed to end by 11 pm. Surprisingly, our performance ended by 10 and as it was friday, suddenly the thought struck me, 'let's go somewhere on this weekend".
When you search for 2 days getaways from Hyderabad, Hampi naturally comes in every list. After reading this post, you'll want it to be number one. It was 10.15 and there was a train to Hampi at 11.10. At 10.30, it was decided that the weekend would be spent at this world heritage site. 
Hampi remained the capital of Vijayanagara Empire for around 200 years. It was chosen because of its strategic location, bounded by the torrential Tungabhadra river on one side and surrounded by defensible hills on the other three sides. At that time, these elements served security. Now, they are a feast to the eyes and make Hampi an irressitibly beautiful place.
We reached the station on time and bought 8 general tickets. We were sure that we won't be getting any seat and it was confirmed when we all had to furnish the area outside the toilet (You know how Indian train toilets are) to make ourselves comfortable. But as they say always, when you have a good company, you can enjoy anywhere. Look at these happy faces.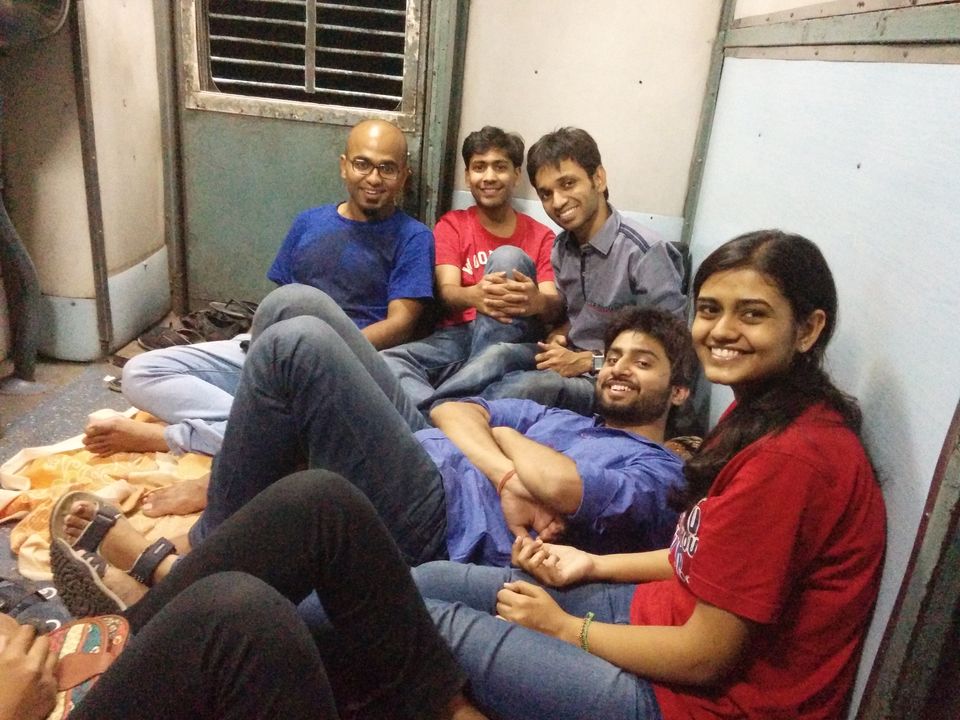 We reached hampi around 11 in the morning. The train drops you at Hospet and from there you have to take a bus which runs every hour and the journey is about 30-40 minutes long. The moment you reach near Hampi, you can feel the difference in the surroundings. Everything is so calm and resonating with nature. There is so much positive energy that it forces you to loose all your inhibitions and you'd discover yourself being in the most relaxed state that you ever have in your life.
At 12pm in the month of March, the breeze was like what you'd get at some beach in Goa. 
The bus stop is at the centre of the market, some 300 metres from Virupaksha temple. The auto stand is just outside, so the moment you get down from the bus, you'll see a group of auto walas rushing towards you to offer you a complete tour of the 'Ruins of hampi', as UNESCO calls it.
The tour will cost you somewhere between 400 to 500. If they start with a high price, you can negotiate with them as we did. One good thing they do is provide you a map that shows all the points that they will be covering. At first, it looks like there's a lot to cover here, but it's not more than a 4 hours tour. It actually depends on how much time do you spend at each place, or rather how much a particular place holds you. They drop you back at the same place.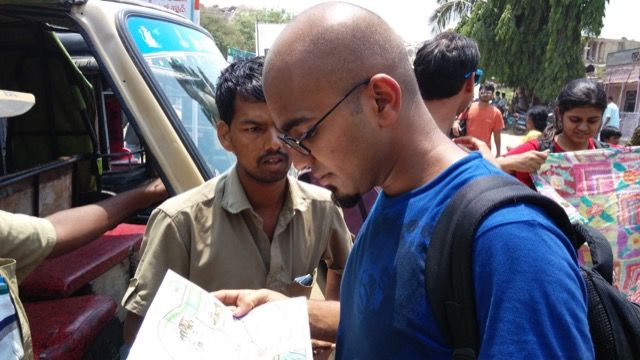 The architecture is reallly magnificant. At some places like the hampi bazaar, you can actually picturise what the kingdom would have looked like at that time. Virupaksha temple, vittala temple, queen's bath, Narasimha Vigraha, Sasivekalu Ganesha, Elephant's stable and there are many others. If you properly read the inscriptions at the monuments, it wouldn't take you much time to travel to 16th century and feel that the air was a lot different at that time.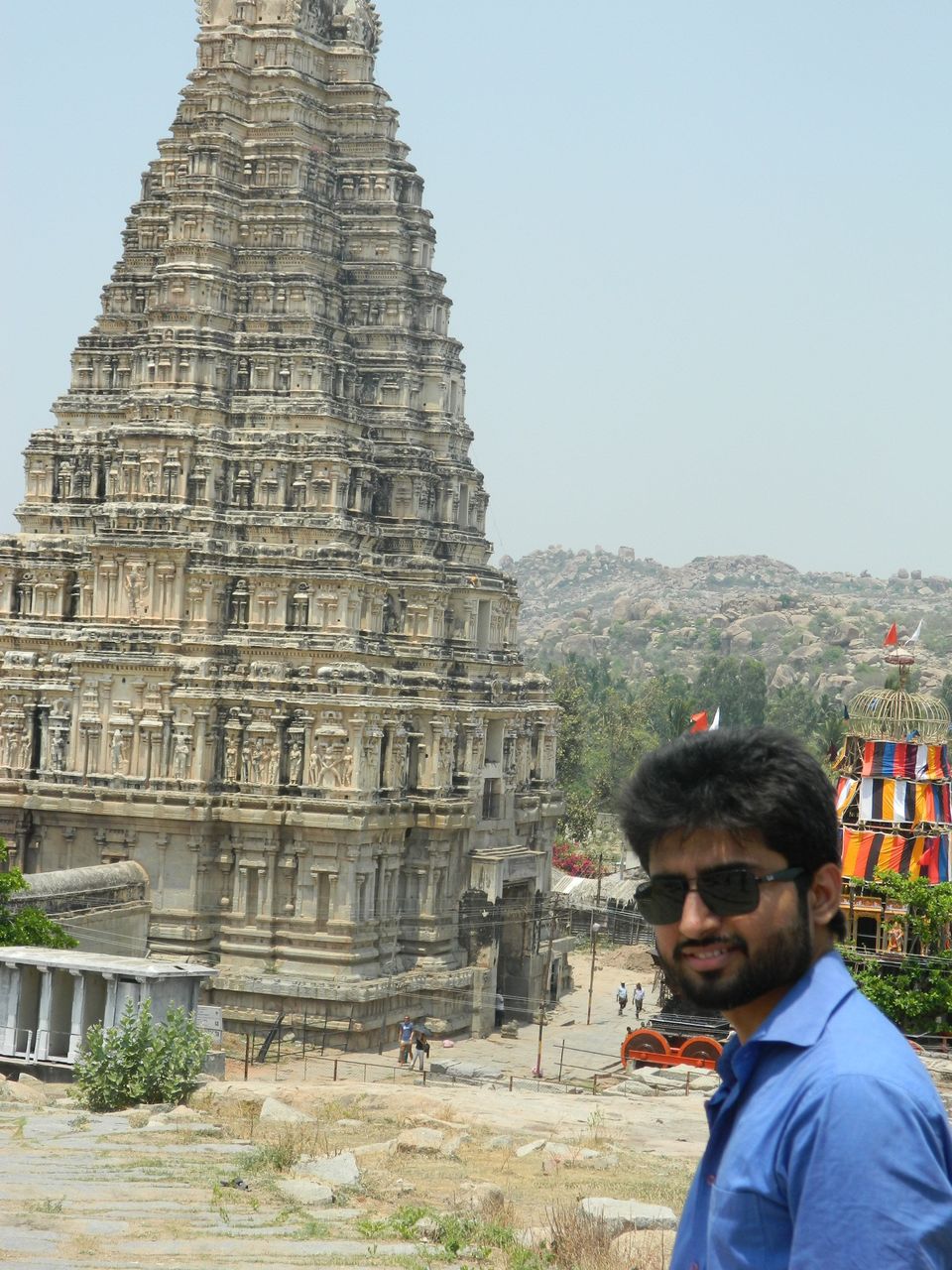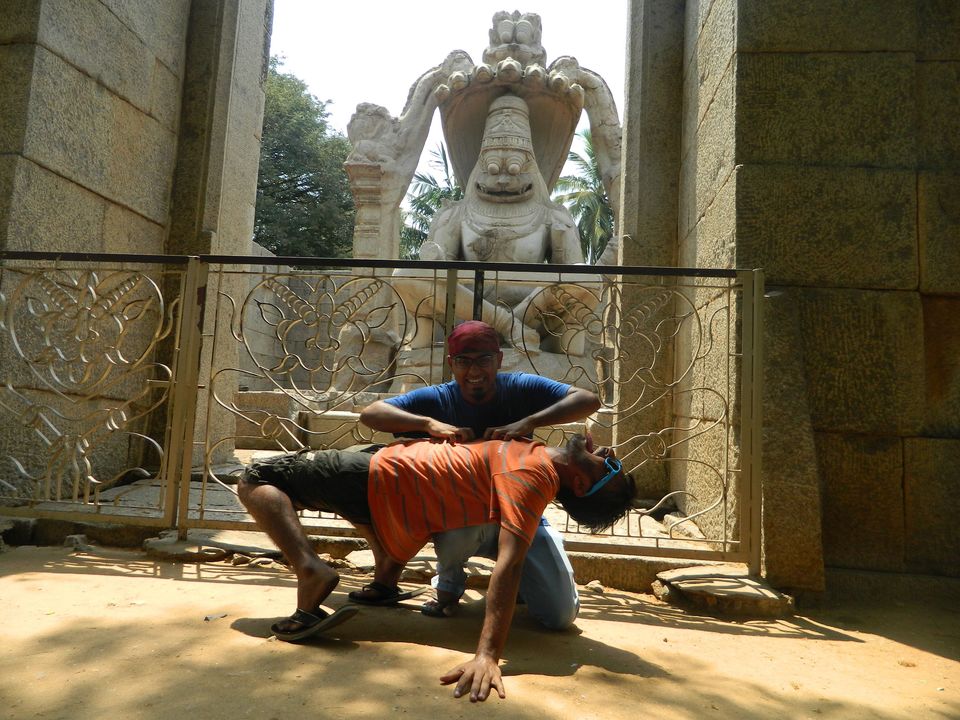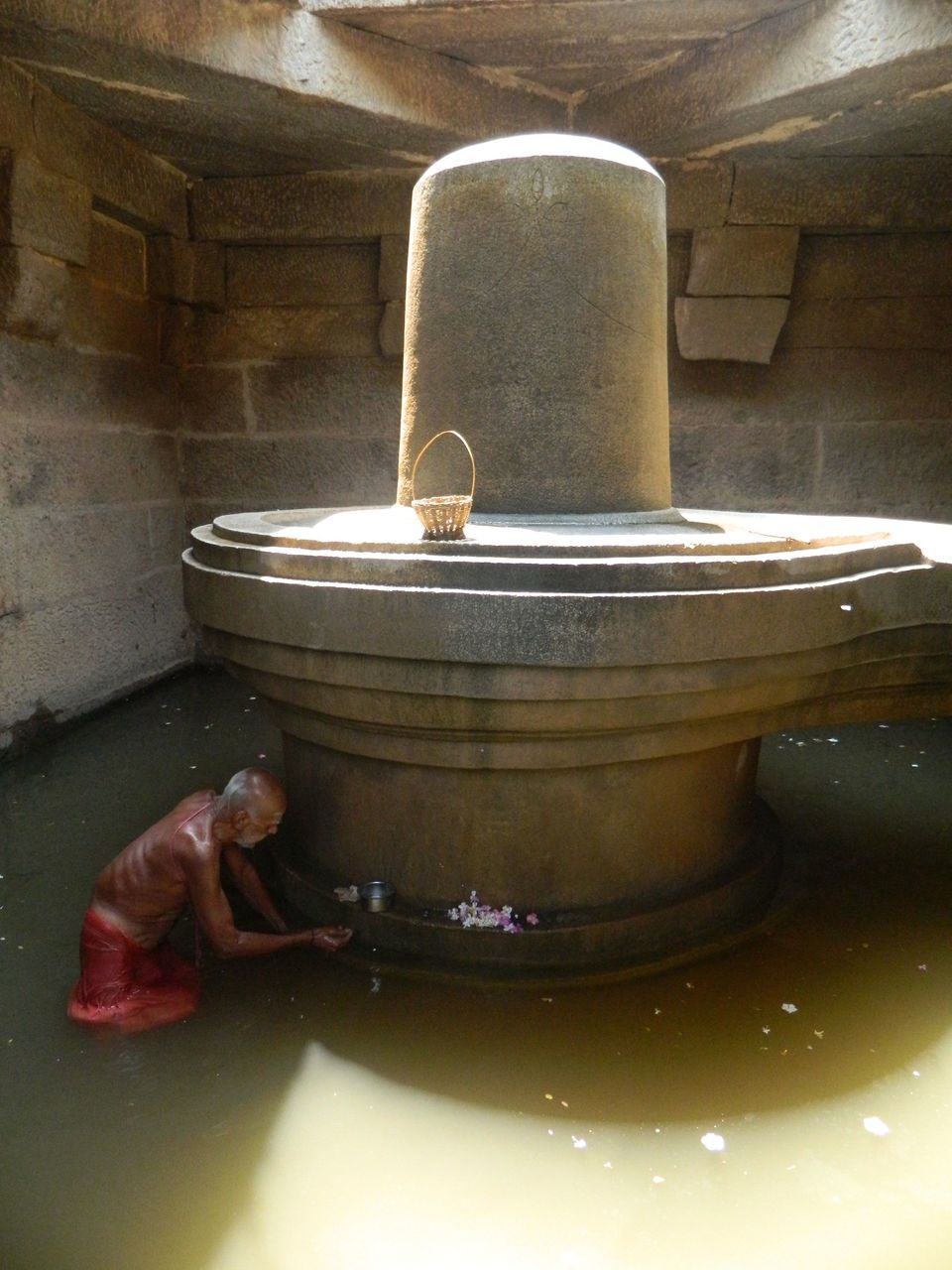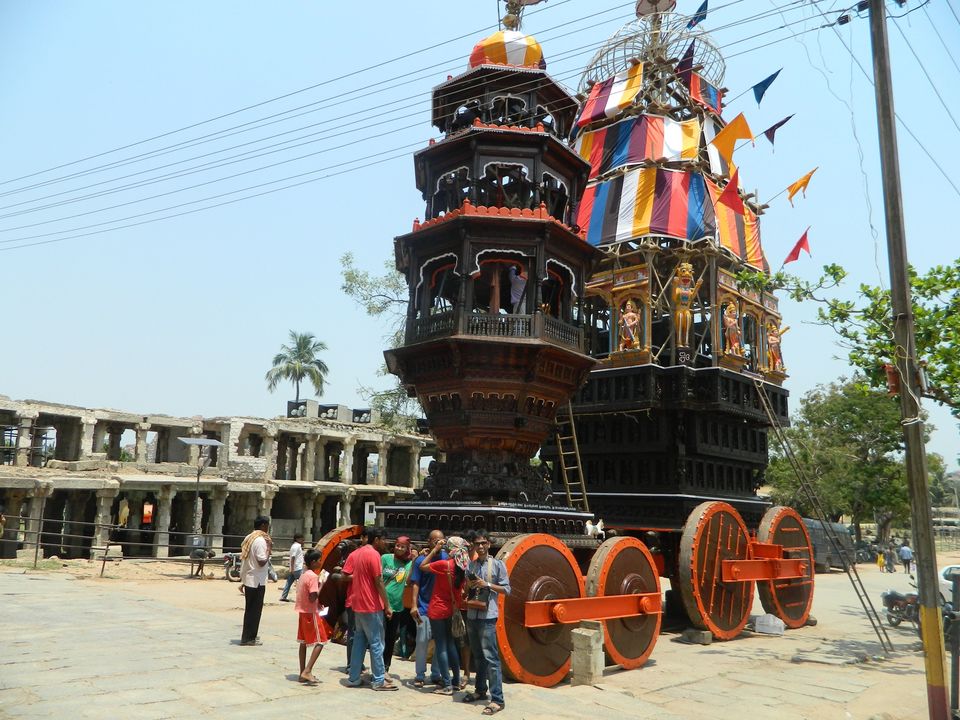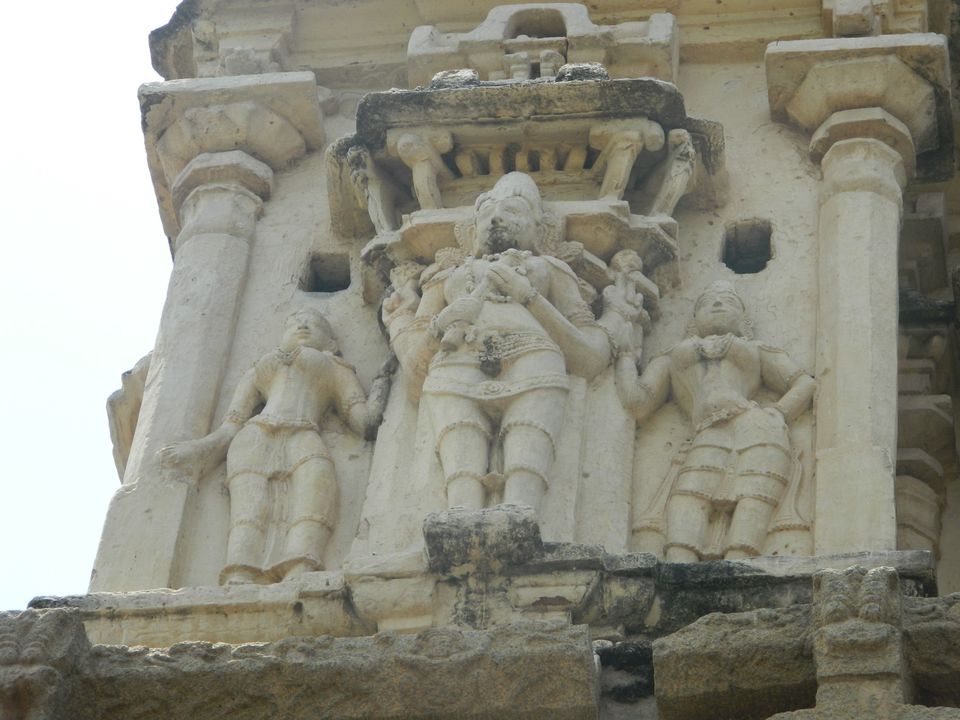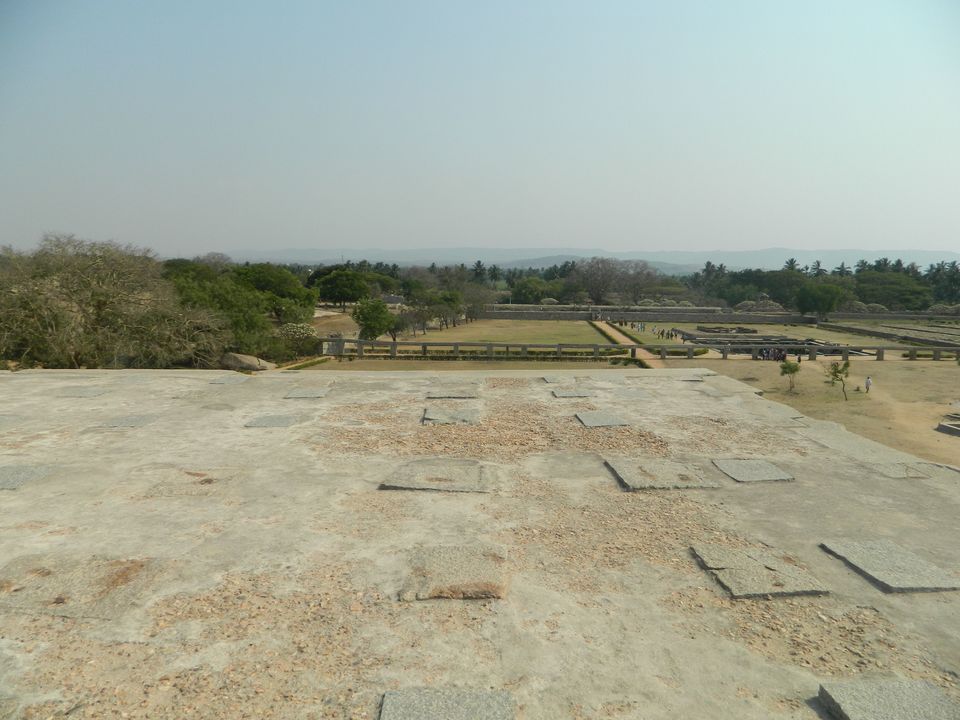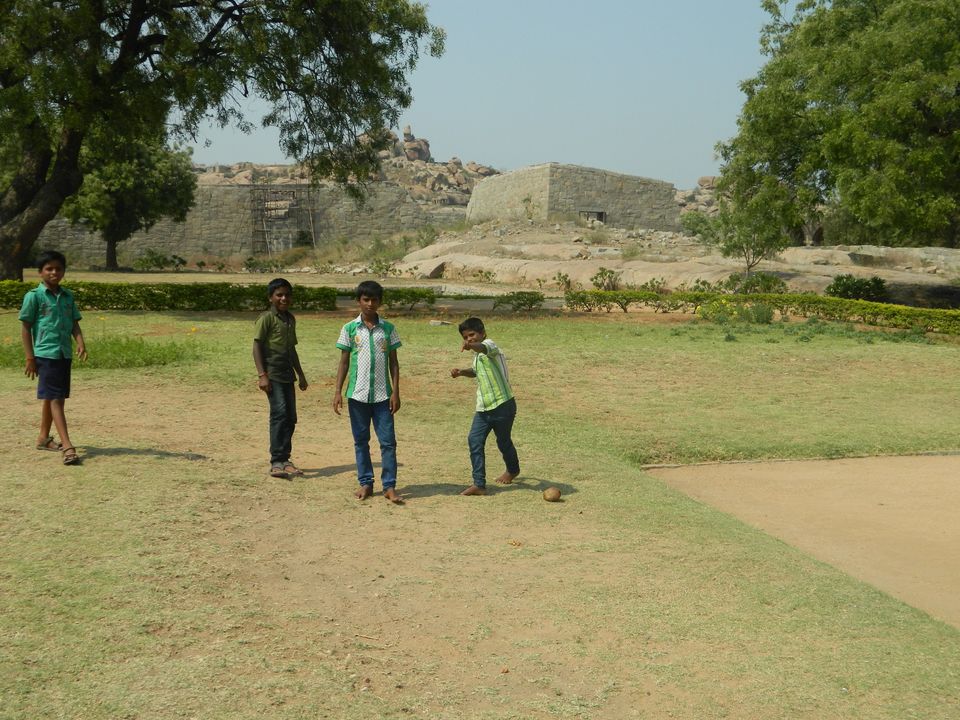 They had their annual festival the next day, so we were lucky enough to see the three-storey chariot that is used every year to carry out rath yatra.
So, architecture done ! After three hours, when we were nearly exhausted, it was time to search for a good place to eat. And let me tell you that the trip actually started from this restaurant, named mango tree restaurant. It's located just adjacent to the river road and tries to gives you a glimpse of what you are going to experience on the other side of the river. Trust me this is the best place you can go to after that tour. A laid-back place, delicious food, breathtaking psychedelic art and your mind at peace, you won't need anything else at that point of time. The sitting style and walls will remind you of those small cafes that you'd have seen in Gokarna. They have a vast menu and everything we tried was decent enough. Try their tomato cheese paratha and momos. In drinks, banana lassi is pretty good.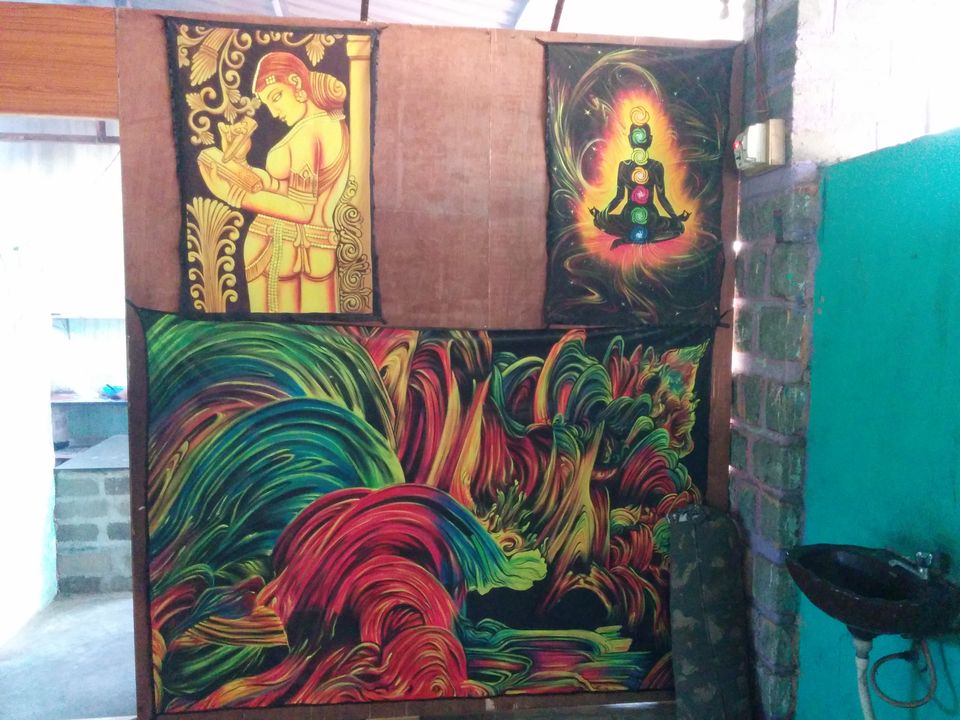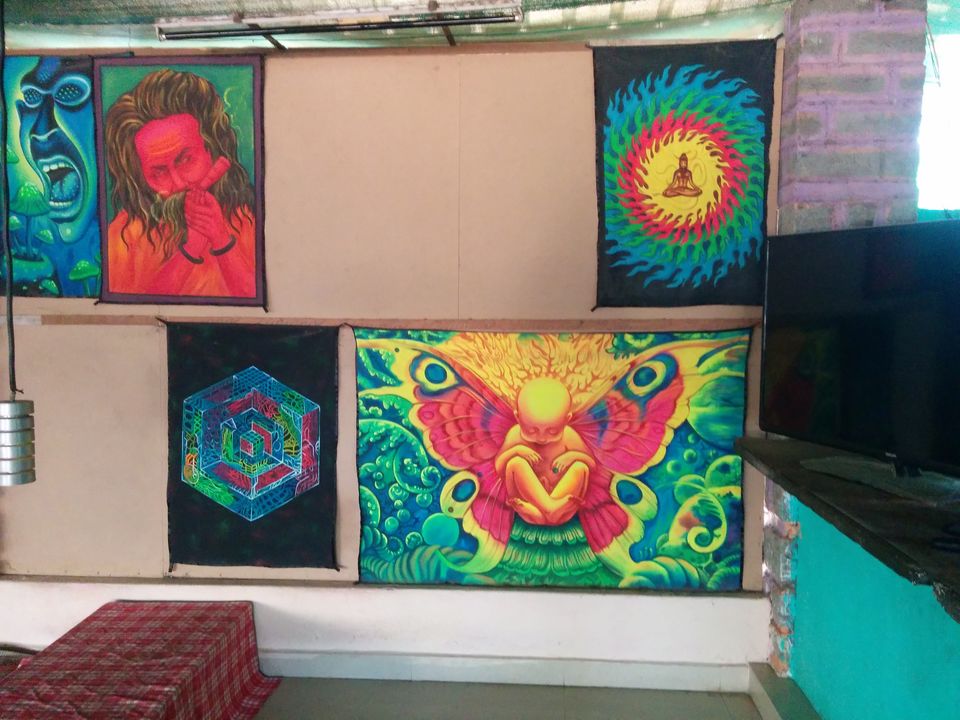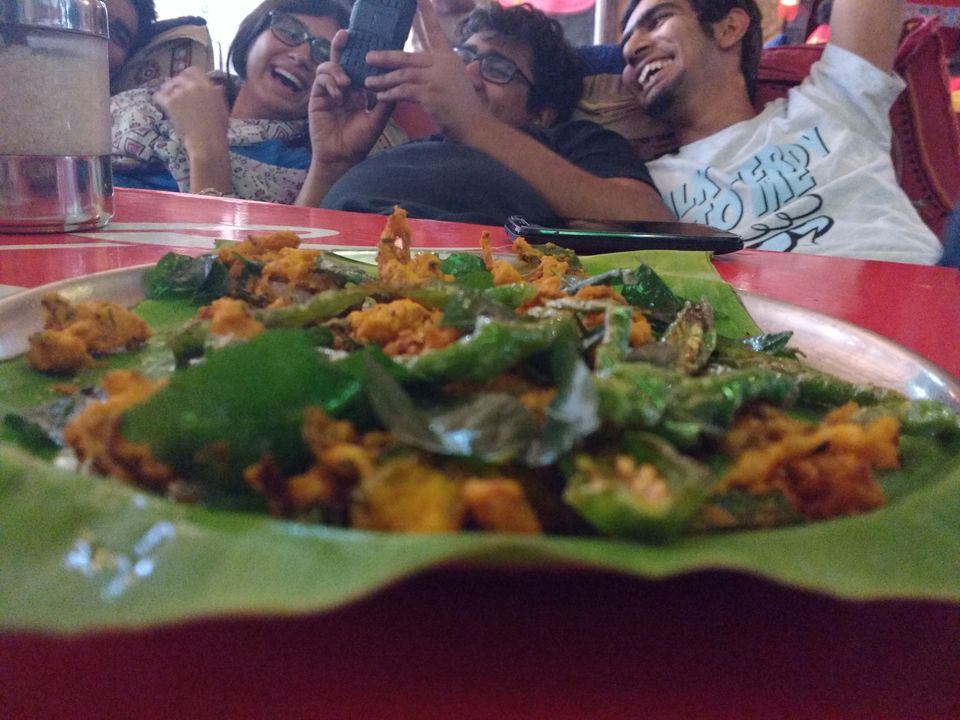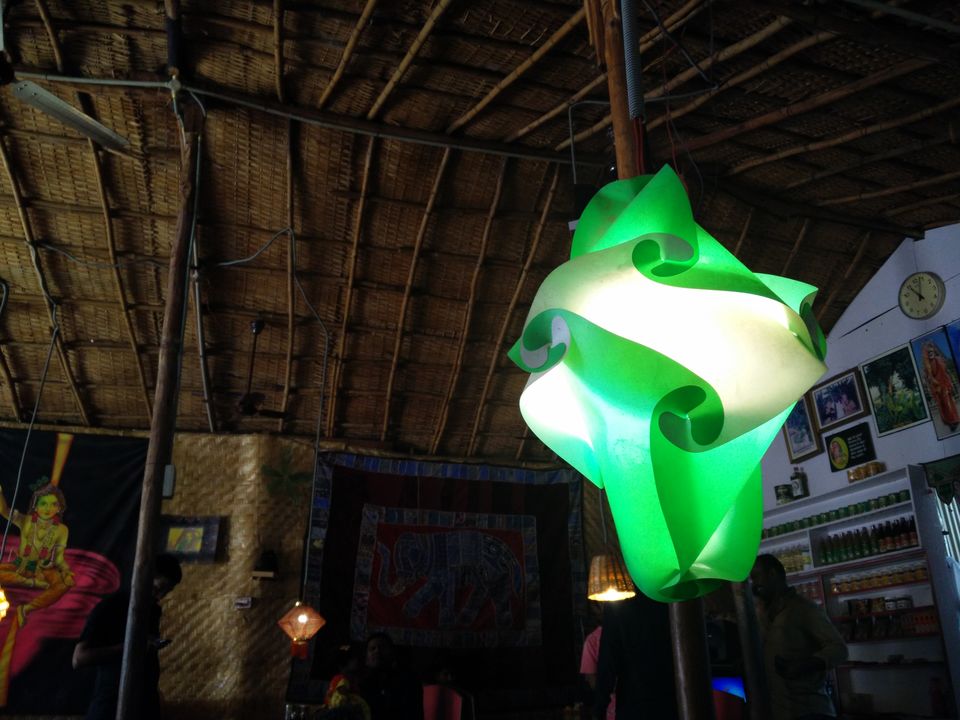 After relaxing there for around 2 hours and fearing that everybody will doze off there itself, we decided to proceed. The walk from Mango tree to river bank is quite engaging. Just after starting, you'll start seeing several small shops which like at any other tourist place, sell the local handicrafts. These kind of shops offer a number of things to adorn yourself, so don't ignore them while you are walking past them. Then as you move forward, the Tungbhadra river will appear on one side and the Virupaksha temple on other. At this point of time, it was difficult to appreciate both of them but in the next two days, there were some points in the trip when we were just sitting and staring at both of them. As it is the case with every major river in India, ghats have been built near the river. This is one of the aspects of our old kingdoms that I cannot resist to appreciate everywhere in this country. When you start to think about it, you can't possibly limit the number of benefits that it has. The depth of the river doesn't look much at this point, but when we asked the locals if we could swim across to the opposite side, the reply that we got was the depth is 20ft, and you may find crocodiles on your way :D. We decided to believe only the first part.
This road is named river road and a ferry( Hampi-kiskindha ferry) runs from here to take you the other side. The cost is 10 rs and it can take upto 10-12 people at a time. The locals here are very supportive. Initially a bunch of autowalas came rushing towards us to offer transport help. At this point, some other people came to us to ask if we needed any psychedelic-help.
You'd have heard that the grass always appers greener on the other side, but in this case, it was a different world, and we were yet to explore the 'grass'. When we reached the other side, it felt like we were in a totally different place. All the background noises seemed to vanish into the thin air. It appears as if this was a forest at some time, that has been specially designed so that you can come here and relax. A very pleasant breeze welcomes you and everything in your surroundings changes its colour to the one that reverberates with the nature. I accidently turned back to have a look at the river AND, discoverd the first point where you can appreciate the river, virupaksha and ghats, all together. The distant local people that we were able to see on the other side appeared as if were they part of a society that runs in a parallel universe.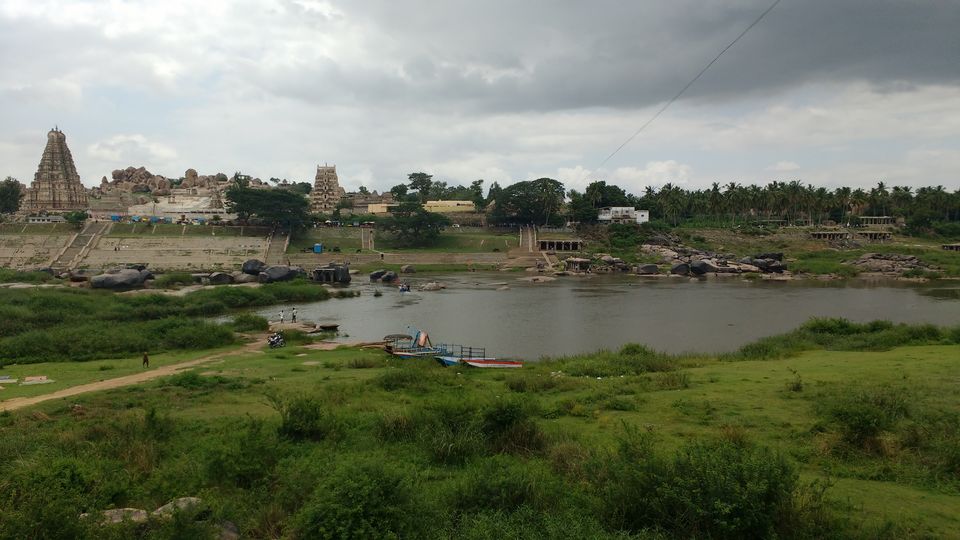 Here again, you will be offered help by a group of people, this time for stay. I'd recommend to go with one of those guys, as they will show you different cottages and you can inquire about other things also. When we saw the first cottage, we knew this was the one we were going to choose. We didn't even ask the guy to show any more cottages to us. Imagine this scenario : When you walk out of your cottage, you are welcomed by the extra-green paddy fields upto a distance, with a blend of coconut plantation, and then those large rocks at the end which seem to call you the moment you look at them. More, the hammocks just outside the cottage are an icing. After seeing all this, we were in no mood to go anywhere else. The place's name is 'Funky-Monkey' and guess what's the rent for a single person. Just 200 Rs!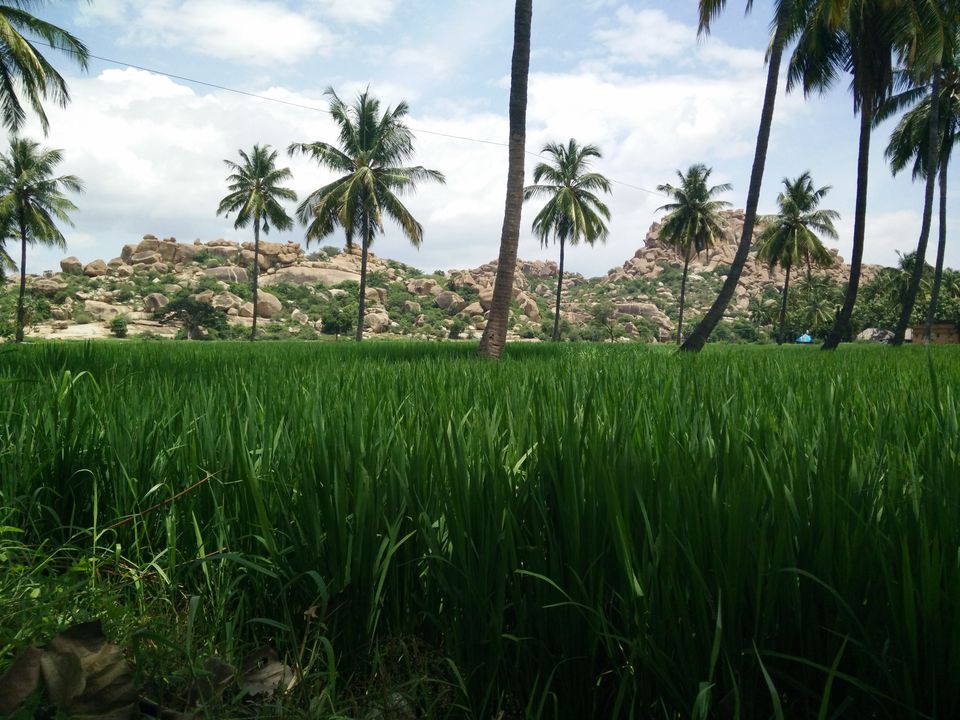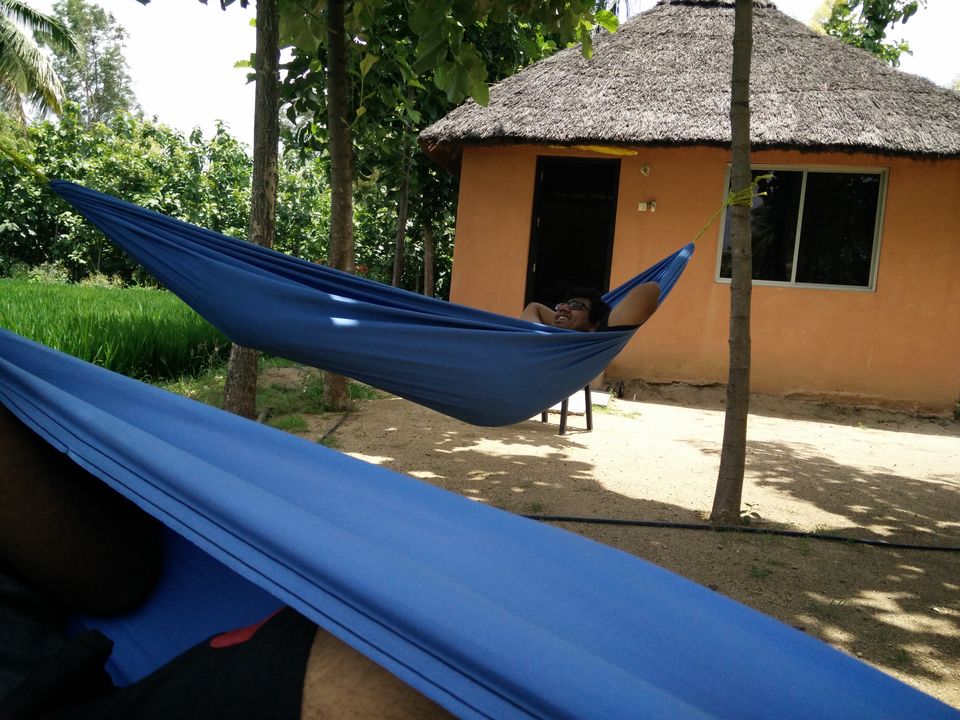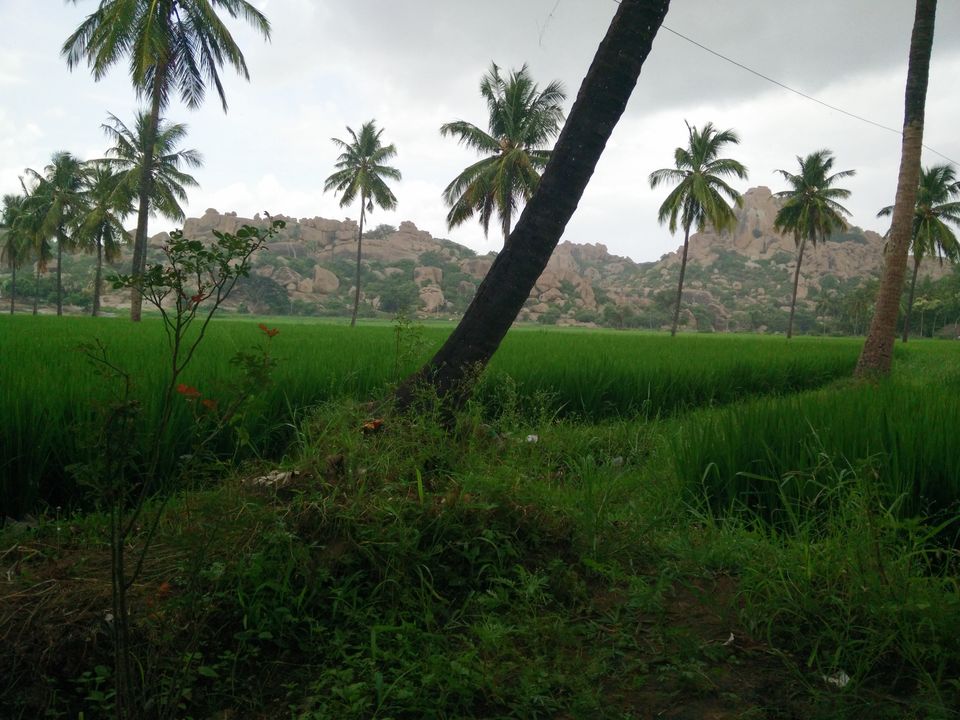 It was 4.30 in the evening. Ideally at this point of time, we should have been more enthusiastic to go and explore the city, but when we were offered this scene, leisure won over exploration. The evening was spent in our high senses, just staring at this spectacular landscape. Sometimes in life when I am in these kind of scenarios, I wonder if all what I am doing in my life apart from travel is worth or not. There is an intense and irrestible desire for freedom. For travel and to escape the regularities of life that unneccessarily try to occupy time and space. I am sure this thought occuers to everybody; the difference is what stimulates it.
Anyways, when we were back to this world and craving for some delicious food, we went out in search for a good restaurant. Luckily, the funky monkey had its own restaurant and there was a surprise waiting for us. They had various musical instruments. Needless to say what happened afterwards, dinner was followed by a jam session under the stars. Initially, everybody was full of energy and crying at the top of their lungs. There was so much happiness all around. After some time, things slowed down gradually, and we shifted from Euphoria to Piyush Mishra, from loud cries to hymns. There was the sound of music, and then there was silence all around. I don't know the exact word for this, but it usually happens that we you are happy and crying out loud, the nature also shouts and resonates with you. And when you are calm, the nature also lowers its voices to help you concenterate.  There's a famous quote :
"After silence, that which comes nearest to expressing the inexpressible is music." 
After some time, people started dispersing.
At this point, I was feeling that this trip is turning out to be a perfect one. But, there were more things awaiting us the next day. One of those things was cliff jumping. I didn't mention it till now, but I had read about it before, and that was the reason most of the people were convinced to come here at such a short notice. The plan for the next morning was to first observe the sunrise from the highest rock that we could see from our cottages (refer the photo) and then go for cliff jumping. At that time, it was very difficult to leave the hammocks so I decided to stay under the stars for the night. I think this is something that everybody wishes to do at least once in their lives : sleep under the stars. Hampi is one of those places that spreads out its arms and welcomes you to fulfill this wish. 
In the morning, we left our cottage around 5.30am. The climb is quite easy one and it will take you around 25 minutes to reach the top. From that point, you can see the whole town on one side and the rocky mountains on the other. Have you ever wondered why we find the sunrise and sunset so much(remove) beautiful? Why all these natural elements appeal so much to our eyes? Whether it's mountains, sun, beaches, forests, stars, or even deserts. Everything in this world that is purely natural is divine. And no matter how much you enjoy the other things, at the end you'll find peace in one of these only. I think I need not write anything about the sunrise here.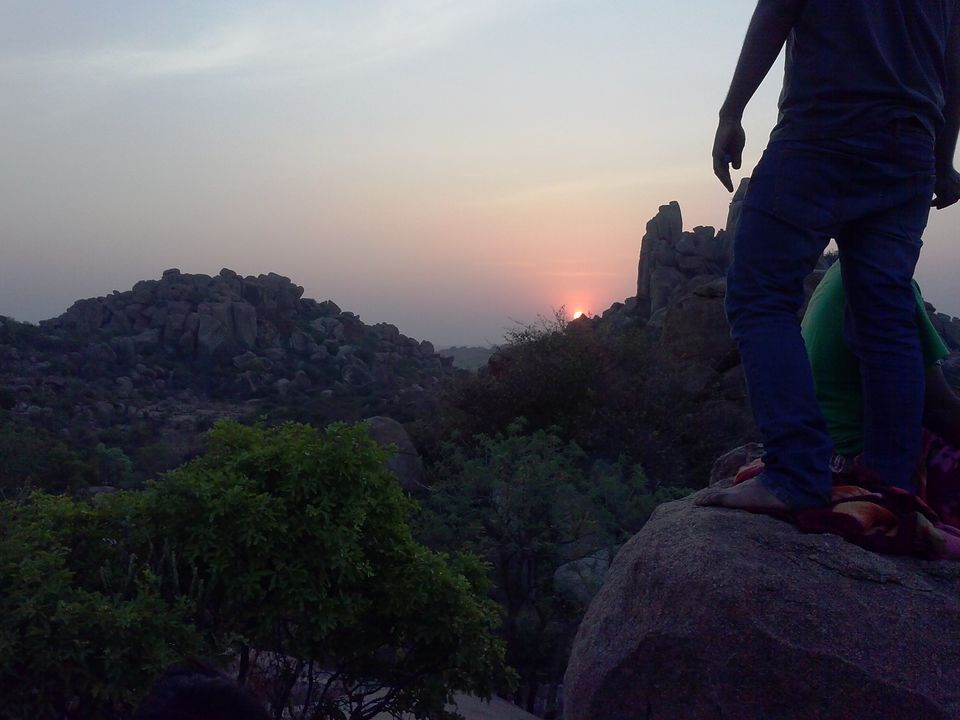 After we returned to our cottages, we got to know the cliff jumping point was around 6 kms from the cottage. Now for personal travel, the locals here offer you Luna bikes, the ones which have almost disappeared from most parts of the world. They have that much capacity that if you have a pillon rider, you'll have to request him to get off the bike if you encounter a steep uphill. We stopped at gautami to have breakfast before heading to the cliff point.   
The route to the point was beautiful. You have to take the road towards Sanapur and then there is a right turn on the reservour road. There is a huge reservoir that suddenly appears on the left side of the road and when you see it, you can't possibly continue driving. You have to stop and appreciate.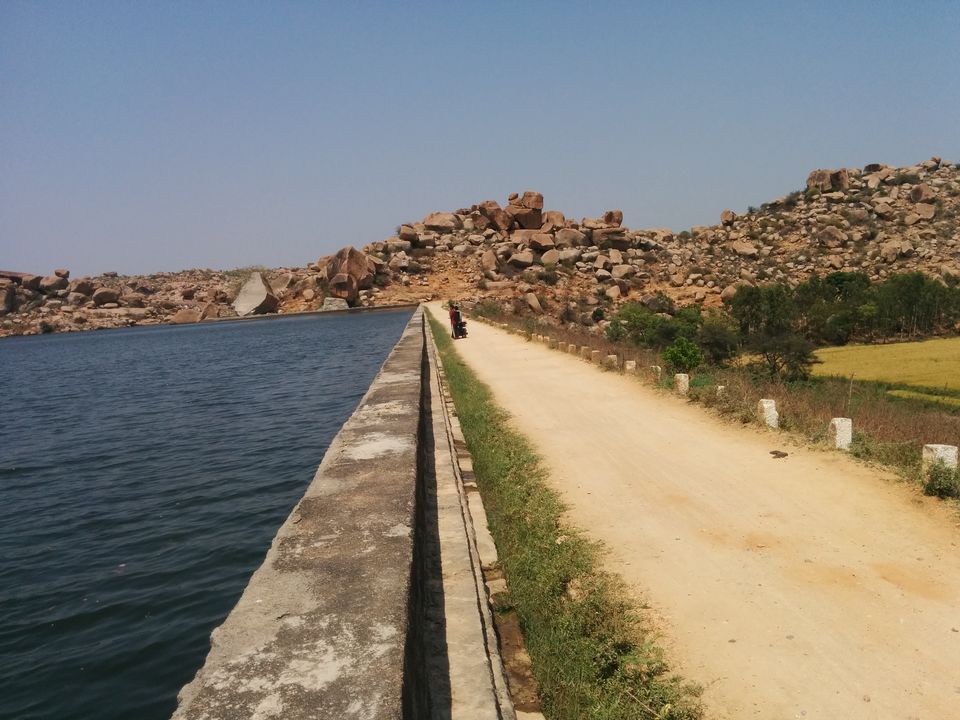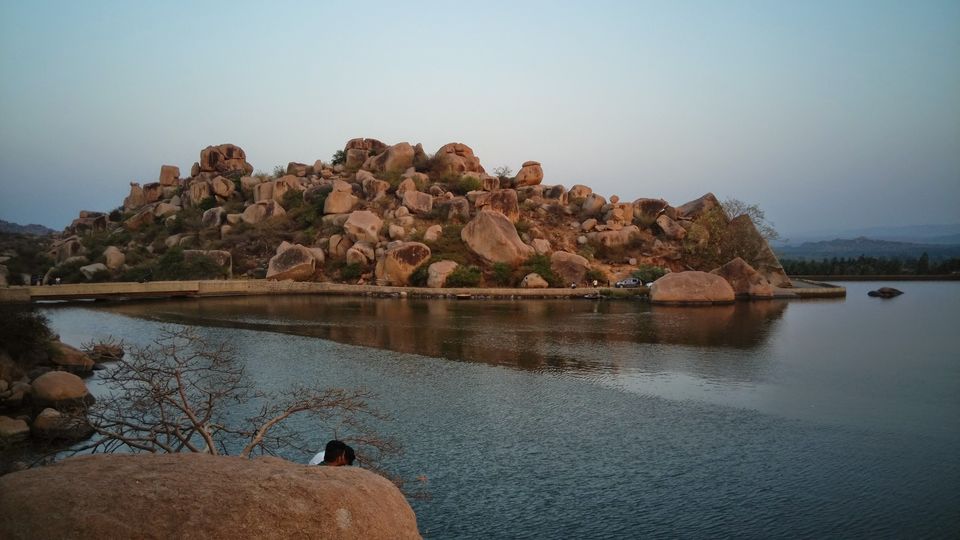 When we saw the cliff from a distance, it looked like a small one, around 25 feet. We were sure it won't be much challenging to jump from here and even asked the locals to show us some higher cliff. When we reached the cliff, I asked the locals to jump with us as I was not sure about the depth of the water at that time. But they said they loved their life very much. After 10 minutes, we thought of giving it a try. One of my friends (who has spent a considerable amount of his life in water) jumped first. After standing at the end point for around 3-4 minutes and looking at the resorvoir ahead, I finally jumped. The height is that much that you are in air for about 2 seconds. But, second is a pretty large unit to talk about in this case. You can feel every moment passing when you are going down. And once you are in water, the first thought that comes to mind is let's do this again, Now. There's a sense of achievement of doing it, mixed with excitement of going again. It appeard very easy to do it again, but as soon I was on the top, it took almost equal amount of courage to jump second time. The picture below shows the point from where we jumped.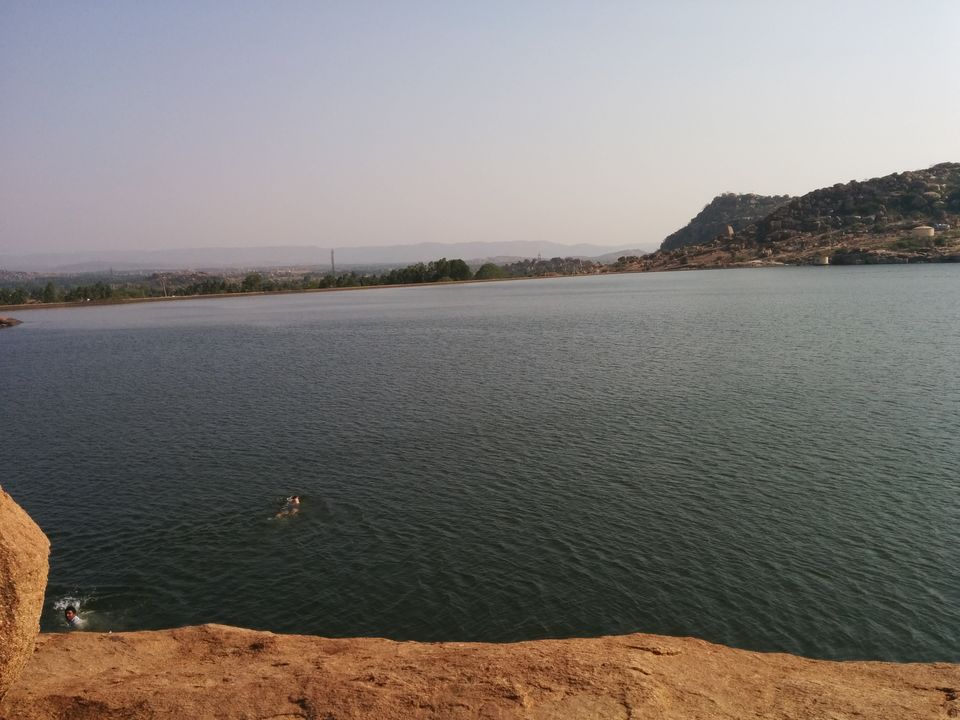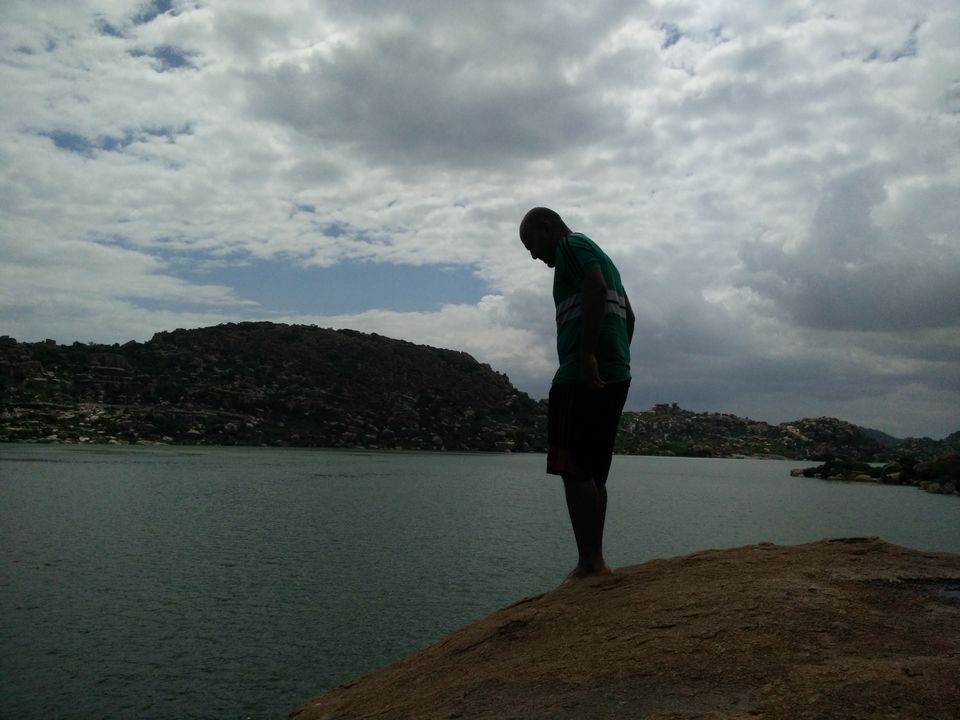 After some time, some locals had gathered there who were very friendly and encouraging. One man even offered us biryani that he had brought with him. Even more, there was a chaiwala there who had a live counter ready to serve us tea. Now where in this world you'd get this!
2-3 hours passed. We all jumped multiple times. It was sunset time. Whenever you are witnessing a beauty, there are different stages to it. The first stage is that you just appreciate it. Next is when you want to capture it. And then, there are some moments when you don't care about capturing. This was one of them. And that's the reason, I can't possibly describe it in words here. Everything that I'll write will not do justice to those moments.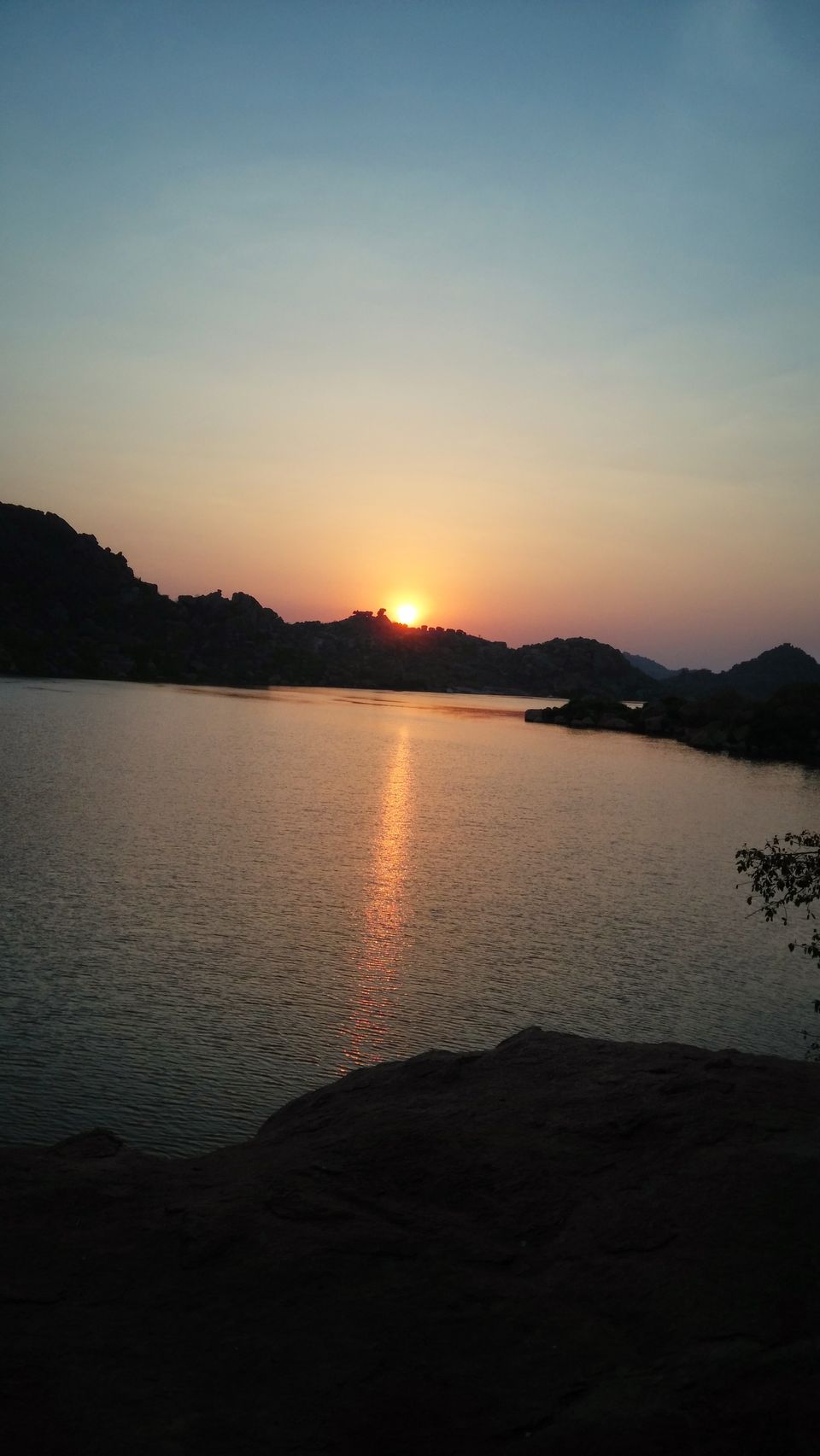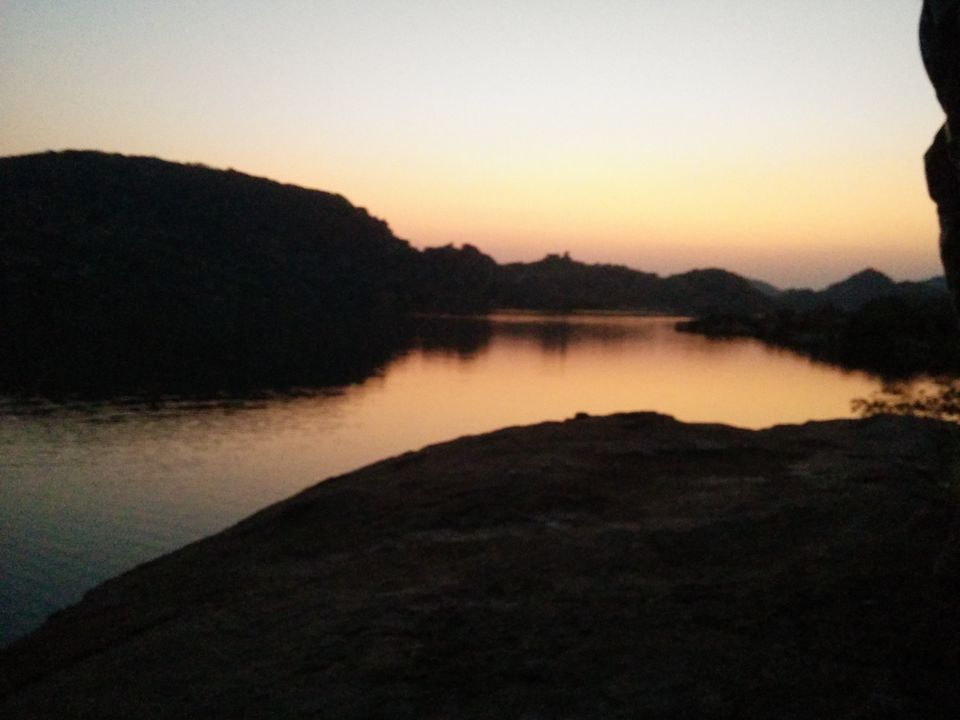 We all were there for the next two hours, just looking at the sky. In India, the number of places where you can see a good number of stars on a clear night is reducing, due to obvious reasons. Hampi is a place where you won't be dissapointed if you go for star gazing.
It was dinner time. The journey back to the town was quite interesting as some of the mopets didn't have headlight and others didn't have horn. We stopped at shanthi guest house for dinner. There is one strange thing about the restaurants here. It seems that every other cafe here serves the same menu. And even more, the taste is also very similar (and pretty average). Other not so good thing is that the service is not good. By service here, I mean to say the time taken to deliver the order. It's good that they try to cook everything fresh after you order. Maybe this is what causes the delay but IMHO, lack of human resources is also a major reason. 
I guess the kind of audience that these cafes target are not expected to care much about this delay part. We all were famished by this time, so were very frustated at this.
Talking of food reminds me, there's no shop/cafe in Hampi that sells alcohol. In fact, being a religious center, alcohol is not permitted here. The neighbouring towns (Kamalapur and kishkinda) do have some shops. It's best if you can go and get it yourself, otherwise you'll have to ask locals there to arrange it for you, which would cost you much more. It's risky to bring alcohol with you initially because there are chances that you might encounter a police checkup just at the entry point of Hampi. If the money doesn't bother you, there is always an option of asking the locals there. As I said earlier, the locals here are very helpful.
Coming back to our trip, we all were worn out by this time. They say that a delicous dinner pushes you into a state of trance. Unfortunately the food here was not upto that level, so we had to resort to other methods to reach that state. 
We returned by 9 pm and everybody retired to their cottage. It was decided that let's rest for some time and then everybody will meet outside. But the next time I opened my eyes, it was 7 in the morning. We had to start back to Hyderabad in the afternoon.
We had heard from the locals on the first day that there is a famous Hanuman Mandir in Hampi on this side of the river itself. The mandir's name is actually Anjana Matha temple, but is commonly referred by the former name. It's located on a hill and you have to climb around 600 steps to reach the top. The thought that attracted me to this place was the view that we'd get to see. The view from the sunrise point a day back was magnificant and it's height was around only 250-300 steps.
Next 1-2 hours, everyone was lying lazily around the place. It's strange how quickly the time flies on a vacation. And we realise this only when it's the last day.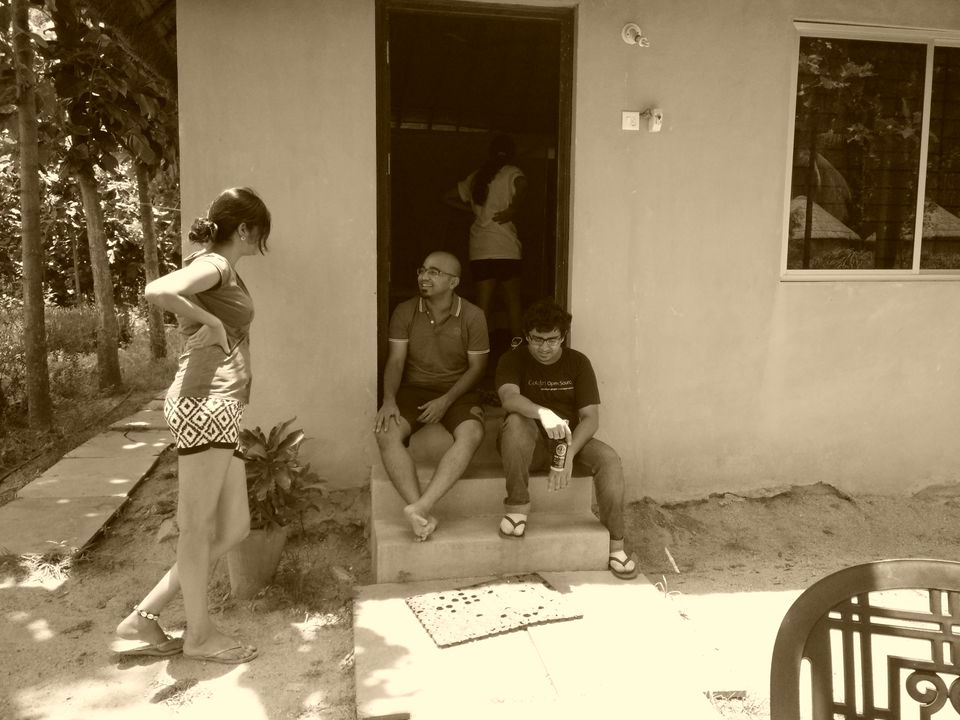 When we were ready to leave for mandir, it struck me that my mopet had punctured yesterday. Feeling not-so-happy about it, I went to the owner to get it replaced. When I was about to leave after taking the new keys, I noticed that a guest house guy had arrived there on a bullet. As soon as I saw this, I looked towards the owner and he understood. After 5 mins, I was riding a bullet on the roads of Hampi. This was like a dream come true for me.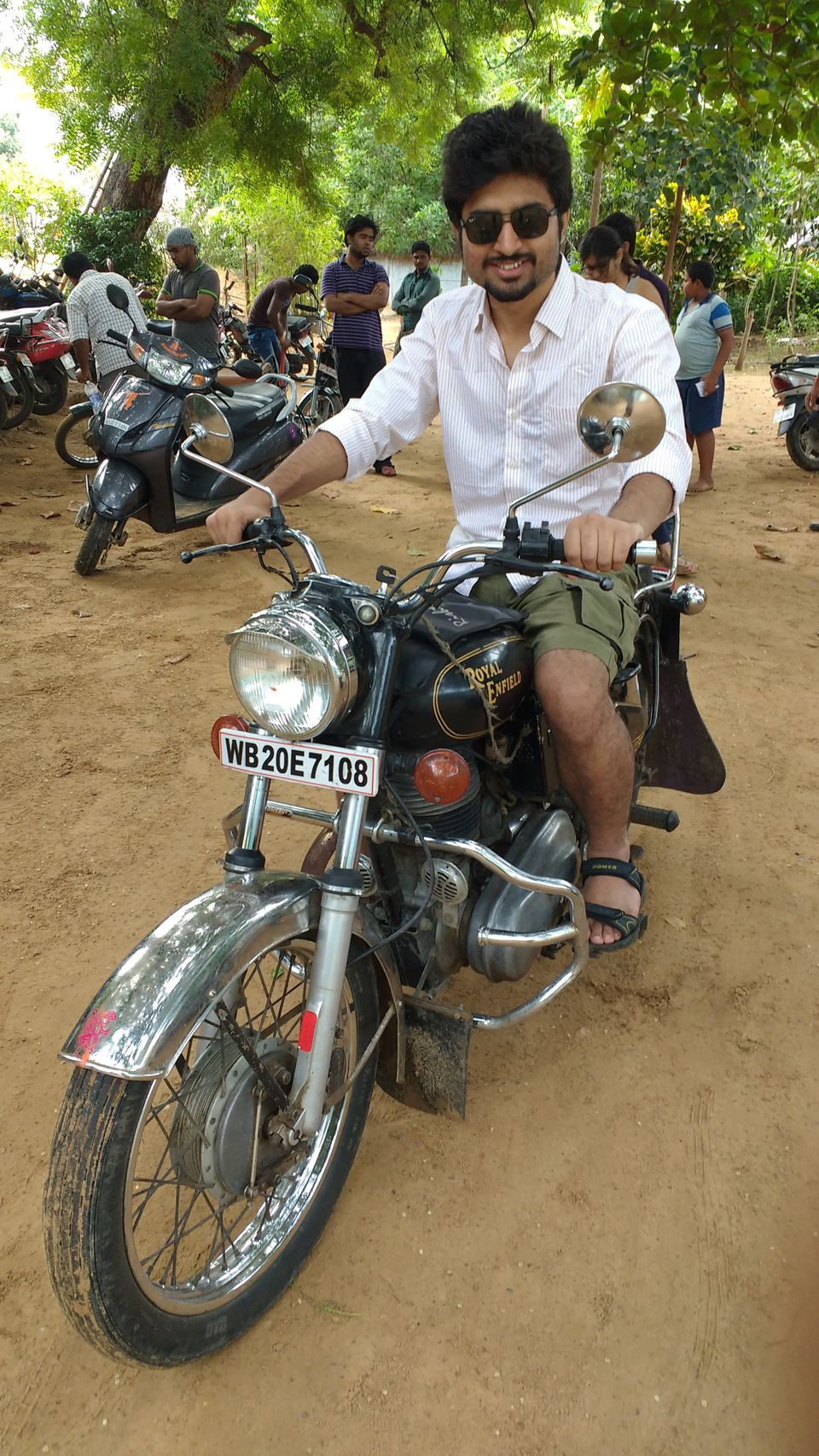 The route to Hanuman mandir is beautiful. Lush green fields on both sides and the large self-balancing rocks behind them (I think I should give a name to these rocks). Once you reach the sanapur road, take a right turn and then follow the road for about 2.5-3 kms. The temple is on the main road and that area is named Hanumanahalli. 
We reached there around 9 am. The crowd was not much at that time, the usual that you'd find in any temple. It took me 10 mintues to reach the top. And once I reached the top, I was lost.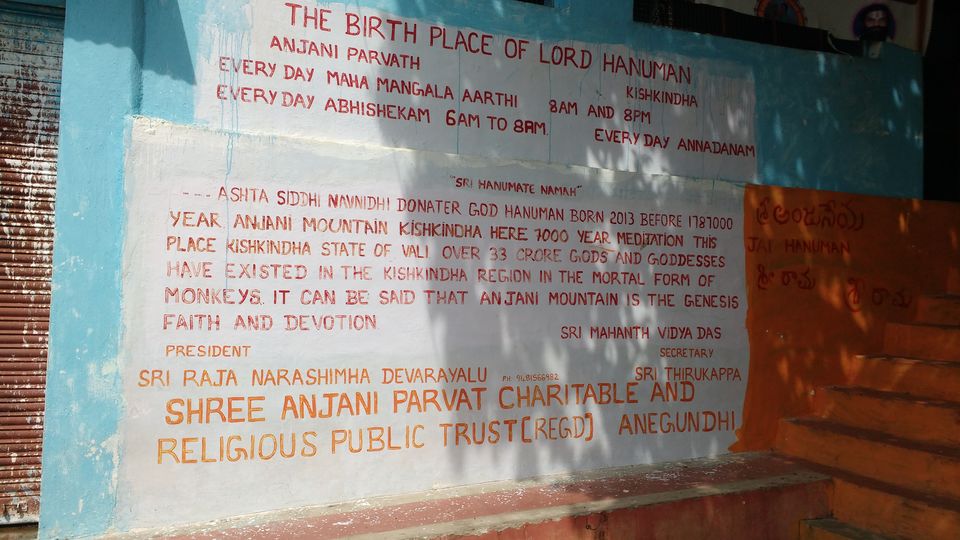 This was the best point in the trip. From the top, you can see the ruins of Hampi meeting the sky somewhere near the horizon. Looking far, you can visualise how these places must have looked in the 15th century. There must be king's living palace on that largest hill in the middle, so that he could observe the entire kingdom. That small lush green area near the river, that must have been queen's bath. Somewhere near the middle of the river, the common people would perform their daily chores. And the large field in the middle, that would have been used to discuss matters of the society, something like diwan-i-aam. And then, this whole area was surrounded by large hills, so that no outsider can attack.
We don't know how many civilizations have existed here. But suddenly one day, everything vanished. What remained was only ruins, what we call today as 'Ruins of hampi'.  
Large hills of stones, trickling stream of Tungabhadra, not-so-far clouds and the positive energy that you feel at temples only, this could not have been better. 
Sometimes I think this is the sole reason temples have been built around the world. To act as a source of positive energy, so that people can come and meditate. One of the major reasons the religions were set up was to keep people positive and motivated. When you are devoted to something, you have that extra strength and stability. Even if one is atheist, he/she will feel equally tranquil in a temple. That's the reason a lot of people visit the ganga ghats in Banaras, to experience the air of devotion, to connect with their mind. You should definitely experience it at least once in your life.
After having numerous discussions like this, we decided to return back to the cottage. It was 12 pm. As I had a bullet with me, I didn't want to let it go so easily, so I went ahead to explore. The road was as usual great and surrounded by large fields. The important information here is that there is a petrol pump on this road, 2 kms from the temple.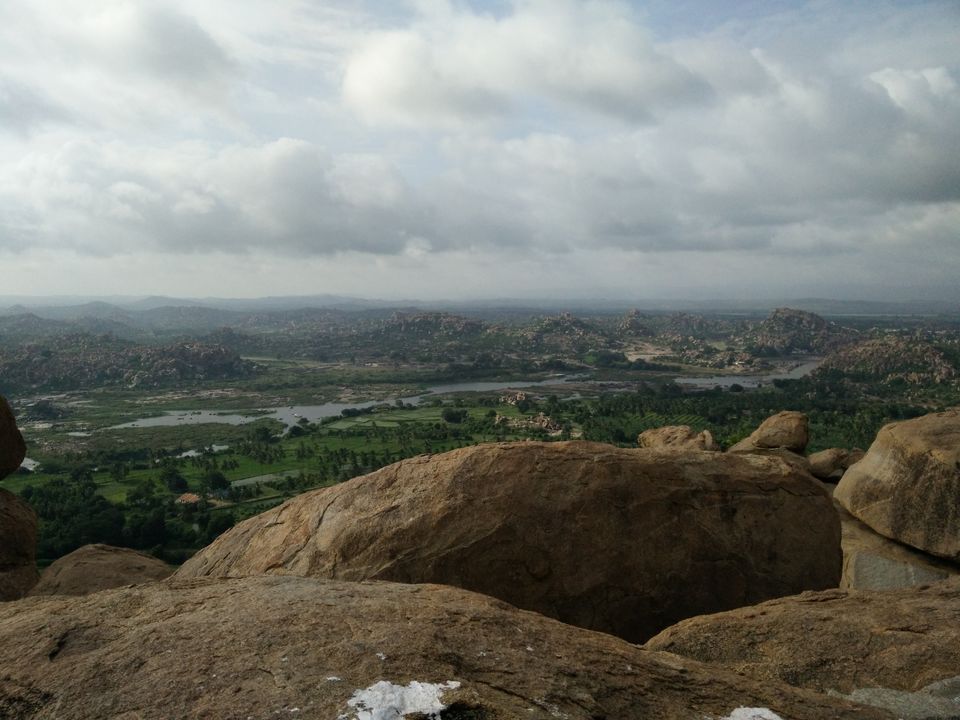 We took the return bus from Hospet in the evening and reached Hyderbad early morning. The images of Hampi were still in our minds and will always be. It's a place which calls you again and again, and I am sure I'd going pretty soon. If you haven't visited Hampi yet, there can be no better destination for your next trip.
"Hampi is calling. You must go".