Hampi had been a long pending destination in our bucket list. It is known that winter is the best time to visit as during summer the place is very hot and difficult to explore. This was the last long weekend of the winter and we were sure not to miss this opportunity. But this time we were not alone, another family of close friends were our partner in crime.
We started our journey sharp at 6 am and decided to take the route via Anantapur-Bellary. Got updates from team bhp that some constructions happening in the other route via Devangere.
After crossing Nandi Hills our breakfast stop was at Kamat Upachar, Ballagere. Just loved the fresh early morning cold air of winter and the cup of hot coffee!
Later we continued NH44. This is a 4-lane National Highway and though the other route via AH47 offers 6-lanes; I would say this road is better to drive due to much less traffic. The road is in perfect shape and I was able to cruise at 120+ in most of the places, occasionally touching 140. Within 2 hours we reached Anantapur and then took left towards Bellary. After this the road condition transformed to OK from great and then bad after we crossed Konapuram. Beyond Bellari it became pathetic! Bad road and large number of mining trucks slowed down our pace.
Original city of Hampi does not have much hotels. It is part of the effort from government to save the world heritage site from getting spoiled. So, most of the people stay either at Hospet; nearest town from Hampi or on the other side of Tungabhadra river. Those who prefer luxury choose Marriott in Bellary ( JSW Township ) ,but considering the distance and condition of road we did not book it.
By 2 PM reached our accommodation, Sai Plaza which is in other side of river ( also known as Hippie Island). This place is like a little version of Goa sans Sea and Booze. There are plenty of budget guest houses and stays along the strip and most of the tourists are foreigners. Our guest house was bang on the opposite side of famous - The Virupaksha Temple and we got a clear view from the restaurant.
Hungry like anything we just dropped our luggage at room and went for lunch. Food was good and reasonably priced. We wanted to cross the river by ferry after lunch and explore some part of Hampi. But the hotel guys suggested to keep it for the next day as the last boat from the other side is at 6 PM and we don't have enough time to do anything over there. One advice to everyone; Hampi is such place which demands and deserves time and patience. They suggested us to visit Anjandari Betta a.k.a Monkey Hills. Besides being famous for spectacular sun set view, this place is believed to be birth place of Lord Hanuman (the Monkey God mentioned in The Ramayana and other Hindu mythologies).
A short drive of 20 minutes took us to the foothills. This site seemed to be a major tourist destination. For some; main attraction is awesome 360-degree view of Hampi and others wanted to offer pilgrimage to the Hanuman Temple situated on the top of the hill. To reach the top we had to climb up 600 steps. Though it is not steep or dangerous but the number 600 itself is a sheer challenge.

After reaching top we found lots of devotees offering prayers in the Hanuman temple. We sat on the rock for some time and watched the sunset. It was a great sight to see! There were hundreds of tourists sitting on rocks to view the same and this is one of the famous sunset viewpoints of Hampi.

After this outing , all of us were very tired and we decided to have some leisure time at the guest house. The restaurant has cosy low-rise long tables and mattresses instead of chairs. More like Japanese dining setups. Later we found most of the restaurants in Hippie Island have similar arrangements where patrons can sit and hangout leisurely for long time.
That evening there was a special screening of a Hollywood movie in our restaurant and it was packed for the evening. They setup tables for us in the garden and we enjoyed our dinner under open sky. After some more post dinner chit chat we called it a day.
Day2
We slept peacefully and woke up with chirping of lots of birds. Could see elephant bathing ceremony of Virupaksha temple from this side. Every morning they bring the royal elephant from temple to give a bath in Tungabhadra; but it's more of a ritual than a bath. It was an interesting sight!
Hippie Island has some highly rated restaurants and we decided to try the famous breakfast at German Bakery! The food was damn good and fulsome at very reasonable price. The view of lush green paddy field was adding calmness to nice winter morning. We were loaded to start our long day.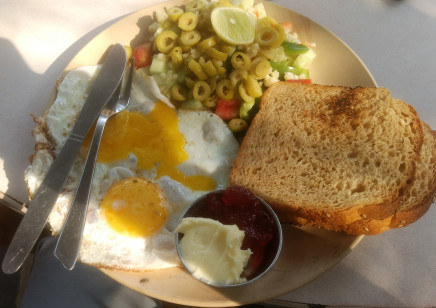 The boating point is at the end of the strip and they run small motorized boats to ferry people across. It is a small ride of 5 minutes that costs Rs20. There is an auto stand on the other side, we hired auto from there for entire day. After hard bargain he agreed to cover all the major spots in Rs 1000 and bring us back before the last ferry.
Hampi is a treat for history and architecture lovers and each and every site is marvellous for its own reason. One needs to have at least 3 days to cover all the places, paying attentions to details. Its recommended to make some basic study about Hampi and carry guide books. Guides are available at major spots like Vitthala Temple and may be worth to hire one.
Our first stop was Ugra Narasimha and Badavilinga Temples. The statue of Urga (Angry) Narasimha ( Half man half lion ) was partially damaged and deformed by the invaders during Vijayanagara fall out. But still it looks stunning, specially anger and aggression in facial expression of the statue seem so evident.
Badavilinga Temple is just next to it and has the largest monolithic Shivlinga in Hampi. Interestingly this 3 meters tall Lingam was supposedly built by a poor ( Badava in local language) lady and the name derived from that.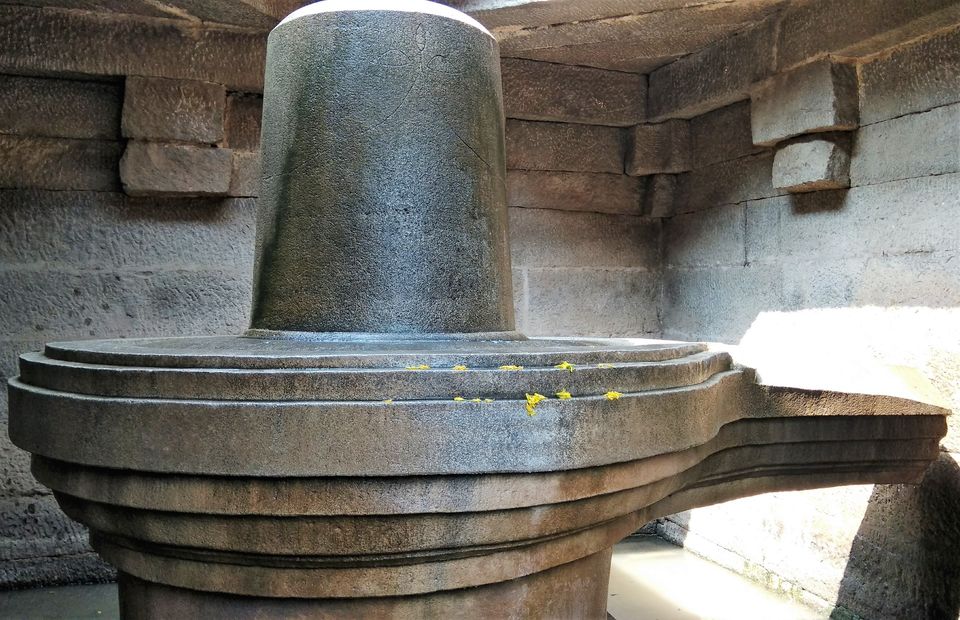 Next, we visited Queens Bath, Lotus temple, Royal Horse and Elephant Stables. These are all inside a compound once guarded by high wall, parts of which still exists after centuries. Unlike other most other spots in Hampi these are not religious but royal properties.
Architectures of Lotus Temple and Elephant Stable show clear influence of Islamic architecture, specially the tombs and arches. So Hindu Rulers of Vijayanagara were clearly open to adapt best things from every corner. The Horse Stable has now been converted to a small museum where statues and artefacts excavated from different parts of Hampi are kept for display. A place worth spending some time!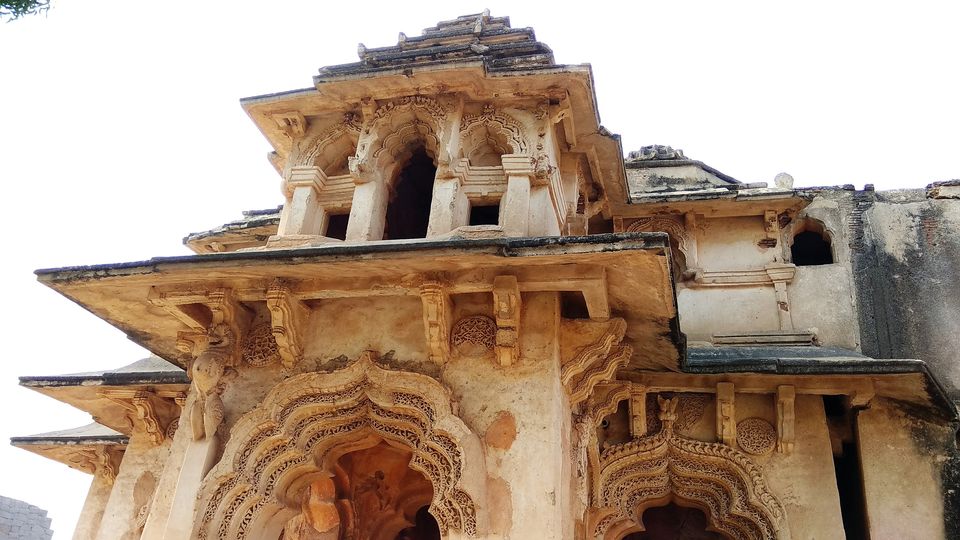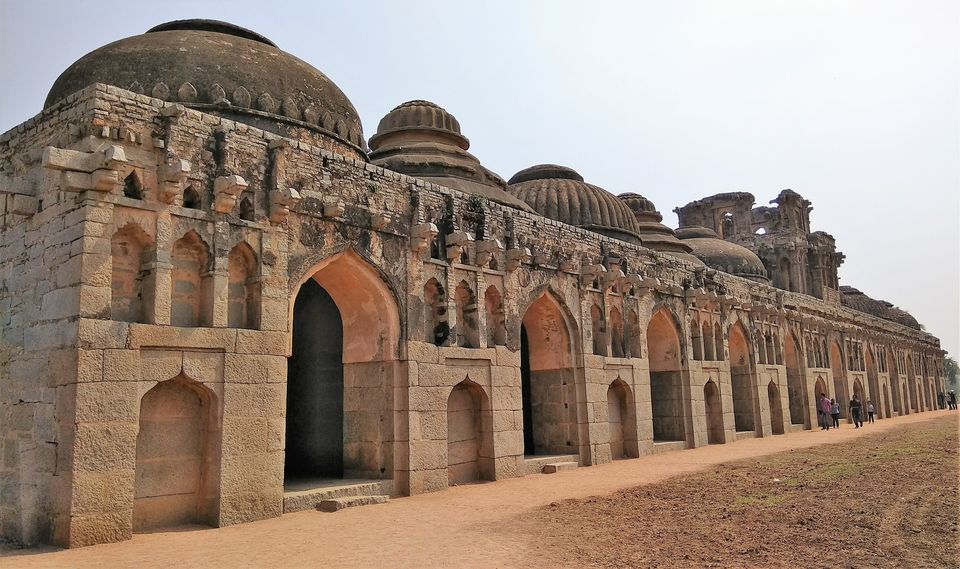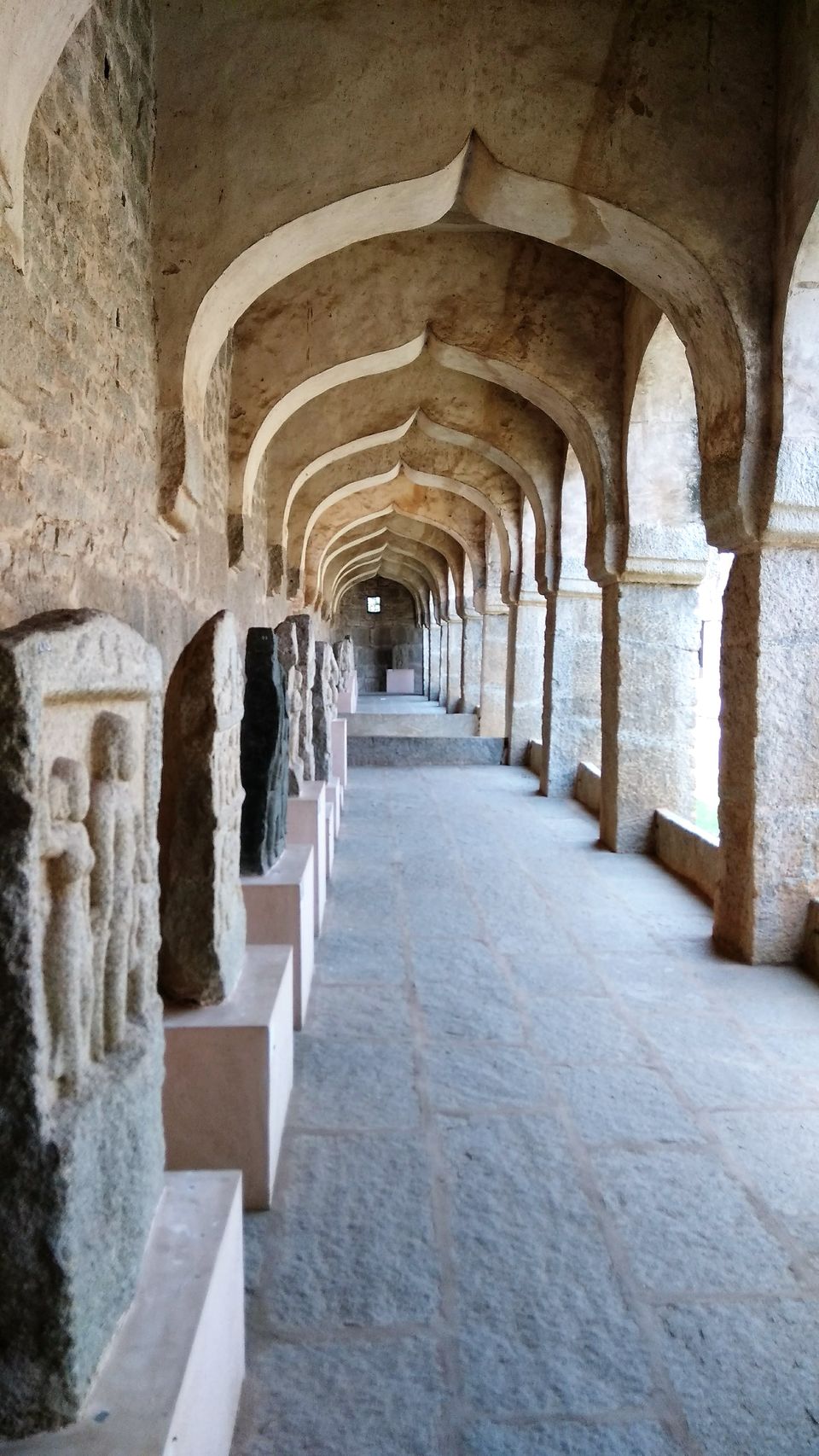 King of Vijayanagara built a huge indoor swimming pool for bathing of Queen and other ladies of royal family which was our next destination. It is one of the well visited tourist spot but in my opinion not a big thing to miss.
Ramayana is epic life story of Lord Rama; being worshiped by millions of Hindus for thousands of years. Famous Hazara Rama Temple has 1000 statutes of Lord Rama but that's not the only astonishing thing here. Entire story of Ramayana is engraved on stone panels of the temple!
This is a must visit place! But sad part is faces of most statues are deformed. After fallout of Vijayanagara kingdom Islamic invaders deformed most of the religious statues, specially their faces!
Next, we headed for famous Vittala Temple. This is not just a temple but a magnificent square having many marvellous architectures. From main gate the complex is quite a walk, especially during summer. Tourist department operate buses, but we found the long queue is just waste of time. Especially when we need to rush back to jetty before 6 to take the last boat.
Vittala Temple is certainly jewel in this place with its gorgeous built. Unfortunately, entry inside the main temple is barred due to restoration works by ASI. Another fascinating work of art there is the musical pillars. These stone pillars are of different diameters and lengths and generate musical sounds when stuck with wooden batons and each sound is different! Old tales say when queen performed in front of private royal audiences; musicians used to play music on these pillars for her. Traditional Indian Engineering at its best!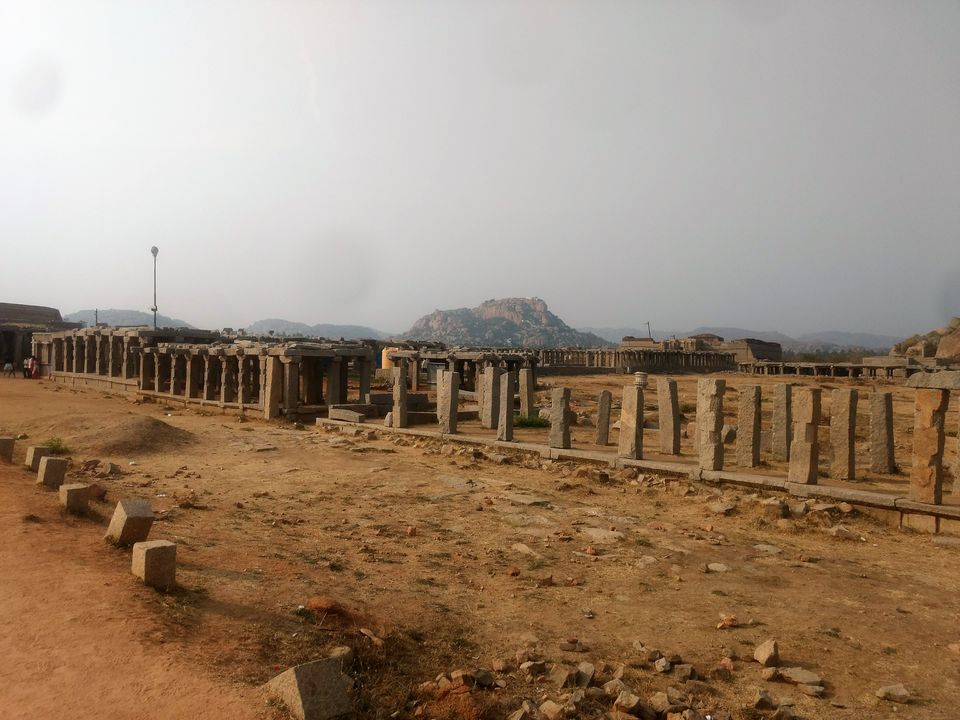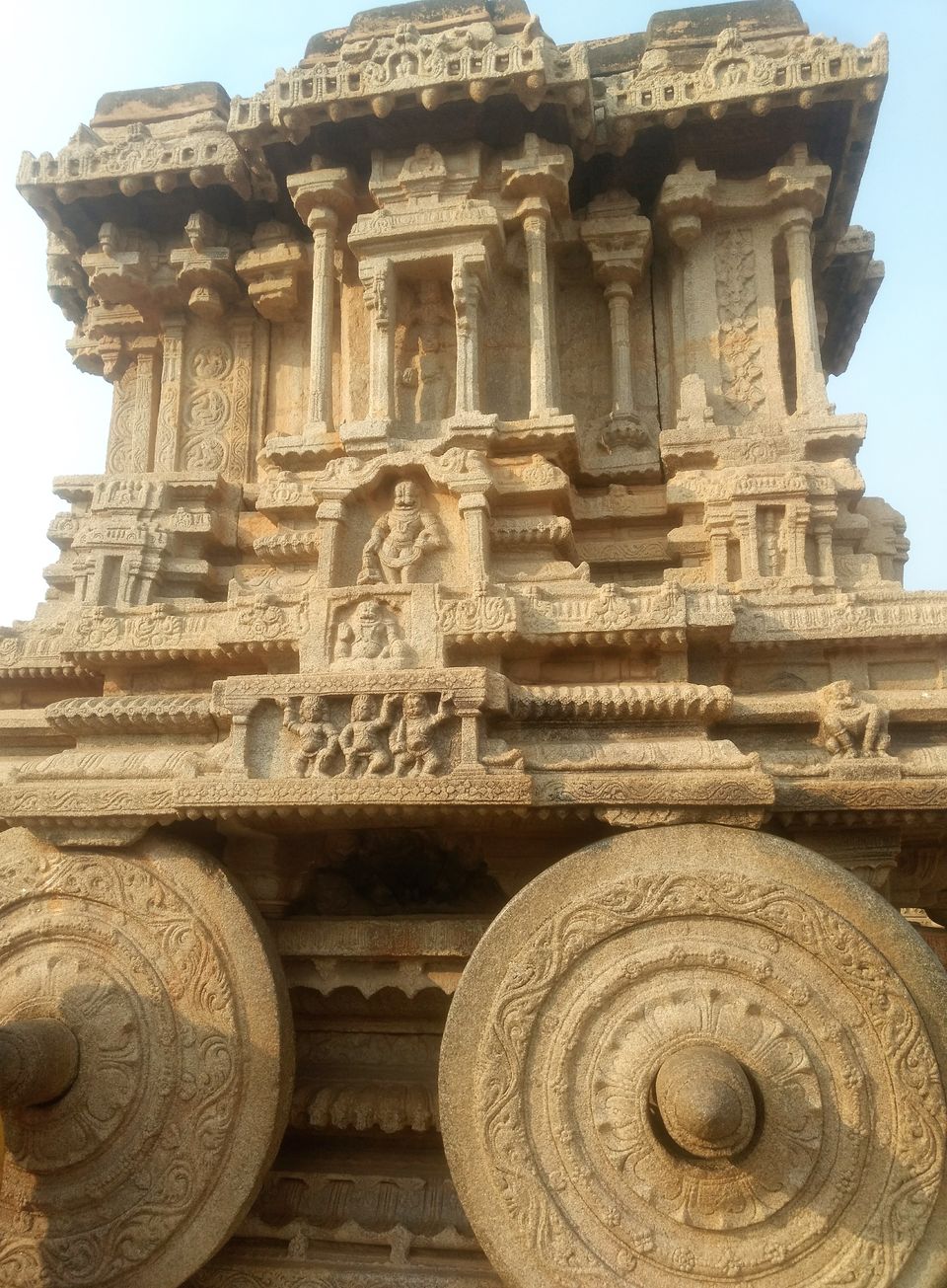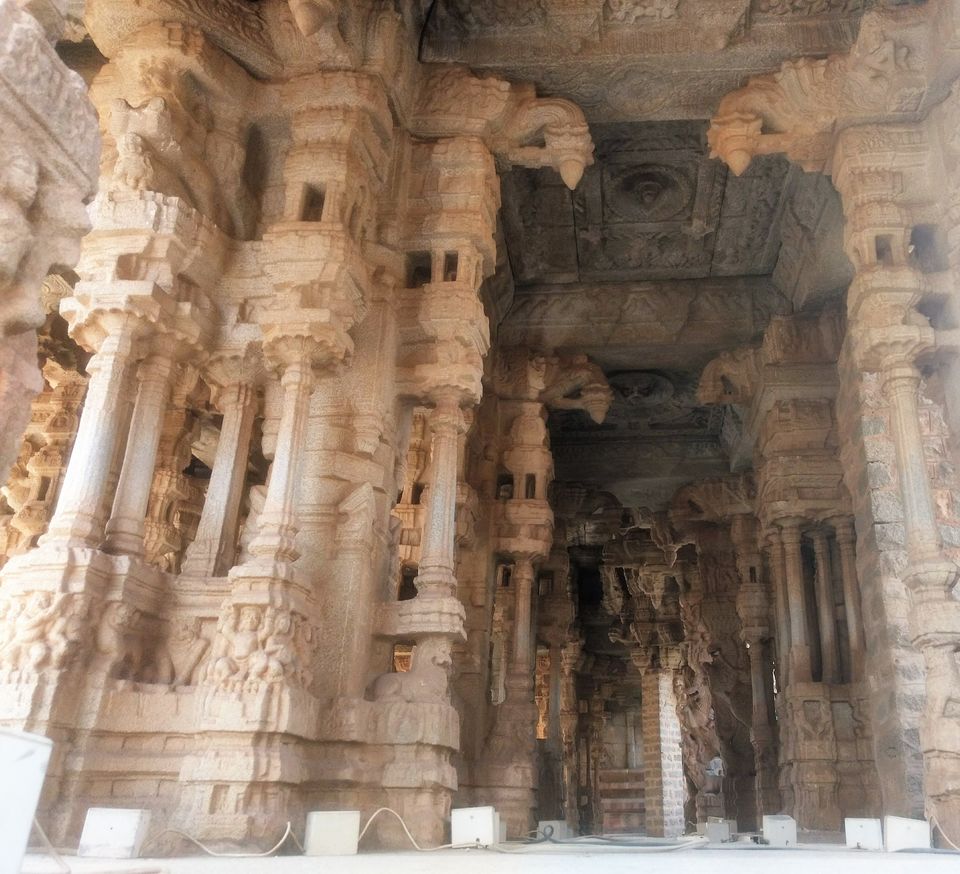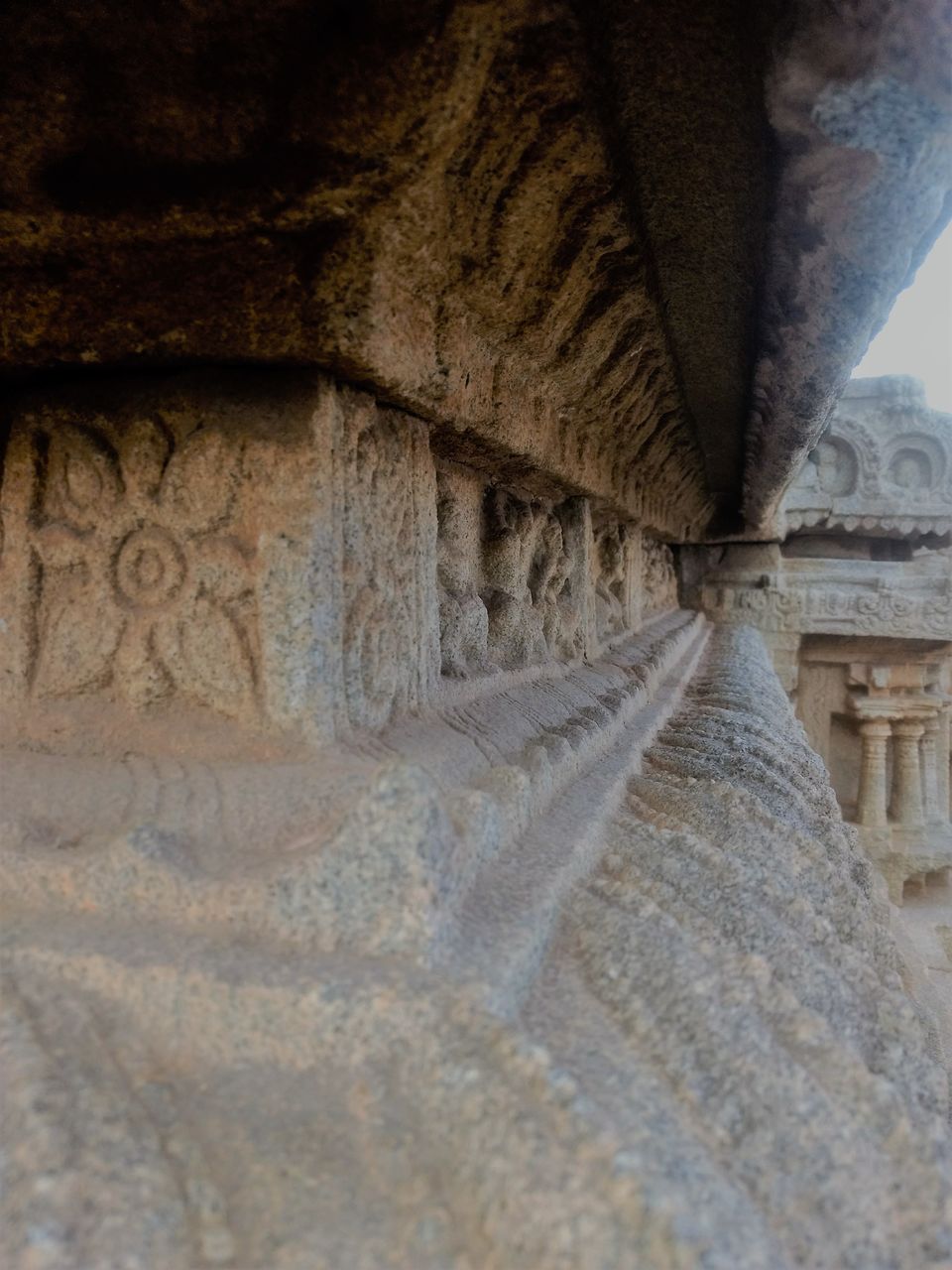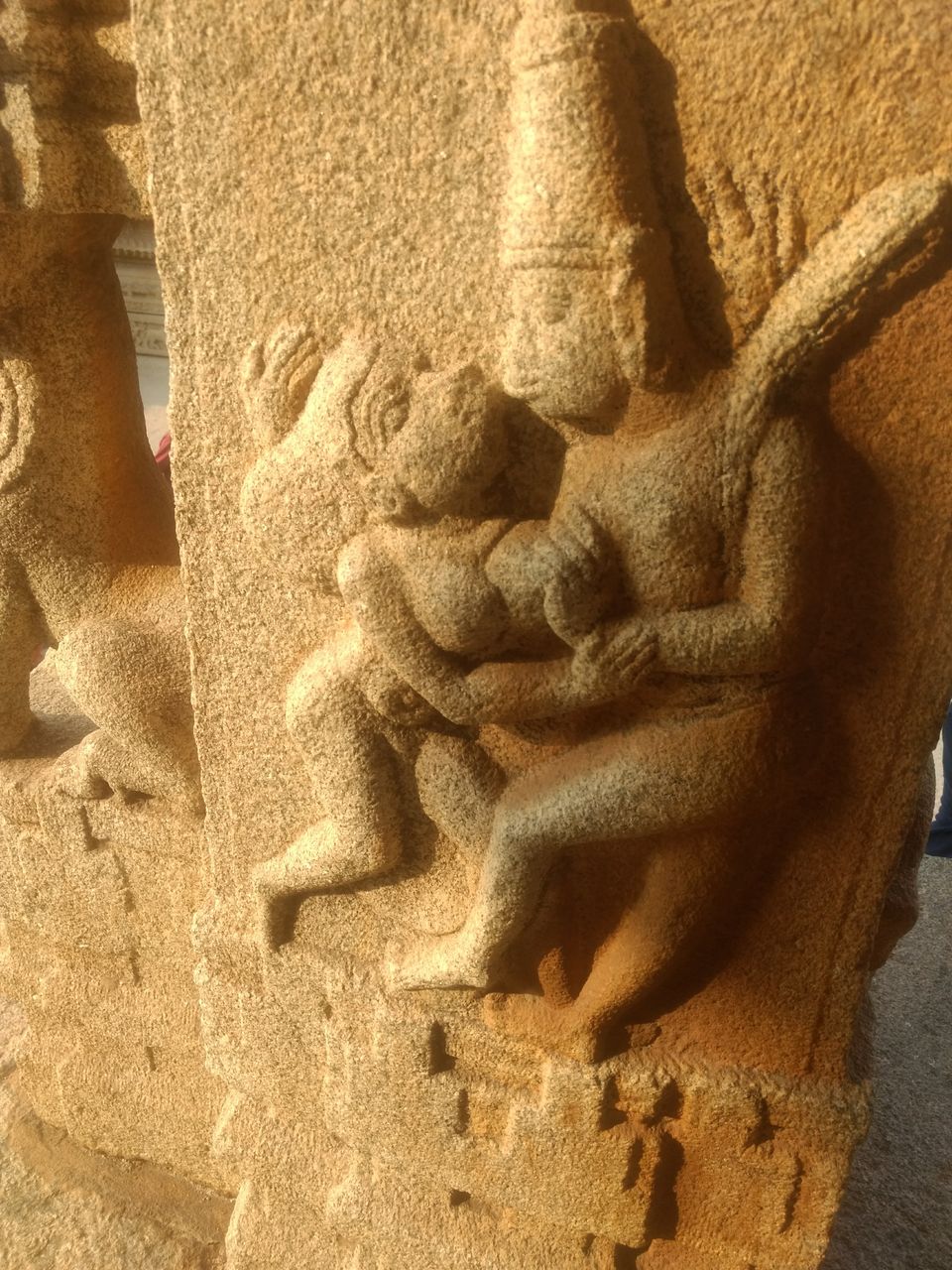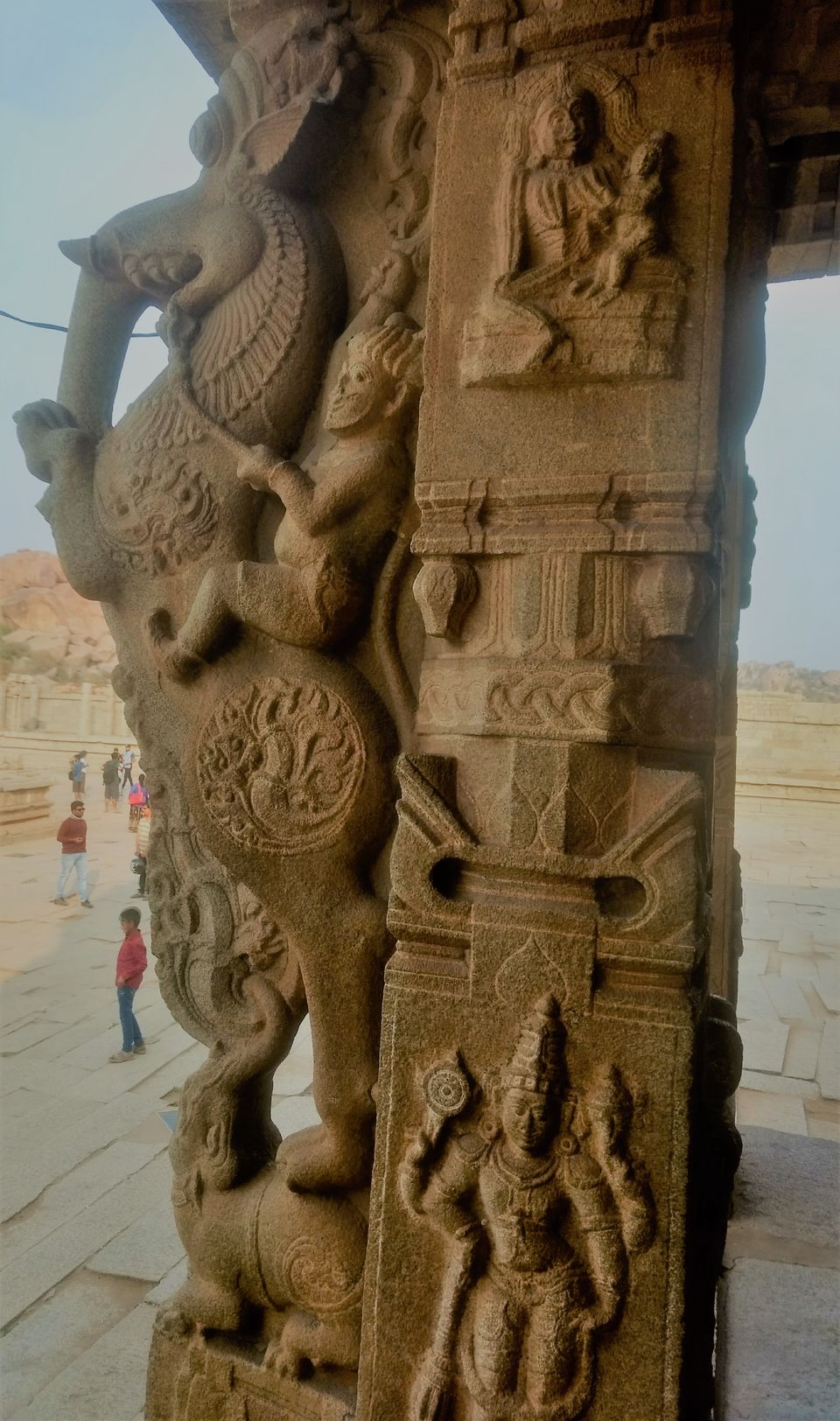 Engrossed by beauty of this place we lost track of time and reached ferry station beyond 6! Last ferry already left! But due to heavy demand they wanted to run another ride; lucky us!
This evening we wanted to do some restaurant hopping around the street. Found some real interesting ones but every place was damn too crowded. Even after coming back to our hotel there was a long waiting time before getting a table.
We had some good food and chatted for long time till the restaurant was almost empty. That was our last night in Hampi and we wanted to make best out of it.
Day3
This was our last day here and still two must do things were pending; visit to Sri Virupaksha Temple and breakfast at Mowgli. And we were pretty determined not to miss those.
We crossed the river and went to Sri Virupaksha temple. This is another UNESCO heritage site and centre of spiritual journey of Hampi. Unlike most of the temples in Hampi, this is still an active place for religious practices. Lakkana Dandesha, built this gigantic temple during rule of Deva Raya II for Sri Virupasksha ( Lord Shiva); another masterpiece.
Not only this temple but the surrounding area on the hillock is a must visit. There are some other temples and monuments which are just spellbinding; specially one large monolithic statue of Lord Ganesha!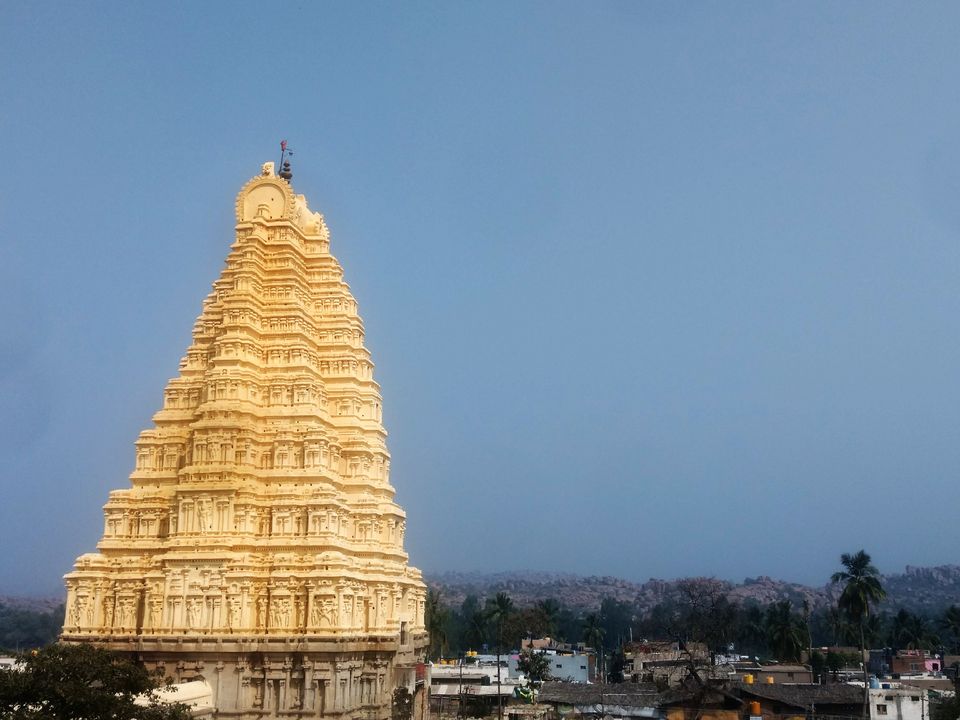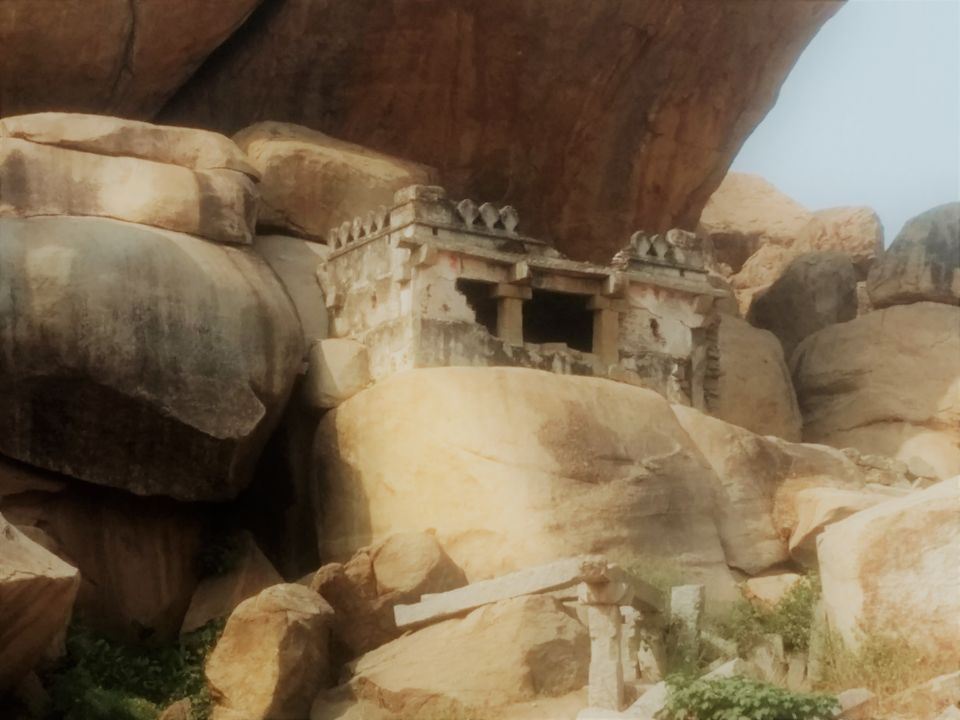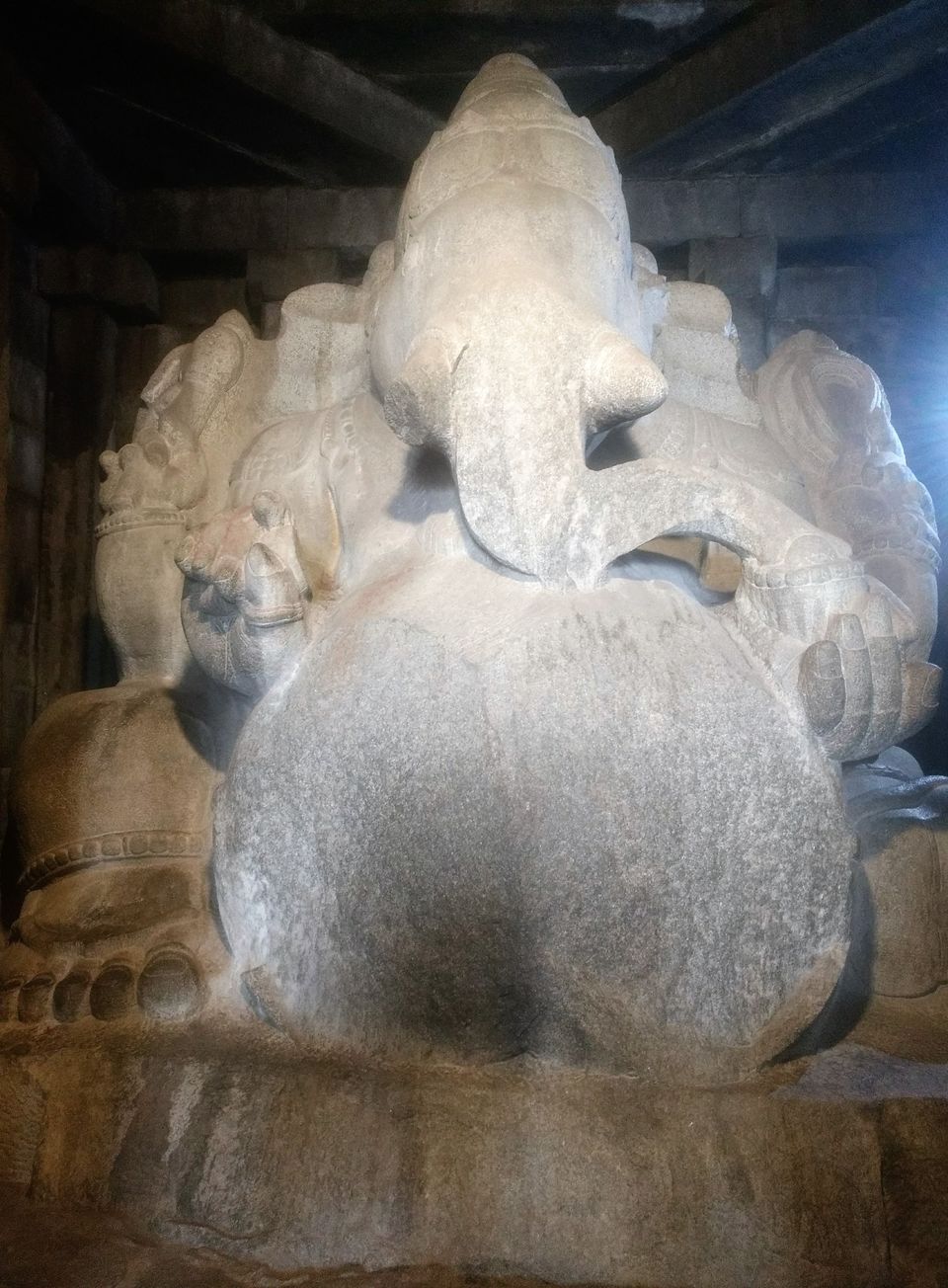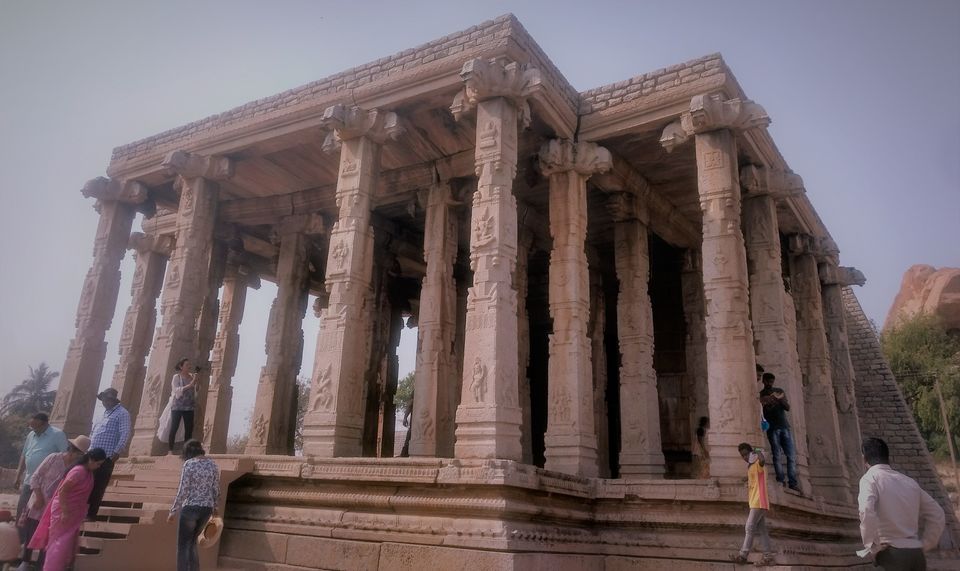 We spent nearly 3 hours to cover Virupaksha Temple and adjacent archaeological ruins before coming back to our guest house.
Luggage was ready, we just checked out and went straight to Mowglis. This is one of best places to eat in Hampi and was highly recommended by several friends. Later we came to know why. Their restaurant is next to a very lush green paddy field which is a treat for eyes as well. 6 of us ordered whatever we want right from Indian, Continental, Mediterranean selections and almost filled up to our throat. Quality and quantity of food may give run to any star hotel and when the bill came with a surprise. It was just Rs.1600 ! If you are in Hampi and not eating at least a single meal at Mowglis, you are missing something.
We started our journey for home around 2 and reached home by 9 after having a nice break for evening tea and snack.
Hampi does not have a sea beach or mountain or jungle but it has something to offer that is bound to mesmerize you. As they say if you visit Hampi once you will come back again. I believe it is true as I am definitely going back!
Please click below to see my travel vlogs here and subscribe to my Youtube channel.