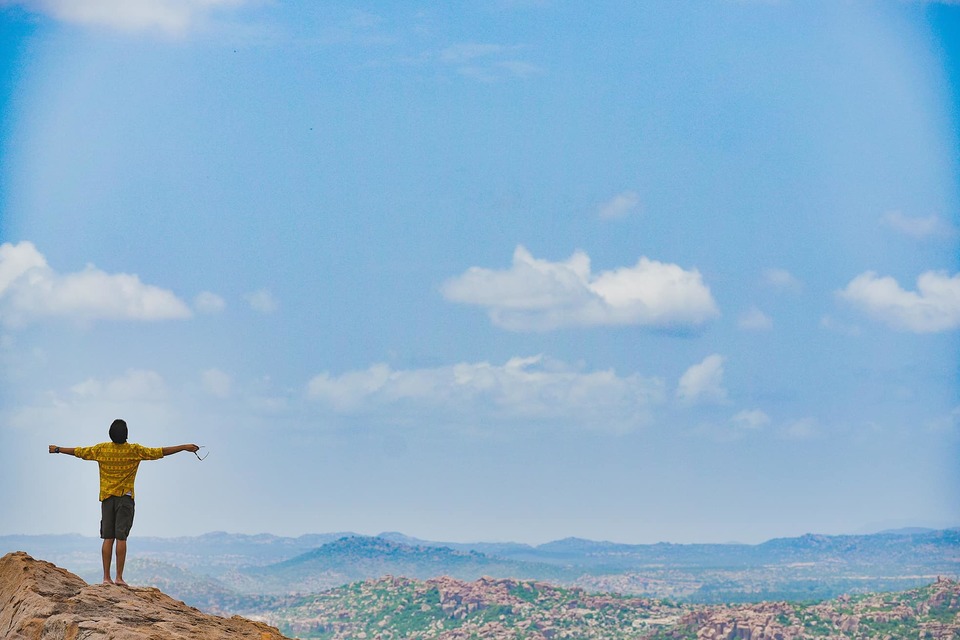 Hampi has been on every traveller's mind and bucket list lately. No one has just scrolled through the pictures of Stone Chariot, Virupaksha Temple, tempting sunsets and uncountable monuments residing in Hampi, without tingling their wanderlusts.
I am a victim of such Insta posts, with picturesque sunsets. One of the assignments led me to Bangalore and I had few spare days in hand. Hampi, was ON!
In this article I would try to help you with chalking out an itinerary that might help you when you plan a trip to Hampi. But first, things that you must know before planning a trip, are listed below.
Getting to Hampi
By Train: This is the best mode. Hands down. Cheap and efficient. You will have to reach Bangalore and take a train to Hosapete that leaves every night from SBC Banglore Station.
By Road: There's no point of taking a road trip cause the roads aren't scenic essentially, if you have your own car, you might give it a go. For buses I have heard the ride is quite bumpy and also not safe enough.
Getting around Hampi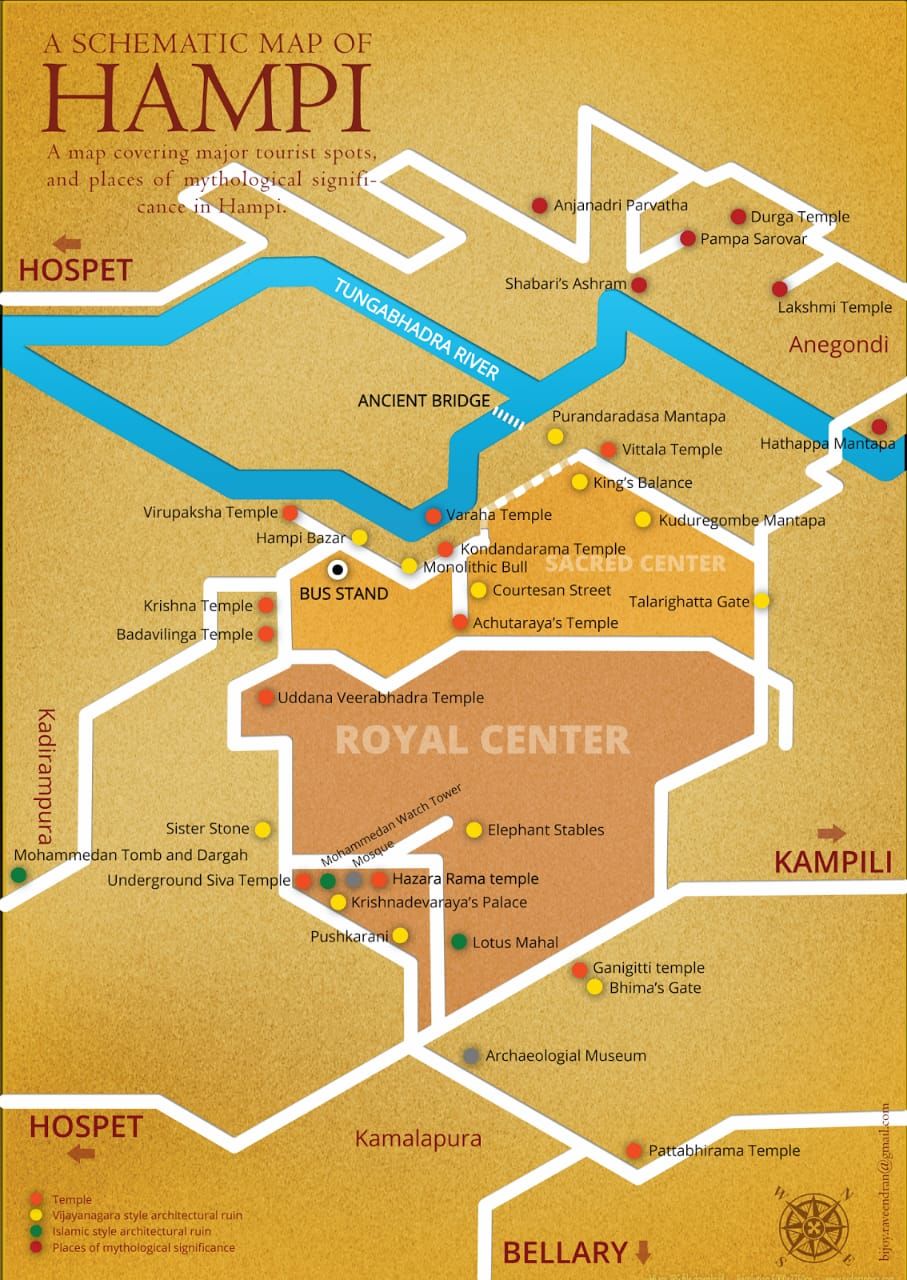 You need to understand Hampi geographically to know this. (Refer to the picture). Hampi has been divided by Tungabhadra River into two sides. One the sides of temples and other the Hippie Island. Further the side of the temple has two areas - The Sacred Center and The Royal Center, based on the characteristics of monuments.
There are ferry to cross the river and it operates all day round up until evening. They will let you know the time for last ferry every time you board one. The charge is quite minimal and they won't demand more. Luggage and bicycles are charged extra.
Most important thing to know is that on the temple side; scootie, moped are not allowed for sight seeing and you'll need to hire bicycles. For the other side however, the Hippie Island; you can hire anything you want, scooties are the best way to get around.
You won't need to search for the owners as they generally swarm you as soon as you reach the other side.
Staying In Hampi
I would suggest you staying on the other side of the river, the Hippie Island. Because it is the place to be, honestly. But I should let you know a few things. Staying on the Hippie Island would mean that you will have to board the last ferry to the island from temple side. That means you cannot explore the temple side after 5:30 PM. The other thing is that staying at any of the places at this side would mean loud music the whole night during seasons.
Itinerary
Overview:
Start around noon and today you'll need to hire a scootie and roam around Hippie Island, and this place has so many things to do that it will give you the taste of Hampi and fill you with excitement. You can go all day round riding you bike from different places to different places. You can visit the famous Sanapur Lake and easily spent 3 hours there. Here you have got to try two things. First is the Coracle Ride which charged us 150 for three people, and gave us a good 20 min ride in the coracle. Second, Cliff Jumping if you know swimming. After this you can go and sit around and of the hills and enjoy the sunsets.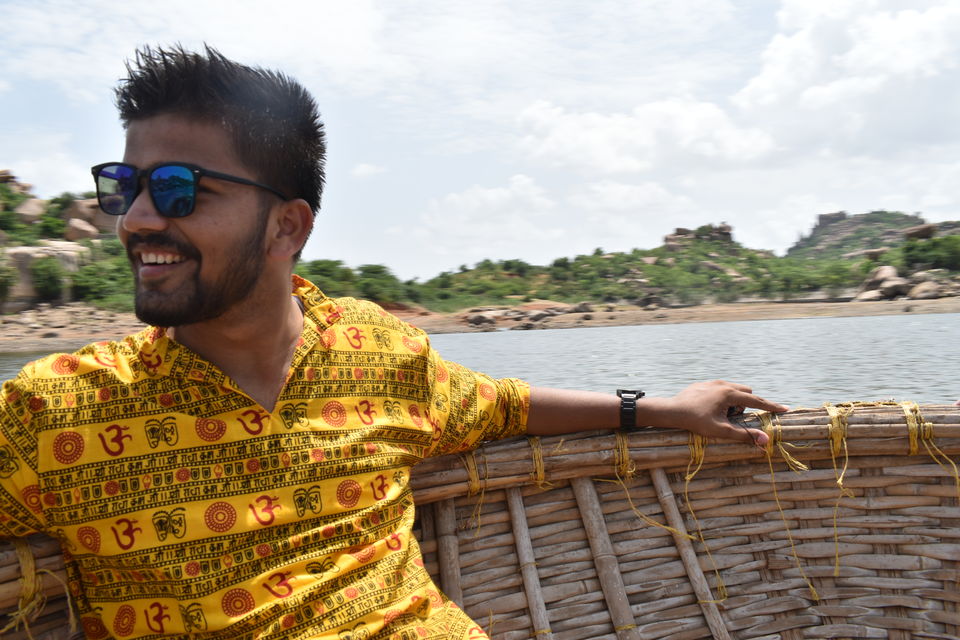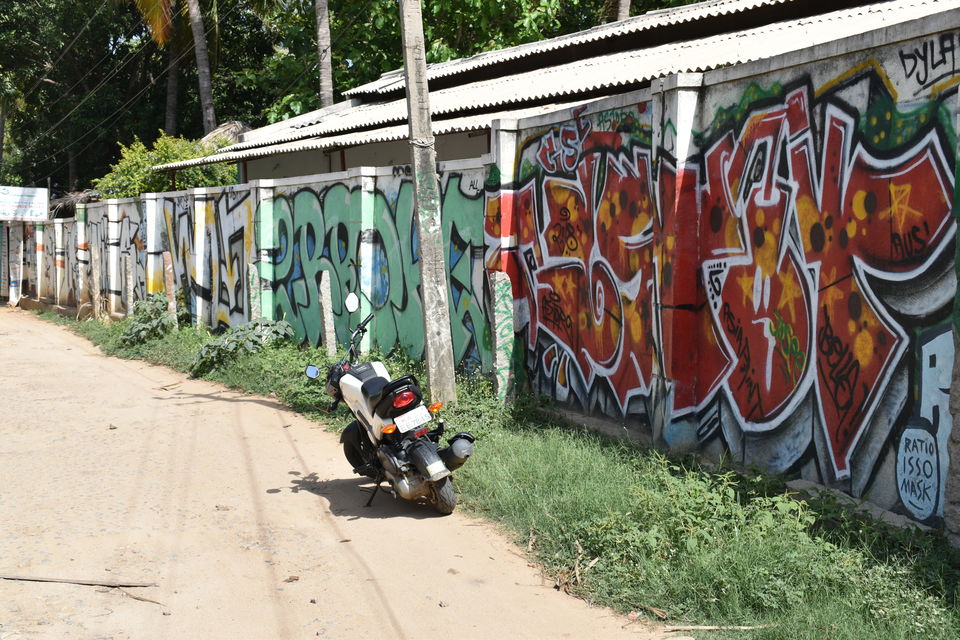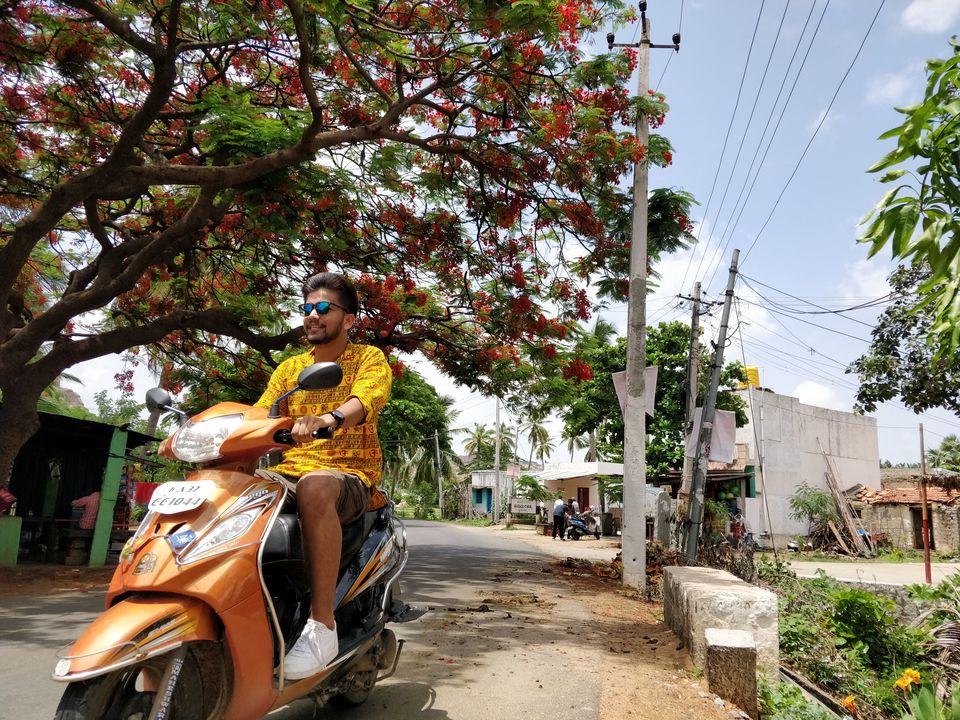 Day 2: Exploring Royal Centre
First thing to do today for you would be to witness the best sunrise view from the Anjana Hill. This is a few kilometers away from the Hippie Island and you should take your scootie up until the base. The trek to top is of some 600 odd steps but the view uptop is totally worth it. Try to google the sunrise time before going to sleep and make sure you set an alarm to reach there on time. I will leave you with the pictures and you be the judge yourself.
Come back to your resort by 8:00 rest and have your breakfast as you'll need some energy for the day. Now on the itinerary today you'll have to hire an auto rickshaw as it would be the best way to help you cover this major day of your trip, you'll cover numerous monuments today. Refer to the map attached in this article above. And point out the monuments around the Royal Center to the auto rickshaw driver on the other side of the river. He charged us 500 bucks for this. And it was quite fair IMO.
After this head to Hemkutta Temple to witness the sunset from the famous sunset point in Hampi. There are a few temples and monuments here too, so keep some time aside for that also. The best sunset view that I saw whilst in Hampi was from this place. I'll share the pictures.
Call it a day and head to the place you are staying.
Day 3: Exploring The Sacred Center
You have to hire a bicycle today and take the long rides amidst the hills, forests and monuments of Hampi.
Today will be an easy going and the most magnificent day of your Hampi trip. You'll cover the most major attraction today and it will leave you wanting for more. Go in this order Breakfast-Vijay Vithalla Temple-Vishnu Temple-Kings Balance- Mandapa-Virupaksha Temple-Lunch-Varaha Temple-Courtesan Street-Monolithic Bull- Dinner-Achutaraya's Temple-Sunset form Mantanga Hill.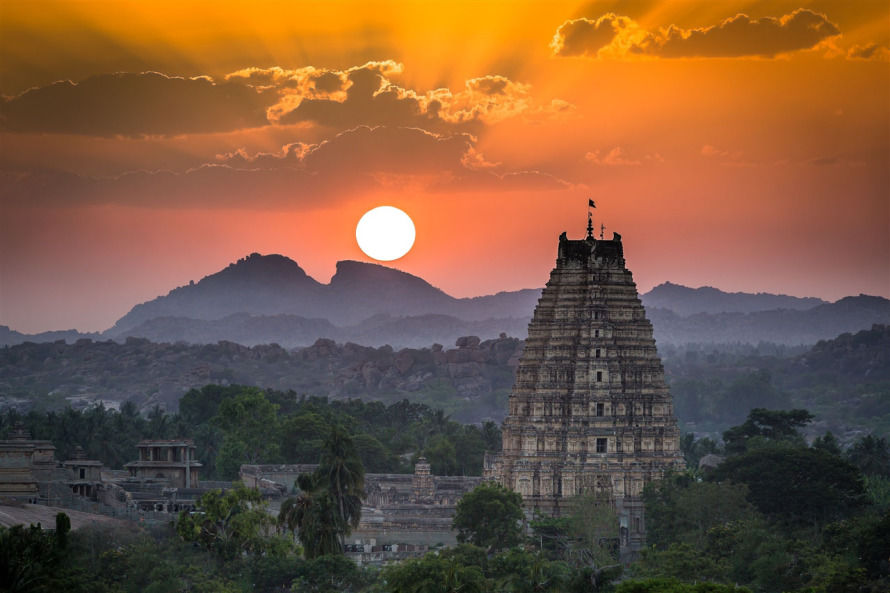 Vijay Vithalla is quite distant from the main bazaar and it will take you over an hour to reach there if you cycle slowly and enjoy the place. We hired a guide in the temple who charged us 100 rupees and gave us a tour around the place. You can take a shortcut on your way back. The entry to the temple is chargable around 30 rupees.
Spend your evening around the monuments near Virupaksha Temple and do not forget to take blessings from Laxmi, the 30 year old elephant at Hampi. Entry with Mobile phones and Camera are chargeable inside Virupaksha Temple. But when we were there no was on the counter to charge us for it, neither did anyone inside the temple stopped us from clicking pictures.
End your trip at Hampi with a view of sunset from Mantanga Hill, although we didn't quite were able to make it, I have been told that you can click and witness the best sunset from there, I read and article, the link and picture of which I will attach here and you will know why it has been called so.
https://kevinstandagephotography.wordpress.com/2015/04/21/best-location-for-a-stunning-hampi-sunset-photo/
Do follow me on Instagram and Facebook. And if you have any question regarding your trip to Hampi. Do DM me or leave a comment. I will be glad to help.