The best experience you can gain from travelling is from the extremes of conditions mixed with warmth, love and socializing with people. Three friends joined me in Delhi and so our trip began. We had planned a trip to explore Himachal Pradesh. Fortunately, all four of us are nature lovers so, we planned all the destinations accordingly. Our first destination was Shimla, capital of Himachal Pradesh. We chose this as our first destination merely to celebrate Christmas as our friends suggested this place. We booked seats in roadways bus which is available almost all the time. It doesn't matter whether you are rich or poor, travelling with friends in roadways buses gives you a whole another level of feeling and experience. No doubt the journey was physically painful as the seats weren't comfortable, but emotionally it allowed us to connect with each other and the fellow passengers. Our bus journey was in night and during the journey, the back seats were vacant. We used those vacant seats to lie down and sleep. ( Bumpy nights ). We started our journey for Shimla early morning before dawn and reached the destination by evening. We were right on time before Christmas night, we expected snowfall, unfortunately there was none. We were very tired and highly disappointed because of no snowfall. After some rest we went out on the roads of Shimla, to our surprise we had never seen a town so quiet, peaceful, well organised and smoke free. Drivers appeared to have their own sense of mutual understanding – consequence of which there was no honking at all. Everyone looked content, happy and was busy with Christmas eve preparation. We walked through the markets, high court and the church in mall road. Never had I seen such a beautiful church in my life. We expected some sort of celebration at midnight as we had heard the Christmas is best celebrated here. But adding to our despair, there was none and no doubt we were disappointed again. It felt like we had wasted our time going there. We slept off that night.
Next day around 8 am one of our friends woke up and I could hear his loud voice waking us up and to see the snowfall. But another one shouted back and told everyone to go sleep and told him not to wake us up by giving false news. After few moments the other guy himself saw snowfall from the misty broken window, which had started few moments ago. When he confirmed this news, it felt like a spring was tied up in everyone's feet and all of us rushed out just to get a glimpse of it. I had never felt so energised and happy for a very long time. I could feel the intense adrenaline rush. All of us got dressed as quickly as possible and spurted out of our hotel room. By the time we got out of our room, snowfall got heavier. We were thrilled by the sudden change of weather. Whenever I recall the next three hours, I can only say that it was the moment of my life. I was never that happy and excited ever in my life. We could see half Shimla covered in white.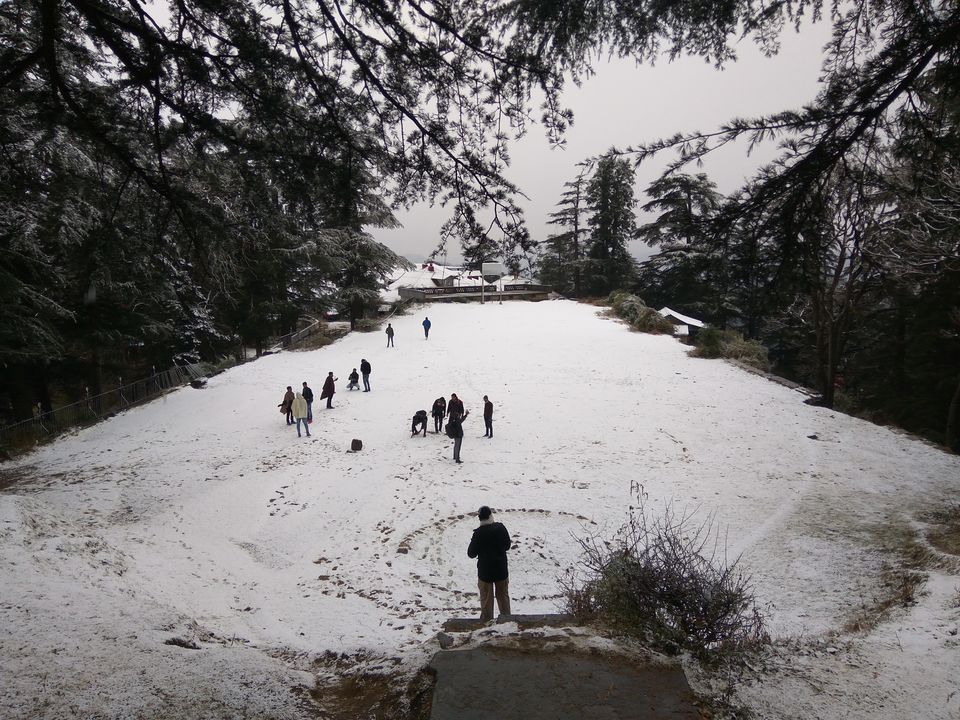 We started moving towards the highest point of Shimla which is near a Hanuman temple – Jakhoo temple whose statue can be seen from almost all over Shimla. While marching up I found a plain land covered with thick layers of snow, I had to call my friends and guide them to this point as they had moved forward while I was busy clicking pictures and making videos. We had our first snow fight of our life. We even managed to play cricket making snowballs and using twigs as bat. We almost spent 1 hour in the field. Then it was time for our next destination.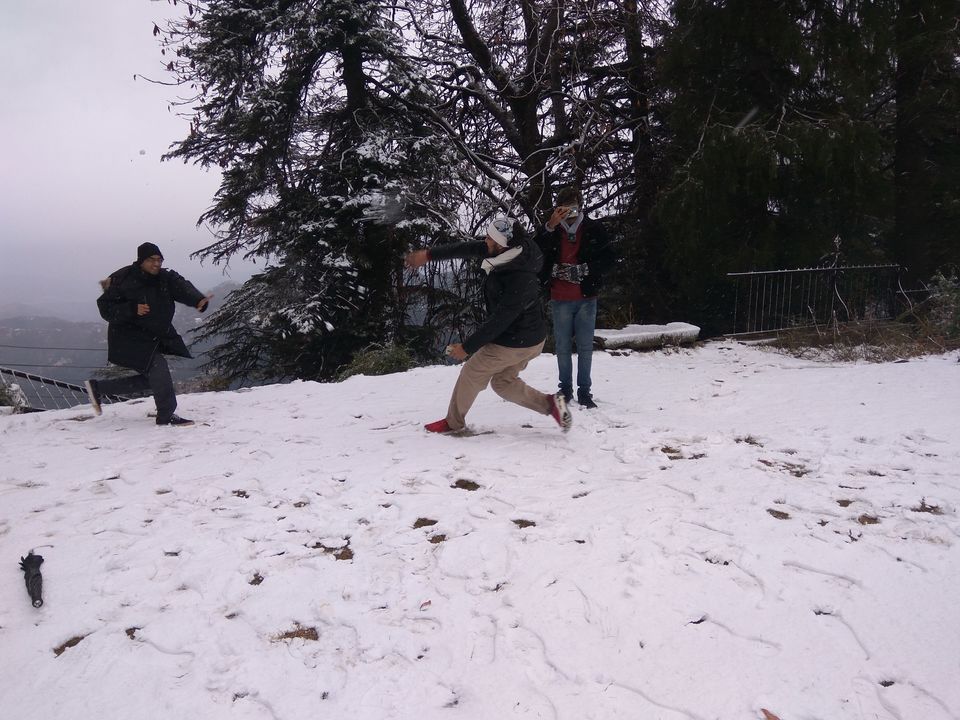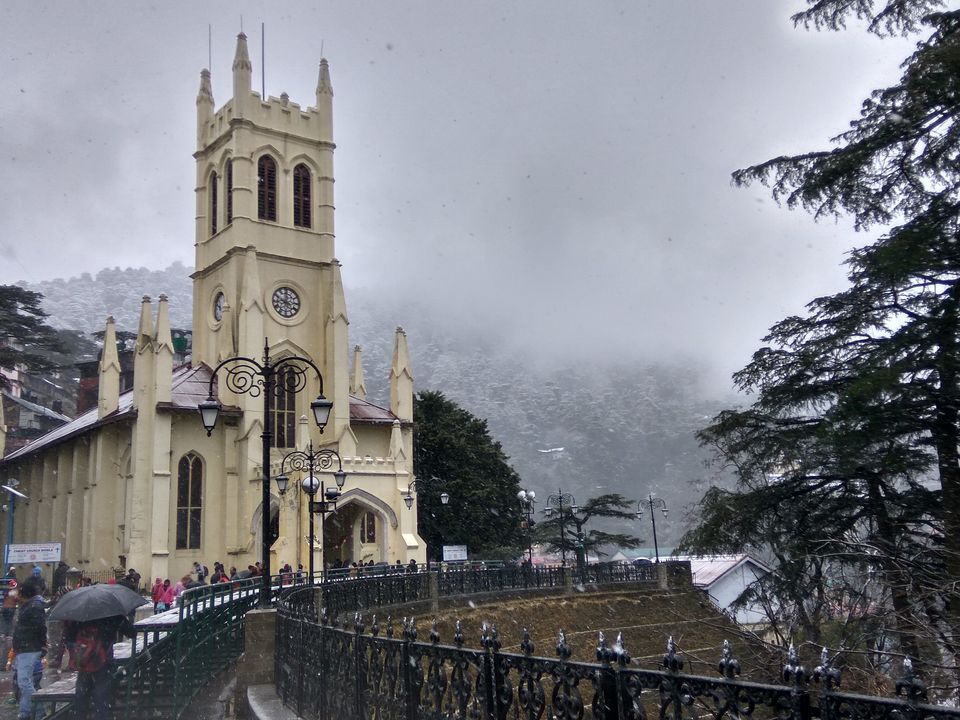 We reached our hotel room, packed our stuff, and took a bus to next town – Manali. Our stay in Manali was for two days. We could see the mesmerising views from the bus on our way up. Our mood was already set up in rhythm with nature and we were now expecting nothing beforehand. The only thing we decided to do was to reach Manali and take some proper rest during night as we were tired of the snow fight and walks in Shimla and the driver told us it would be midnight by the time we reached there. We sat quietly, lost in the beauty of nature, constantly gazing from the window. Travelling in the hills during night is another experience. En route to Manali was the time when I could feel my inner self calming down to such an extent that I never wanted to get out of that feeling ever again. I could see tiny dots of light dazzling on a distant end scattered over a hill. The best part is you could see the lights in the shape of the hill and that too top to bottom, left to right all over the hill which made it look more beautiful. Beneath the road I could hear the splashing and gushing of the river water. It struck my ears like a soft music and the sparkling lights had set the exact tone of my mind which I needed at that moment. The uncomfortable seats of the bus were of no more concern. The time passed and finally we reached Manali. It was -5 degree Celsius that night. We took a cab to our guest house.
When we reached the guest house, we were greeted by the owner couple, and they informed us of the bonfire being done in front of our room. We wanted to reach our room as soon as possible as it was very chilly out there. We were little excited about the bonfire but actually we wanted to sleep off for the series of events planned out for the next day but we never expected what happened next.
We had to climb down series of stairs, passing through a very big garden to reach the room. Out there we saw a huge terrace and a group of 5 people sitting there trying to keep the fire alive, in front of our door. They invited us and offered us some wine. The group was from Thailand, they looked extremely innocent and were very polite. We expected the party to continue not for more than an hour. P.S – This happened on Christmas night. It was almost 1 A.M. – 26th December. Initially we had issues communicating with each other as their accent was a lot different. It was rather difficult to understand what they were saying. After some time we got along with the language barrier. Me and a friend while three from their side were left for the night. Once we were comfortable speaking, we talked about ourselves, hobbies, passion and travelling experiences. Meanwhile they left no stone unturned to make us memorise their names. I still remember their name as NOT, WITHIE, A-GUN. We talked for about an hour about the places we have had visited and the blissful memories from there. While talking we couldn't even realise how much we were under the influence of wine. We started playing small games meanwhile I enjoyed the night, probably the best bonfire of my life. Besides us talking, singing and dancing there was only a distinct sound of gushing river in the valley. On the other side we could see the tiny dots of light on the hill in front of us. We taught each other our languages. I still remember few Thai words, but when we tried to teach them Hindi, we were literally surprised to know that they already knew few songs – all thanks to Shahruk Khan. What came as a surprise even more was that the lady A-GUN was pursuing a course in Indian classical dance and later all of us danced and sung together Hindi songs - Sharukh Khan movie songs. The blaze of the bonfire lit up the night and the wine helped us enjoy the life to its full, nothing less. It would be fair saying that their knowledge in Hindi did impress me and left me tongue-tied. Our celebration continued till 4 A.M. and then we bid good byes and slept off the night.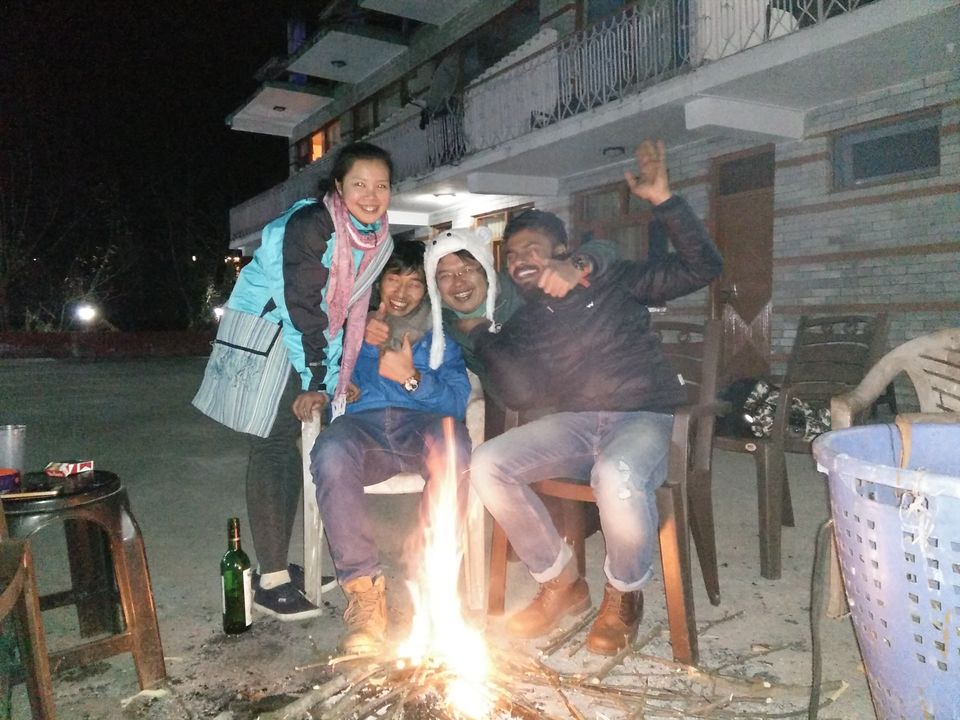 We had planned for off road travelling in Manali for this day. Our guest house owner arranged for 2 Bullets at decent rate. We left our nest around 12 P.M. and went to Solang Valley. The road which led us to Solang Valley was also the route for reaching Rohtang Pass and Ladakh, unfortunately the timing was not on our side, being the month of December and Rohtang Pass lying buried in the snow the roads were blocked for outsiders. Only the residents of those places were given permit to take their vehicles. We returned back and on our back we randomly went on another road uphill which led us to a village. It was a nasty ascent and after reaching the top we had to park our vehicles. There was a small hotel where we had parked our bikes. The hotel was on the edge of the road, made of bamboos resting on pillars of bamboos and was hanging onto a cliff. We were spellbound by the lovely sunset view amidst the great mountains. The silence and the beauty of nature in the locality calmed down our soul. By this time all of us had completely forgotten all our day to day problems, office issues and workloads. I couldn't think of any other person back home or office or any other duty left to be done. I had never felt so much of freedom in my entire life. It would be fair to say that I felt like I was in paradise. We ate dinner, enjoyed our tea and left for the village after some time.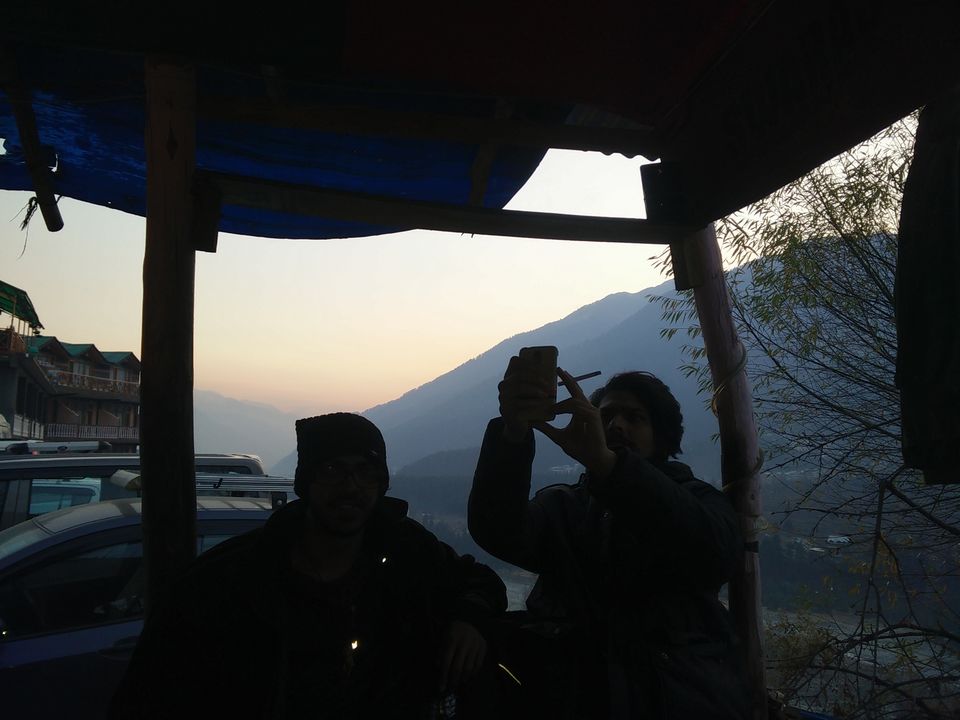 Few locals had told us about a waterfall just after crossing the village. So, we planned to reach the waterfall, relax there for couple of hours as it was already dark and was getting colder.
We started marching towards the waterfall, there was a path which was used by everyone. After walking for some half km we found a path leading up towards a dense jungle and the source of the waterfall, probably. I could see a long trek in front of me. It was almost dark. I could hear the water falling and flowing down almost 10 feet away from the path. I started moving up, my friends insisted on not going further up as it was a jungle and we were newbies. But I had something else in my mind, I told them to wait there and continued moving up with the flashlight. After leaving my friends almost 100 feet behind, I could hear no sound other than the water falling and the rustling of the leaves. Meanwhile something in the bushes did scare the shit out of me, yet I continued moving up. Finally I stopped at a point from where moving up was difficult in the dark as the bushes were pretty much thorny and I could have got injured. I sat there and tried to regain my breath. I was almost 300 to 400 feet up from where I had left my friends. I would like to describe the view which I was seeing at that moment.
I had switched off my flashlight and was lying down on the slope. It was completely dark and I was surrounded by hills at least 50 metres high from the point where I was resting, all covered with thick forest on 3 sides. It was a valley. In front of me I could see another hill on which the settlements were present and I could see the tiny dots of light, and there was the highway through which people come to Manali, so I could clearly see the tiny cars and their headlights dancing on the curves of road. About 10-15 feet away beside me was the source of waterfall which I presume originated from somewhere in between the rocks of the hills above me. The only sound now I could hear was of the water falling. While high up in the sky I could see the stars distinctly. They were looking bigger than what I could see in Bangalore. It was a half moon night but fortunately the moon hid behind the mountain making it a perfect spot for star gazing. I was lost in the moment for about half an hour when I could hear my friends climbing up and calling for me. After few minutes they arrived and at first they scolded me for leaving the group and moving alone but later they were also overwhelmed by this serene beauty. All of us lied down there for an hour, with pin drop silence and smoked up while gazing the stars. We could clearly see the shooting stars. Meanwhile we couldn't even realise how the time flew by. After an hour we headed towards the village and went again to the small hotel on the cliff for tea. And then we headed back to our guest house. After 3-4 hours at our room me and a friend went out and we were stunned seeing the sky full of stars, we could see each and every star clearly. It was then I realised that all the metro cities are not only suffering from air and noise pollution but light pollution too. Both of us took a chair, wore jackets and took a blanket, smoked up and laid down on the chair looking up in the temperature which was about -5 degree centigrade. That was the night when we did star gazing once again. Never had I seen such beauty of stars in my life ever. We sat in the open and spent about couple of hours listening to the water flowing and gazing the stars.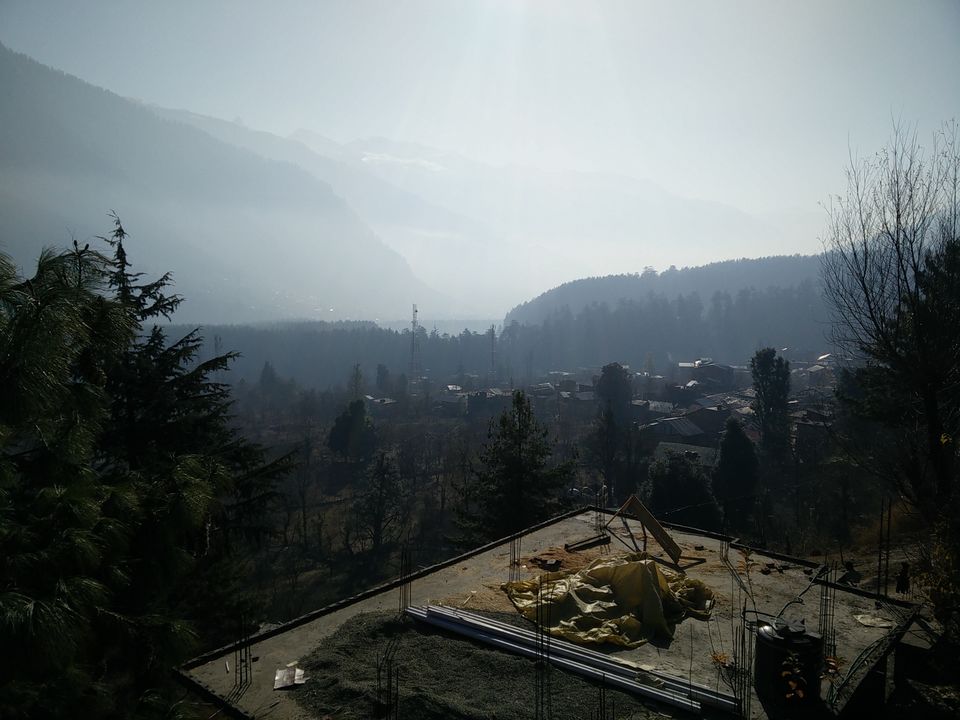 Next day we had planned for some sports events and rides. We went to Solang Valley for Paragliding.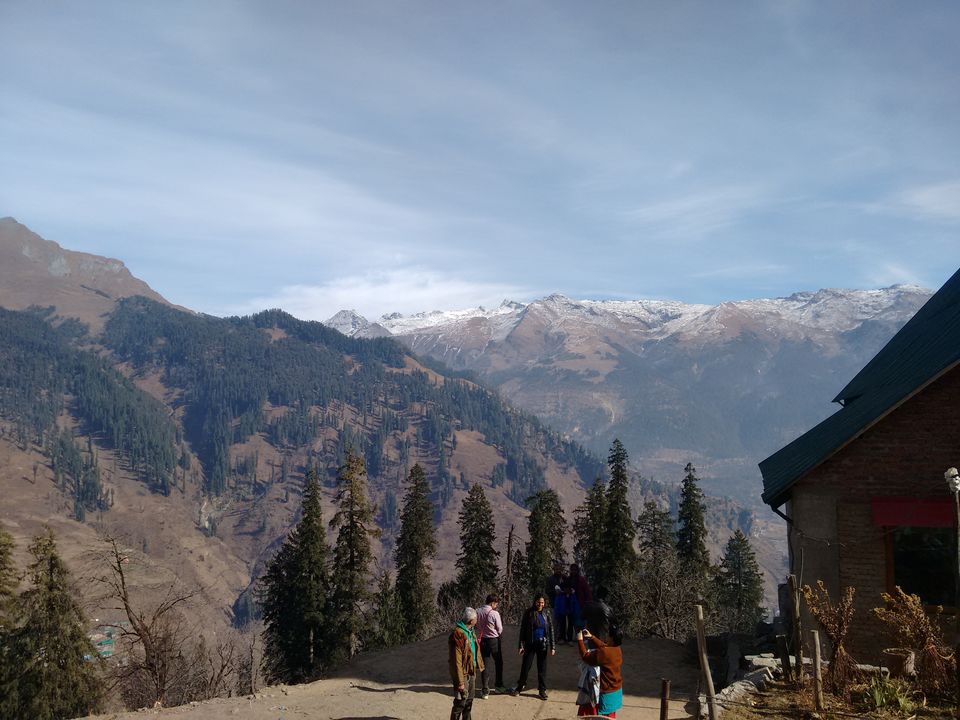 Paragliding does give us adrenaline rush. I felt like a bird soaring high in the sky and looked at the surroundings. It was breath-taking. I could easily point out Rohtang Pass and other nearby destinations with the help of my pilot during the flight in between the mountains . It was a 5 minute flight but those 5 minutes for first timer was worth the cost.
After finishing paragliding we continued with the rides. We went off in the woods to find ourselves amidst the streams, mountains and woods. Each one of us chose a rock to lie down and we slept off for couple of hours doing some photography and then we headed back towards the guest house.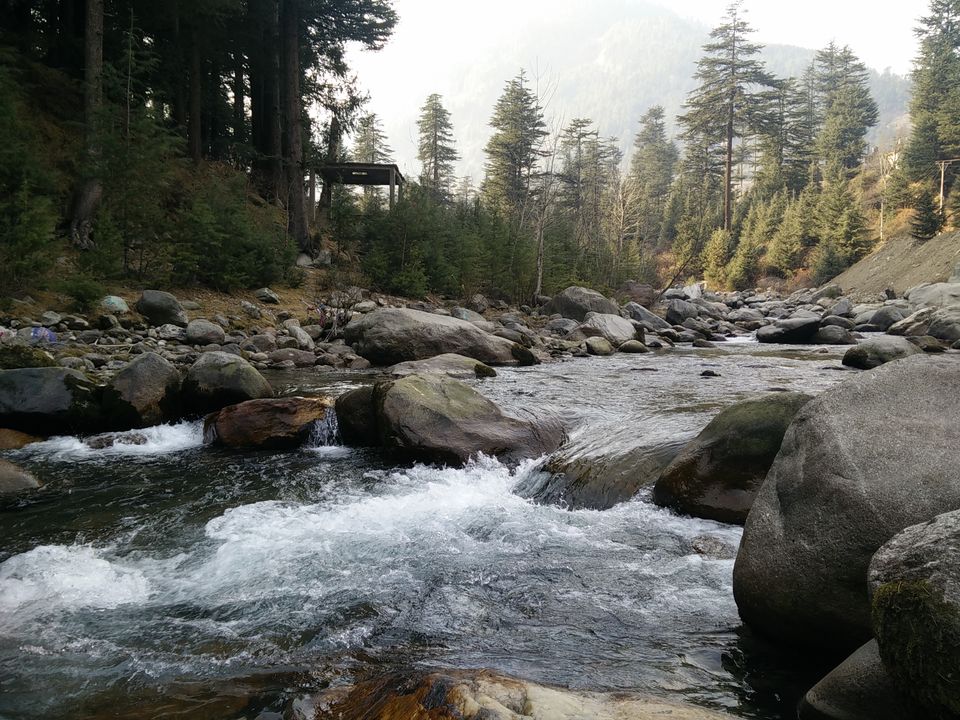 We were not at all mentally ready to leave the place but we had to move towards our next destination – Kasol. Manali is a place where anyone going for the first time must definitely stay for at least 3 days and get a bike on rent and explore the place. Kasol is a village 75 kms from Manali in Parvati Valley.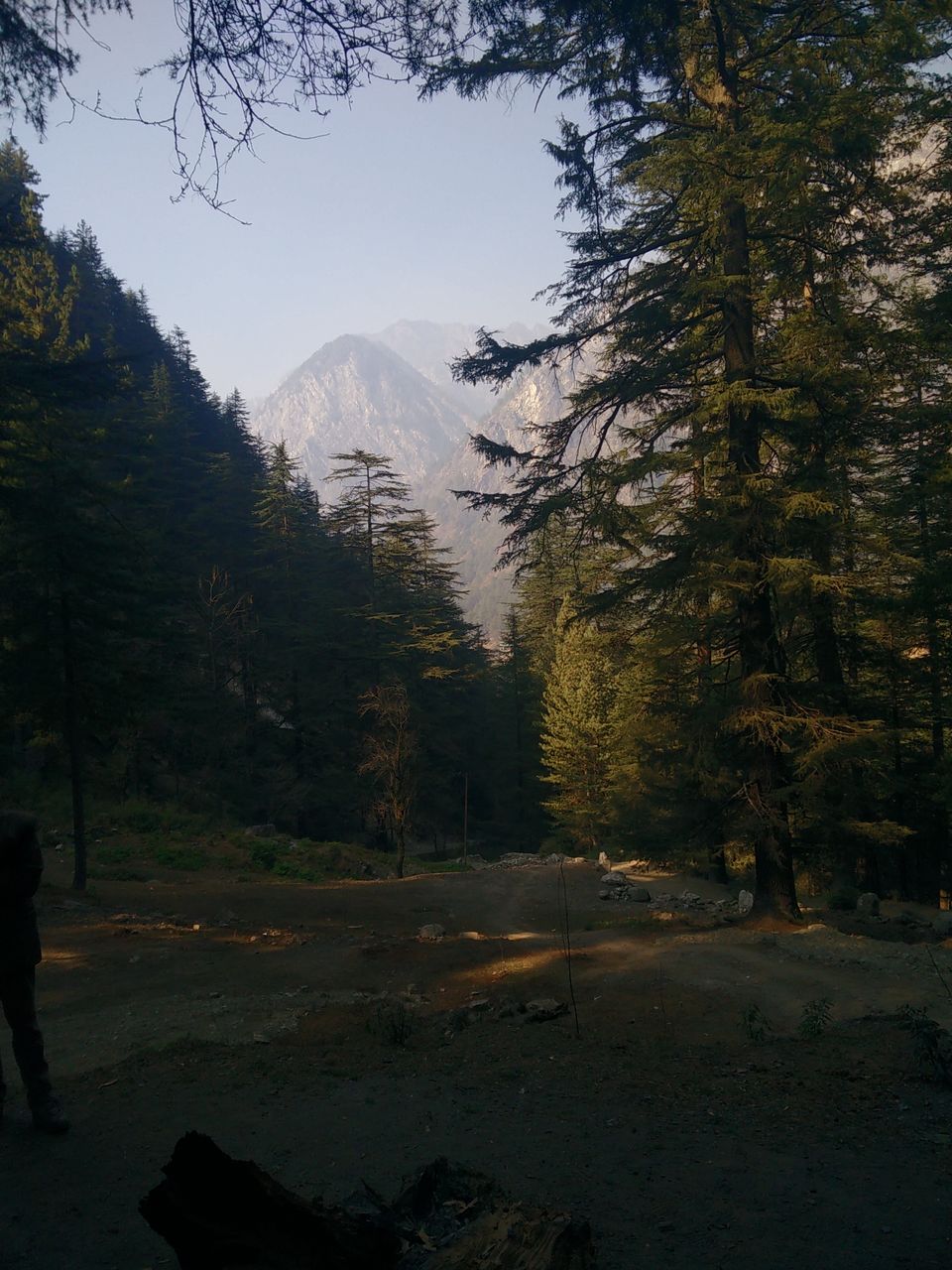 The journey to Kasol was also thrilling. We hired a cab from the guest house. The driver was of our age. His driving literally scared me but later I realised how all the drivers in Himachal are highly skilled and they have a mutual understanding and they strictly follow certain set of rules while driving. I was already scared and adding to my despair the driver smoked up joint midway and then he continued driving. I was literally praying that time. Finally we arrived at our destination. We partied in Kasol late night and celebrated our most needed break from metro life. We had our own quota of fun. Two of us were smoking pot while the other two were non-smokers so, they enjoyed the tasty local wine. While I was sitting stoned outside my hostel room in the cold, gazing the stars, my other friend was getting uncomfortable because of the high. We asked them if he felt like vomiting many times, finally he said that he wanted to vomit but before he could reach the washroom, he started complaining that he is unable to see anything. This complaint could have never made us laugh anymore. After sometime he was normal and we went off to sleep. We stayed in a place called the Hosteller which was designed like a high school hostel and the place had been raised in European style. We could see the drawings and different types of art people had drawn and painted on the walls of the hostel. I was amazed to see the art of the people after getting high. Later we confirmed from the caretaker whether these drawings and paintings had been made by people after getting high or not and he confirmed affirmative. All I could do was just take a snapshot of those drawings in my mind. It did inspire me though to find out the art inside me and get started before its too late.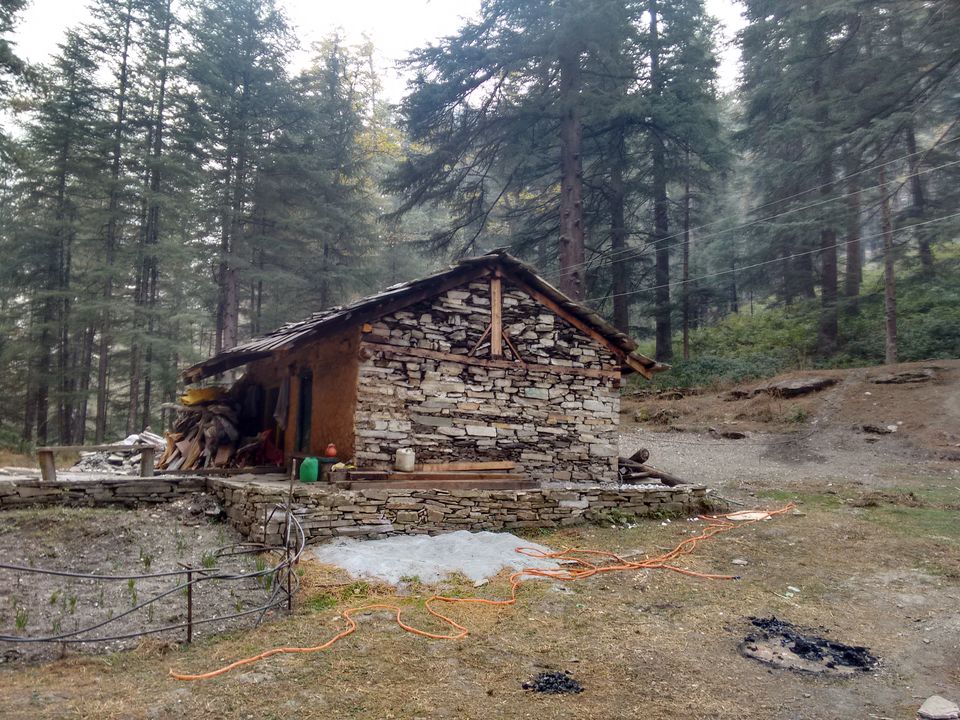 I was amazed to see the lifestyle of people in the woods of Kasol and nearby villages. There was this hut midway in the woods and an old man was busy cutting out some wood for himself. We sat there for few minutes while I spoke to the old man. He told me about how they manage to live in the jungle in chilly winters and how wood is a lifeline for the people of Himachal and that people might become crazy if they don't get wood. For information, Himachal has its own supply of electricity – Hydroelectric power. Its production ceases during winters because of snow and people need wood to warm their houses and cook food. He told about himself as the only town he has seen outside his home is Shimla and that he had only heard about Delhi. I don't know why but this surprised me. After spending some time there we went deeper in the woods and spent those precious moments away from civilisation in peace. I would like to add here that Manali, Kasol, Malana, Tosh etc, all of these places are stonners paradise.
Our next destination was Rishikesh. We had to leave from Kasol to Manali as our bus was booked from there to Rishikesh. It was hectic. There is no need of going to Manali as we could have easily got down at Kullu since all the bus from Manali go via Kullu. We travelled whole night in the Roadways bus and reached Rishikesh next day by 3 P.M. The journey was painful yet peaceful. It was our last destination as we wanted to finish off our trip in style by doing bungee jumping and flying fox. Rishikesh hosts the highest bungee jumping platform in India of 83 metres which is operated by the operators from New Zealand. By the time we reached there it was late and almost after an hour the place was going to be closed. We hurried yet it was of no use – Bungee Jumping was in high demand and because we could complete our event earlier they told us to do Giant Swing. Giant Swing and Bungee Jumping were hosted from the same platform. The two seconds of free fall is a feeling which can only be experienced when you are free falling. It can't be put in words. For the readers if you happen to go to Rishikesh do not miss out on this chance of experiencing the thrill of free fall. We stayed in Rishikesh for a night and left for Delhi next day from where we had to go back to our hometown for new year eve. We couldn't get any pictures from here as we weren't allowed to take any cameras or mobile phones inside during the activities. They have their own arrangements for video recording and pictures for which they charge something around 700 INR.
I would like to conclude with the quote –
"If life is a journey then let my soul travel and share your pain."