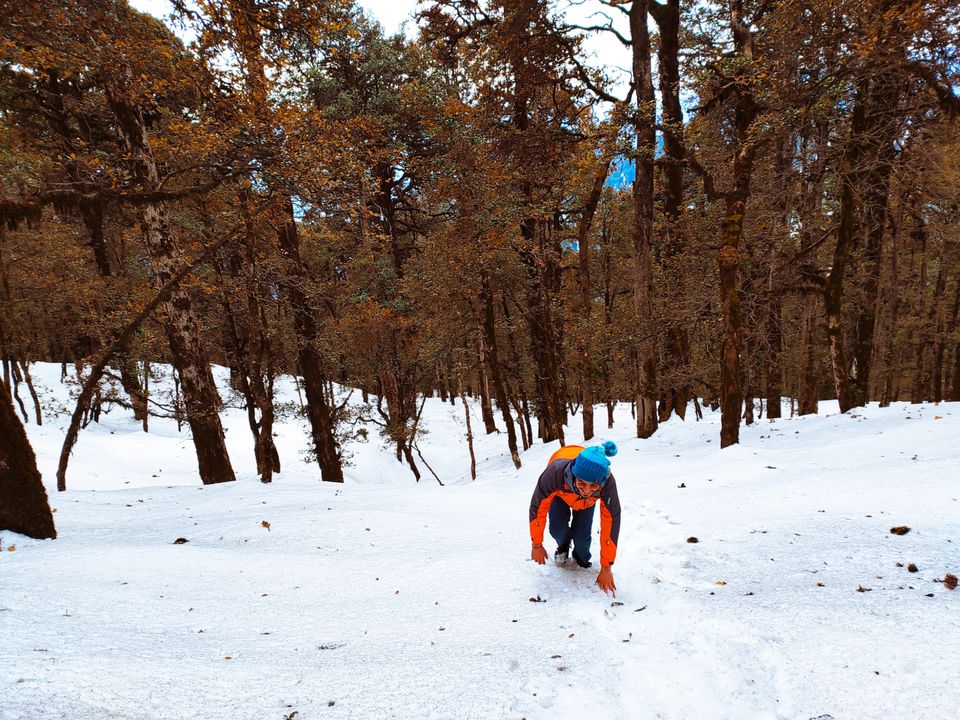 Main udna Chahta hu... Daudna Chahta hu... Aur girna bhi Chahta hu... Bas rukna Nahi Chahta....
Hiking is a bit like life, the journey requires you to take one step at a time and if you allow yourself an opportunity to be present throughout the entirety of the trek, you will witness beauty every step of the way, not just at the summit.
I recently visited Jibhi and Jalori pass during autumn, to be very specific in March, 2019. This was my very first snow hiking experience. The mountains were drenched in white sparkling snow. It almost felt like heaven on earth, everything so mesmerising.
Being an amateur, when it comes to hiking, I wasn't aware of carrying any special waterproof clothes and shoes, so I ended up wearing my Adidas sneakers and my regular winter jacket. My hands and legs were frozen throughout the journey.
The trek from Shoja to Jalori pass was around 5 Kms, the actual trek began from Jalori pass, which is a high mountain pass at an elevation of 10,800 Ft above the sea level, situated in the Kullu district of Himachal Pradesh. The next spot to be covered was Serolsar lake, which is beautifully surrounded by the Silver Oak trees, but, due to heavy snowfall, this lake was frozen and closed for tourists. So we went as far as possible.
I hiked to the top of the mountain out of curiosity, as there is a temple situated at the top which gained it's popularity due to the famous movie named "Yeh Jawani Hai Deewani". The same point is also know as shooting point for obvious reasons.
This particular divine place was situated at a very steep height and was too difficult to climb up the mountains with my bare hands. Amidst all these odds, I did not give up. My passion for experiencing new things and my will power to reach new heights, kept me warm and motivated throughout the cold and chilly trek.
Jalori pass being my first trekking experience, it made me realize--
You don't always need bright sun to inspire you. Sometimes foggy roads, dark clouds, snowy mountains and refreshing air works best.
In last 2 months I have been to many different places like Bir, Tirthan Valley and Jalori pass again. The only thing that makes me feel alive is exploring new places and embracing new adventures.
My next target is to explore Kareri village which is located in McLeod Ganj known for its beautiful lake and also Chopta Chandrashila trek known for its 1000 year old Lord Shiva temple.
Moral:-
Live your life,
Because in the end you won't remember the time you spent working in the office or mowing your lawn.
The only thing that stays forever is that perfect view, which you fail to notice amongst the crowded city lights.