After reading a lot of blogs and watching travel videos of Meghalaya, I couldn't resist booking my flight tickets. Everything turned into reality when I thought of going on this solo trip for the first time in my life. To be honest, I was not confident about travelling solo but I wanted to do this.
As suggested by most travellers online, I decided to reach Shillong from Guwahati. I reached Guwahati around 10 am thanks to the fog at the Bangalore airport. I immediately booked a shared cab to Shillong from Guwahati airport which cost me ₹500. It is 120 km in distance but traffic makes this a four-hour journey. I planned to cover a few places in Shillong on the same day but I reached around 3 pm which is quite late if you are travelling in the Northeast.
I managed to check into my hotel and went for a walk around the city. I found a beautiful-looking church on the street and thought of going inside. I spent some time there, clicked a few pictures and then headed to Police Bazaar to gather information for my next day's plan to Dawki. The local commute in Shillong is quite cheap. There is a Maruti 800 passing by every few minutes which charges only ₹10 for a drop.
Police Bazaar was crowded with people shopping and eating. I drank evening tea and went to the MTDC office to enquire about Dawki. Luckily, I got a call back from them later in the evening saying they will be doing a guided tour in Dawki. It was good for me as taking a personal cab is quite costly for a solo traveller. I had my dinner at Cafe Shillong and went to sleep for the next day's adventure.
I am generally not an early bird but I had only four days to explore Meghalaya so I made it count by waking up early every day. At 6:30 am, I was ready with my camera and basic stuff for exploration. I had fluffy puris for breakfast at Police Bazaar and boarded the bus at 8 am. I met one guy from Delhi who was also travelling solo. He acted as an icebreaker among fellow travellers as he initiated conversations through a few games on the way. We stopped at a lovely viewpoint in Laitlum called Canyon Valley viewpoint. This place was breathtaking since it was surrounded by mountains with the morning sunlight falling on them. It made for the perfect start to the day.
We stayed there for 20 minutes and then we drove directly to Dawki. We reached there around noon. Dawki is a place you must have seen somewhere on the internet with those pictures of crystal clear water and a boat floating in the air. Yes, it was indeed that beautiful. On reaching this place that was on my bucket list, I was feeling restless to get on the boat.
Boating in Dawki is a truly relaxing experience and it costs ₹700 for four people. After 45 minutes of a boat ride, I had 400 pictures on my phone already. The place is beyond description. The water was so clear that I could see a stone 100ft down. I couldn't resist taking a dip in the water so when the others were busy taking pictures, I went into the water. We all left Dawki around 2 pm.
Next place for the day was the root bridge in Meghalaya called Riwai living root bridge. These bridges are really old and creations of the locals. Standing on the bridge is not allowed but you can click pictures. I was having a nice time as this was a different experience. We had to leave from there in 20 minutes as we had one more place to visit on the same day. Just after a 10-minute drive from the root bridge, we reached Mawlynnong which is Asia's cleanest village. We enjoyed a delicious and homely local meal there and started back for Shillong.
Covering all these places in one day made me tired, so I drank some tea and went to sleep immediately after reaching my hotel.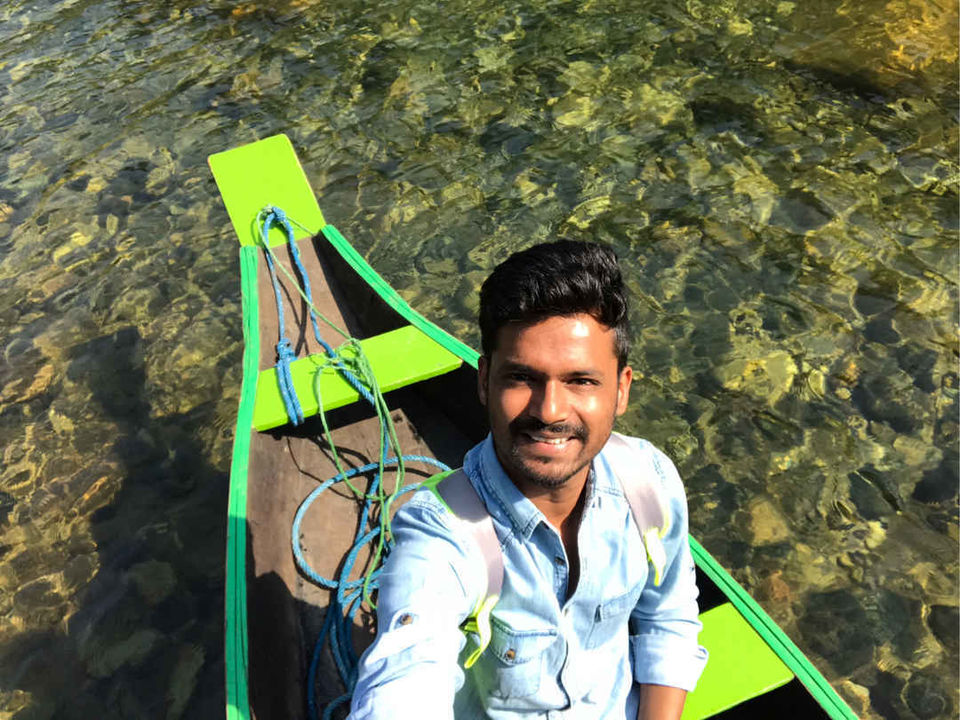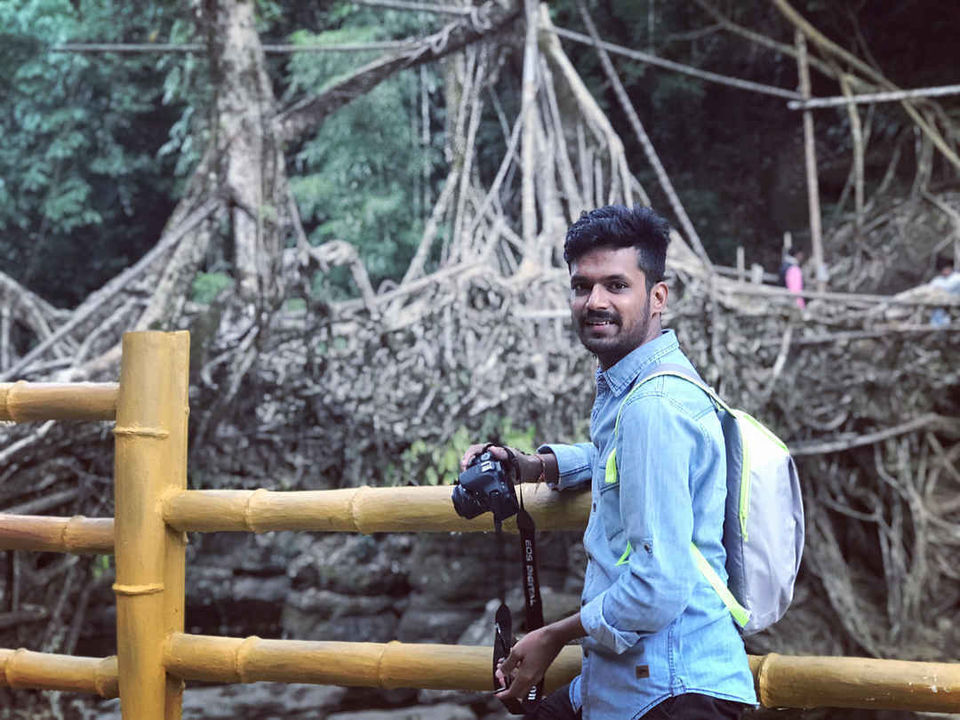 Now comes the challenging trek to Nongriat. I had already researched this place and knew that if I wanted to cover Rainbow Falls and the double-decker bridge, you are supposed to stay down. This trek is extreme and needs a good fitness level. 7500 steps (total) to the root bridge and thereon an optional 3000 steps for Rainbow falls.
I took a shared Tempo traveller from Shillong early morning to reach Cherrapunjee. The view on the way to Cherrapunjee was simply breathtaking. After enjoying the beautiful view on the way, I reached Cherrapunjee and checked in to my homestay around 10 am. I left for the trek as I had planned to cover the double-decker bridge in a single day. I booked a cab from the taxi stand to Tyrna which is the starting point of the trek and the ride cost me ₹300. I was very well prepared for the trek as it is 100% stairs and no trail. You need to go 2 km downwards and then climb up while returning. While going down I met a lot of travellers from different parts of the world and had short conversations with them which kept me going on the one and a half-hour trek. Just 100m ahead of the double-decker bridge was a natural pool full of blue water just below a hanging bridge. It is one of the places I'll never forget from this trip. I wanted to go inside the water there but I decided to do that on my way back. So after completing my trek halfway, I explored the place for a few minutes and then sat on a small rock to get a natural fish spa which was funny because the fishes start tickling your legs. I spent some 40 minutes near the bridge and then headed to the pool I had mentioned earlier. It is a blue lagoon and a treat for any nature lover. I took a dip in the water and tied my shoelaces for the upcoming hike back to Tyrna village. I knew this was not going to be easy but motivation kept me going. Finally, I finished the trek around 4:30 pm. I met a few guys on bikes who dropped me at the town and insisted that I join them for dinner. We had a delicious meal at Golden Spoon Hotel in Cherrapunjee and I left for my homestay for the night.
Later in the night around 11 pm, the power went off and it was completely silent as usual in Cherrapunjee. It was a little scary but I was too tired to feel it.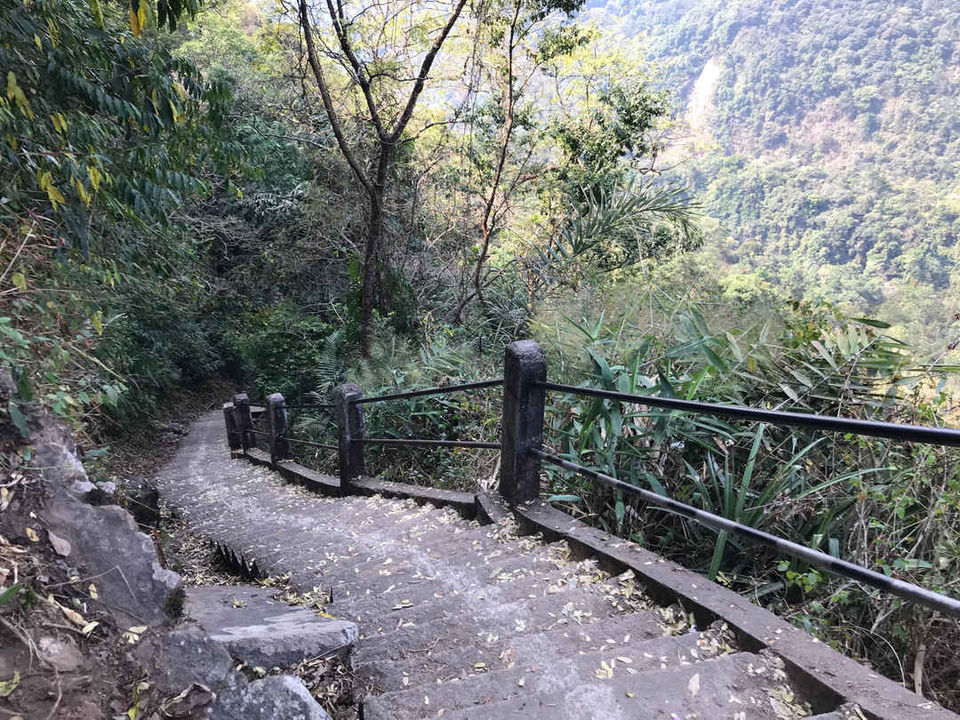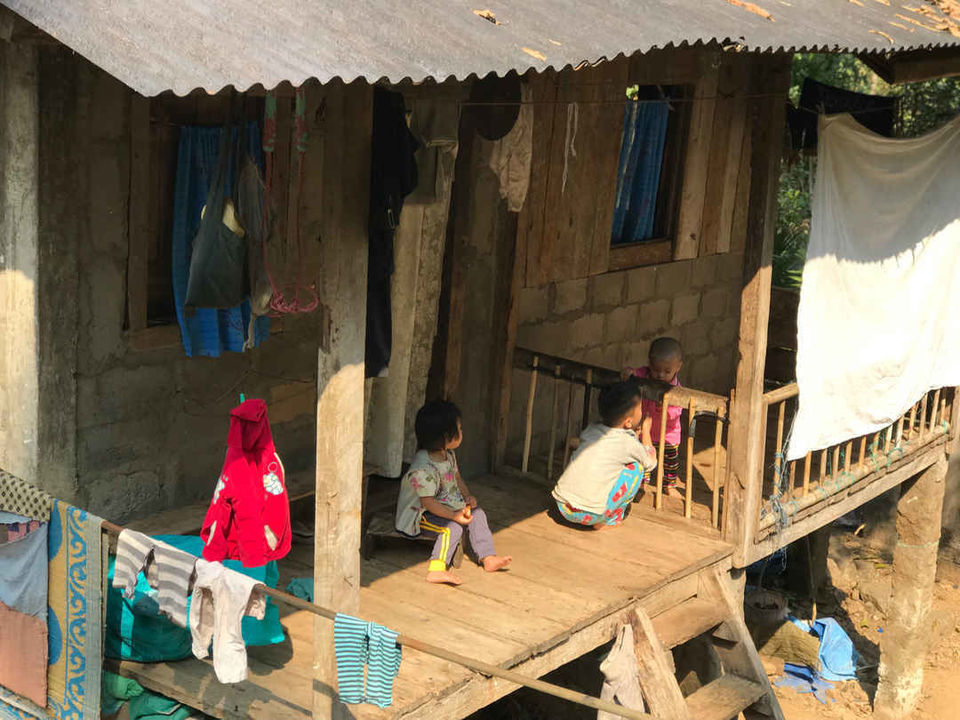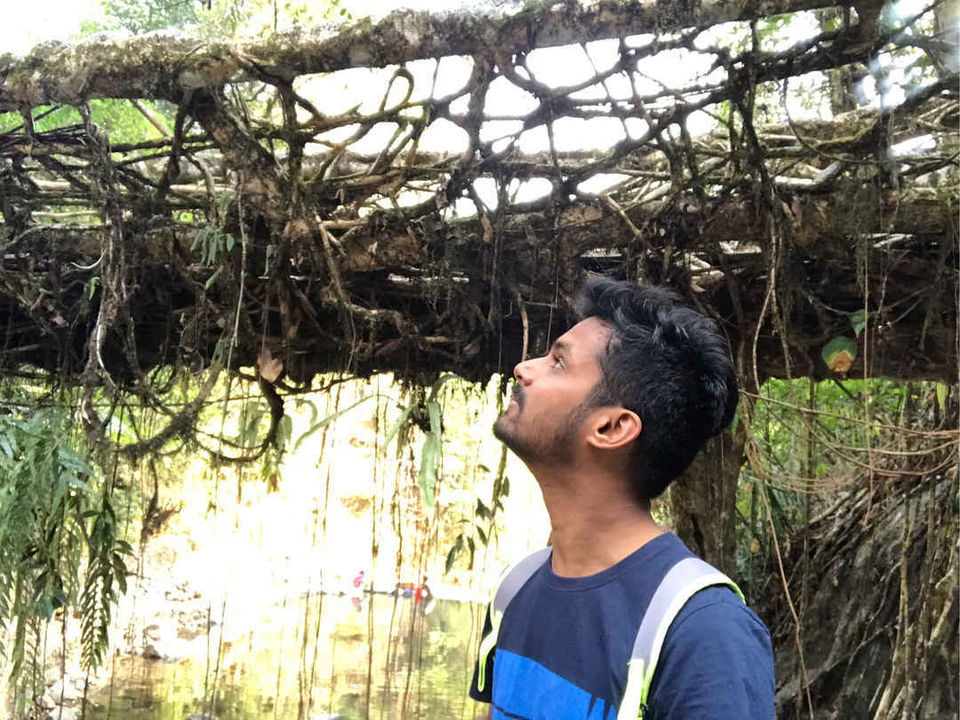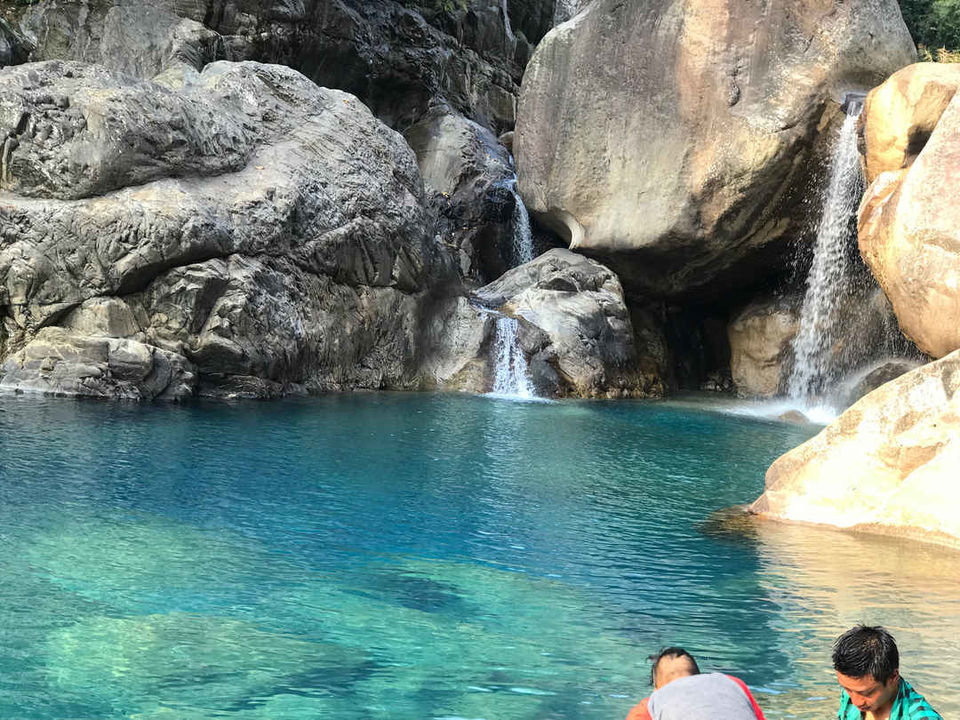 The final day was not that exciting, to be honest, as it was the off-season at this lovely place called Cherrapunjee, the wettest place on the planet. Early morning, I started my local sightseeing in town by visiting the Seven Sisters Waterfall which is must-visit place in Meghalaya. However, as the rains were not there, it was a total disappointment. It was a lovely view in the morning. I took a few pictures of the place and then walked another 2 km for Mawsmai caves nearby.
Mawsmai caves were surprisingly good as these caves are dark inside and incredible. You need to bend a lot to pass through these 200 mt long caves but the experience is worth it. There are a few more caves which required permission to enter and a guide as there is no light inside the caves. Overall, I would say that if you are in Meghalaya, don't miss out on the root bridges and the majestic caves.
After collecting all these lovely memories, I finally headed to Shillong in a shared Sumo, had lunch in Shillong market and boarded a cab to Guwahati airport for my flight next morning.
Do follow me on my Instagram for my travel photos
https://www.instagram.com/nitishhardeniya