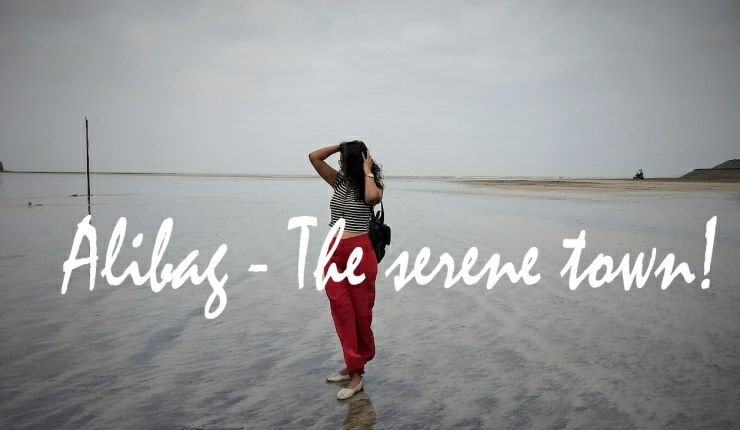 Sand and sea , the two best things to unwind oneself from our so called "mundane" lifestyle. No matter if its monsoon or spring, you can go wanderlusting on those serene beaches!!!
Yeah!! a short trip to witness the tranquility of a beach in monsoons, it was undeniably the mystic view of heavy rains pouring all over the ocean and beach. With all the planning and plotting for a trip to the land of serene beaches – Alibag, we were finally heading towards it.
Mesmerising weather at Alibag beach!!
The peaceful town Located along the coastline of konkan region, alibag is quite a composed destination occupied with absorbing beaches, ancient forts and age-old temples. It is a popular weekend getaway near to Mumbai. There are abundant spots to visit in alibag. Around 12-13 beaches are spread across this placid town. The most sort after beaches in alibag are Nagaon, Kashid, Kihim, Mandwa, Varsoli, Alibag, Akshi and Awas beach. Also, the ancient temples and forts are paved with some striking architecture.
How to reach:
Mumbai to Alibag distance is 94 kms. Alibag does not have a train station, and the nearest station is panvel, at a distance of 36 kms from Alibag. You will find n number of buses from panvel to alibag.
Other option is, you can take ferry from gateway of India to Mandwa jetty which will take 40-45 mints and From there they have their buses or just hire a rick that will take you to Alibag town, which takes another 40-45 mints.
Alibag beach:
We boarded MSRTC semi luxury bus from thane bus stand (Mumbai) which was scheduled at 10 in the morning. You can easily book tickets from red bus.com, the most convenient website to book bus tickets, as it shows timing, stops, reviews, ratings etc. As per my opinion, please reserve your seats beforehand, seats might not be available if booked on the spot. Due to monsoon the waterway towards alibag was shut so we opted for road way. At around 2 in the noon we reached alibag, it almost took 3.5 – 4 hours for the bus to reach, thanks to the traffic and those pit holes on the roads due to rains.
Now from alibag bus stand the nearest beach is alibag beach i.e approx. 1.2 km and varsoli beach i.e approx. 3.3 km. So if you are travelling with your own vehicle then you can head on to other beaches i.e. nagoan and kihim which are almost 8-11km away from bus stand. But if you are travelling with public transport then varsoli or alibag beach is the go to beach. While you are availing the ferry service, which is available from October till may, then mandwa beach is the nearest to mandwa jetty.
Further we Boarded a rick towards alibag beach where we had booked a stay in Hotel Guruji. It was fine, proximate to the beach. The surroundings of the hotel was laid-back and relaxing. Best to get away from hustle and bustle of the city life. We freshened up, had lunch and rested for 1-2 hrs since we were drained coz of the journey.
After which we headed towards the beach which is hardly 3 minutes from the hotel, that was totally a plus point staying in this particular hotel. Alibag beach is located at the cost of Arabian sea. It is a small beach as compared to other beaches with clean surroundings. The main beach in alibag and the most popular as well. it also offers water sports, but due to monsoon water sports were unavailable, so if you want to enjoy water sports then the best time is before June and after September month.
Since it was raining profoundly, the sight of the ocean was stunning, they have constructed a sitting area stretching around the beach with a roof top where you can sit, unwind and behold the magnificent view of the beach & sunset. Outside beach you will find eateries serving lip smacking snacks, which we couldn't resist to relish. After soaking the spellbound view of the drizzling beach and savoring the snacks we headed to explore the local market of alibag. There are usual shops and cafes around the corner.
It was 8 at night and almost dinner time. We were looking for a restaurant for authentic food. After googling and walking for 10 to 15 minutes we found one. We ordered chicken thali with rice bhakri and fish fry. It was amazingly delicious. Must try if you are in alibag for authentic flavour. We ate like there will be no tomorrow.
With our filled tummies we thought of taking a rick at the beach which is open till 11.30 night. But the rick will charge you more than actual fares. So we thought of taking a walk towards the beach and sat on the benches which are adjacent to the beach.. it was serene…the crystal sound of the waves was soothing, a pleasant place for a writer I thought to myself!
At around 11.30 at night we headed towards our room. The surrounding of hotel is kind of isolated, so its better you don't wander around late night. We planned for a stay so we could explore the spots around the vicinity conveniently.
Morning at 10 we headed to explore spots near alibag beach. There is a historic fort named Kolaba fort Situated amidst the sea and surrounded by waters of Arabian sea across the shores of the beach, provides an incredible sight from the beach. It is also known as alibag fort. With 300 year old ancient heritage, it is the main attraction among travellers. it can be reached by foot during low tides or by six seated horse driven carts which will charge 100rs per person with total 5 people, and during high tides, you can hire a boat. The walk is quiet and scenic as the area is scarcely populated. the fort complex is enclosed with temples dedicated to Lord Ganesha, Mahishasura, Goddess Padmavati and HajiKamaluddin Shah Dargah.
The area within the fort itself is scattered with historic pieces and remnants such as cannons and carvings of animals and birds on the fort walls. Although the mighty fort is in the middle of the sea, surrounded by water on all four sides, an important hallmark is the presence of freshwater well in the fort premises. Do Visit this fort if you are about to spend some time around alibag beach.
Another most popular spot in alibag is Murud-Janjira, it is a widespread sandy beach adorned with historic murud-janjira fort. Located at about 55 kms from alibag i.e. 2 hrs. The fort is located in the midst of the sea and it is also called as island fort, you need to take a boat ride to reach the fort available till 6 in the evening, also it is shut during high tide. Inside the fort there are water tanks, stone monuments and striking tombs. At the gate, the sculpture of six elephants by a tiger is extraordinary.
Frequently visisted by the travellers are the beaches which offer watersports i.e. parasailing, boat rides, jetski and other such activities.
From there we headed to the restaurant for lunch near to the bus stand which serves appetizing food. we noticed, you will find soul food in each and every restaurant in alibag with amazing service. so apart from beach lovers, this is also recommended for food lovers!!
boarding a bus at around 2.30 in the noon, we headed towards our home sweet home!.
Things to remember:
- Book a prior bus ticket from red bus.com, Rs 170 per person.
- During off season hotel rooms are easily available on the spot, or you can book prior to the stay, we noticed on the spot booking is cheaper as compared to online prior booking. Rs. 1500 one night stay.
- Best spots are, alibag beach, kolaba fort, murud janjira, nagaon beach, kashid beach, etc.
- For authentic food, Samman restaurant – 10 mints from alibag beach and Fulora restaurant – 2 mints from alibag bus-stand. Rs. 500 for 2 people.
Ditch your plans this weekend and head towards alibag and spoil yourself with its spell bound beach beauty!!