Recently myself and my friend decided to make a road-trip along the coastline of Maharashtra, to explore its beaches and the rich konkan culture. The konkan coast which roughly starts from Alibag, is said to extend all the way south until Goa. The plan was set, on day one we ride until Kashid, rest there for the night and the next day visit Murud-Janjira Fort and then ride all the way back to Mumbai.
So on one fine Saturday morning we started our road trip on his motorbike. Though my idea was to take a ferry directly to Alibag from Mumbai port, which we later found was not a good option actually, good that we took the Panvel highway that runs through Karnala Bird Sanctuary and Pen (a small town nearby Mumbai) as per my friend's suggestion. We stopped by in a highway motel few kilometers ahead of Karnala Bird Sanctuary for a quick breakfast. I was surprised to find Sai Krupa Dhaba nearby there, which servers delicious mutton sukka fry and baakry rotis made from jowar which is a local delicacy . Earlier a few months back I was there with my colleagues for a late night weekend dinner, but had no idea where it was located exactly as I was new to Mumbai then. As we drove through Karnala Bird Sanctuary, we were expecting to see some rare and endangered birds, but all we saw there was hardly a few monkeys. No wonder it was still a dry season and maybe the birds might have migrated else where. The Karnala fort in the middle of the sanctuary with its pointed pinnacle would have been a good climb, but unfortunately it was a hot summer day and not very ideal time or situation for a trek.
By evening, roughly a couple of hours before the sunset we started off from Revdanda towards Kashid which was some 25 Kms further south. There was much hype about Kashid as perfect weekend getaway for people from Mumbai. So I was very eager to see what was that all about. As we got closer to the beach, we could see a lot of vehicles parked on either side of the road, which as of for me is definitely not a good sign. The beach though was not very crowded but was losing its charm with all the hustle and bustle on the weekend. I guess it got more commercialized with the increasing number of tourist from Mumbai. Anyway we settled down there to get a glimpse of sunset and also I was able to try out the time-lapse function of my mobile camera for the first time which I have posted in the link here.
As it got darker we decided to head to town in search of a place to rest for the night. There were lot of resorts and guest houses but most of them were more expensive than we thought. The cheapest one we found was for Rs 1000 in the edge of the town which was still not within our budget. We were advised to head to the next village where we were told that the cost for stay would be comparatively cheaper. As we rode a few kms down the road we found a couple of guest house nearby a liquor shop. After enquiring the rates in both the guest houses we finally struck the deal in Saylee Farm House in where after a little bargaining offered a room for two included dinner and breakfast for 1000 bucks. The liquor shop next door was also very convenient in getting us some beer to chill out for the night. The family owning the guest had a frisky little dog and kitten (which I had never seen together before) that kept us amused with their friendly quarrel.
On our way to Murud fort we were stopped by this grand and peculiar building along the roadside. We quickly parked our bike and went nearby the gate to have a closer look. The gate was quite tall and had two watch towers one on either side. The sign board on entrance arch said that it is the private residence of Nawab, which we later found belonged to the descendants of the Sultan of Murud fort.Well I had to let my curiosity starve this time as the gate were obviously huge to jump over and also there were signs of people inside. So we got back to the road and it didn't took us very long to reach Murud from there. As we were passing by the Murud beach we saw this small unfinished fort off the coast line which we initially mistook for Janjeera fort. After inquiring with a few locals we got to know that the actual fort we were looking for is a couple of miles further down south and we can get a ferry to the fort from the nearby fishing village.
After about an hour long wait in the ferry wharf we finally got our ferry to the fort. The ferry couldn't take us all the way till the entrance as the water was quite shallow nearby there. So from the ferry we had to hop on to a sail boat that took us to the entrance. Once we were inside the fort, ferry master told us that we have only 45 minutes to explore the fort until the ferry leaves. We were also advised to remember the name of the boat as there were also few other ferries that came from other nearby village. Our group was assigned with a local guide who assured us to give a quick tour around the fort for a petty sum of cash and bring us back to the entrance in time. We decided to stick with the group as the fort seemed to be quite huge and it might not be possible to cover the entire fort in time on our own.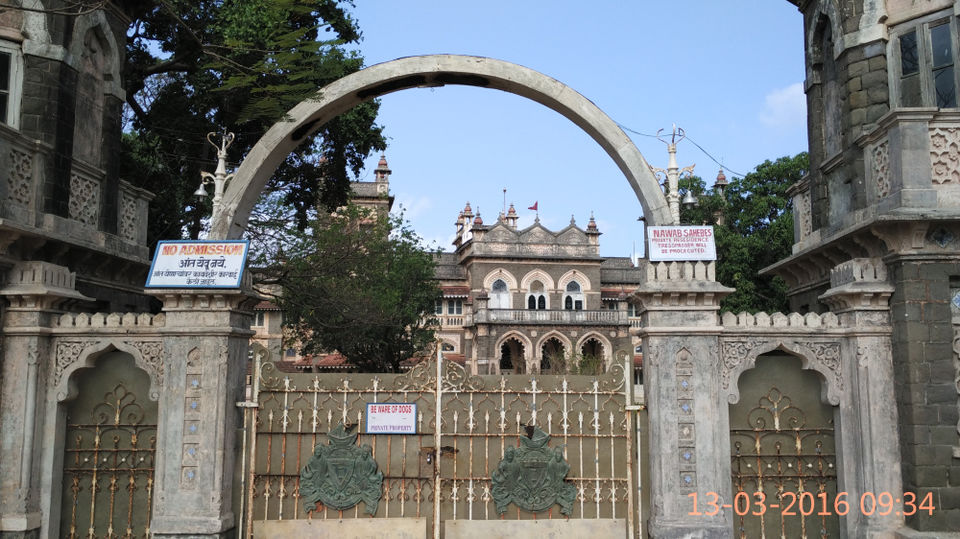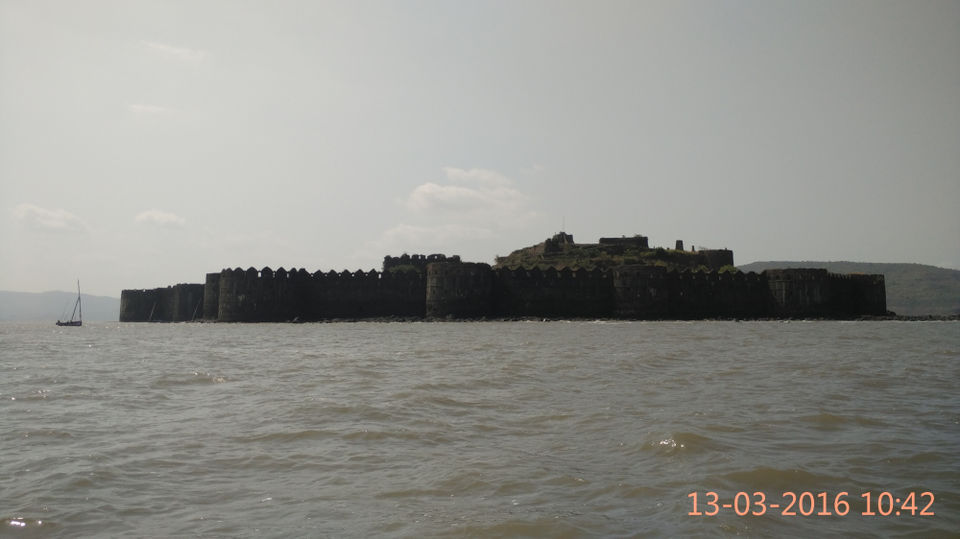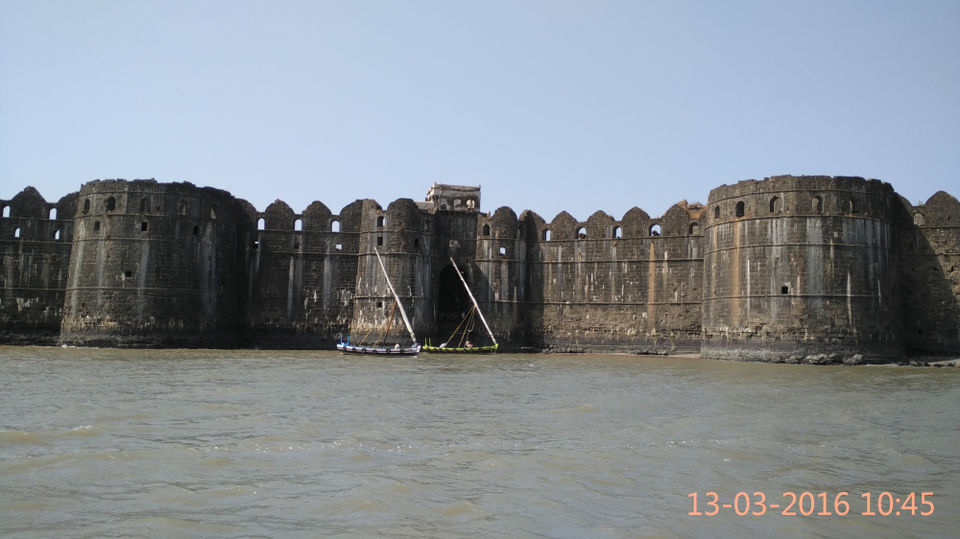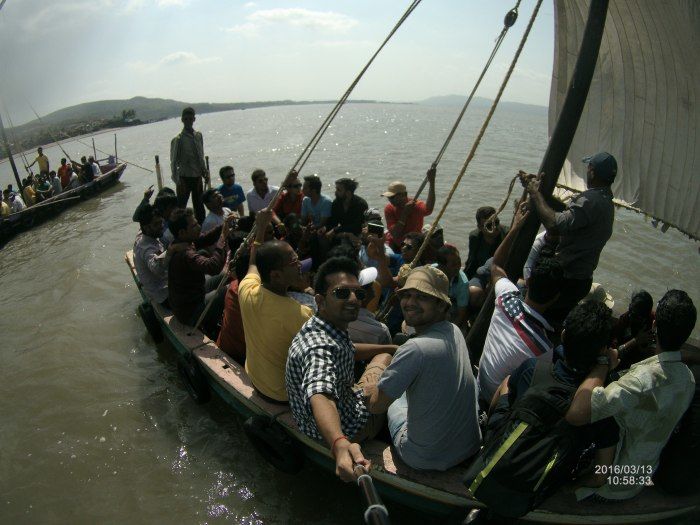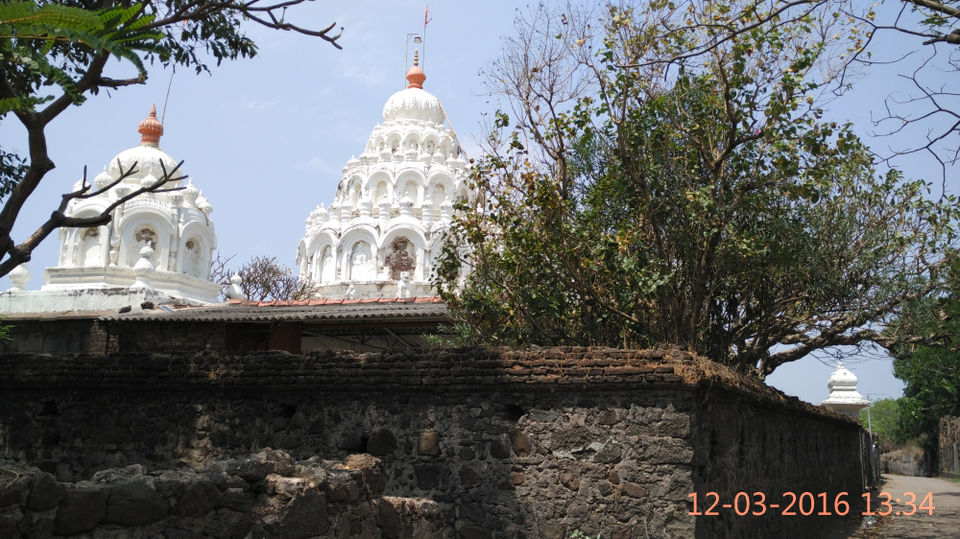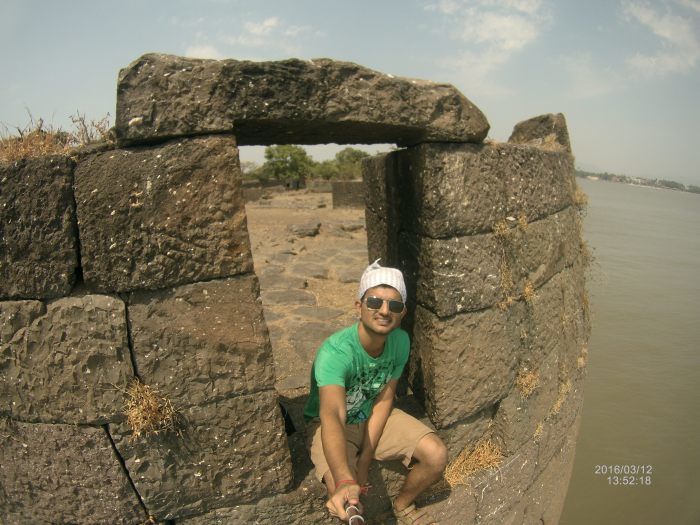 Murud-Janjira, as it is locally called, is built on an islet few hundred meters off the coast. Until Independence the fort was under the control of Siddis, who were said to be the descendants from Southeast Africa, is now taken over by Archaeological Survey of India. The fort stands unconquerable even after several invasion attempts by Maratha army, credit goes to the impenetrable stone walls of the fort and the three mighty cannons (Kalalbangdi, Chavri and Landa Kasam) positioned in the bastions along the main entrance. The guide also told us that the fort had proper dwellings inside until few decades earlier but then the people living there decided to shift to the mainland and they scrapped most of the wooden structures and took it back with them.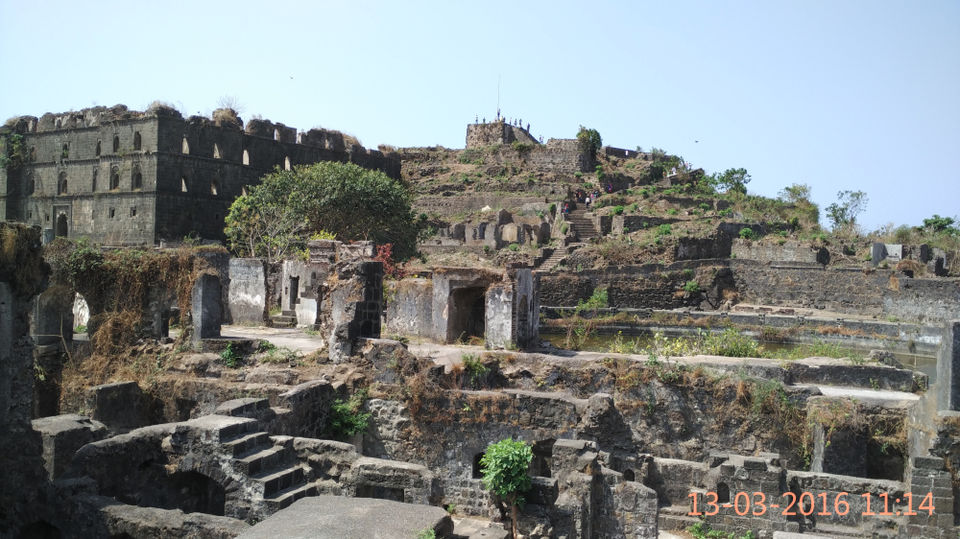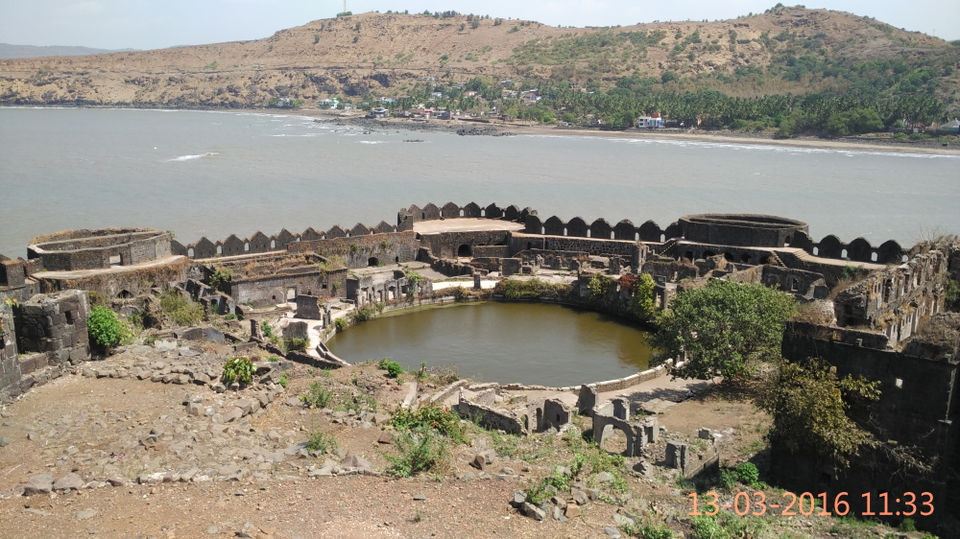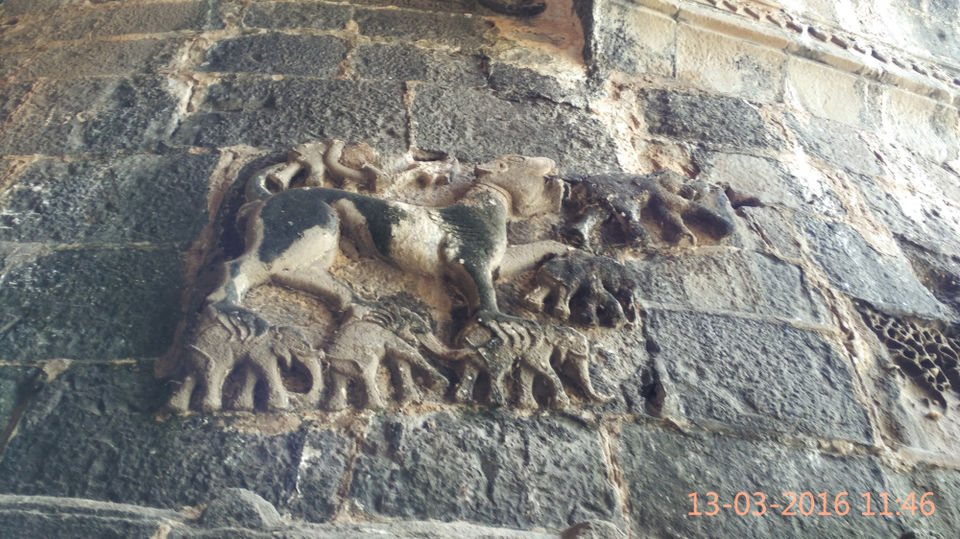 Once we were done with fort we headed back to Murud town where we found this small coffee shop cum restaurant on the roadside run by a family there. We had our lunch there and I got to try the Konkan fish thali, served with fish curry and fish fry which gave a delicious finishing touch for our whole trip. After relaxing there for a while we started our long and tedious journey back home. Earlier when we were in Alibag we inquired about the option of taking a ferry back to Mumbai from there. We were told that there were two ferry terminals nearby, one in Mandve which allows only passengers and other one in Revas which carry both passengers and two wheelers.
So we headed to Revas from Murud which is like 70 kilometers ride and took us nearly three hours to get there after a couple of short breaks in between. From Revas there are two options of ferrying to Mumbai. One ferry leaves to Bhaucha dhakka in Mumbai port at every two hours interval and takes around 45-50 mins, which initially was my suggestion for the onward journey as I mentioned earlier in the blog. But since now we got to know that two wheelers are not allowed in the free way connecting Mumbai port to Navi Mumbai, we felt lucky that we had the second option of ferrying to Uran port in Navi Mumbai. Uran was just across the narrow Karanja creek and ferry took just about 20 mins in getting us there. From there it was again 30 kilometers journey to home through a series of highway. Finally we reached home late in the evening drained out and exhausted, but it was definitely a weekend well spent.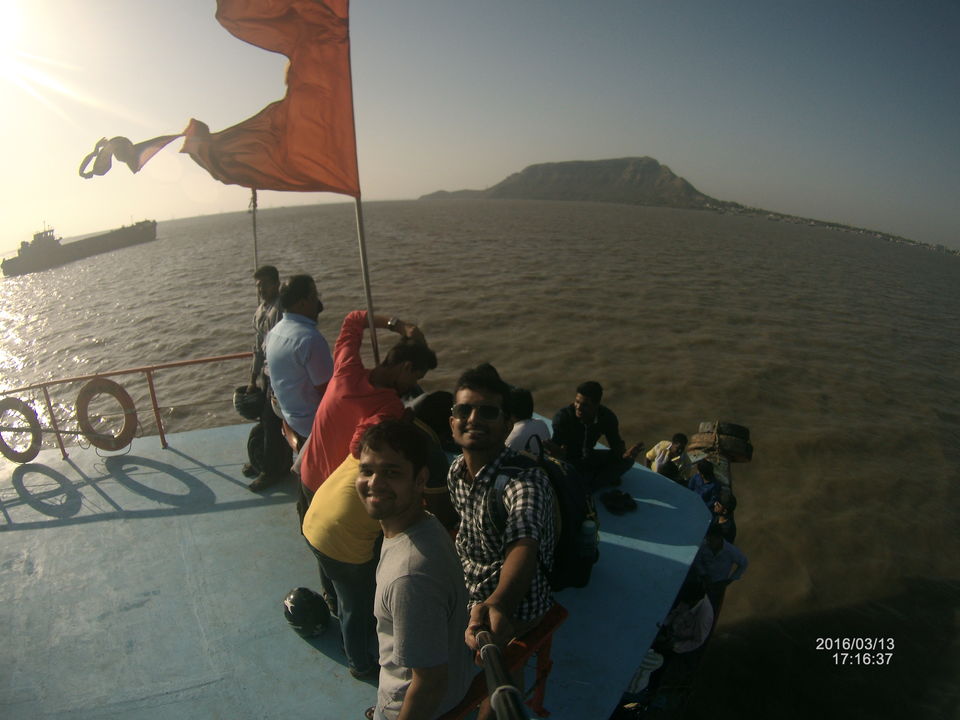 If you are staying in Mumbai and longing to take a road trip somewhere as a weekend getaway, I highly recommend this one. Even though the two wheel drive was quite adventurous, a four wheel drive would be a much more comfortable option. I have pin pointed all the locations in google map in the link here.
Cheers until next time :)
This blog was originally published on 'my travel hustle'
We reached Alibag just before noon and we took straight to the beach there. The beach though quite small in size, was more fussy looking with mostly local crowd. The only interesting thing I found about the beach was the channa-wala there, who was singing his iconic folk song as he prepared channa chaat for his customers. He also narrated his story of how he was the first person ever to sell this channa chaat and nobody else in Alibag had the insight of making masala channa chaat before he arrived there. After relaxing for a while in the beach, we decided to visit the Kolaba fort which was right ahead inside the sea. During high tide there are boats that ply on demand from Alibag beach to the fort, whereas in low tide it is said that we can just walk across the shore to the fort. The fort which was said to be built at the time of Shivaji Maharaj, had a Ganesh and Shiv temple and a big water tank in the center. Most of the other structures were partially or fully destroyed in time.There was also a Muslim shrine and a couple of underground fresh water reserves but they were no longer potable.
After spending a good couple of hours inside exploring the fort, we hit the road again towards Kashid. Our next stop was in Revdanda where we wanted to do a quick check on this old Portuguese church that we found on google map, but what we discovered there was more than that.
As we took off from the main road in search of the church, we were little aware that we were actually entering the ruins of a Portuguese fort. There were houses here and there amidst dense plantations and this one particular house had a grand but partially ruined Portuguese style entrance which we initially mistook for the church. As we went further inside a narrow alley , we could hear the distinguishing sound of waves breaking nearby. We walked towards the fort wall, where we a found a breach in it that lead us into to the beach. We found ourself awestruck in that strange and isolated beach with black sand and clear water. Coming straight from Alibag beach, this one felt like an heaven and we couldn't resist ourself getting into the water. Very soon one more group of wanderers and a couple of local folks too joined us in the beach. After a while of fun in the water we headed back into the fort and there we found this tall tower painted white and partially destroyed which we assumed as the Church tower we were looking for.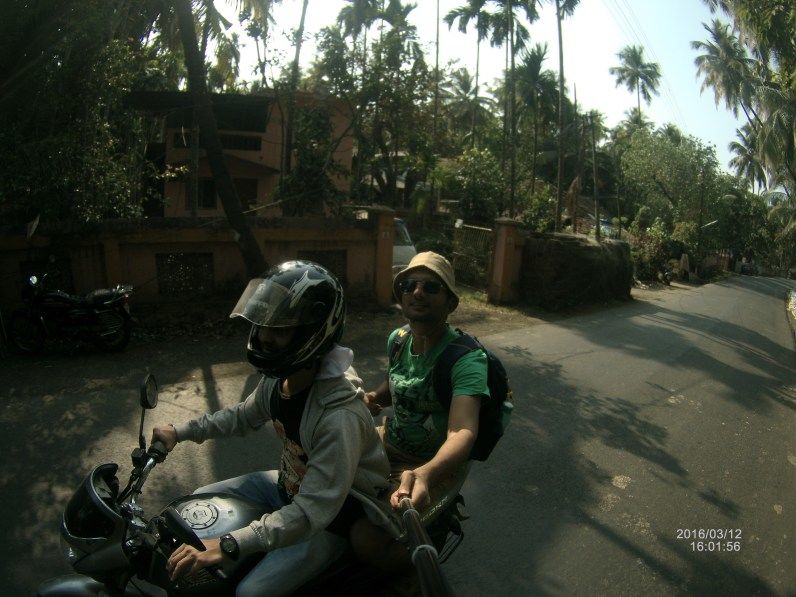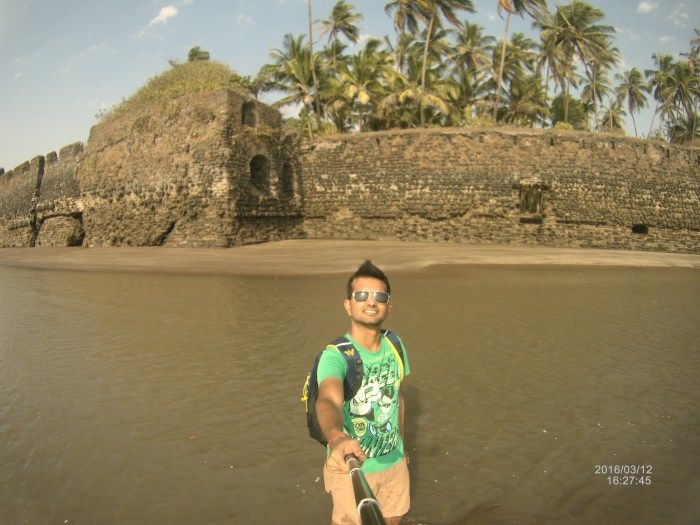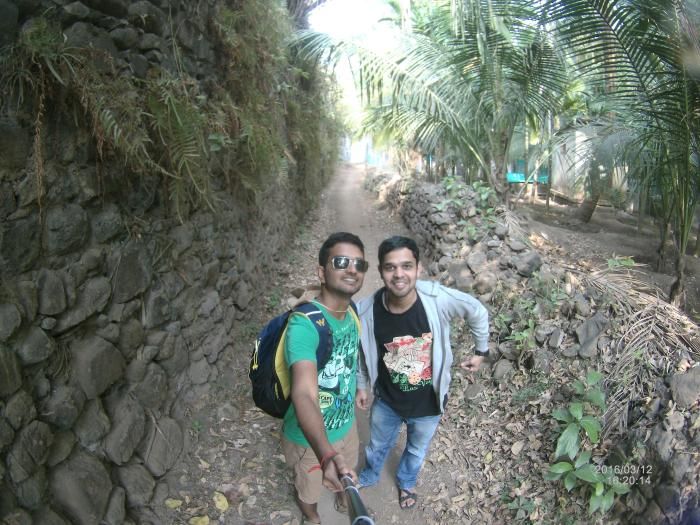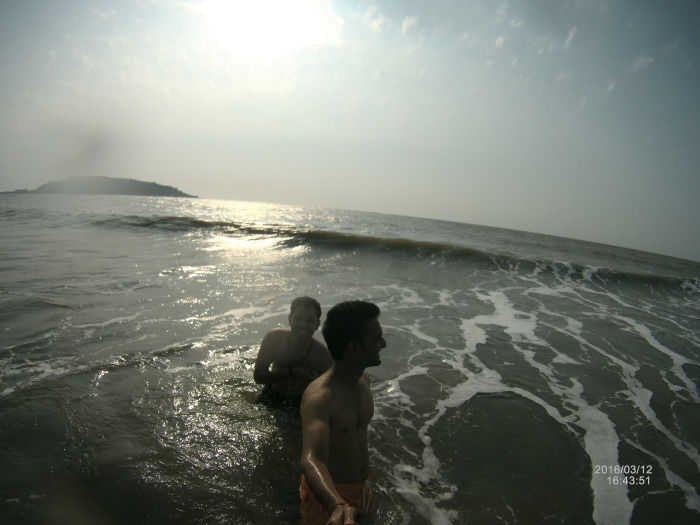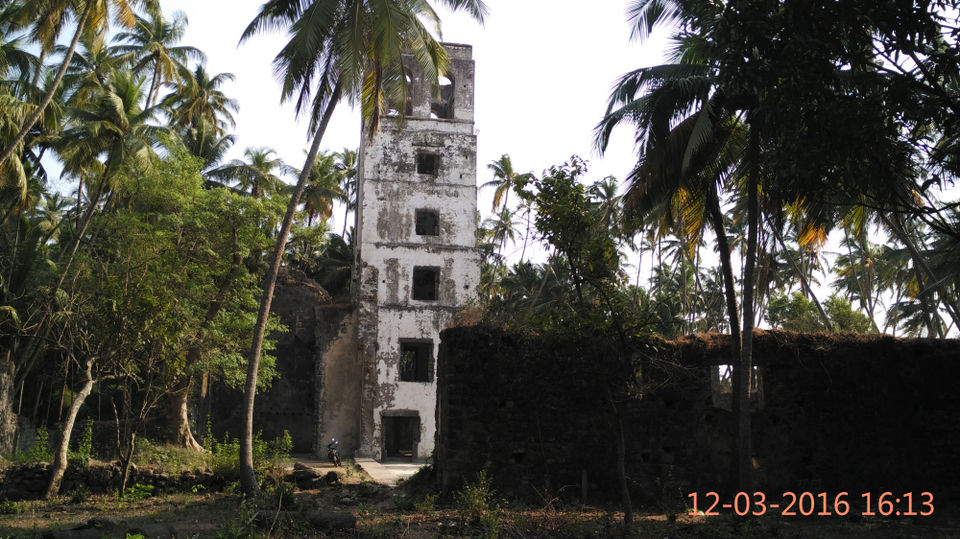 The next morning as I woke up early, decided to go out and wander off the places nearby. As I was walking down the road I could see whole stretch of land between the road and the beach was plotted and fenced off probably for future resorts. I could hardly find any way into the beach but my curiosity hauled me to jump over the gate of this unmanned resort and over a couple of fences to get into the beach. And I should say all that risk paid off well when I found this shallow water beach which was ideally curved inside like a lagoon and the beach clearly showed no signs of any tourist infestation. The low tide in the morning had left most of submerged rocks and mangroves completely exposed. Also the tidal flow had created a fine art out of the beach sand in a wavy texture. After a peaceful walk along the beach I found my way back to the guesthouse without jumping over any fences this time. We finished our breakfast and headed further south towards Murud-Janjira Fort.