I have been in Africa for almost 2 years now and my goal has been to explore as much as I can in this beautiful continent.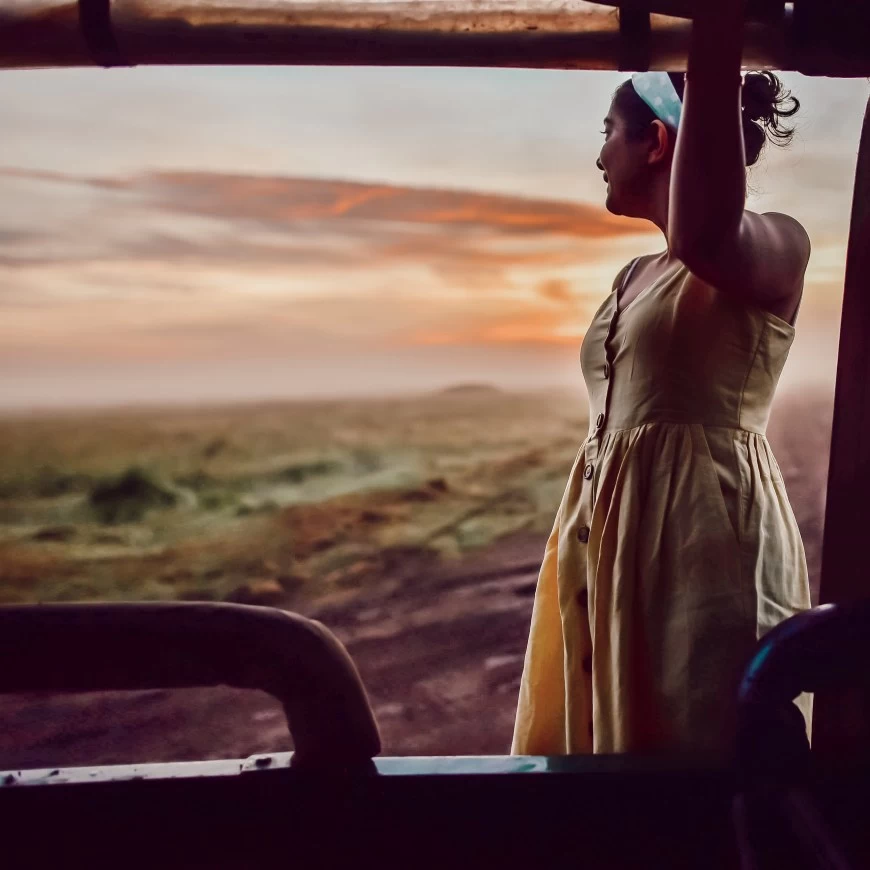 I have been on a crazy ride to find amazing safari spots in Africa. Without a doubt I have fallen head over heels for the stunning landscapes, fascinating wildlife and loving people here.
I have been to Masai Mara more than once and it's like my Africam dream. If you have not been to safari ever, choosing a right safari can be little tricky hence it's important to partner with a property that enhances your experience. Believe me Safari lodge aesthetics, it's services, location, number of game drives offered each play a critical role in shaping up your experience.
I have been to Masai Mara during migration season as well as during shoulder/low season and I can tell you that each one managed to amaze me in its own way. March to June and Oct to Dec is considered low season while Jan to March is considered shoulder season. Traveling in shoulder and low season offers more than just shaving off money and crowds. Some of the enchanting things I could view during low season were luminous sunrises & sunsets right after rain and animals nurturing their young ones, lions mating and herds of elephants which were away in the deep forests during high season.
This is the first time I stayed at Governors camp collection. I would like to tell you that they have 7 award winning luxury safari lodges and camps across East Africa and each one crafting unmatched memorable experiences for its guests.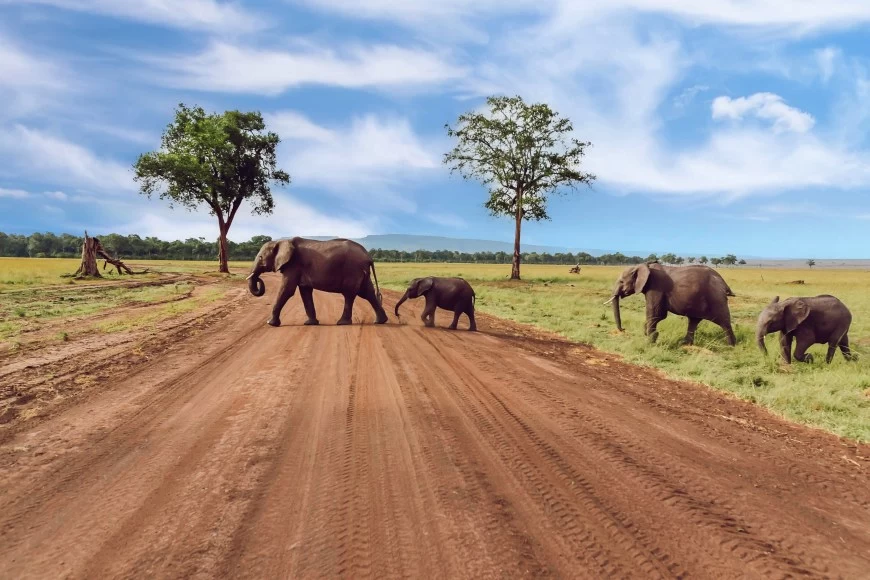 The location of Governors camp is just perfect. It lies in the heart of wildlife at Masai Mara along the banks of Mara river and that's why during colonial times it was reserved only for colonial governors and hence the name.

THE CAMP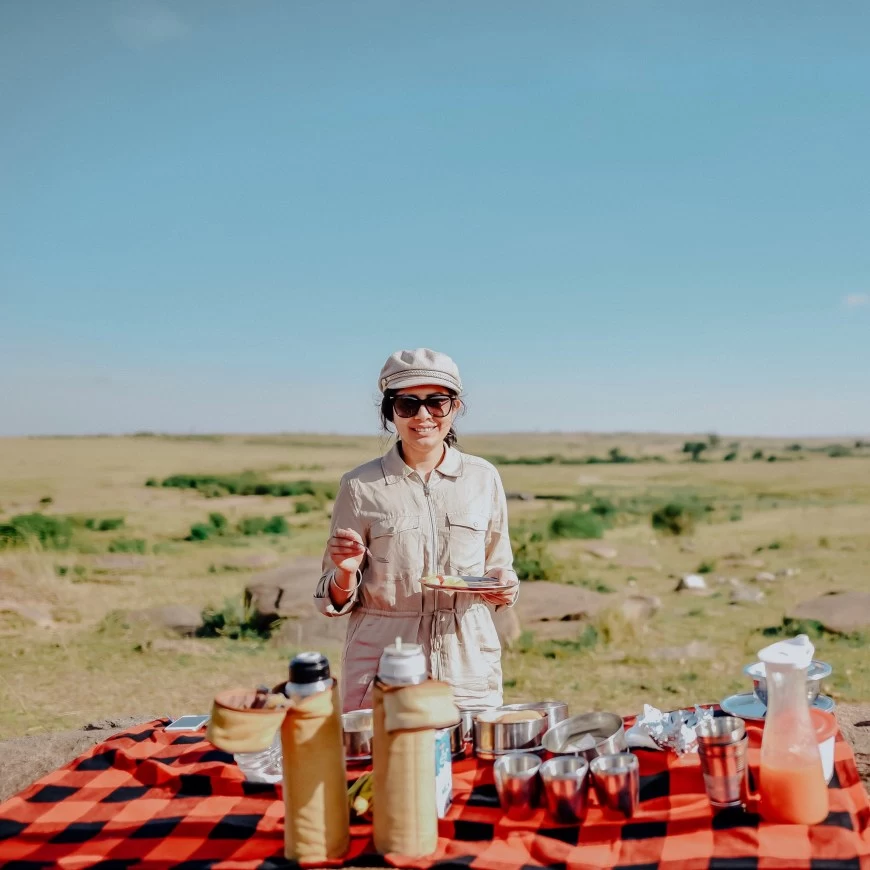 There are about 37 luxury tents right beside Mara River and we had the pleasure of staying in one of them for 2 days. The canvas tent is comfortable with all the luxuries one can ask for. They are huge in size offering a lot of space and natural light.

Each tent has an attached bathroom and a private verandah where you can relax after a safari. Each tent is equipped with a comfortable double bed and some with additional 2 single beds for a family. There are electrical outlets to charge your phone, camera batteries etc. There is WiFi as well.
THE RESTAURANT
There are multiple settings where you can eat your food with a view. My favourite was the bar tent with a deck overlooking the Mara river. Having a cup of hot tea here while it was raining, with the views of hippos having fun in the Mara River will remain one of best memories for me at Mara. There is another tent where lunches and dinners are served. The restaurant offers African, European, American and even Indian food. You will be entitled to a buffet or an already designed menu. On our last night we were surprised with Indian food. Really appreciate the gesture and the effort the governor's camp staff put in to ensure you are having a time of your life.
The breakfast tables are arranged by the Mara River and nothing can compare to food with those views.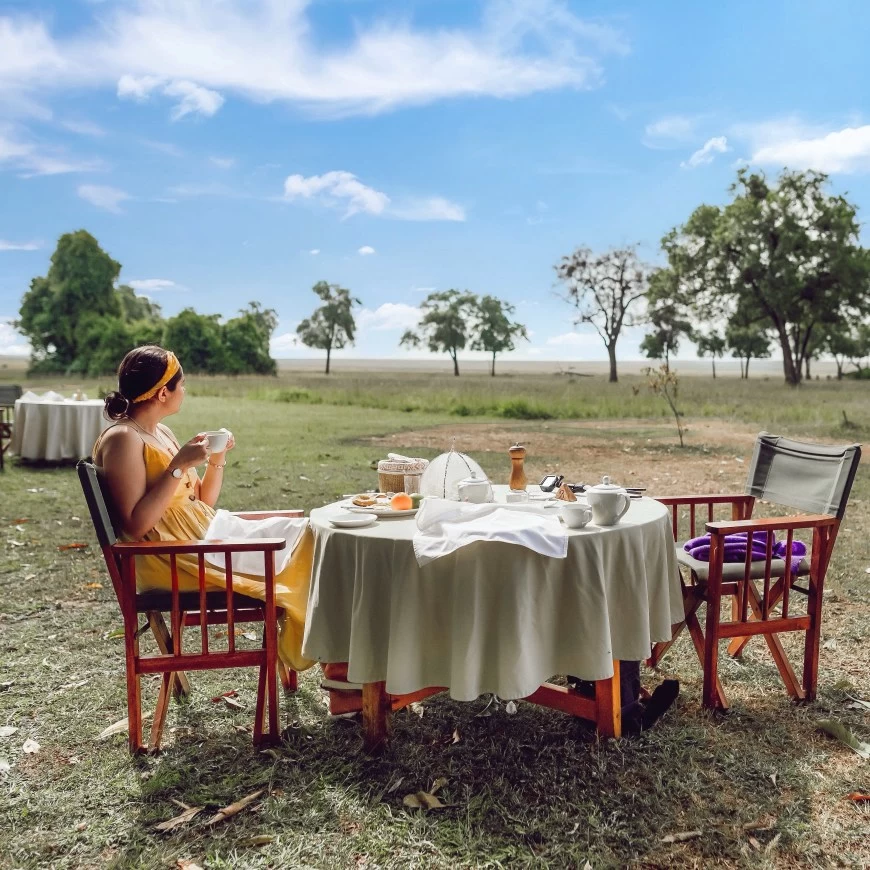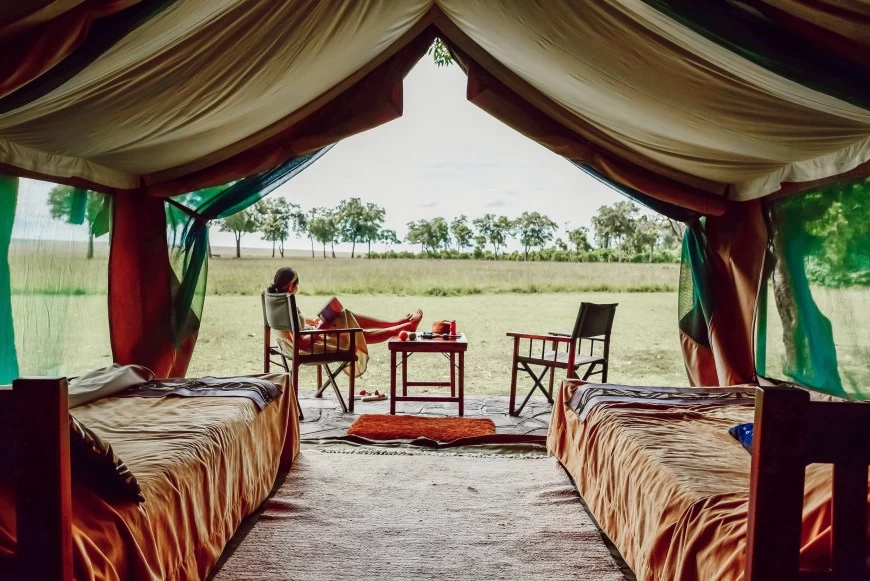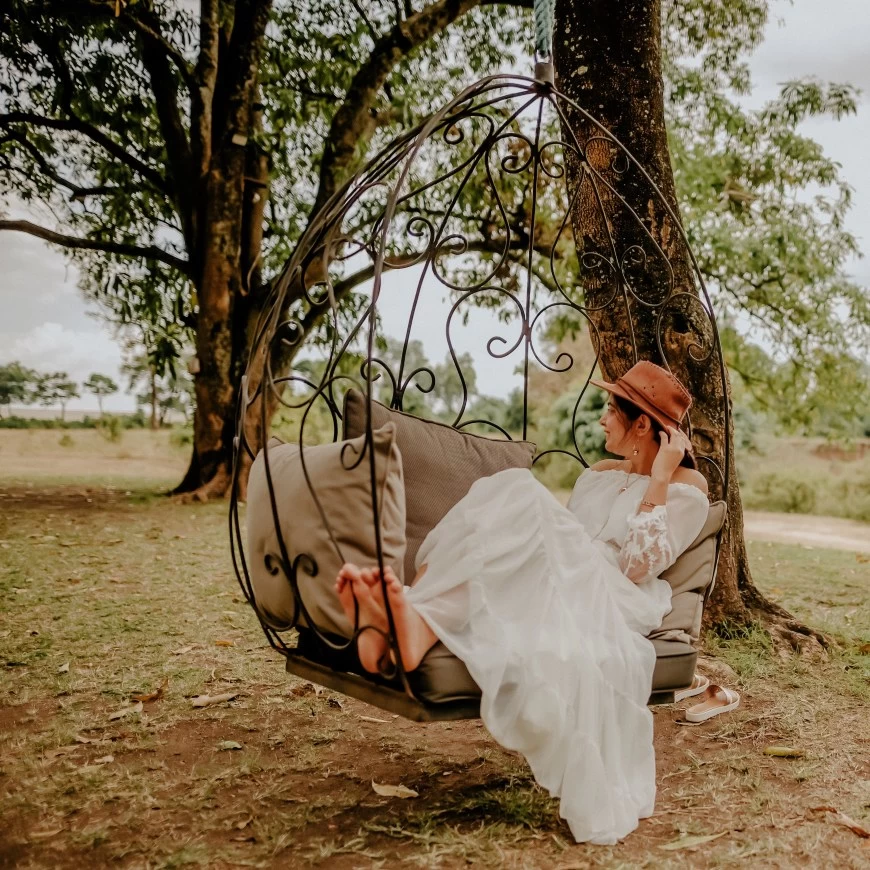 Game Drives : There are 2 regular game drives per day and can also be arranged to suit your timings on special request. The safari jeeps are custom designed and oozes style. The guides here are highly trained and experienced. Can't thank our guide Mike enough for the amazing experience. He knew the Mara like back of his hand, being here for almost 10 years.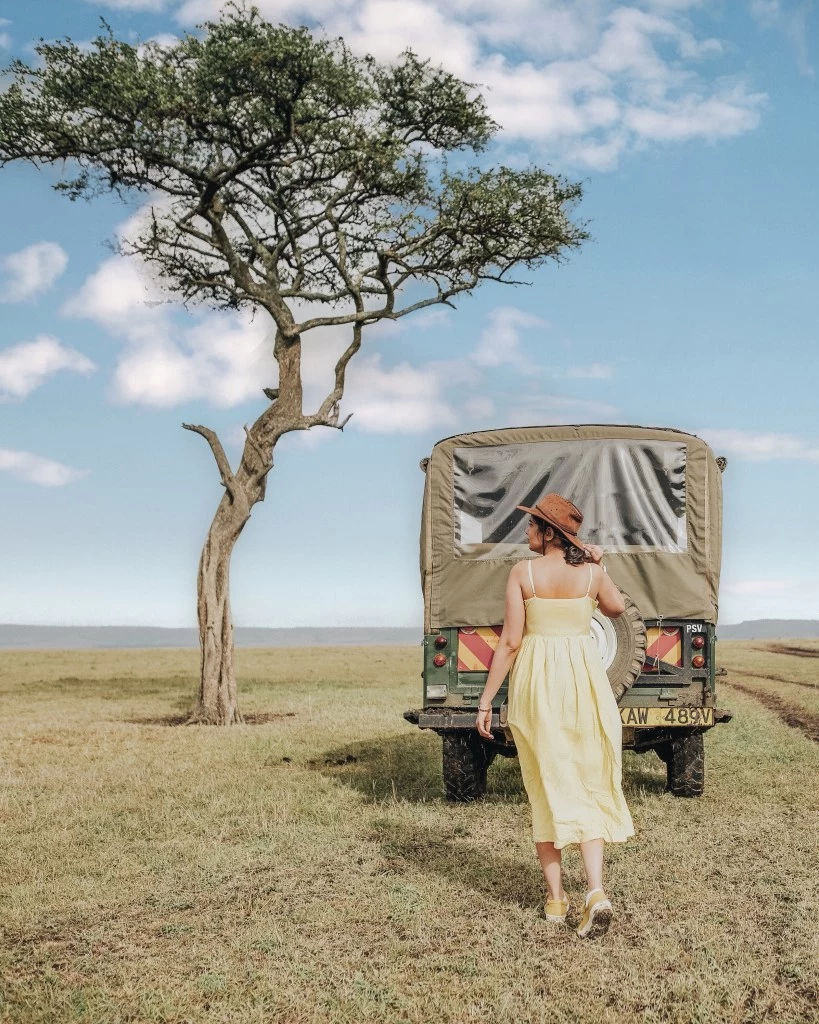 Walking Safaris : For the adrenaline junkie in you, Governors camp offers guided walking Safaris in conservancies near Masai Mara. Here you can see Giraffes, buffaloes, zebra up close.

Tribal culture Safaris : Safaris to Masai Manyattas gives you an opportunity to meet and interact with Masai people living just outside Masai Mara. As soon as you reach you are welcomed by a dance. They give you an insight in their lives and homes. You will have to pay an entrance ticket of 30 dollars.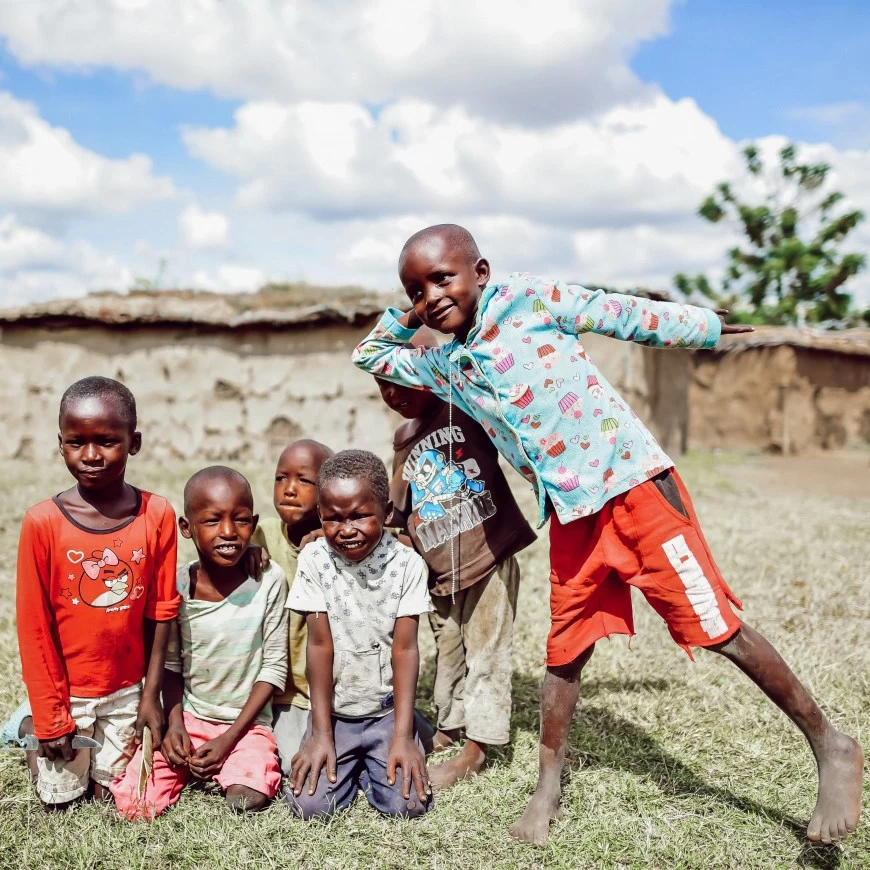 Hot air ballooning : This is experience of a lifetime. The ballons are launched right beside little governor's camp and floats over the river, plains and the forests offering amazing g views of the wildlife beneath. The pinkish hues of the sky at dawn are worth capturing and filming.

Spa : You can pamper yourself by the spa treatments amongst the African wilderness.
HOW TO REACH :
By Air : You can fly directly from Nairobi to Musiara airstrip which serves Governors camp
By Road : You can rent a four wheel drive from Nairobi and reach Musiara gate where you can be picked up by the camp:
MY REVIEW
What I like
- The perfect location of the camp. We had hippos and elephants coming over at our camp.
- The warmth and care of the staff.
- Experienced and knowledgeable Safari guides.
My Rating
- Location : 10/10
- Interiors : 8/10
- Pool : NA
- Cleanliness. : 9/10
- Food : 8/10
- Activities. : 10/10
- Service : 10/10
- Value for money : 9/10
Overall Rating : 9/10
This blog was originally published on The Travelling Lipstick.