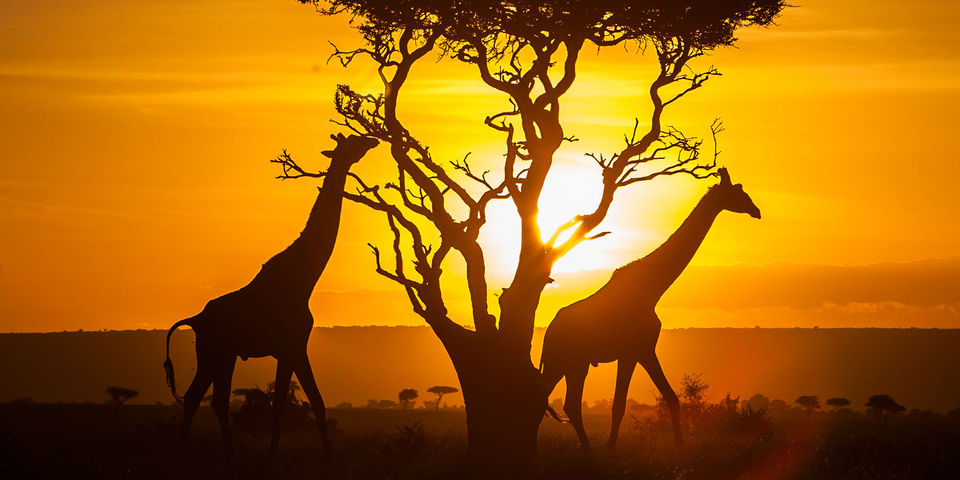 I was super-excited to be going for a family holiday to East Africa! We would primarily be going to Nairobi and Nakuru in Kenya. Having watched The Lion King a hundred times over, I was eager to see animals just as they were in the movie. There's a song in the film called Hakuna Matata. It's an old saying which means 'no worries in Africa'—just one of the many things we were to learn about this wonderful continent.
The animals are the true celebrities here, living in their Jungle Book style of life, as they often seem to pose and smile for the hundreds of shutterbugs (read paparazzi!) that crane their necks to capture a rare moment in their cameras. It was also going to be my first foray in the land of Nelson Mandela, David Livingston and Joy Adamson (of Born Free fame).
Trip duration: This itinerary is a short one—of about four days—but can be extended depending on how much time you want to spend exploring this wonderland.
How to reach: There are plenty of flights that fly to Nairobi from India. Some of the airlines you could consider include Etihad, Ethiopian, Emirates, Air Arabia, Turkish, Jet Airways, Emirates, Kenya Airways, Oman Air, Air Mauritius and Air India.
Visa: Kenya has a convenient e-Visa facility that allows visitors to apply for a Visa online. All you need to do is to complete the online application form and pay securely using your VISA card or Mastercard. After receiving your Visa through email, print it out and bring it along when travelling to Kenya.
Important travel advisory: It is mandatory for all visitors travelling from India to Kenya to be vaccinated against yellow fever with an international certificate proving so. The vaccination must be given at least 10 days before arriving in the country and the certificate must be issued from an approved vaccination centre. To get a valid certification of the yellow fever vaccination, you are required to bring your original passport and travel tickets. Also, keep Rs 300 in change ready (the cost of the vaccination at government institutes). Since there is a limited quota (less than 100 usually) of vaccinations issued every day, it is recommended to show up earlier in order to be ahead in the line. The certificate is valid for 10 years after which a booster shot is advised.
'Karibu' means 'welcome' in Swahili and it was the first thing I heard as I got off the plane. On landing at Nairobi airport, we headed straight to the Sarova Stanley hotel, where we were booked to stay. Located in the very heart of Nairobi, near its vibrant city centre and other shopping markets, this heritage hotel has been voted the best in Kenya at the World Travel awards, described by the Wall Street Journal as the 'Oscars' of the global travel and tourism industry. It was grand indeed. After checking in, we headed for lunch to its famous outdoor Thorn Tree Café which had functioned as the oldest post office in Kenya many, many years ago.
Nairobi safety tip: The authorities advise that if tourists would like to venture outside, they should walk around the area of the hotel, but not go too far out as Nairobi is notorious for its incidents of crime. Further, visitors are cautioned to be careful about their belongings, since snatching and theft is also a common occurrence.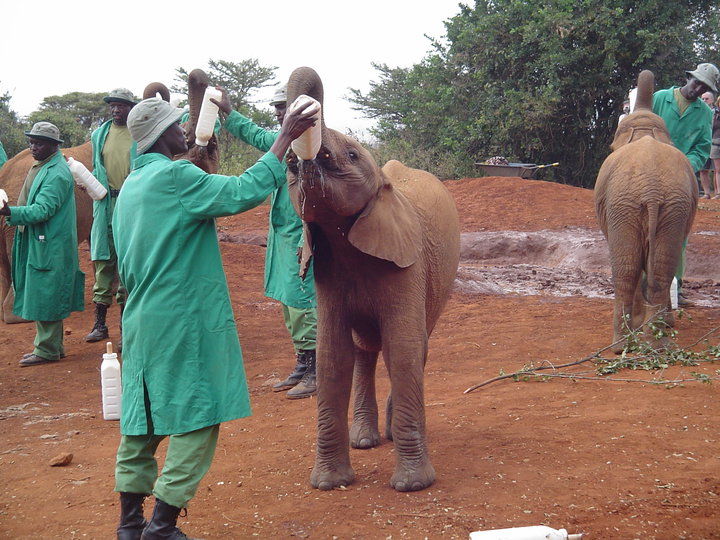 We began our sightseeing in Nairobi with a visit to David Sheldrick Wildlife Trust - Elephant Orphanage. Born following the death of Sheldrick in 1977, the trust was established in the memory of this famous internationally acclaimed naturalist. It now serves as a shelter for many black rhinoceros, tortoises and elephant orphans whose parents have been hunted down or killed and traded for their body parts. Thus, the elephants here have been literally brought up by the caretakers who feed them milk through bottles. It's a delight watching the elephants come out and play in the mud as a kind of show in front of a teeming audience of tourists.
After that adorable visit to the elephant orphanage, we made our next stop at the Giraffe Centre. This is a place where baby giraffes are enclosed in a safe area and fed food by visitors. It's a thrill to see tall and graceful animals walk up to where you are standing and eat food right out of your hands! The giraffes have a look of utter serenity, peace and calm that fill their majestic selves at all times.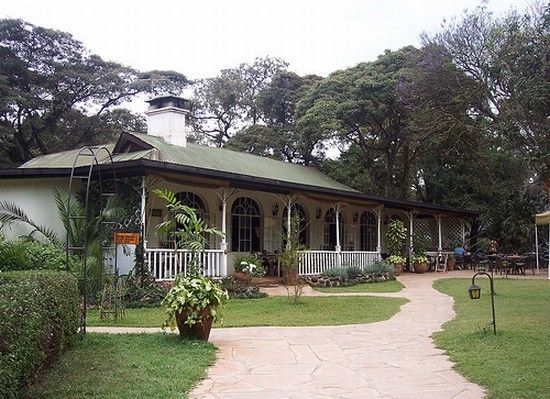 Our next stop in Nairobi was the Karen Blixen Museum. It is a lovely house that belonged to the author of the famous book Out of Africa. Blixen was one of the first few persons to have come from Britain and made Africa her home. The house in which she lived has now been converted into a museum which tourists come to see; it is also the setting for where the film by the same name was shot.
Eat: You can have dinner here at the beautiful Tamambo Karen Blixen restaurant.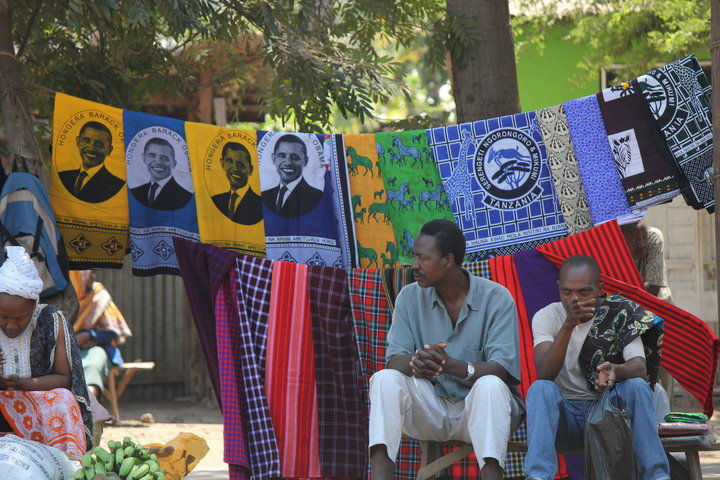 We devoted the next morning to an authentic Kenyan shopping experience. The Village Market was great—a mix of several shops styled in the way of an outdoor complex. You can find lots of local designer labels here—get yourself a neat beach bag from the Kikoy store, which also sells clothes and household items made of local cloth in ethnic designs. You could also buy yourself some ethnic Kazuri Beads—having a wide variety of colourful and attractive ceramic necklaces, earrings, bracelets and pottery—made by the village women that reflect the culture and wildlife of this fascinating country. You can also pick up a tiny authentic bottle of the delicious South African fruit-based chocolate coffee liqueur, Amarula. At the Village Market, you can also shop for some big international brands. The market also has its own private home theatre and food court, where you can pick up lunch.
After lunch, we headed out to Nakuru. Nakuru is a little town in Kenya, far from the madness of the main city, making it more peaceful and friendly compared to Nairobi.
How to reach: Nakuru is about 160 kilometres from Nairobi. Driving down takes about an hour and a half to reach.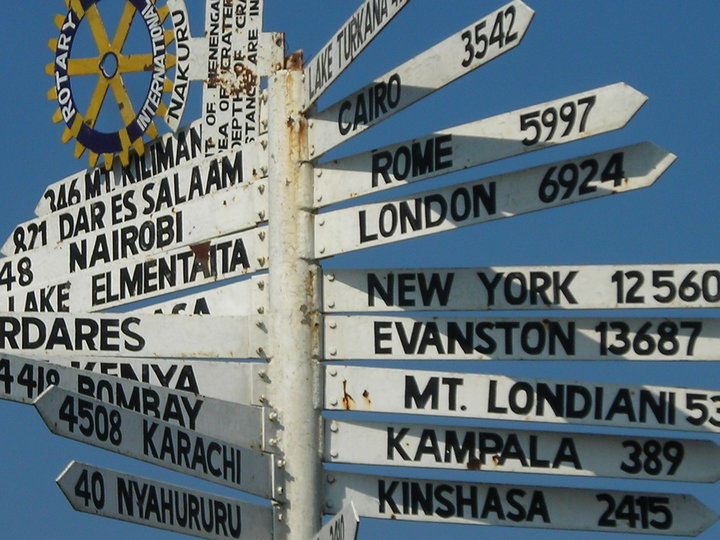 On the way to Nakuru, we stopped for a tea break around the Elementaita Lake. There's a pretty little place here called the Sunbird lodge. After tea, we headed for a short visit to the Menengai Crater, which is quite a natural wonder. It consists of huge land masses bereft of any vegetation and completely hollow in several parts. In recent times, the government has been trying very hard to cultivate it.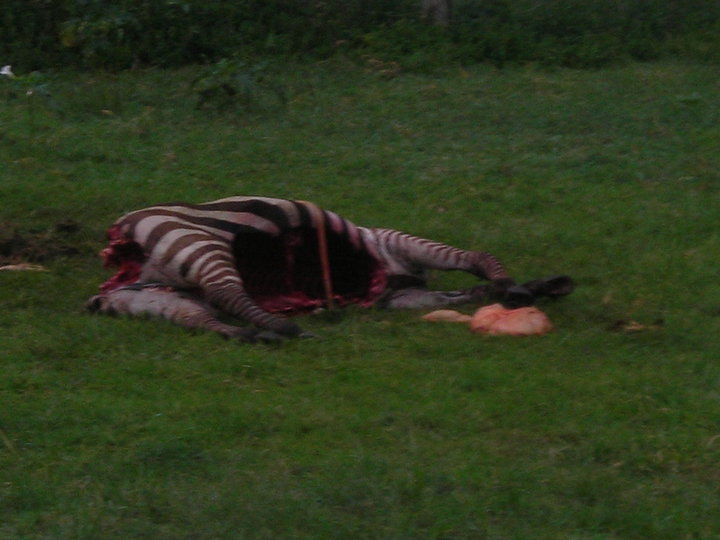 Early the next morning, we left for a day-long safari to the Lake Nakuru National Park. After reaching the gate, you have to wait for some time as all the formalities of getting a ticket and vehicle need to be completed first. As soon as we entered, we were able to spot the early morning prey of a lionness' kill—the carcass of a slain zebra, right at the entrance! The blood was still fresh and the insides of the zebra's stomach had been completely devoured by the lion.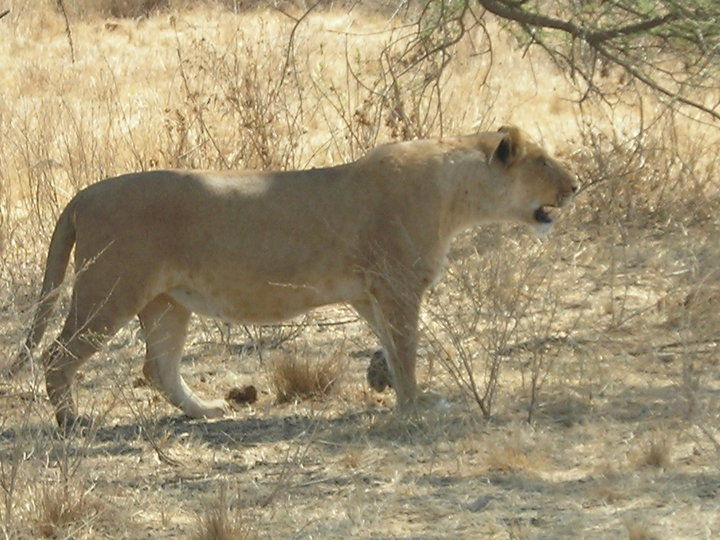 Next, we caught a glimpse of the lionness that was responsible for the kill, silently walk away. Driving further into the national park, you delight in the sight of several other animals—giraffes, rhinoceros, wildebeests, gazelles, elephants, baboons, warthogs, deer, and even some pretty, pink flamingoes.
Eat: You can pick up lunch at the Sarova Lion Hill Lodge.
The next morning, we drove back to Nairobi, where we reached the end of our amazing trip to Kenya!