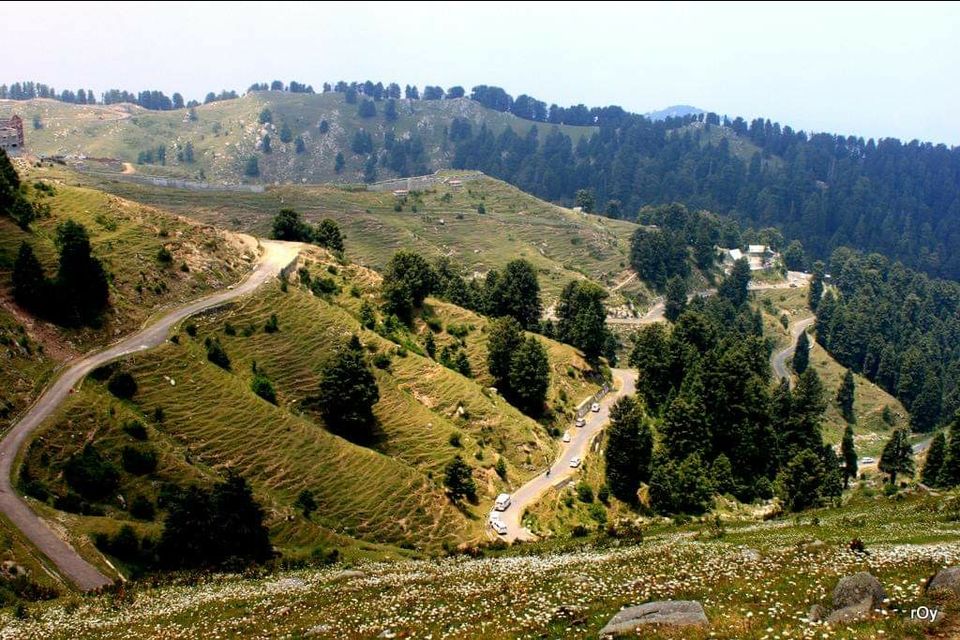 Sometimes you should just get up n catch that flight that transports you to a different world in a matter of hours. That's exactly what I did a few years ago.
A shaky flight from Delhi to Dharamshala and a roller coaster of a taxi ride up the curvy roads later, I found myself sitting at a quaint little cafe in Dharamkot surrounded by mountains.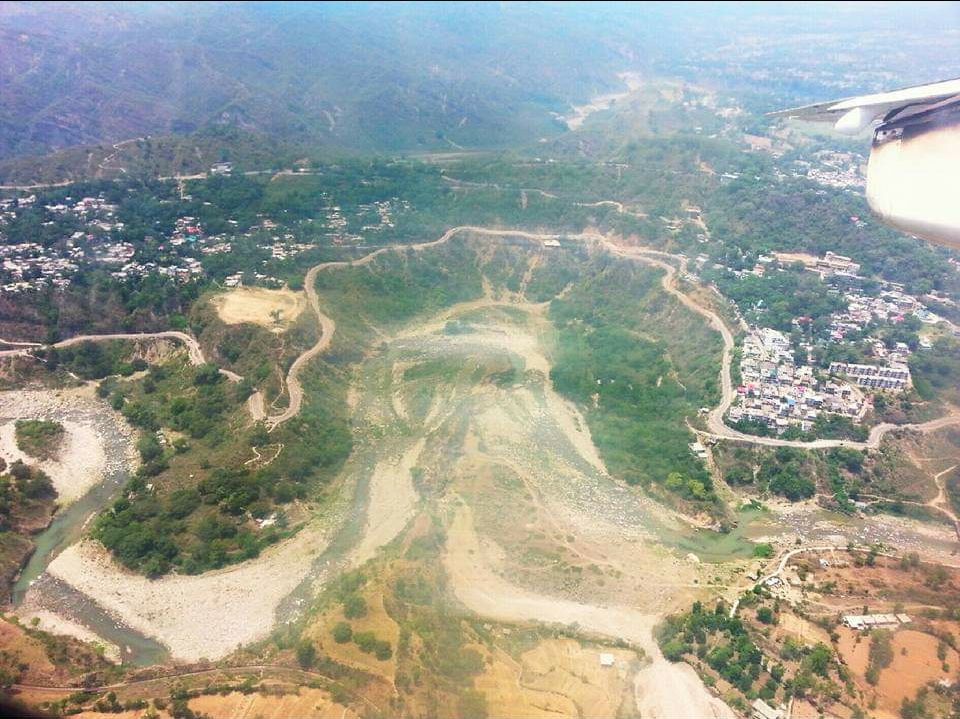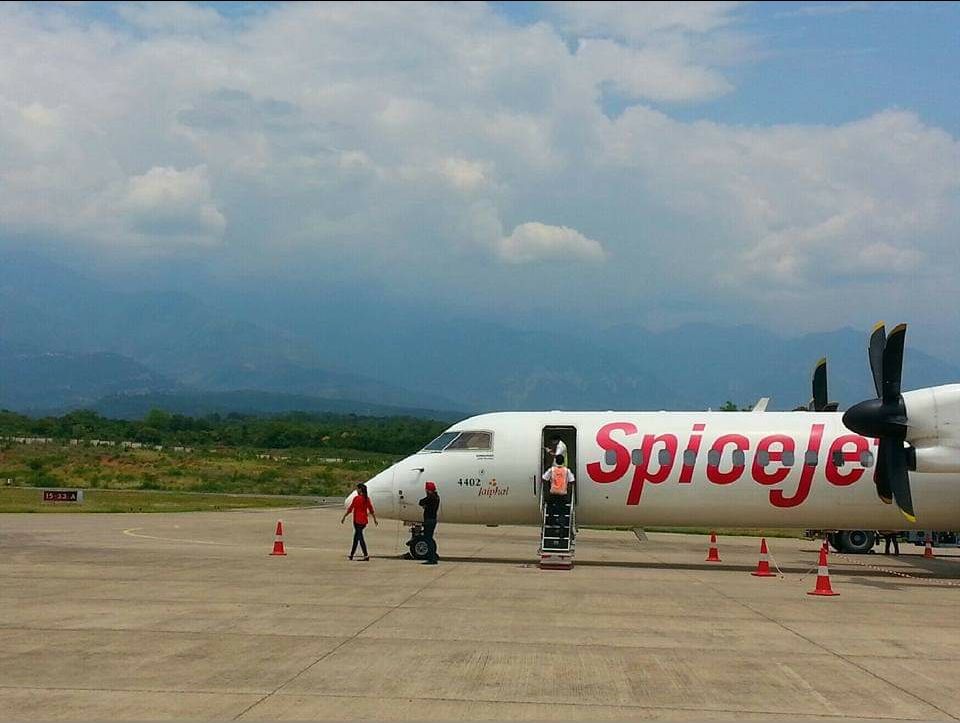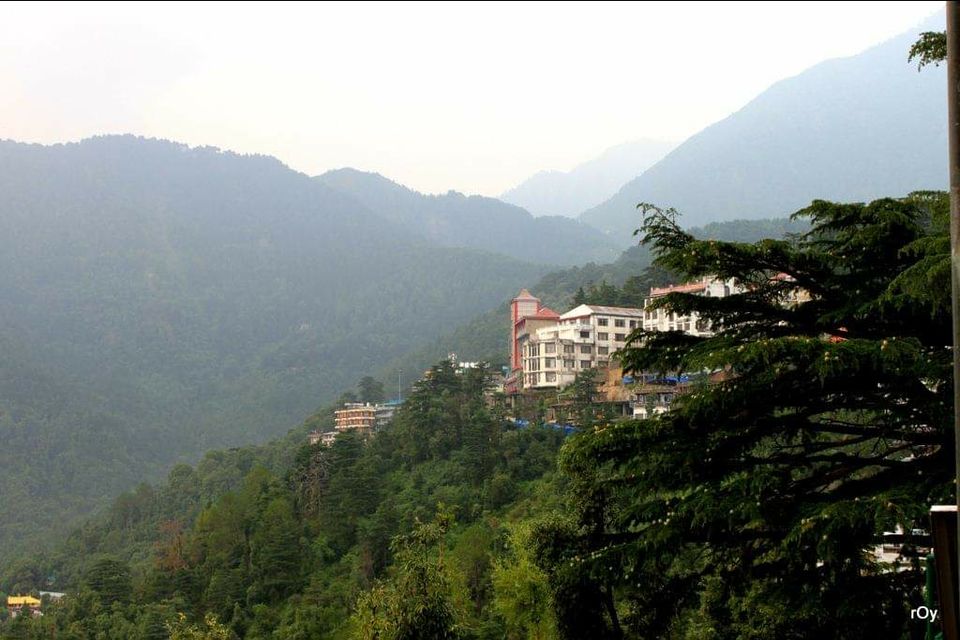 Buzzing with a variety of languages from across the world, with women in turbans, men in bead necklaces and ponytails, a handsome old man sipping his beer at the corner table, this not so tiny cafe throbbed with life! Happy and content faces all around, soft music, awesome food, and it even has a tiny library of its own. Trek & Dine, as this cafe is called, provides lodging as well and was to be my home for the next few days.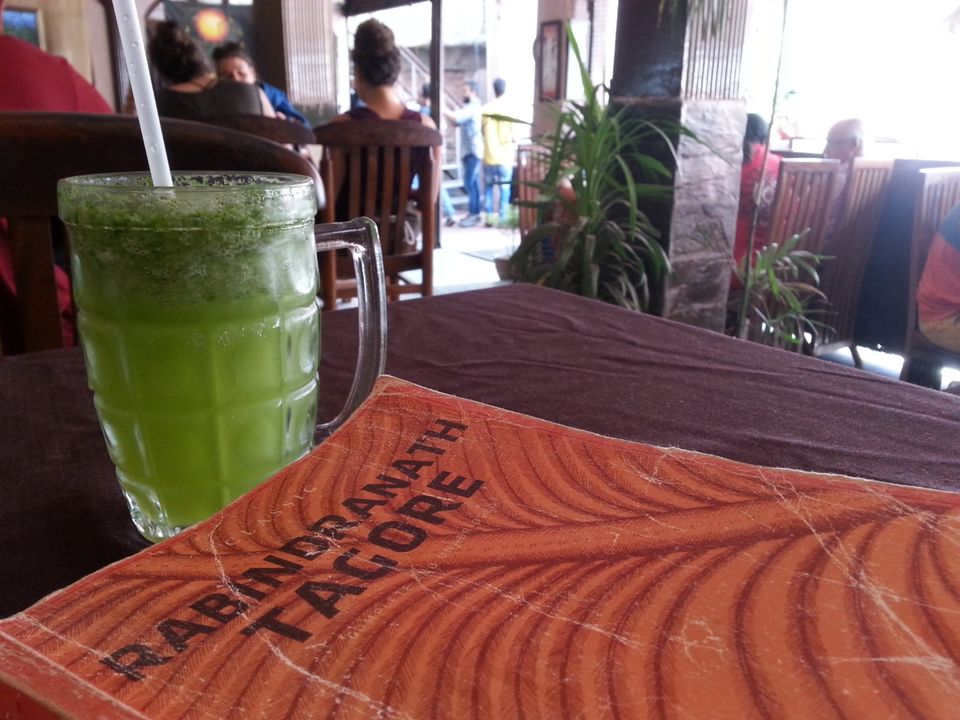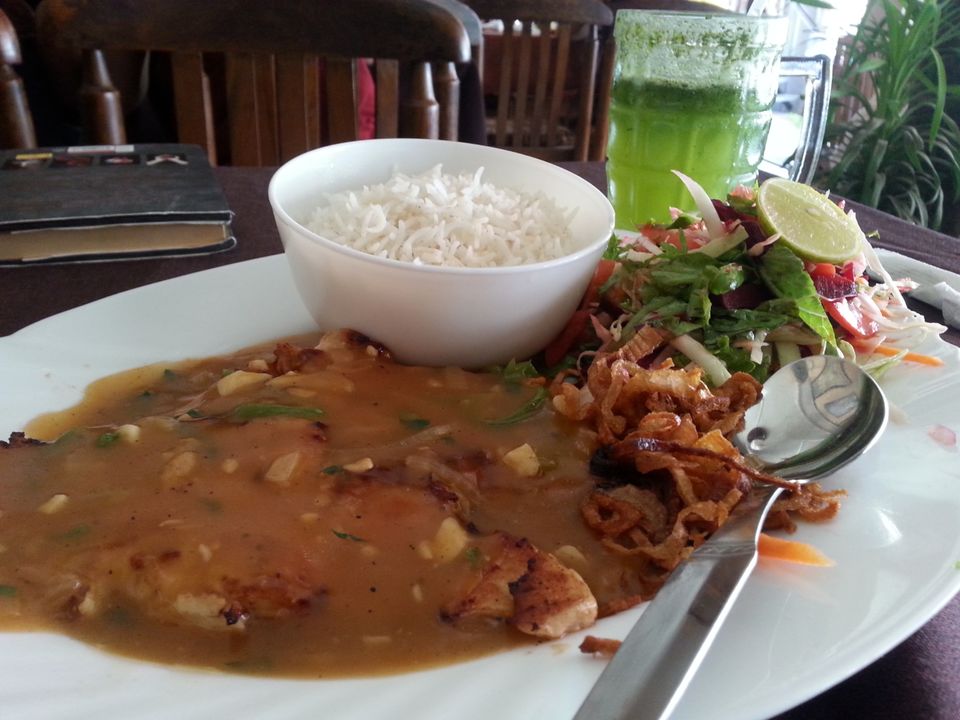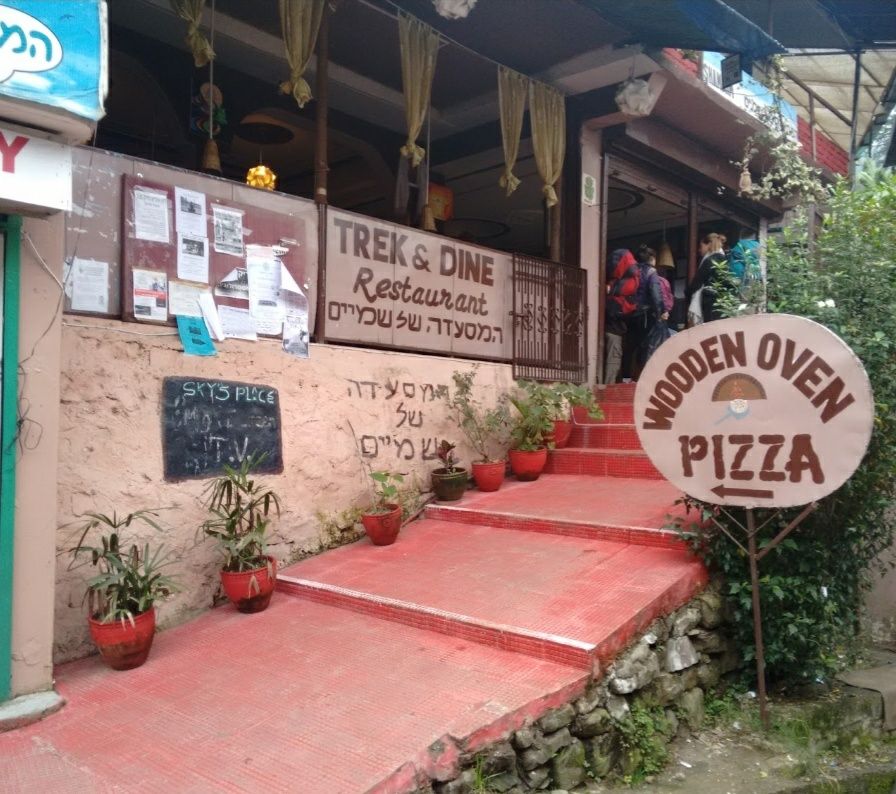 Where to find: Trek & Dine is a 25-30mins leisurely walk (highly recommended!) from the Mcleodganj main junction towards Gallu Devi Temple. You can locate it easily on Google Maps.
Breathing in the crisp mountain air and music in the background, I stepped into an almost empty cafe next morning with some local lamas for company. Breakfast time... my favorite time! I treated myself to a humongous masala omelette and a warm glass of milk with a dollop of chocolate. I was ready for the day.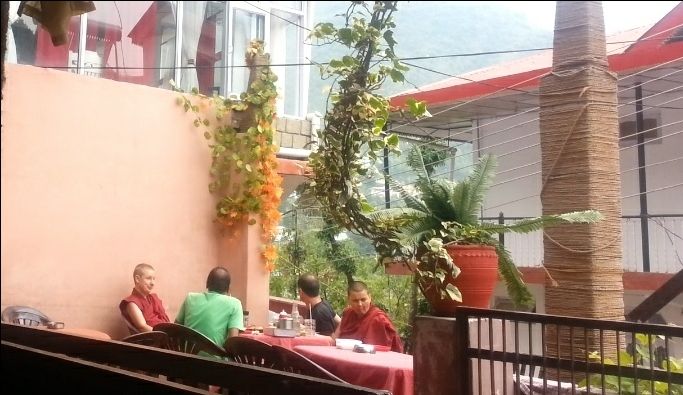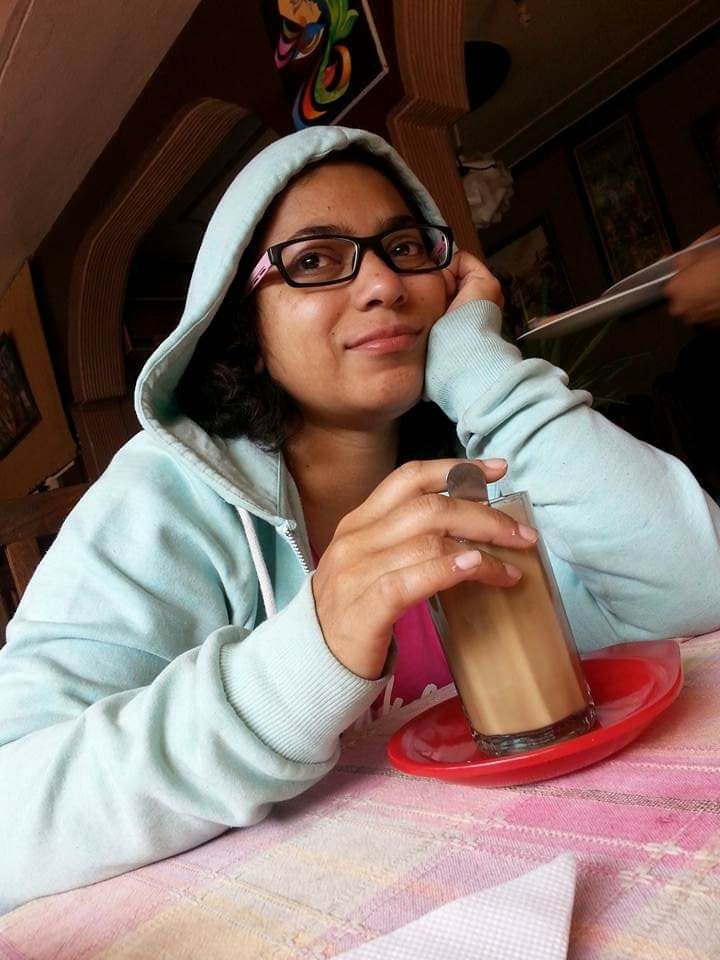 I did not have a busy itinerary for this day. So decided to explore the area. Set out for a long walk down the winding deodar laden roads, stopping now and then to breathe in the beauty or listen to the melodious tunes of a local musician playing on his instrument by the roadside. At Mcleodganj, a visit to the serene Namgyal Monastery is a must, followed by a stroll through the busy Mcleodganj market.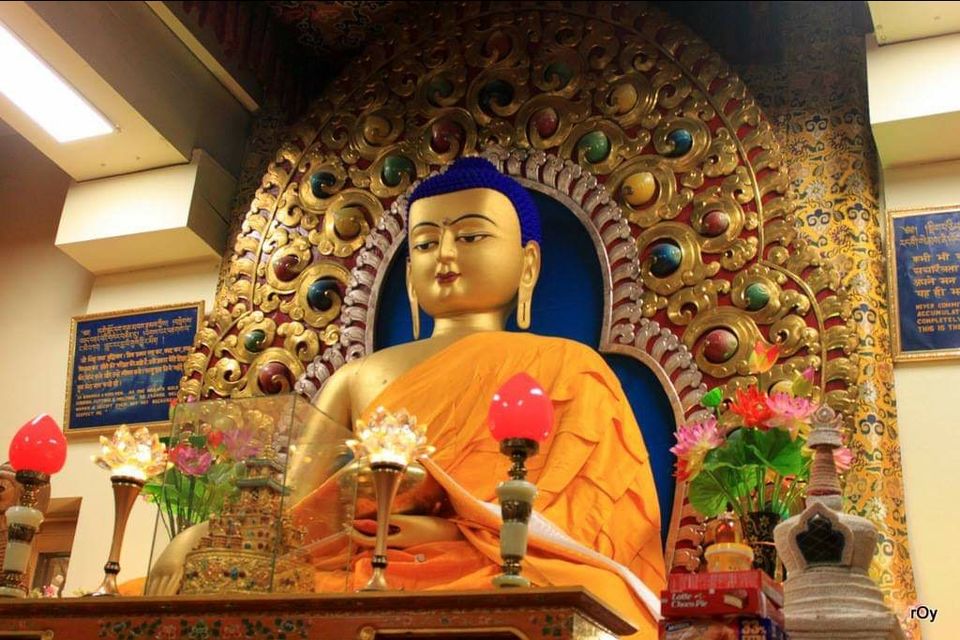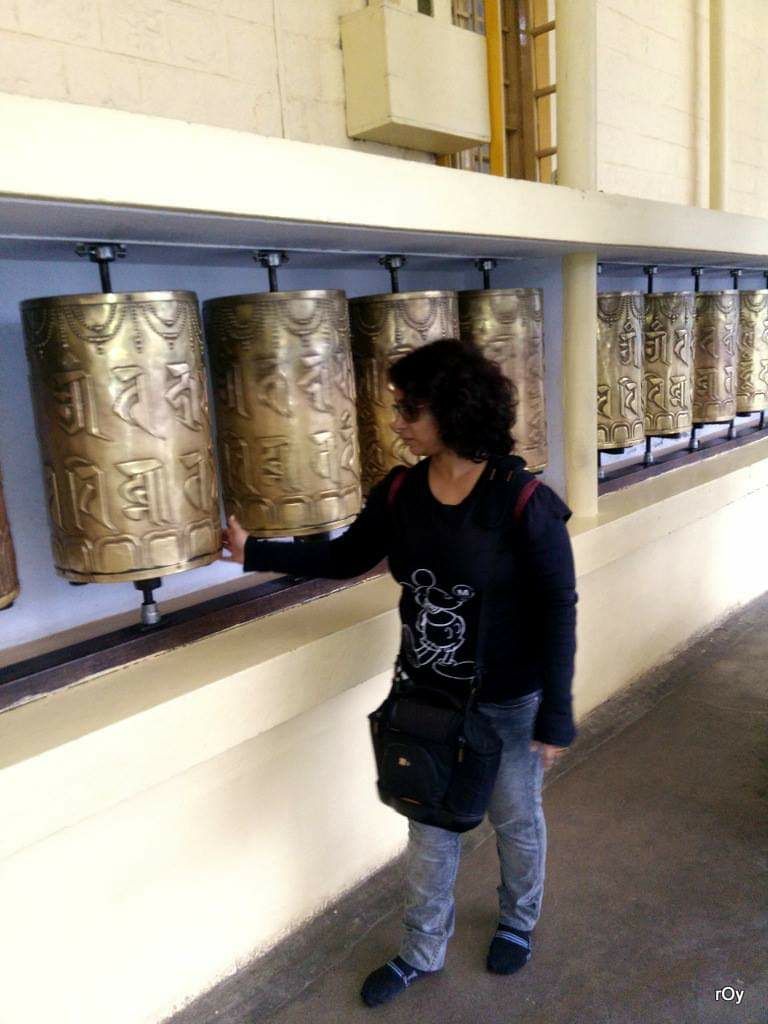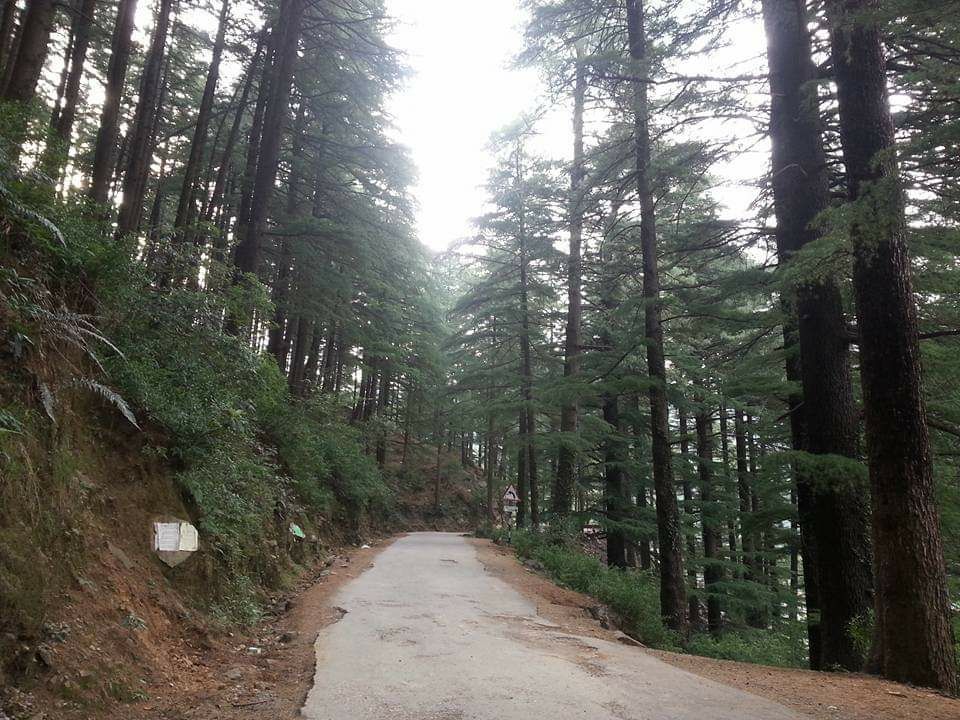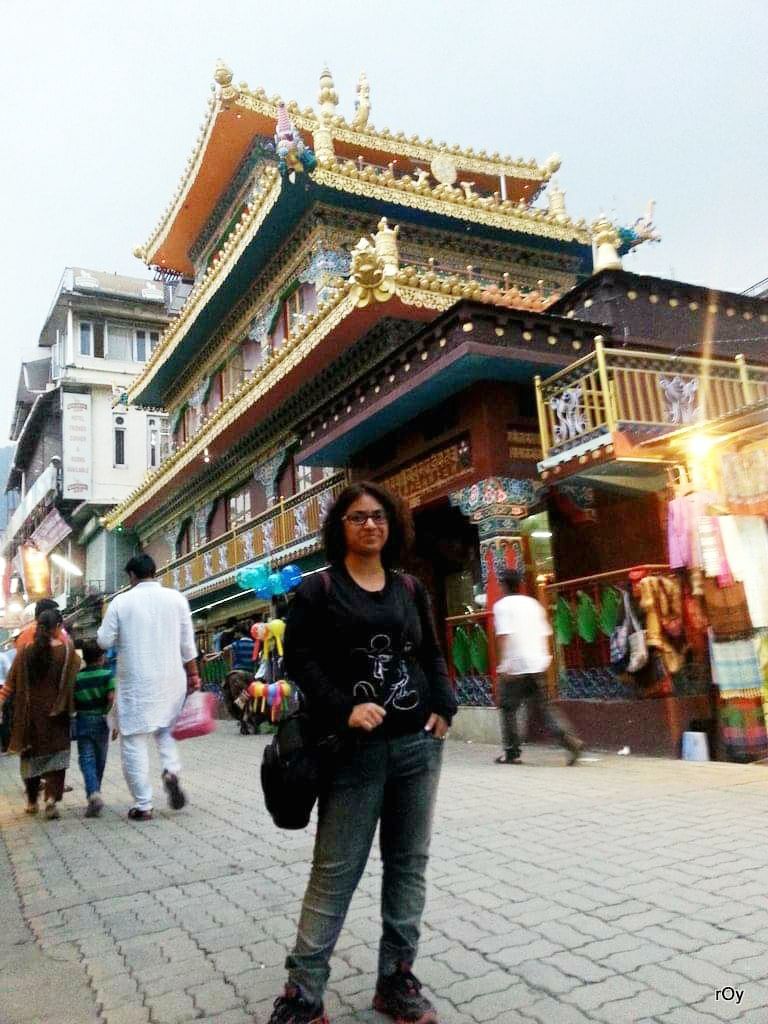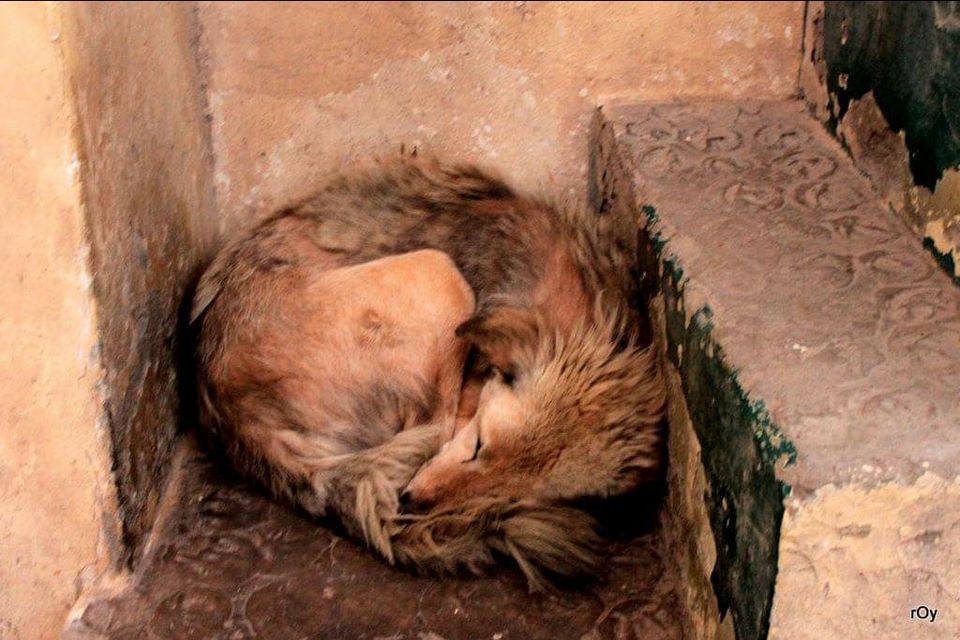 All that walking got me hungry again... but of course! So lunch was a huge plate of chicken shaslik that had me bursting at the seams. I had to walk around just to get that settled down.
That evening I decided to avoid the alluring cafés all around and keep the dinner light. Tibetan thukpa was my choice for the day. A piping hot bowl of healthy happiness on a chilly evening... pure bliss!!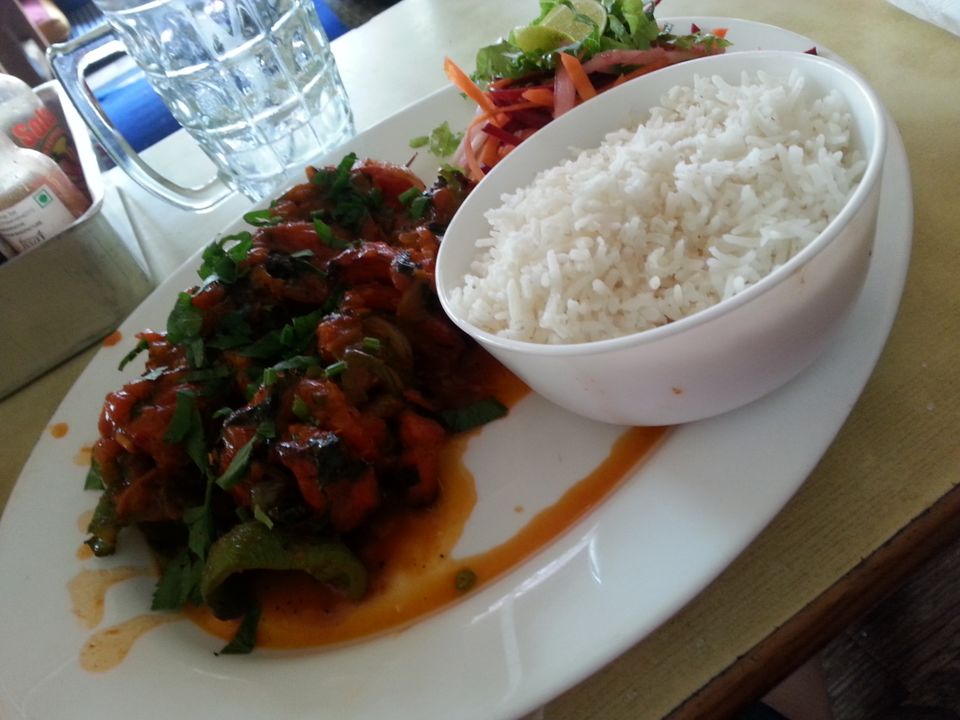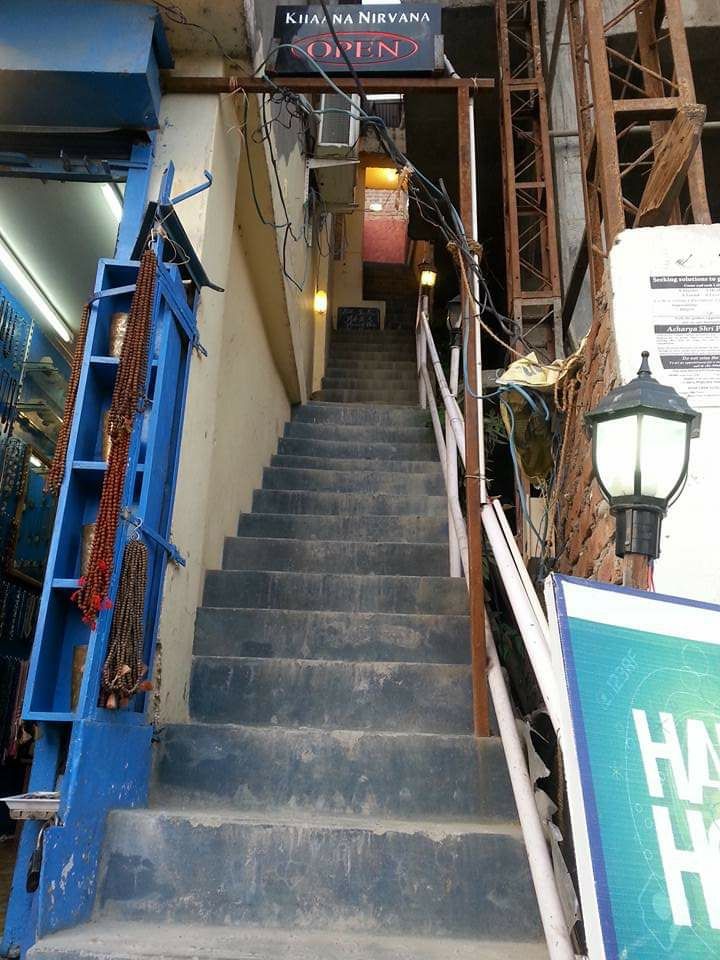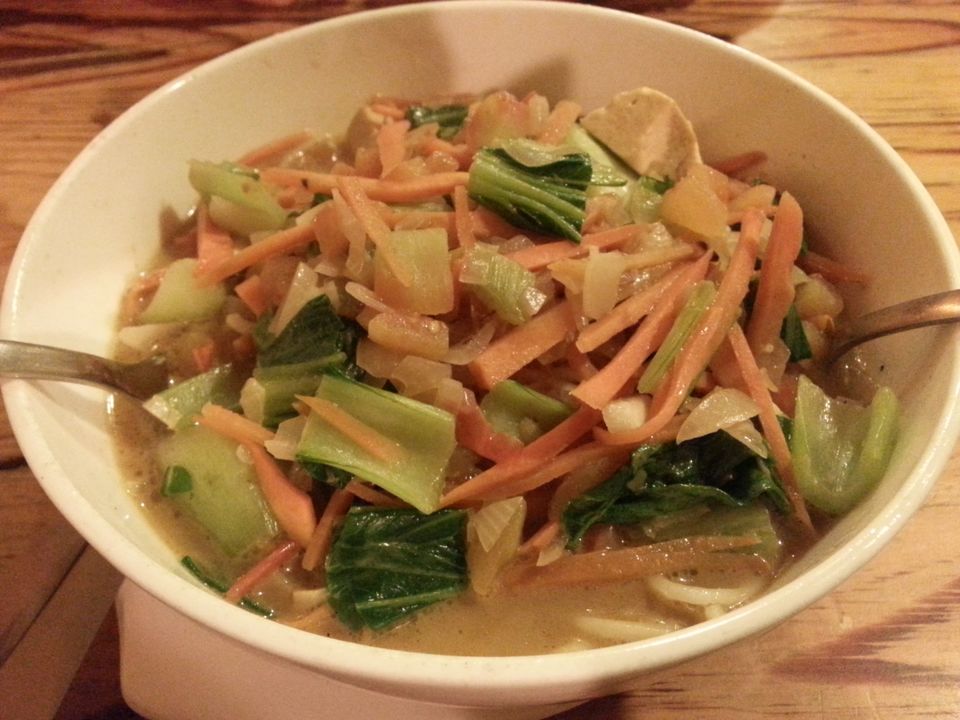 A longish journey later, I landed in Dalhousie for a day or two in and around this beautiful town. The view from my tiny guest house window itself was so beautiful that I had to convince myself to get out on the roads, and I did not regret it.
It is such a calming experience to stroll up the serpentine roads, stop by the roadside shops, sit and sip hot coffee at the Café Dalhousie while gazing out at the valley.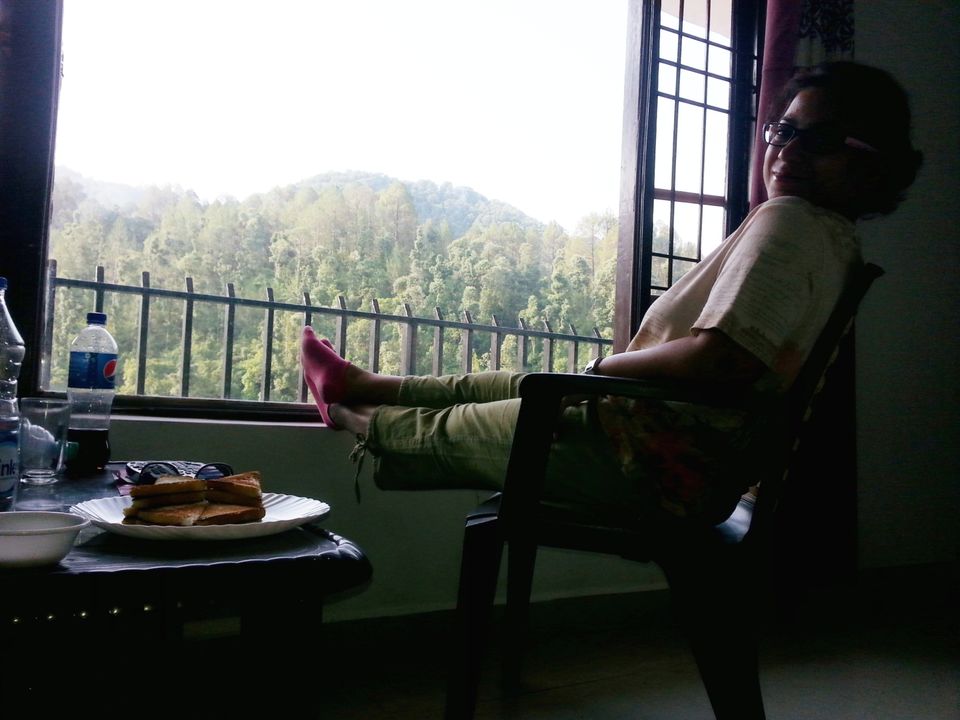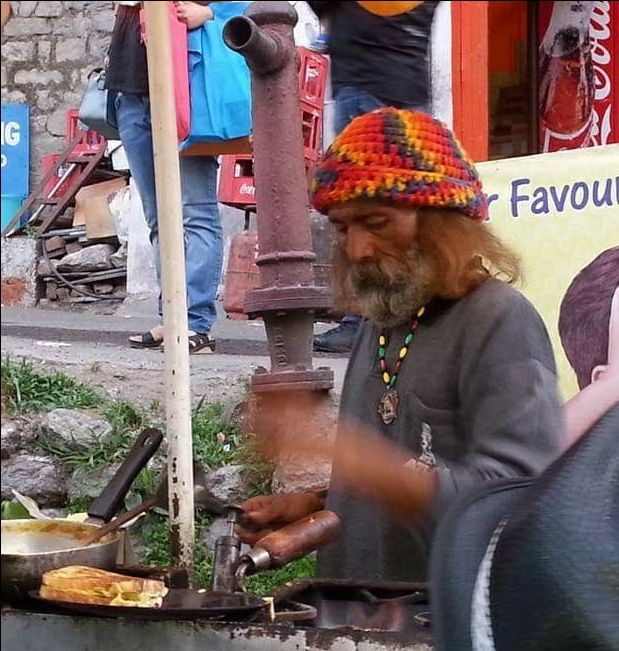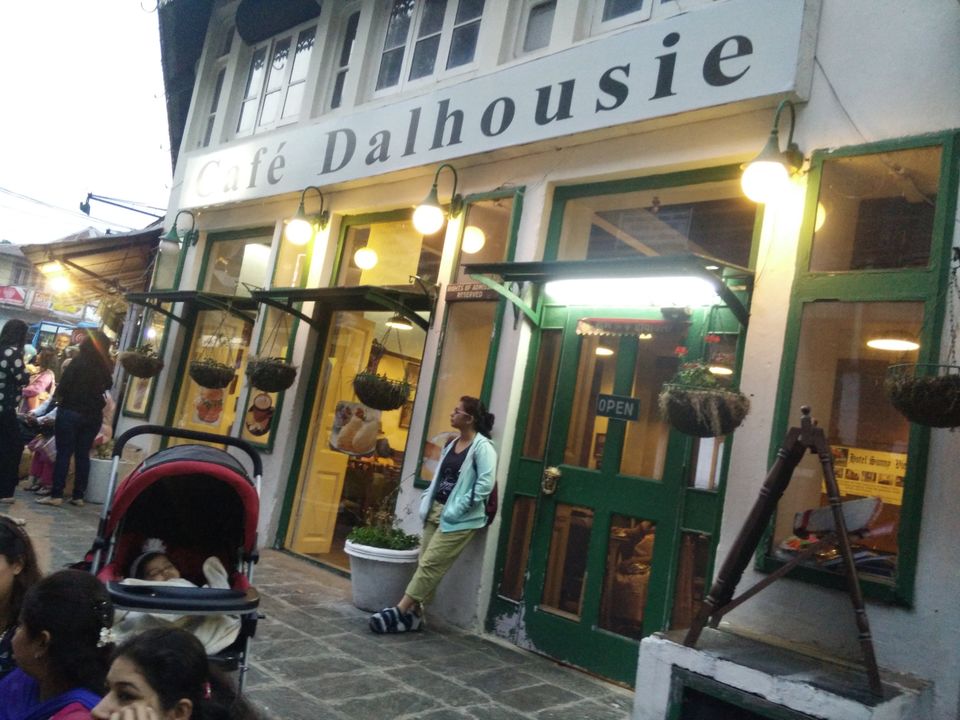 Maggi, as we all know, is a must-have in the mountains. It is unwritten law. My order at a miniscule maggi-point on the hill road turned out to be no less than a classic Subway experience. I was asked which variety of maggi would I like, with or without veggies, the dry or the soupy kind, with or without toppings, and so on and so forth. Frankly, I had never ever put in so much thought while making or having maggi. I almost developed a newfound respect for maggi making!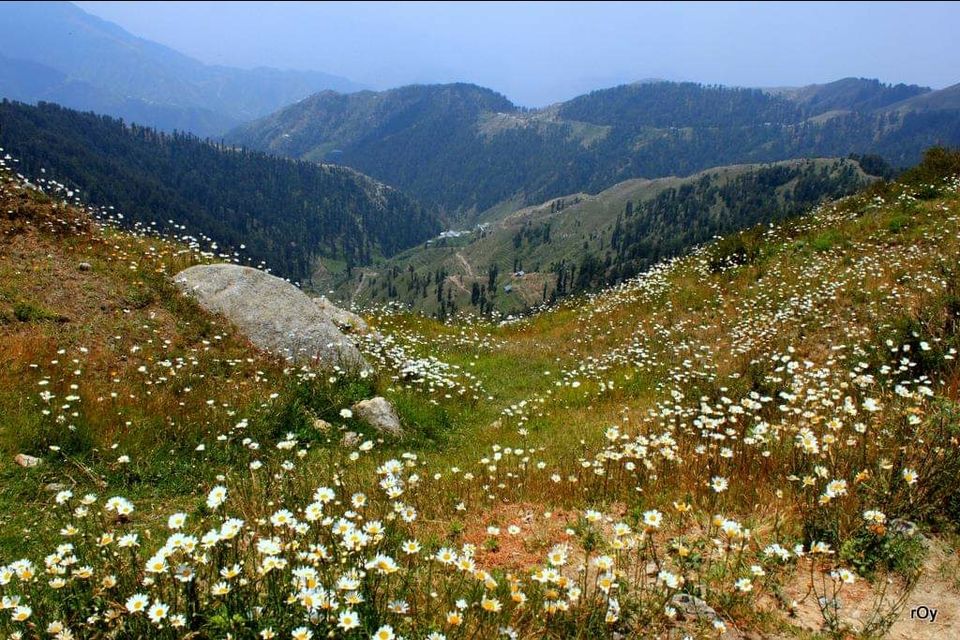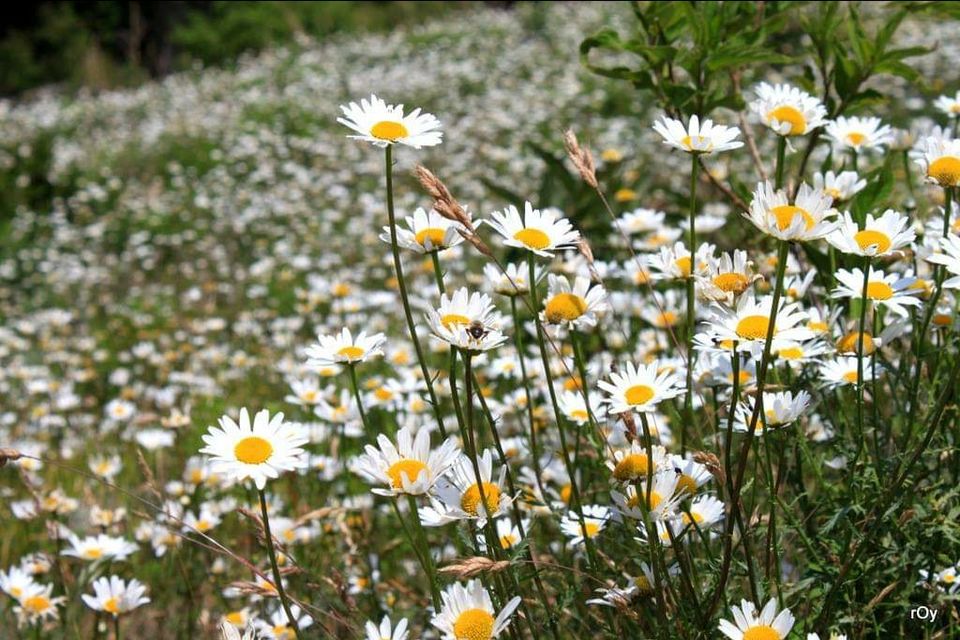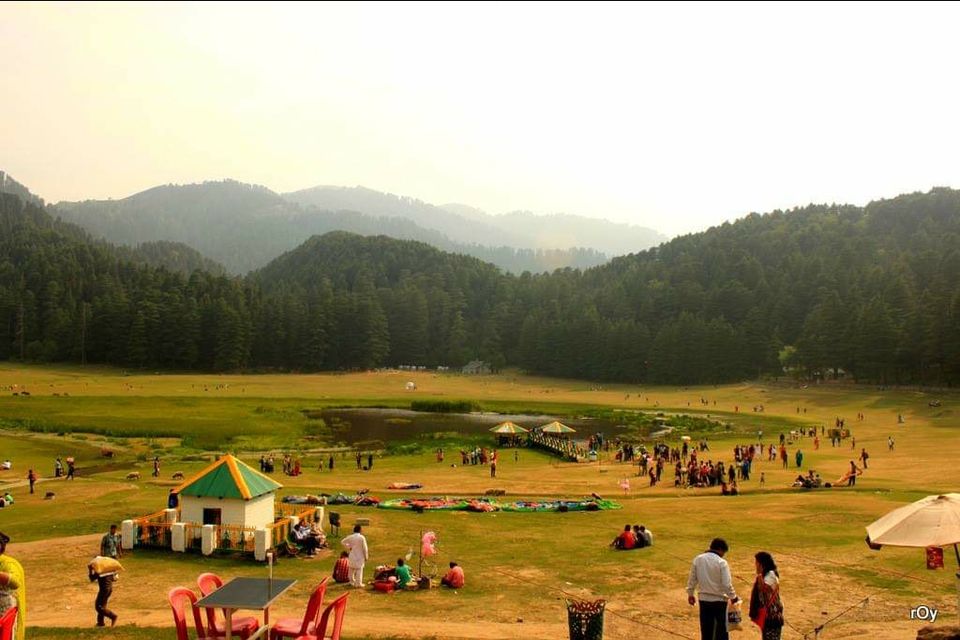 The next two days were all about bus travel. Dalhousie to Dharamsala, Mcleodganj to Palampur, Palampur to Kangra n all the way back. 30min rides to unending 6 hour rides in buses of all types -- the comfy n clean kinds, the rickety n roaring kinds, and the hardly moving kinds -- till I was ready to scream "I hate buses!!!"
But have to admit, bus travel does have a charm of its own, especially if its along a mountainous terrain. It rambles down at its own pace with its huge size on not-so-wide roads. And every time there is oncoming traffic on such steep n narrow roads, I catch my breath n worry that we will get stuck real bad, and each n every time I'm proved wrong by these incredibly expert drivers!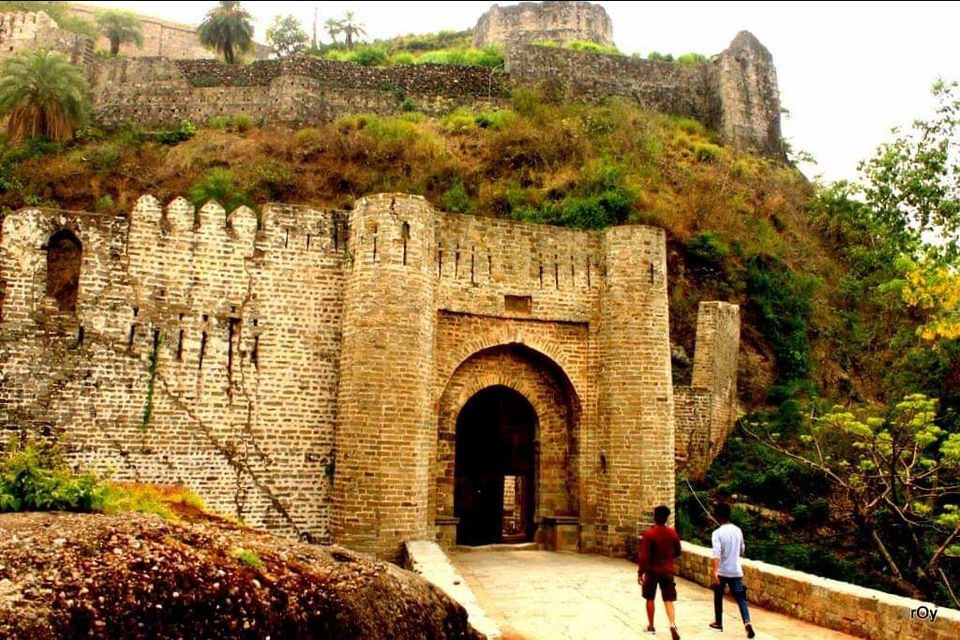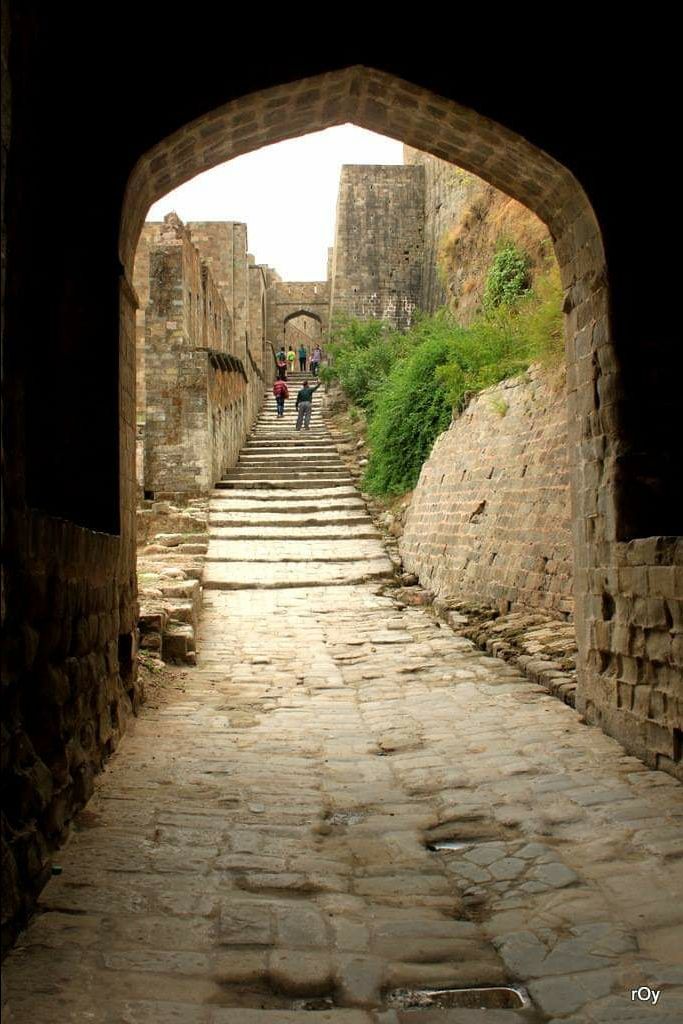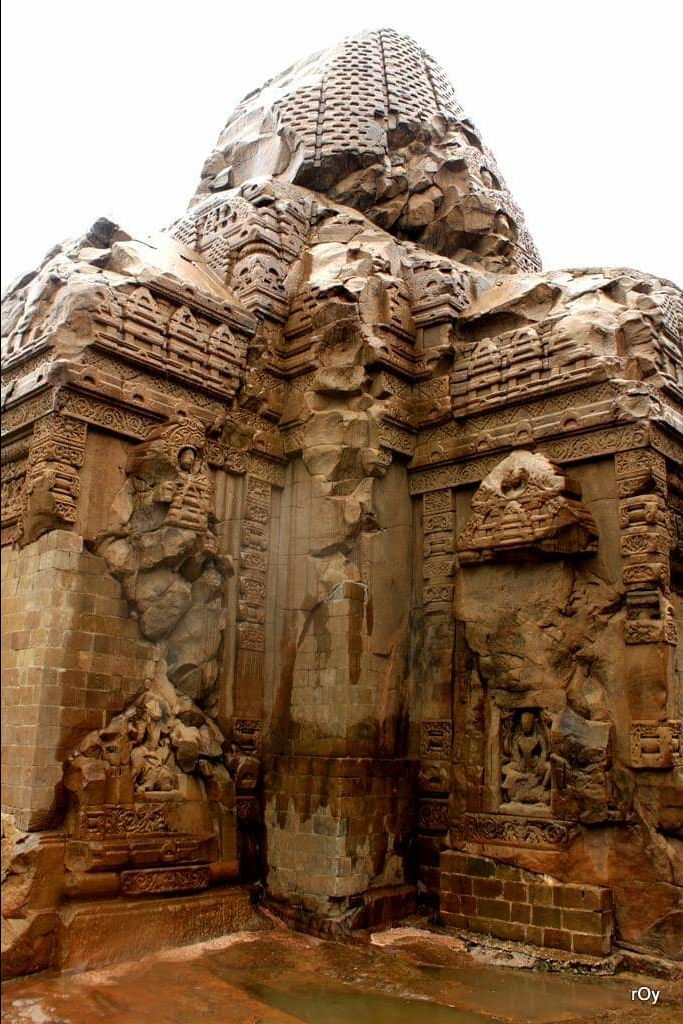 After a long day at the Palampur tea plantations, an ancient Shiv mandir at Baijnath, a tour of the Kangra fort, and the Masroor rock cut temple, I returned to my base thoroughly exhausted and famished. The overcast sky and rumbling clouds looked totally ready for a pour! So I scurried to my burrow and signed the day off with an awesome dinner of steaming French onion soup and some lasagna.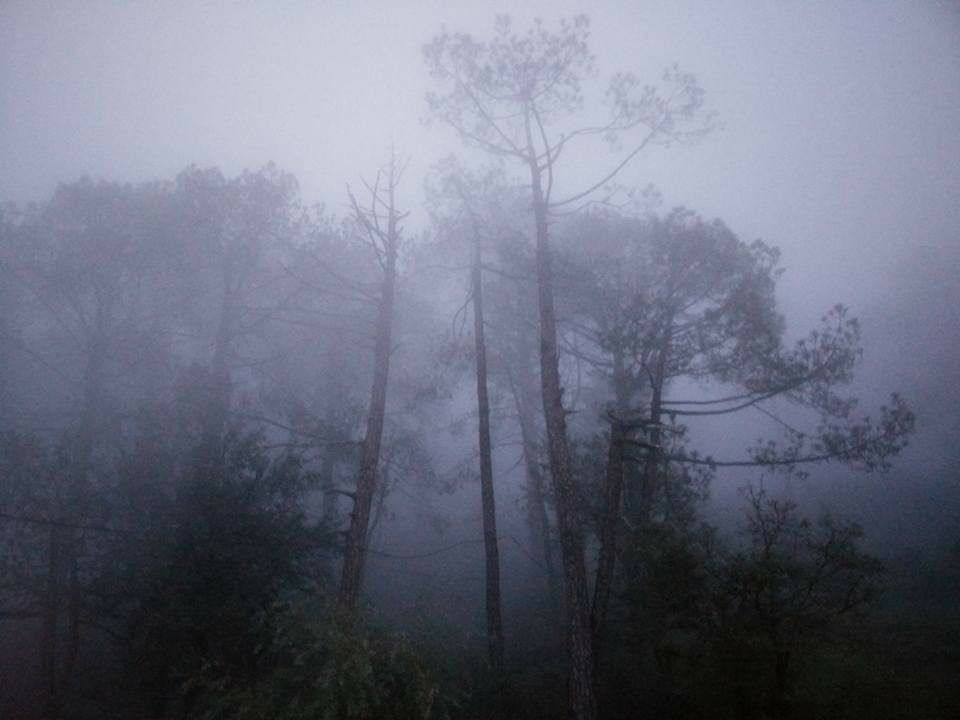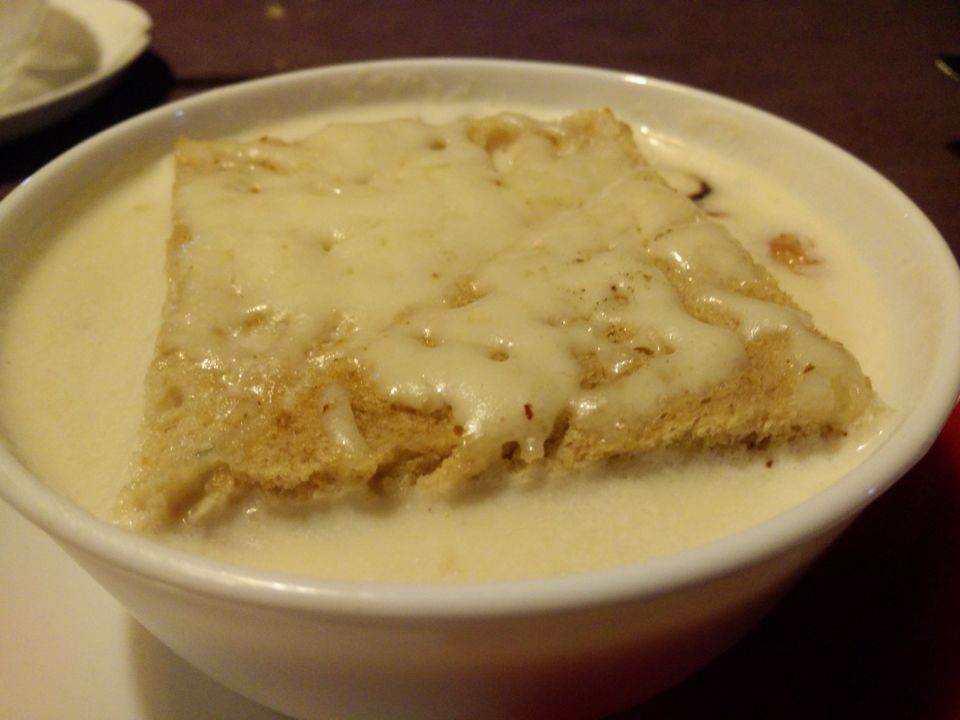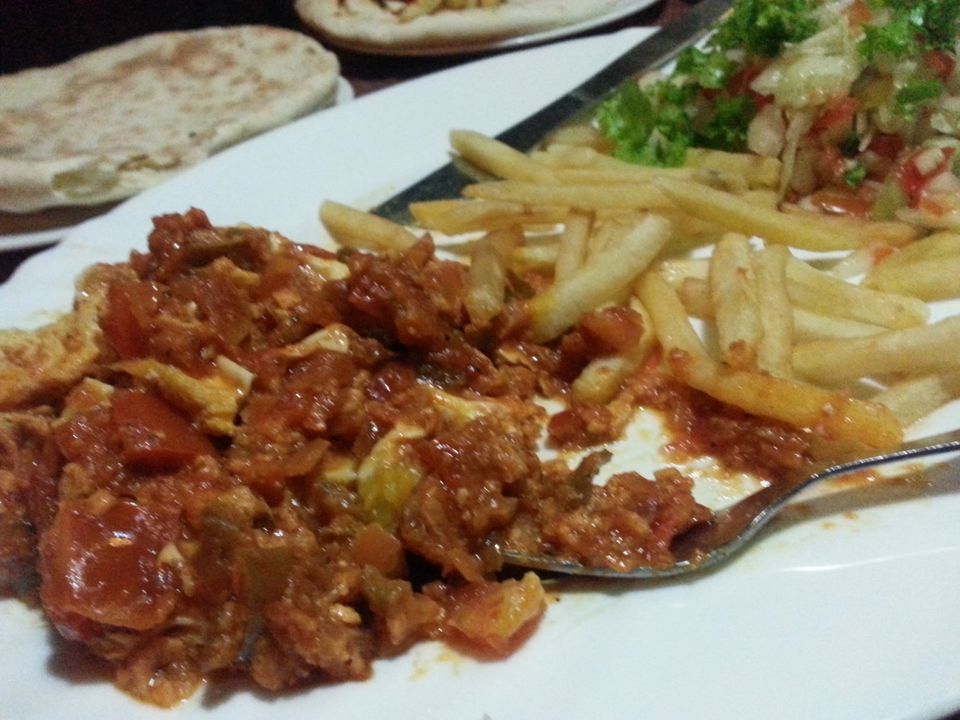 My vacation was drawing towards the close and I wanted to end it on a high note. So had kept the best for the last -- the Triund trek.
Said to be a beginner's trek, it is a mostly not-so difficult 6 km walk up the rocky terrain to a windy and cloudy mountain meadow.
But first, breakfast! My favorite English-style toast eggs n sausages, and I was all set to head upwards.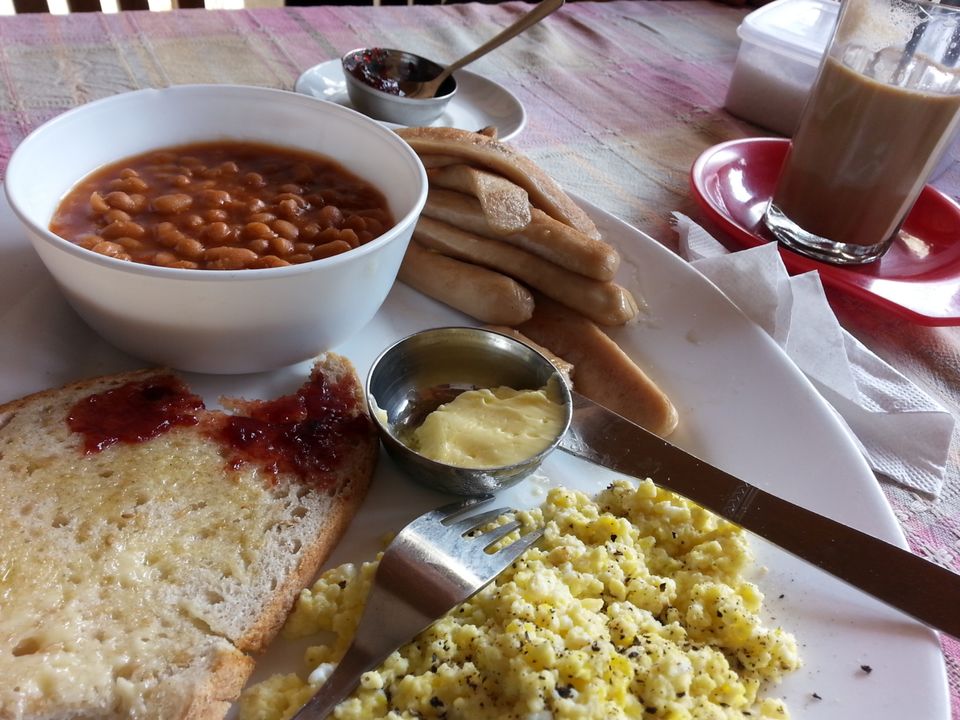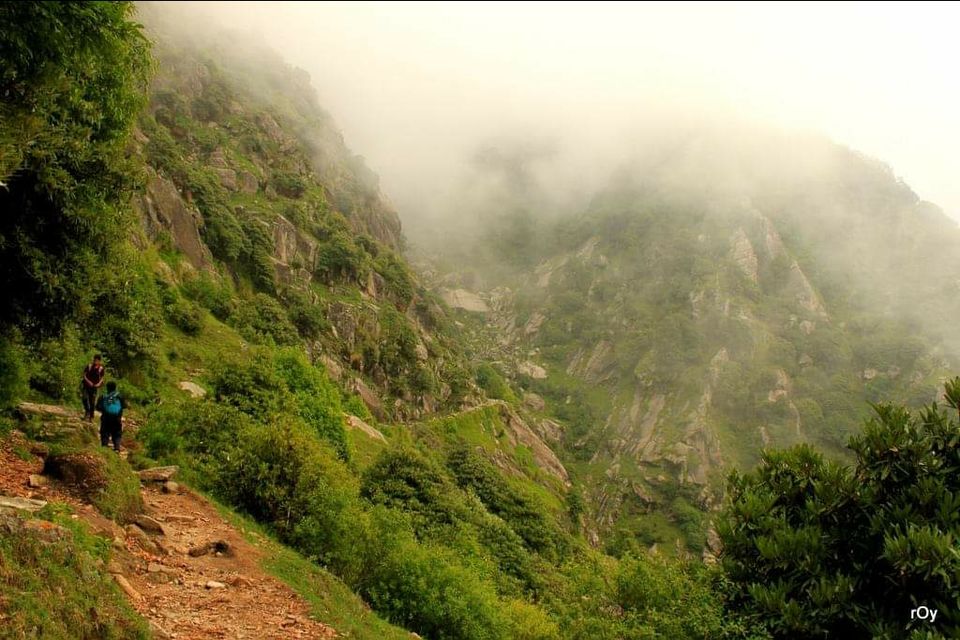 The climb was an endurance test for me, though, and the multiple pit stops in between for tea and biscuits, a bite of a banana for renewed energy, and of course the must-have maggi helped me keep pushing ahead.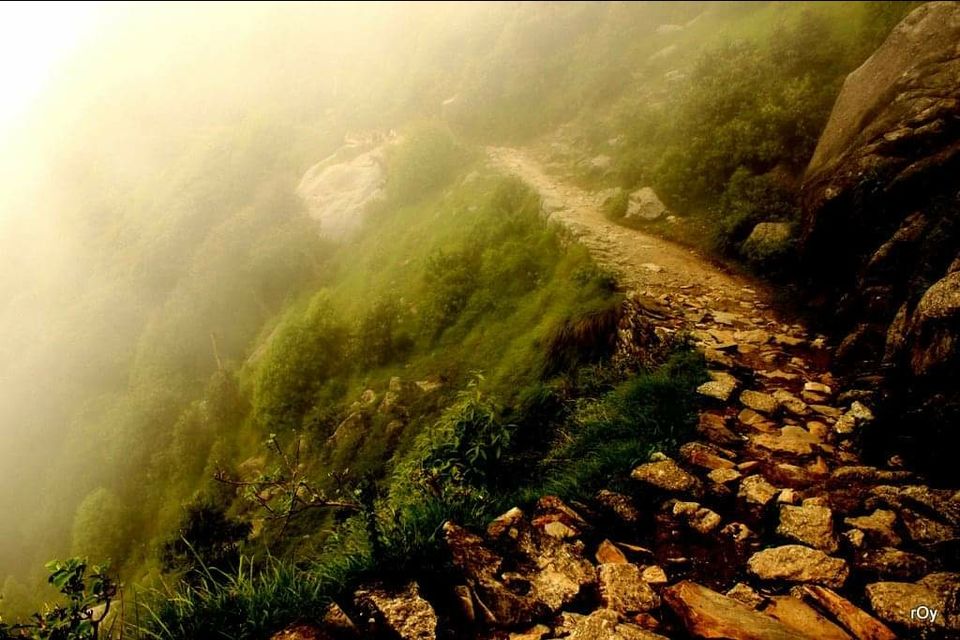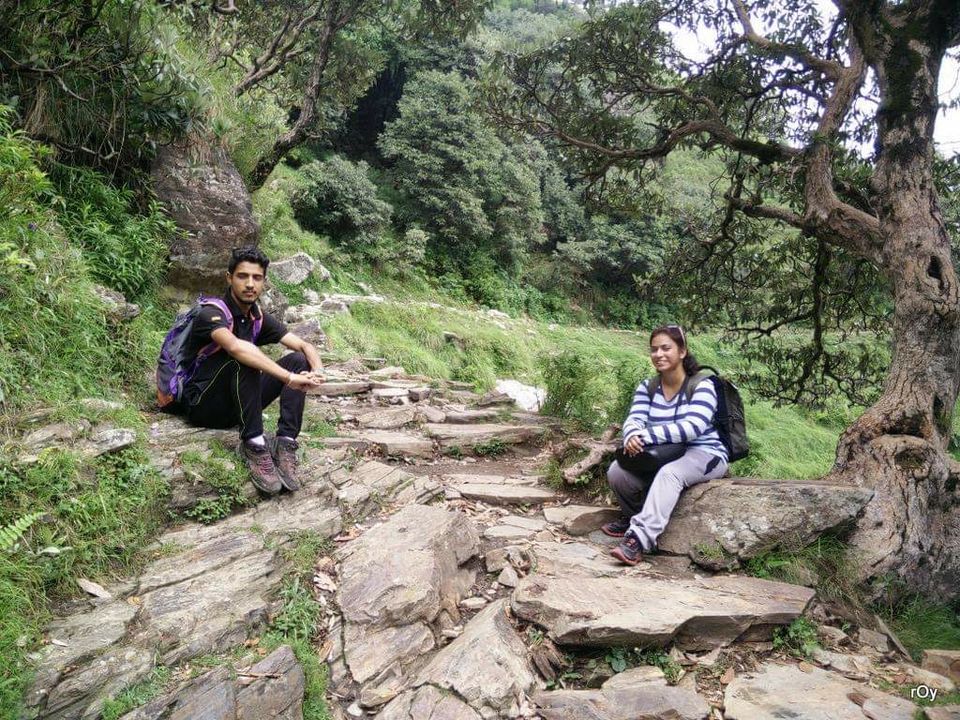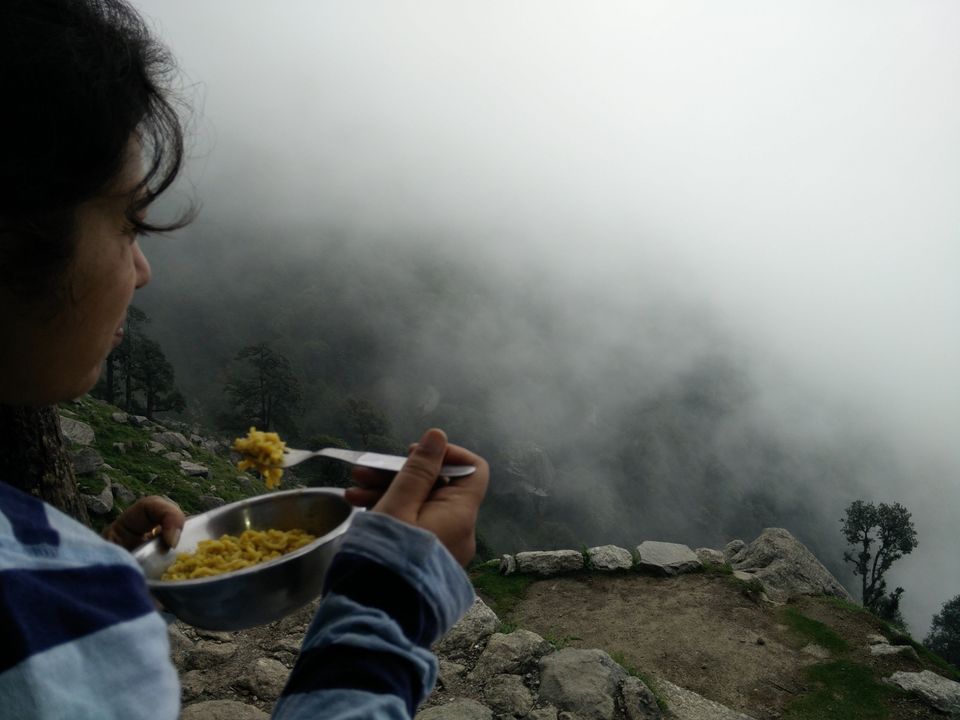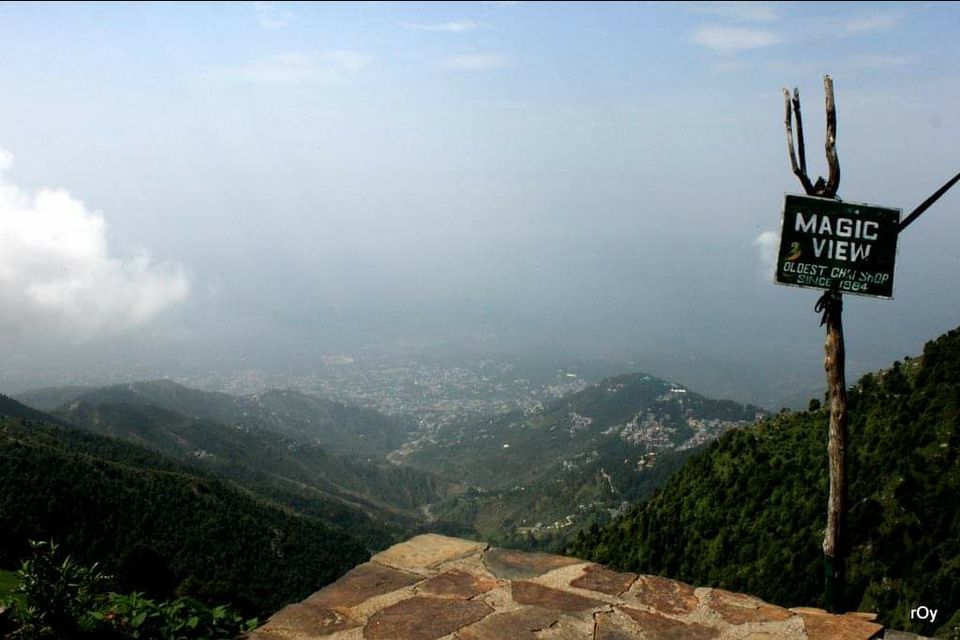 Once we reached the top, a huge flock of cottony clouds came romping to meet us. It was a different world! From a cricket match where the ball tended to disappear into nothingness, to a raging storm that lasted forever, to stepping out to a glorious double rainbow -- the next few hours at Triund were surreal.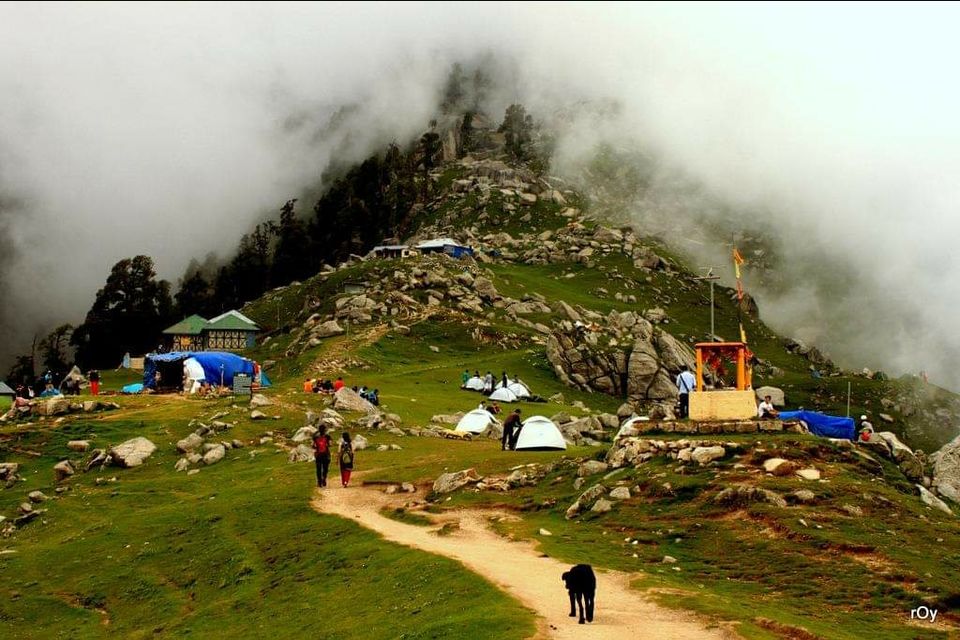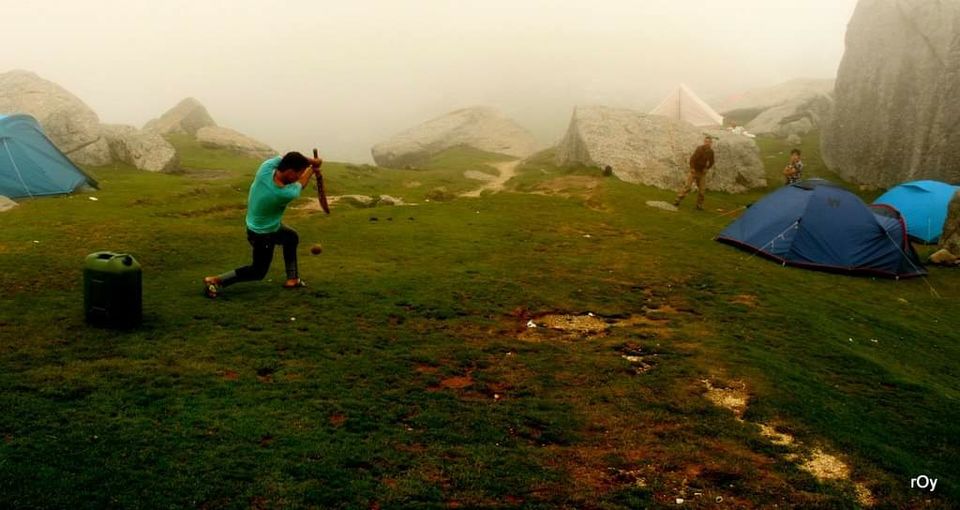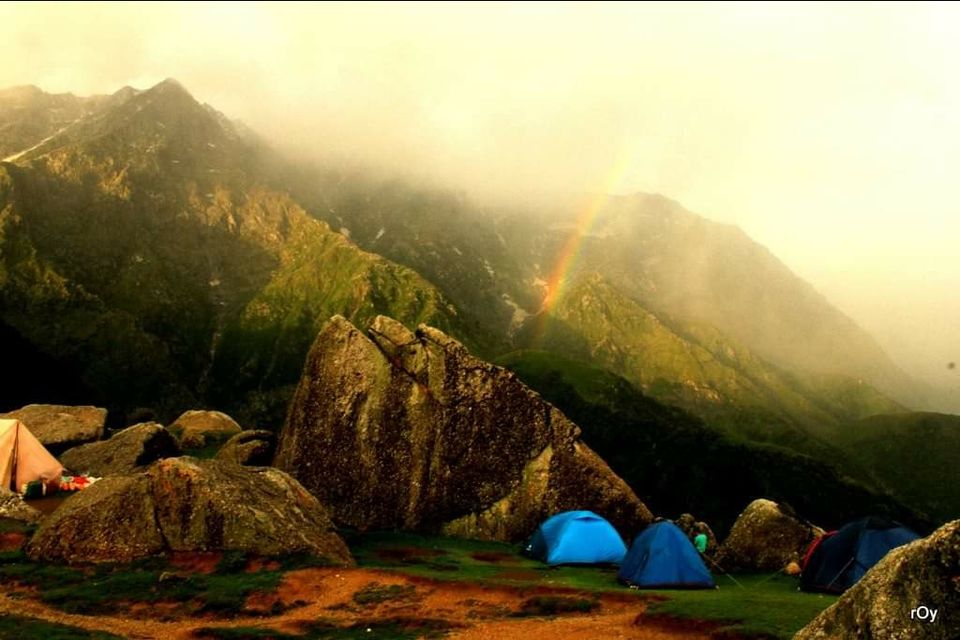 At an elevation of around 3000m from sea level, we were served hot food and beverages by our trek guides. We were so thankful! But frankly speaking, when nature unfolds around you in such glory, food becomes secondary even for a foodie like me.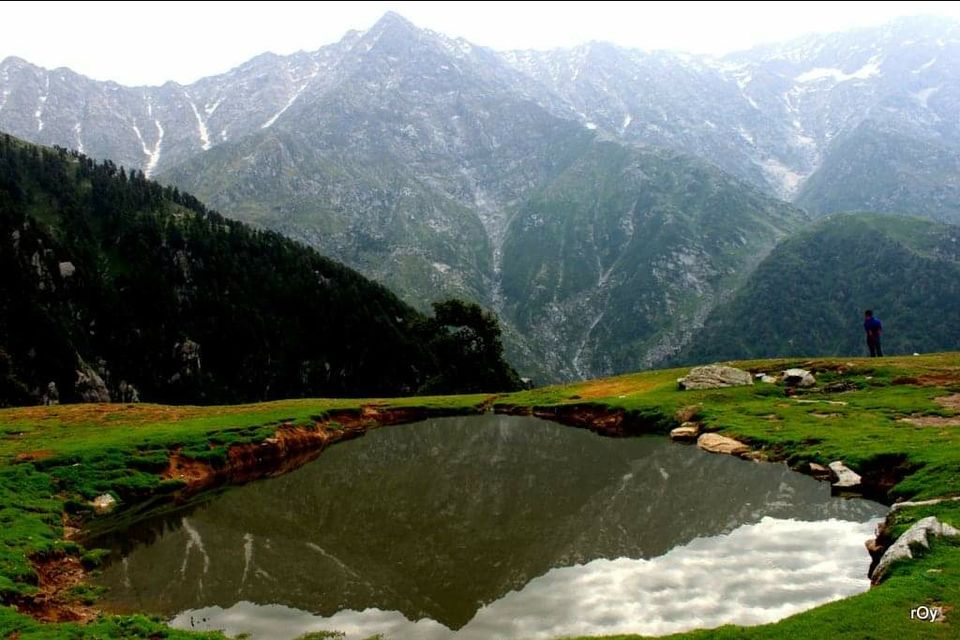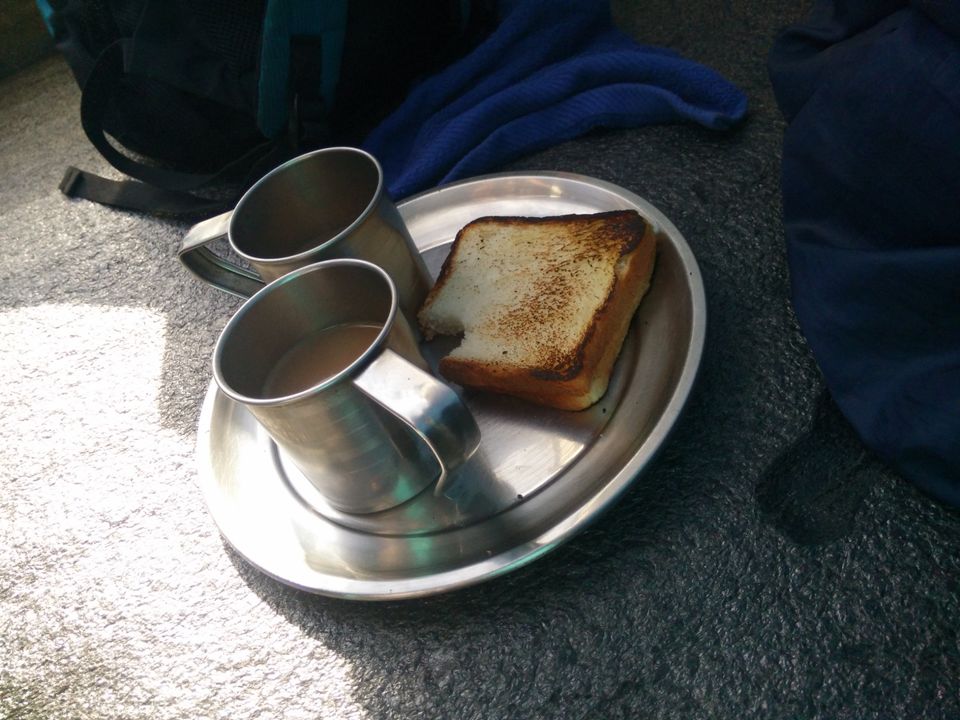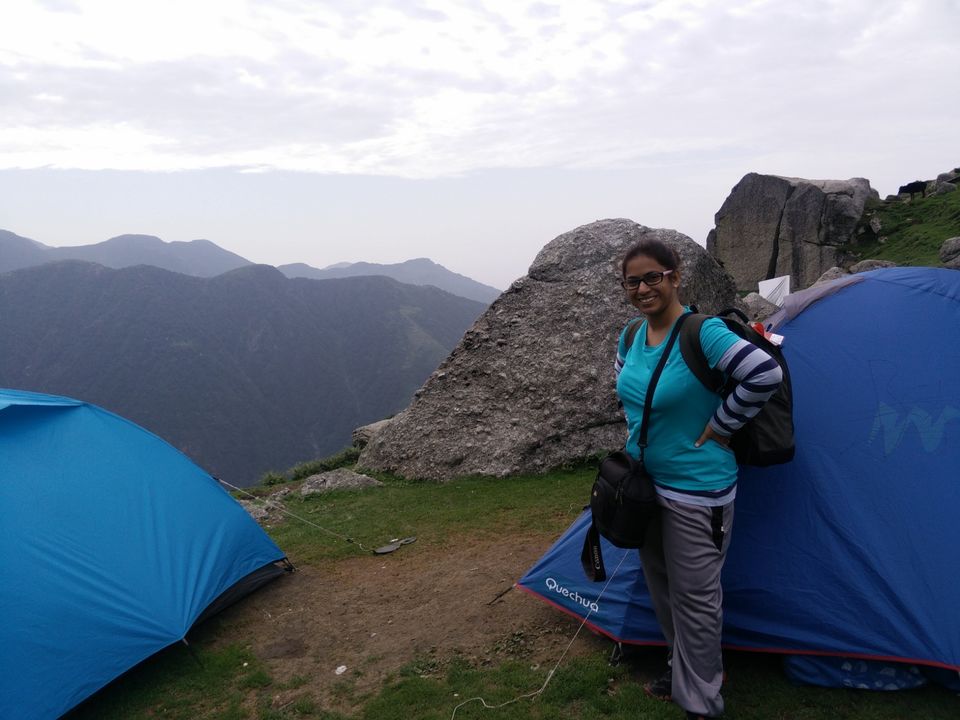 But I cannot live without some soul-stirring food for a very long time, either. Upon descending to Dharamkot again, I settled in with a huge plate of sizzler at Trek & Dine cafe. And before I was even halfway through it, my eyes fell on this luscious looking apple crumble pie, promising to melt in my mouth! Who has ever fought the temptation of an apple crumble pie and won? Well I never have! So I went for it too... and oh man, was it worth it!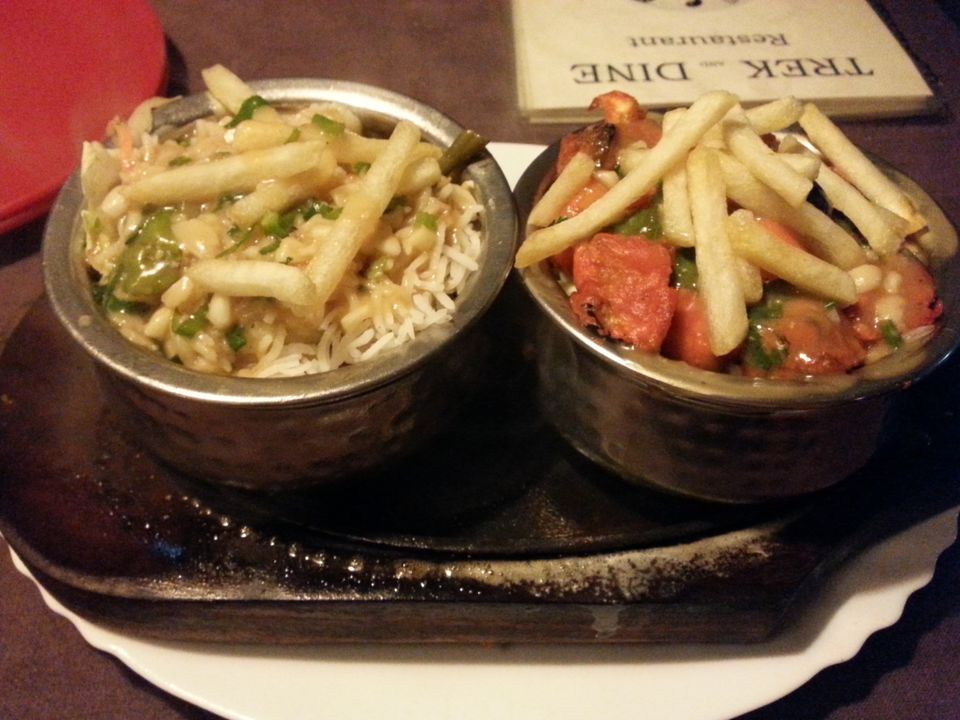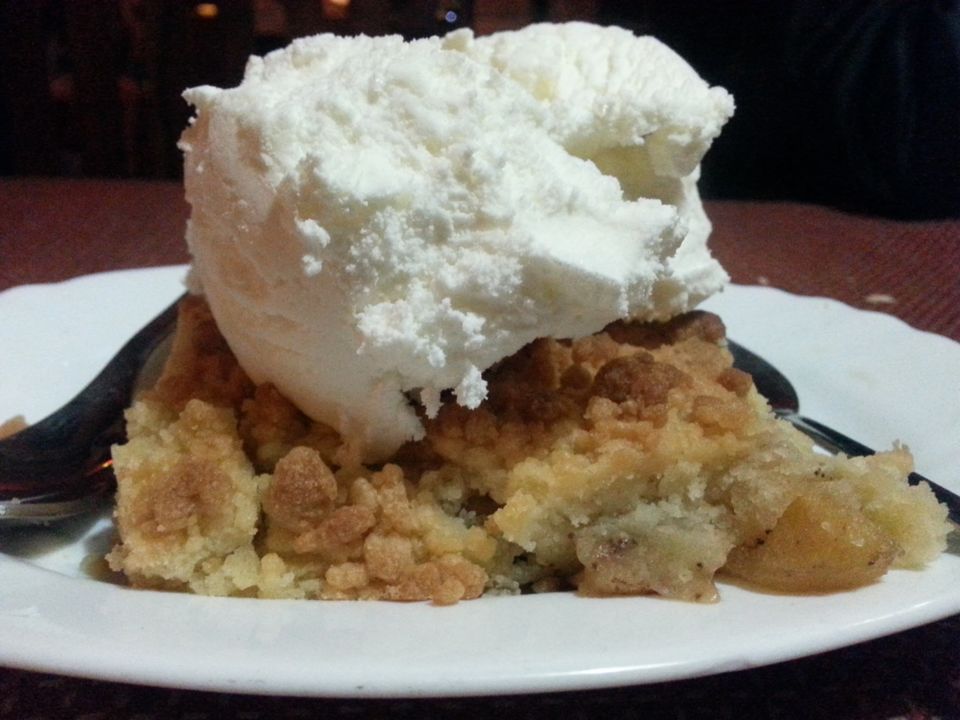 As my vacation came to a close, I realized that my escapades over the last few days had been no less than a food-a-thon, though unplanned. With a perfect combination of the two best things in life,travel and food, what more could I ask more from a vacation!
For a final goodbye to this dreamy date with Himachal, I headed straight for Coffee Meal cafe at Mcleodganj. Nestled within the busy market, this is another great place to look out for. A bite into their ginormous pancake drizzled with chocolate syrup, and I knew it was the sweetest farewell ever!