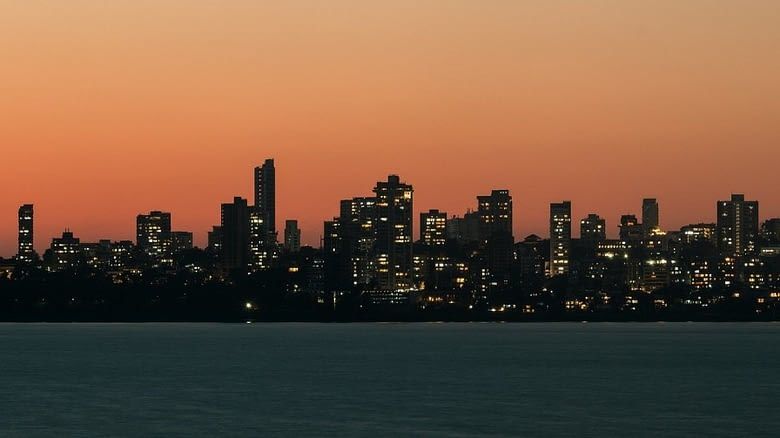 What is the first thing comes in your mind when someone talks about Mumbai? Some can say food, night life, beaches or film city. Although it is not a relaxing or hill station kind of place but it is one of its kind of place. Mumbai is a crowded city but there are lots of things to explore. Yes, Mumbai isn't the place to go for a little relaxation in lap of nature, but if you want to see a city brimming with life, culture, and history, it's the place to go.
Nariman Point to Malabar Hill
This is one of the city's most renowned roadways, which runs from Nariman Point to Malabar Hill and offers panoramic views of the Arabian Sea.
It's beautiful to go along the street at sunset (just like the locals do in the city). If you want to do this in the early afternoon, just be aware that it will be quite hot, and the sun will be oppressive.
Gateway of India
Once the midday heat is passed and the sun begins to set, you'll observe a large swath of travellers and residents alike go to the shorefront near the Gateway of India to enjoy the view.
It's an amazing sight to witness, especially around sunset.
When the midday heat has passed, and the sun begins to set, you'll see a large crowd of travelers and residents alike go to the shorefront surrounding the Gateway of India to enjoy the view.
It's a unique sight to behold, particularly around sunset.
Sip cocktails on the rooftop
Apart from a 200-foot boat (which I wish I could have), the greatest location for sundowners is the Four Seasons Rooftop bar — even if you're not staying at the hotel, it's a stylish institution with some fairly amazing views across the city. Expect costs to be far more than local eateries, but if you're seeking a unique experience, it'll be well worth it.
Crawford Market
Crawford Market, perhaps one of the city's most famous marketplaces, is the ideal spot to experience the rush and bustle of Mumbai's market life. There are many shops selling anything from spices to veggies to prepared meals, as well as some of the greatest Pani Puri in the world.
Peshawri
Quality is paramount in Peshawri, as is adhering to the Indian custom of community dining. If you're a gourmet like me, it's one of the finest things to do in Mumbai.
Take a seat on one of the benches or stools, wash your hands, and dig into some of the delectable Indian cuisines on offer.
Try their spicy green beans, garlic naan, Roti, and clay-oven tandoori dishes.
Mumbai Taj
The Taj Mahal Palace is one of Mumbai's most well-known structures. It's one of the city's most prestigious places to stay, but if you want a taste, go inside the Masala Kraft restaurant, which serves some of the city's best contemporary Indian cuisines.
The entire structure is a stunning blend of European and Arabesque influences that harkens back to Mumbai's heritage. It is, without a doubt, one of the greatest things to do in Mumbai.
Haji Ali Dargah Mosque:
Haji Ali Dargah Mosque is a wonderful location to visit, located on a tiny island in the midst of Worli Bay.
It's open every day, but because it's connected to the coast by a small boardwalk, you might have to wait till the tide goes out to get there.
Rickshaws Rides
Rickshaws are a popular mode of transportation in India and a great way to tour the city. These clever little rides were born out of the necessity to manoeuvre in between the crowded streets and are a lot of fun. Take a city tour or simply hop on one to get from point A to point B. It is, without a doubt, one of the greatest things to do in Mumbai.
The rickshaw is an excellent way to explore the city; however, be prepared for heavy traffic and stomach-churning driving.
Chhatrapati Shivaji Maharaj Vastu Sangrahalaya
The Museum, which was originally named after the Prince of Wales in the Victorian era, has now been renamed the Chhatrapati Shivaji Maharaj Vastu Sangrahalaya, or CSMVS for short.
This amazing faux-Renaissance structure has a vast collection of items and manuscripts, as well as textiles, all of which are related to Mumbai's long and storied past.
Global Vipassana Pagoda
The Global Vipassana Pagoda is located northwest of the city and is the ideal location to see the region's most famous temple halls.
It will now take you around 2 hours to get here, so depart early in the morning to avoid exploring the site during the noon heat. It is indeed a sight to behold since it is home to the world's biggest stone dome. Make sure to visit the world's largest pagoda.
Sanjay Gandhi National Park
Sanjay Gandhi National Park, located just outside of Mumbai, is a magnificent (and protected) location that every visitor to Mumbai should see.
This tropical paradise is home to hundreds of plant species, stunning landscapes such as the Shilonda waterfall, and if you're fortunate, you could even glimpse a leopard or two.
Don't miss the Kanheri Caves, which are part of the Buddhist monks' monastery structures.
Hanging Garden of Mumbai:
It's located on the Malabar Hill slope and is a complete pleasure. Explore the terrace gardens and enjoy a bird's-eye view of Marine Drive and Chowpatty Beach from the top.
You could even come across some of the trimmed trees that have been sculpted and manicured into various forms.