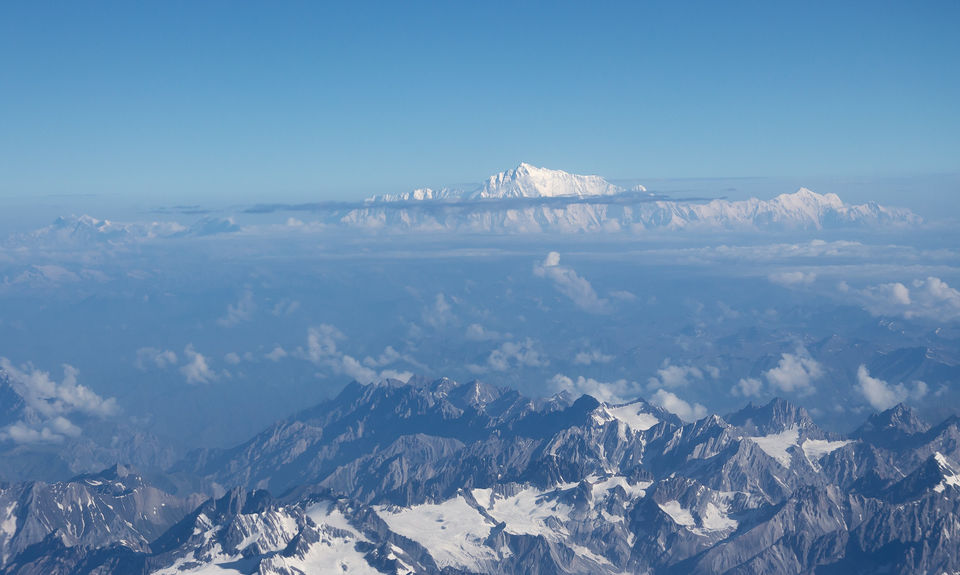 My love towards the Himalayas started way back in 2016 when I first visited Sikkim.
Getting to know the driving experience through the highest motorable passes in the world, the Himalayas & Leh - Ladakh had always been on my to go list. I dreamt of travelling to Ladakh with my friends, but ended up travelling all alone.
I decided at last asking my self … why not alone ? and it all began.
I spent around 10 days exploring Leh with strangers unveiling many chaotic, refreshing & fulfilling stories, while i would love to open them as we go down the blog ;)
First of all check the weather forecast & Second of all a lunar calendar - before booking your tickets...!! Mhmm.. there might many questions for you ? you will get your answers as we go :)
My Travel dates - July 25th 2019 - August 4th 2019
Day Zero : Excitement
Hyderabad to Delhi - Delhi to Leh
I had to sleep overnight in Delhi airport to take an early morning flight to Leh and I met a few wonderful people who were also travelling to Leh. I have a story to tell why I called them wonderful, for now it's encapsulated :)
A pro Tip : Always book a window seat in advance else you will miss that pinch of the trip, the grandeur view of the Himalayas from the plane.
See the picture below and you won't afford to do that mistake :)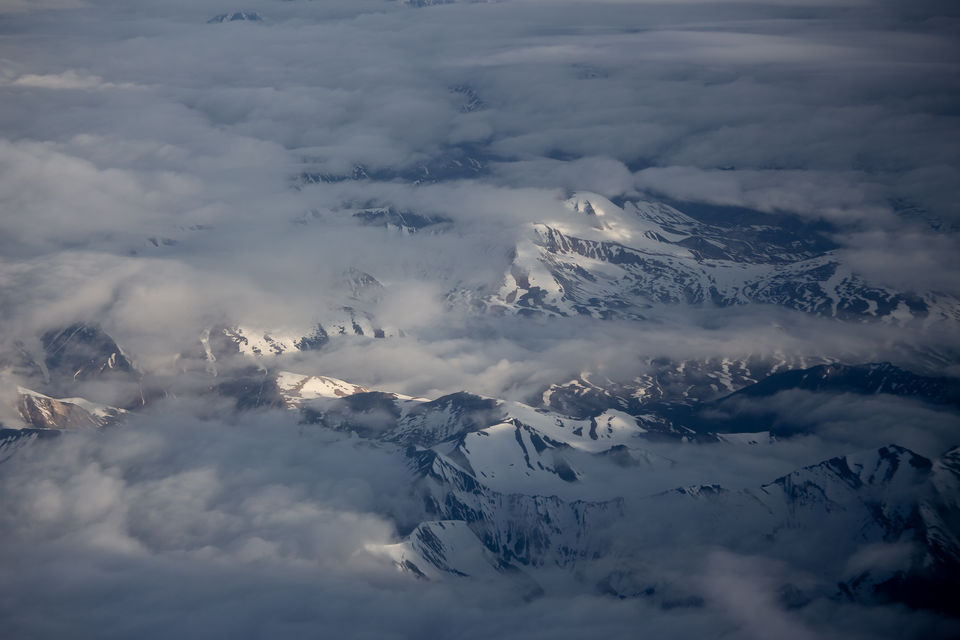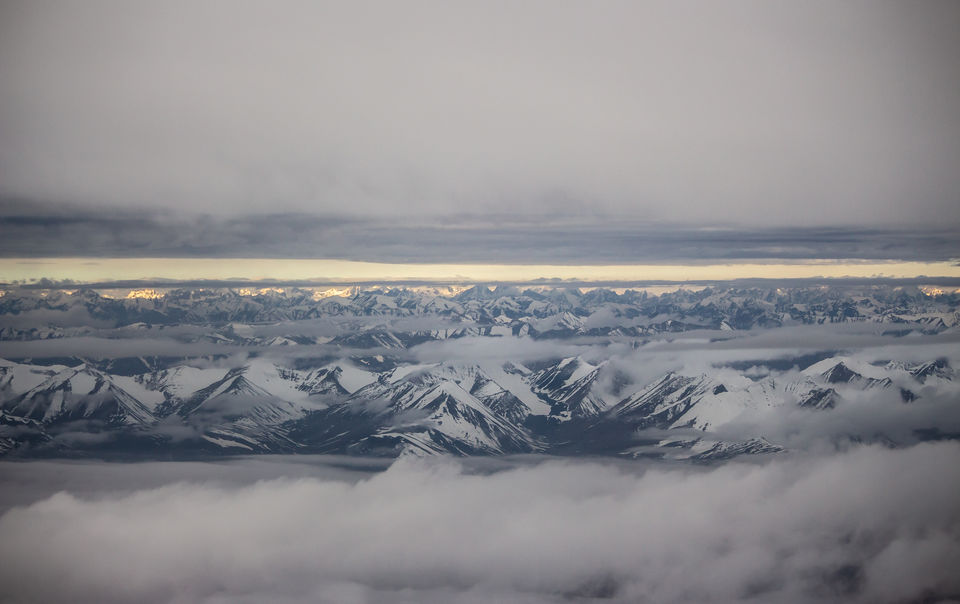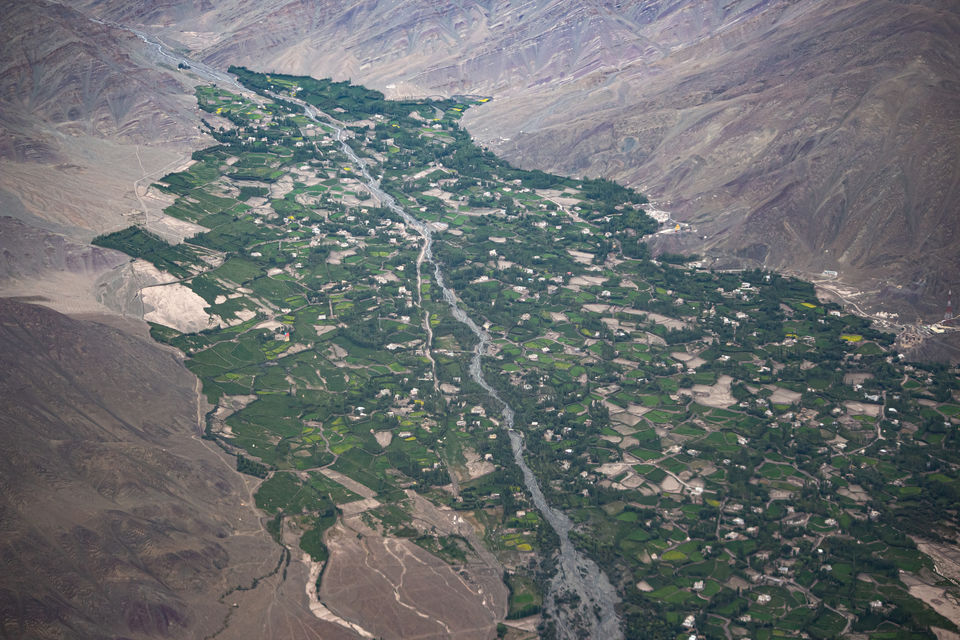 Day 1 : Acclimatize and getting ready.
Landing in Leh, from the airport I took a cab to the town. I checked into the hotel I booked prior and spent some time speaking with the locals. I felt a sudden dimness and fatigue because of the sudden altitude change. I tried to walk around but it became very very difficult. Gave myself some time hydrating and doing some breathing exercises, slowly I reconciled.
I booked my bike at www.wheelstreet.com for a very low price(16000 INR for 10 days), and I chose a Royal En-field Himalayan.
Also applied for the travel pass online to ride around Ladakh and went to the DC office to get the stamping and permissions on my passes.
Permits : Book online in advance and get to the office on the first day in Leh.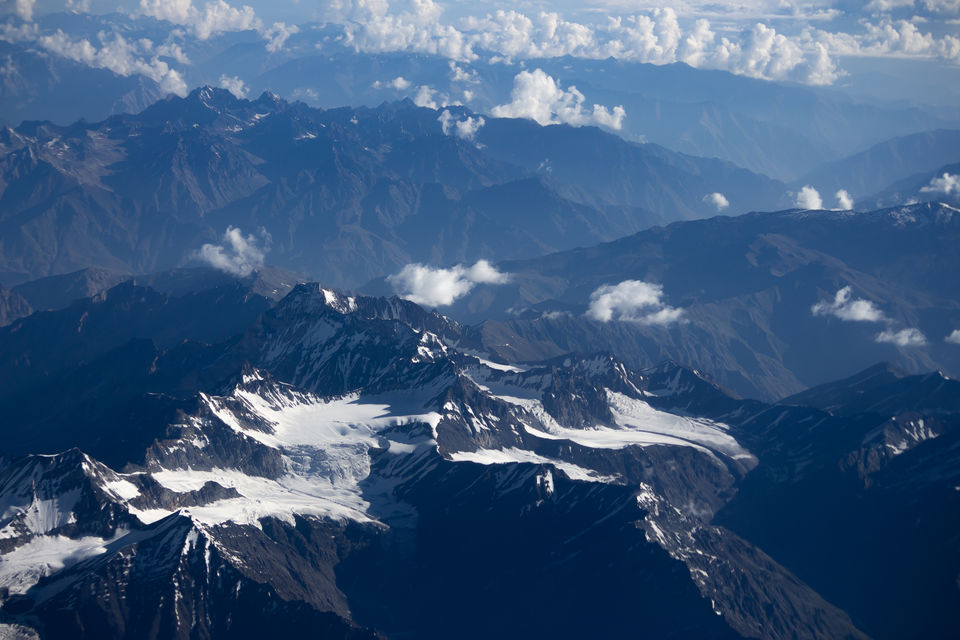 I went back to the hotel, took a quick nap and went out to fill the fuel (Always make a full tank and fill in those extra cans if you can carry).
Admiring the beauty, along the way I lost my thoughts and started chasing a snowy mountain , not knowing where I was heading and how long..!! I rode 40+ Kms away from Leh, later when I realized, I was on the Leh Manali highway. The views were stunning and I was spellbound by the beauty of nature.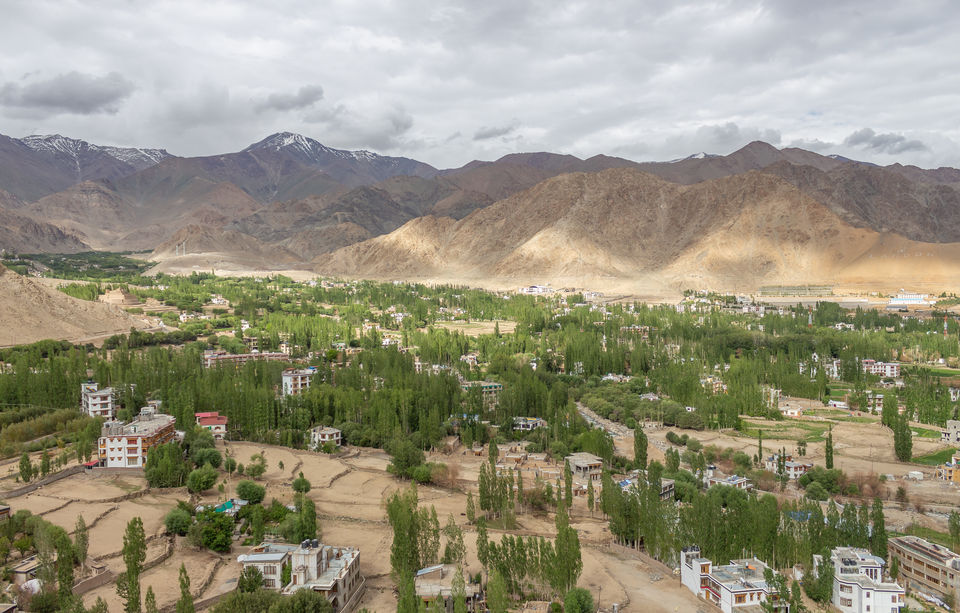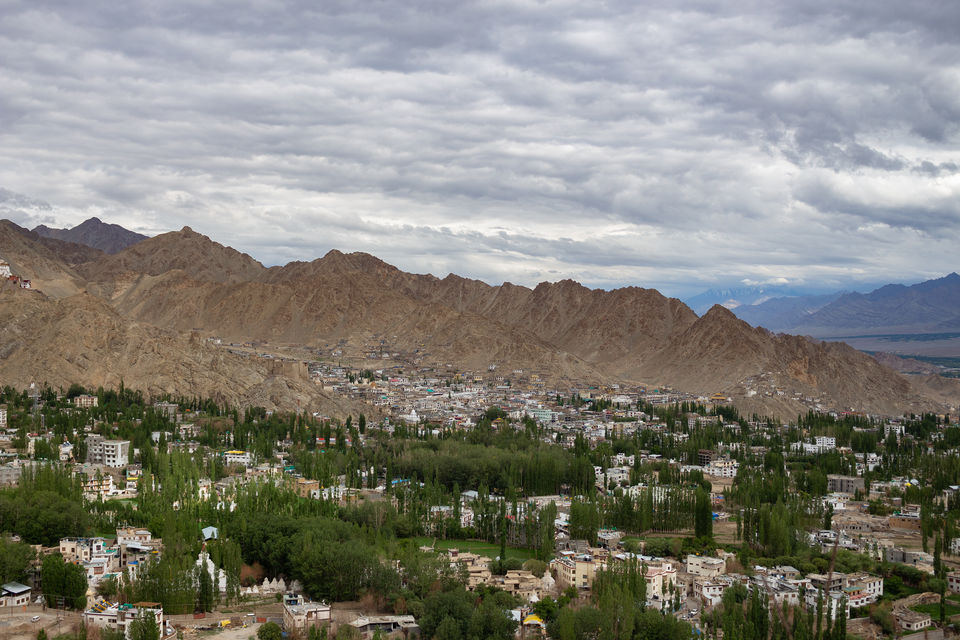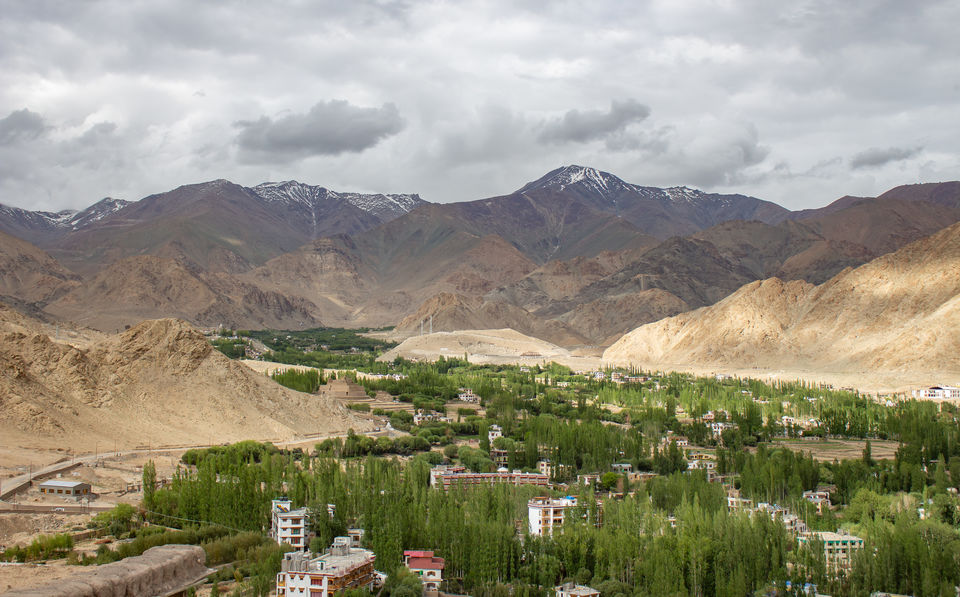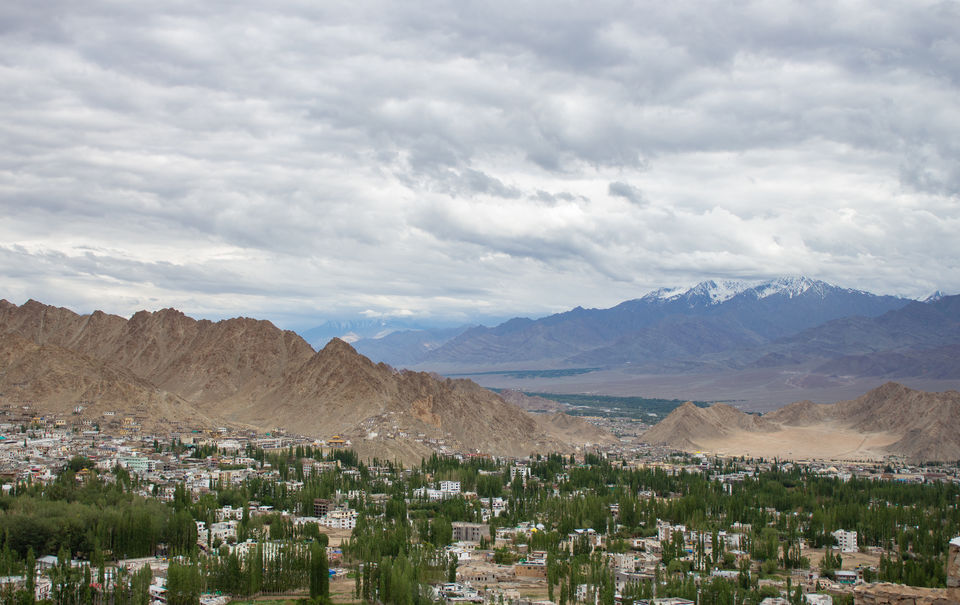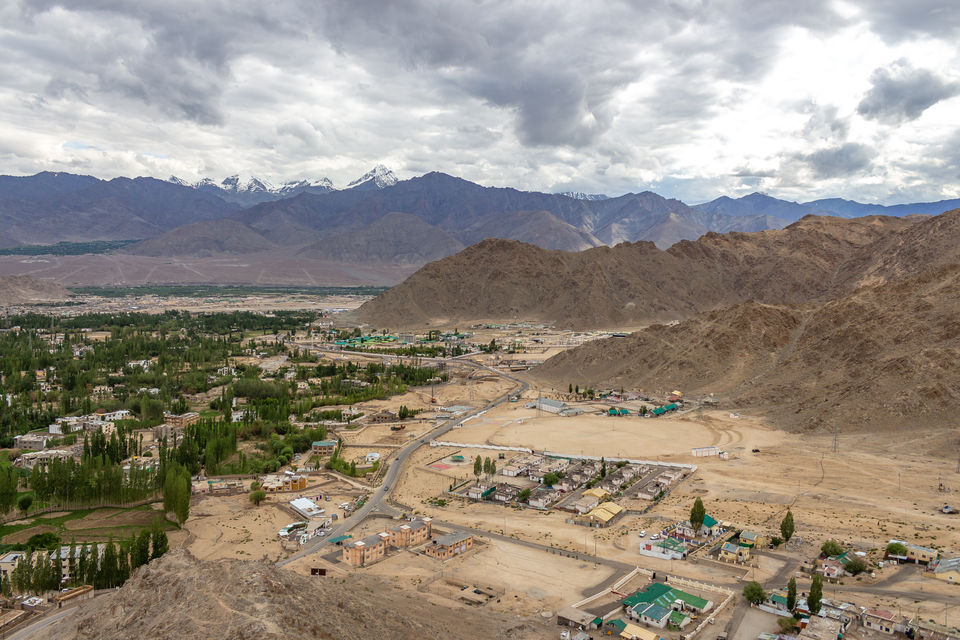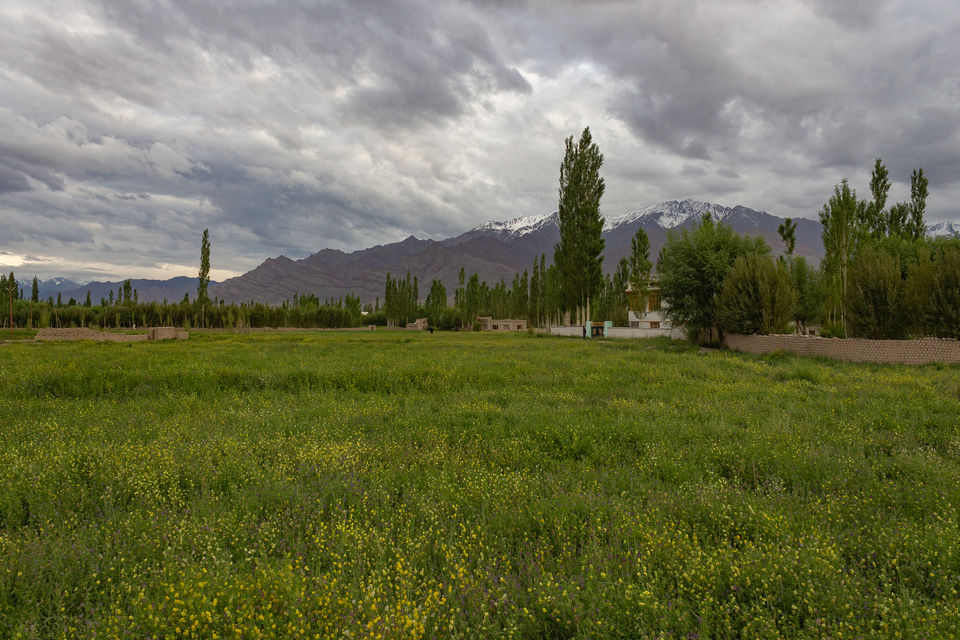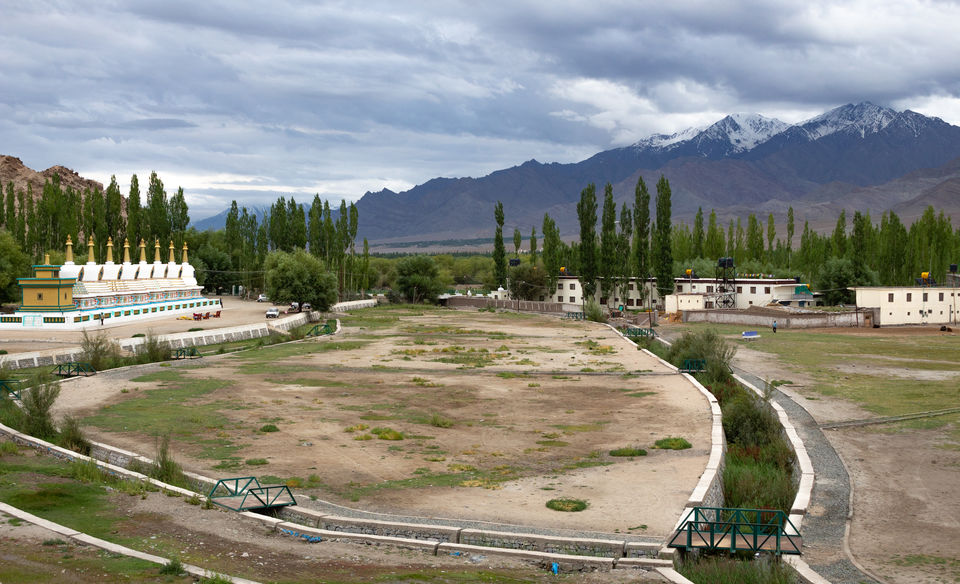 Tip : Don't rush !! Take 1 or 2 days time at Leh getting assimilated to the altitude. Take care of everything before you start your journey anywhere in Leh.
Day 2 : Highest mot-arable pass in the world
Leh to Khardungla Pass
Next day around 8 AM in the morning, I started my ride and the weather was reasonably cold. Roads were terribly tough here and there. Thick Fog all along my route and roads were also slippery. Temperatures will be freezing cold as we go up. I wore warm gloves and biker gloves on top of them, but still those cold winds made my hands freakingly numb. I took a few halts in between and finally reached Khardungla pass.
It started snowing as soon as I reached the place. Grabbing my camera, I clicked a few pictures and later had some hot tea(much needed) enjoying the fresh white snowfall view. And that experience - standing amidst the mountains covered with snow - was so soothing and mesmerizing.
Khardungla Pass to Hunder
Backed on my bike towards Hunder, along the way my eyes captured the most stunning views of greenery and snow capped mountains. Water flowing on the way along the Shyok river was a bliss. It was a never experienced ride, so thrilling and so enchanting.
If you're a driving enthusiast, then the elevations and depressions of the path will drive you crazy. I came across many army vehicles crossing along the path and they will allow you to pass first by slowing down theirs, and as a sign of gratitude, bikers raise their hands thanking our pride army.
You must experience that feeling of your heart getting heavier, carrying the weight of happiness and gratefulness, sinking all those moments within - on your way through those passes.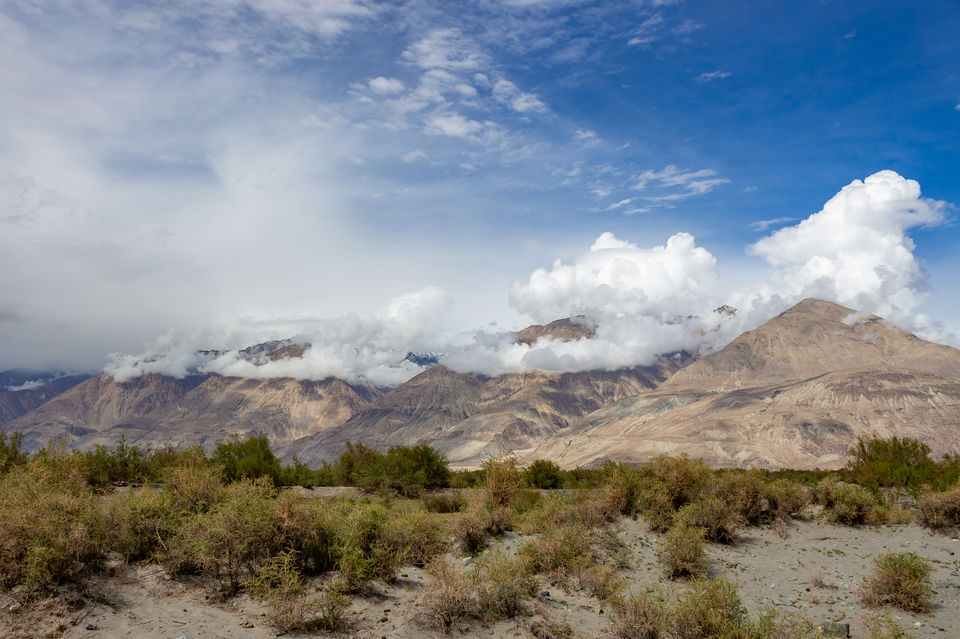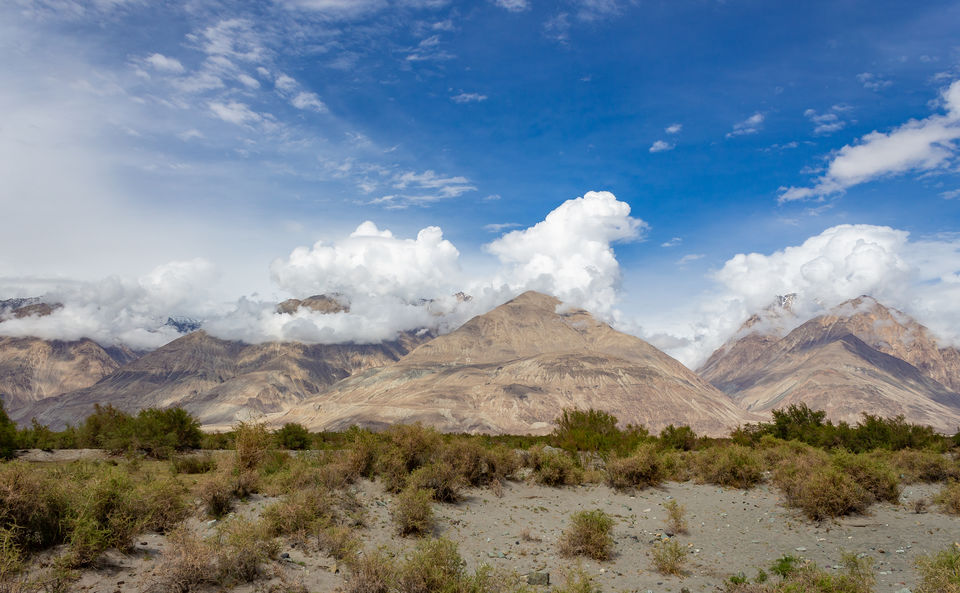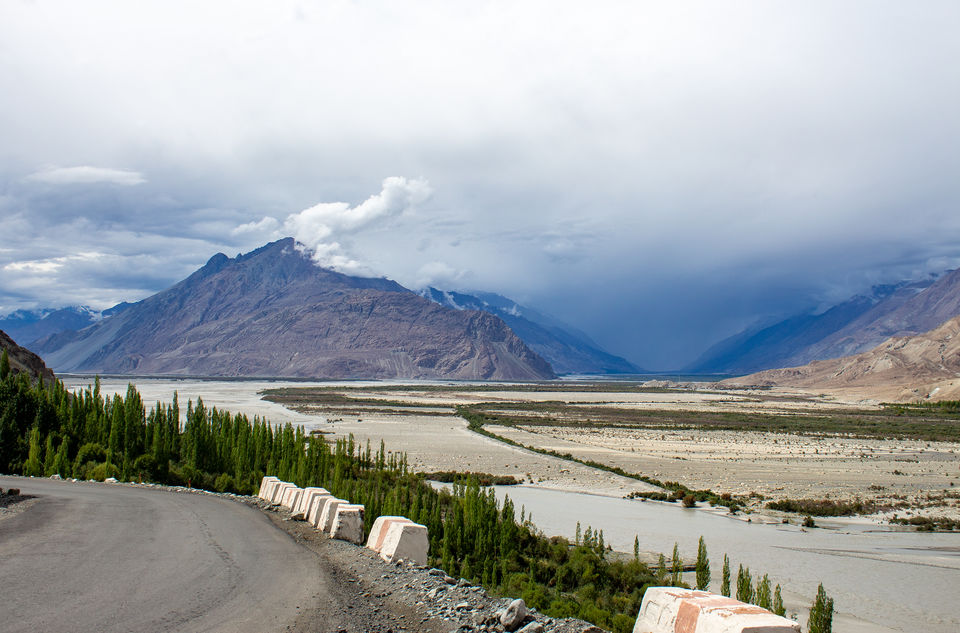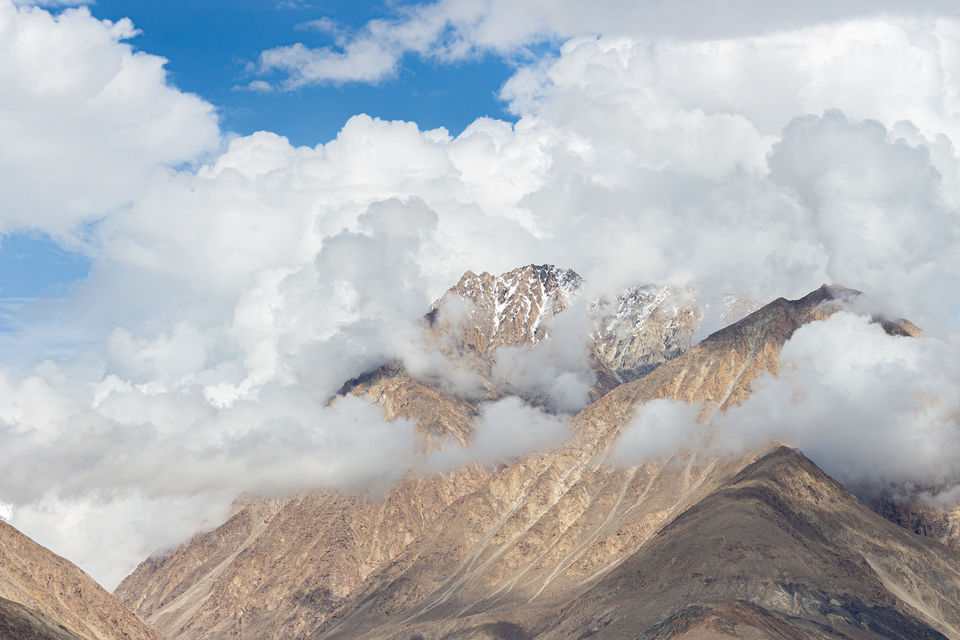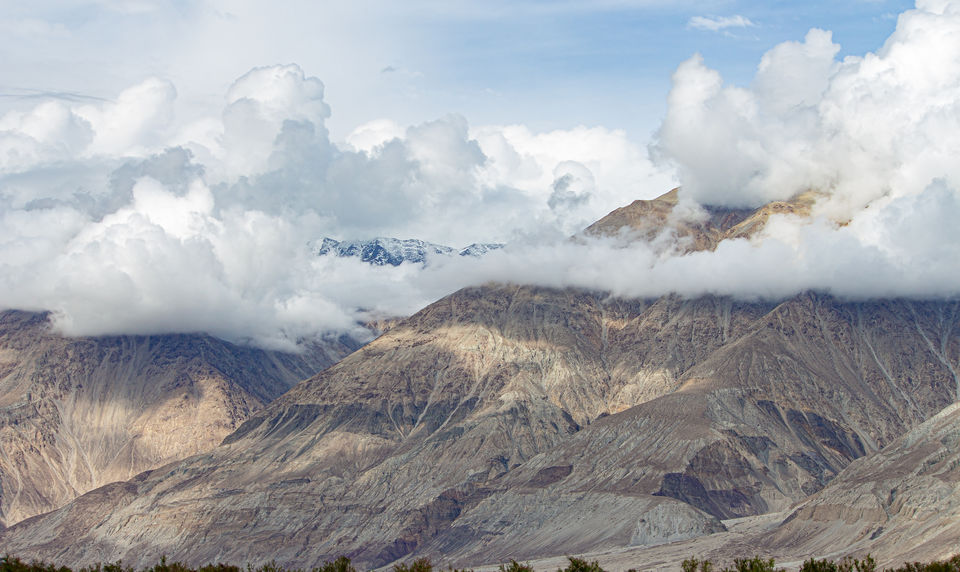 Pictures are captured en-route to Hunder .There is only one petrol Bunk in the entire stretch to Tur-Tuk village.
I refilled the fuel and all of a sudden it started raining heavily. The weather here is very unpredictable, and I stayed back in Hunder Valley for the day. I shared the tent with people whom I met in Hyderabad Airport.
I got to see Apricot trees for the first time here in my life till then. The place I stayed had great views and also the food, hospitality were amazing. Later in the evening I visited the Hunder valley Sand dunes. Sunset here is just just...amazing...!!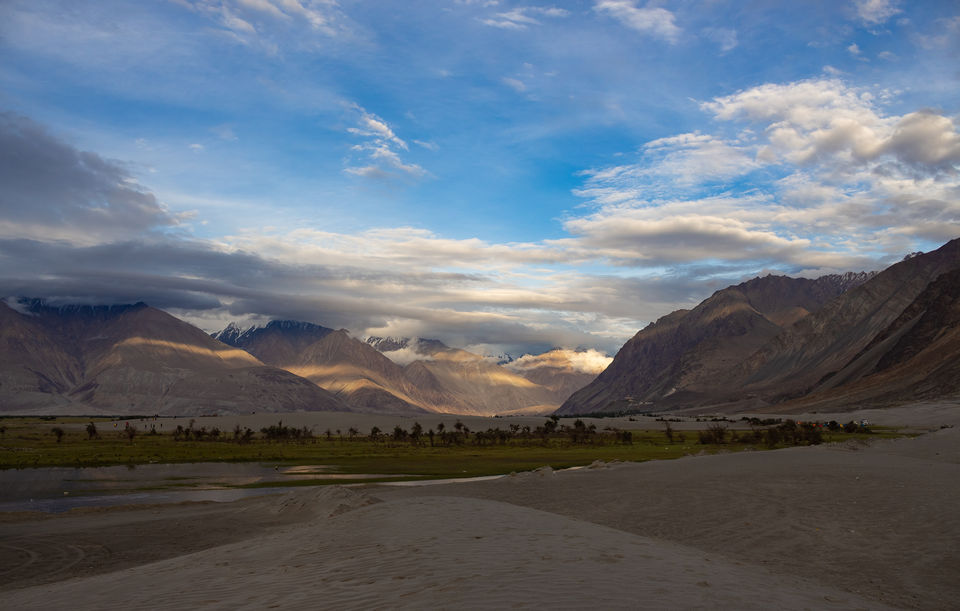 Day 3 : India's last village
Hunder - Turtuk - Thang
Between 8 or 9 in the morning we started heading towards Turtuk village. On our way we came across a big landslide. There was a bus and a couple of cars stuck in the middle and couldn't make a move. I observed people helping each other in removing the obstacles themselves, also border road organization would come to clear it when the slides were huge.
We somehow managed to cross the obstacle by ourselves but our shoes got completely wet and the water was freezing cold. Best part is we met a guy who is traveling from Italy and his name is Jack. We helped him cross this landslide and he joined us in our journey further.
Tur-Tuk is completely isolated from the outside world. I have spoken to two elderly people and got to know that their brothers live on the other side which is in POK and this happened at the time of partition.
As we traveled to the end of the village, we got to know that the government has been allowing civilians from past one year to visit the Thang village, which is the northernmost village of India. But foreign nationals are not allowed because of security issues. We visited the place and border security personnel showed us the guarded points using binoculars.
Turtuk - Diskit
Had lunch in Turtuk and I still remember picking apricot fruits directly from the tree and having them, which tasted so delicious. This became kind of an obsession to me :)
We started heading back and decided to stay in Diskit. On our way we visited Diskit Gompa, an old Buddhist monastery where you see a Buddha statue with a crown.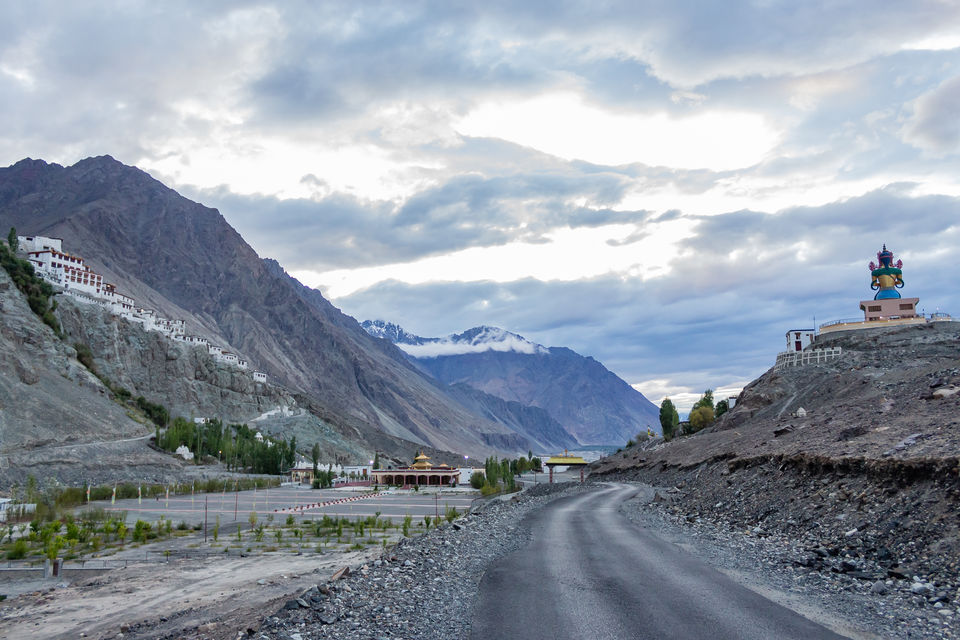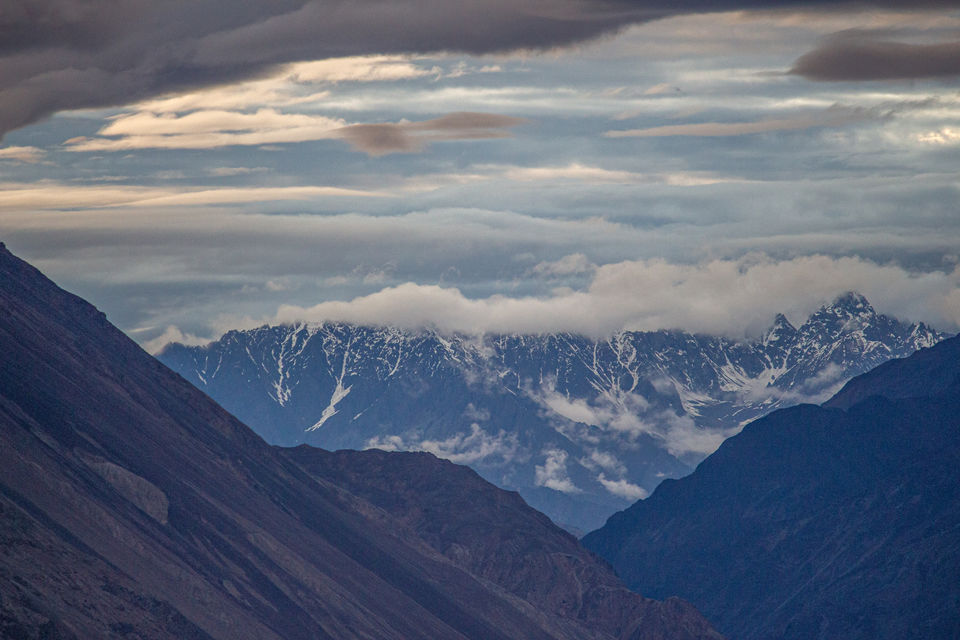 Day 4: En Route - Magical Lake
Diskit - Pangong Lake
Tip : Starting the journeys early in the mornings will give you beautiful views and ample time to discover more spots.
So the next morning, on our ride the first halt was at Nubra Valley which is completely deserted. The Ghati, the riverside ride, and snow capped mountains saying you welcome. What more can anyone call for..!!
After 3 hours we stopped at one place where we found some wild horses grazing in the open lands with stunning landscapes.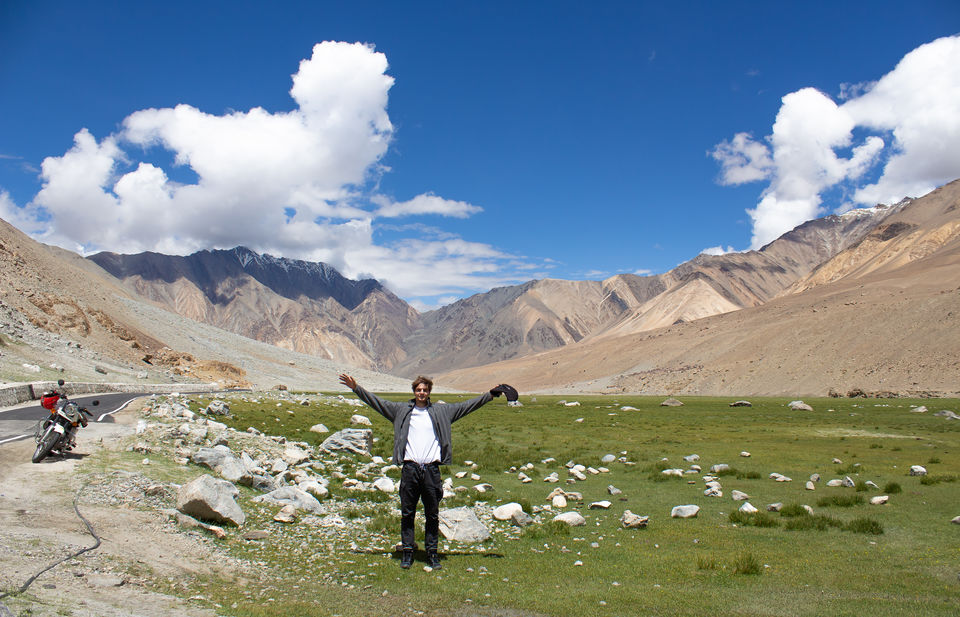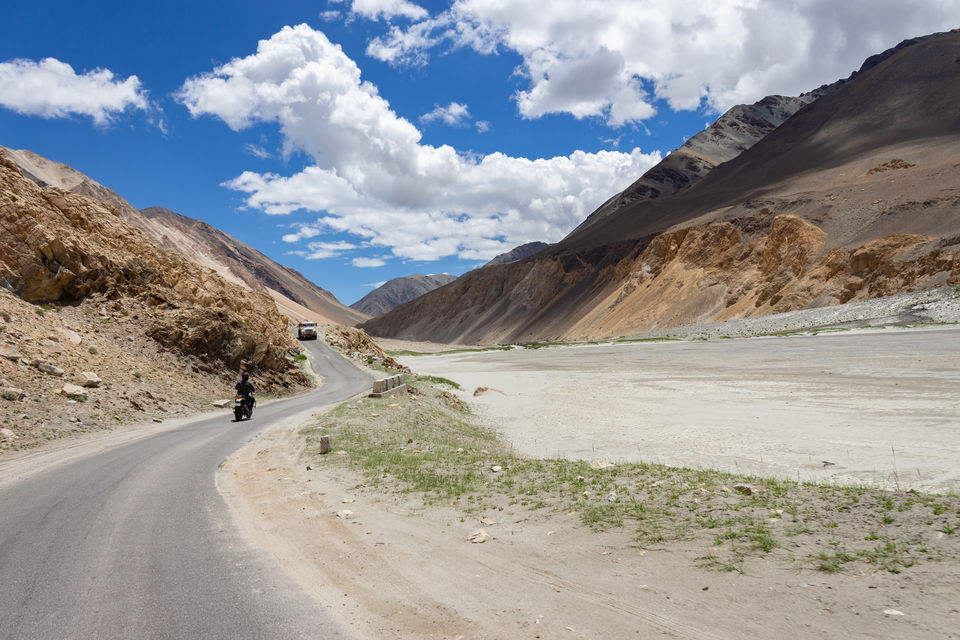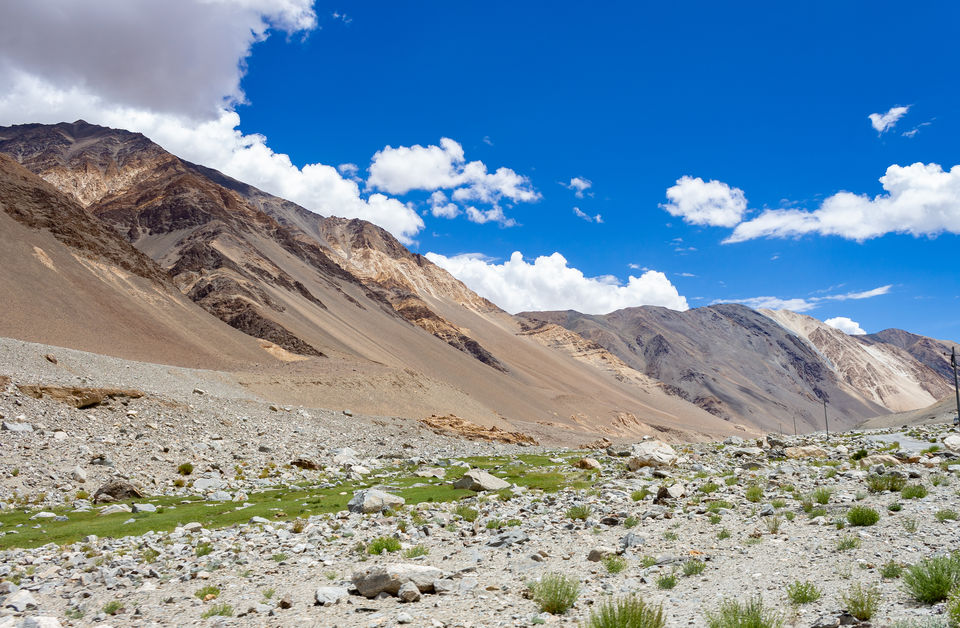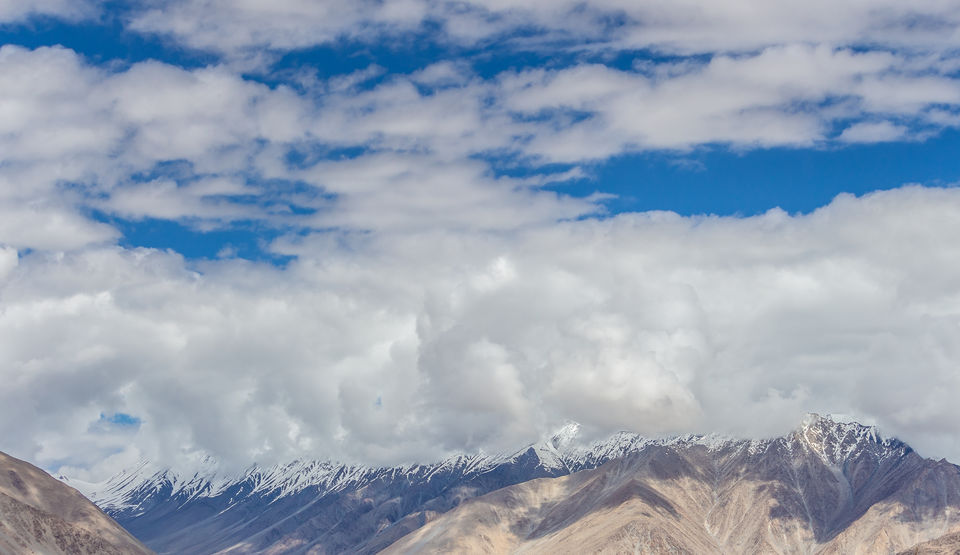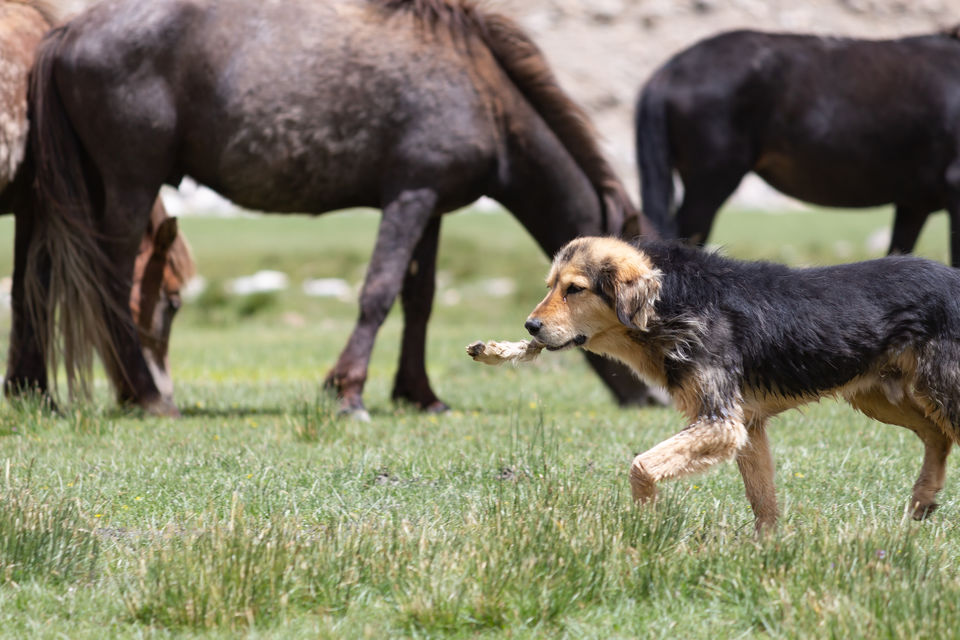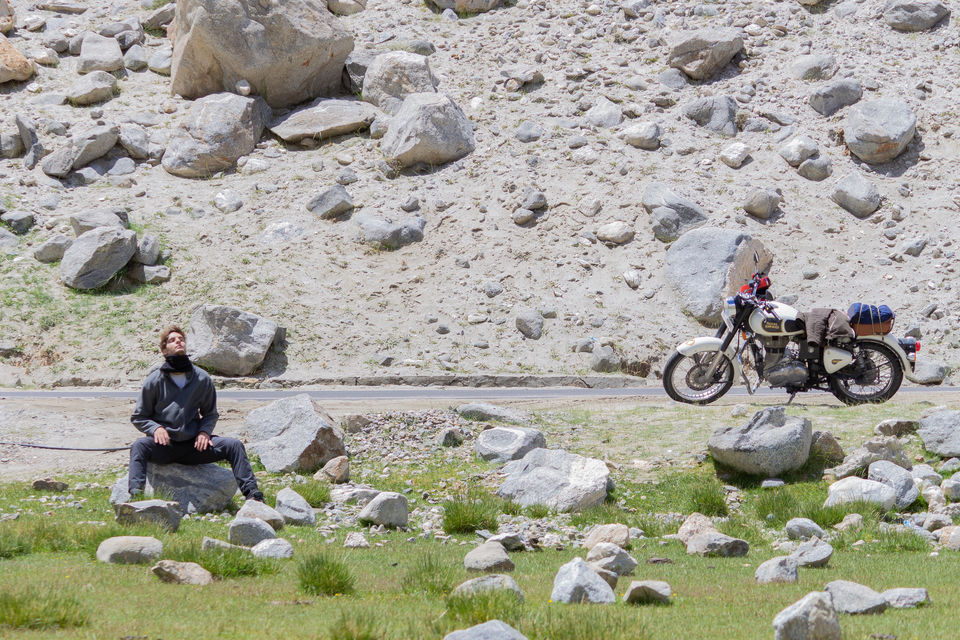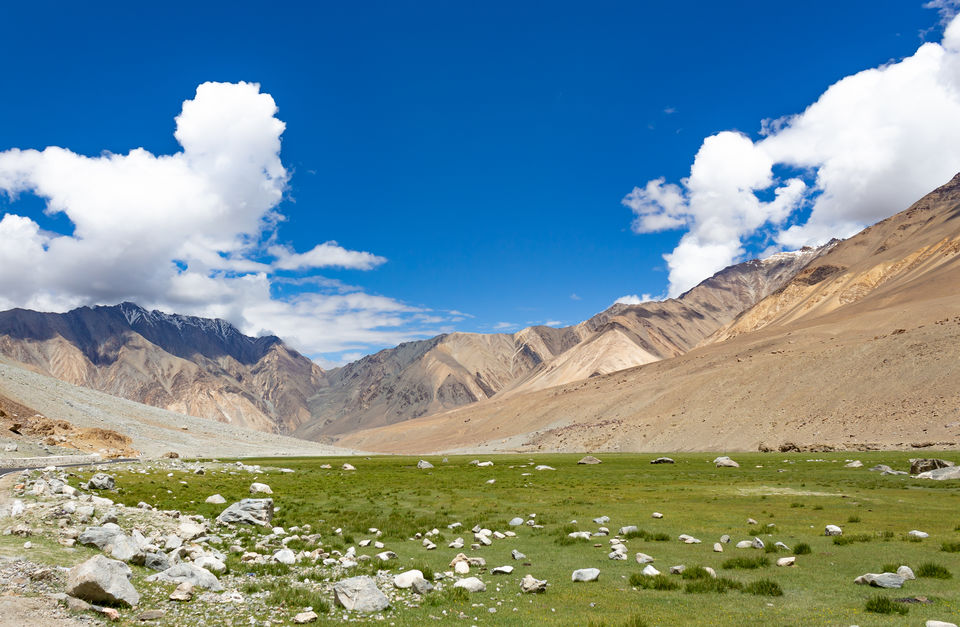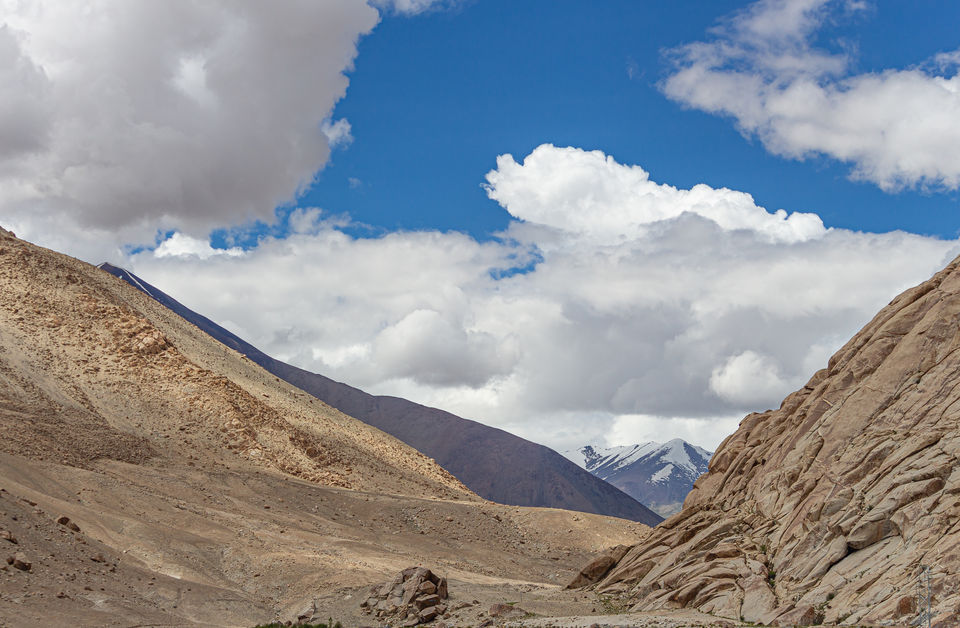 We came across two obstacles and one of them was a big blow, two heavy vehicles were stranded in the middle of the water flow and rocks. It took a lot of effort to clear them. And the second one is a route that is submerged in the water. We had to remove our shoes and drive across without stopping. The water was freezing cold and I didn't feel any nerve in my legs for a couple of minutes.
And there comes the moment, when you realize you are close to the lake, the excitement levels will hit the roof and all of a sudden you will be witnessing an unrealistic place.
Pangong Lake Begins....!! You will be delighted with joy and surprise of what you are experiencing, you will go distances without realizing how far you are travelling.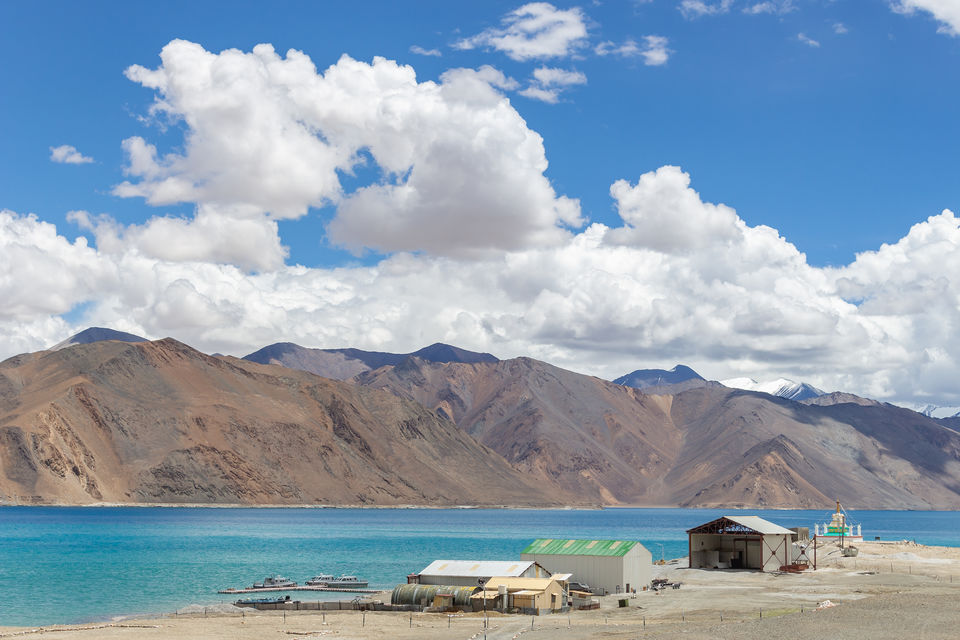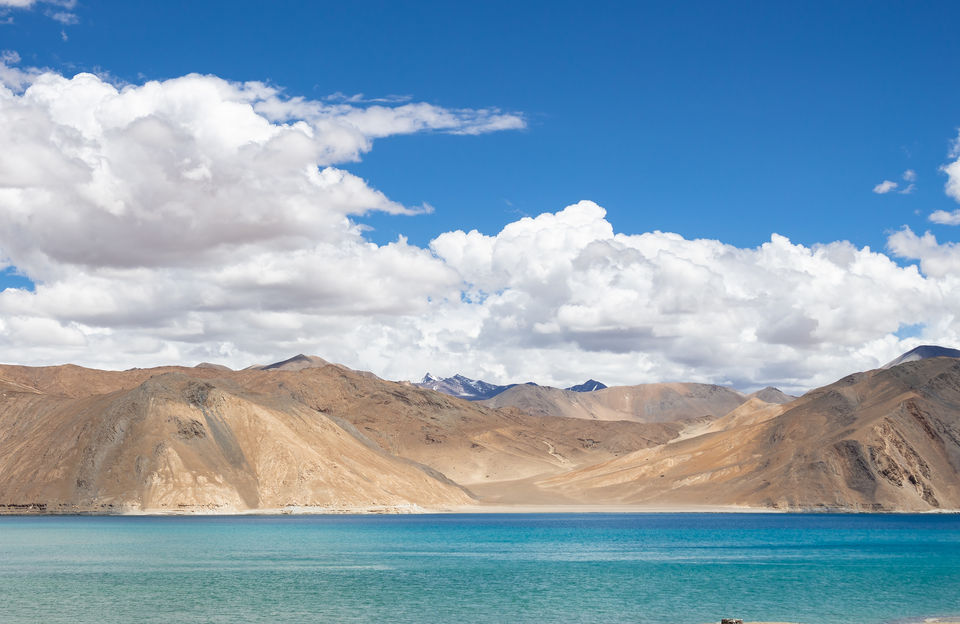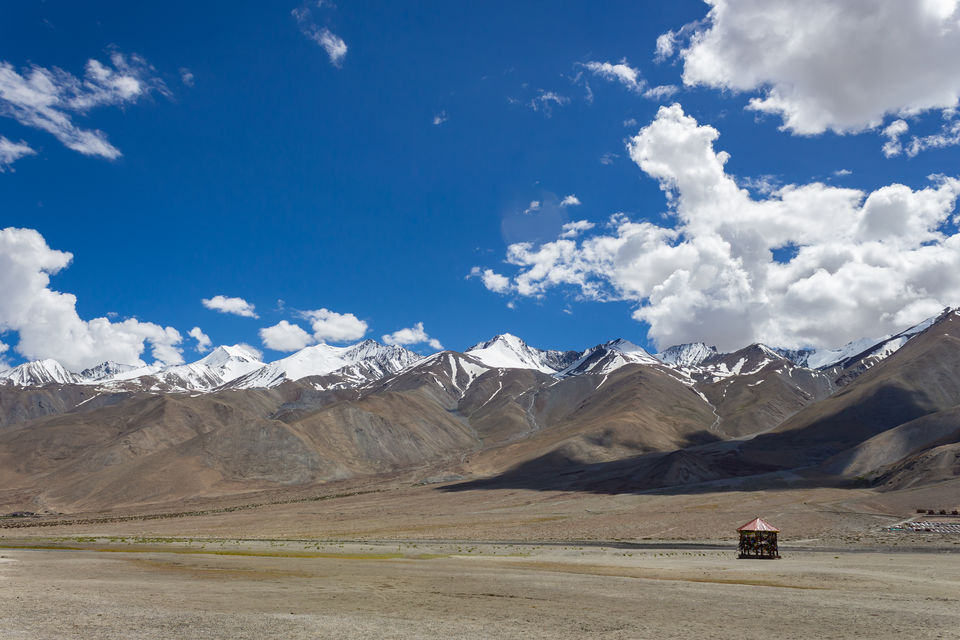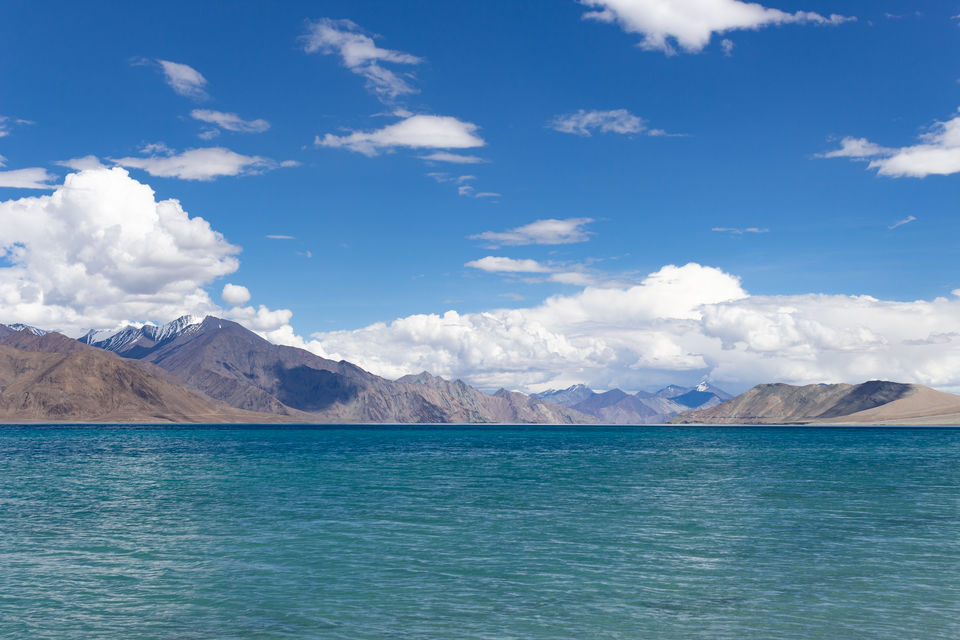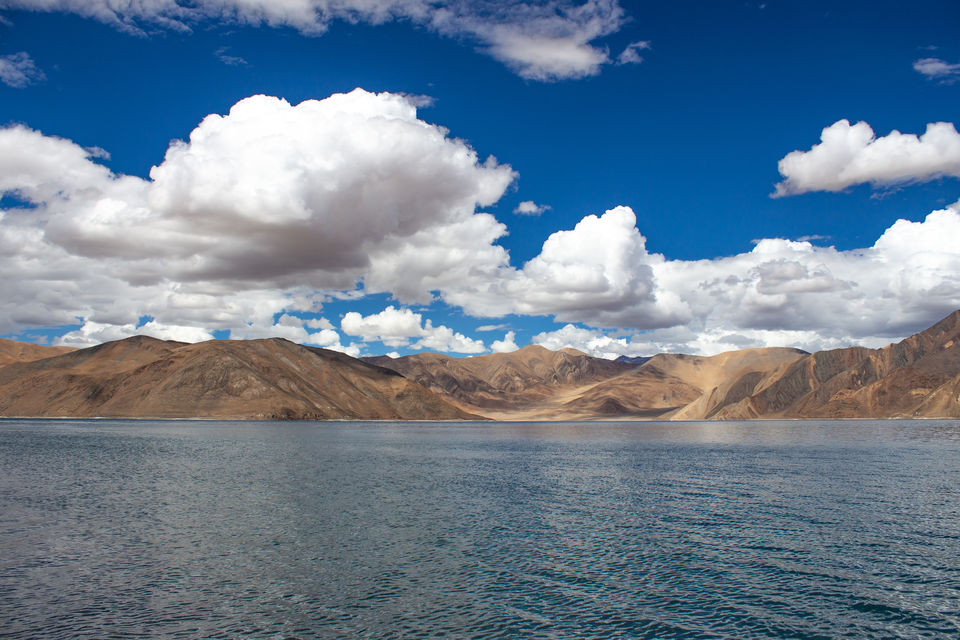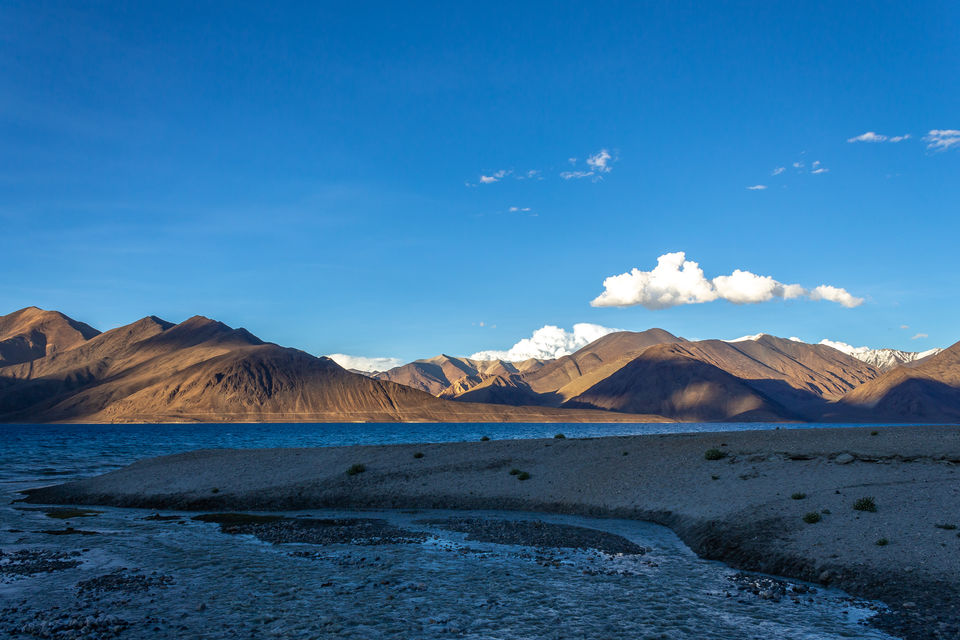 Later in the evening we started towards Merak which was our next planned destination, but couldn't cross the road as there was no path and there were too many water crossings, adding to it the sky is getting darker so we decided to stay in Spangmik.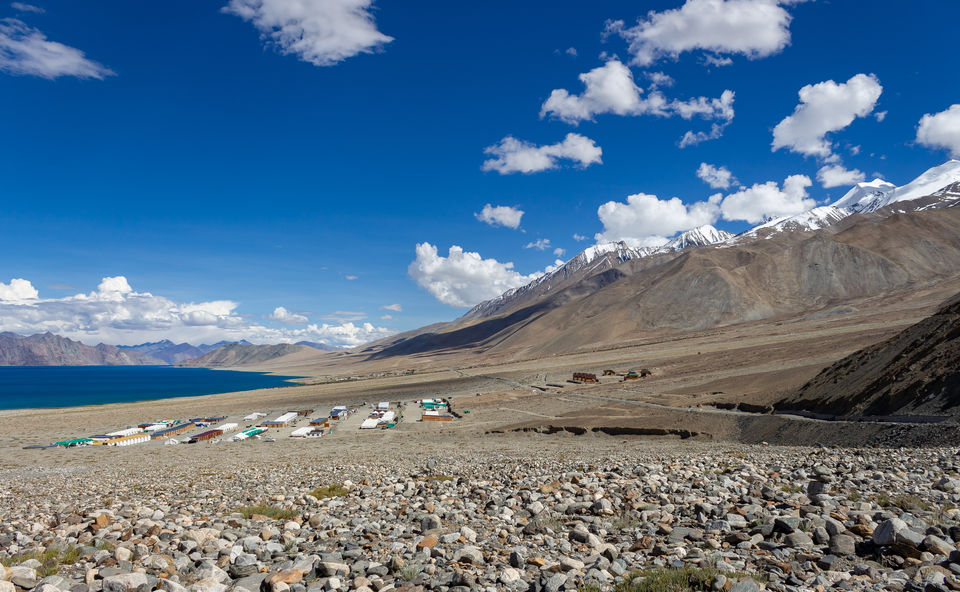 Staying at 4,225 m (13,862 ft.) is one hell of an experience. One can't even walk properly at this altitude, oxygen levels will be very low and it will be very hard to breath.
The Magical lake and a Magical Sky :
The reason why I stated in the beginning that you should check the lunar calendar is because you will witness the Milkyway galaxy with your naked eye and that too at 13,862 feet .You can get an amplified Stargazing experience when you visit on a new moon day, it would be sheer darkness - no light pollution, it will be a paradise to the Astro photographers.
Day 5: Adventure
Pangong - Changla Pass - Leh
My plan was to travel directly to Tso Moriri but I realized that it is very tough to travel that long.
We started early in the morning and along the way a traveler had a leg injury so they asked us to help them drive his bike till Leh Manali highway. I gave my bike to one of my travel mates. I struggled a lot with that 350 cc bike which is in poor condition with no pickup at all.
Tip : Please check your bike's condition and go for a test ride before getting one from the rentals.
Near to the Changla pass there was heavy traffic. At one point we had to climb an elevation which was very dangerous and slippery, not sure how we managed but luckily crossed though that stretch.
Due to landslides and road construction we were completely covered in dust like mud balls :) by the time we reached the end of that road.
Day 6 : Suspense thriller and a tiring ride
Leh - Tso Moriri
Most tiring journey ever in my entire trip
Dramatic start with a draining end is what I can describe about this ride to Tso-Moriri. Jack met with an accident and we had to head back to Leh to hospital and get him some first aid. Took some time and got back on the road, everything was going well until at a point where all the reserve petrol from Jack's bike spilled over the road.
We had to drive all along on a road full of stones and full of dust with the construction happening and for hours we were driving and it was so damn tiring. For a minute or so we lost our senses and drove dead with body pains. We luckily crossed our travel friends who were travelling in a car. They helped us drive for the last 50 Kms and we sat in the car, and yes these were the wonderful people i was talking about in the beginning :)
I am pretty sure we would not be able to drive the last stretch if it wasn't them who helped us and on top of it is raining heavily.
Mountains all around..!! With beautiful lakes..!!
Home stay..!! Fever..!! Hospital and some Rest - This has been all that evening for me.
One of the most beautiful skies you can ever see. This is exactly what we saw that night.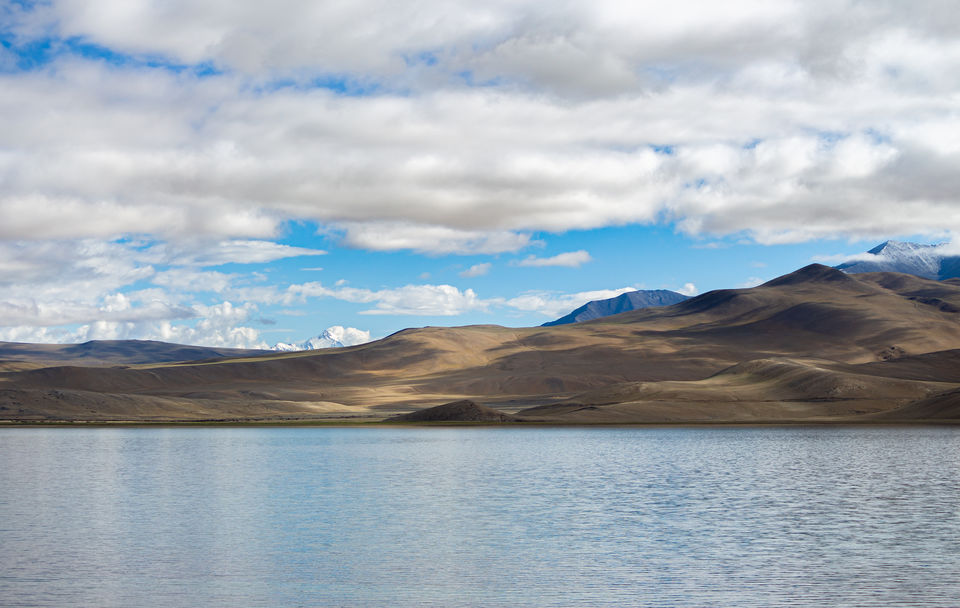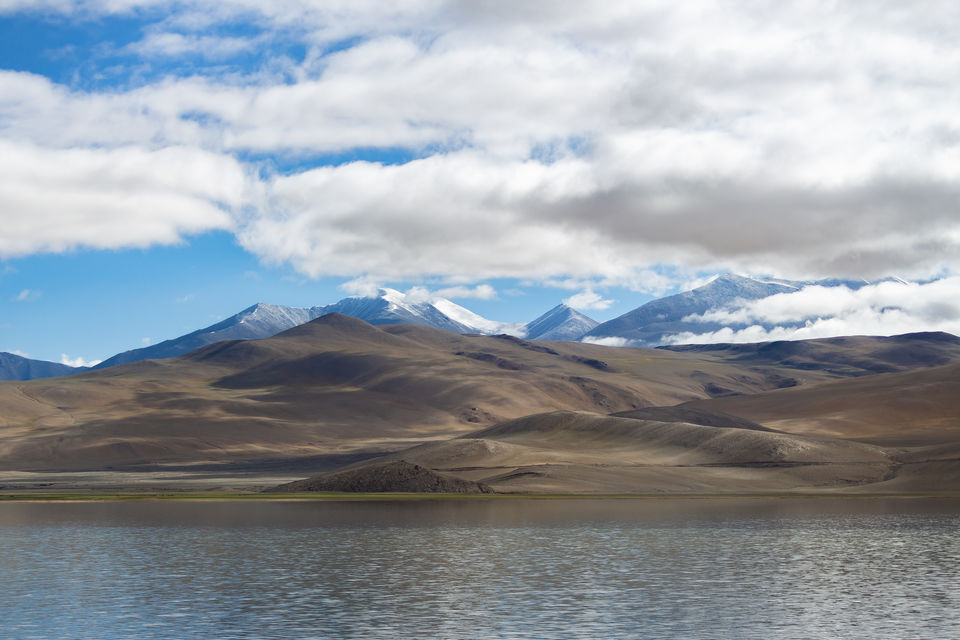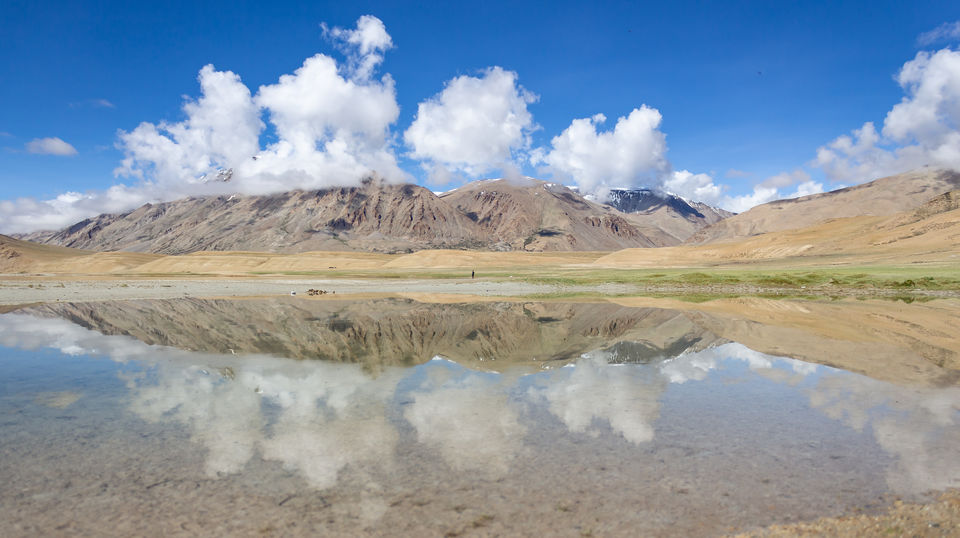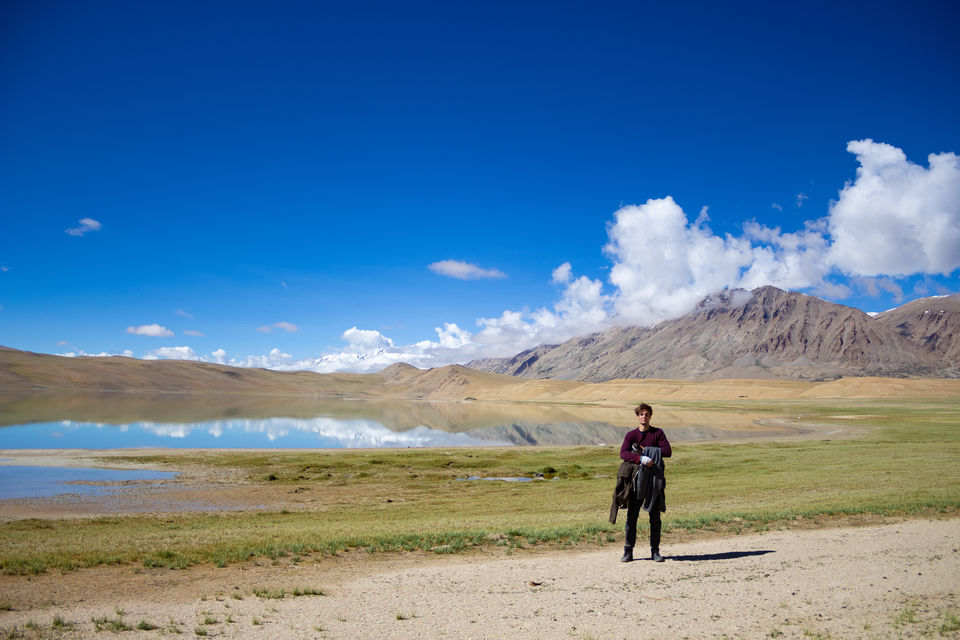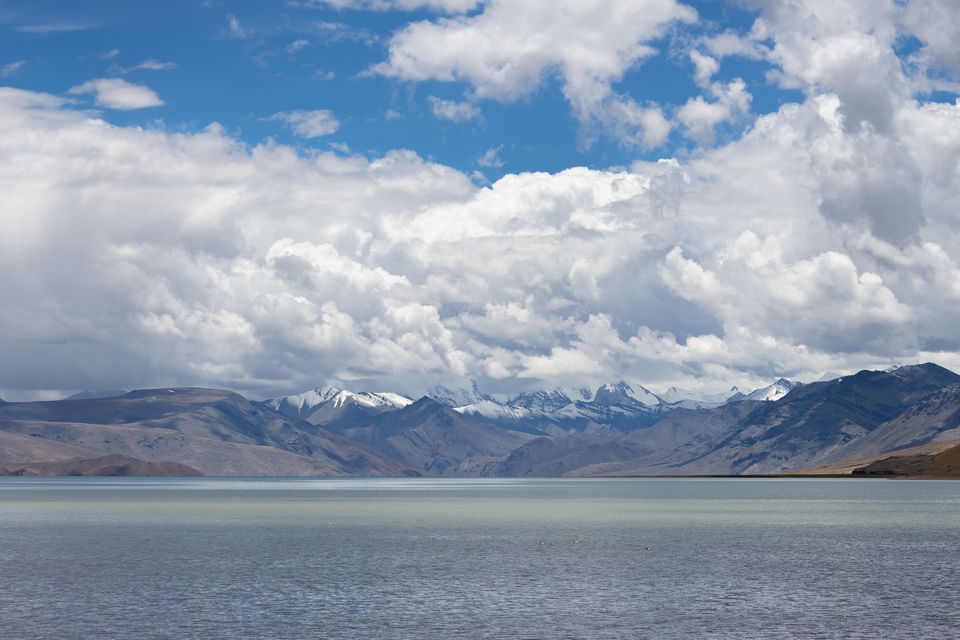 Tso Moriri - Tso Kar - Thanglang la pass - Leh
I have not completely recovered from the illness but I am up and ready to start the next day, unfortunately I forgot my wallet at the home stay. Left with no choice I rode back my bike to home stay and collected my wallet and all others had to travel back to Manali. On my return I fell down at a place and with a little luck I did not roll down into the valley.
I couldn't even lift the bike as it was on the slope of the valley and locals helped to bring the bike back onto the road.
I had two options - shortest and longest routes
I chose the longest one to see the Tso-Kar lake. Jack waited for me quite a time and left as I couldn't reach on time at the meet point.
Tso Kar is such a beautiful place , reflections of the mountains in the waters..!! moving clouds, blue sky and the snow capped mountains. It is an hell of an excitement one should experience.
Such a beautiful experience which i couldn't put into words. Reached Leh late in the evening, had my dinner and walked through Leh market for some time.
Day 8 : Giving time to body to heal
I felt a little weak after such relentless travel and I decided to give some rest to my body. I woke early in the morning and went to shanti stupa and other nearby places, came back and slept the whole afternoon. Later I walked across Leh town for a couple of hours calming down my exhausted senses.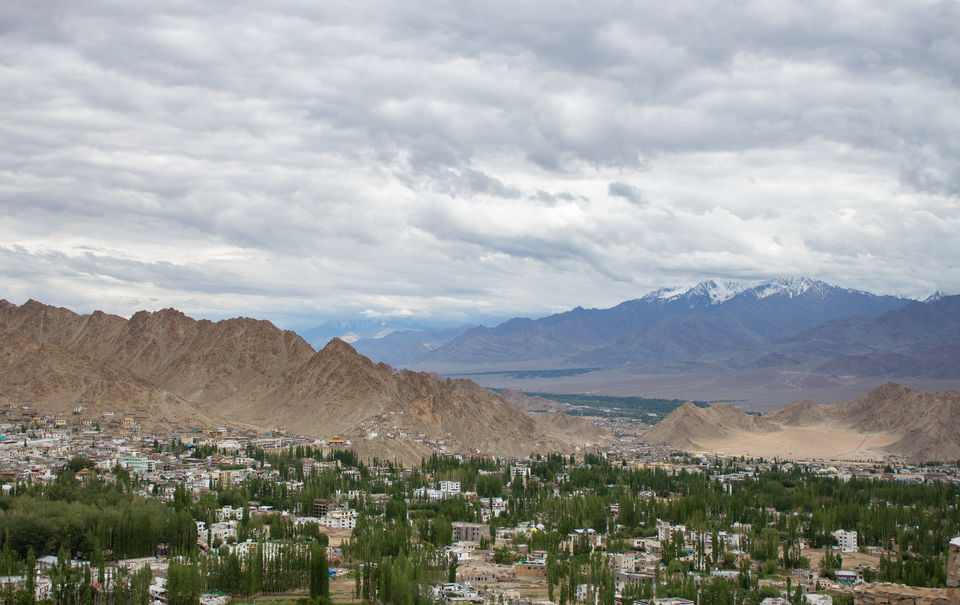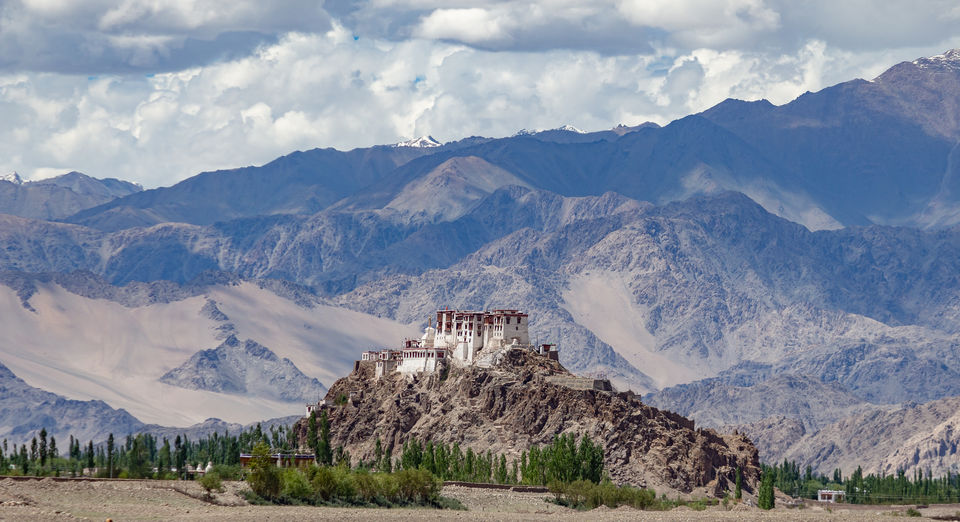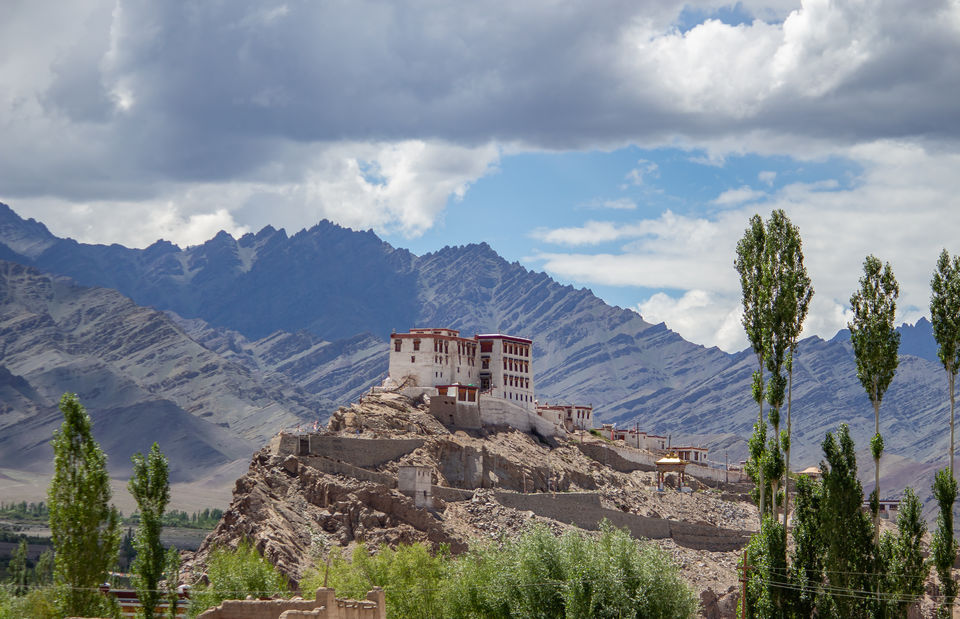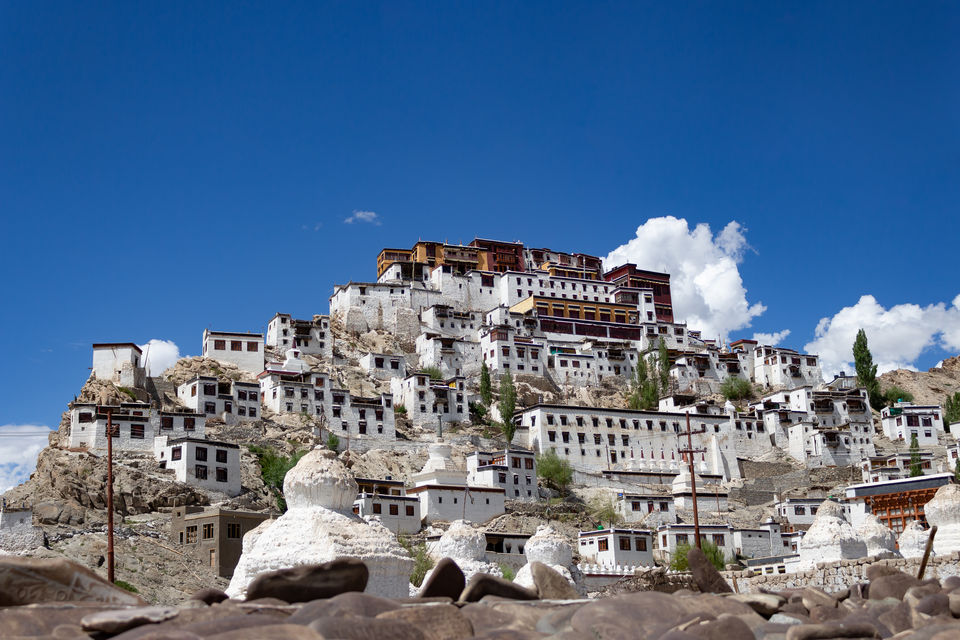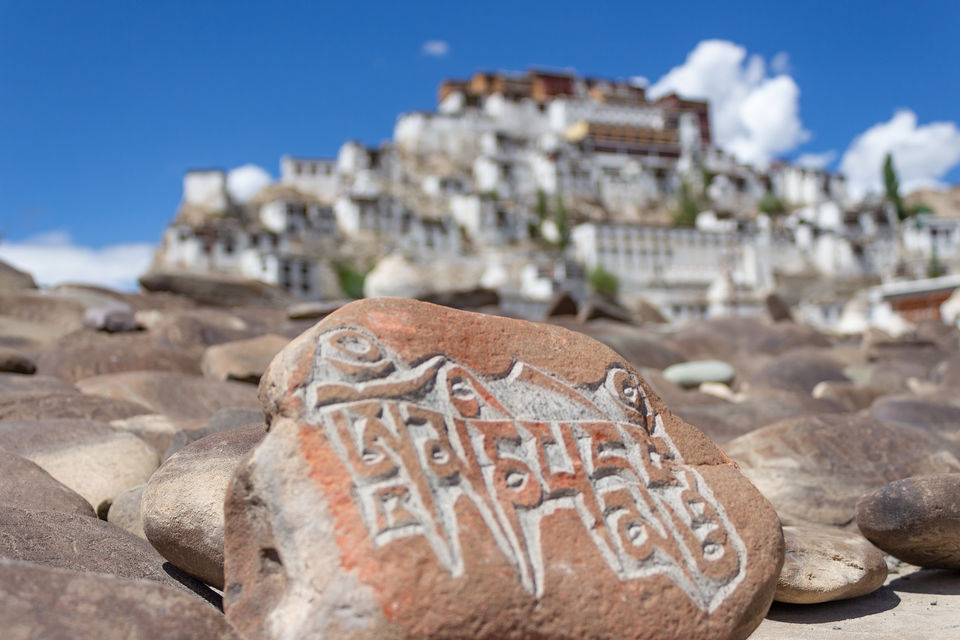 I spent my complete time talking to the locals till evening. I had a Brazilian coffee in a café and felt bad hearing owners say that they would be leaving India as it's not fetching them anything.
Later I visited some local stores for Pashmina clothes, dry fruits and went to a Kerala restaurant for dinner and it was so much satisfying having the south Indian food after that long journey.
Day 9 : Moon Lands of Ladakh
I woke up early the next day and decided to go as far as I can till the afternoon and return back with no plan at all.
On the way I dropped a couple of kids and gave a lift to a traveler who is from Slovakia. He is in 20's pursuing medicine and he has this huge backpack on his way to Zanskar Valley .
This felt kind of interesting to me, we were talking about travel, Life and shared each other's passions. I had to go straight towards Kargil but I decided to take left and drop him as far as it takes. I dropped him off at a monastery where he insisted and we wished each other good luck.
On the way I visited Sangam, Magnetic hill, and lamayuru.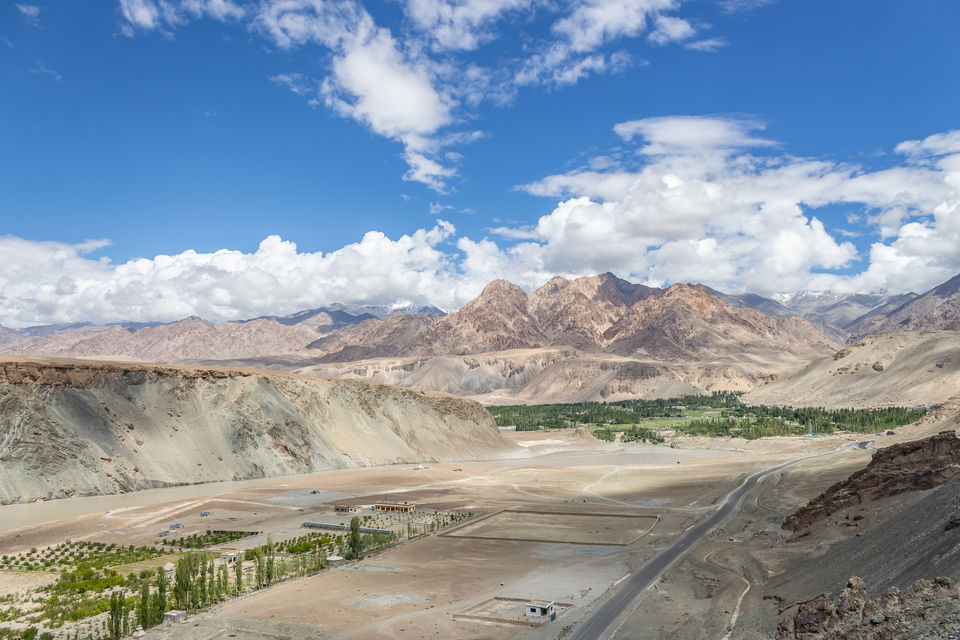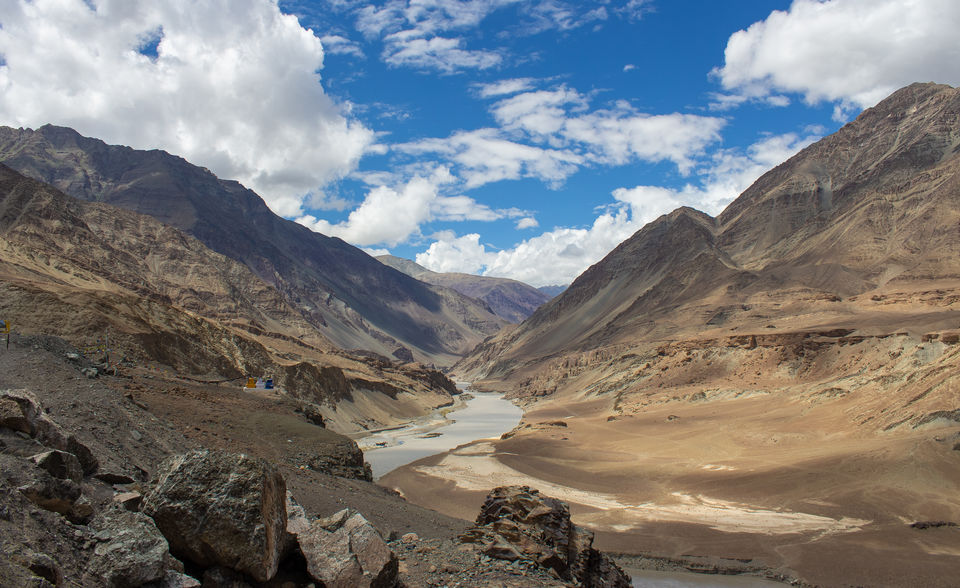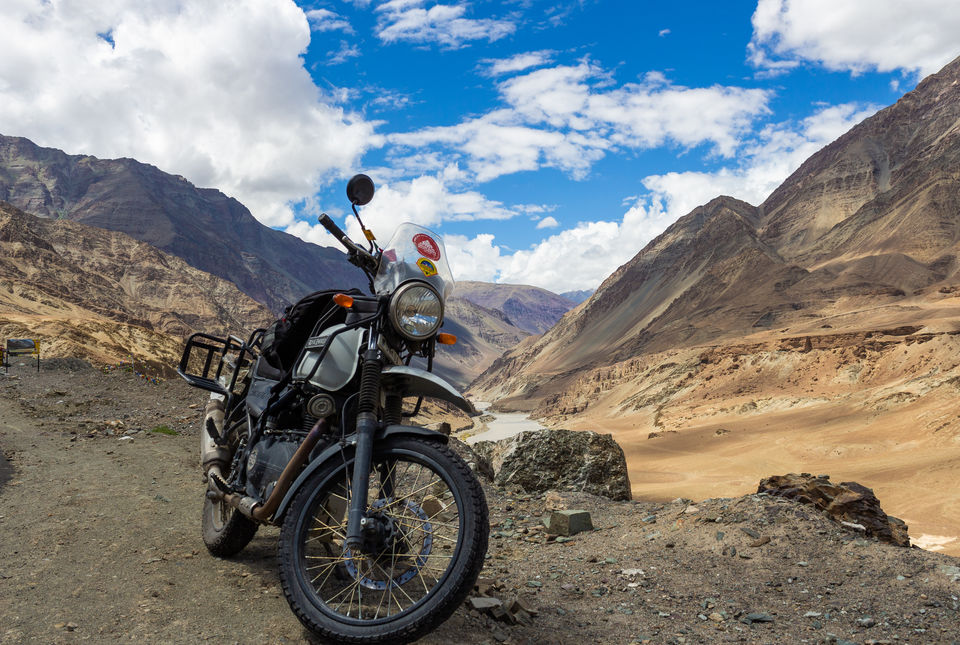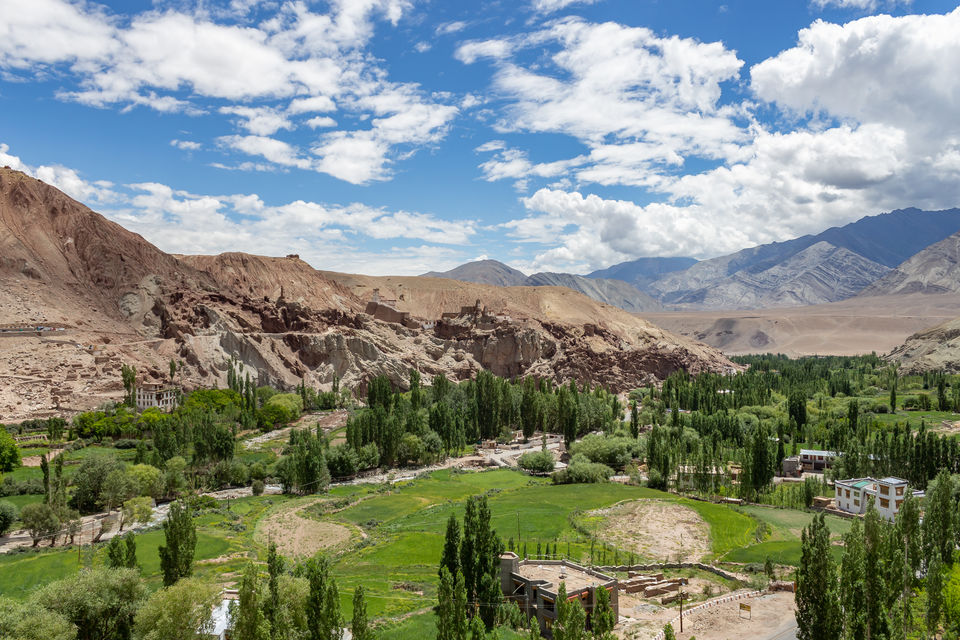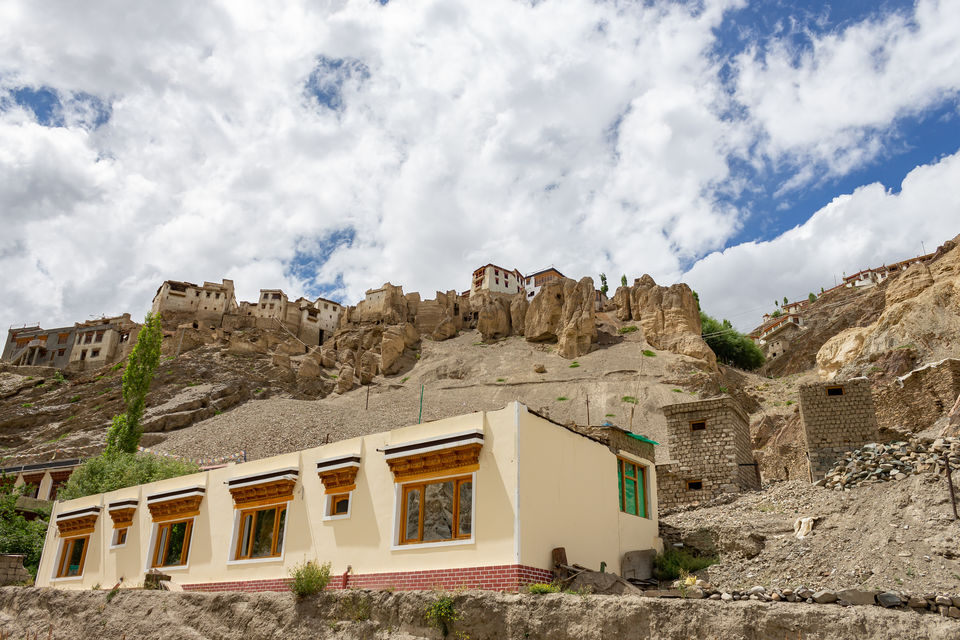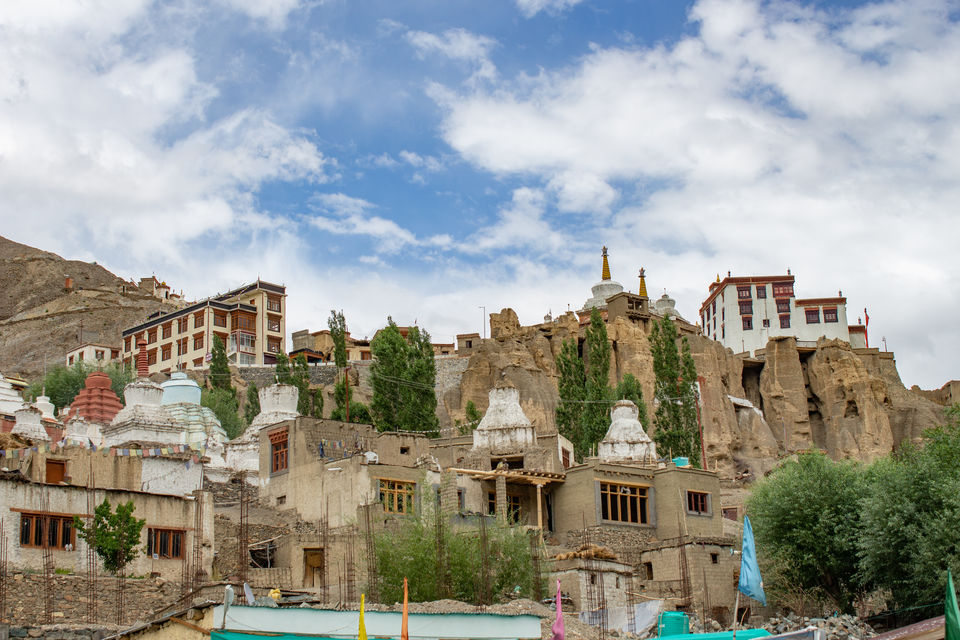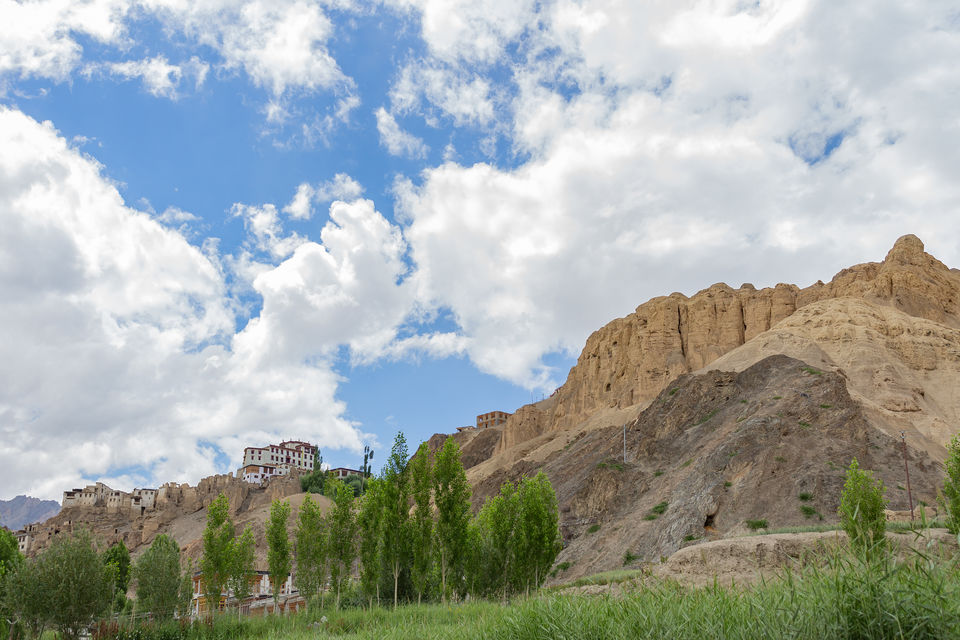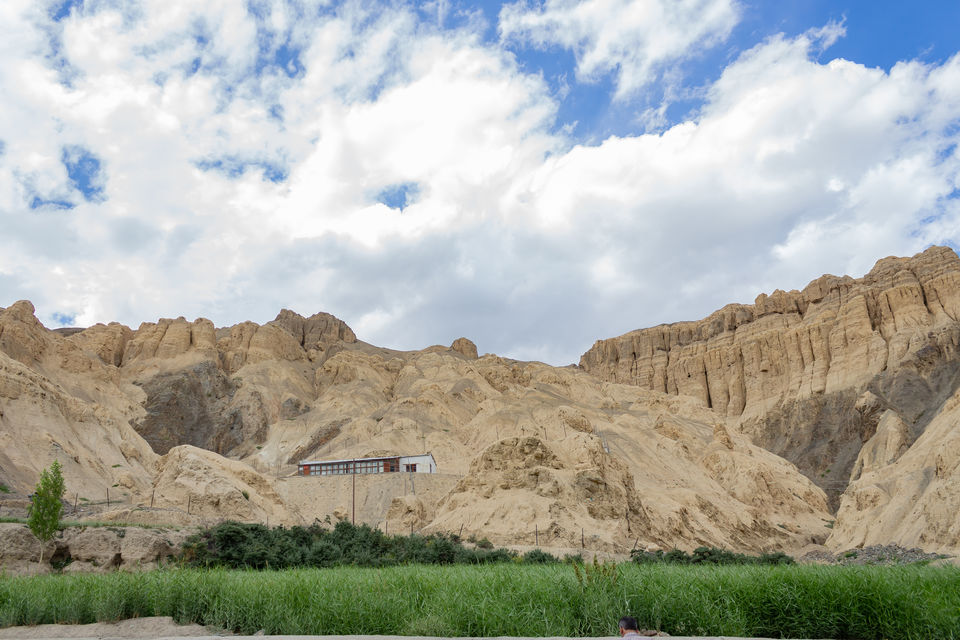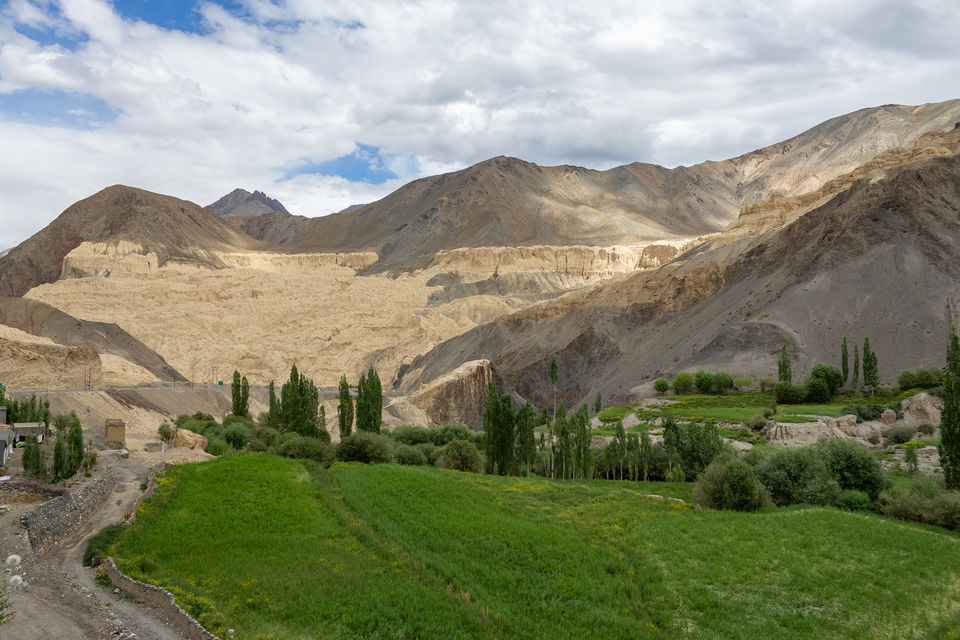 I started heading back and on the way back I had lunch at a place where I met a few travelers who are from the Netherlands. Reached Leh in the evening and returned the bike and got ready for the next day to fly back.
Day 10 : Beautiful ending
So much chaos across Leh and Kashmir about the Article 370 removal. I was the witness of tensions where 100's and 1000's of military vehicles are along the way, many locals are very happy about the special status.
Tensions among the travelers in the Leh airport saying they won't fly via Srinagar due the chaos, so many dropped boarding the flight as we had a halt at Srinagar airport.
I boarded the flight and experienced stunning landscapes.
Below pictures are captured from the airplane. I wish I had a cleaner window and full frame camera :D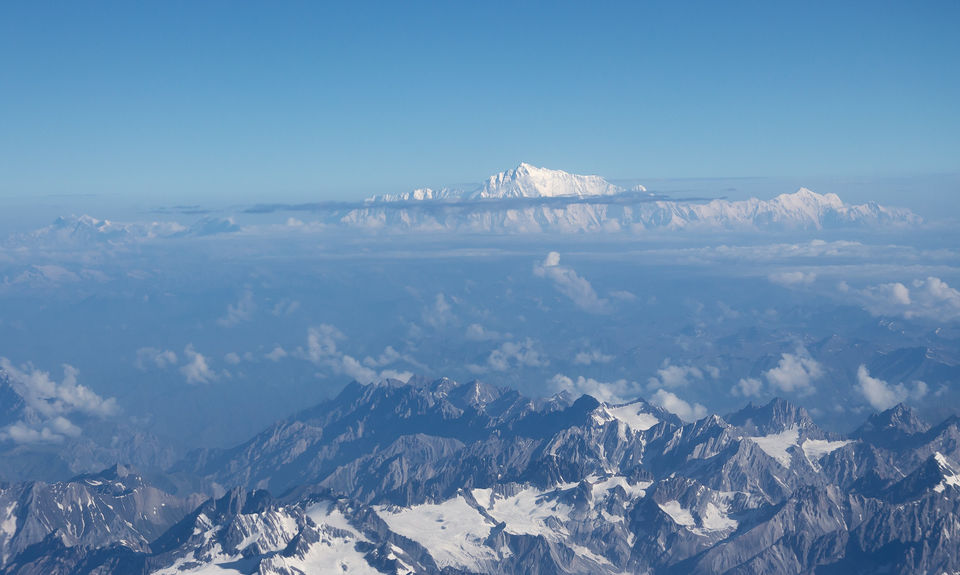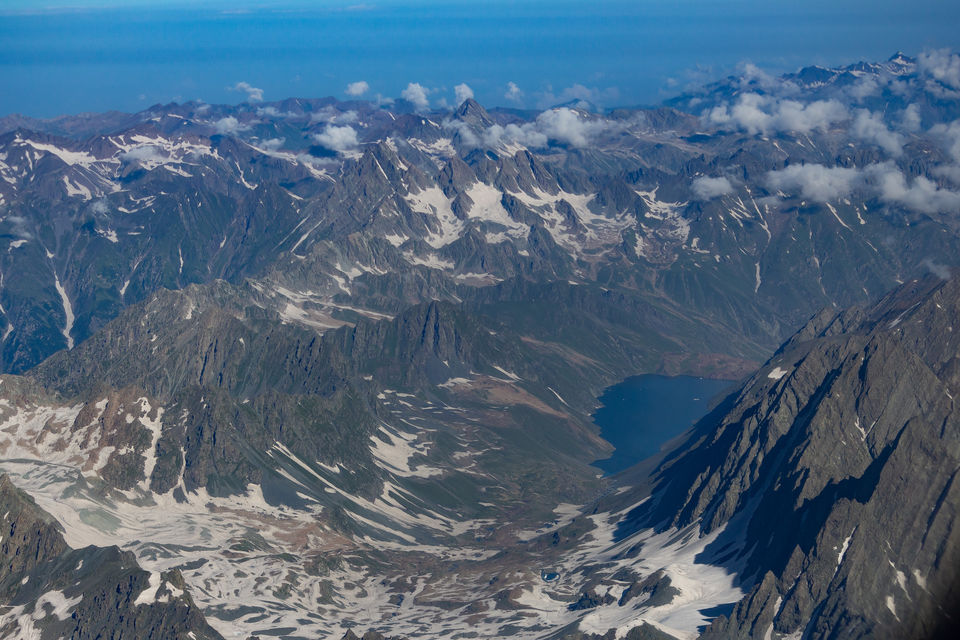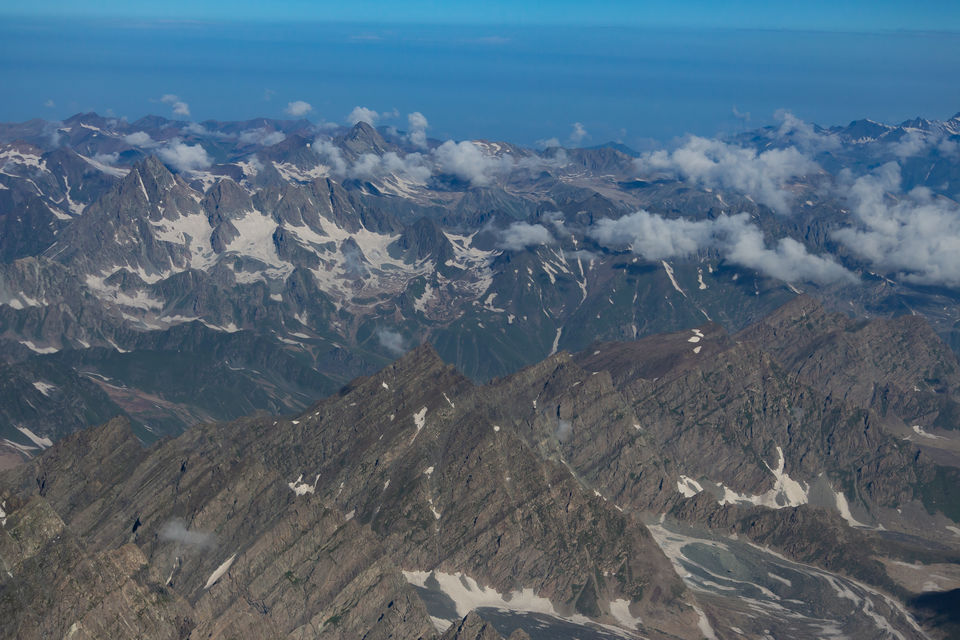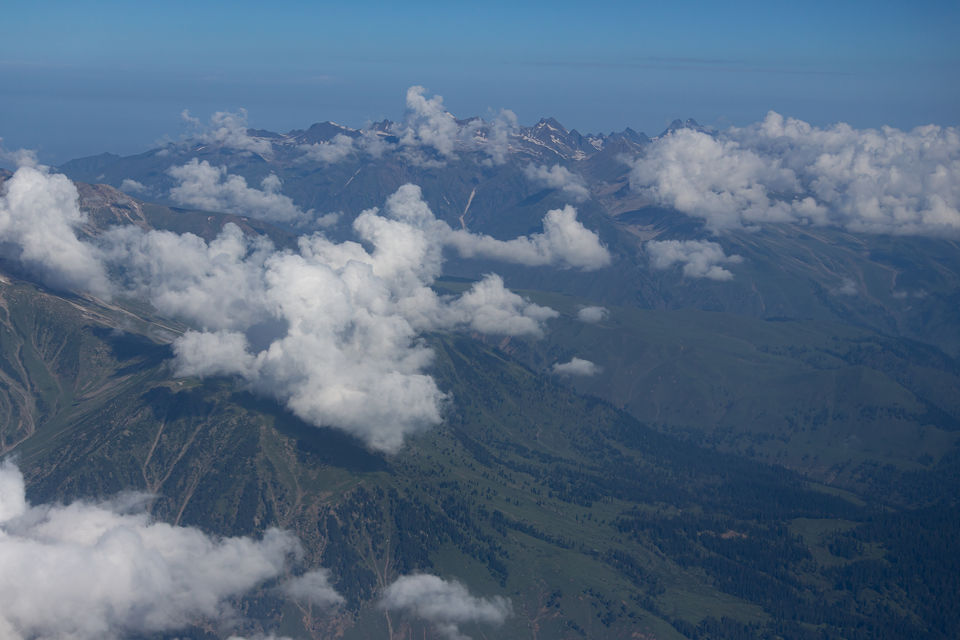 I still remember each and every moment I spent on this trip till date and I will cherish them for a much longer time.
Wish you a happy and Safe travelling Leh..!!
Flickr link for Ladakh Photos :
https://www.flickr.com/photos/vamphotopire/albums/72157718551828705
Instagram Page :