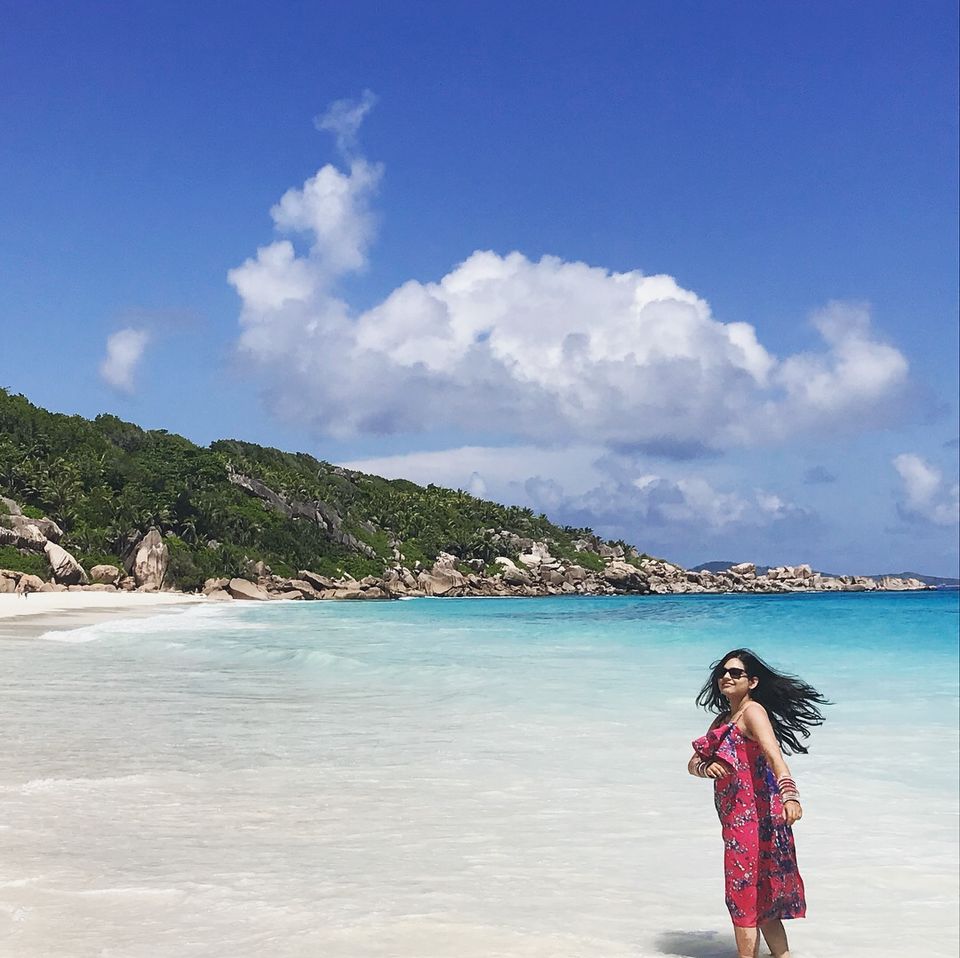 People might not dream about their perfect life partner all the time, but all of us at one point or the other, do dream about our perfect honeymoon destination! For as long as I can remember, I have always had in my mind a picture of what my honeymoon destination would be like. I have always been a beach person, so for my honeymoon, I dreamt of being lost with the love of my life in the magic of turquoise blue waters and white sandy beaches - just him and I lost in the beauty of an exotic land far far away!
If you are someone who has a similar picture in your mind for your honeymoon, I have an answer to the quest for your perfect magical place - the gem that is SEYCHELLES!!
About Seychelles: Seychelles is an archipelago of 115 islands in the Indian Ocean. It has 3 main islands - Mahe, Praslin and La Digue. Victoria, the capital of Seychelles is located on Mahe. Air Seychelles runs direct flights from Mumbai to Mahe, everyday. It is a 4.5 hour journey from Mumbai. Seychelles has Visa on Arrival, so you do not need to worry about Visa before you land here. You can carry dollars and get them exchanged to Seychelles Rupees at the airport.
Best time to go: The climate in Seychelles is tropical, so it's hot all year round but November to March is the rainy season, so waters may turn milky due to the rains. If you want to snorkel/scuba dive, my advice is to avoid going during this period.
Things to do: If you are looking for a relaxed, laid back vacation, Seychelles is the place to be! You can scuba/snorkel, visit nearby islands on the ferry, take a hike to experience some of the most stunning views, discover untouched beaches , make friends with the turtles or just swim on the beach and chill with a beer, there is enough in Seychelles for you to have the time of your life!
Travel Bookings: Plan your trip at least 2.5 months in advance to get the best deals on travel and hotel bookings. Below are the websites which we used for our travel bookings:
Flight from and to Mumbai: Makemytip
Ferry Bookings: Cat Cocos
Car hiring: Bliss Car Hire
Flight from Praslin to Mahe: Air Seychelles
Stay: For stay we relied on Tripadvisor and went through reviews in depth to shortlist our hotels for our stay and also to find the best rooms in the resort to book. We wanted to split our stay from budget to luxury for the trip to not be very heavy on the pocket but also to experience absolute luxury because, hey! it was our honeymoon!! We booked budget accommodation in La Digue, expensive villas in Praslin and luxury resort in Mahe. We made all our bookings on Booking.com.
Cost of Trip: Seychelles being a group of tiny island cut off from the mainland, is slightly on the expensive side. Even our most budget accommodation was about 7000 INR per night. Our total trip cost for 2 people was somewhere around 2.7 Lacs. Below is an approximate break-up of our costs(for 2 people):
Flights(Including Praslin to Mahe): 90000 INR
Car Hire: 3500 INR per day (approx.)
Ferry: 3000 INR (one way)
Stay: 1,20,000 INR
Food and Drinks: 2000 INR per day
Our itinerary: We spent 8 days and 7 nights in Seychelles. We visited the three main islands of Mahe, Praslin and La Digue in the reverse order.
La Digue (3 nights): After landing at the Seychelles International Airport, we headed to the Victoria Jetty in Mahe. We took the ferry to La Digue. La Digue is a small and secluded island in the Seychelles. You can only explore the island on bicycles. While riding your bikes through the island, you will come across some really pretty beaches. We spent our time in La Digue, drinking beer, riding our bicycles and hiking to Belle Vue, to catch a glimpse of the breathtaking scenery. This island is a piece of paradise!
Our Stay at La Digue: Etoile Labrine, La Digue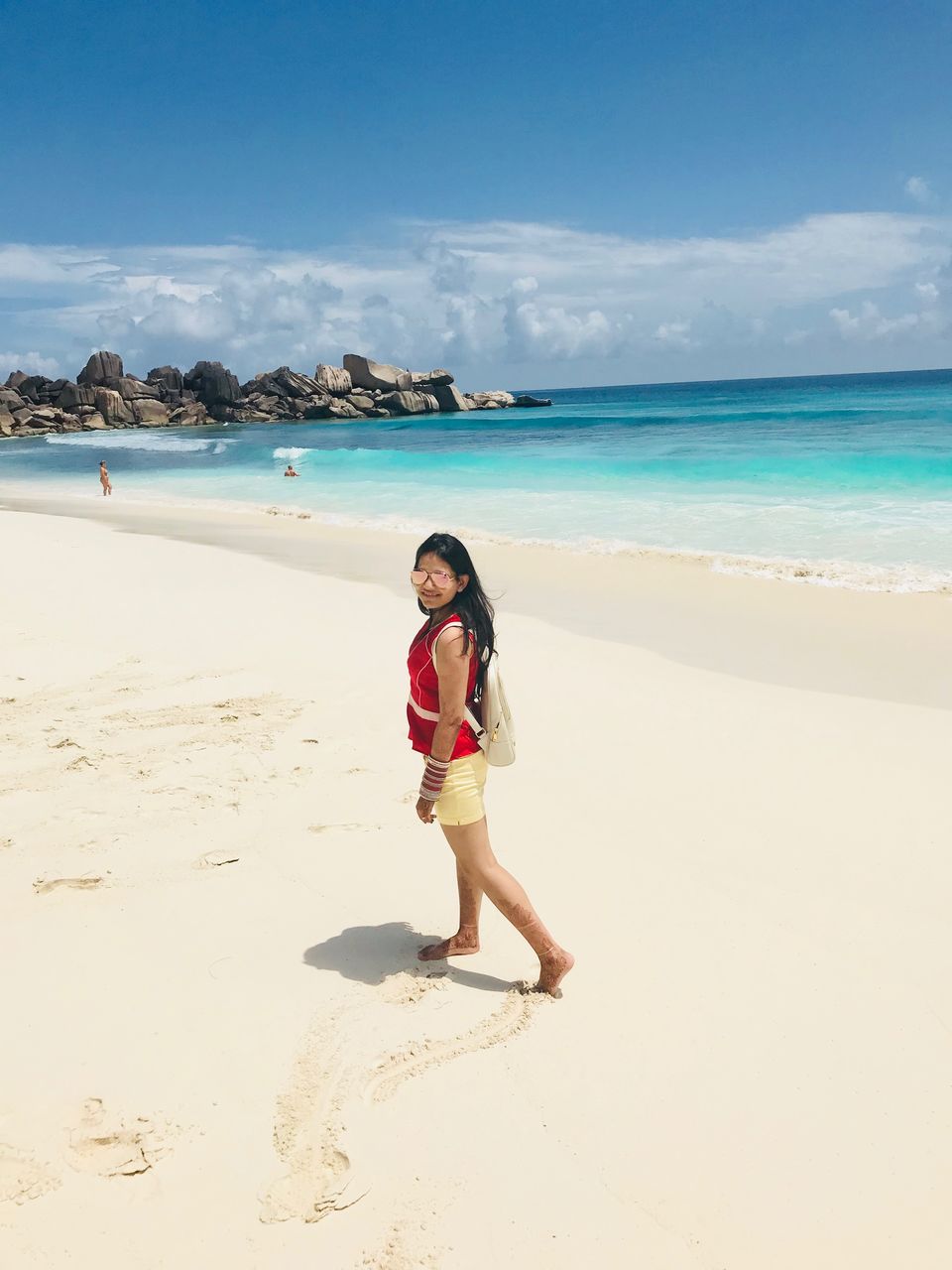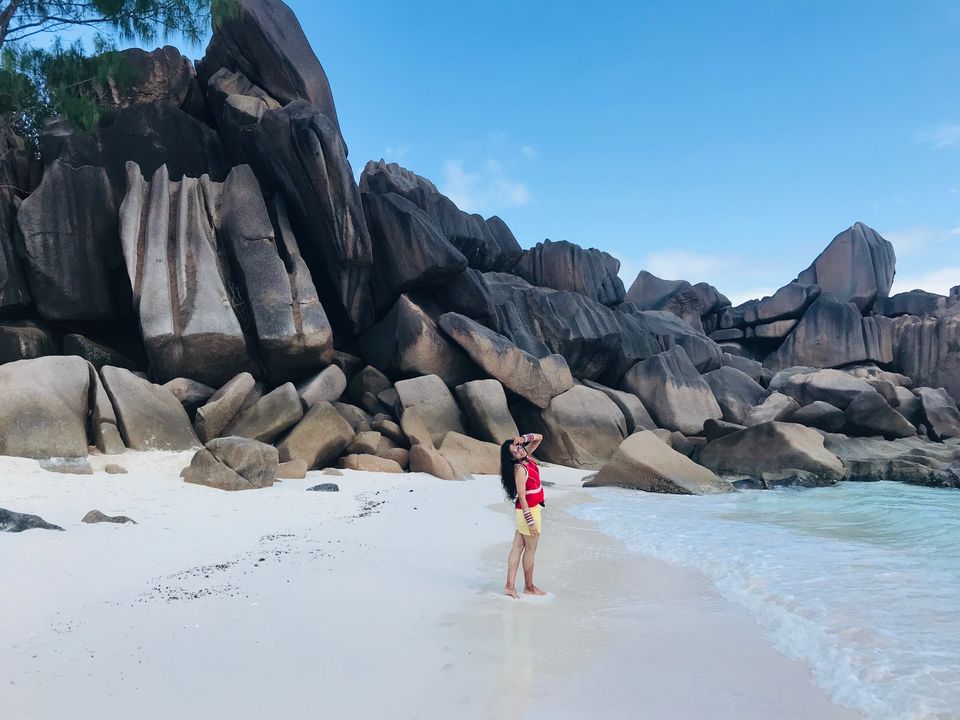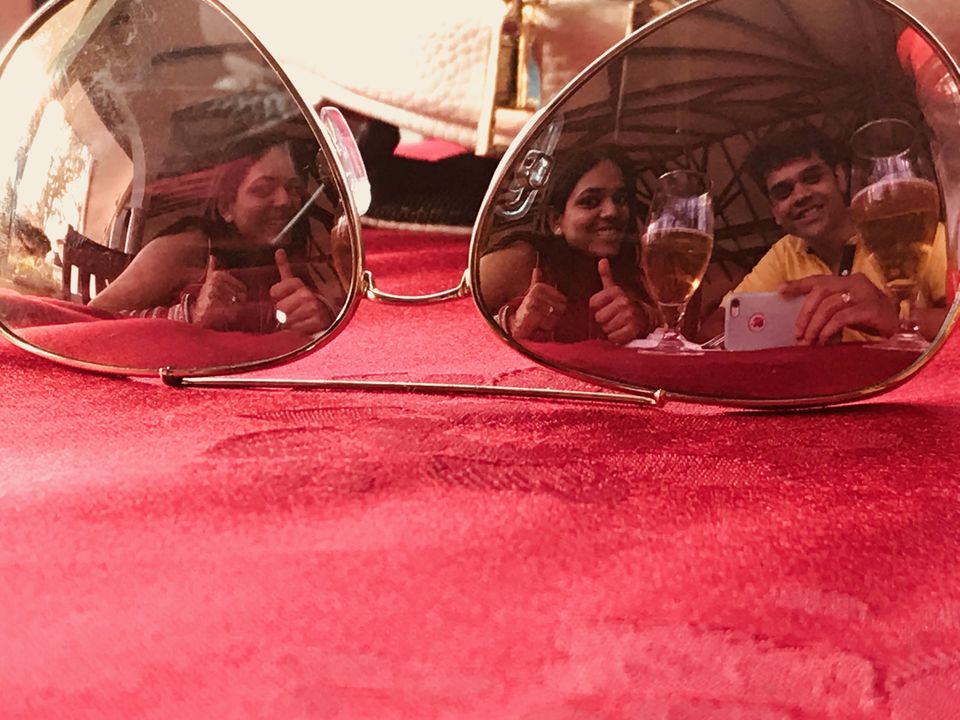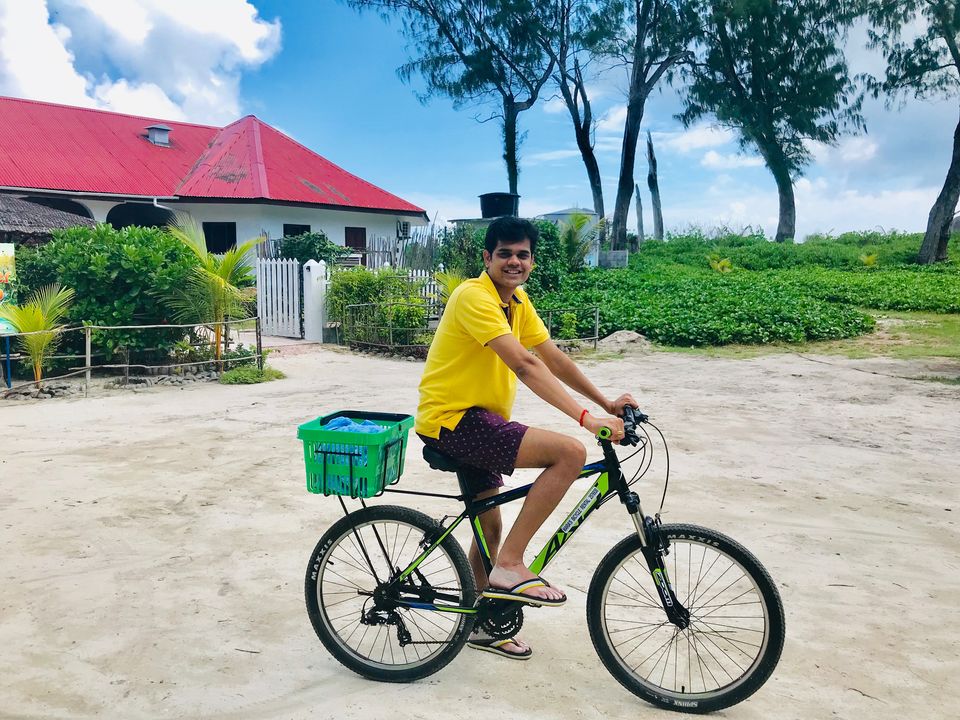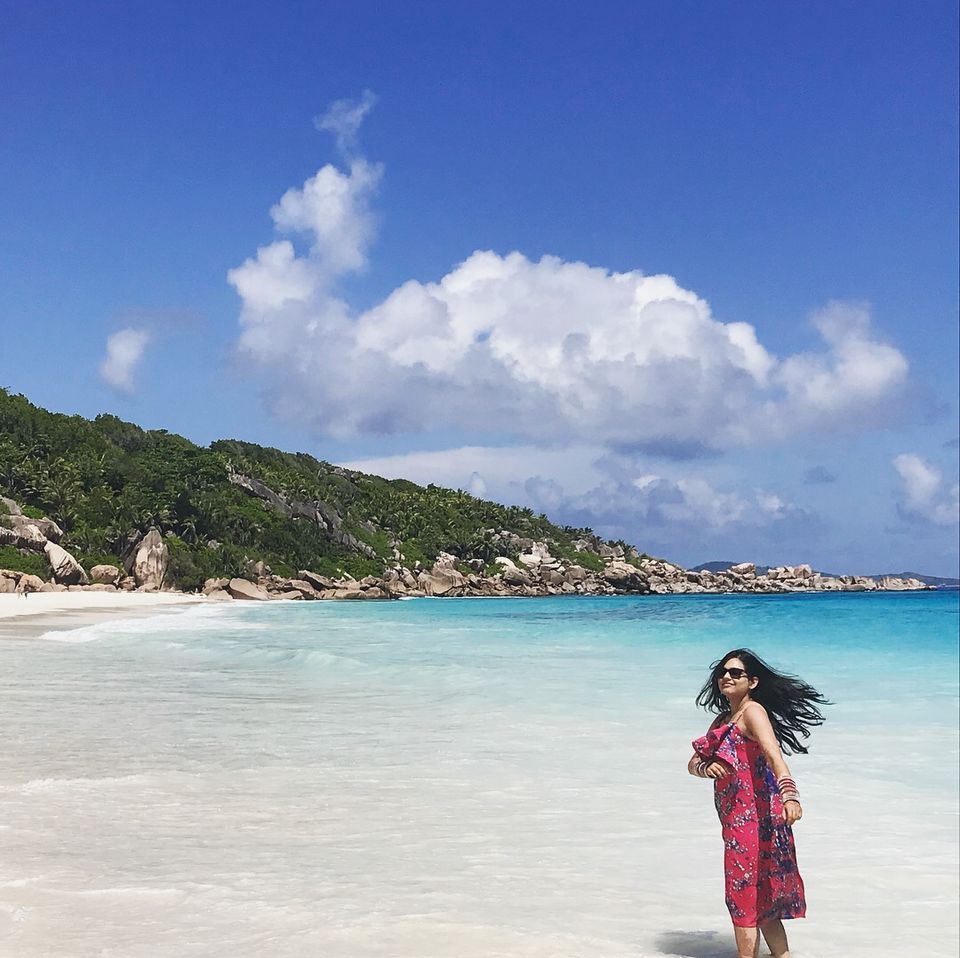 Praslin (2 nights): After spending about 3 days in La Digue, we took a ferry to Praslin. Praslin is a big island, so you can hire a car. We had hired a car in Praslin. In Praslin we stayed at Cape Jean Marie Villas which was the highlight of our trip. We were alone in the beautiful white chalets on the beach. We spent our days driving the beautiful roads along the beaches and visiting some popular beaches like Anse Lazio, Anse eorgette. You can also take a day tour from Praslin to Curieuse Island which has a lot of turtles. Ferry tours along with lunch are available from popular beaches of Praslin to this island. Our evenings included chilling by our own private beach alongside our beautiful white villas. We recommend Cape Jean Marie Chalets a 100%!
Mahe (2 nights): After Praslin, we returned to the main island of Seychelles - Mahe. We took a flight from Praslin to Mahe, which was a very fun ride on a small plane.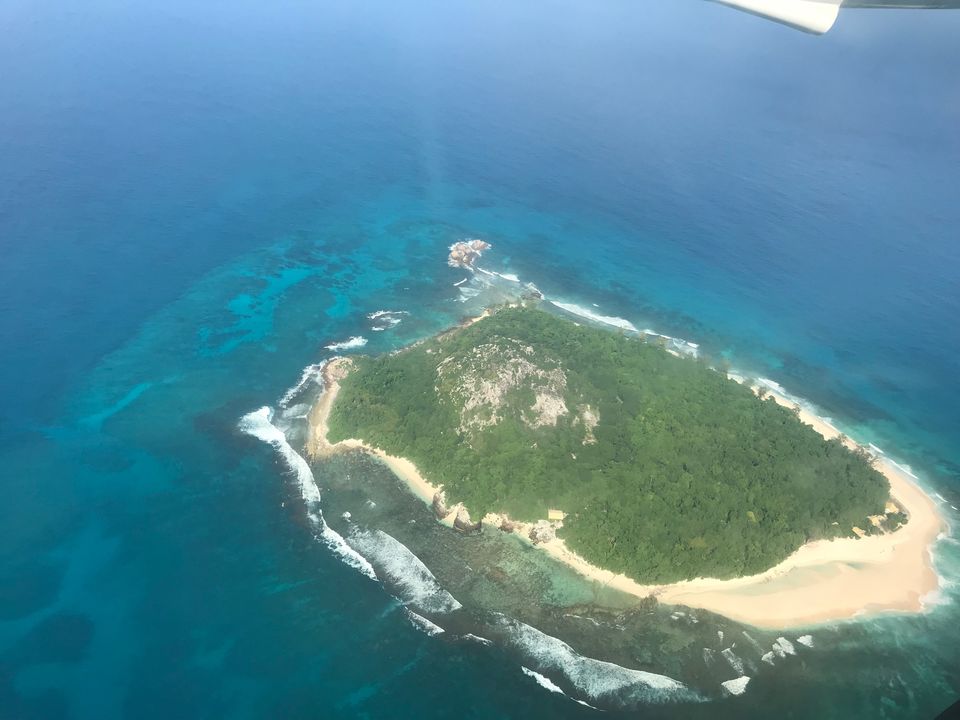 At the airport we picked up our car and headed to our resort Constance Ephilea. It is an amazing resort nestled among the mangroves and bordering onto Port Launay Marine National Park which makes it the most ideal location for snorkeling and scuba-diving. It has pretty private beaches, multiple restaurants, an amazing spa and gorgeous villas. It is the perfect option for stay if you want to splurge some money to experience ultimate luxury!
On the last day of the trip, we explored Victoria market and then headed back to the airport with our hearts full of joy after having experienced this dreamland. We definitely will come back soon to this mystical beauty. Seychelles will have our hearts forever!
Follow on Instagram for more of our adventures : https://www.instagram.com/samveda.sharma