You stand atop a hill trying to balance your breathing at the mind-boggling altitude of 2,300 meters. In one of the attempts to breathe deep, your sight falls on the valley below shrouded in clouds. You can't see beyond the clouds, but you know, your gut knows - something special lies beyond those clouds. You don't want the beauty beneath to take off the veil, but it is inevitable. You feel goosebumps, a tickle, that sudden drop of your heartbeat, you feel something down your spine. Breathing becomes an afterthought, your throat feels wet, but wetter are your eyes. You look around for answers. The mountains smile at you "Son, this is how the world is supposed to be. This is how the world still is, in some places."
Machu Picchu, one of the seven Modern Wonders of the World, is a former Inca citadel believed to have been constructed in the mid-15th century. Located in the Urubamba River valley in between two sharp peaks, it is a sight that leaves you speechless. It's baffling that the Incas built these stone buildings and terraces without wheel or horses. The site was hidden from the world until 1911 when Yale University professor Hiram Bingham accidentally discovered it while searching for Vilcabamba, the lost city of Incas.
How to visit Machu Picchu
There are three ways to visit Machu Picchu all originating in Cusco, the erstwhile capital of the once-mighty Inca Empire.
The cheapest way to visit Machu Picchu
The cheapest way to visit Machu Picchu can cost around $85-100 (₹5,700-6,700) depending on the season and it takes two days from Cusco. The cost includes transportation, one-night accommodation, three meals, Machu Picchu entrance ticket and an English-speaking tour guide.
Minivan from Cusco to Hidroelectrica
You depart from Cusco in a 12 or 16-seater minivan at around 8am. The drive from Cusco to Hidroelectrica takes five hours and includes a stop for lunch which is included in the price.
Hidroeléctrica to Aguas Calientes walk
Hidroelectrica to Aguas Calientes is a two-hour flat walk. You will spend the night in Aguas Calientes. Dinner and accommodation are included in the price.
Aguas Calientes to Machu Picchu
From Aguas Calientes, there are two ways to reach Machu Picchu. You can either walk 90 minutes which includes some steep climbing or take a 20-minute bus ride that costs $12 one way which is not included in the price. I recommend the bus up because you don't want to arrive at the citadel tired. You can walk back since it is all downhill.
You will meet your English-speaking tour guide at the entrance of Machu Picchu. He will give you an hour-long tour of the place after which you are free to explore for as long as you want. It is better to take your time and walk around the citadel to get a good understanding of the marvel. Majority of the tourists start heading back after 1pm giving you ideal opportunities to click great photos. You can spend the entire time exploring or citadel or you can do one of the two optional hikes that provide jaw-dropping bird's eye view of Machu Picchu. Both options hikes cost an additional $15.
Huayna Picchu peak
The hike to Huayna Picchu peak is a bit strenuous and only recommended for people who used to hiking. You can either climb at 7am or 10am. 10am is better since all the clouds would have lifted by then giving a clear view.
Machu Picchu peak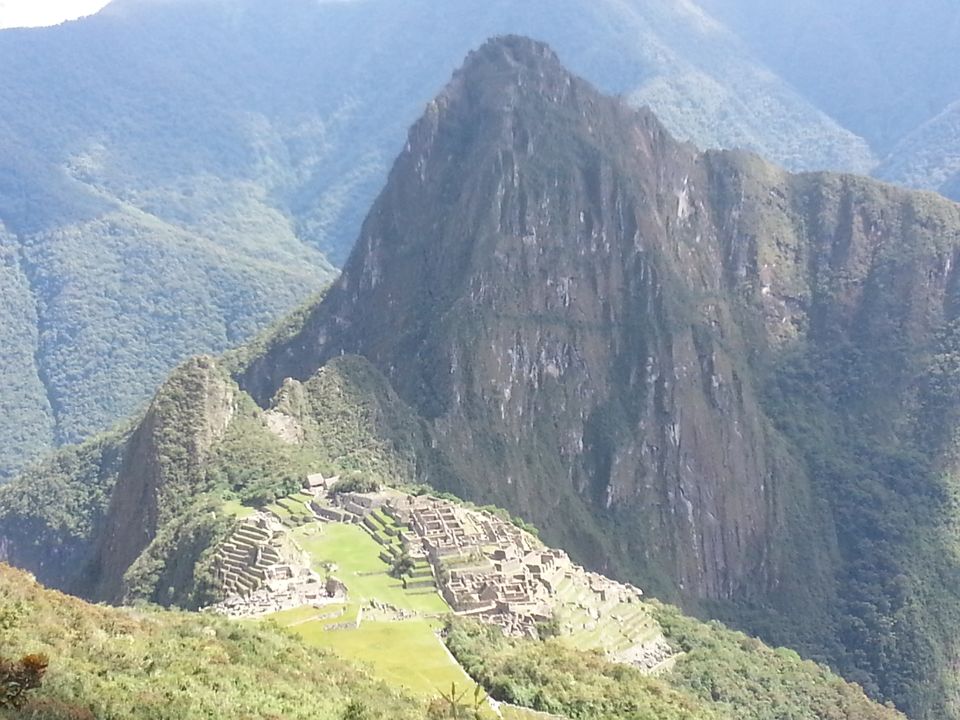 The hike to Machu Picchu is easier than Huayna Picchu and the view from the peak is absolutely stunning. You have the choice of starting your climb at 7am or 9am. Again I recommend starting at 9am for the same reason mentioned above.
Machu Picchu to Cusco
You will basically follow the same route back. Your shared minivan will depart for Cusco from Hidroelectrica at 3pm. If you walk the entire way from Machu Picchu to Hidroelectrica then it will take you 3-4 hours. Bus to Aguas Calientes and then walk to Hidroelectrica will take 2-2.5 hours. If you want to spend more time in Machu Picchu then you can stay at a hotel in Aguas Calientes for another day and take the minivan the following day. Just clarify with your travel agency that you want to take the minivan back the following day.
The luxurious way to visit Machu Picchu
The train ride from Cusco to Aguas Calientes is one of the most scenic train rides in the world. The 3.5-hour journey takes you through tall mountains, gorgeous canyons, dense forests and tribal villages. There are three trains that ply this route - Inca Rail ($110 round-trip), Peru Rail ($90 round-trip), and the Belmond Hiram Bingham ($450 one-way). Book your tickets well in advance since they get sold out quickly.
The adventurous way to visit Machu Picchu
What can beat a scenic train ride to the wonder of the world in the cradle of the Andes? A four-day trek that takes you through little-known Inca ruins, breathtaking mountains, tropical vegetation, extraordinary ecological diversity and Andean wildlife. Inca Trail, the 43km trek to Machu Picchu is considered one of the best treks in the world. It is extremely popular and often gets sold out well in advance. If you plan to do the trail then book well in advance.
The four day Inca Trail trek costs somewhere between $600-700 including three meals a day, porters to carry luggage, stays in tents and Machu Picchu entrance ticket. The trek is moderate to difficult due and requires a decent level of fitness to complete.
Visa
Indian citizens require a tourist visa to enter Peru. The visa costs ₹2,250 and is issued within 3-5 working days. For more information, check out the Peru embassy website.
When to go
Best time to visit Machu Picchu is during the dry season between May and October. The temperature during these months is between 5 to 20 Celsius.
Getting there
By air: Round-trip flights from Mumbai to Jorge Chávez International Airport, Lima cost ₹97,848. From Lima, you can take a bus or an internal flight to Cusco.
Accommodation
Cusco: Antis Hostel (₹316 dorm bed), Gringo's Bill (₹2,820 for double). For more options, check here.
Aguas Calientes: Casa Paz Hostel (₹537 dorm bed), Inn El Mistico (₹2,484 for double). For more options, check here.
Have you been to Machu Picchu or any other Modern Wonders of the World? Write your own travelogue and share it with millions of other travellers. And subscribe to Tripoto Youtube Channel for stunning videos.