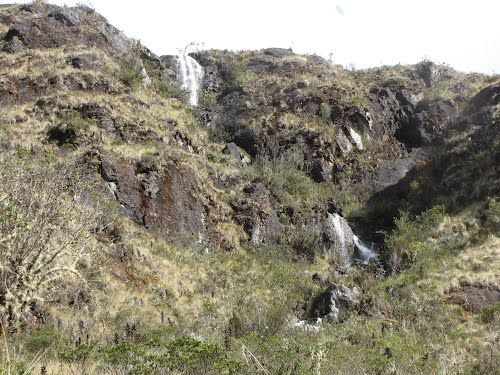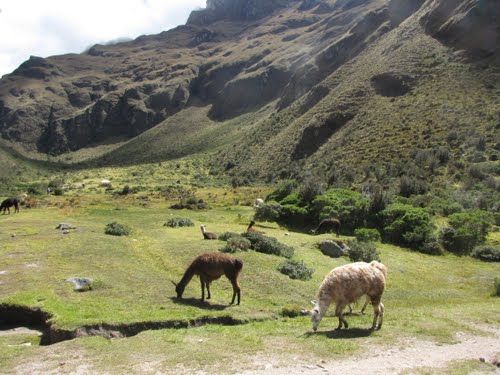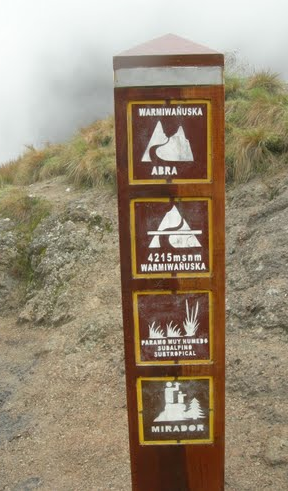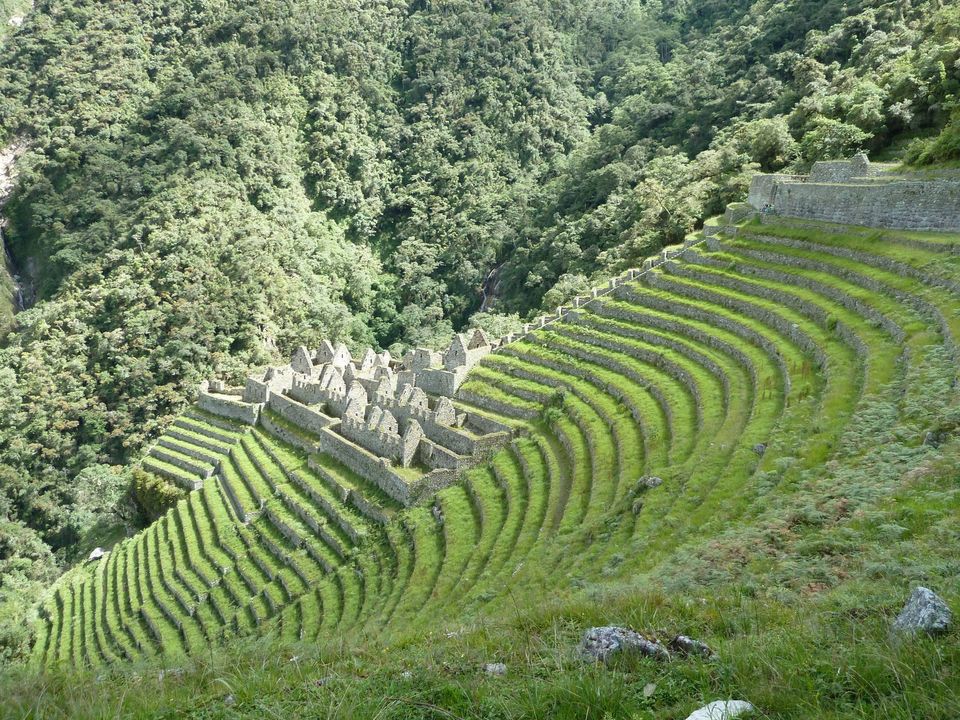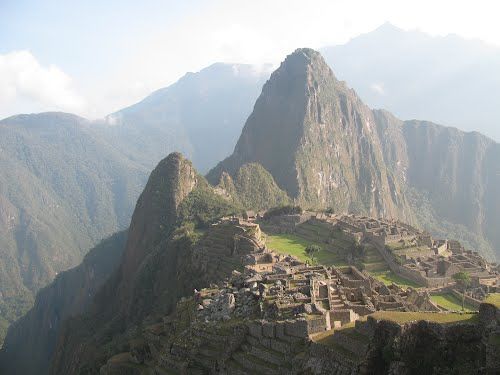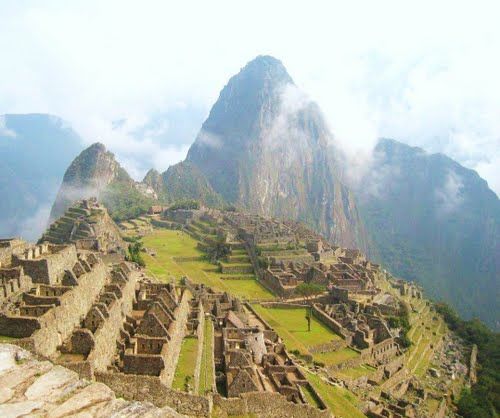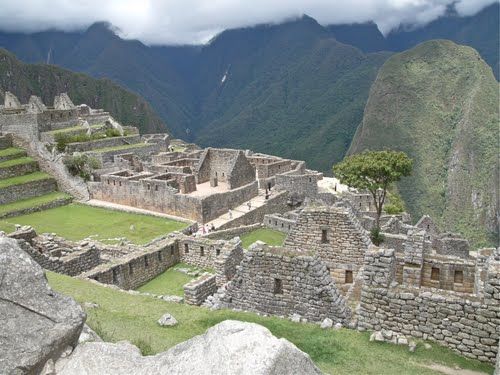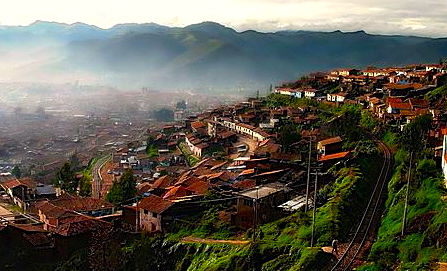 Our journey to Machu Picchu started with a trip to Cusco. The travel time by bus from Lima to Cusco is up to 24 hours if all goes well on the roads. There are two routes buses take from Lima to Cusco. The first a bit shorter 18-22 hours is nauseatingly winding over and through the Andes mountains to the east of Lima. The second route and more commonly takes goes south from Lima then east to Arequipa and north again to Cusco - like a big u-turn. This route takes 24 hours+. We arrived in Cusco in the afternoon and checked into an Irish hostel called Wild Rover Hostel. The next day we woke at 5 AM in anticipation of the hike to Machu Picchu. We hiked with a group of people - encouraging each other to take one step at a time and taking breaks when needed - up until the mid-morning break around 10 AM.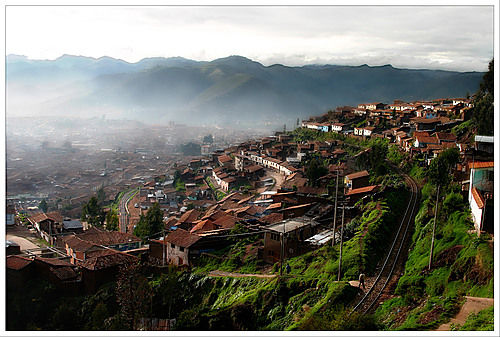 After "brunch" we were at the beginning of the end of "Dead Woman's Pass". We hiked from 3100 meters to 4200 meters in only 12 km. It was a constant Stair Master plus the lack of oxygen at 4,000 meters (13,000 ft.) and not being fully acclimatized made this hike so difficult - almost unbearable for some people on the trail. The third day was the most enjoyable. A great balance of hills, stairs, ruins and weather. 
Our third day was the longest day. We hiked 15 km and for about 10 hours. We descended from Winayhuayna and arrived in camp just before night fall and, luck for us, 30 minutes before the all night rainfall. The morning of our fourth day on the Inca trail we woke up at 3:40 am. We had to hurry and get in line for the last check point. Not much later we lined up to find we were pretty close to the front - still the office would not open until 5:30 am so we waited. Once the office opened the line went quick and we were off on another 2 hour hike to the Sun Gate. 
We began the short descent toward Machu Picchu stopping along the way, just below the clouds, for our first glance at Machu Picchu. Seeing it from above with the clouds seeming to clear even more sparked our excitement again. We made it to Machu Picchu all stacked up like dominoes with all the other trail groups. It was definitely more hectic than we expected, crowded like a normal tourist attraction but we waited our turn and finally got a group shot with that "postcard background" of our own. 
Machu Picchu feels much more special when you put yourself in the shoes of the Incas and gives you a different perspective as you stand on the sacred grounds viewing out over what it left of the strong temples and terraces on this high and mighty mountain surrounded by pristine jungle.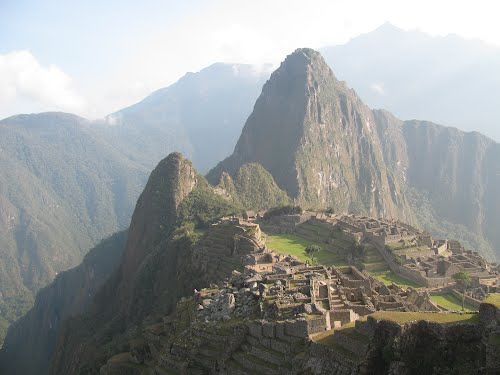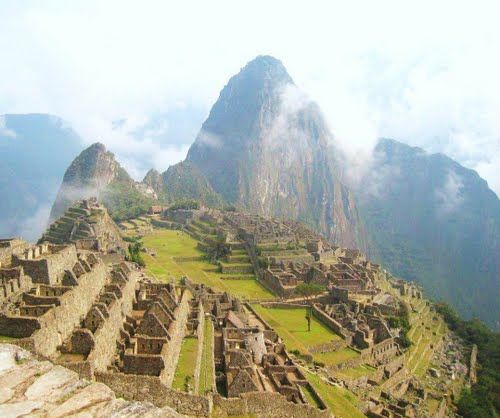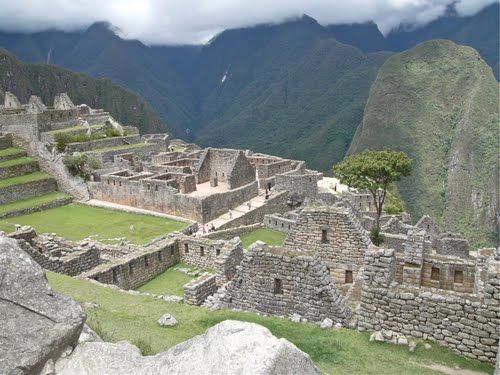 The Inca Trail combines a stunning mix of Inca ruins, mountain scenery, lush cloud-forest and rich subtropical jungle. We hiked for 4 days along this ancient, scenic path to the ancient site of Machu Picchu. The hike is challenging, but the trail is as incredible as Machu Picchu itself.
We started as a group again hiking up a dreadful set of stairs to get out of the Paqaymayu valley we had camped in the night before but were rewarded at the top when we reached Runkurakay ruins. From Runkurakay we walked another two hours up and over, down and through mountain passes. The terrain slowly became more lush like a cloud forest. Right before lunch we stopped at Sayacmara ruins which sits high on a hill overlooking a beautiful valley below. After lunch the Inca trail leveled off to a mellow path with mostly flat evenly placed stones. 
This allowed us to finally hike along casually, giving us the opportunity to really pick up our heads and observed the magnificent surrounding. The longer and further we walked the denser the forest became eventually turning into a jungle. We passed through a few amazing Inca rock tunnels, Phuyupatamara the astrological based Inca ruin, several funny grazing llamas and lastly our group took the long path (an extra 20 minute hike) to Winayhuayna- the Inca ruin above our third campsite. The first thing we noticed as we came across Winayhuayna was the abundance of agricultural terraces.