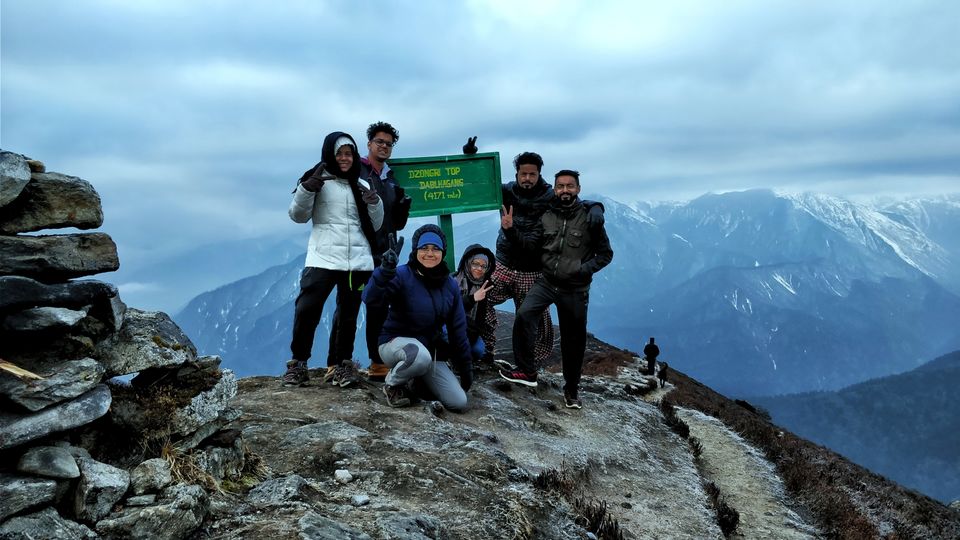 Starting note: This is the first blog I ever wrote. My writing and photography styles may have changed since then. I originally posted this on April,2018. Now, I have decided to share my first trek experience in tripoto where my story can reach out to a large no. of travel enthusiasts.
Life became more appealing when I completed my first ever trekking successfully which inspired me to write my first ever blog.Being a travel craved from teenhood, this trip has brought me a whole new level of experience that I must share with the rest.
So, I went to Sikkim,India(An Indian here) on mid March with a group of nine people.Honestly, I was having anxiety issue rather than getting excited mainly because of the possibility of getting sick in high altitude due to my experience in earlier high altitude trips.But i never knew this will bring me lifetime cherishing memories and cool friendships.
It would be better if you book your trekking crew(guide,cook,porter etc) in advance.We didn't. As a result, we spent one and half days roaming around Yuksom(5643 ft), a historical town of West Sikkim.Not that I am complaining, cause it is better to get accustomed with the weather before starting. Meantime, we visited local monasteries like Tashiding monastery, Kothak Wodsal Ling monastery, Coronation throne of Norbugang, Kothak lake.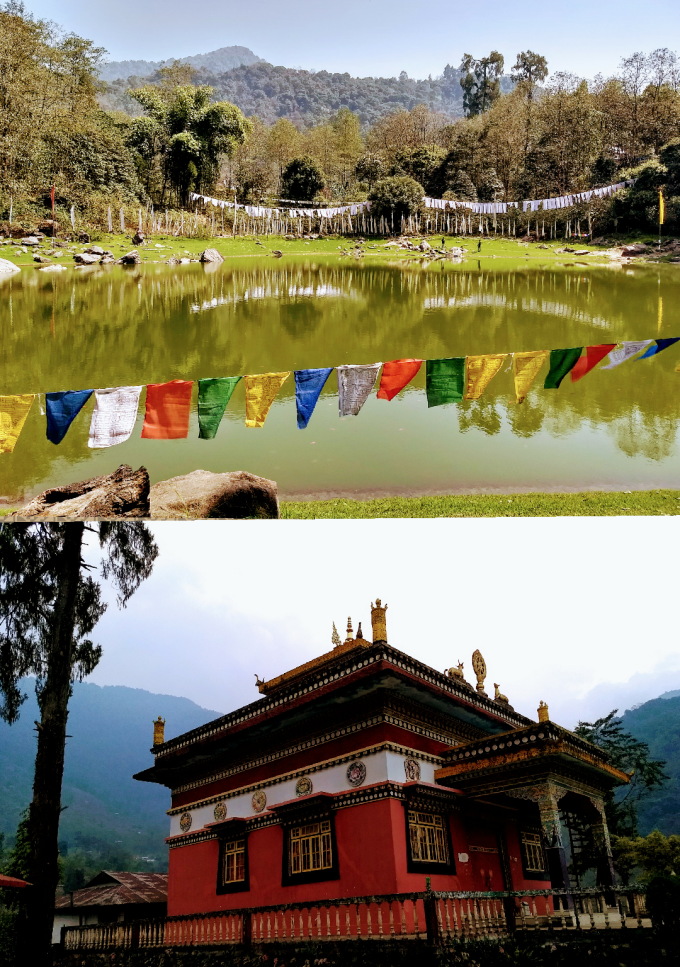 Day 1: Destination: Tshoka(9701 ft). Time taken: 11 hours. Distance covered: 16 km
We began our journey from check post of Kangchenjunga National Park where you need to pay permit fees.Before starting, you need to make an entry at the local Police station.For this, carry a photo identity proof with three copies of passport size photos.For trekkers outside India, different rules apply. Intially the climb is gradual, but It became steeper after Sachen(7200 ft), our lunch break point. the trail leads you through the moist jungle and coolness surrounds you.In the evening, we halted at forest guard's hut at Bhakim(8654 ft) for tea break.Trust me, I was enjoying the scenic beauty of Yuksom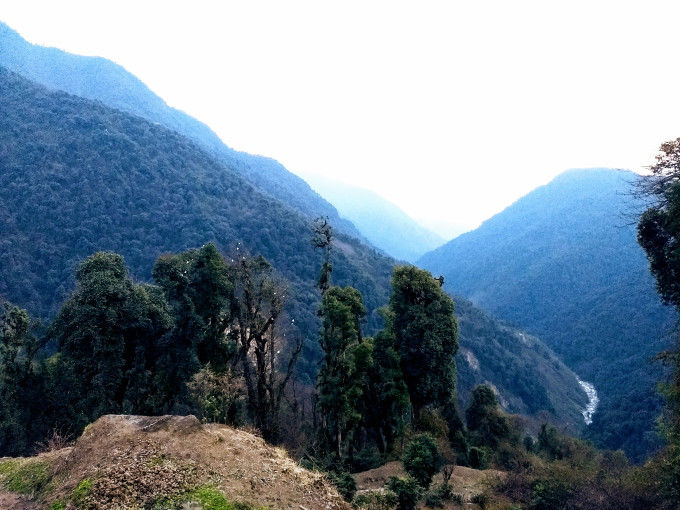 valley but, at the same time I was thinking of detaching my legs and carry them for rest of the path.By the time we reached Tshoka, I was already physically and emotionally drained out.
Day 2: Destination: Dzongri(13024 ft). Time taken: 8 hours. Distance covered: 8 km
After having great hospitality despite having limited equipments at night, we started our journey with refreshed mind for the final climb to Dzongri. We had the fear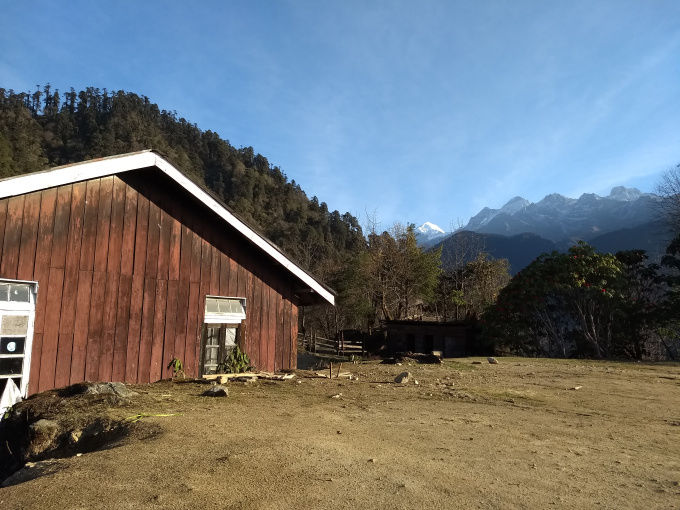 of getting altitude sickness but trust me, that was the most memorable, fun journey through out the trek. The trail was steep through out the path but, we became habituated with the process. We trekked through the dense rhododendron forest and the lands beside the path were covered in ice. We got busy to claim our places by writing our names on the ice by our poles.Later that night, we were welcomed in local hut to drink 'Tongba', a millet-based alcoholic beverage.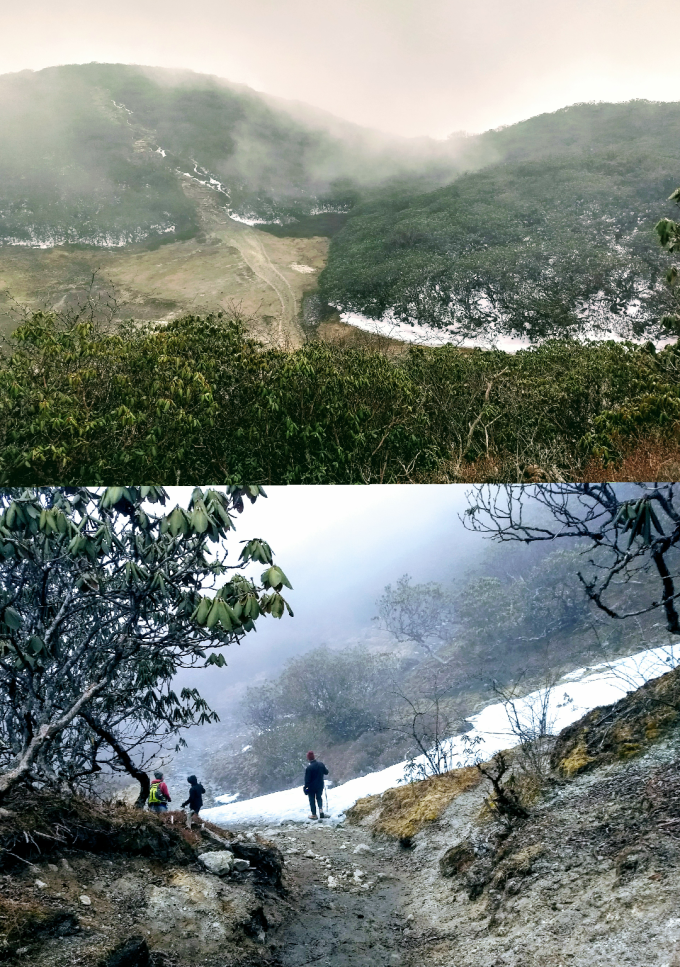 Day 3: Rest day at Dzongri
We start early in the morning to climb to Dzognri top(13687 ft) where you can get the 180 degree panoramic view of Singalila and kanchenjunga ranges.For our case, the weather was cloudy. So, we didn't get the proper view.Weather in mountains is very uncertain.You have to have the mindset of putting all your energy to get to the top and get nothing.But we were not that unlucky.

We were blessed with the view of Mt Kabru, Kanchenjunga and Padim while getting back to trekkers hut.Rest of the Day, we stayed inside hut cause visibility got worse due to heavy fog.
Day 4: Back to Tshoka.
By this time, I already gained so much confidence. Trek down was so much easier and faster at least for me regardless of the muscle pain in legs.On the way, eyes were blessed with newly blossomed rhododendron flowers which were absent during trek up or I didn't pay attention that much.It started raining heavily as soon as we reached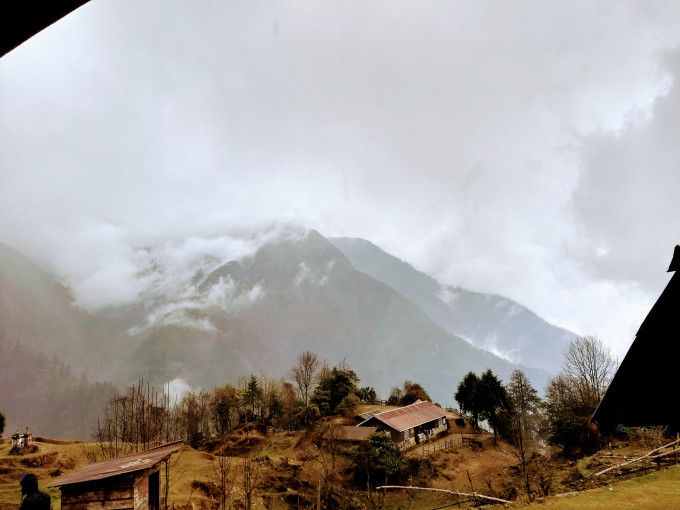 Tshoka hut.at night, our trekking guide Girish and his crew gave us an wonderful surprise by celebrating our success with a cake which they made with limited ingredients left.
Day 5: Back to Yuksom.
Journey back o Yuksom was long but not tiring.From Sachen, the trail goes up and down losing its altitude. Around 4.30 pm we found ourselves in the friendly neighborhood of Yuksom. We arranged a treat for the trekking crew back in hotel who became our friends in just few days.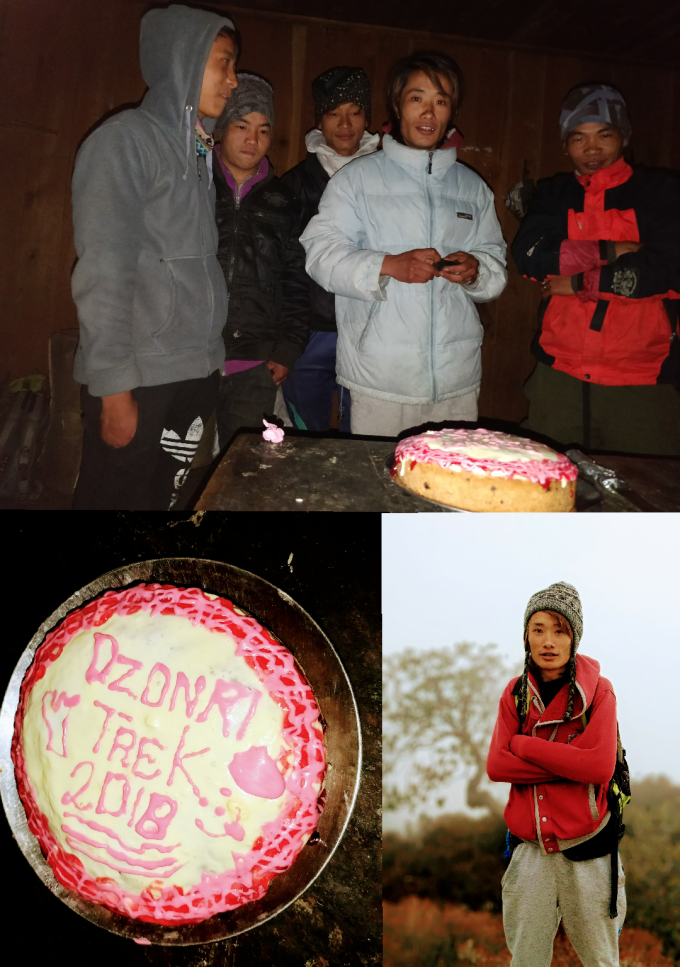 This trip will be on my memory forever not just for the scenic beauties of mountains but for the beautiful people we met in uphill.Special Thanks to the owner of the hotel who arranged this beautiful experience for us. Find the hotel details here:Hotel Yangrigang- Contact No. 9434164408,9735087508,9475632109 Email: yangriganghotel@gmail.com.
Precautions:
Carry proper rucksack with metal support in back and waist padding. Everyone will not be that lucky to have a guide like Girish who will carry your bag at your misery and stay beside you and keep motivating you when you become the last person cause of that bag.
Carry 2 liters water during trek cause the water sources are limited on the way. Bringing pole is must as it reduces half of your effort.
Bring head torch.Trust me, it is very helpful for serving different purposes as there is no power available in camps.
Take Diamox (medicine to prevent high altitude sickness) 48 hours before the trek starts.Take another after reaching Dzongri. It would be better if you consume as per consultant's prescription.
Being mentally strong is more important than being physically fit for this type of trips. I thought of giving up few times on my way to Tshoka from Yuksom due to extreme physical tiredness. But my mindset of having the panoramic view of mountains kept me going forward.
P.S- I have tried to get the places,mountains name spelling and measurements accurate, but it may differ site to site.
All photo credits go to me except the cake and celebration night photo.