Believe me, it was the toughest one in every sense. Starting from the planning phase, choosing a trek, end moment train bookings to the trail, it was not an easy trip. It all started as soon as we got to know of a holi long weekend which was a week away. All 3 of us applied for an extra leave and started looking for a fruitful 4- day trip. We explored options such as Goa, Mumbai, Bir-Billing, Gangtok, and what not.
Finally, we settled with Rishikesh and Nag Tibba. I know it sounds weird obviously after exploring exotic locations like Goa but last moment airfare hikes do this to your trip. So a piece of advice, please make your bookings in advance.
You can check out some more interesting trips by clicking here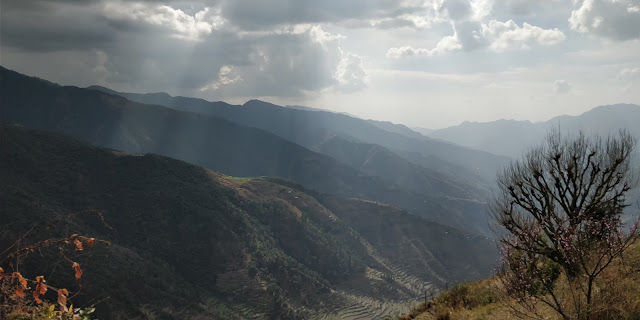 It all started on Holi and we took an overnight train till Dehradun and pre-booked the trek with Himalayan Trekkers. The main reason for booking with some group was that the place is not commercialized like Triund or Kheerganaga, hence one has to carry all the hiking equipment with them. Since we are not the advance trekkers yet, so we decided to go with the group and the experience was really phenomenal.
As soon as we reached Dehradun on Saturday morning, the taxi was already there waiting for us. There were other groups such as India hikes also who had tempo travelers there, where I also found one of my colleague whose name I don't know yet. Since she was a girl and that too a beautiful one, my friends didn't let go any event to mock me whenever they saw her on the trail.
We started our journey around 7AM when all seven members of the group gathered. I never knew that these strangers will become such good friends after a two-day trek.
The Way It starts at Dehradun and the motorable road is there till Pantwari, which is around 2 hrs from Mussorie. Pantwari is a small village from where the trek starts. So it took us around 3.5 hrs before we were all set and started the journey after a fresh mouthwash at our trek leader's house. And very clearly he mentioned "jisko karna hai yahin karlo upar nai milne vala".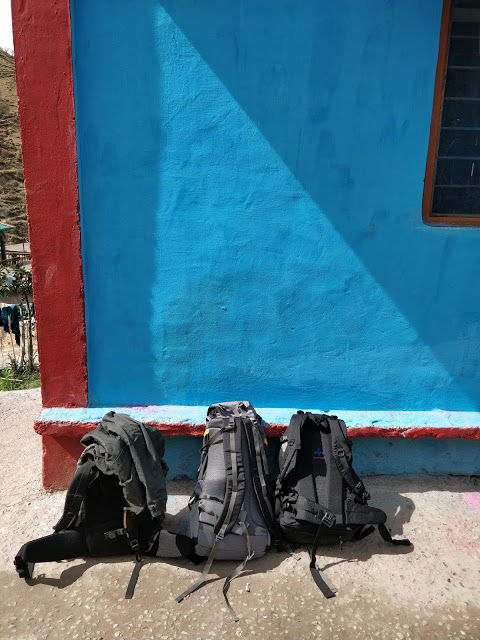 To give a background, it's a two-day trek which I don't know why comes under the category of easy treks by most of the groups. On the first day, one reaches the base camp which takes around 3-4 hrs while the summit and full descent are covered on the second day.
The trail
The trail is not easy like the one in Kheerganga rather it is very steep and slippery. Also, you'd need someone to assist on the way because it's confusing and you might end up taking a wrong route. So, for Nag Tibba at least I'd recommend that it's better to go with a group.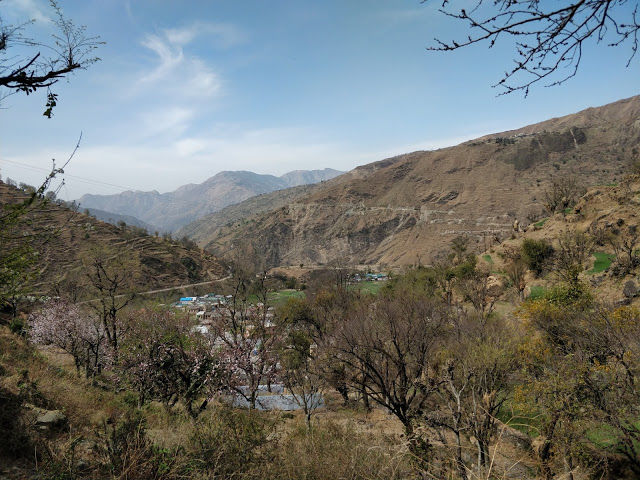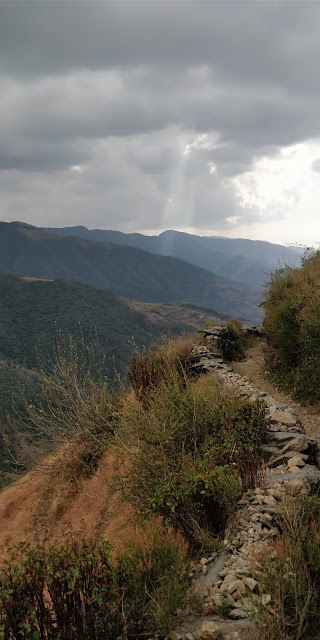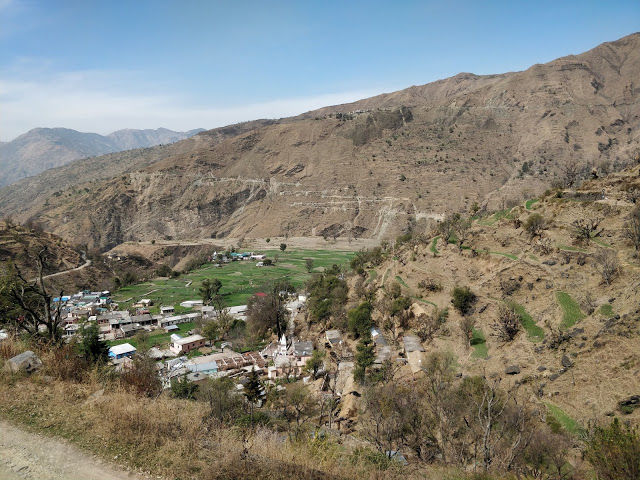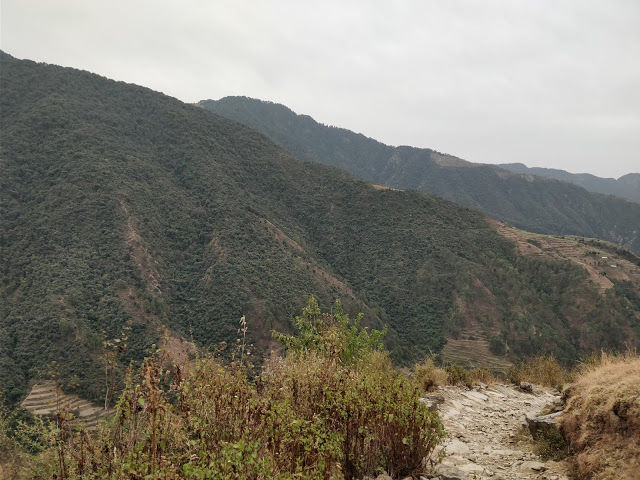 The trail is beautiful where you'll find some locals, carrying fodder, small waterfalls to refill your water bottles and scenic hilly terrain which would definitely make you stop for occasional photographs.
The base camp It took us almost 4 hrs before we could see our tents on the base camp. It was on a hilltop where on one side there was a clear view of Pantwari village and on the other was the summit hidden somewhere in the clouds.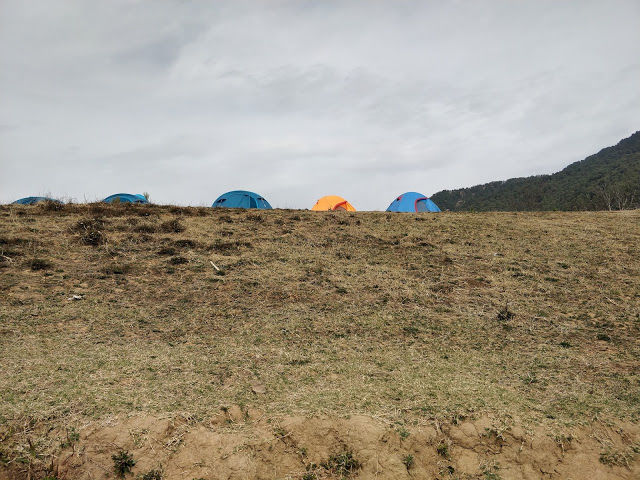 As soon as we reached the base camp, the tents, water, and food were all there by the organizing group. They had small hut where they used to cook food and get there crockery from. They made sure that we were as comfortable and feel at home and served most delicious daal chawal, aloo sabzi, salad, papad and what not. The food was really tasty but it was their hospitality which made it more delicious.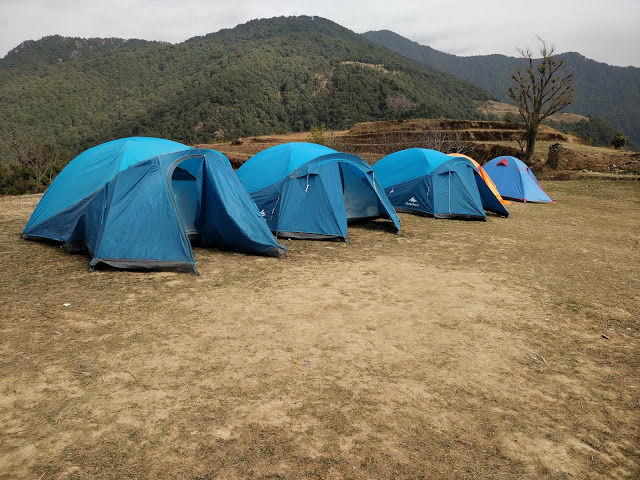 The tents were also comfortable with sleeping bags and strong enough to save us from heavy hilly rainfall and hailstorm. It was hardly two hrs after the lunch when I was in my tent and heard a voice that "Sir, bahar aajao pakode, and chai tyar hai". I felt awesome and so special with the treatment because I knew there is nothing available here and everything is at least 3-4 hours of walk away.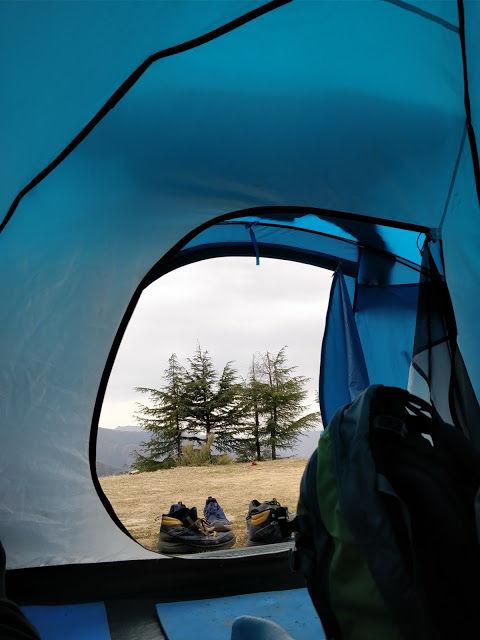 As the sun begins to set, we were clearly able to feel the drop in the temperature. Also, frequent showers made it a little difficult for us to get out from our tents and whether we should try going to the summit early morning or not because the trail will get slippery and if the rain continues it will be difficult to climb up and descend on the same day. But at least the local villager who was acting as our caretaker was optimistic that the clouds will shed and we'll be able to reach the "summett" (in his language) easily.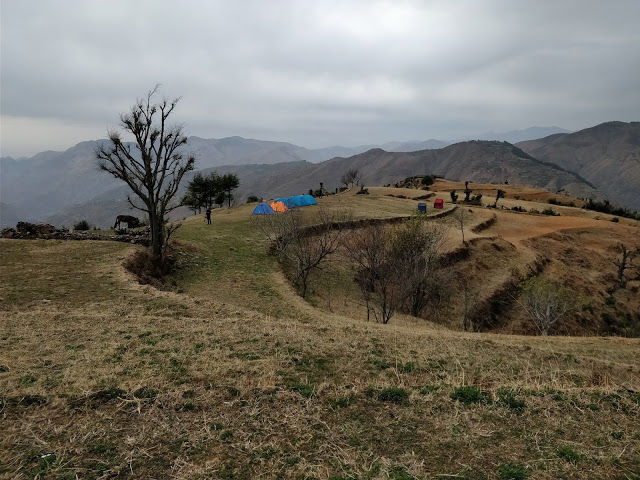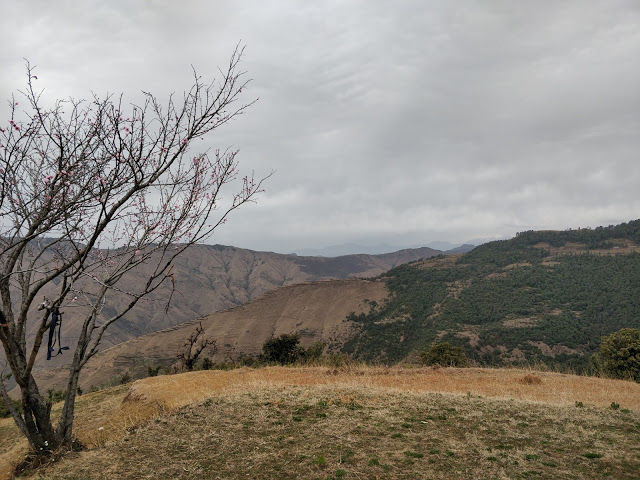 As the darkness overpowered it was only the moonlight which was helping us find our way apart from torch lights which everyone was using either to go the toilet which was kind of open or sending signals to India hikes camps up the cliff.
The night
The night begins with the bonfire and a bottle of black-dog which one of my friends somehow was carrying from Delhi and was finally able to take it to the base camp after sneaking it past various security checks during the journey.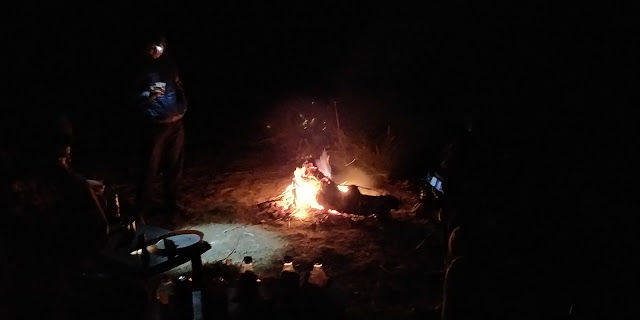 That 1-1.5 hours near the bonfire actually brought the group closer and it never felt that we met this morning only. The day concluded when the caretaker invited us all to his small hut house-cum-room where they used to keep all the hiking equipment and other raw materials. Their hospitality and the happiness with which they were serving food actually made it delicious and made us realize that happiness is not in running around for things as we do in our daily city lives but in sharing and making others happy. The locals may have served the food and have done their duty but their affection for the strangers like us actually made the trip beautiful. Also, how can I forget the best Gulab Jamun's of my life which they served and prepared at the base camp itself. I had 3 Gulab Jamun's by the way.
The summit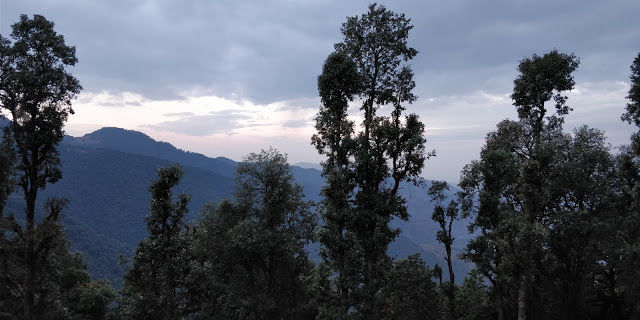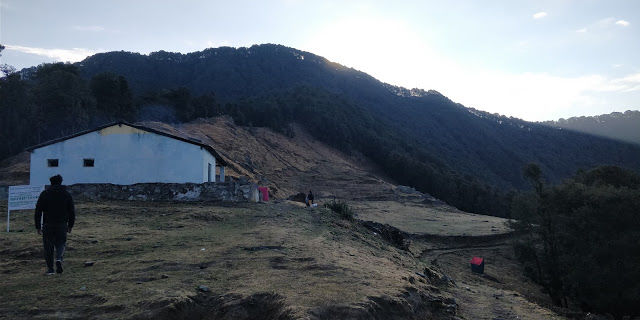 Finally, the day came and we were all excited to climb up the summit. And as the caretaker rightly said, the sky was almost clear and we started our ascend amidst little showers around 5AM. The trail was looking a little easier at the start but as we moved it became inclined and steep testing all our willpower and strength. After walking for almost 3.5 hours we reached the snow-covered top.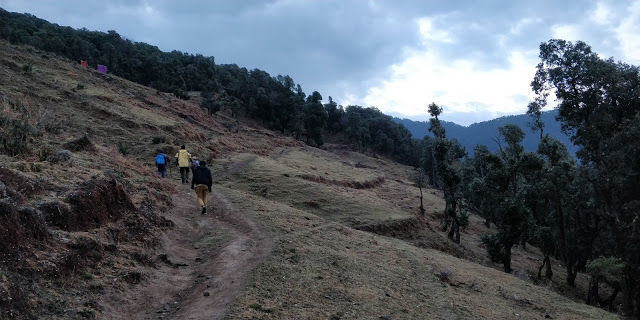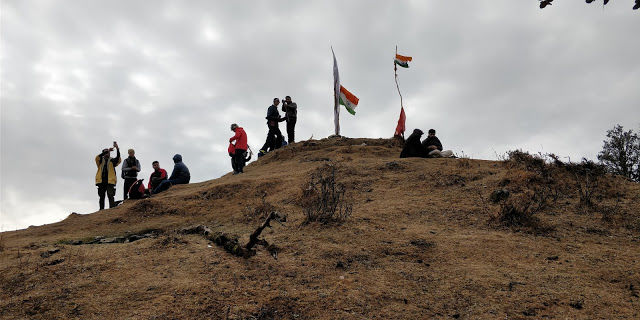 I was able to clearly see the Indian flag with other groups all around clicking pictures. But to be true I expected the overall scenery a little more beautiful from the top, Though Himalayan range was visible, it wasn't as clear as one would expect after hiking for almost 8kms. So if its the view and destination you are looking for, Nag Tibba trek may disappoint you as compared to other two days trek where with a little easier trails you can experience a better view and a night stay at the top.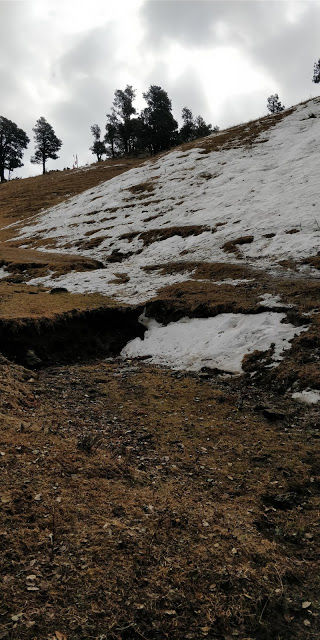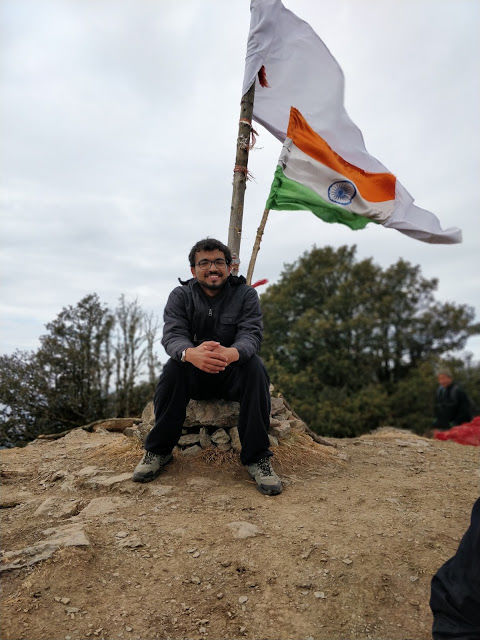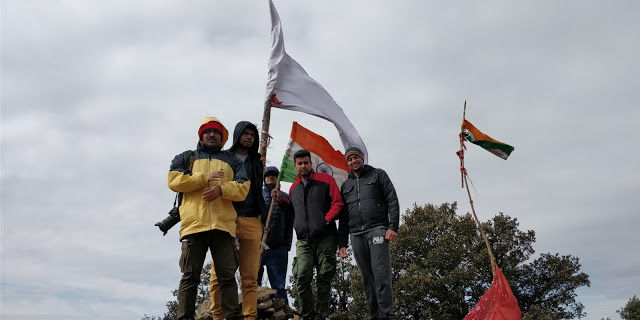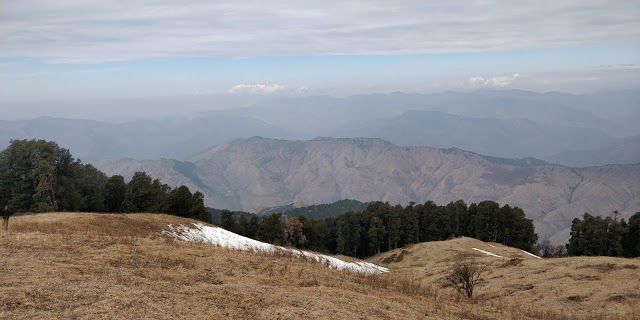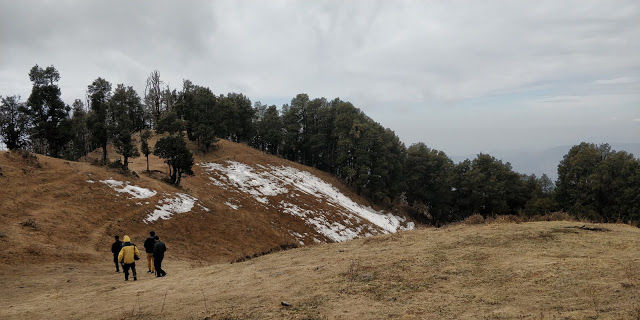 After staying almost for 1.5 hours at the top and celebrating our achievements we begin our descent which was as difficult as climbing up because the trail was really steep and I was experiencing jerks in my knee while climbing down.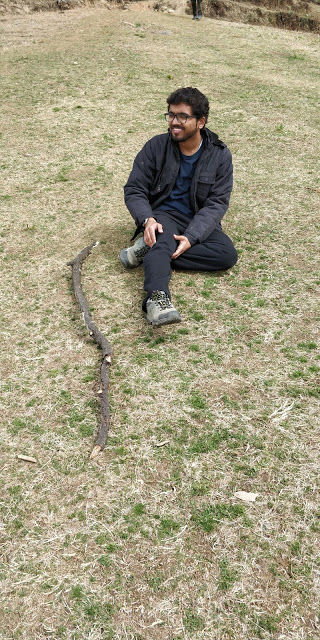 It took us almost 2-2.5 hours to reach back at our base camp where we almost exhausted and the only thing which was keeping us alive was the thought of having Rajma Chawal in lunch. Also, you may not find at many places, but there is also a motorable road where you can get a taxi which will drop you back to Pantwari charging around Rs 700.
The Best Part I think the best thing which I felt in these two days were the people around, be it the group members which quickly turned out to be friends or the locals such as our caretaker or our young trek leader who were always there making sure that we were comfortable and enjoying our journey. Also, the hospitality which I mentioned earlier is the one important takeaway which I mostly find missing from the people today in our cities.