Europe is one notorious destination. It really is such a tease. It entices you with the bountiful beauty it is home to and all at the same time, burns rather big holes in your pocket. Those who aren't flush with money but bitten incurably by the travel bug usually explore the continent on a shoestring budget and I proudly belong in that category. While hotel deals and Airbnb rentals helped me save cash, I was invariably losing out on sightseeing opportunities because travelling from one place to another usually took up almost an entire day. However, the one thing that I discovered during my many encounters with Europe was the existence of excellent overnight train connections. Pardon me if I sound like one of those people from the infomercials but once I boarded this joyride, there was no looking back. Night train travel across the mainland is civilised, mostly comfortable and can be a storybook experience if you want it to be. The weaknesses exist, as a matter of course, but collectively make for fascinating tales. So here's a breakdown of the good, the bad and the ugly of overnight train journeys in Europe. It's now time to treat yourself to the clunking of the wheels, the blaring horns and the meandering carriages. All aboard the choo choo train!!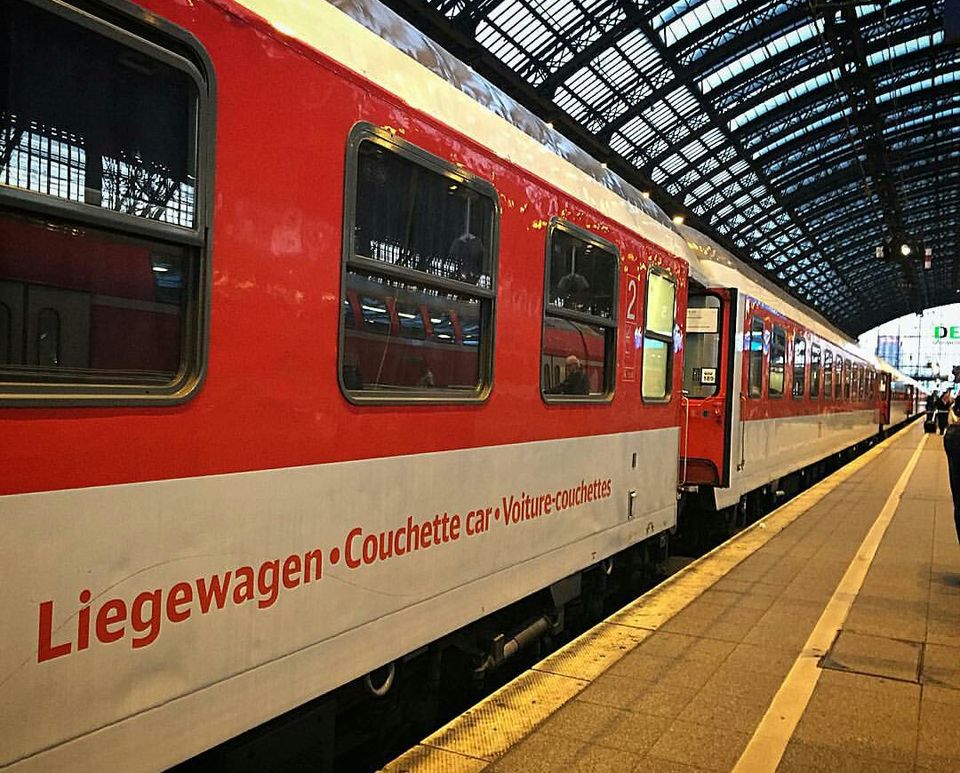 The Good:
Saving money on hotel accommodation:
Paris is always a good idea and I sometimes wish Audrey Hepburn had also asserted that spending a night on a train is an equally good idea. Take for example the Thello Sleeper Train connecting the French capital to the City of Canals, Venice. A single couchette (sleeping berth) on the Thello, when reserved online, will cost you a maximum of 40 Euros. Now, a decent budget hotel in one of Paris's prime locations will come for a minimum of 100 Euros per night and the amount will be halved only when you move to a remote area or the suburbs, which obviously is not a very wise decision. You do the math.

Getting an extra day to see your departing destination:
Most overnight trains usually depart after 8 in the evening which leaves you with an entire day to explore the city you are about to bid farewell to. Moreover, since all you have to do is sleep during your journey, a rather exhausting day of sightseeing isn't such a bad idea after all. For instance, my 9:46 train from Napoli Centrale station to the port city of La Spezia allowed me to have the best day possible in Naples. I saw churches and museums, shopped till I literally almost dropped and ate till I could eat no more.
Train berths are usually comfortable thus ensuring a good night's sleep:
Sleeping berths or couchettes in European trains are mostly comfortable enough to have a good night's sleep on as they are a lot like sofas and adequate pillows, sheets and blankets are provided. Certain trains have spacious four berth couchette compartments while most have six. While making your bookings in a six couchette compartment, request a top berth for privacy and the lowest for comfort. The one in the middle is mostly very cramped. If in case you spend more money and travel in private sleeper cabins, you get a washbasin and sometimes a small shower (for instance on the City Night Line Sleeper Train), all to yourself along with complimentary toiletries!

Waking up refreshed to explore a new country/distant city:
Sleeping for a good six hours means that you are all pumped and refreshed to explore a new destination. Arriving early in the morning is also an advantage because you can avoid the swarm of tourists. Moreover, ticket counters for most sights are relatively less crowded during the early hours.

No luggage restrictions, customs and long security checks:
This is not air travel where you would be expected to carry a specified amount of luggage, stand in queues for security checks and face intimidating customs and immigration officers. You can board the train as per your convenience and carry as much luggage as you want. Just make sure you don't encroach upon the space of your fellow passengers. Additionally, while the travel time might be a tad bit longer when compared to flights, night trains are a lot cheaper.
Breakfast is often served and in bed:
Tea, coffee and often an elaborate breakfast (The City Night Line sleeper train serves an authentic Swiss breakfast) is served on most night trains just before the arrival of the last stop. The attendant delivers the meal to your cabin and you do momentarily feel like a member of the royalty. A hearty meal is yet another jumpstart for your day of sightseeing.

Picture credits: ceteme
The Bad:
Sharing a cabin with strangers can often be uncomfortable:
If in case you are a solo traveller and a recluse, you aren't exactly in paradise. Sleeping alongside total strangers can be a challenge for a lot of people but when it saves big bucks, you cannot really complain. Break the ice as it is never too late to befriend new people and hear their stories. Night trains are a blessing because they provide you with that fantastic opportunity.

Security can sometimes be an issue:
It is a big bad world out there and it therefore is exceedingly difficult to trust people. Sleeping like a log is not an option when you have a lot of luggage and no reliable company. Moreover, there have been instances, especially on overnight trains running across Italy where travellers have reported thefts. All one can do is exercise caution. Perhaps you could stash your valuables in a fanny pack?

The noise and constant motion can deprive some of sleep:
Overnight train cabins are no luxury five-star hotel rooms and the constant rumbling and clunking can deprive a lot of people of sleep. The perpetual motion is yet another deterrent. You could maybe catch up on some reading?

Arriving early in the morning often means that you cannot check into your hotel room:
This is a major disadvantage as the normal check-in time for most hotels is at 2 in the afternoon. If you arrive early in the morning and have no sightseeing plans whatsoever, the wait is extremely uneasy. Things get worse if your journey is uncomfortable and sleep evades you. For instance, my overnight train from Prague to Krakow was rather unpleasant and my miseries only multiplied when I reached the freezing city of Krakow at 6am and was allowed to check into my hotel room only after 2pm. I can never forget those seven dreadful hours in the lobby.

If your seat is not a couchette, the journey can be very uncomfortable:
Reservations for couchettes and private sleeper cabins tend to fill up rapidly and travellers are then left with the option of chair cars. And more often than not, these seats do not even recline, thus amounting to an unpleasant journey. The only way to avoid this is to book your berths several months in advance.


Picture Credits: anjin95
The Ugly:
If you oversleep, it is easy to miss your destination if it isn't the final stop:
This is easily the worst that could happen, especially if your train connects several countries. While the attendants usually wake passengers up right before their stops, you never know when luck decides to be cruel to you. Missing your stop and opening your eyes in an entirely different country is akin to a nightmare although if you do just fine and get back home safely, you will have an excellent story to tell. Set an alarm or maybe don't sleep at all and if doomsday really occurs, contact the railway authorities right away.

A train is out there, waiting for you. All you have to do is hop aboard. Happy journey!