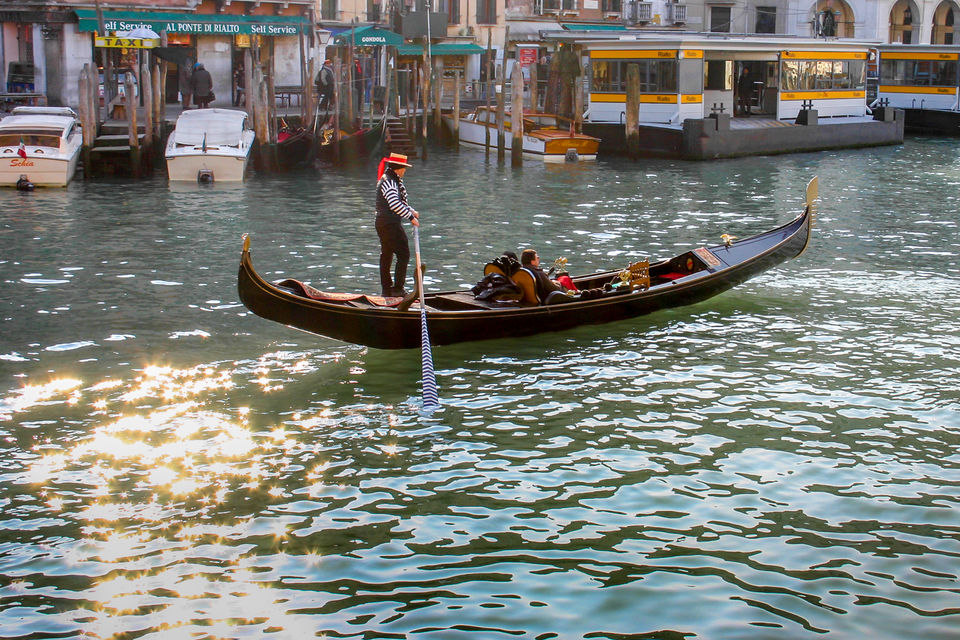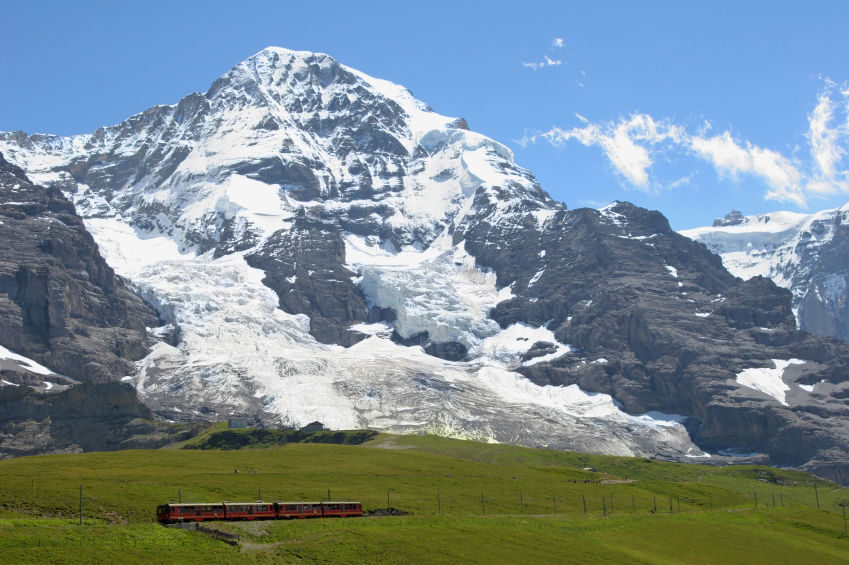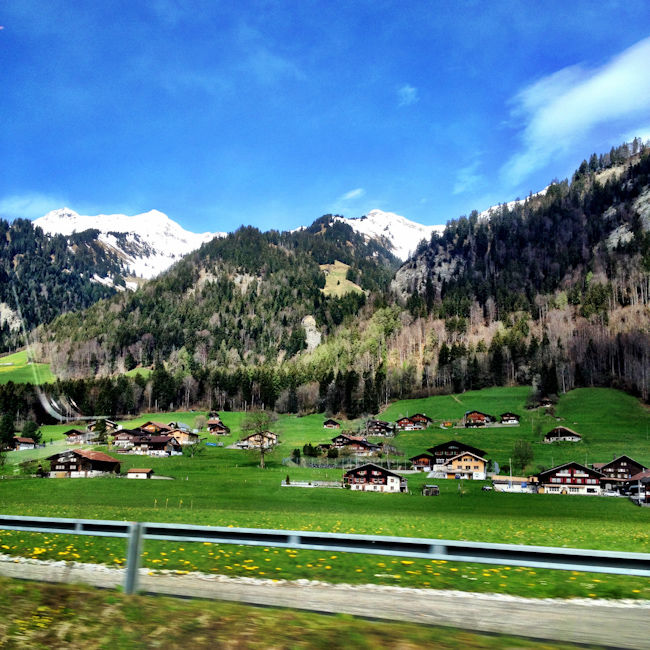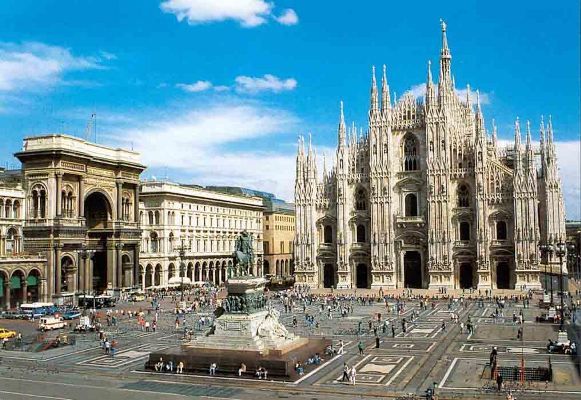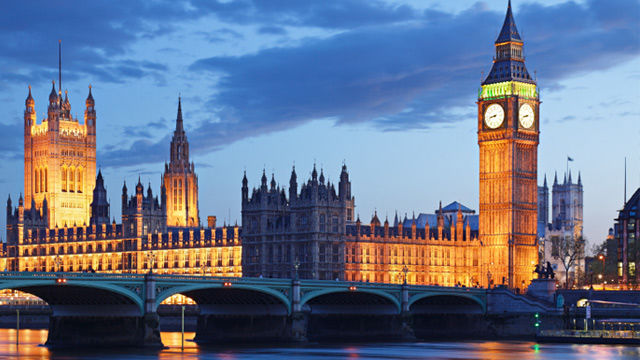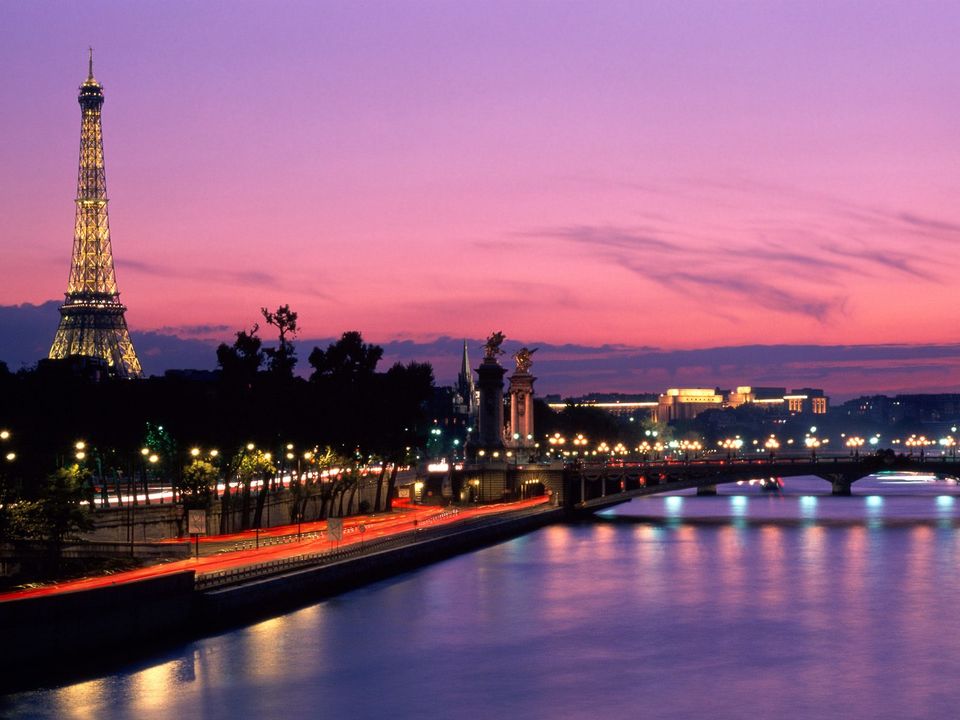 What is the Orient Express?
The Venice Simplon Orient Express (VSOE), inaugrated in 1883 by the Belgian entrepreneur Georges Nagelmackers, is a privately-run train of restored 1920s, 30s & 50s coaches, providing a classic luxury train experience between London, Paris, Innsbruck, Verona & Venice. The entire journey from London to Venice takes a total of 24 hours and costs £1,990 per person one way, including meals. The Orient Express has become synonmous with all that is luxurious, elegant and classy. And why will it not be, for the route it travels on has long since been regarded as one of the most romantic routes covering three of Europe's most beguiling cities, London, Paris and France. However, paying £ 3980 for a 24 hour journey isn't exactly my cup of tea, however luxurious the travel may be.
What is the alternative?
Granted travelling by an ordinary train doesn't exactly have the air of mystery and excitement as travelling by the Orient Express does, but it will still be one of the most intriguing train rides you've taken in your life. Jump aboard an afternoon Eurostar to Paris and a sleeper train will whisk you overnight to Florence, Rome, Verona or Venice, with a restaurant car for dinner and private sleepers with comfortable beds. London-Paris starts at £59 return standard class, or £149 return first class with wine and meal included. Paris to Venice, Florence or Rome starts at £28 each way in a shared couchette, or £110 each way in a two-bed sleeper with light breakfast included.
Can you even begin to imagine breakfast in London, lunch in Paris, tea in the Alps, dinner in Milan... and all without having to shell out big bucks. There are several options but the cheapest and most convenient which we opted for was to take the Eurostar from London to Paris from just £39, then the afternoon high-speed TGV train from Paris to Turin or Milan from just £25, arriving in the evening. Stay overnight at Turin or Milan and continue to Verona, Venice, Florence, Rome or Naples next day by an Italian high-speed train from just €29. Another option you could explore is to travel to Paris on an evening Eurostar, stay overnight and take a morning TGV from Paris to Milan next day. Every day, three 186 mph TGV trains run by SNCF French Railways link Paris with Turin & Milan, with connections to Florence, Venice, Rome and Naples. You could even cover London to Venice overnight, if you get into London early enough. However I suggest you take a stopover in Milan or Turin. They are definitely two of the most underrated cities in Europe which have a lot to offer in terms of things to see and do. Stay at the Atahotel Executive, just across the road from Milan Porta Garibaldi station.
Eurostar is the high-speed passenger train that travels from London to Paris & Brussels via the Channel Tunnel, taking as little as 2 hours 15 minutes for the 495 km (307 miles) to Paris. Eurostar trains travel at a speed of upto 186 mph and they leave the London St Pancras station almost every hour for the Gare du Nord in central Paris making it a reliable, comfortable and environment-friendly alternative to flying. You are advised to check in 45 minutes earlier and drink some champagne at the amazing champagne bar at the station, The announcement for the train to depart is made, the door alarm sounds and the doors close gently with a hiss. We settle into our seats, and the Eurostar slowly picks up speed at it heads out of the magnificent arched trainshed of St Pancras International Station. The train starts to head north, but almost immediately it makes a sharp right-hand turn past the huge steel gasometers that have been a familiar sight behind Kings Cross/St Pancras for years. They have even been named listed structures for their architectural marvel. After a minute or two the Eurostar enters a covered bridge across the tracks leading out of adjacent Kings Cross station, which becomes a long tunnel under east London taking the Eurostar east and south. And 5 minutes later, we began to be able to view glimpses of sunlight and the platforms of Stratford International station. The train leaves the tunnel 8 minutes later and crosses dilapidated building and the wasteland of East London. 10-12 minutes from St Pancras you'll see the magnificent Queen Elizabeth II suspension bridge on the right, which carries the M25 London orbital motorway across the River Thames at the Dartford Crossing. The Eurostar now goes back into a short tunnel for its own crossing underneath the Thames, emerging the other side in the county of Kent. The Eurostar has now picked up its full speed of 186mph (300 km/h), with traffic on the adjacent motorway standing still in comparison. After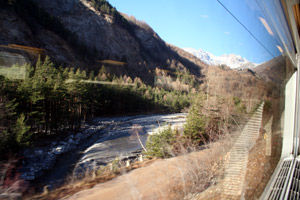 There are three daily 186 mph TGV trains from Paris to Turin & Milan operated by the French railways. On leaving Paris they race over the high-speed line at up to 186 mph (300 km/h) as far as Lyon St Exupéry, but they then slow right down to gently trundle through the scenic Alpine foothills on conventional lines via Chambéry, crossing into Italy at Modane and heading through Turin to Milan. The train is fully equipped right from power sockets for laptops and mobiles at every seat to baby-changing facilities and designated spaces for physically handicapped passengers. There's even cafe-bar serving drinks, snacks & light meals, or you can even bring your own food & wine along for the journey. In first class there's even a provision for ordering an excellent 3-course meal with wine, served at your seat. The entire experience is no less than travelling in the Orient Express. The seats are wide and comfortable, the views of the Alpine hills will take your breath away and make you reflect on the importance of being close to nature. Stay overnight in Milan and soak in the atmosphere of the city. Its an unbeatable experience.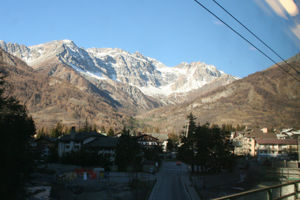 Next morning, high-speed trains whisk you from Milan to Florence in 2 hours and Rome in 3½ hours from as little as €29, or take a Frecciabianca train to Venice in 2½ hours. Trenitalia is the name of Italy's national train operator, and their premier ETR500 Frecciarossa high-speed trains operate on the main Turin-Milan-Bologna-Florence-Rome-Naples route. Frecciarossa is aptly named as it means red arrow, and they can reach upto 300 km/h (186 mph) on Italy's new high-speed lines. There's no point flying between these countries anymore. Rome to Milan now takes only 2 hours 40 minutes by train, Rome to Florence as little as 1 hour 23 minutes, with a restaurant car and adequate provision for the comfort of the travellers. Frecciarossa trains have four classes: Standard (2nd class), Premium (premium 2nd class), Business (1st class) and Executive (premium 1st class). They're all comfortable, the only difference is the inclusion of meals and some facilities. A train has a different kind of an ambience, I think all trains take you back to a simpler time where people aren't really in a hurry to get somewhere anymore. Its less about getting somewhere and more about the journey you take to get there.