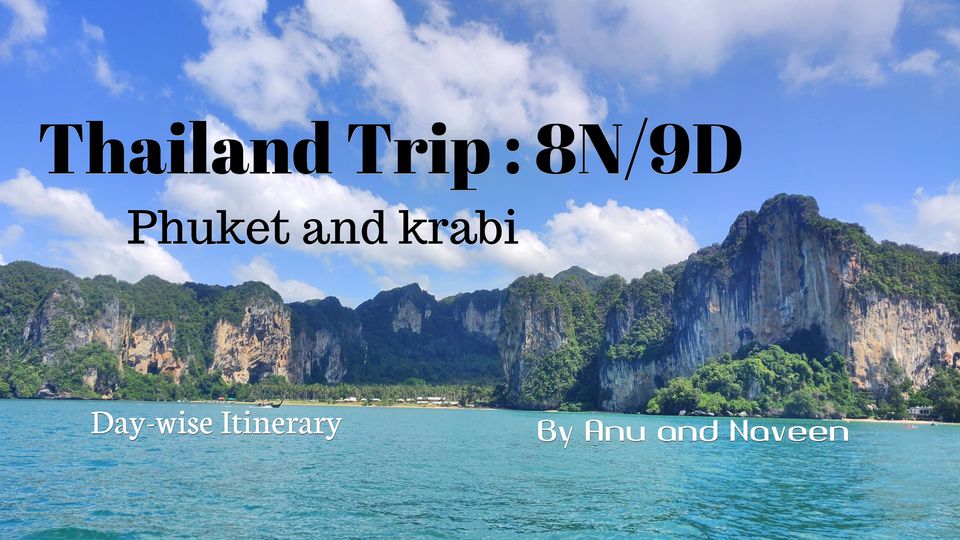 Day 1: Travel from Bengaluru to Phuket
We flew from Bengaluru to Bangkok on 25th October (Thai airways costs around 42 to 45 K INR for two if you book early). Thai airways leave from Bengaluru at 00:30 (IST) and reaches Bangkok airport at 5:30 (BANGKOK LOCAL TIME). The first thing you need to do is get "Visa on arrival" (You need to get "visa on arrival" at Bangkok, even though you are travelling to Phuket). We reached the visa on arrival counter by 6:00 (BANGKOK LOCAL TIME). Make sure to have your documents at hand to avoid any delays at the arrival counter. It took us around an hour and half for the complete process.
Passport or travel document with a validity not less than 6 months. Visa application form (Download here: Thai on arrival visa pdf ) One recent (4x6)cm. visa photograph of the applicant. Round-trip air ticket or e-ticket (paid in full) Proof of financial means (20,000 baht per person) will most likely be asked. Fee for visa in Baht (Not applicable until April 2020 for Indians)
Our next flight was at 8:30 and boarding would start at 8:00. Since we finished the visa process by 7:30, we had to rush to the Immigration counter and Security check which took around 15 min and we could finally reach the boarding gate before the scheduled time. It is better to book the connecting flight with at least 3 hours of layover.
We landed at Phuket International Airport at 10:00 and took a minibus to travel to the hotel. The minibus costs around 180 Baht/person for Patong area and 200 Baht/person for Karon area but you need to wait for 15 to 30 minutes until bus gets full. Taxi is also available and it costs around 800 Baht.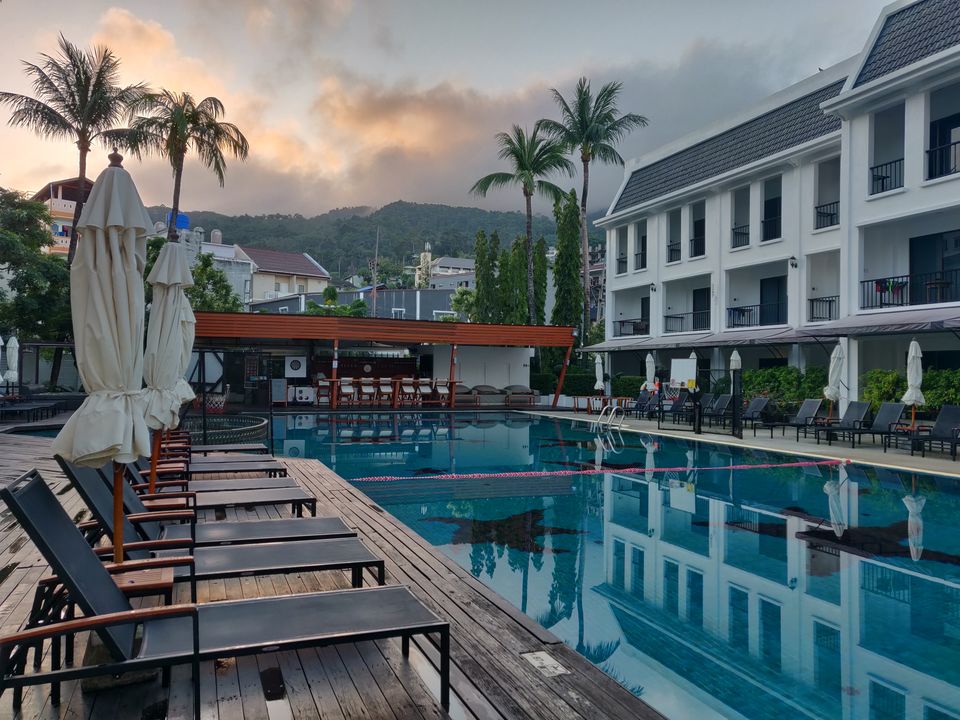 We booked Sawaddi Patong Resort which is located 10 min away (by walk) from the Patong city centre (i.e., Jungceylon mall and Bangla walking street). We first bought the true-move tourist SIM from the 7-Eleven shop which costed 299 Baht/8 days validity. These 7-Eleven shops are found in every lane in the city.
For three days we booked the tour from India through phukettravelcompany.com . An air conditioned Minibus picked us up at 7.45 A.M. The first place is the Samet Nangshe View Point it took one and half hour to reach there and it's a beautiful view point. The travel company suspected rain in the evening, so we made the trip in the morning to avoid it. But at any other season of the year you will be fascinated with the sunset view from that point.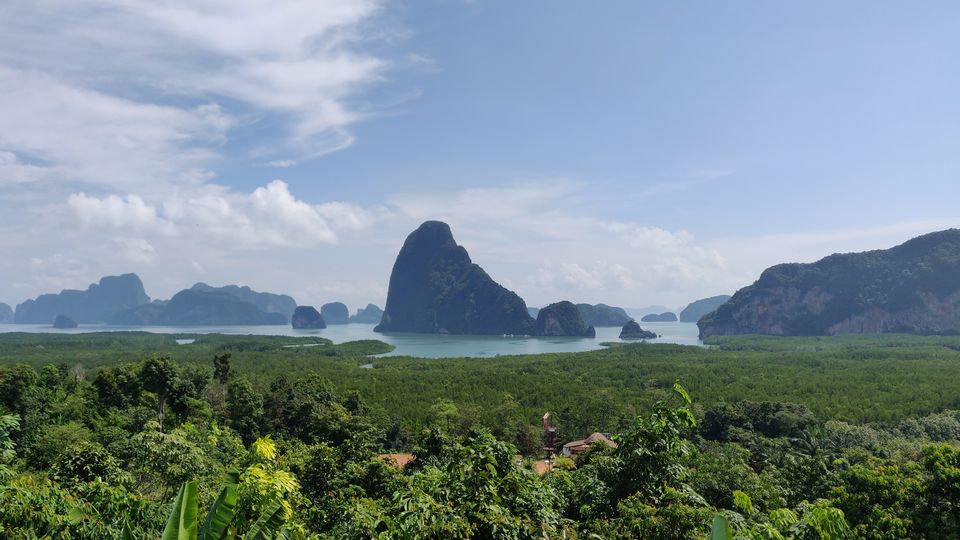 Later we travelled to the Klong Khien Pier where we started our journey to Phang Nag Bay and James Bond Island. We booked a luxury cruise that had both AC and non-AC seating. James Bond Island is the small needle-shaped island and is officially called Tapu, but it's known as James Bond Island because it appeared in 1974's The Man with the Golden Gun movie. The big boat will not reach to the Island so they transferred us from the boat to Island by a long tail boat.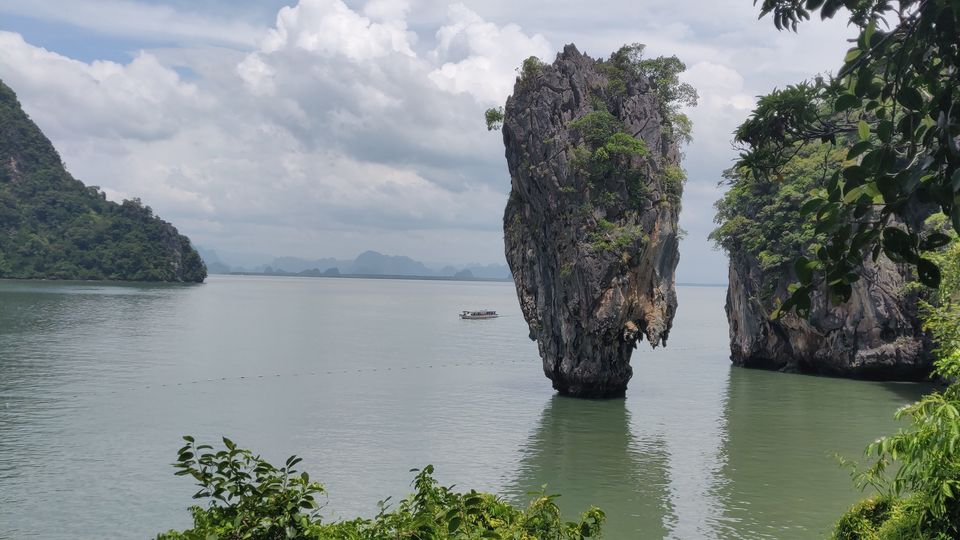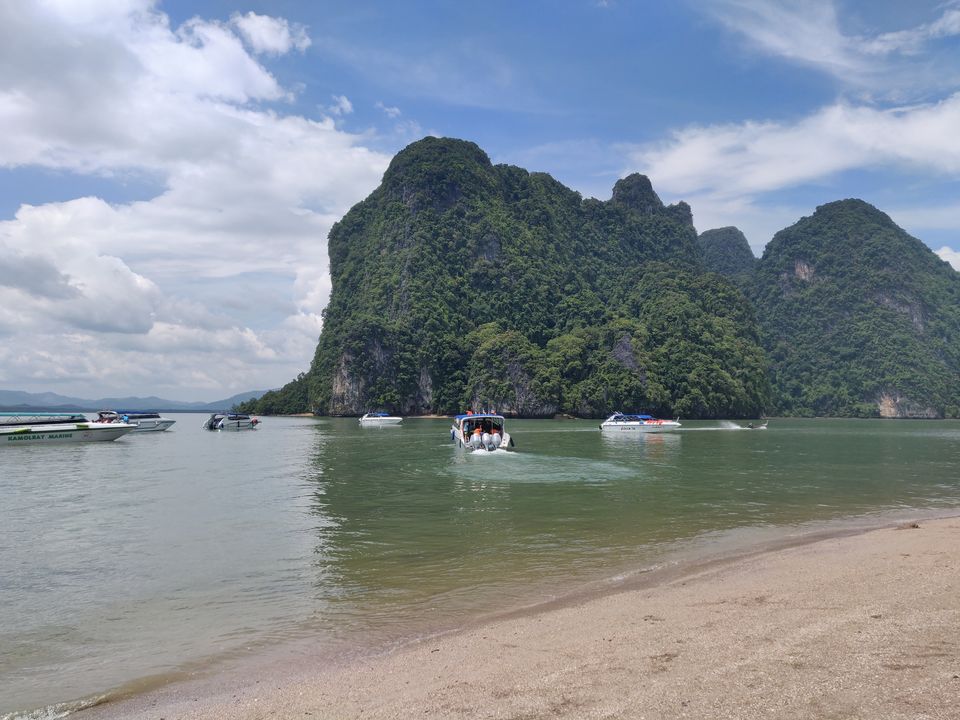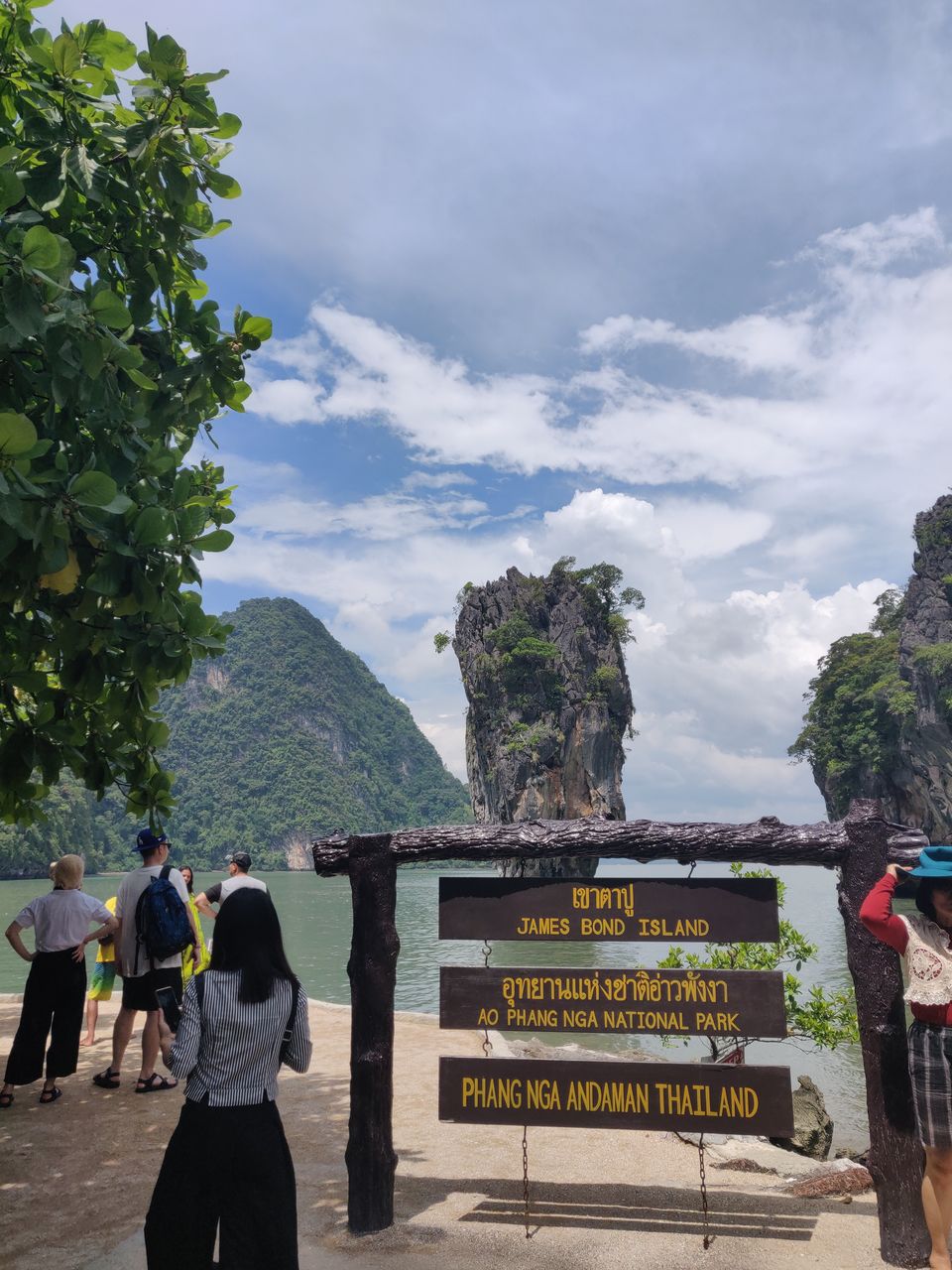 Buffet lunch was then served in the boat as it passed the surreal limestone mountains. You will barely get vegetarian food; however, you will get some fruits. Then the Boat reached the Hong Island where we started our Canoeing which is one of the famous canoe sites in Phang Nga.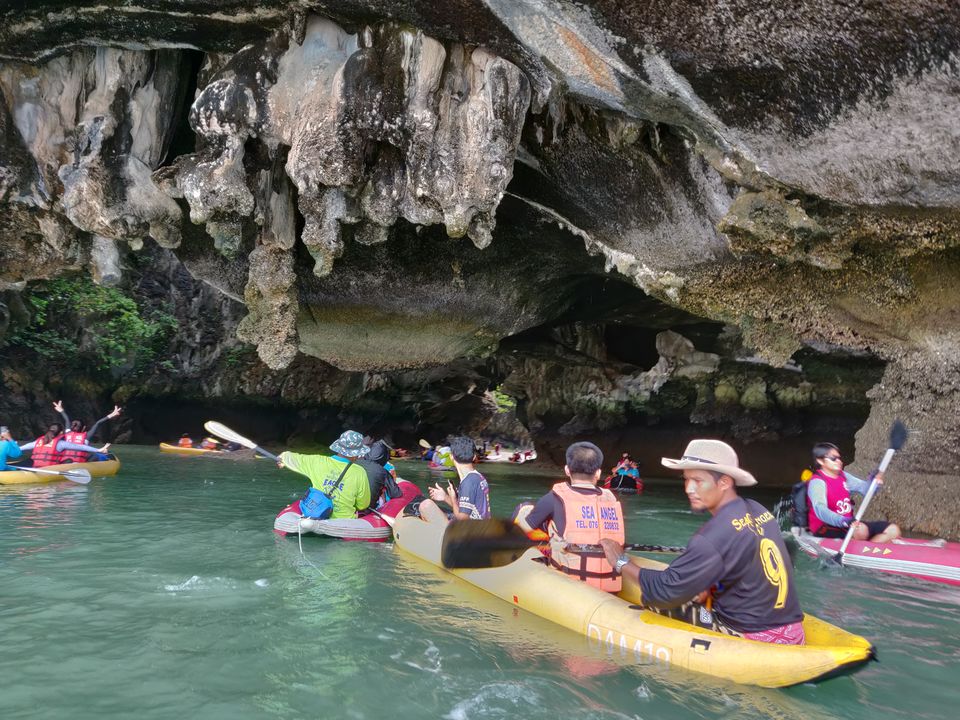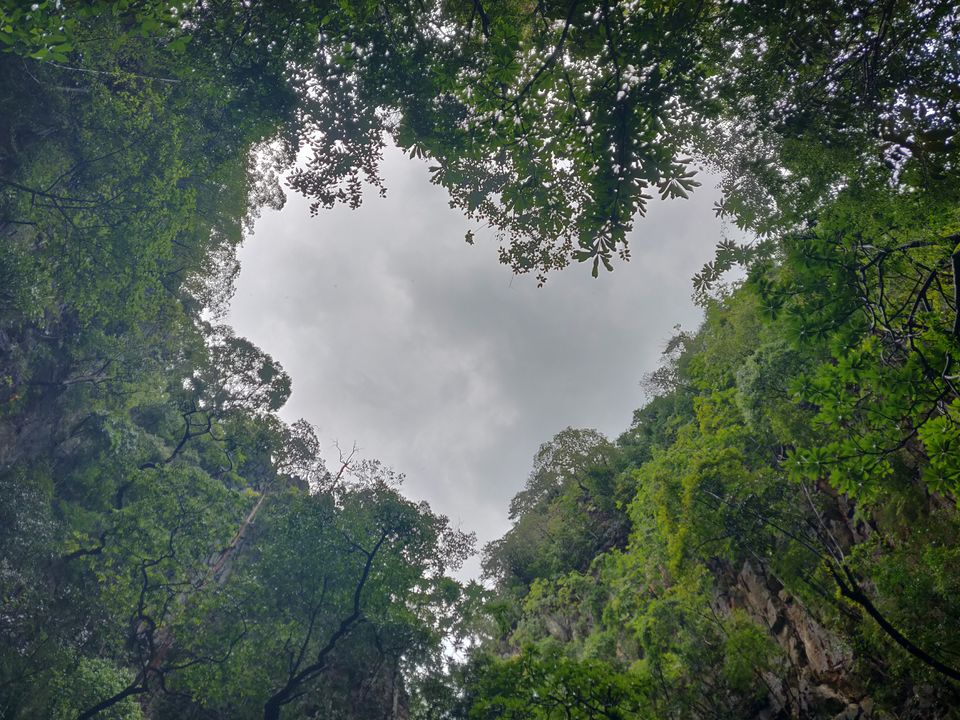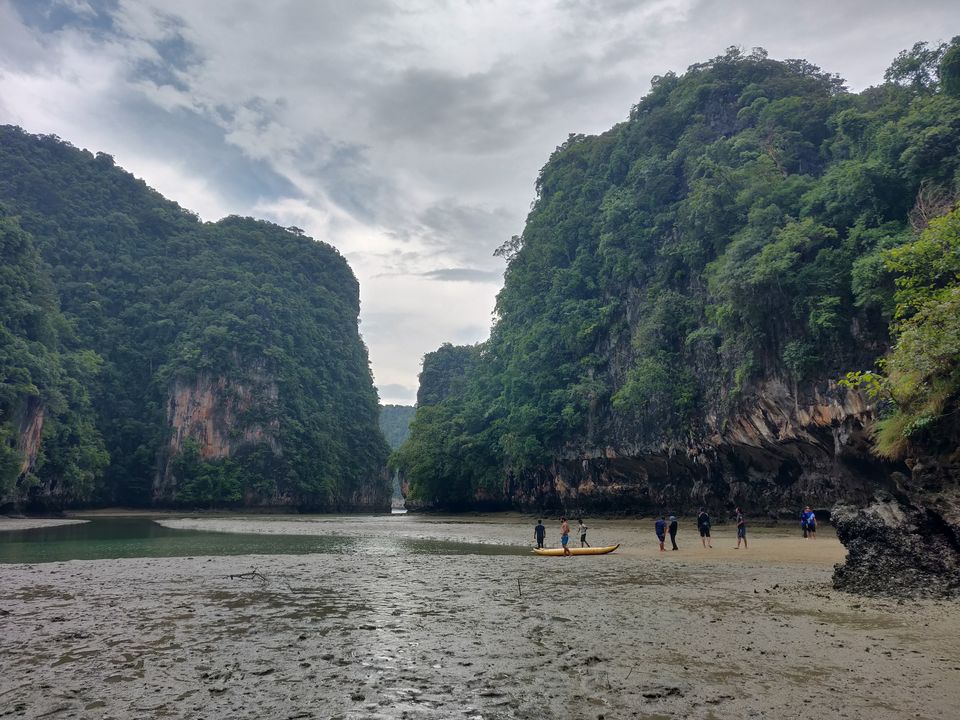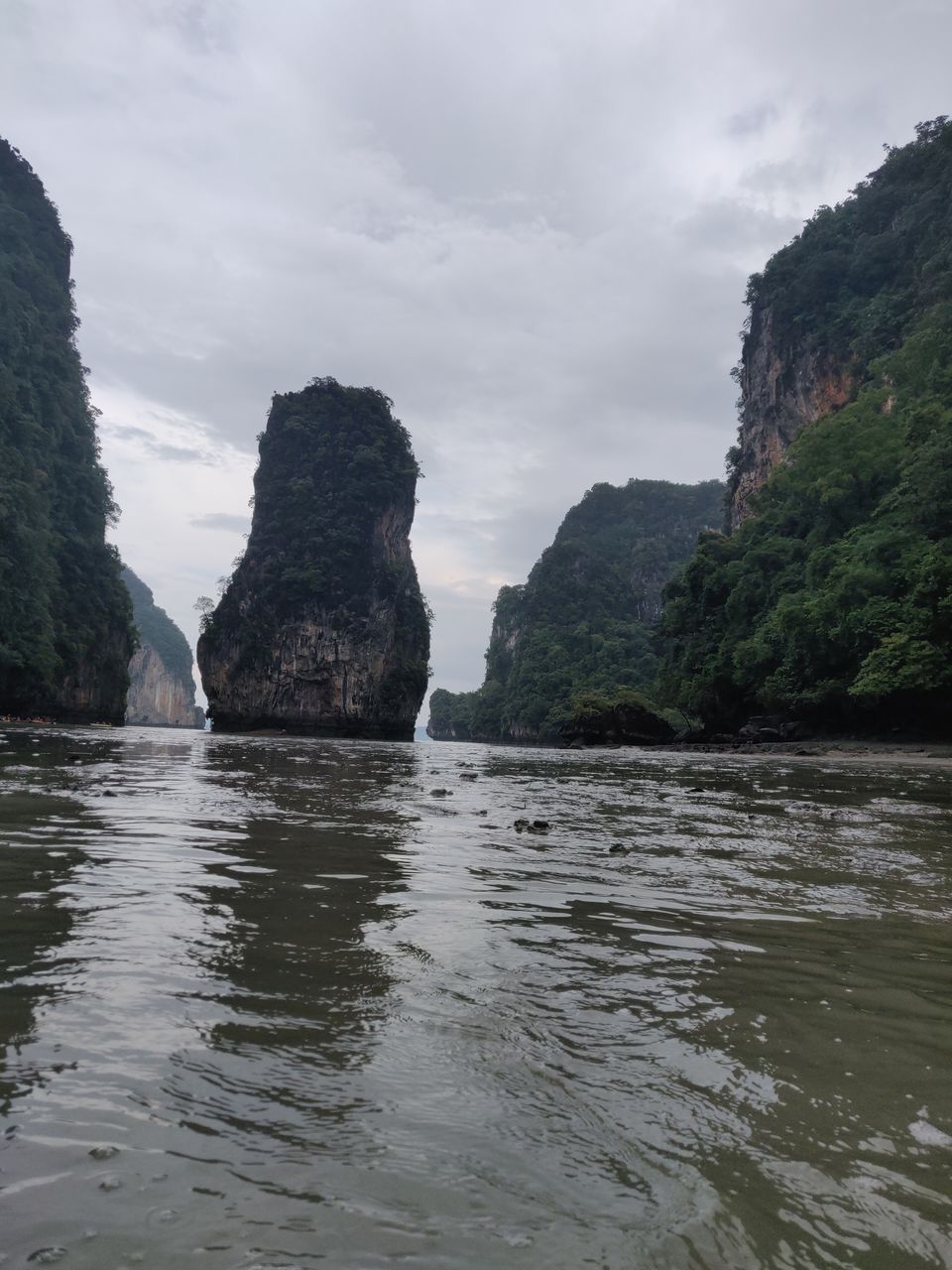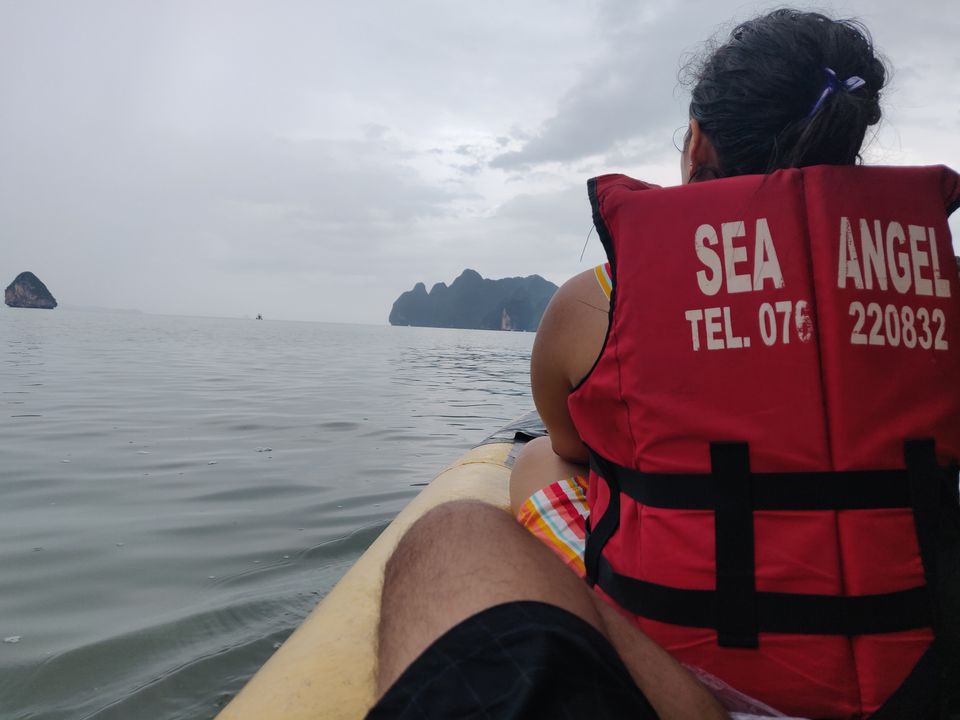 We canoed for 20 mins and returned back to our boat. After canoeing we could spend time in the boat or even take a dip in the sea and swim around. Tea/Coffee and snacks were available on the boat. Later we came back Klong Khien Pier and returned to our hotel by 5:30 P.M.
Hanuman word is a forest park where you can do tree top zip lining. We booked hanuman B+ Package. The price varies from 2700 to 3100 baht/person. We were made to wear all the safety gears and then headed to the zipline. There are 16 Platforms, 10 zip lines,3 abseil points, a sky bridge, spiral staircase, honeymoon slink and a sky walk. The highlight was 800m jungle roller coaster. All our activities took around two hours to complete. Later they served seasonal fruit juice and seasonal fruits and we returned to our hotel for the day.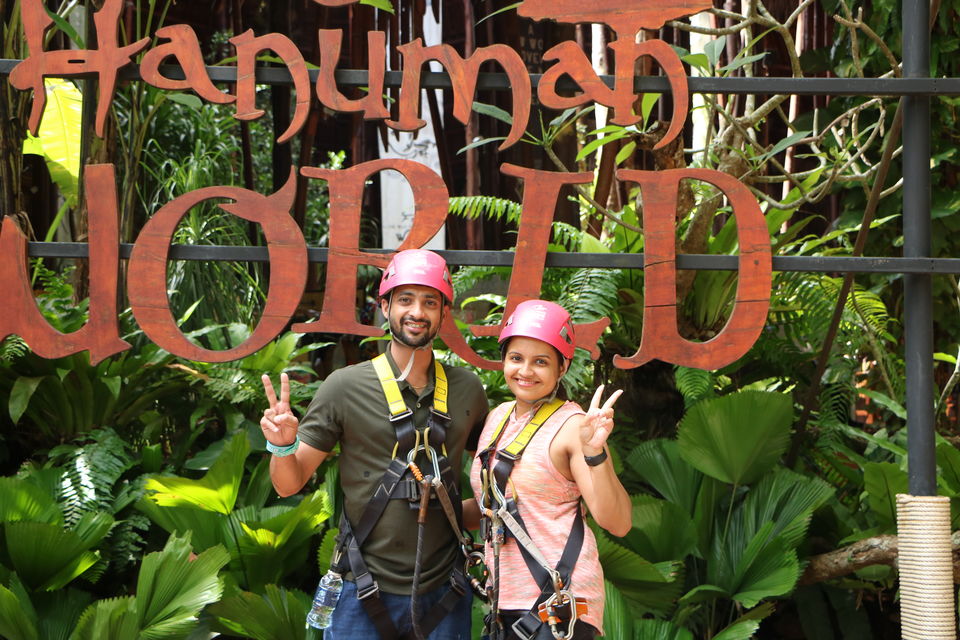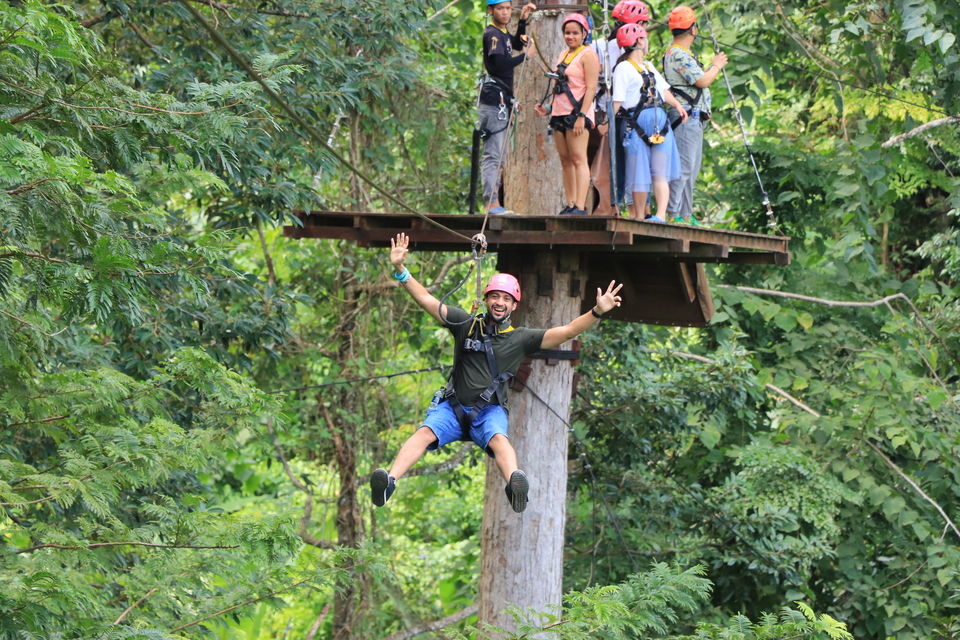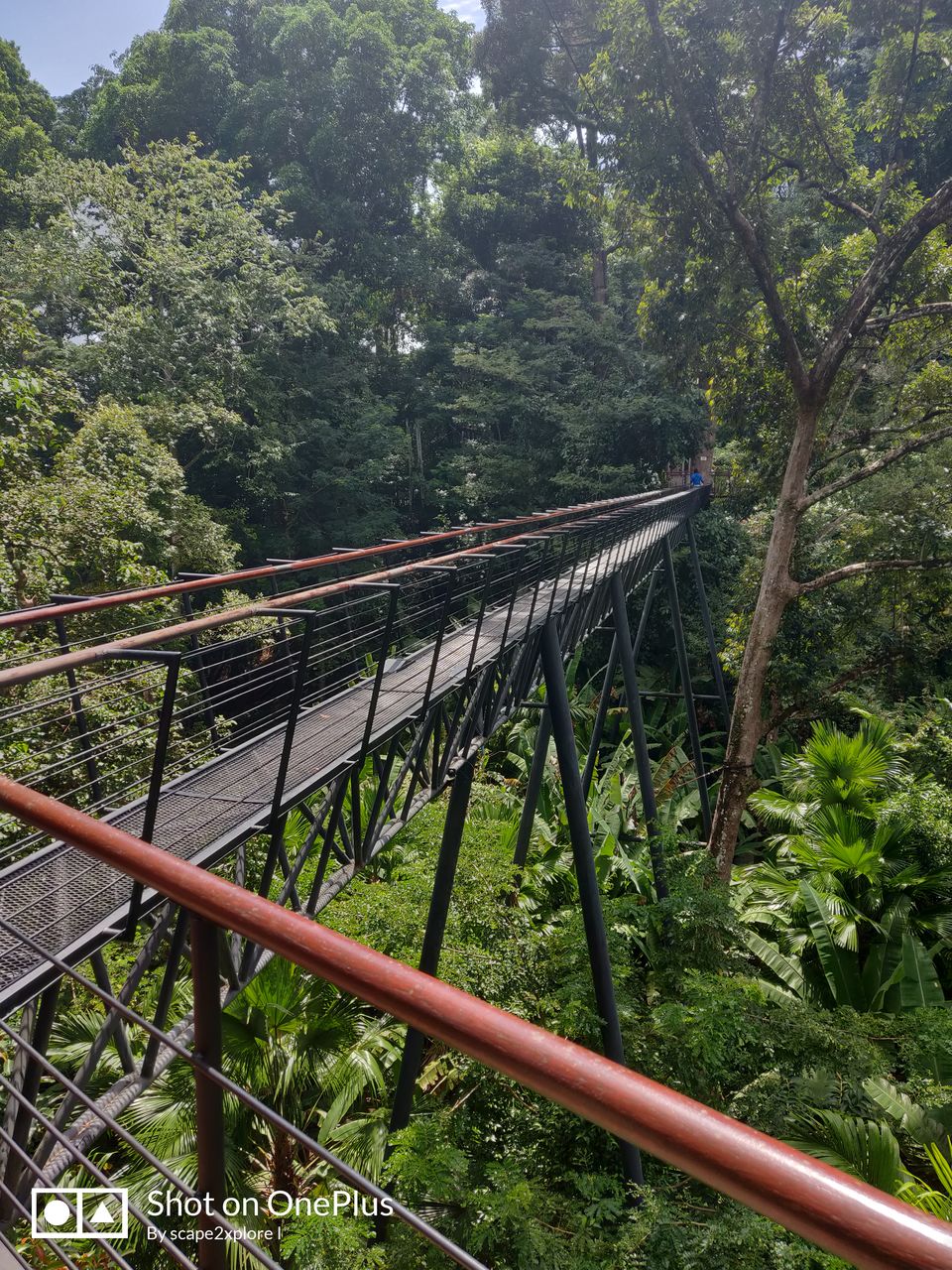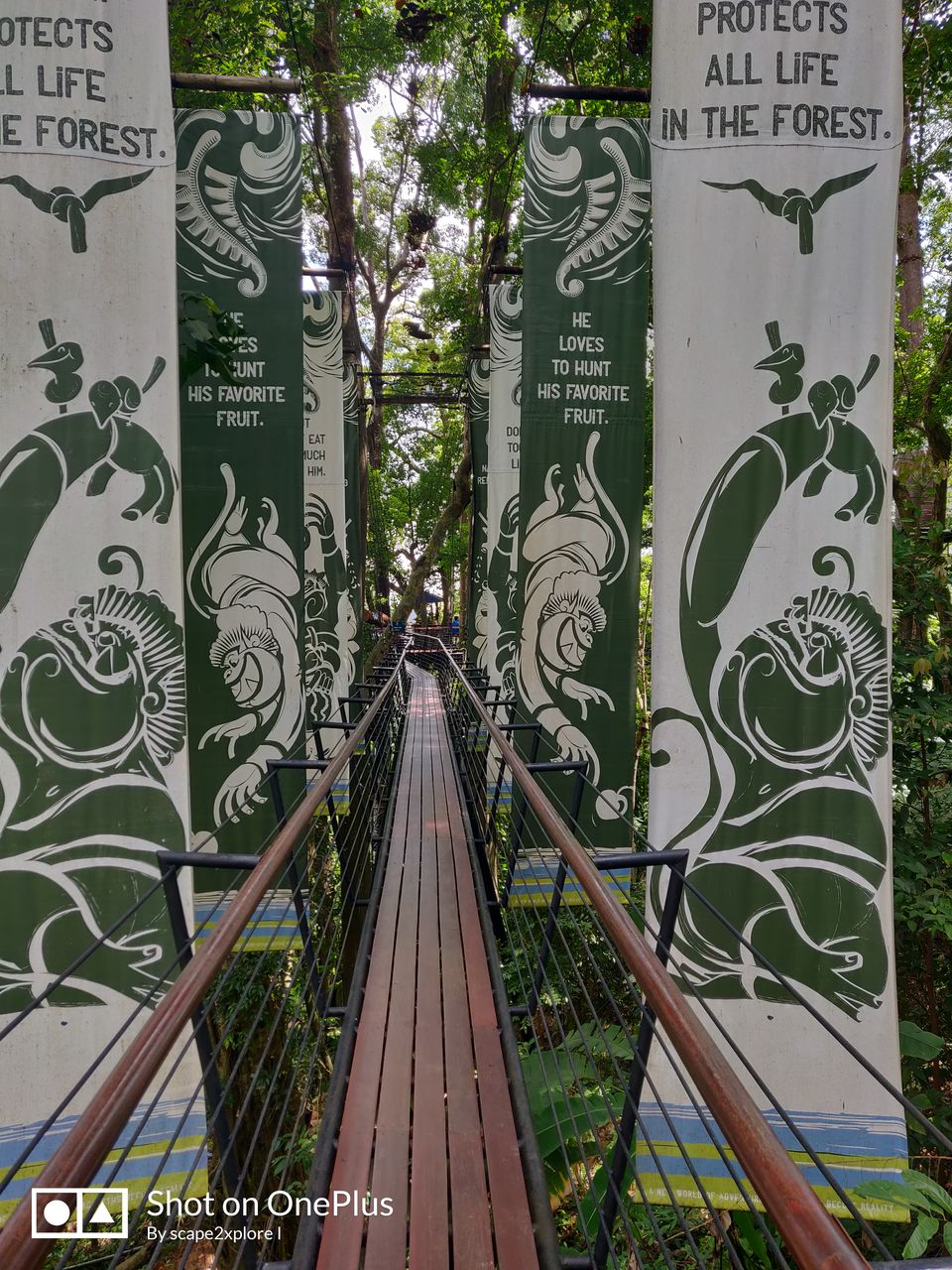 After taking two hours of rest, we still had some time to explore the Phuket city. Jungceylon Mall was the nearest place to our hotel and if you walk further towards the beach you can find the Bangla walking street.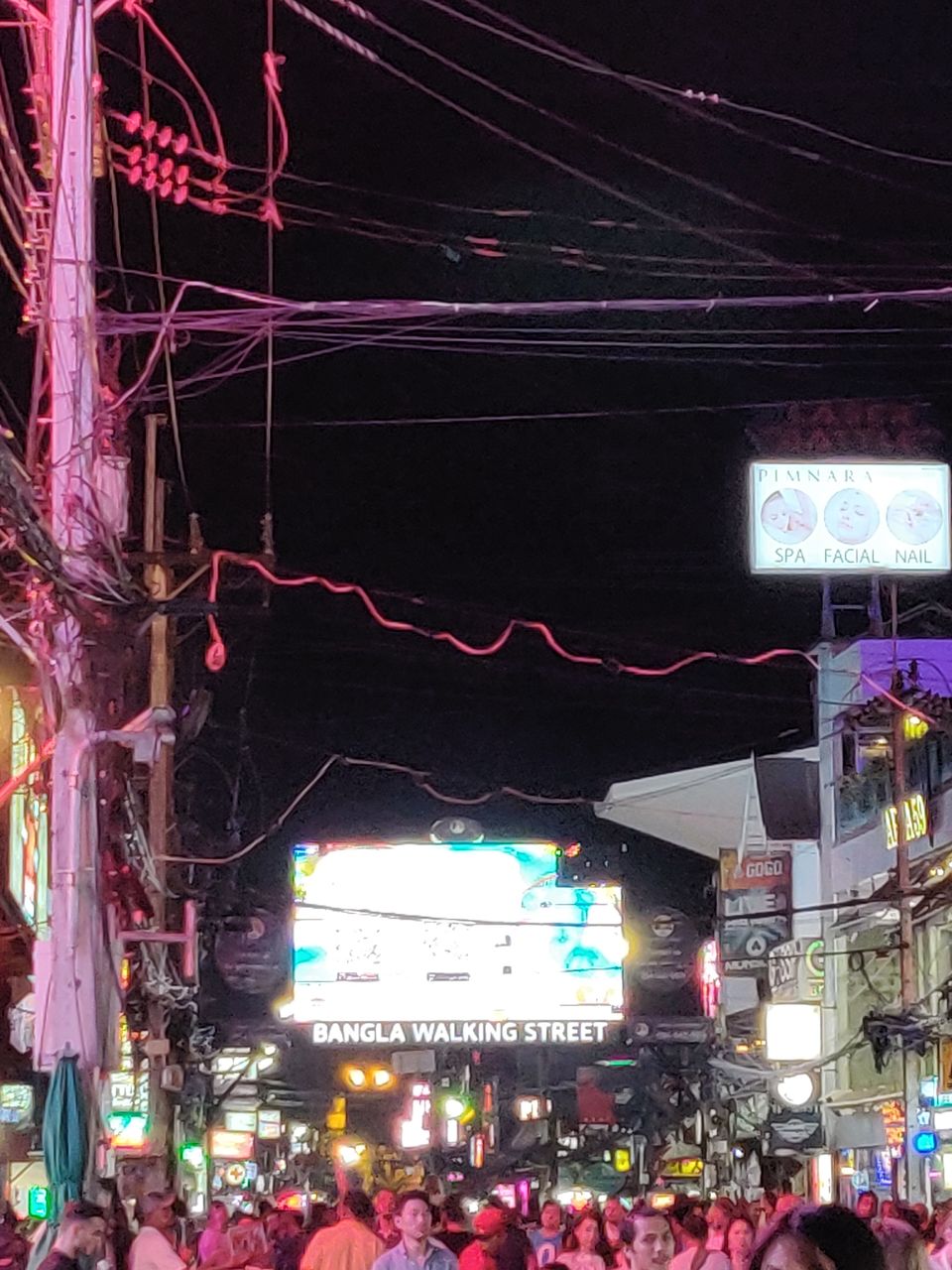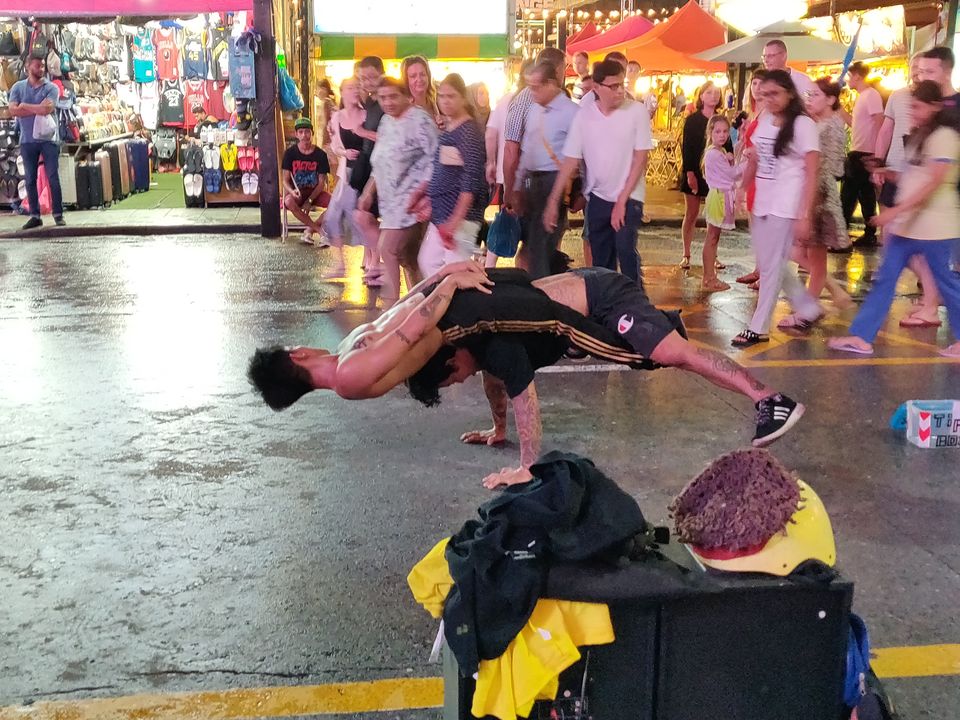 This street is LIT all night where you can experience the exclusive Phuket night life.
The Toyota minibus picked us up from our hotel at 7:30 and took us to the Phetphoom pier. They provided us the life jackets and we went on the speed boat which carried around 40 people headed towards green Island for Snorkeling and Swimming.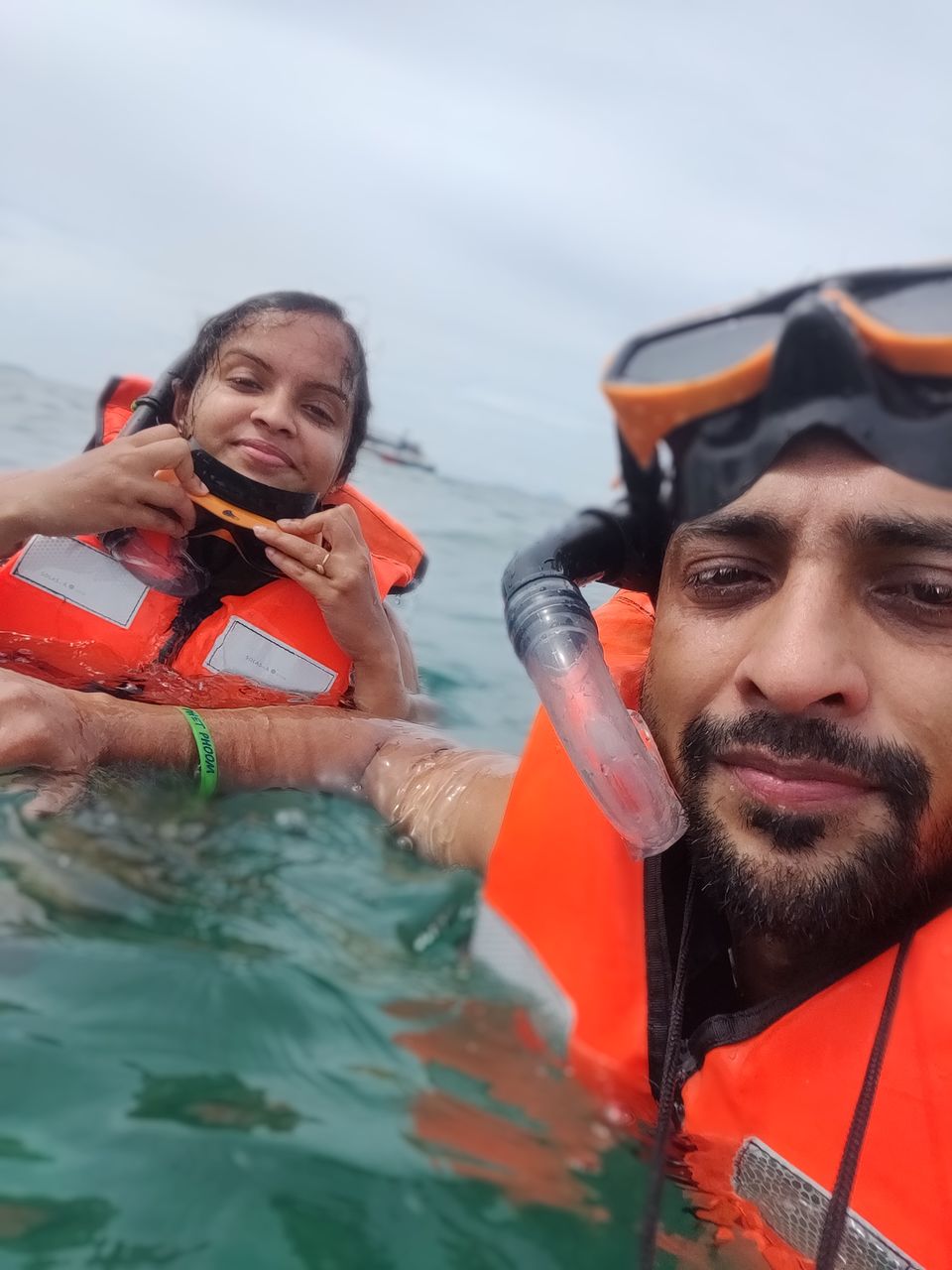 I did snorkel for the first time and I don't even know to swim. Yet, I managed to enjoy it because of the life jacket and the company of my wife. They stopped here for 30 mins and moved to Khai Nui Island, again for snorkeling and swimming. Later we moved around Phi Phi Lay Island, Viking Cave and stopped at Monkey Beach. There are monkeys running around the beach and you can have a small photoshoot here. Then the boat departed to Phi Phi Don Island for lunch. Here we had more vegetarian food options. After lunch the boat took us to Khai Island.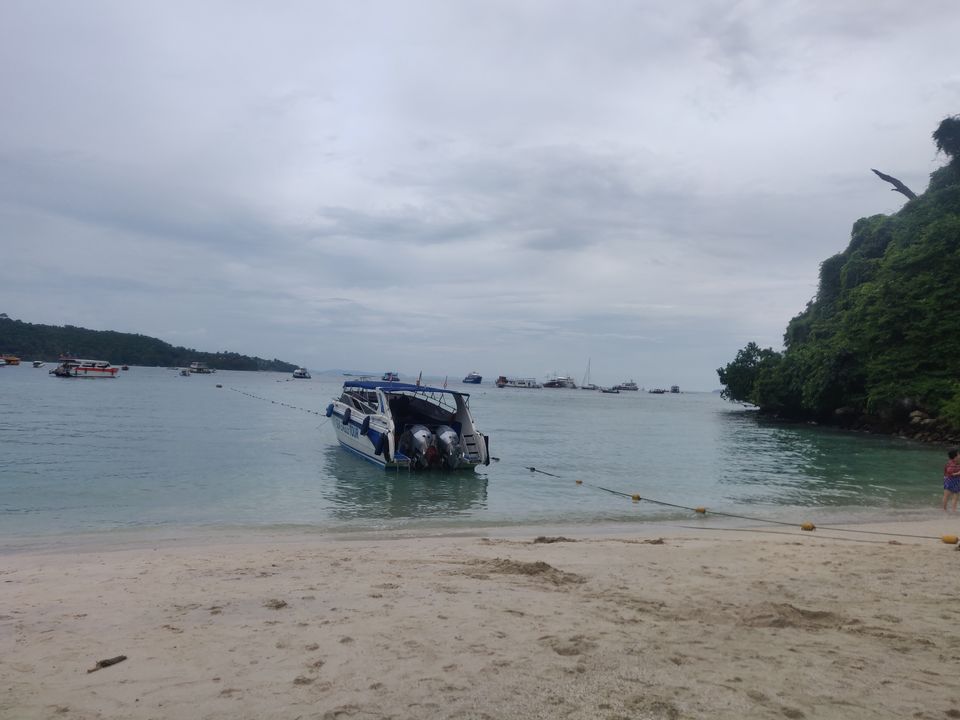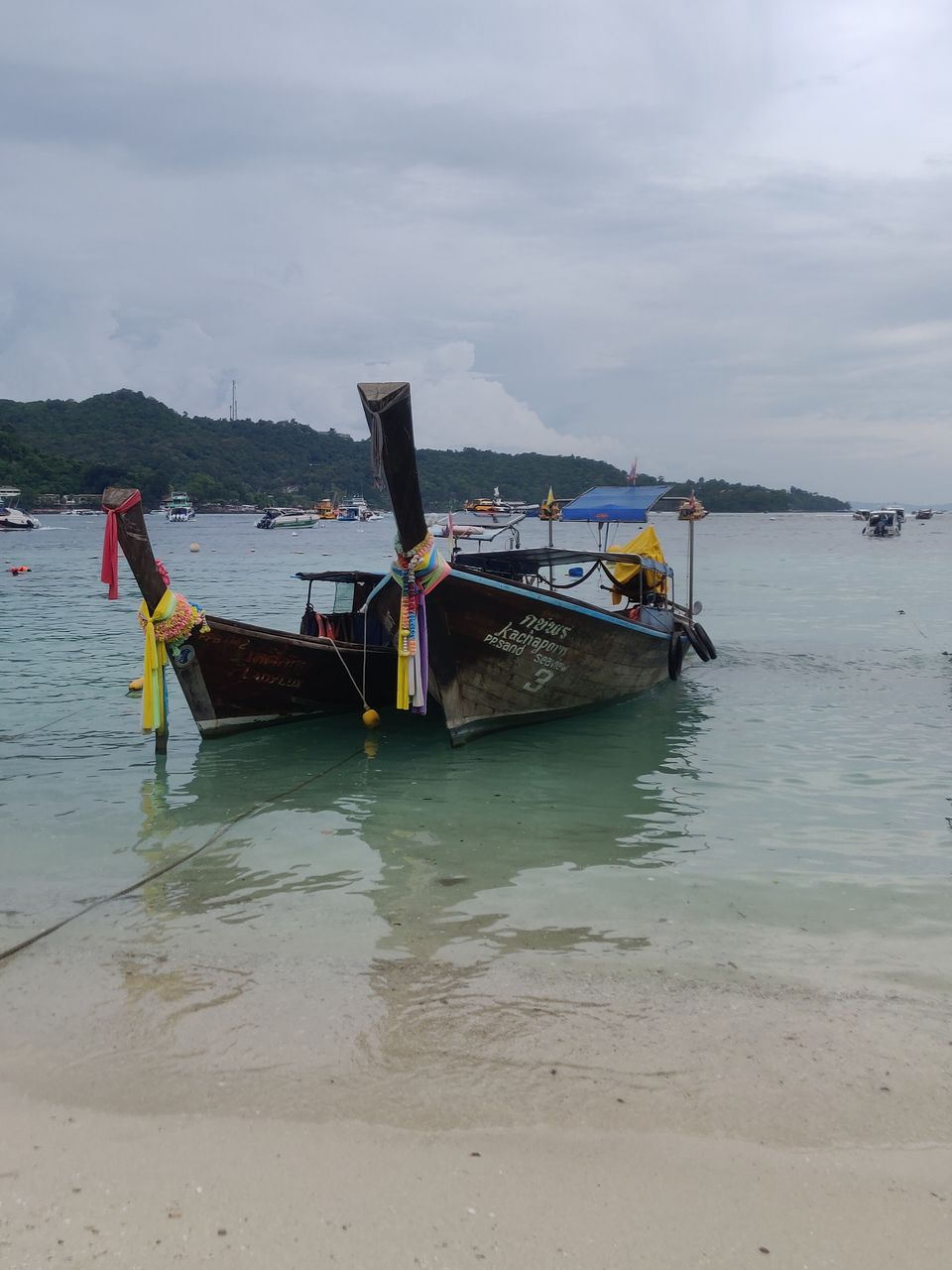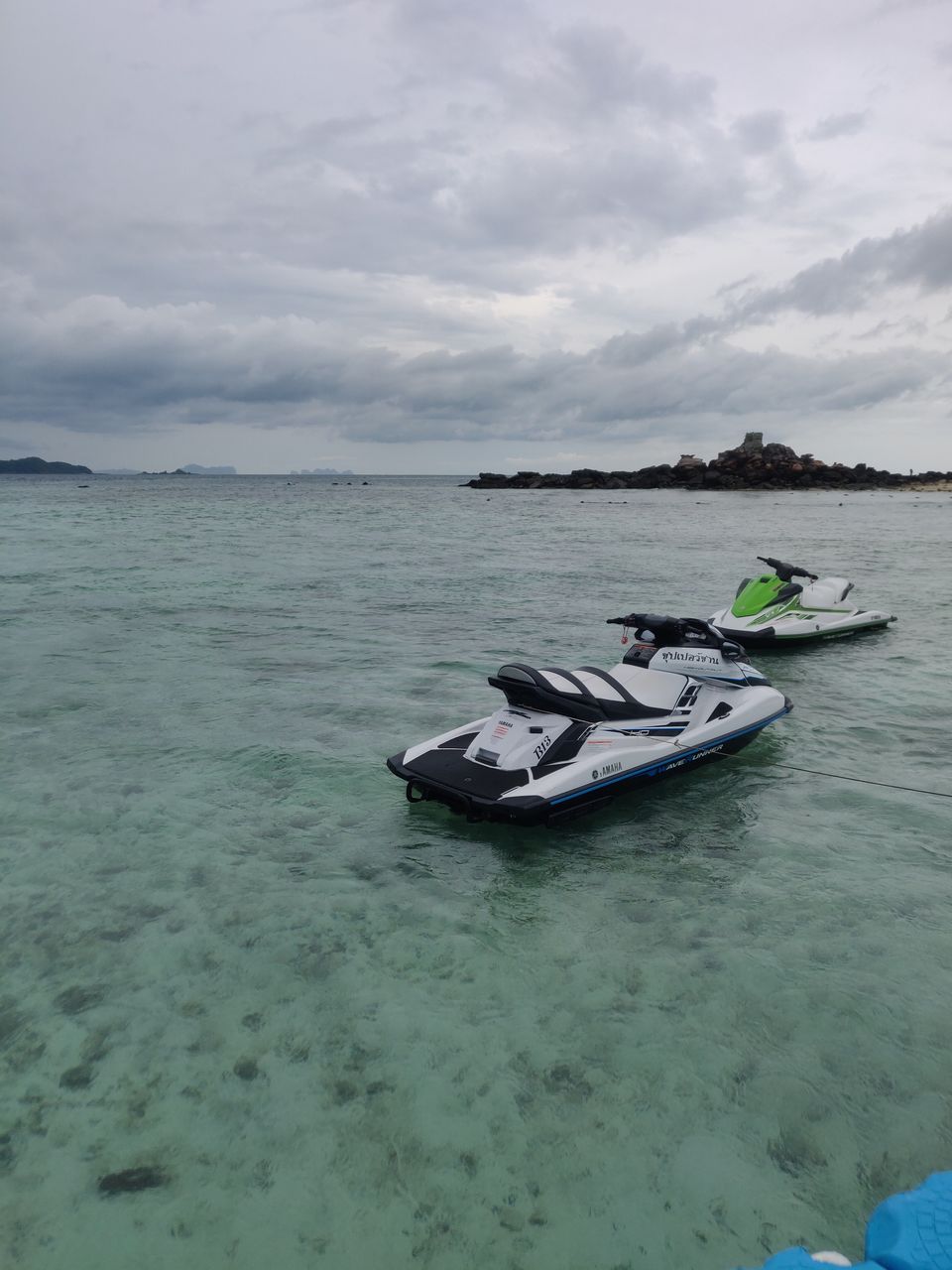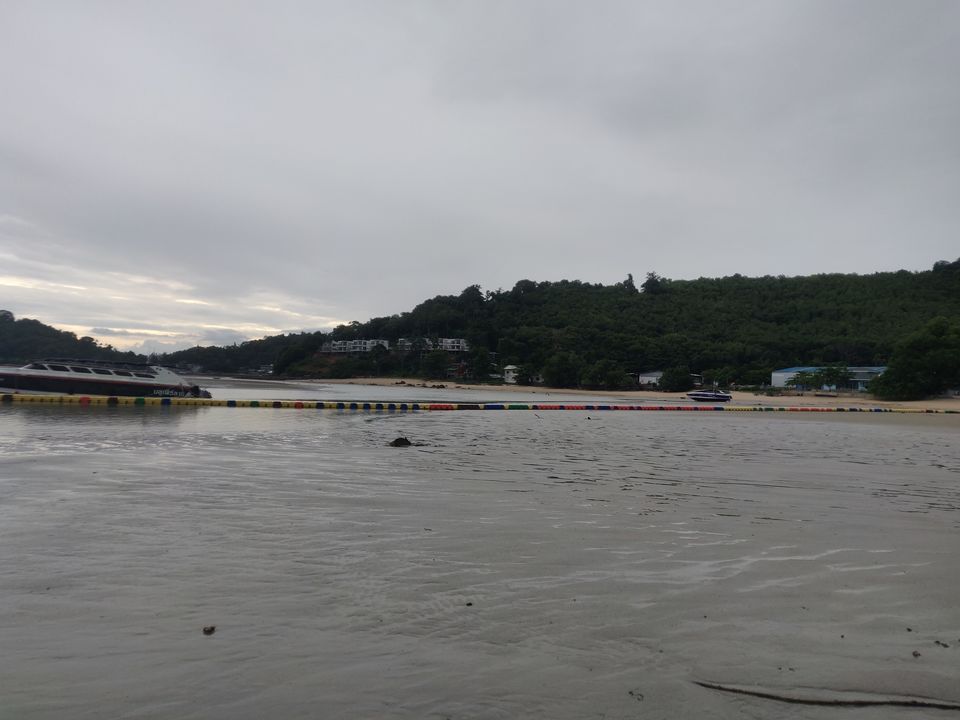 Here we had enough time to relax on the beach and go swimming in the sea. Then we arrived back to the pier and then returned back to our hotel.
As mentioned before, we had only booked a three-day package prior to our tour. We still had five days in hand and had a brief idea on what we wanted to do. Also, we had done our research on few other travel agencies and decided to book tours for the next five days through Phuket travel company. The package prices are negotiable and we got a pretty good deal.
We booked half day city tour which covered the following places:
*Kata Viewpoint *Meet the Baby Elephant *Big Buddha *Wat Chalong Temple *Cashew-Nut factory *Tiger Kingdom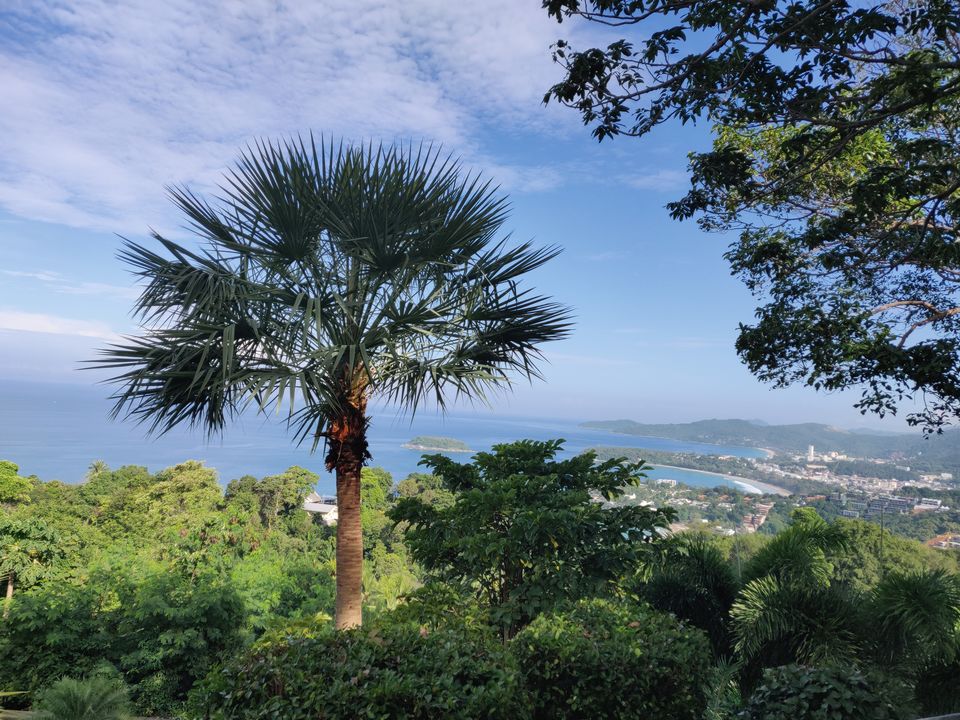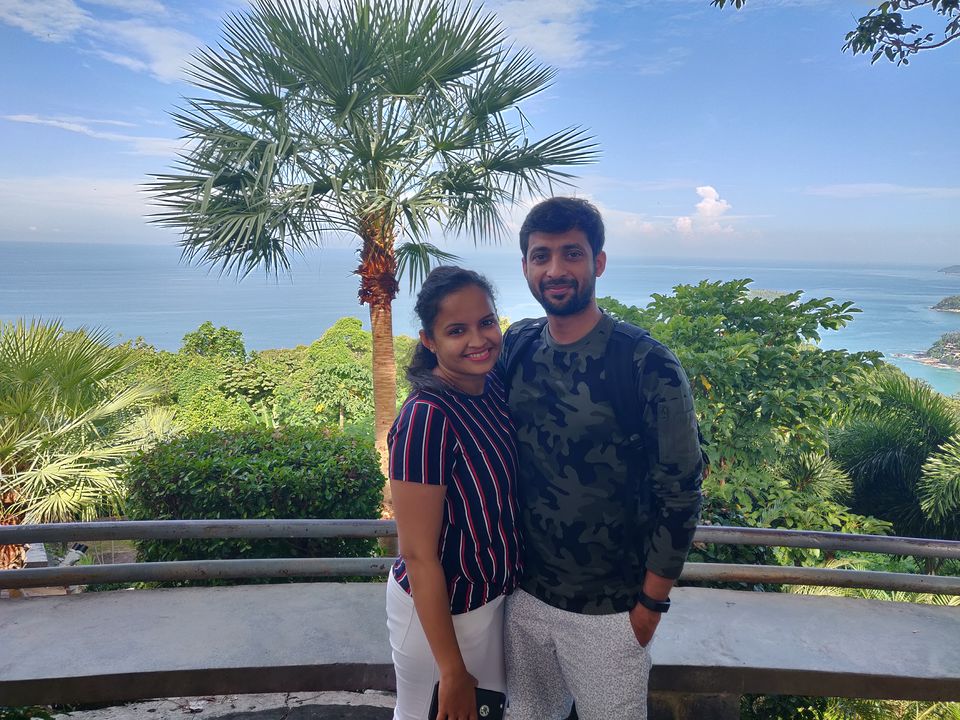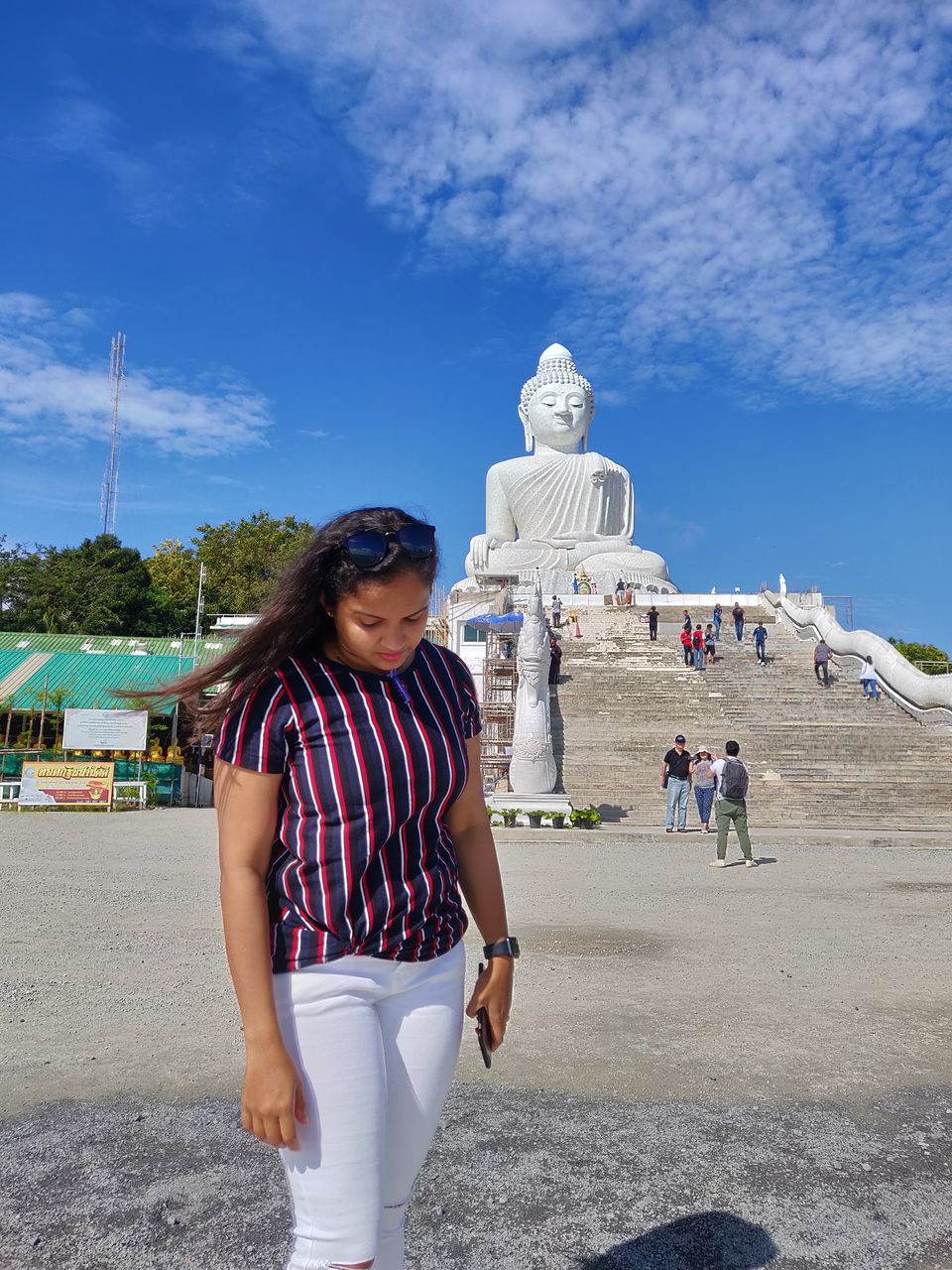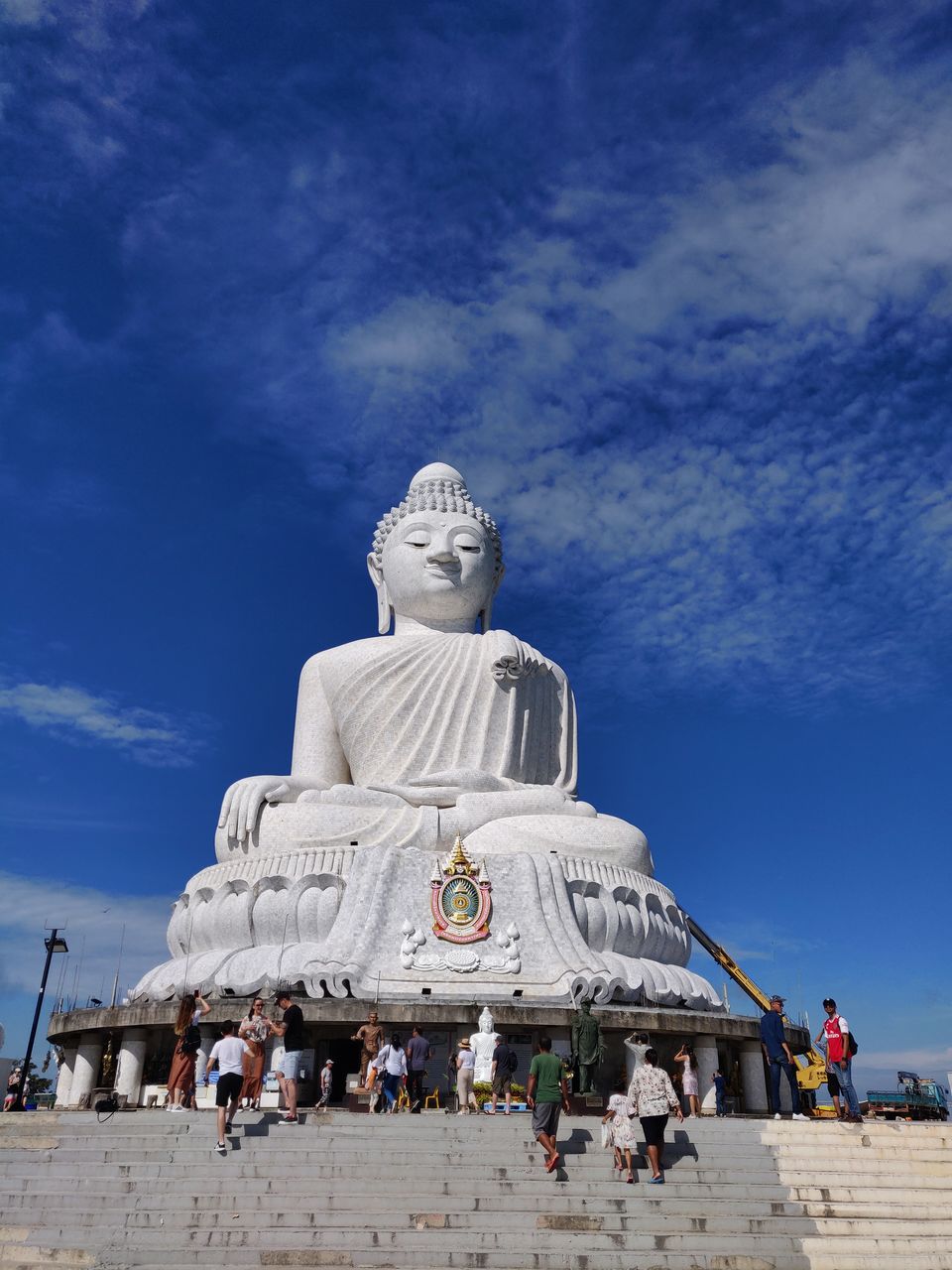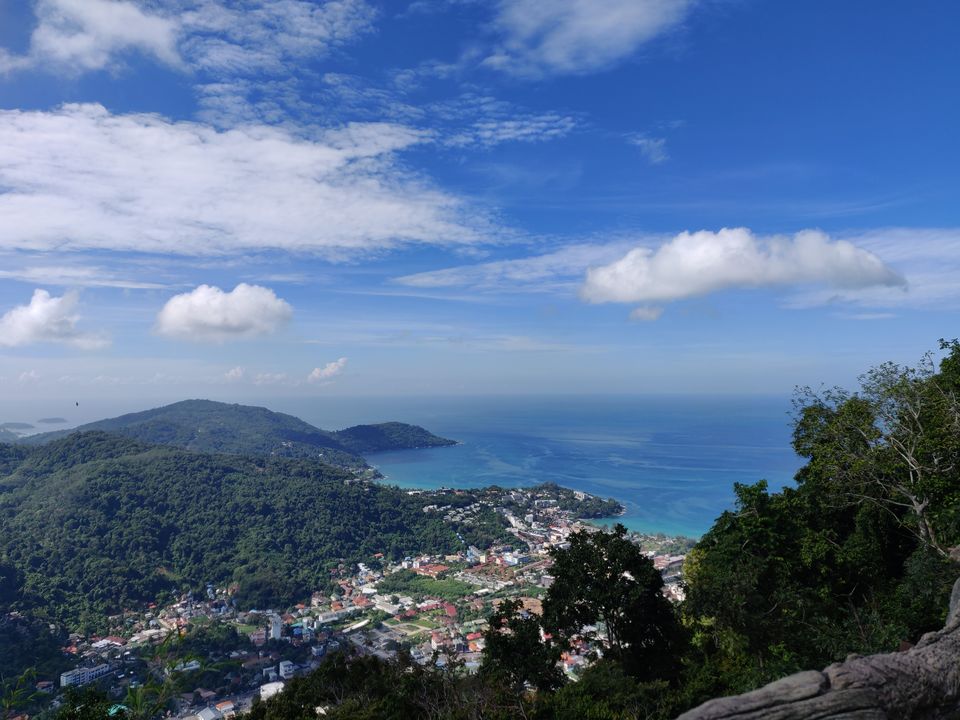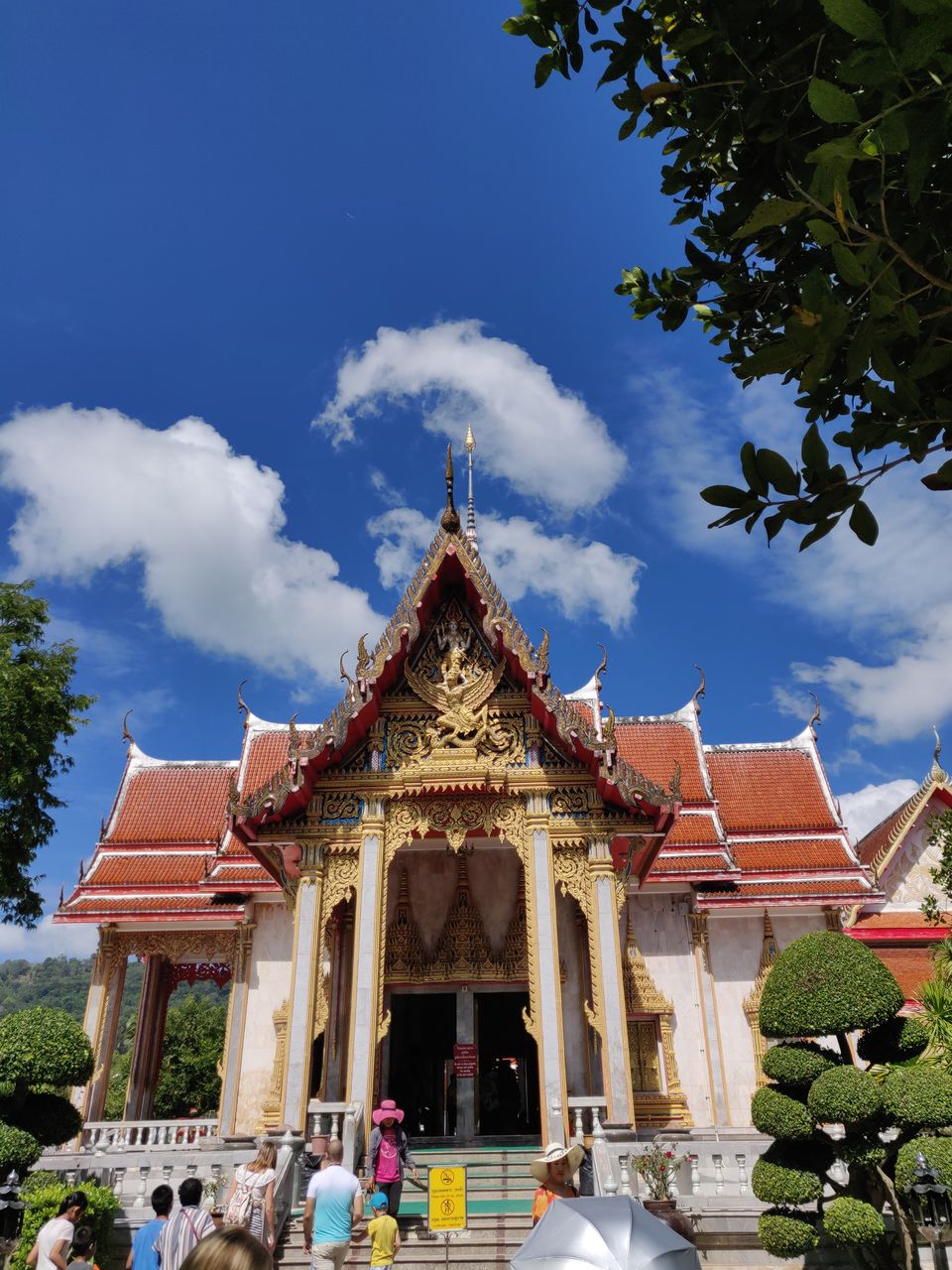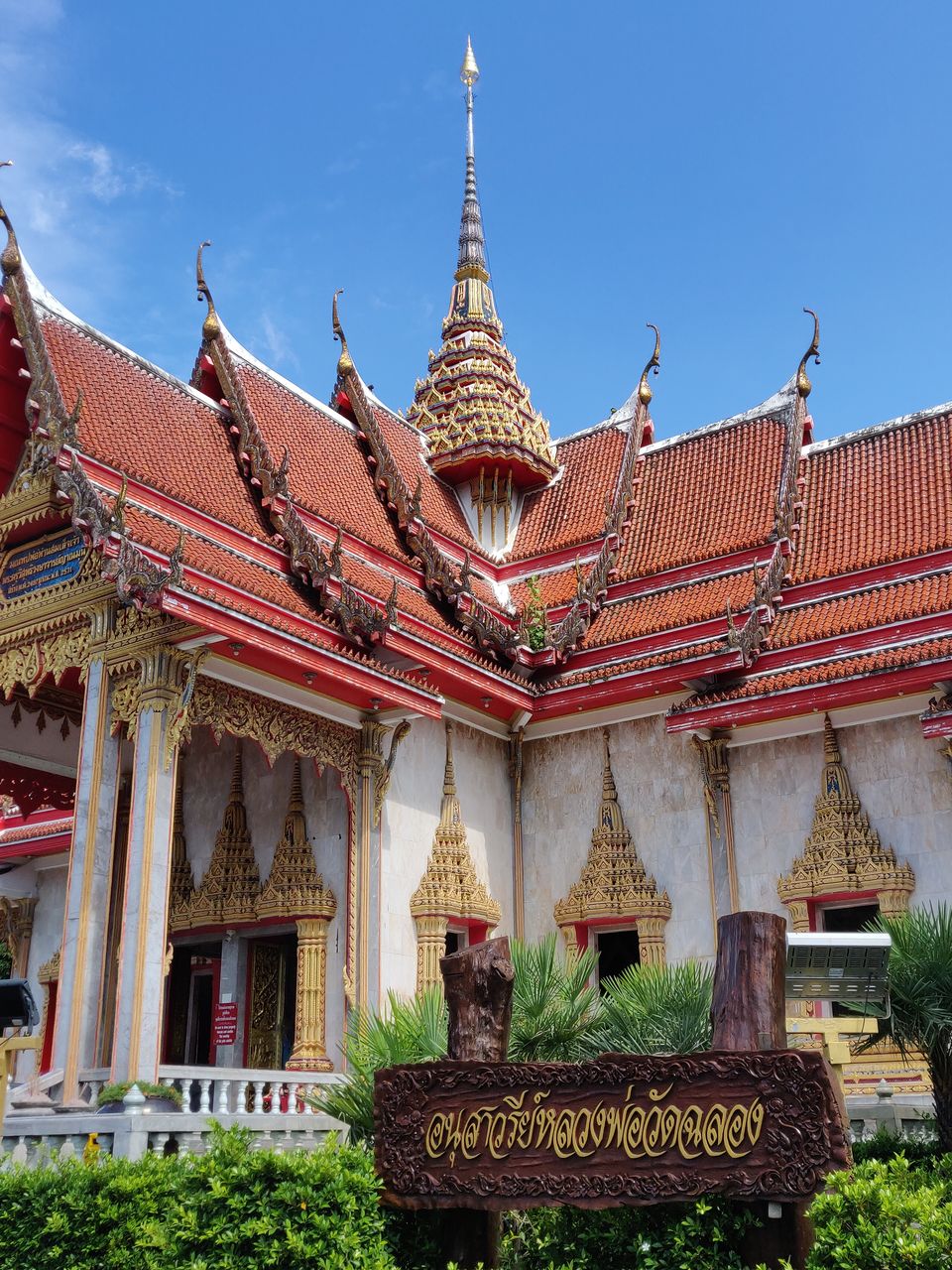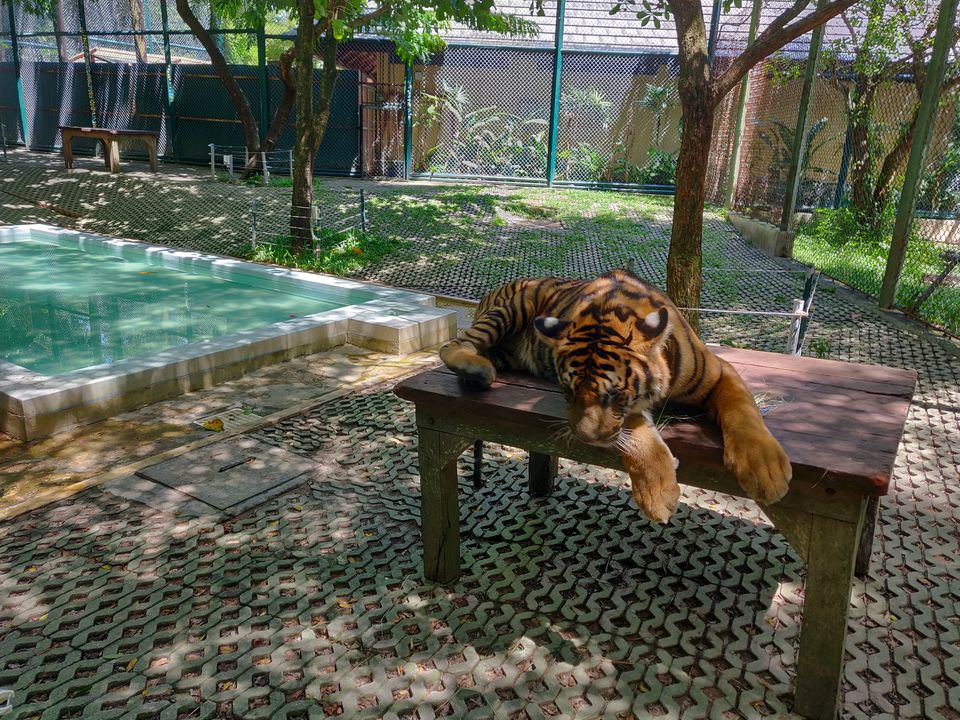 In the evening we went to Phuket Fantasea Show which is a Cultural theme park. Here, we got to experience and visit tiger jungle adventure, also enjoy a good Indian buffet dinner.
We traveled to Krabi by ferry. A minibus picked us up from our hotel and took us to the pier at Phuket.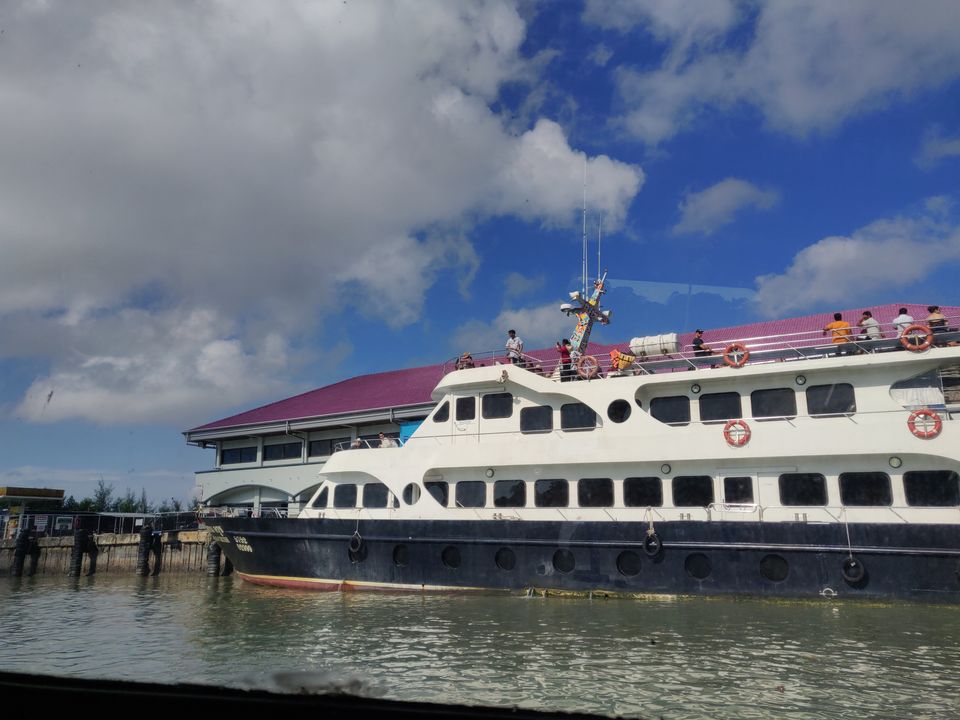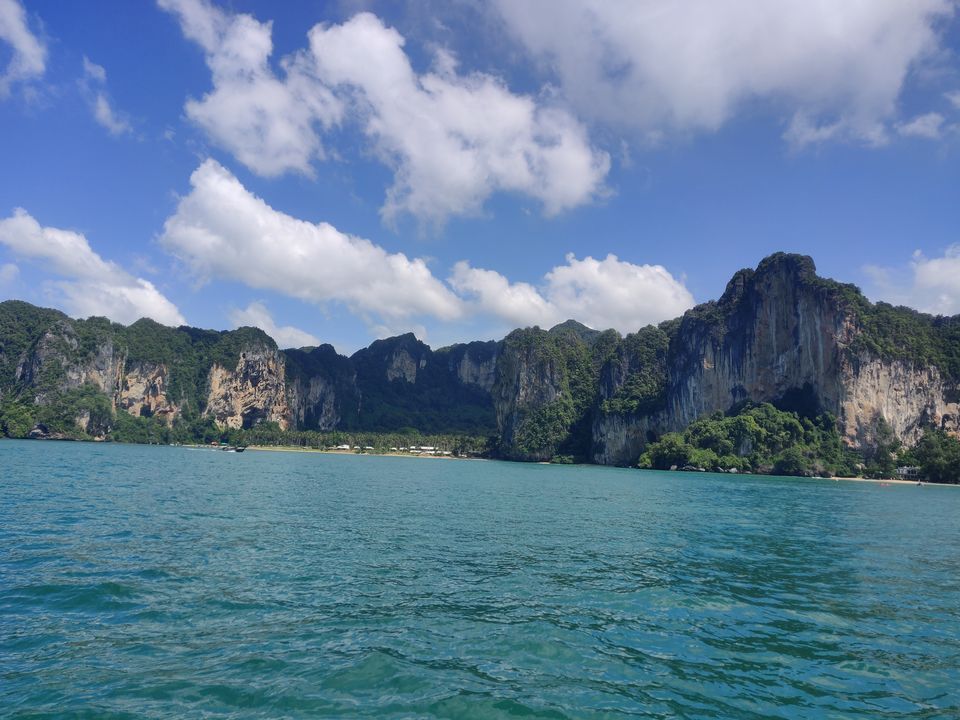 From the pier we traveled to Krabi Ao Nang pier in a ferry and to Sugar marina Cliff hanger hotel on road.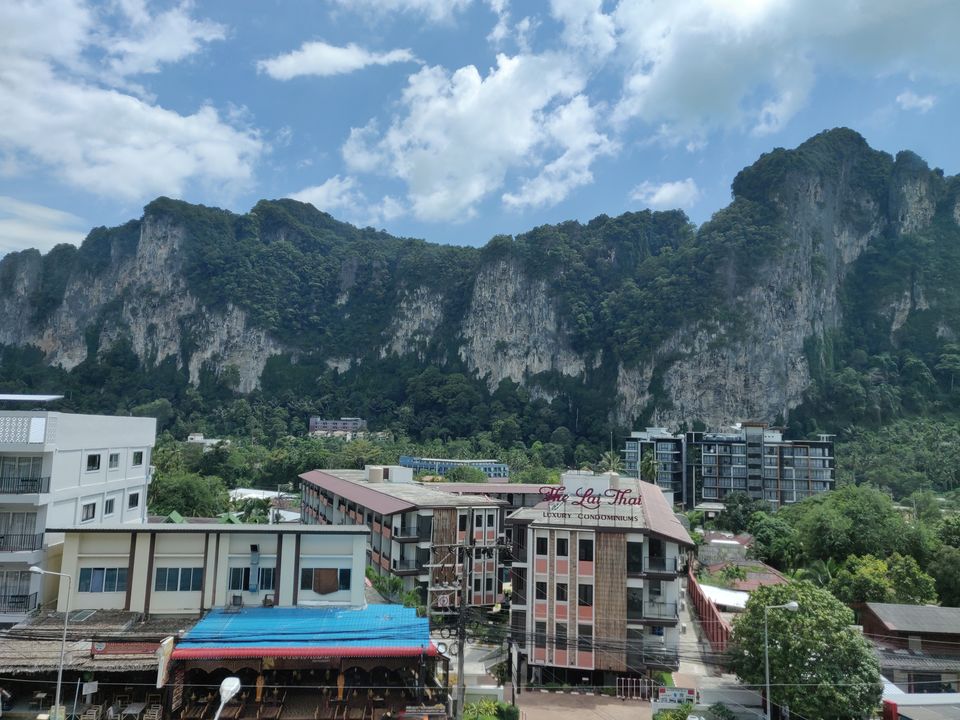 The hotel has a beautiful cliff view. In the evening we went shopping. Most of the shops are surprisingly owned by Indians. There is a good collection of T-shirts, footwear and bags.
On the next day we luckily met our friend in Krabi.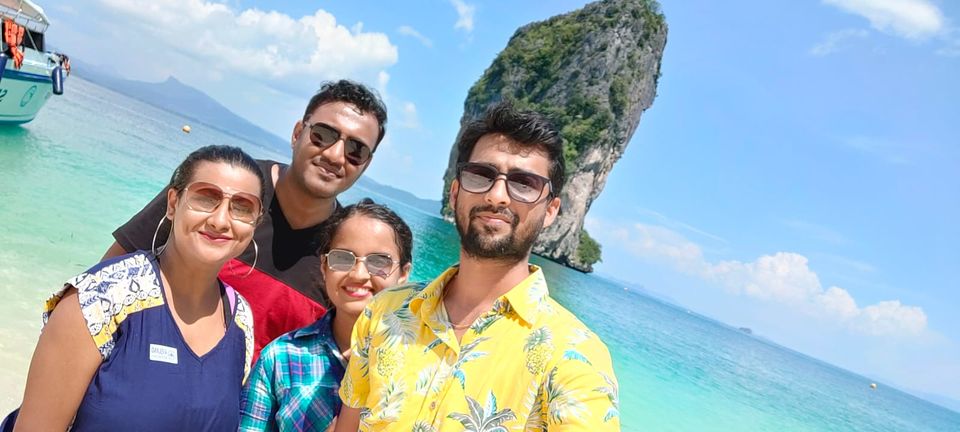 He had just arrived from Bangkok and both of us booked the same tour package for the day.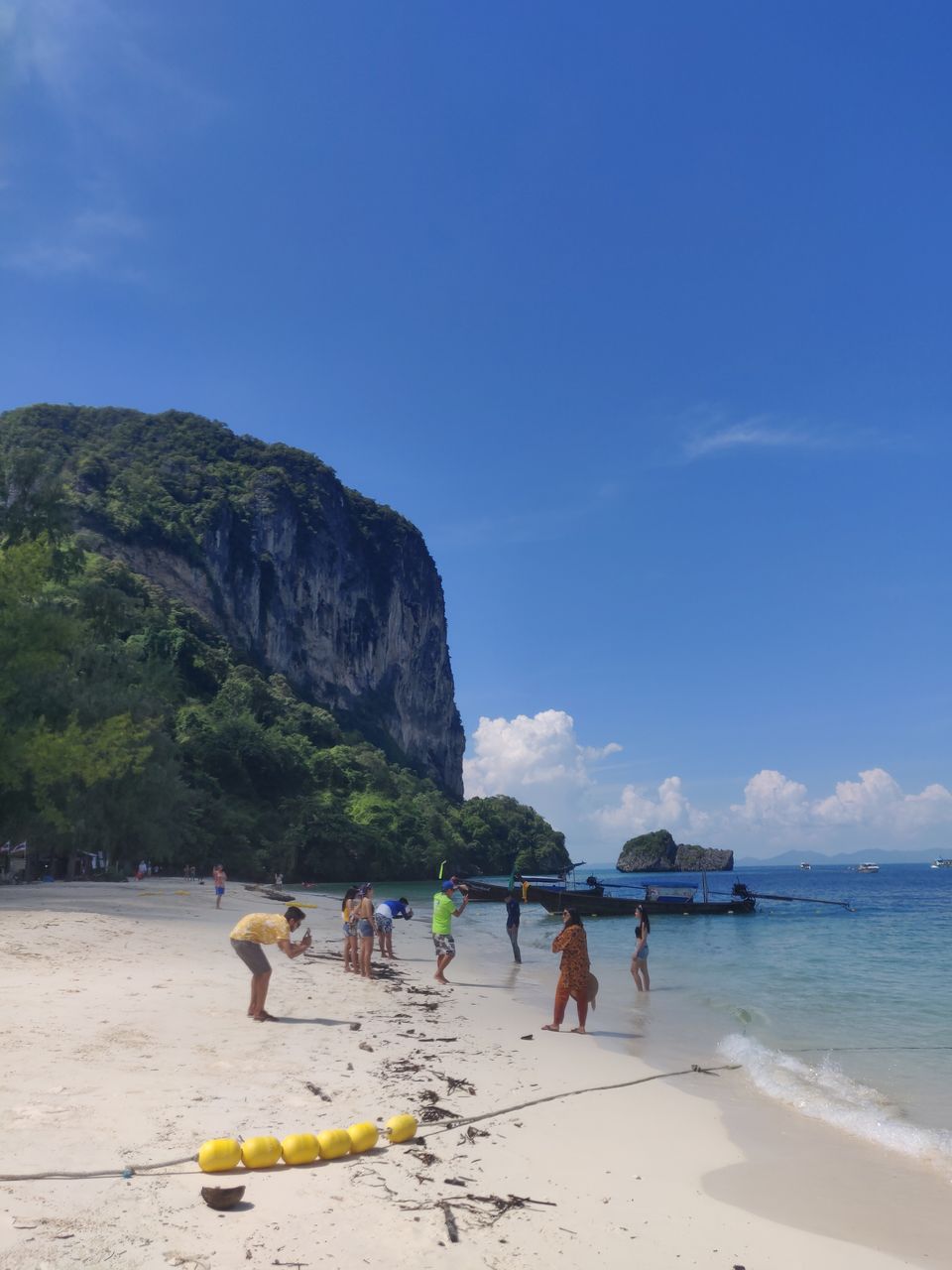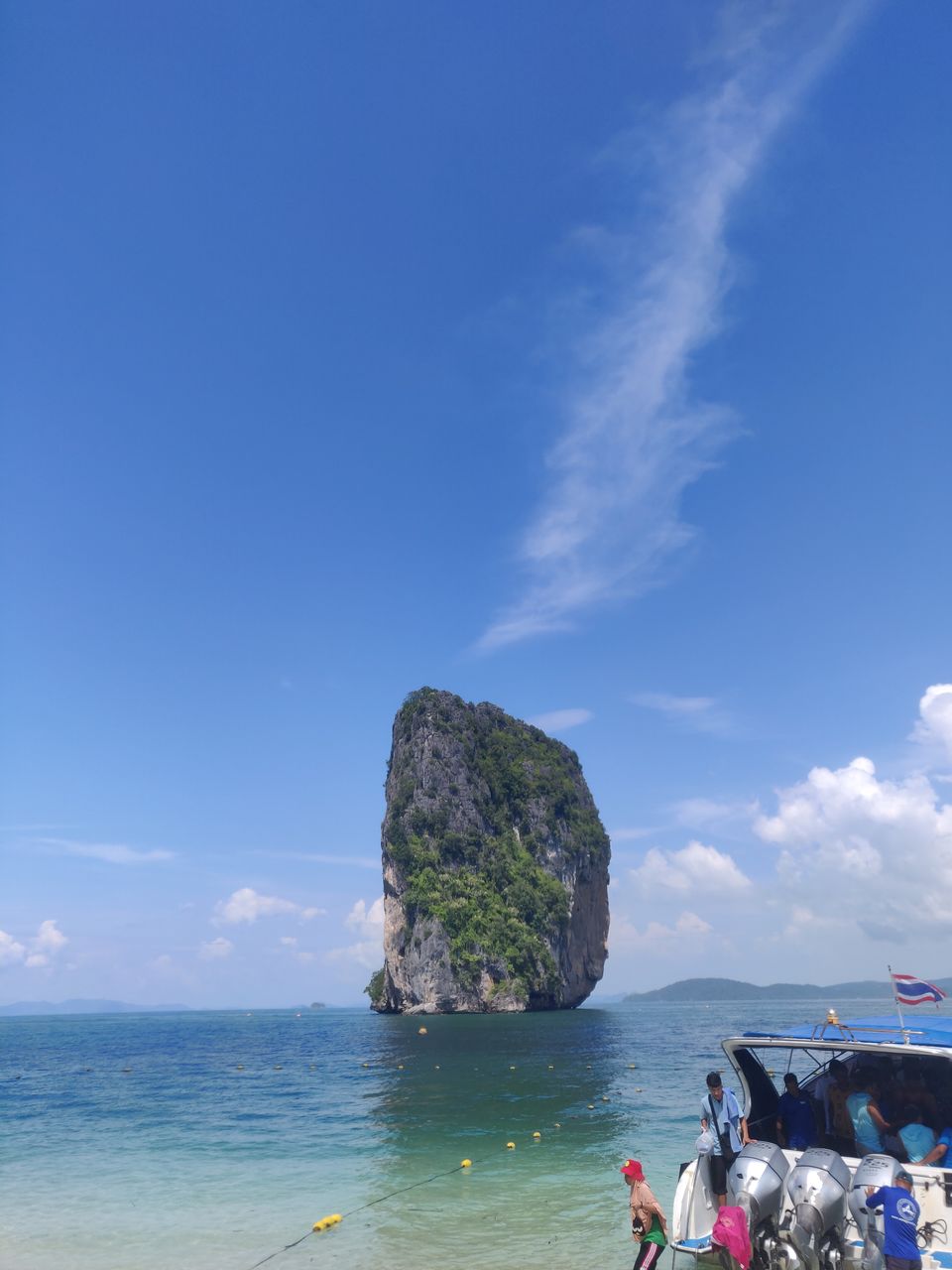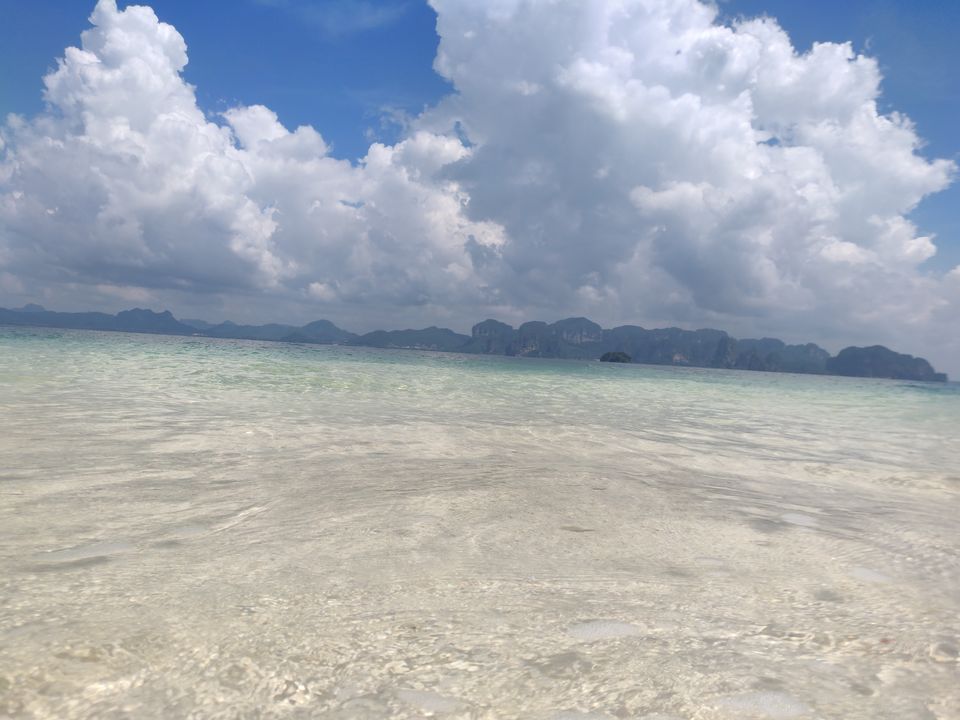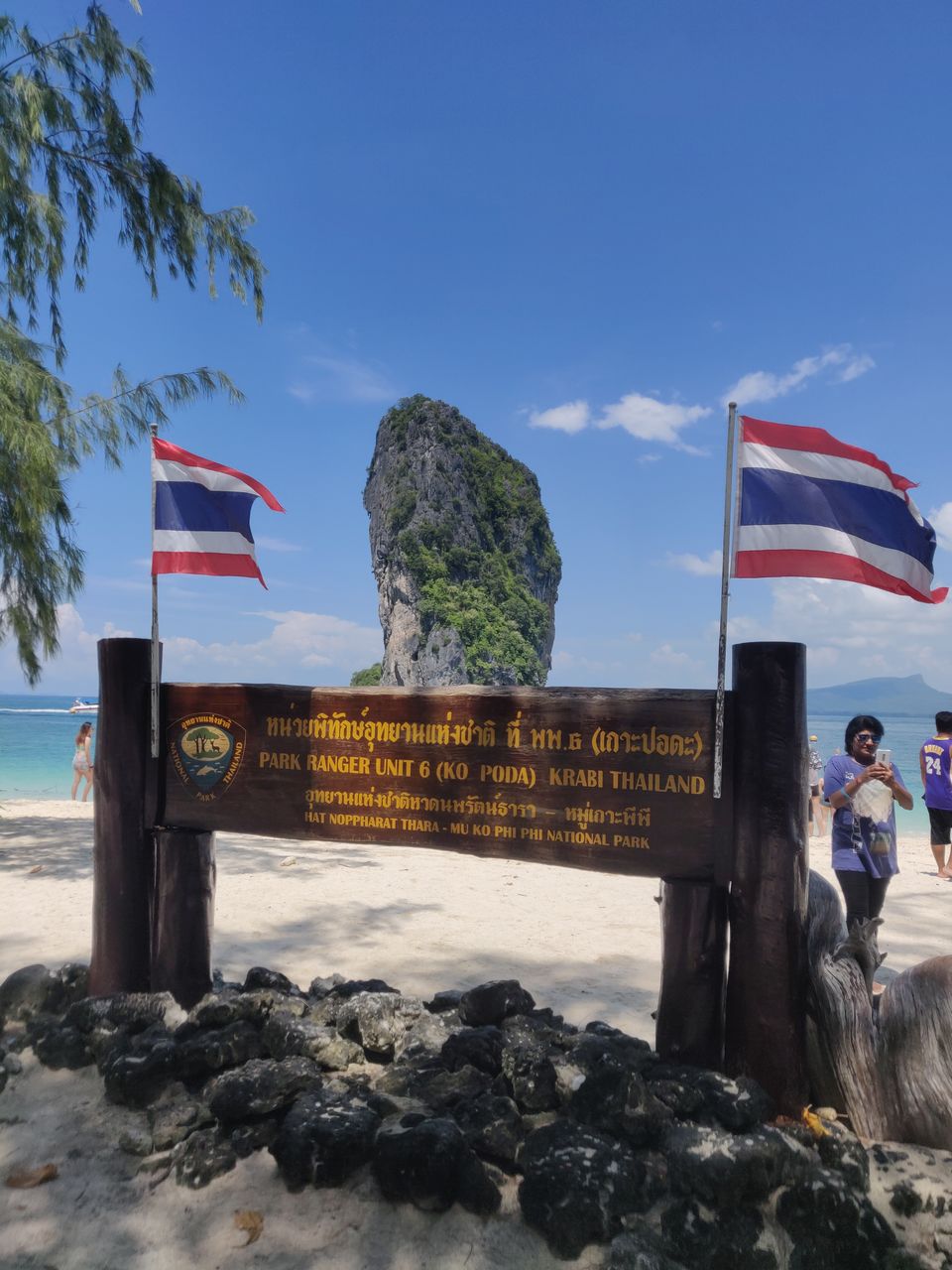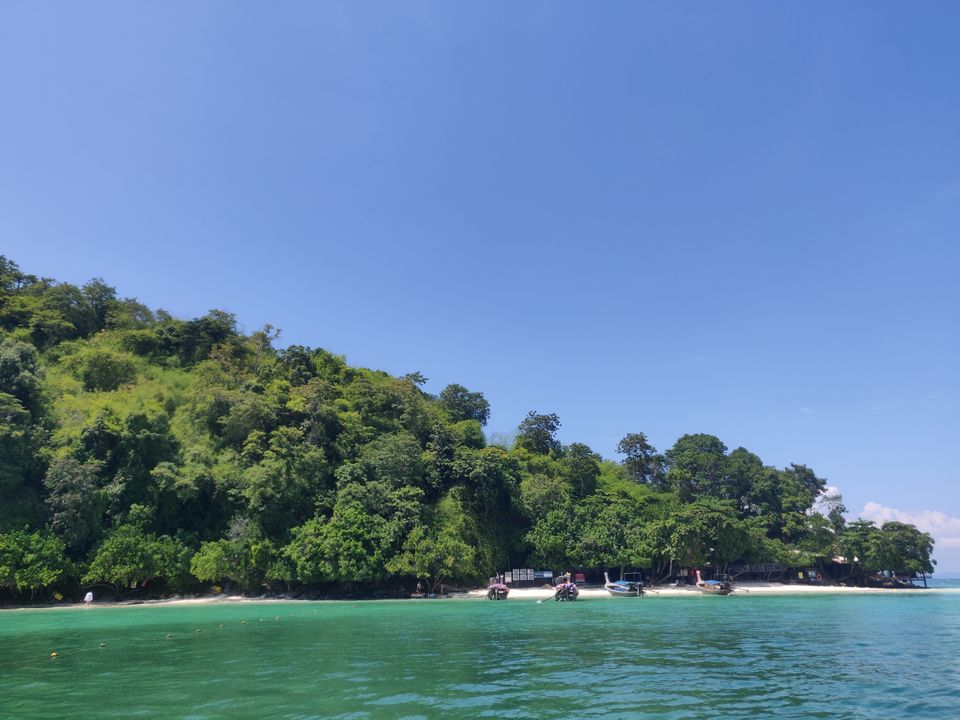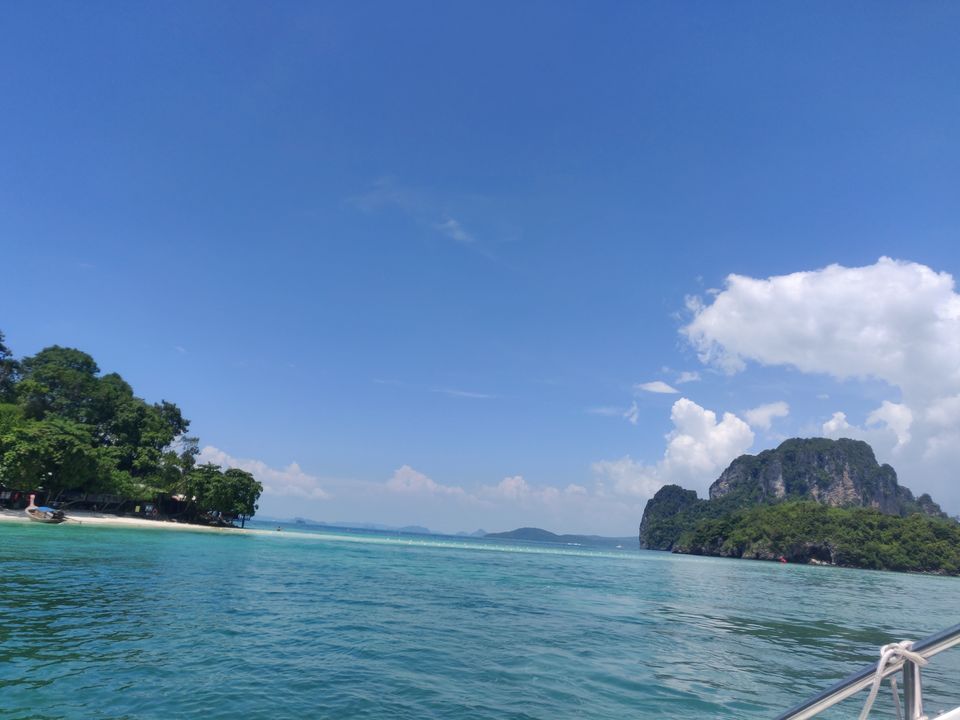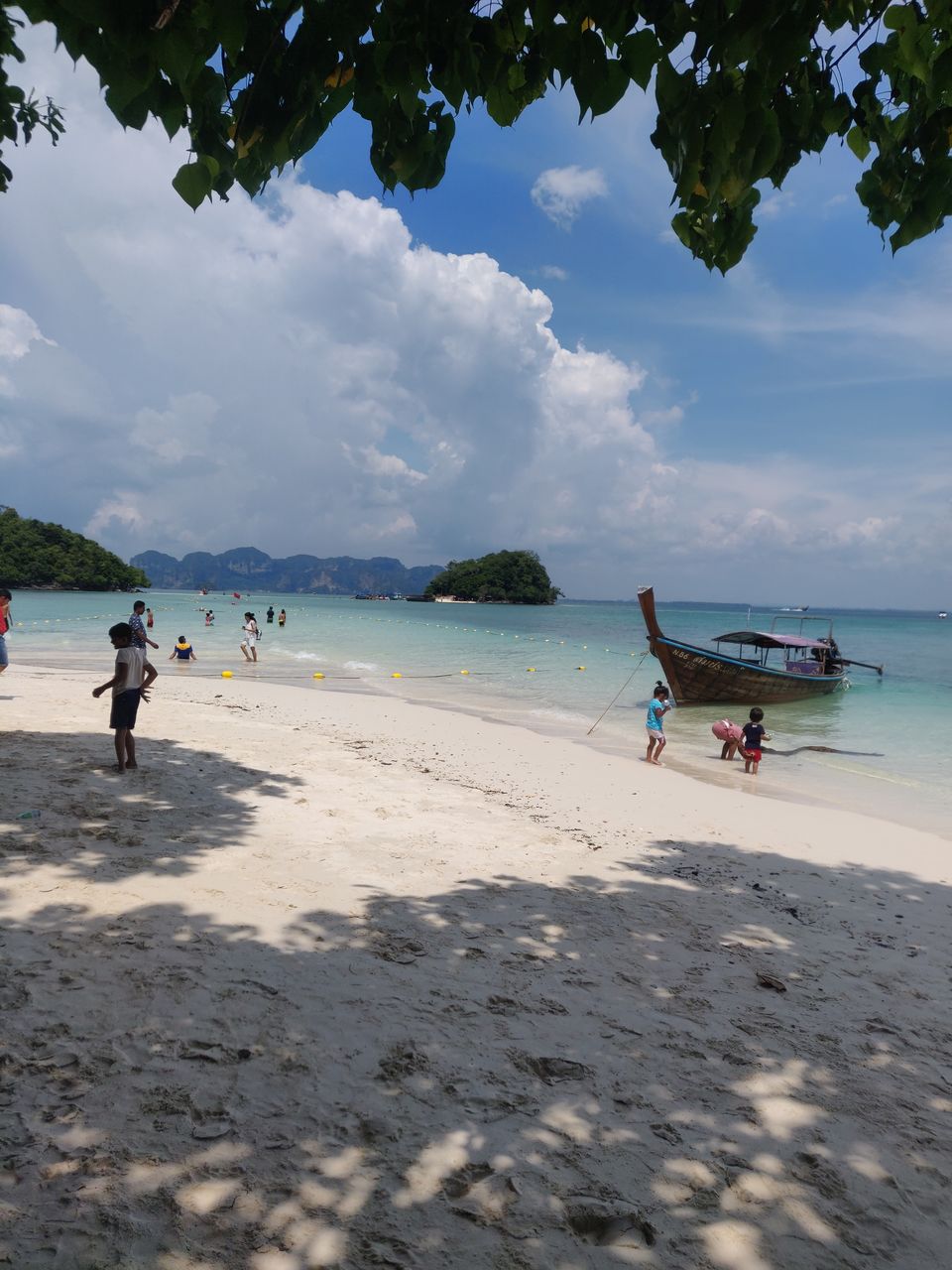 At first the speed boat headed to Poda Island, where we had to pay 400 Baht as national park fee (It's usually not included in the package). Poda island is a white sandy beach and is an ideal place for swimming and sunbath. We did some good photo session then moved on to the chicken Island for lunch. The vegetarian fried rice was good. You find a place change into swim clothes, in case you want to go swimming.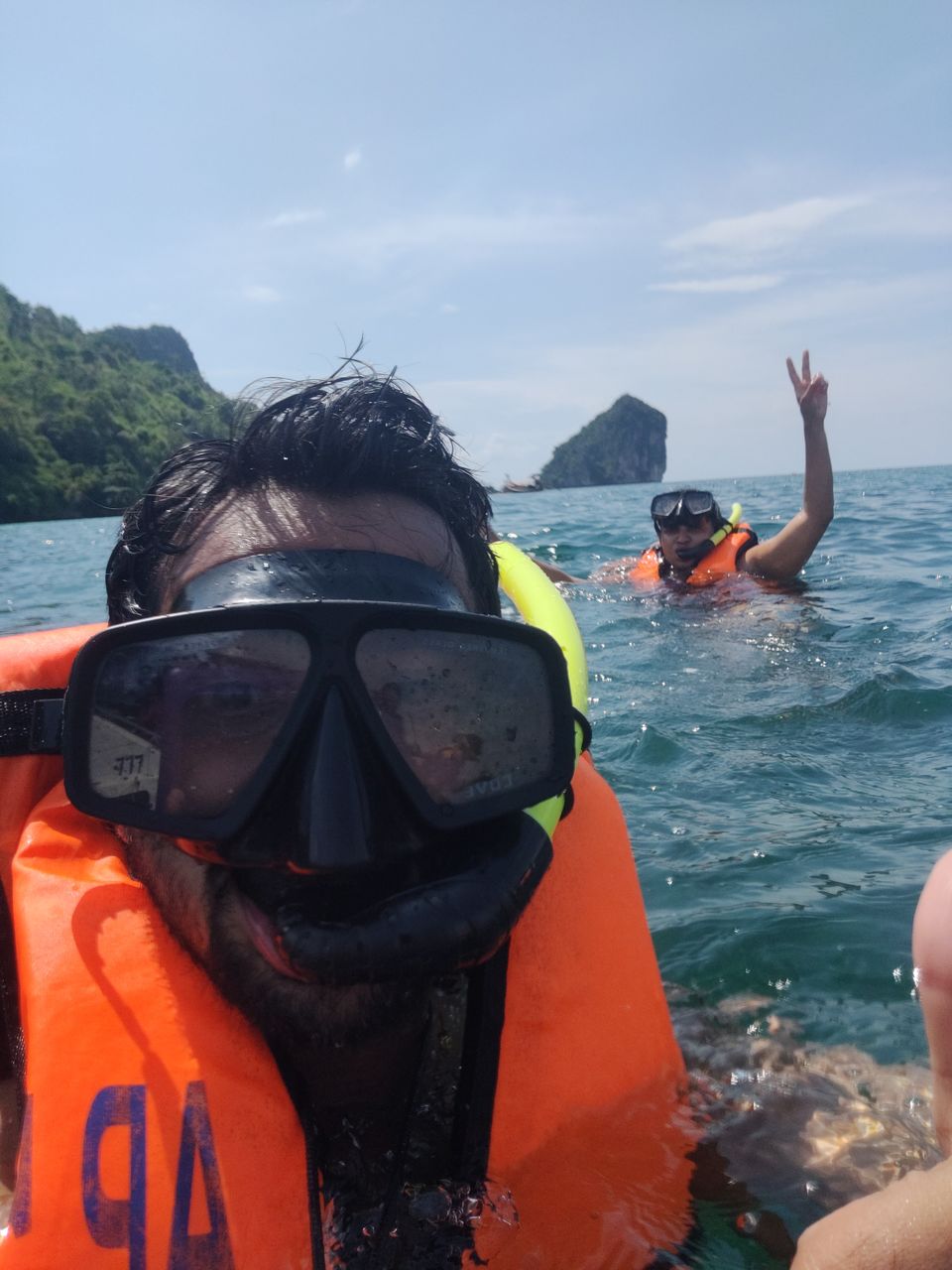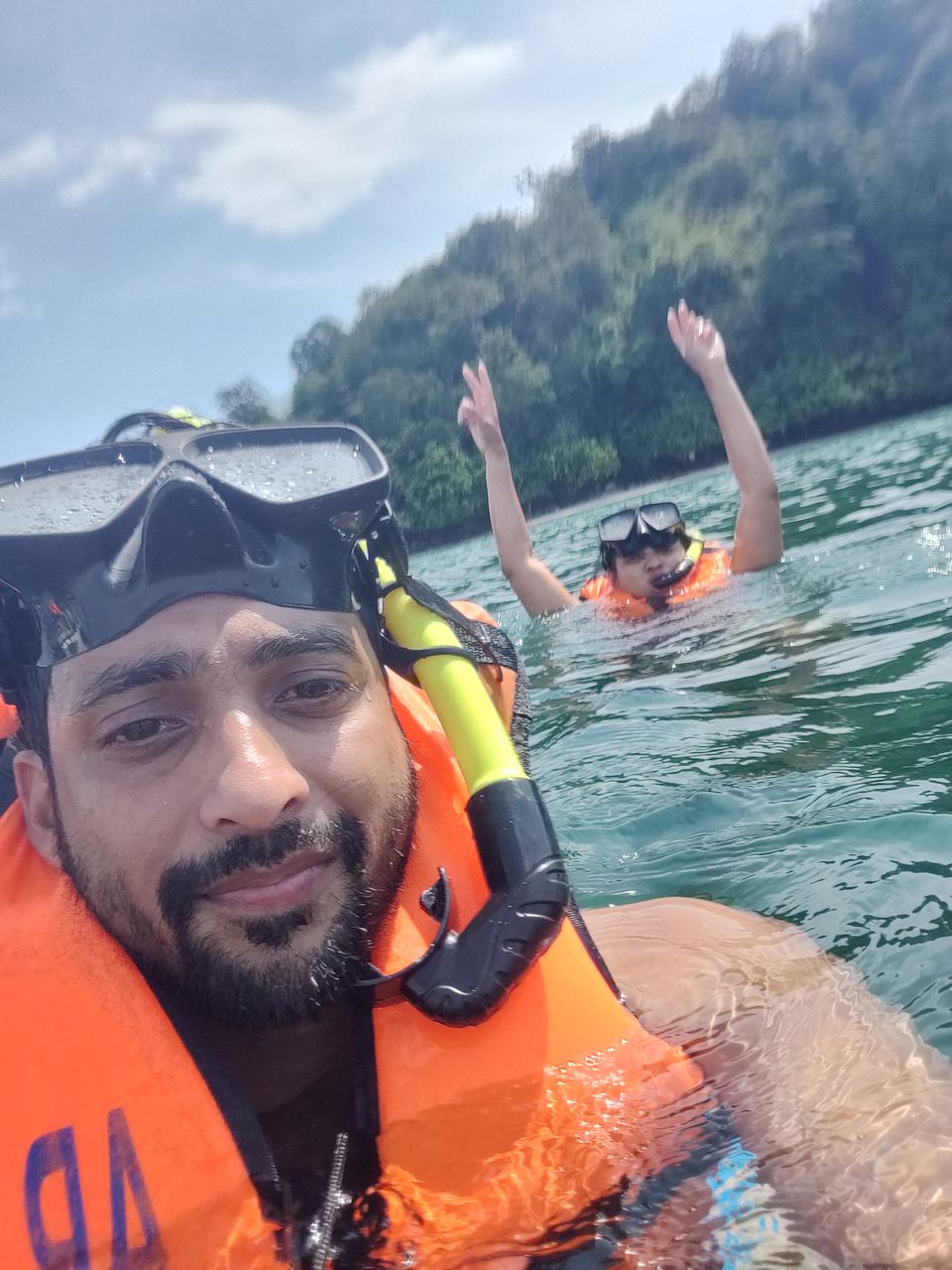 Then in between chicken and Tub island our boat stopped for snorkeling. Then visited Tub Island for swimming. Later we traveled to Pranang cave beach. From the beach we returned back to Ao Nang pier and then to our hotel.
You will get plenty of good massage center both in Krabi and Phuket. We got out foot massaged for 250 Baht which was helped us relax from all our adventures.
There are plenty of Indian restaurants available in Krabi and the best one we would recommend is madras café.
This was the final day of our vacation. We arrived at Hot Spring after travelling for an hour. It's a jungle bath tub with a temperature of 40 to 50 degree Celsius.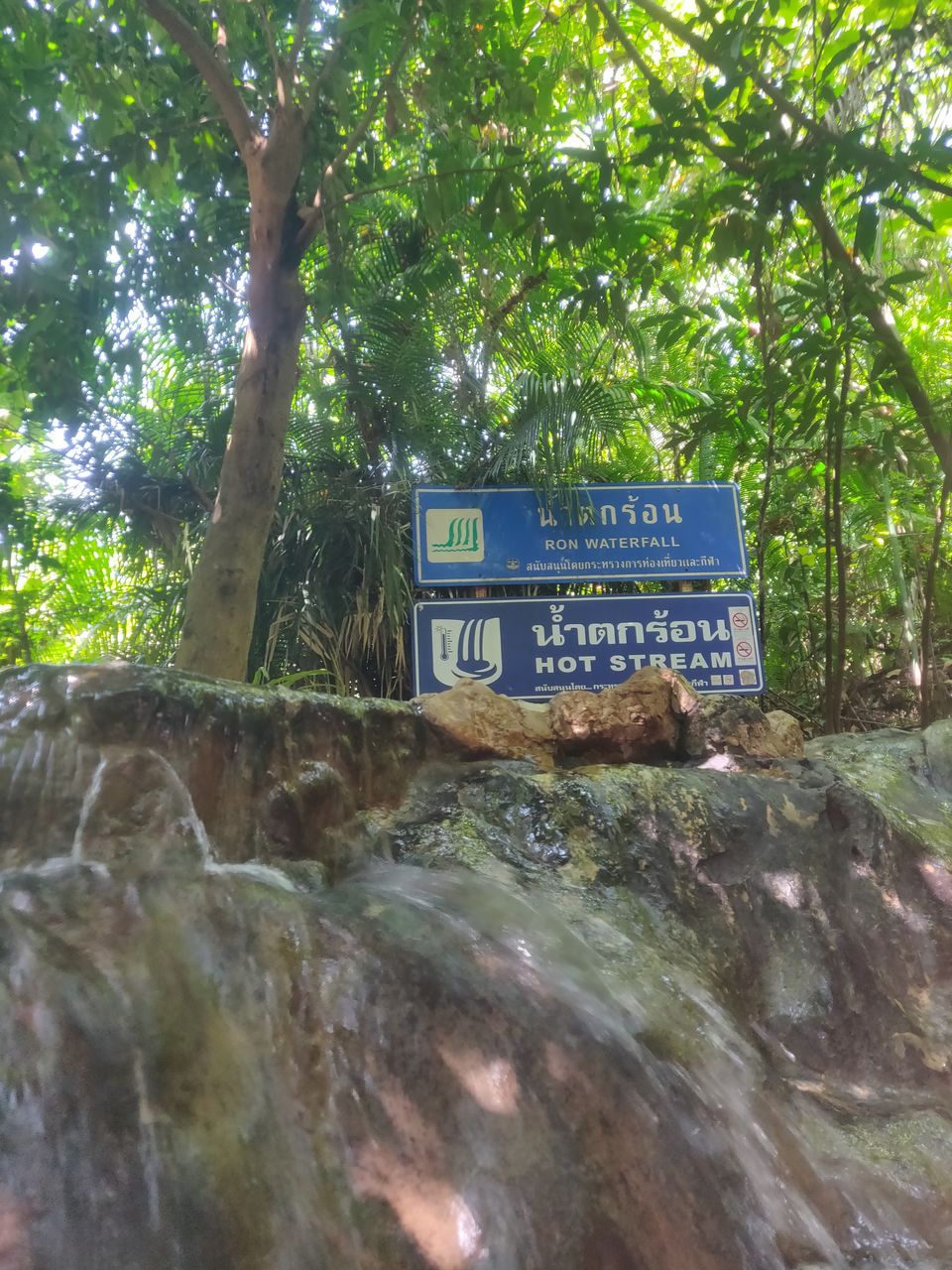 After relaxing into bath tub we headed to the Emerald pool which is a 20 min journey from hot spring. We hiked into the rain forest for around 20 minutes and arrived at emerald pool for swimming. This is the biggest natural pool. And its about 4-5ft high.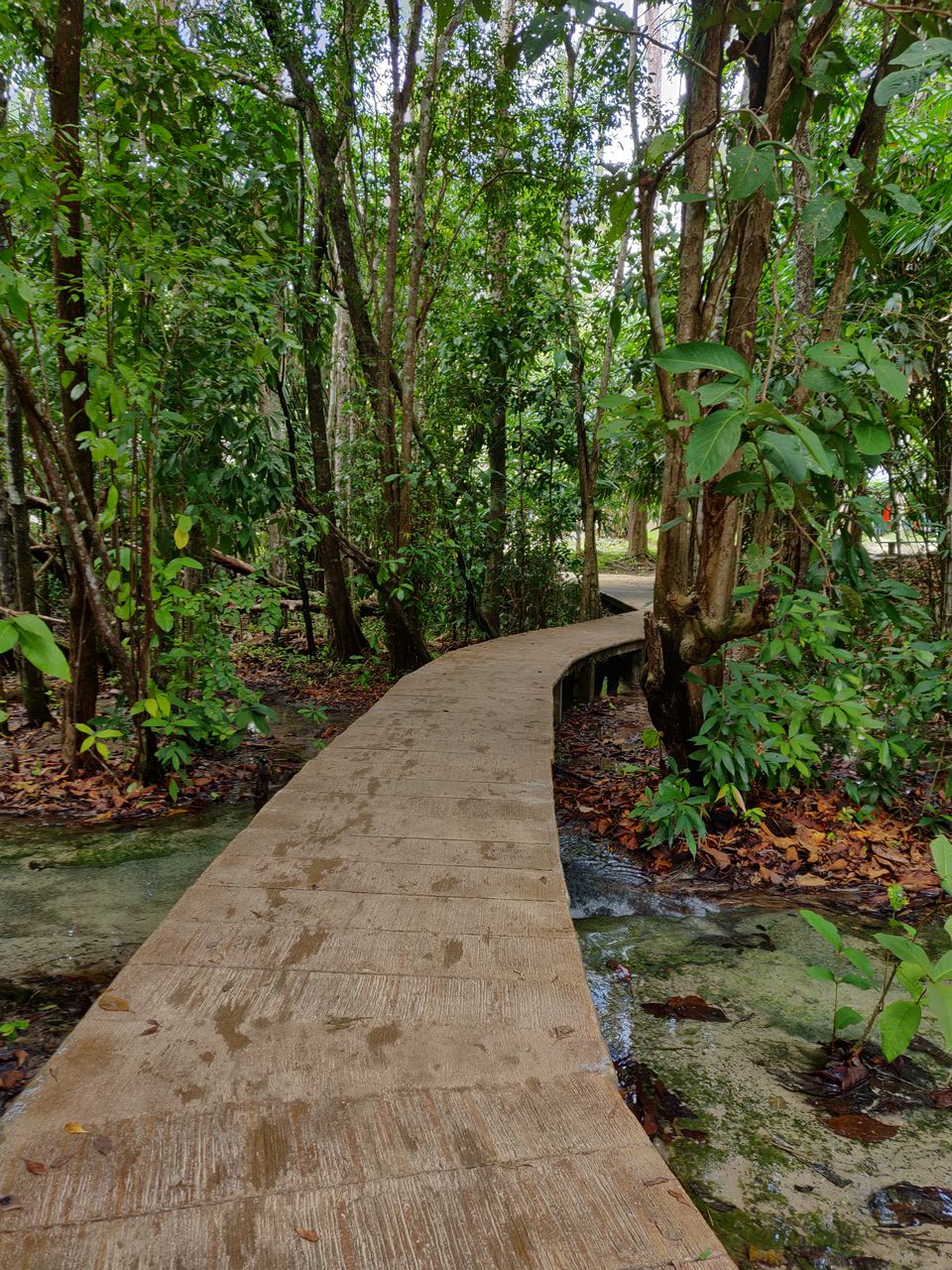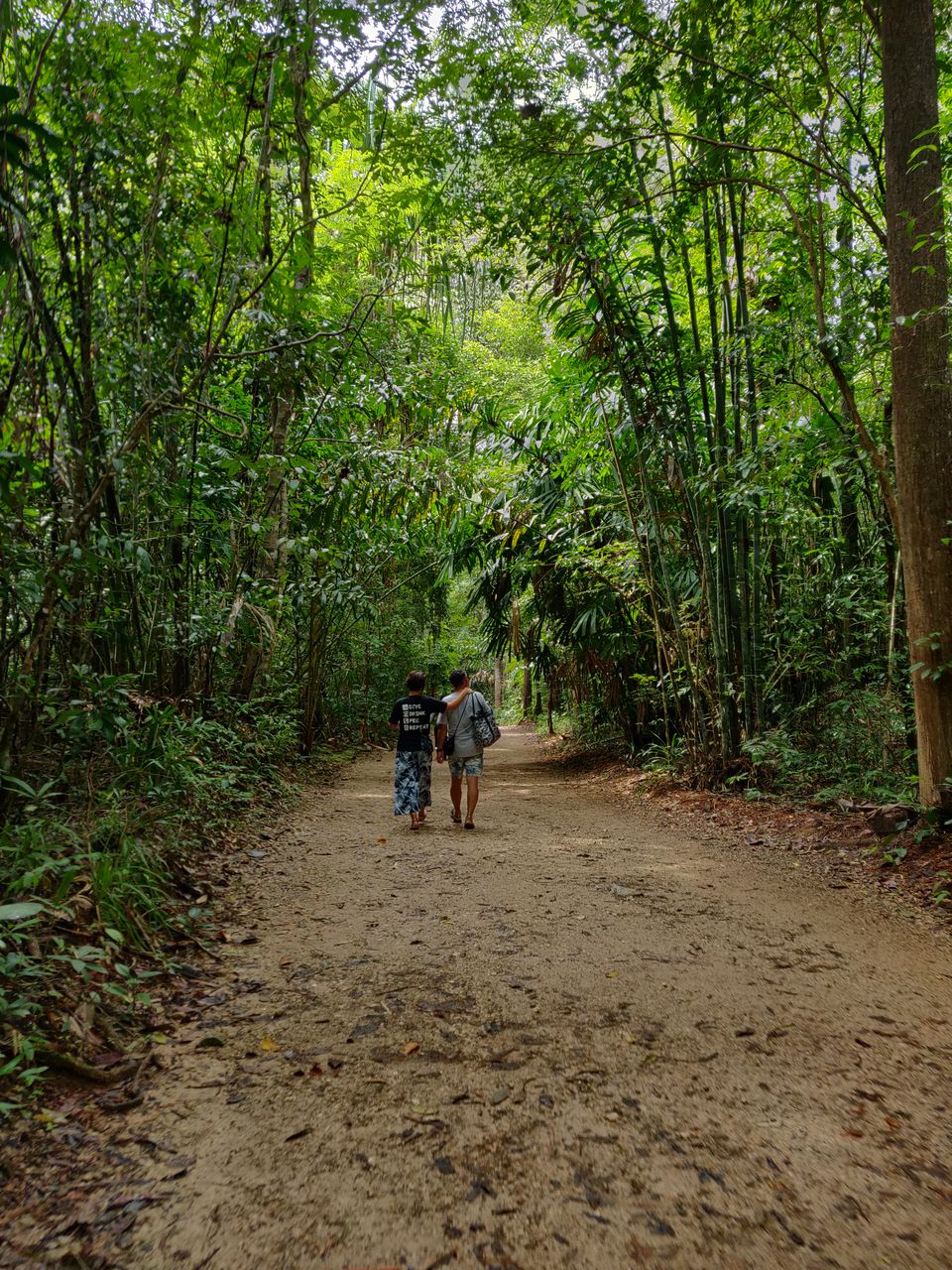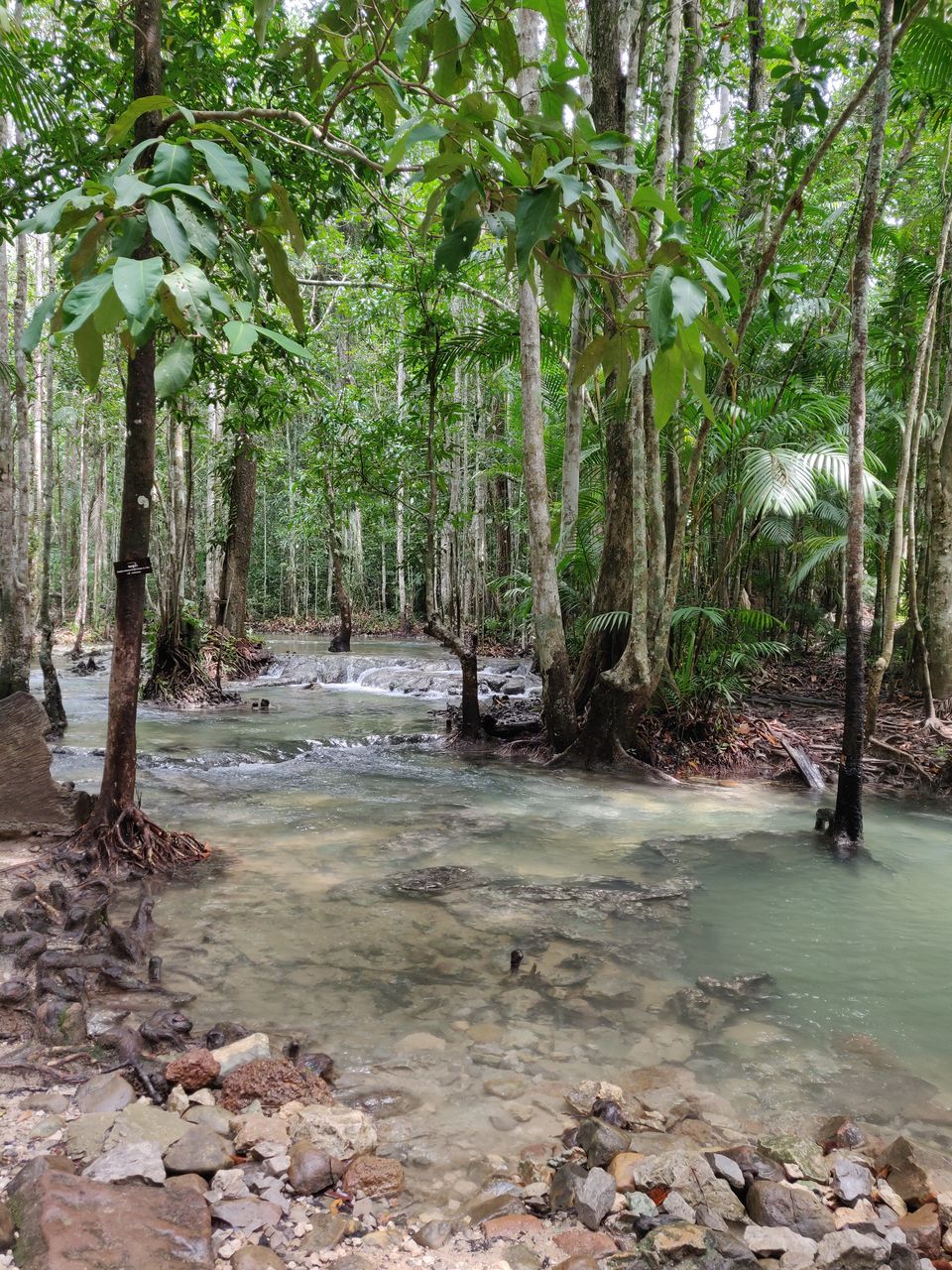 Then had lunch near emerald pool and later visited the Tiger Cave Temple and returned back to Hotel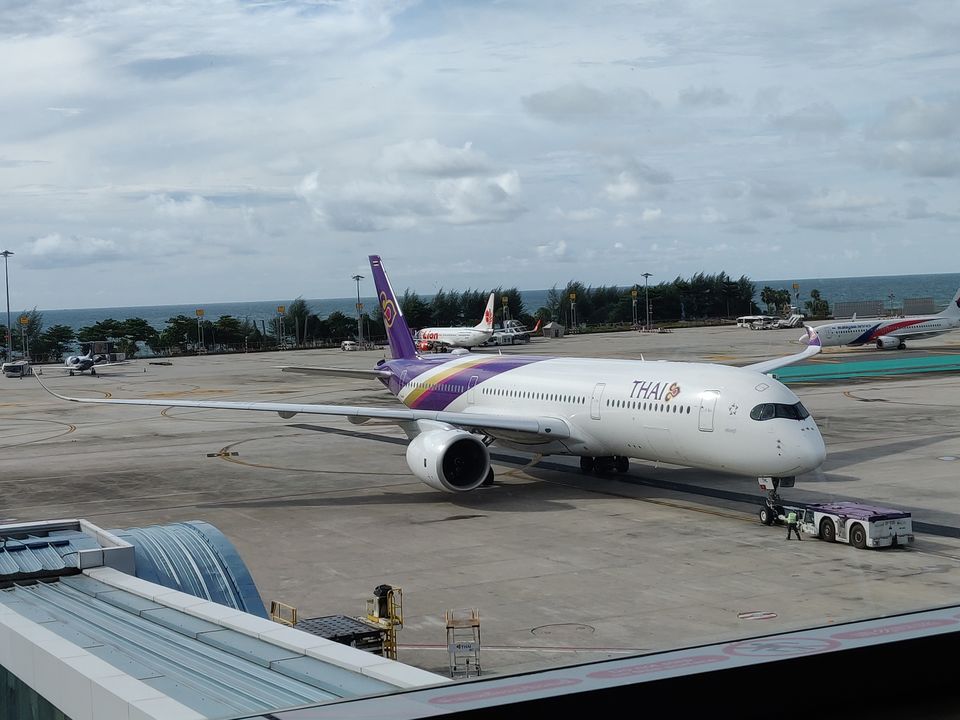 We left our Krabi hotel at 10:30 and it took us almost three hours to reach Phuket airport as we booked a minibus. Our Phuket to Bangkok flight was at 4:30 P.M and there was three- and half-hour layover time and then we reached Bengaluru at 11.30 P.M (IST).
Phuket: Madras cafe, Burger King (for veg option), The pizza company.
Krabi: Madrass Cafe, Bombay Palace Indian restaurant
Local Tour package company :( But it was booked from Phuket travel company)
At Phuket: Seaangelcruise, Amaging Phuket travel,Phetphoomtravel,Hanuman world
At Krabi: All tours by Au Nang Travel and Tour co.,LTD
Krabi: Sugar marina Cliffhanger
Tourist SIM, Mobile plastic cover may require during water sport, Swim suite.
You can carry currency in dollars and convert it in the city or you can also carry an International Forex card which will be accepted in most of the restaurants.