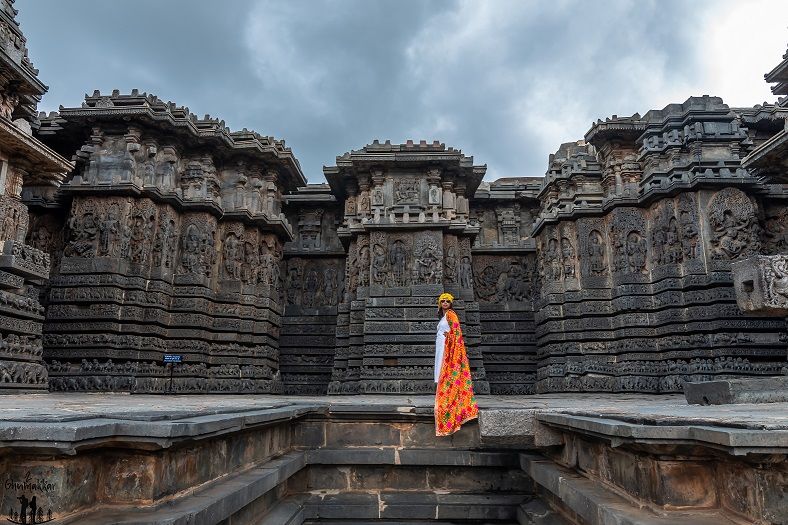 Hoyasala were the one among the different dynasties, who ruled over the present day Karnataka to the fertile area north of Kaveri delta in present day Tamil Nadu. During the time of Hoysala's the art & architecture were flourished so much that in the later era such architectural style became famous as Hoysala architecture. Over a hundred of well known temple exhibiting an amazing display of sculptural exuberance are scattered across the boundaries of present day Karnataka.
Among various temple, the baroque grandeur & theatrical rococo of Belur & Halebeed temple, proudly glorifying the incredible craftsmanship of Hoysala dynasty. Built by one of the great Hoysala King Vishnuvardhan, these two temples eccentrically display the every aspects of life on as well as heavenly abode.
Though the architectural style and detailed carvings of both temple are more or less same but their religious gods are different. One side as the city Belur were dominated by Vaishnavites and that is why the religious God of Chennakeshava Temple is Keshav, the incarnation of Lord Vishnu, while the large number of people of Halebeed were Shaivites, and expressing theirs faith Halebeedu Temple were built with principle god Lord Shiva.
The temple artwork of both temple depicts the scenes of myriad faces of everyday life, dancers and musicians steps as well as the pictorial narration of Hindu texts such as the Ramayana, the Mahabharata and stories from different Puranas and Upnishads.
The themes that appealed to the Hoysala artist seems to be human and animal forms, floral and geometric patterns and through numerous friezes these are embellishing the outer walls of both temples . On the ceilings and perforated screens one finds abstract patterns while the doorways, basements and railings are adorned with smaller figures, scrolls and motifs. The outer walls are filled with large reliefs of divinities and their entourages.
Both the Chennakeshava temple and Hoyasaleshwara temple, are thus remarkable for its architecture, sculptures, reliefs, friezes as well as its iconography and history.
Thus these two architectural gems of Hoyasala dynasty are the golden testament to the artistic, cultural and theological perspectives of medieval era of Incredible India.
Disclaimer: Reproduction of any of the contents, including the photographs without prior consent/permission of the writer is strictly prohibited and a violation of the same will attract legal action.
Did you like the post?
Follow me on Facebook, Twitter & Instagram and stay updated and notified about the latest posts.
Happy Travelling !!