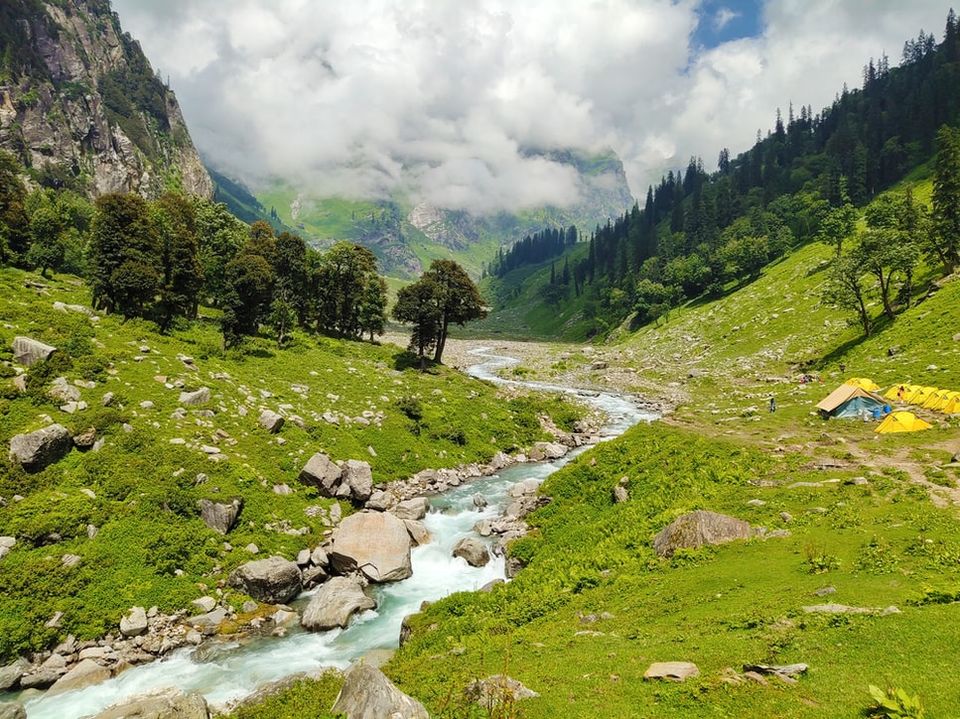 While visiting distant places we are constantly outside our comfort zone and that is, as the proverbial saying goes, where the magic happens.
But don't be mistaken, there is not one act of magic that you will witness if you truly pour your heart and soul into the journey that you undertake. You will get to experience the little miracles and their magnificent displays of unfathomable consequences, once you surrender to the journey. That is what it means to be a traveler.
One such account of the many journeys that I have undertaken is is when we decided to Trek to Roopkund.
We were a small group of four people all hailing from Kolkata and we decided to do this trek sometime around May, the rising temperatures and the start of spring in the Himalayas would guarantee us the prettiest view that we could ever experience on the mountains.
The trek started from Lohajung, one of the base camps for the Roopkund trek. I remember vividly as we first started on our trail, it seemed as if we were just going out for a walk early morning.
But as the village was hidden by the thick foliage and the ancient pine trees behind us while we entered the wilderness, it soon became evident that we will not be going back. The journey is only forward. And that's when we got into the trekking 'zone' mentally.
As we crossed the occasional spot of sloshy mud, our helpful trekking guides made us understand how to get through without getting our shoes dirty and how to make proper use of the trekking stick, which I learned then, is not only meant to be used as support but apparently also to prevent your shoes from getting dirty in a lot of mud. We had two beautiful pack mules always walking ahead of us.
For some reason, they seemed to be in a hurry and they were quite sturdy, in-spite of having kilos of a gas cylinder, grains, and water on their backs, they effortlessly managed to hop and skip over to the next campsite, while we struggled due to the uneven weight of our bags and also the stoppages to click a few photos en route. Come afternoon we reached Didna.
It is a quaint little village with a lot of Indian shepherd dogs roaming around. We took a pit stop over here to have a few refreshments. This was the first time we witnessed a glimpse of North Indian hospitality, when an old woman, casually signaled us to come over and gave us a few walnuts that she was breaking and eating.
She had no reason to do so, she could have just greeted us or asked us where we are from, but she did none of that and this shows that not everyone you meet will share your view on how to show appreciation, but this simple kind and short gesture filled out hearts with a warmth which we would be needing for the next couple of days.
The lay of the land was also mostly flat so no major challenges were presented. By the time we almost made it to the end of the trek, we stopped in a hut where a welcoming old man made us fresh hot tea to warm our bodies. We were so engrossed in enjoying the walk on the snowy meadows that we came pretty late to the campsite that day and, by the time we reached the camp, we could see a lot of people that we had met earlier yesterday had already reached there and set up their tents.
The following night was largely uneventful with a few bouts of cold. We enjoyed struggling and sleeping inside a single tent together.
The next morning was the most awaited as we were supposed to visit the lake itself. The trees and the grass and all sorts of flora had left us behind and we faced the Rocky terrain with a little bit of snow lying around, here and there from yesterday's snowfall.
This stretch of the trek was fascinating because there were many stories associated with the route that we were on. We kept on going and finally, we reached our destination. As we stood on the ridge of the mountain we saw in the valley, a deep blue pearl, which was evidently, the lake Roopkund. Its surroundings were shrouded in snow.
Our host, Kaushik Mann made sure to tell us every story that lingers around in the local areas, related to these majestic alpine meadows. We absolutely loved the personalized experience and Mr. Mann's hospitality.
Here's a link to his website where you can find treks at a dicounted price: https://devadars.com/tour/roopkund-trek-uttrakhand/