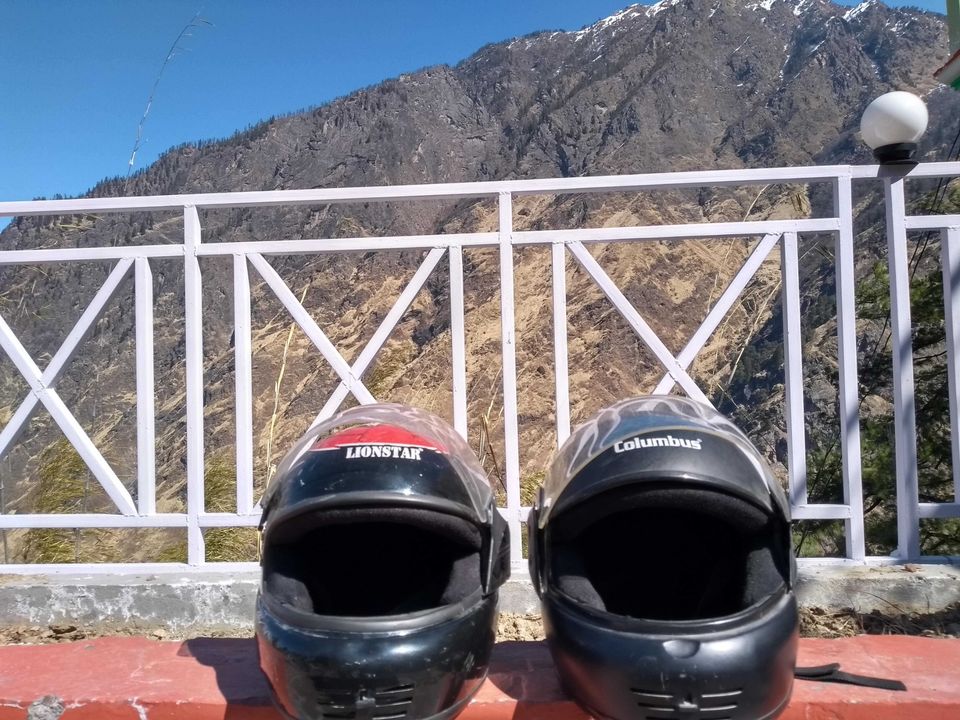 1We, a group of four friends I, Siddhant, Vishal and Armeen planned a 4 day trip to Auli in February 2020 as excluding Siddhant none of us had seen snow and also because we are mountain lovers.
So before starting it, there's a warning that this is going to be a long blog and it is not easy for me to put a 9 day long trip with lots of twists and turns into a few words.
Now, I have this 'Kuch Kuch Hota Hai' feels as soon as I see a river so I decided to spend my morning near a ghat with some chai, Siddhant and Vishal decided to accompy me.
We spent a winter morning at Triveni Ghat with a cup of cutting chai.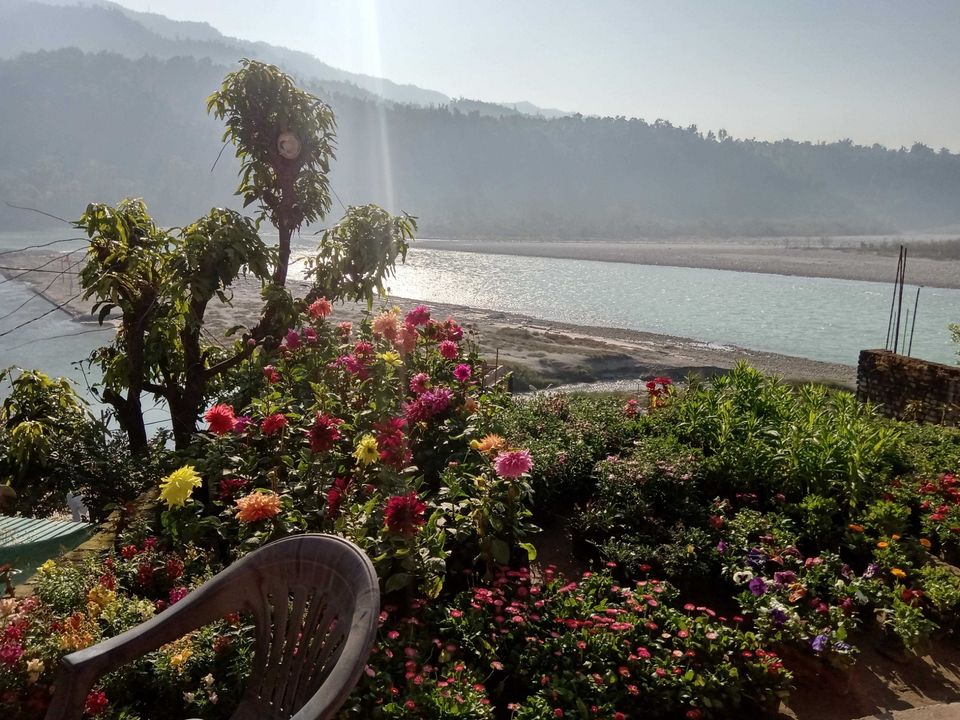 Next day we got up early and left for Joshimath as soon as we could, because we didn't want to delay it further.
The whole day was of riding through the mountains, taking small breaks for chai and maggi, witnessing small villages on our way and trying to imagine how life would be here.
We reached Joshimath at around 8pm and the ride there was not something which we are going to forget any time soon.
We saw moon rising from the mountains and it reflected its light on the snowy mountains which shined at night, and the cherry on the cake was the stars. And yeah, it was a full moon night.
Sadly we don't have any picture of that view but then again a picture will do no justice to what our eyes witnessed.
We took a room in Joshimath for 2 days at ₹1000/day.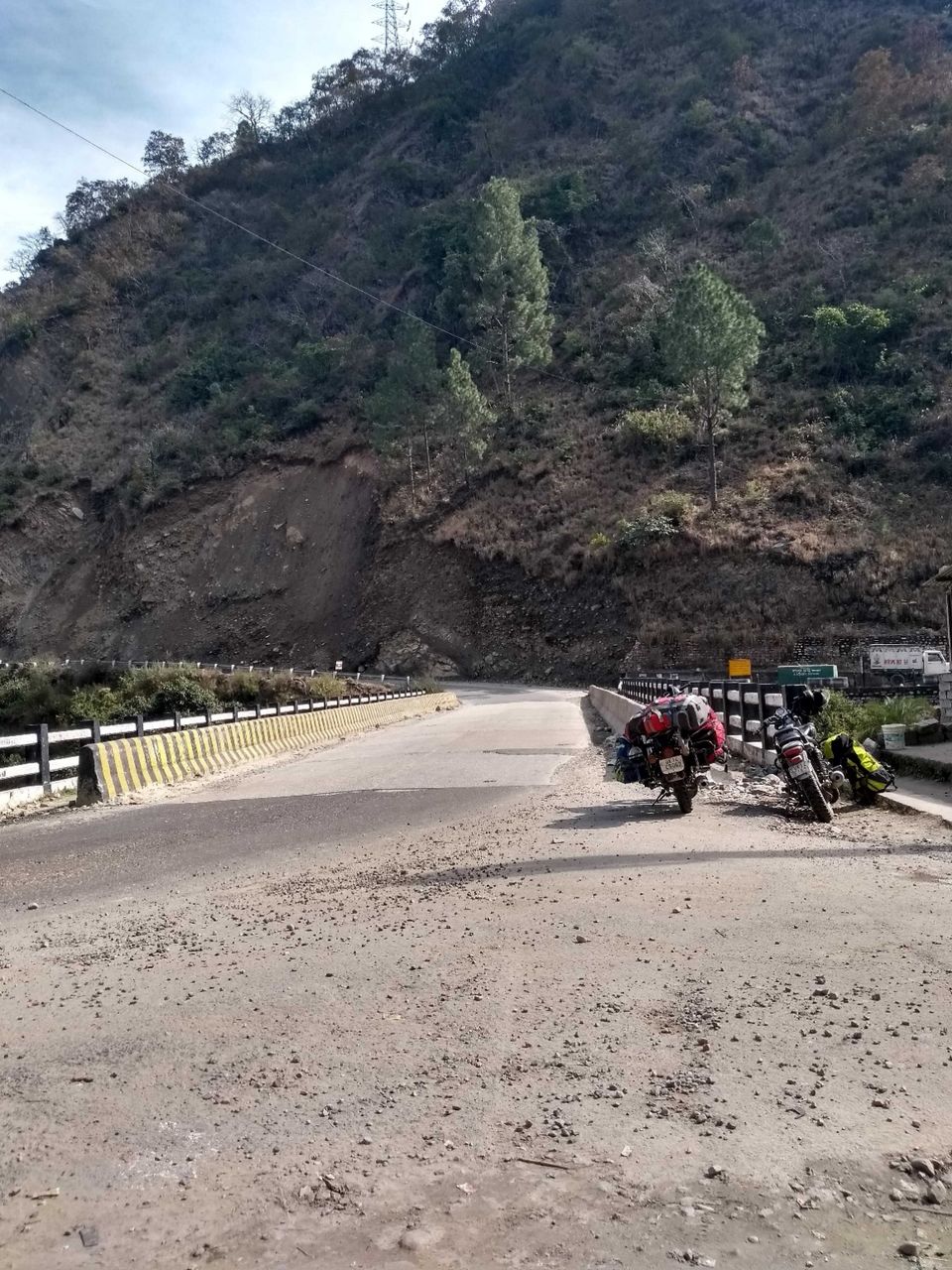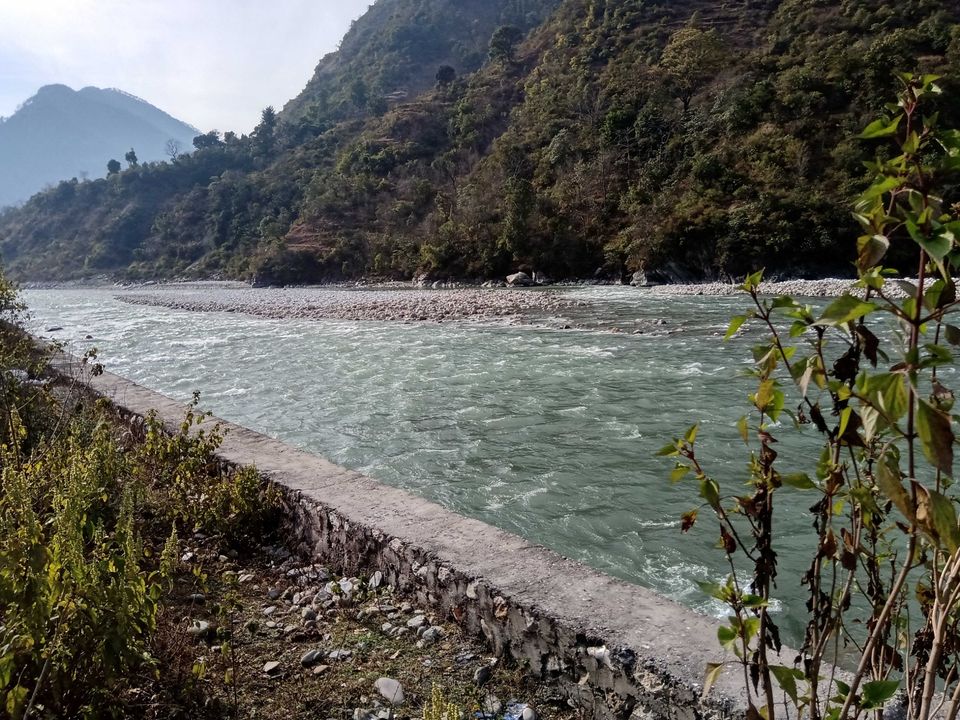 Today was the day when we were actually going to see and play with the snow. We were all very excited and took up our bikes and left for Auli.
We didn't plan to stay in Auli as a night for 2 people there will cost us around 3-4k and since we were traveling on a budget we decided to spend a day there.
En route Auli we witnessed snow on the road and our bikes started disbalancing then a group of fellow travelers recommended us to lessen the air in tyres since it will give grip and bikes won't slip, pro tip which helped us through out the trip.
Well finally we reached Auli and had a lifetime experience with the SNOW!!!...
Note- To reach at top you'll have to go in a cable car which costs ₹500/person to and fro.
We did all sorts of crazy things, we rolled on snow and made a, well tried to make a snow man. 😅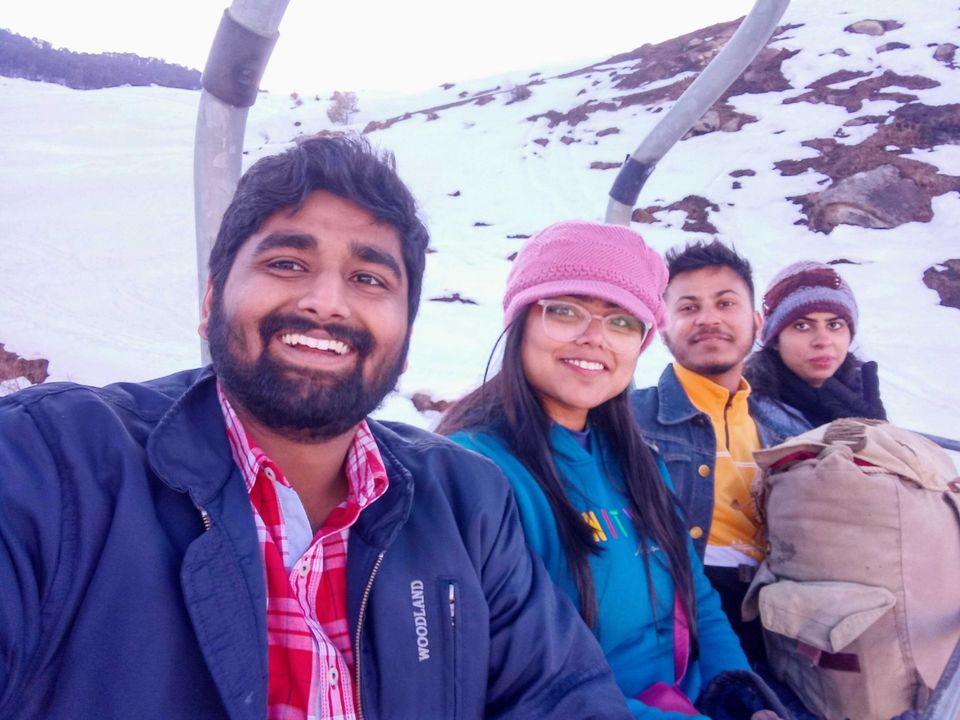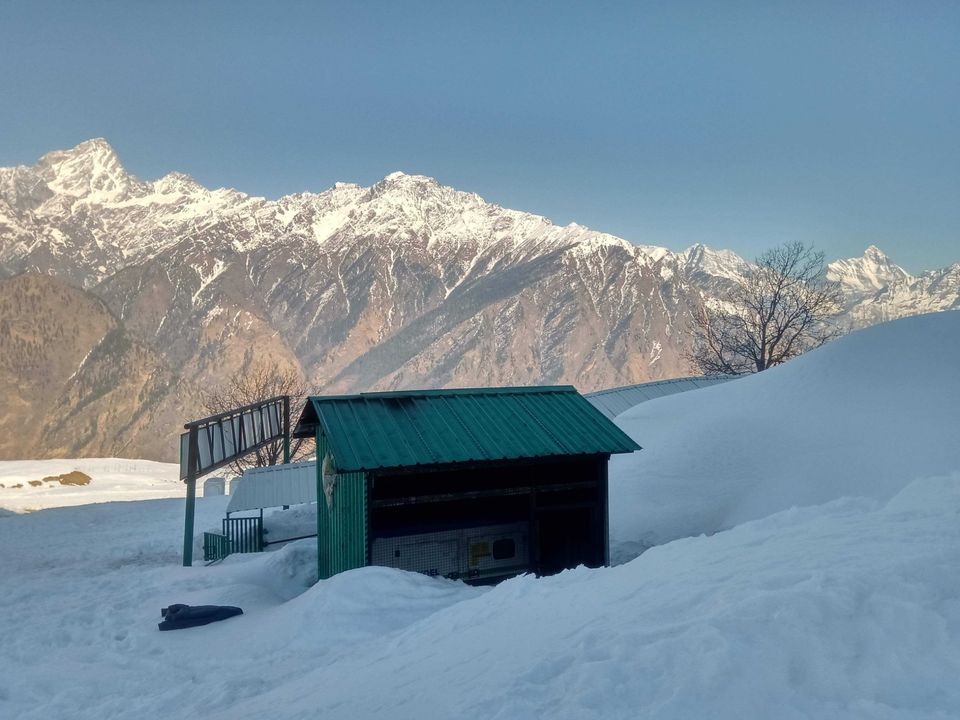 Next morning our plan was set to ride back to Rishikesh, so we left from Tapovan after breakfast and started our journey.
On reaching Chamoli, we were stuck in a traffic jam and there we saw a diversion towards Chopta.... We all exchanged looks and took the diversion..... Yeah, that was crazy AF.
Again without any research or knowledge of the road we just took it. And yeah the Google Maps didn't show that route because it was some bypass. So we were on our own and the local shops to guide us.
After taking a few wrong turns we were finally on the right way. The last 30kms of the route was from between the jungle, sounds fun. But it is fun only till the sun is out, after the sunset it is no less than a horror movie. We had 20kms left in those dense jungle roads, without the network (again), without the light ( except headlights) and without any people there, because apparently that was the route only taken by the jungle authorities not normal public but we were there.
After 5 kms there was snow on the road, temperature started dropping down and strange sounds of animals. We thought that we were going to die that day. We were riding up the mountains and roads kept getting narrower and narrower.
I can't even explain the feeling in words only that it was bone chilling. Last 3kms were very tough as the snow on road was thicker and more slippery.
It took us 1 and half hours to ride the last 10 kms and when we finally reached Chopta and saw people, houses and light it felt like we have reached Heaven..... We didn't die!!!!
We just rented the first guest house which we saw, thanked God for saving us that day and slept like babies.
Next day when we woke up, we actually saw how beautiful was Chopta fully covered in snow. We had rented the room on first floor as the ground floor was under the snow.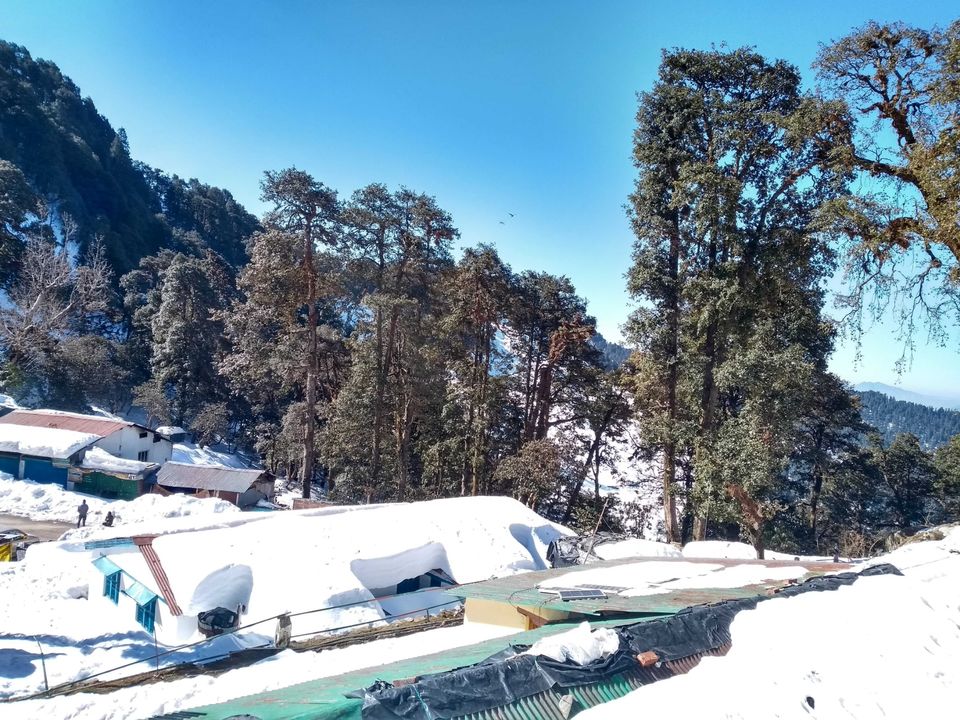 First thing in the morning we returned the bikes, with extra rent ofcourse.
That day was all about relaxing in Rishikesh.
We went to Beatleas Ashram (Chaurasi Kutiya- the OG name) and saw some awesome Graffiti ( I have already uploaded a photo blog of the place).
Ate at awesome cafes, saw Ganga Aarti and relaxed by the river side feeling the vibe of the city.
It felt so good and soothing after such a long tiring and adventurous trip, and yeah we were heartbroken too as we had to go back to Delhi the next day. But nevertheless it was one hell of a trip, and we were going back with so many memories.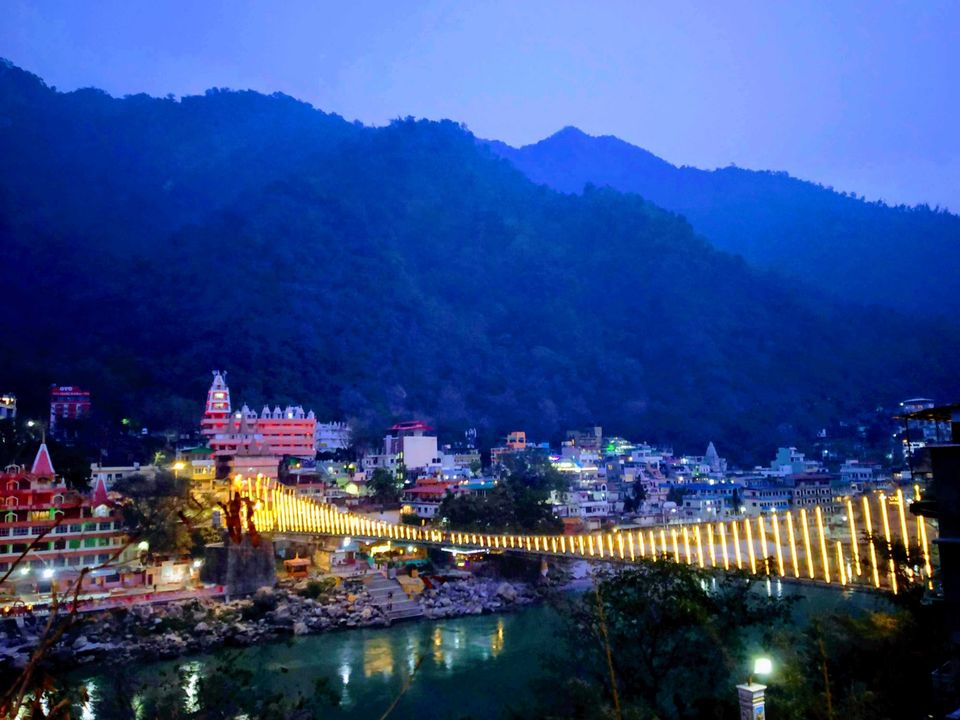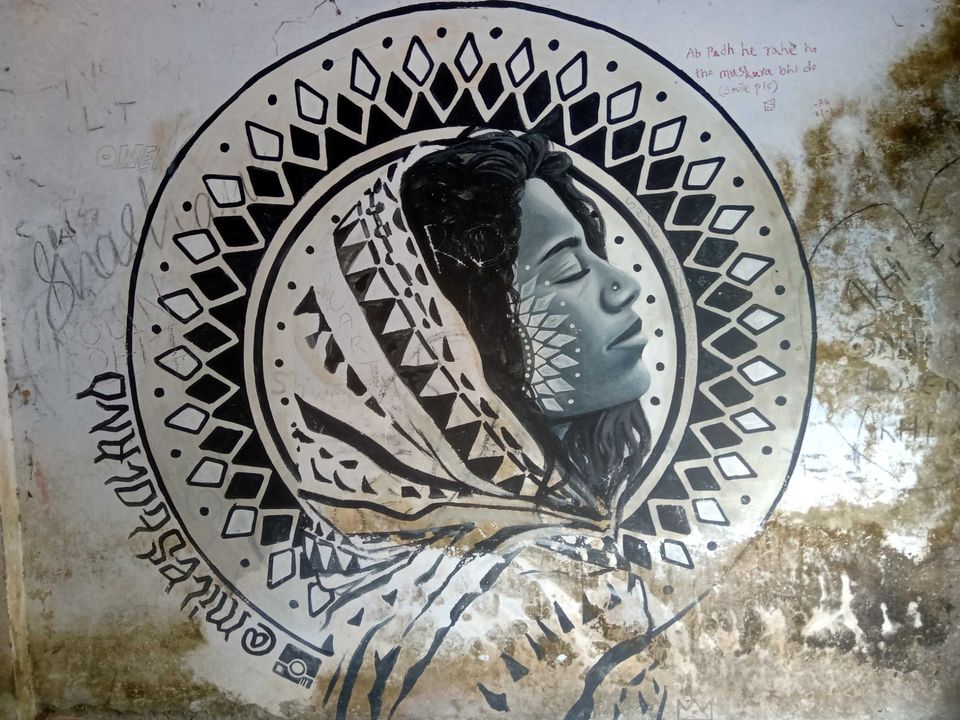 On Day 1 we all left for Rishikesh from Delhi, as it was going to be there starting point of our trip. We took a local bus from Kashmere gate around 3 pm and reached Rishikesh at some time around 10pm. We took a room there for ₹750 and ended our day.
After the relaxed morning and a heartful breakfast, we rented a bike and a bullet for the next 4 days.
Rishikesh has a lot of options of renting 2 as well as 4 wheelers so this was pretty easy and do remember to bargain as much as you can.
Auli is a man-made hill station around 12-15kms from Joshimath, so our destination was Joshimath which is 250kms from Rishikesh.
We left Rishikesh in noon, and knew that we will not be able to reach Joshimath that day itself as it is a long 8-9 hrs journey and ofcourse it is not recommended to ride through hills after dark unless you're a pro. But we were met by other obstacles as well, there were a lot of blockages on the road due to construction of char-dham highway and some landslides as well, so we could only reach Srinagar by that day which is around 110kms from Rishikesh.
But on the bright side those stoppages gave us a lot of opportunities to click millions of pictures. 😁
We rented a room for ₹500 in Srinagar and the room lived up to its expectations as the shady room for crime patrol shows 😅😅.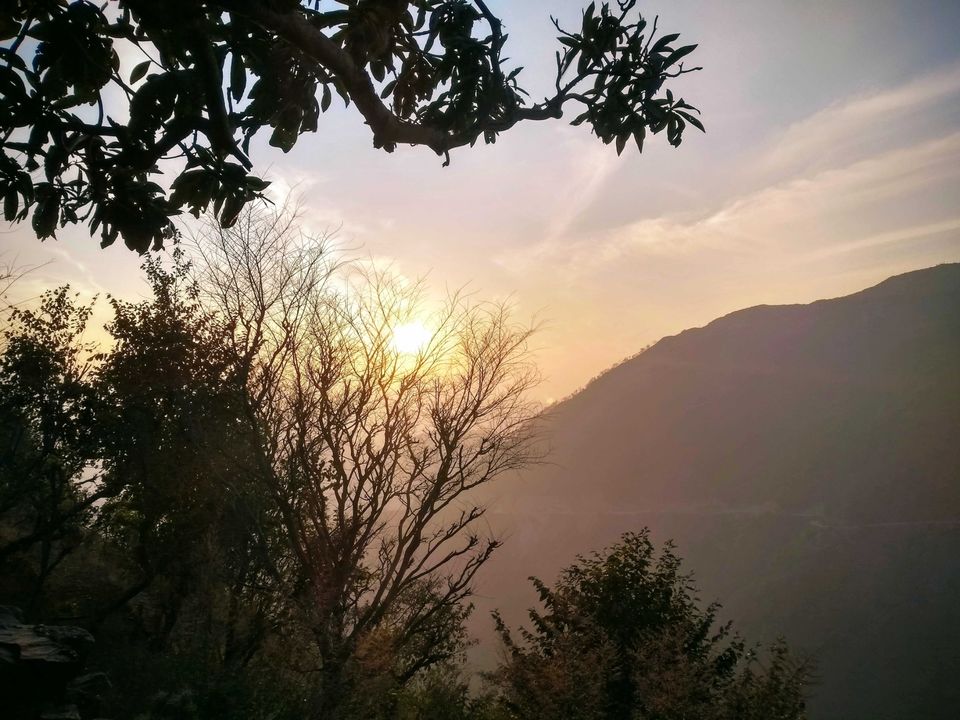 We finally came back when it was time for dusk although we didn't want to but we had to.
After coming back to Joshimath we stopped at a local restaurant and had the tastiest momos and bun makkhan (bun butter).
This was our day to return back to Rishikesh and then back to Delhi, but were we ready.. NOOOOO!!!
We didn't want to go back just yet, it felt like the adventure was just started and we didn't want to end it.
So we decided to extend our trip by one more day. We asked some locals as to where we can go from Joshimath for a one day trip, they recommended us to go to Tapovan which was 18 kms ahead and had hot springs there.
We left for Tapovan and since it is only 18 kms far, we reached there in 30-40 mins, and had seen the hot springs ( which was a waste of time) and then we were like now what!! We still had more than half day and nowhere to go.
In our thurst for more, we came across a milestone of Malari which was 61kms from Tapovan. And without doing any research, we started our bikes and rode to Malari. We had never even heard of Malari and didn't know anything about the place.
The road was beautiful, it was newly constructed and on the side was the river Dhuliganga. Mountains here were not green, they were brown and rocky. We loved riding on those roads in sunlight.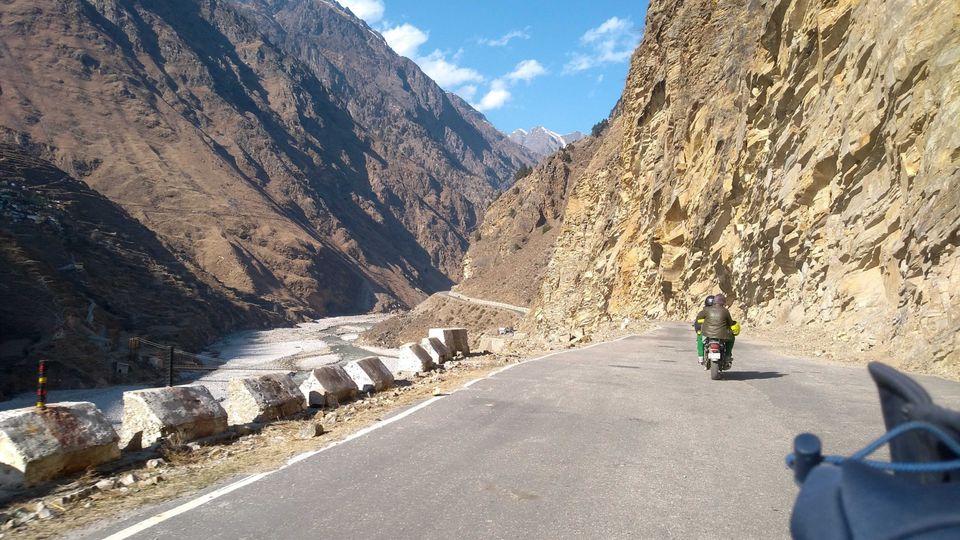 But after a few kms things became scary, we lost our mobile networks and there was no one on the road ( not even a bird on an animal). It felt like there was no civilization, and yeah those mountains were landslide prone. We 4 were alone on those roads, moving forward with no idea of what's ahead. On our way we witnessed many small cluster of huts but they were all locked up, it felt like the place was haunted/abandoned/invaded or something and everyone left.
But nevertheless, we were determined to reach Malari, and kept riding up those lonely smooth roads. Just 8 kms before Malari, was a place called Bhaapkund where there were men, trust me we were very happy and relieved to see them. Vishal immediately hugged one of them. 😄
While talking to them, we found out that only two people live in Malari and they have left long ago, ahead of Malari is a small village called Neeti and that's the last place in India after that it's China border. Those men were posted there to build the roads and they had finished till Bhaapkund,and ahead of that was no road. And also, because there is no civilization and no chance of it for coming years so no network. Yeah, chills down the spine....
After talking to them for a few minutes, we immediately took a U-turn and started back towards Tapovan. We spent the night there.
Fun fact: On our way back to Tapovan, there ia place Jumma, we saw a board there which mentioned that this was the place from where Lord Hanuman took Sanjeevani booti (Ramayan reference).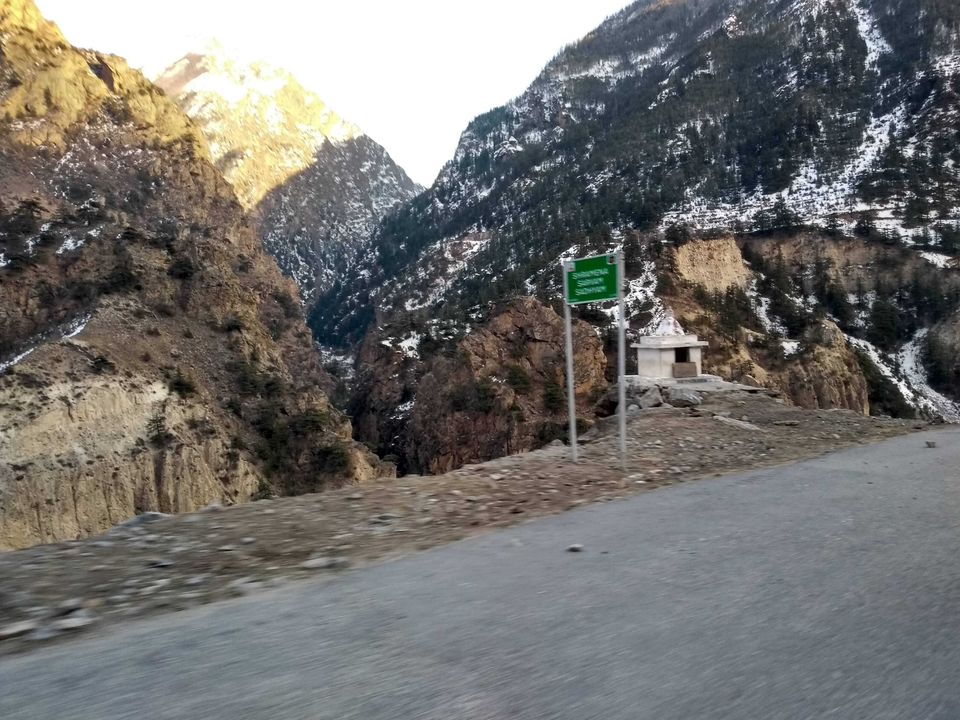 Today we decided to do the famous Chopta-Chandrashilla trek and this was going to our first snow trek.
We were already warned by the locals to return back from the trek before 4pm as after that sun starts to set and temperature falls negative. So this day we took the warning and enjoyed the trek and were back by 4:30pm.
Because of so much of snow, it was advised to trek only till Tungnath for beginners. I'll share a few pictures of the trek and that will sum up all I want to say.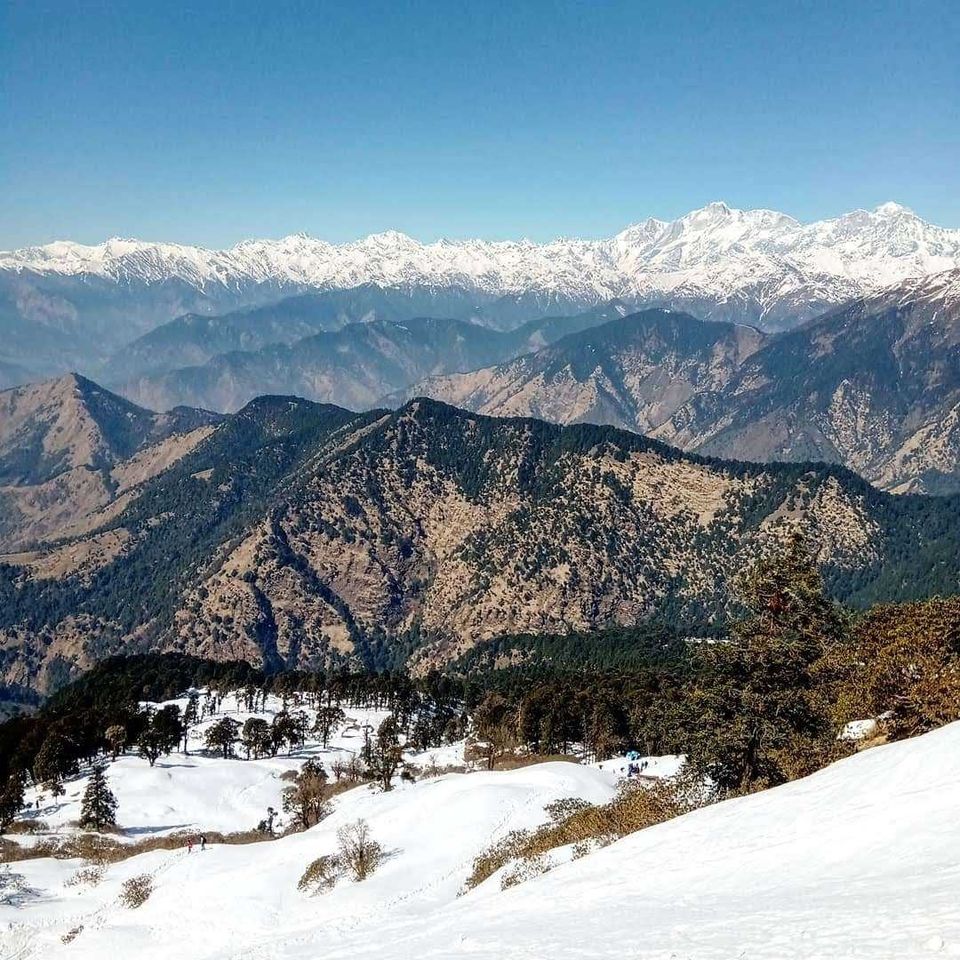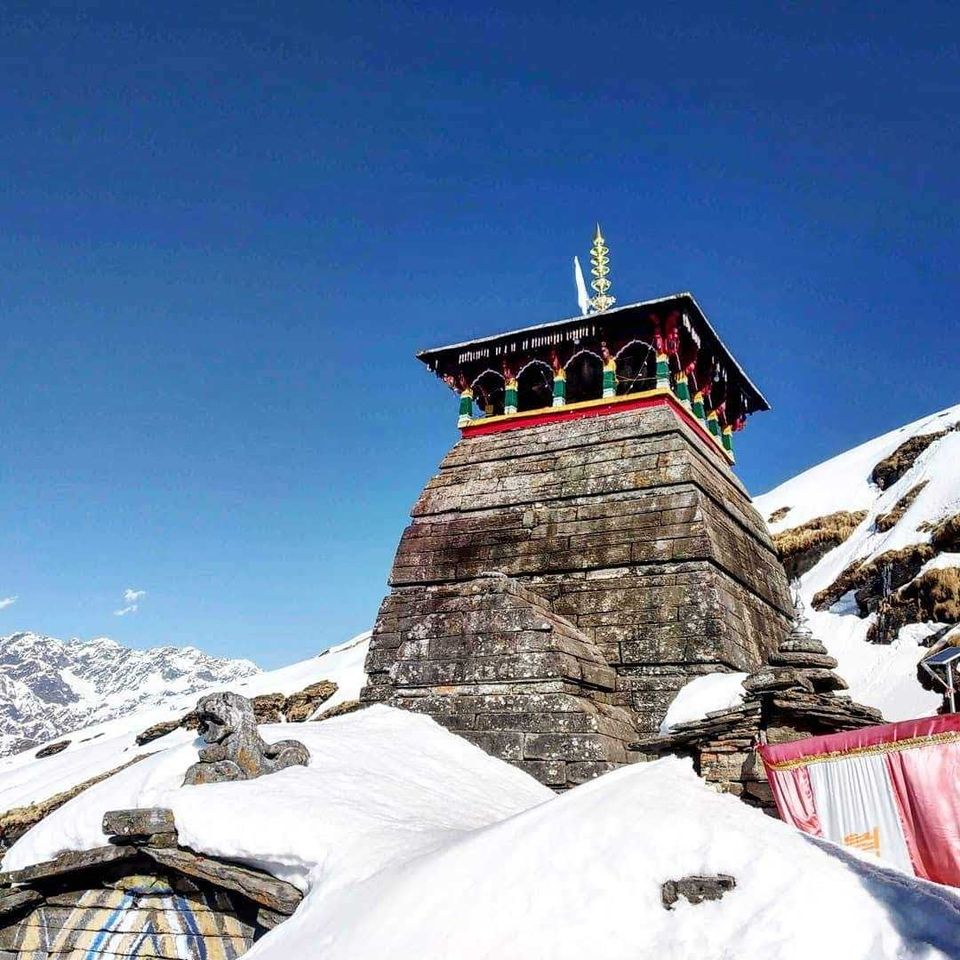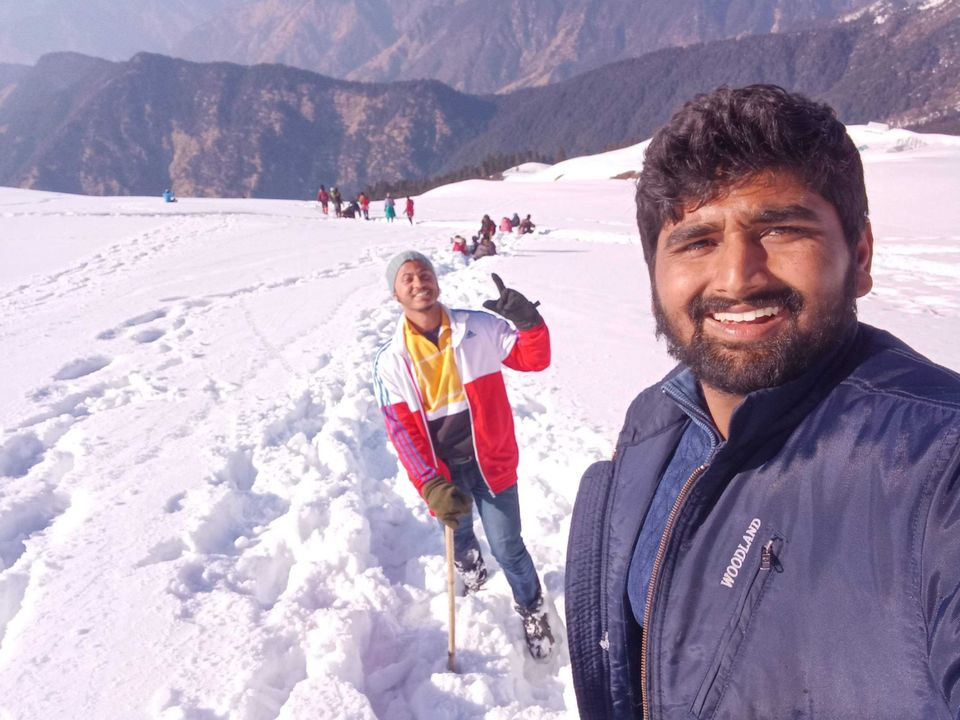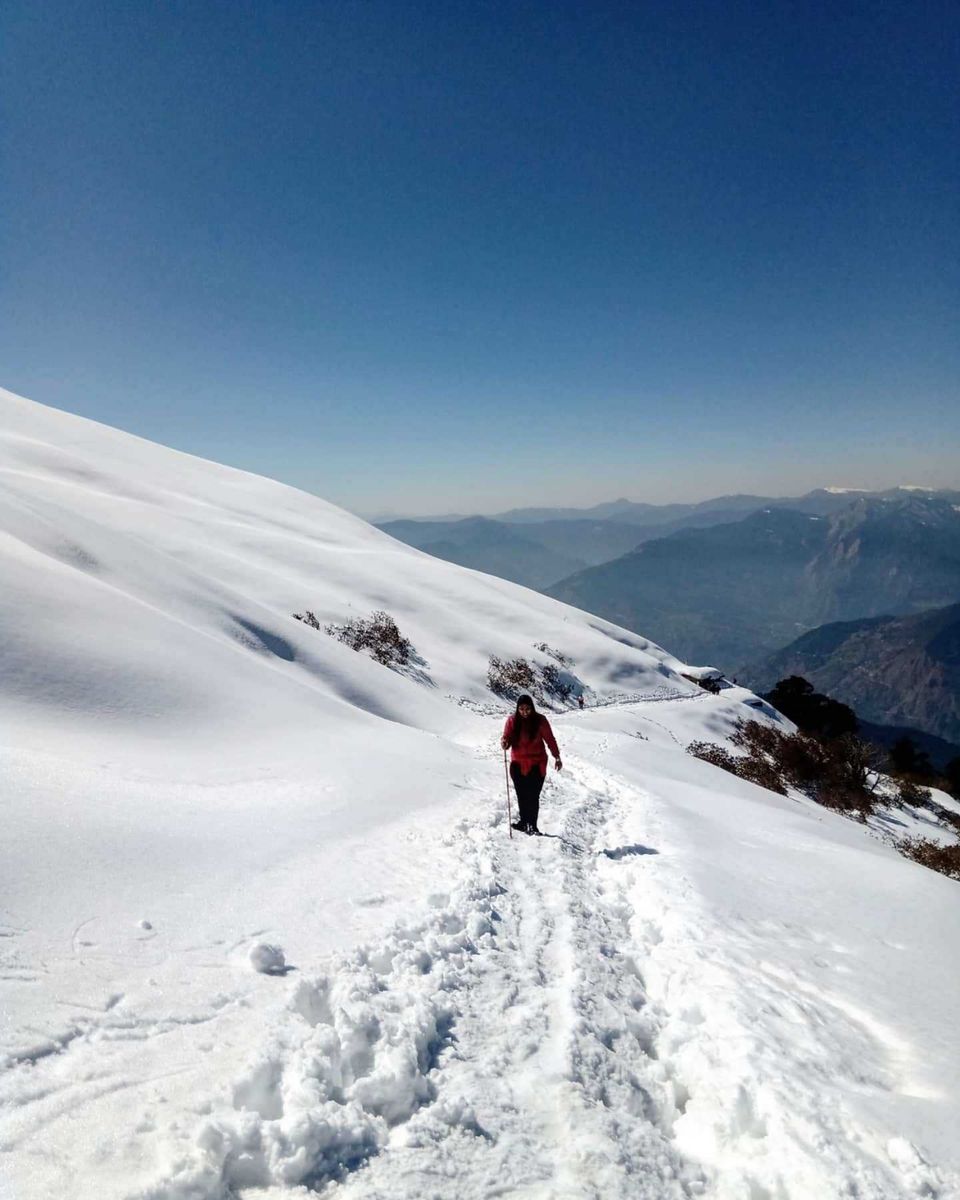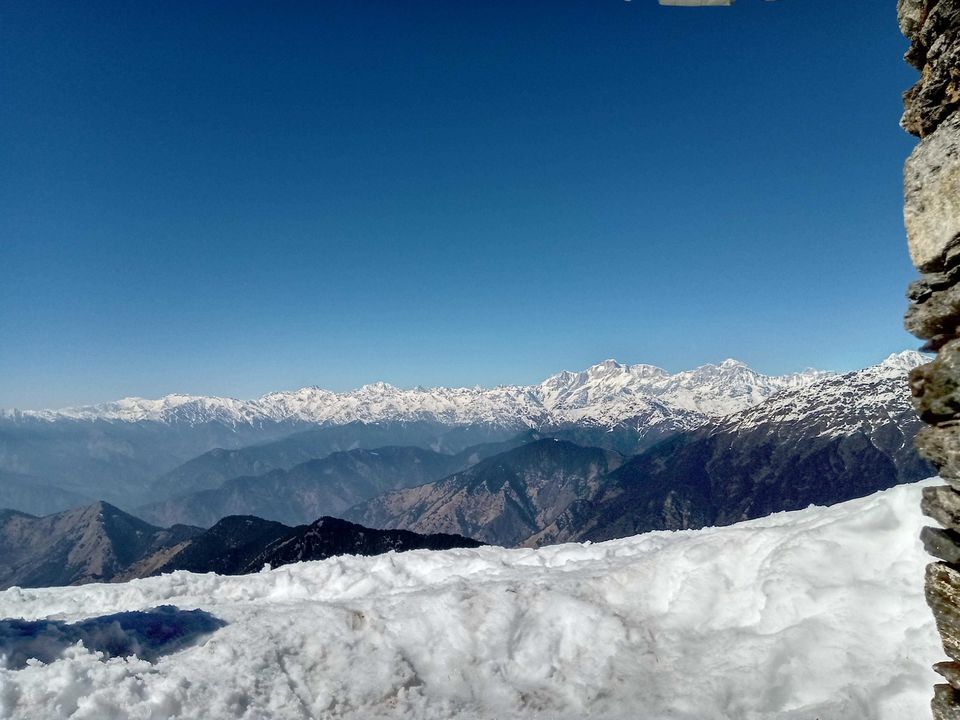 Half of Tungnath temple was under snow.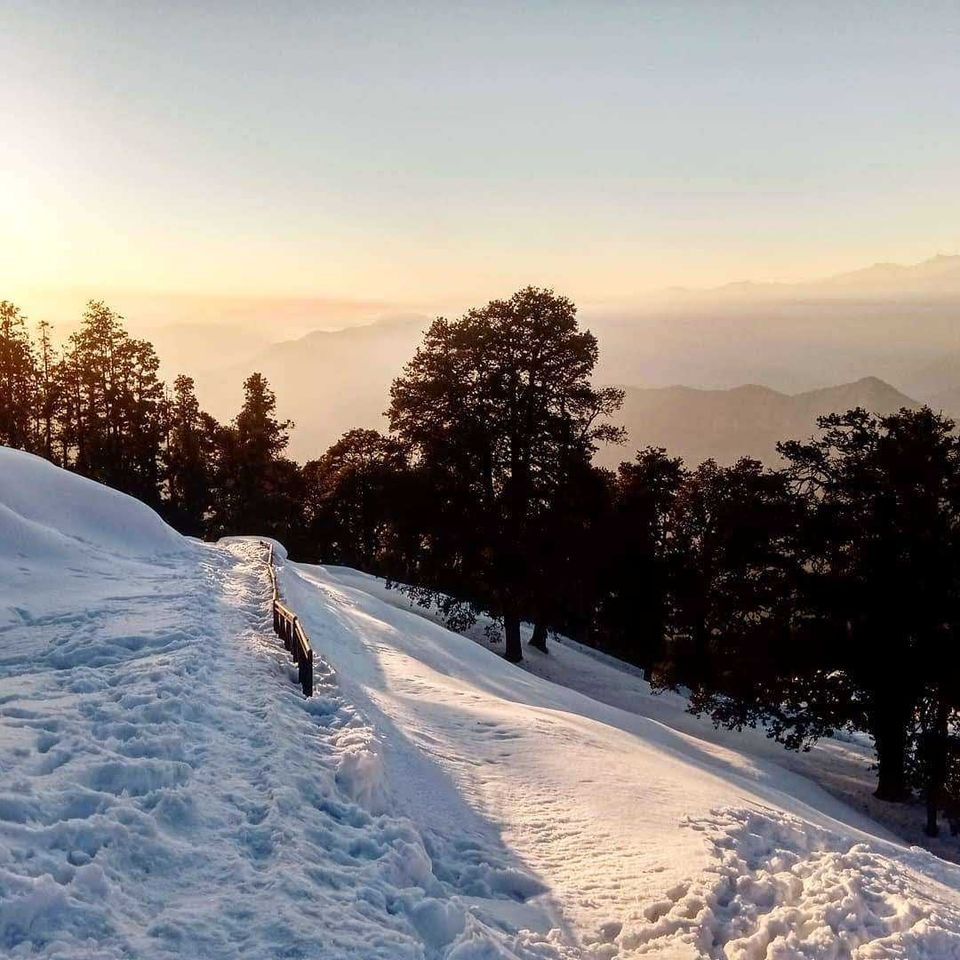 That day was all about a trek and eating afterwards the delicious food cooked on choolah with fellow trekkers who we befriended on the trek.
Now this was final day to go back to Rishikesh. Final, final and final, coz we were out of money!!! On our way back we saw some awesome scenaries.
We reached Rishikesh at late night (it's like our habit now to ride at dark vulnerable time) and rented a hostel there for the night.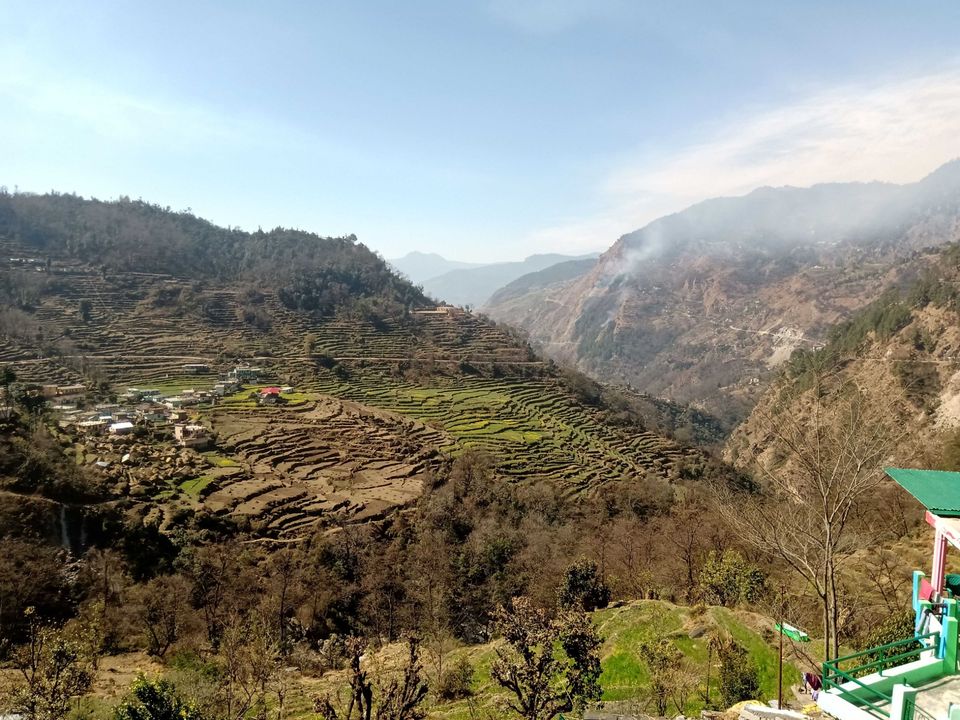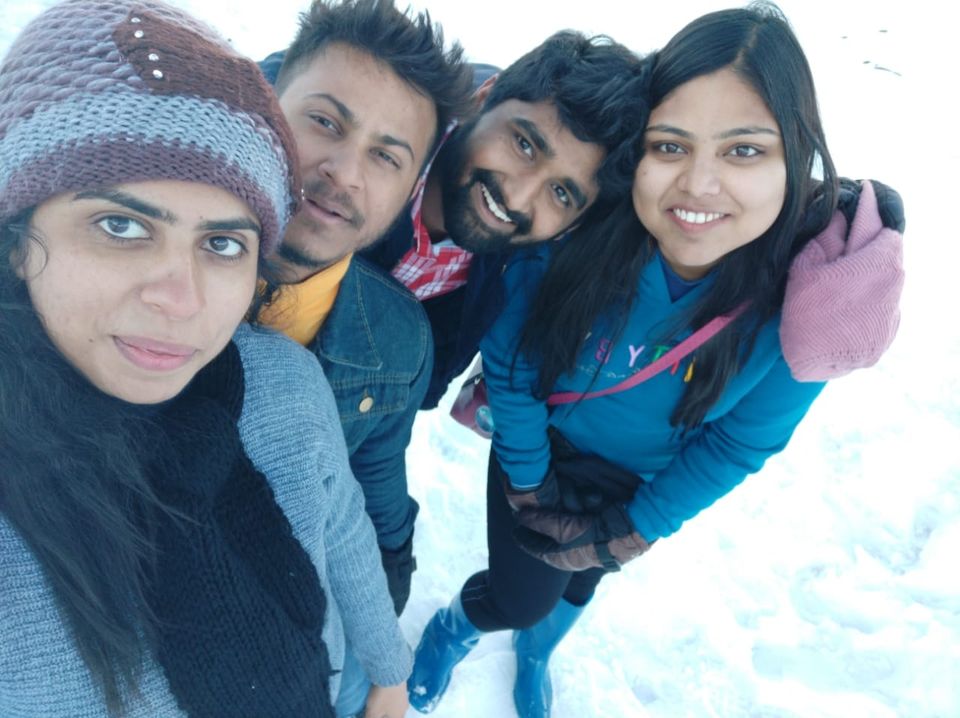 Frequent Searches Leading To This Page:-
weekend holidays with friends, manali rishikesh trip with friends, winter holidays to rishikesh, weekend travel to rishikesh, weekend getaways from delhi