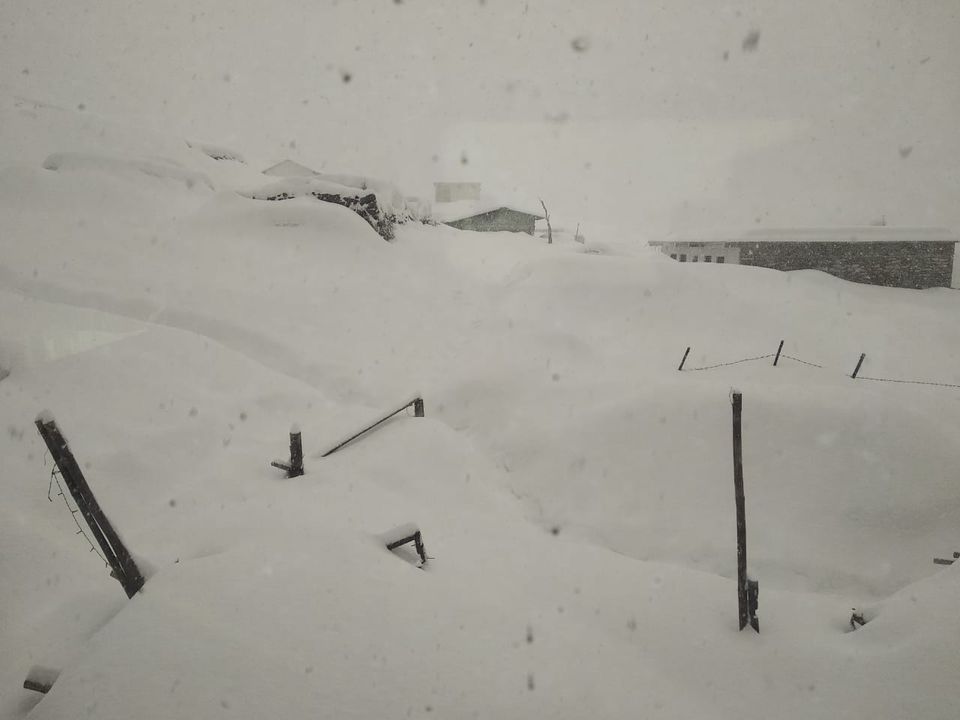 When they say "Mountains are calling" think twice😄 that we didn't 😶🙇🏻‍♂️.
The Day finally arrived as we buckled up to get ready to see snowfall, snowy mountains and for the Chopta, Tungnath, Chandrashila Trek. The excitement level was pretty high as we were going to experience snowfall for the first time. P.S: it could have been our last time too 🙇🏻‍♂️.
We started our journey from New Delhi, as we took our train to Haridwar around 10:20 p.m from New Delhi just on time as we got pretty late while buying stuff🥃 for the trip😄.
Day 1, we reached Haridwar around 9 a.m, we had booked the trip with some travel agency so they provided the cab, the cab was waiting just outside the station, so we started our journey towards chopta.
We took our first break around 10:30 a.m at Cafe High Spirits , Rishikesh , it's a pretty good cafe with a cool view from the balcony, so we grabbed our breakfast there ,chilled there for some time nd then started again towards Chopta. The roads were under construction work most of the time ,so the cab had to be stopped in every one hour to give side to the other vehicles.We reached rudraprayag around 4 p.m, there after we took our break in Srinagar to eat something and then continued towards our destination again.
The time was around 8 p.m , we still were on the way it was completely dark and we couldn't see any other vehicle running by that time.After sometime snowfall started ,we were amazed to see the snowfall for the first tym🤓 but just when we were enjoying it we saw that the whole road was covered with Snow and the car started skidding over it🙇🏻‍♂️, even the brakes were not working properly, it was getting very dangerous, the driver asked us to step down and told us that we need to leak out some air from the tyres so that it won't skid as much😬.
Somehow, driving slowly with hearts in our mouth, we found a guy who was waiting for us to take us to the camp, but it was completed dark and covered with snow, shoes were not gripping on it, but we moved towards the camp , a bamboo hut was there where we dropped our bags ,there were only two guys who worked there in the camp and there was no body except us in the whole place just snow everywhere.The camp guy gave us some food ,it was freezing cold around -11 degrees with continuous snowfall,we all tried to sleep close to each other to minimize the chill.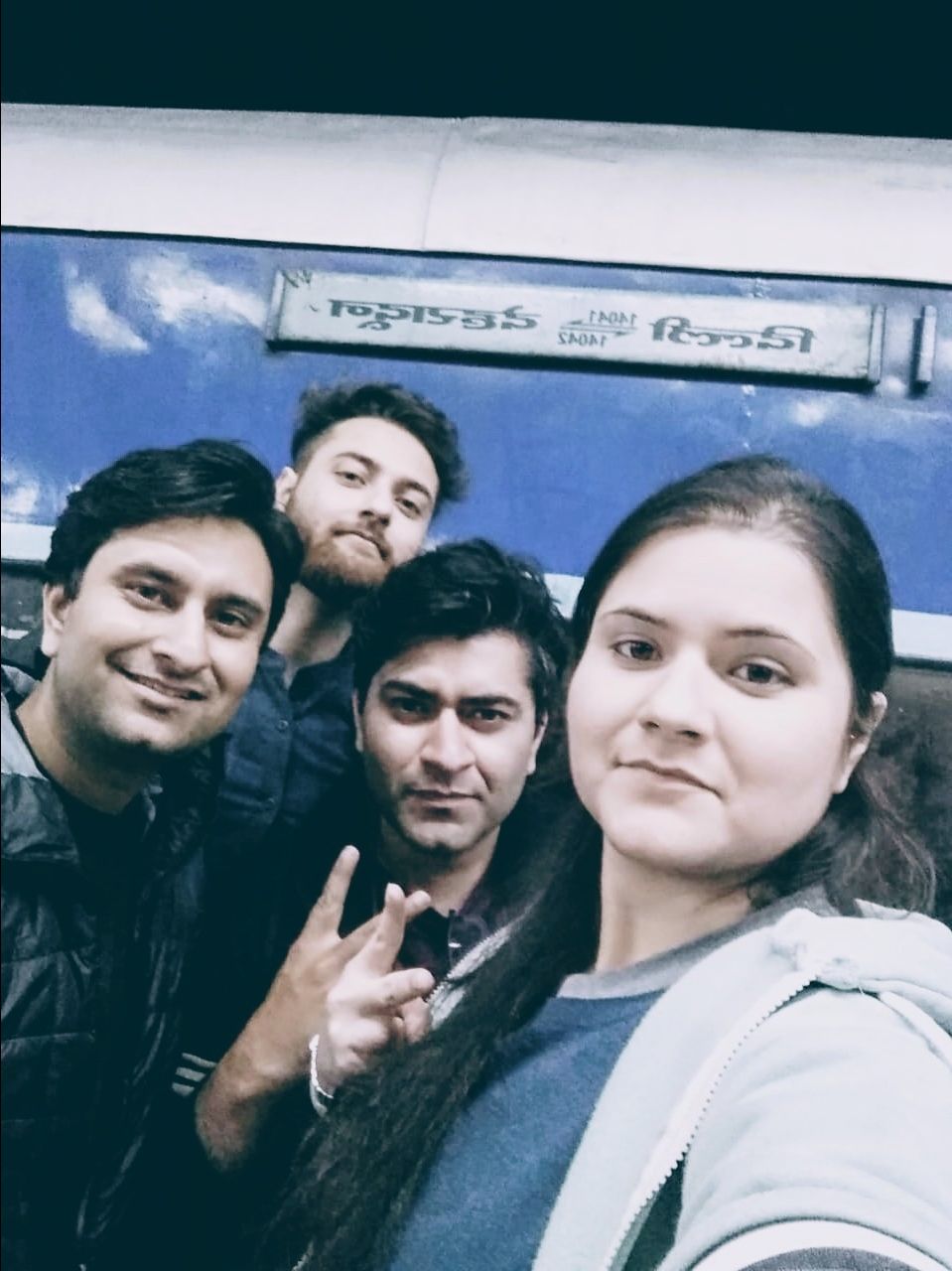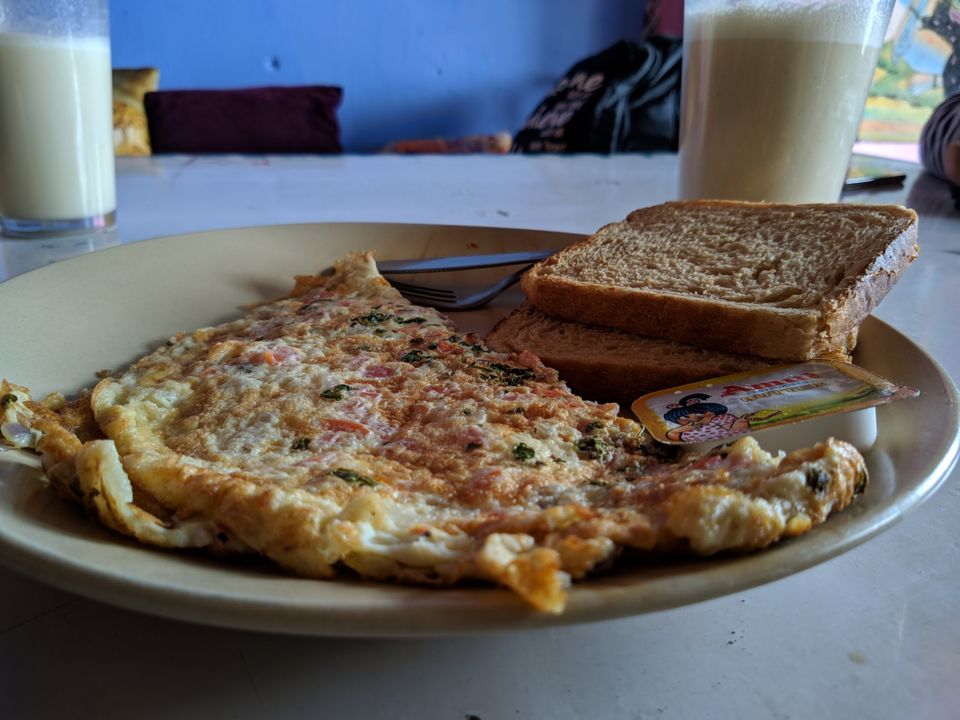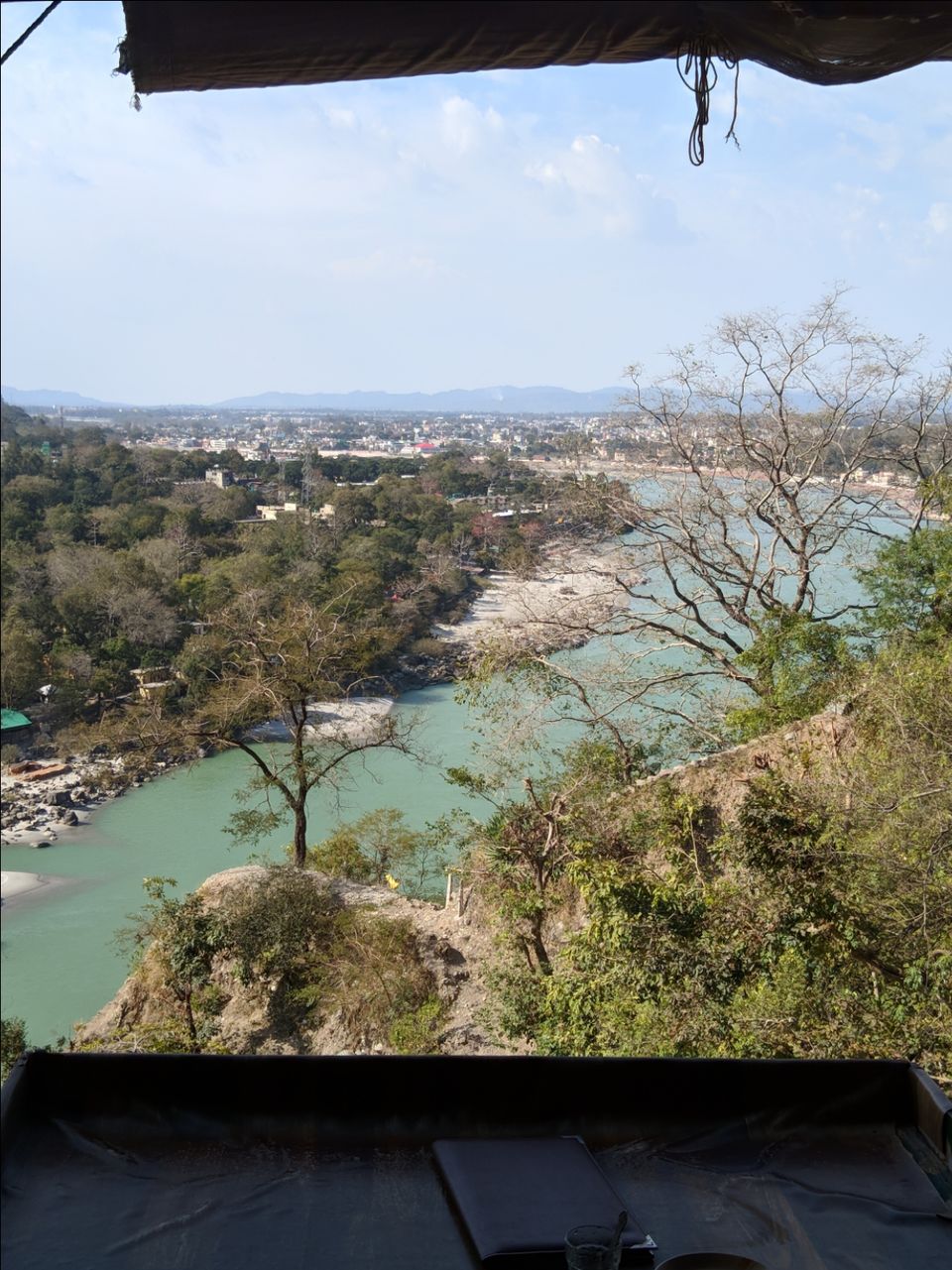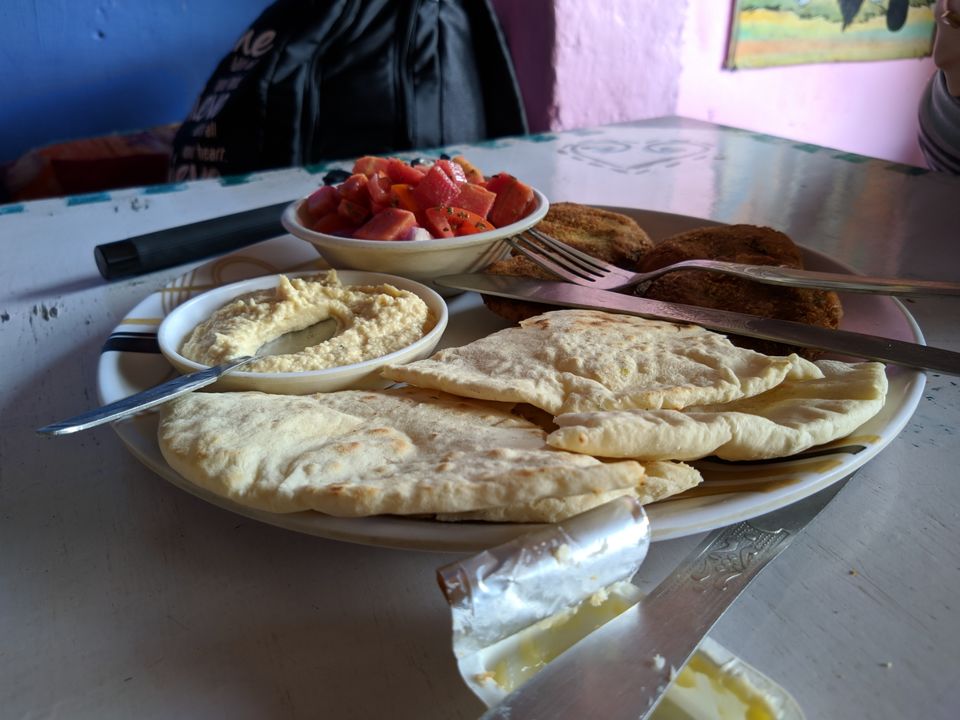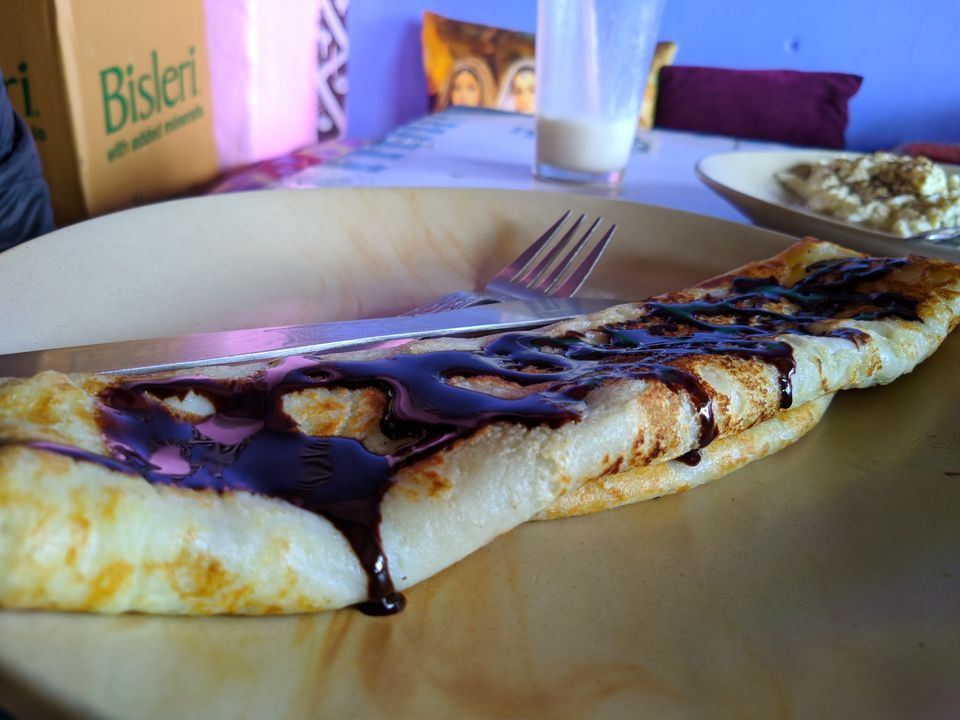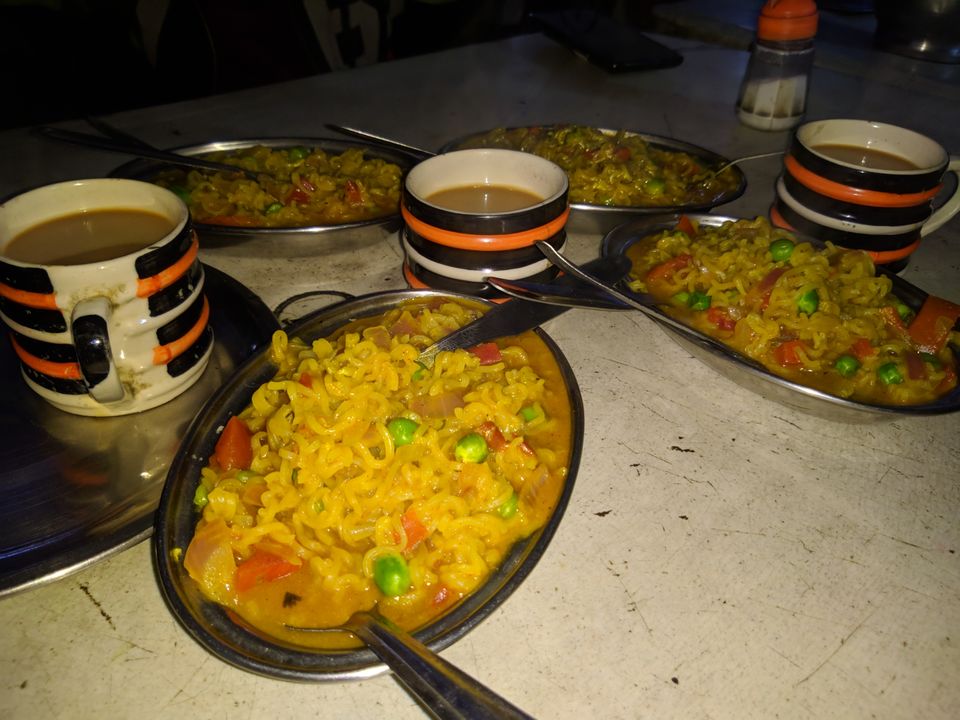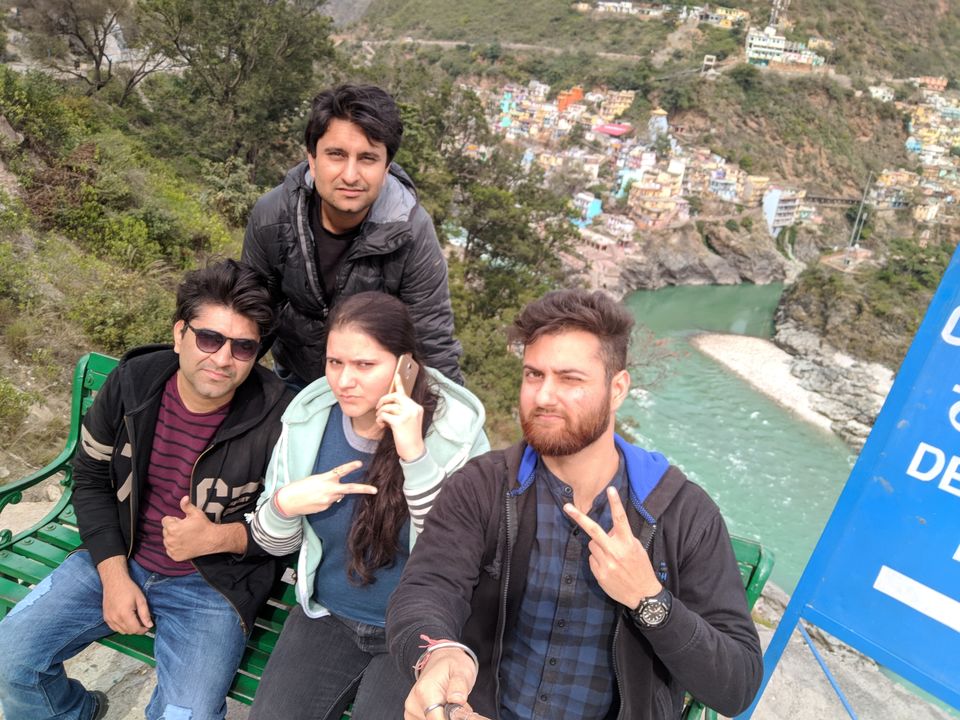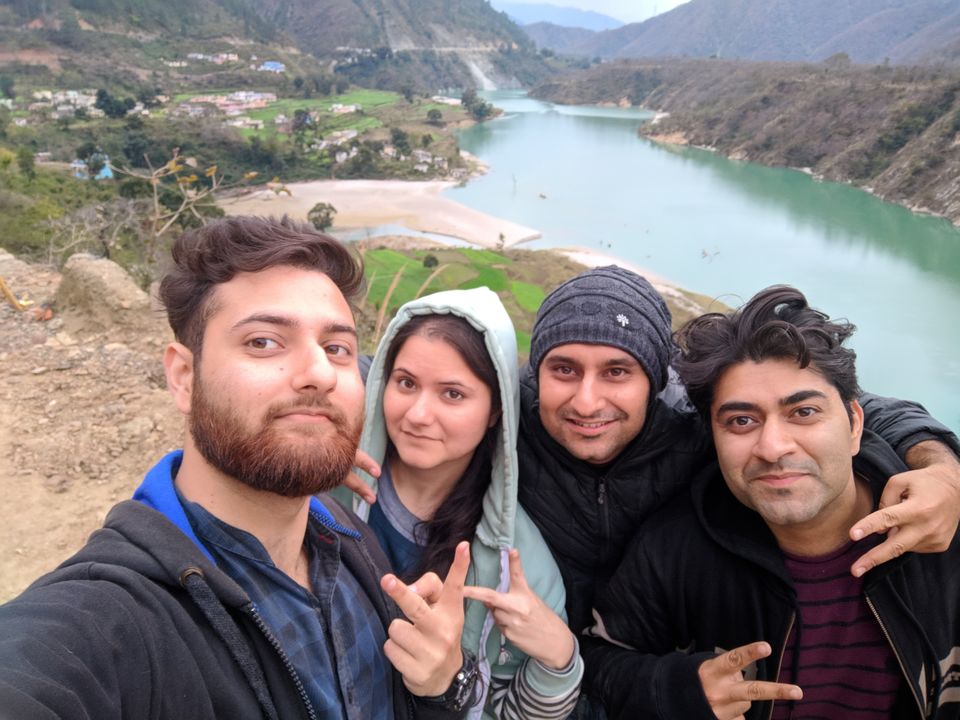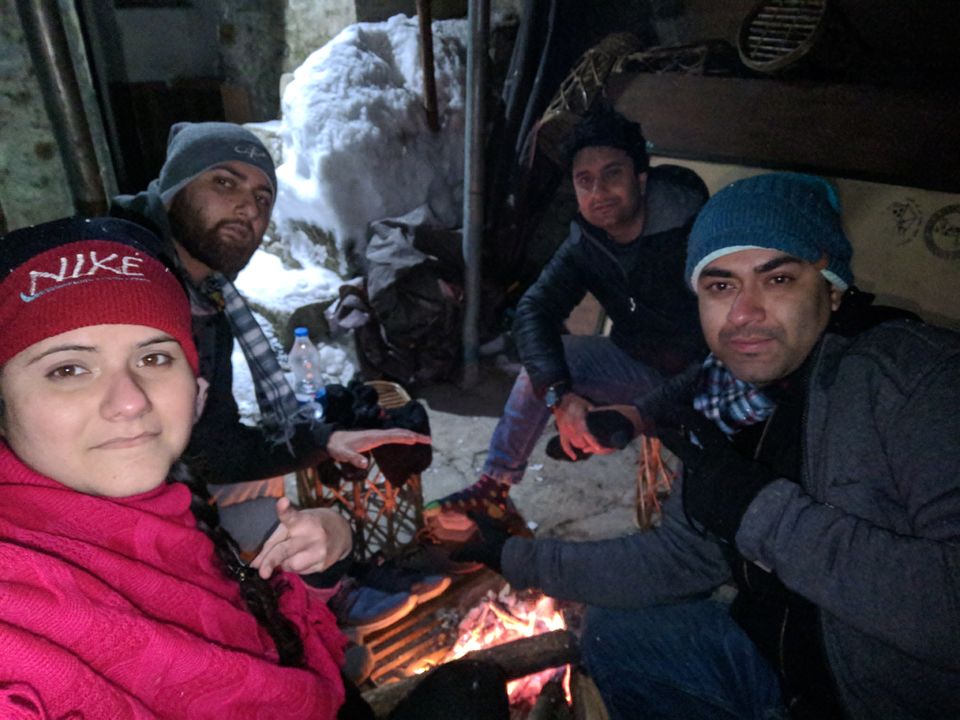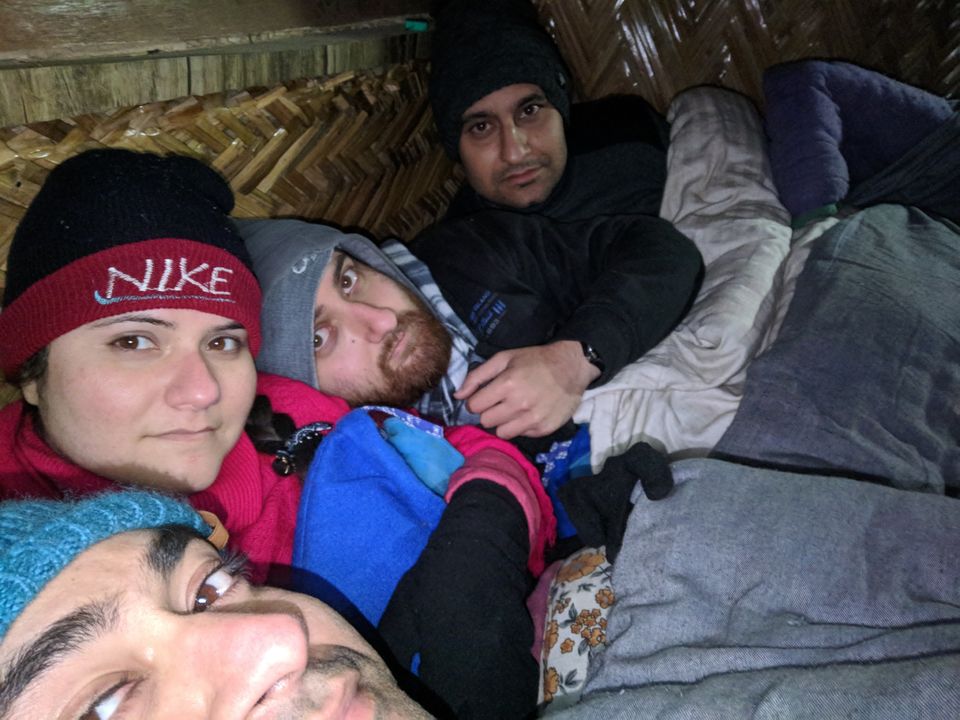 Day 2, As we woke up we just looked outside the window and we couldn't see anything it was completely white just snow everywhere 😬. We went to ask the camp guy if it was possible to go on trek ,he said no its not possible as the snowfall isn't going to stop🙇🏻‍♂️. There was literally nobody around at the place , snow was upto 4 feet and we couldn't even move out , we didn't know where to step on and to add on to this the camp guy told us they were out of stock for supplies and that's when we started to get tensed up.There was no network, nothing we could do and nobody we could connect to😬.
The Snow we were so excited to see before was not exciting anymore, it became like a devil for us,we didn't know if we could escape alive from the place or not tension started to raise🙇🏻‍♂️. Around 3:30p.m waiting in disguise, a ray of hope aroused as we saw very weak but still a signal on one phone we immediately called the trip person without moving the phone anywhere and fortunately for us it got connected somehow,voice was not clear as signal were very low but he heard that we were stuck in the camp, so he said he will try to rescue us but it's difficult as nobody was willing to go there as they were afraid to get stuck too as the snowfall continued and snow level was getting higher and higher.
Now the snow level was around 5feet, we were waiting in anxiousness and were tensed, after sometime we saw a guy coming towards us he told us that he had been send to rescue us but he didn't think it was safe as the roads were blocked and even his 4 wheel power drive gypsy was not safe.But we had no option as it had started to go dark around 4:30 p.m, we forced him to take us to some place down where there is no snow and we will take a vehicle from there to go further, he agreed somehow.
We had to trek in snow to reach the gypsy, we held each other slipped couple of times but reached to the Gypsy somehow and the snowfall was getting heavier.The gypsy driver was a local guy, even though the whole road was covered with 3 to 4 feet snow he rescued us somehow to a place below even though the whole ride was pretty terrifying.
From Chamoli, we took a cab towards Joshimath our second spot as we escaped from our 1st spot where we couldn't do anything except survival. We felt relaxed as the roads were normal and clear on the way, but but but the driver wasn't 😬.The driver was old and told us not to travel during night and kept telling us again and again anything can happen anytime. He switched off the headlights and said see nothing is visible we thought this is the last ride🙇🏻‍♂️. But he switched on again and thanks to god we were still on road , somehow he managed to take us to Joshimath around 10 p.m with a scary ride. We went to Hotel named Shail Shikhar , ordered some food and went to sleep after a thrilling and tensed day.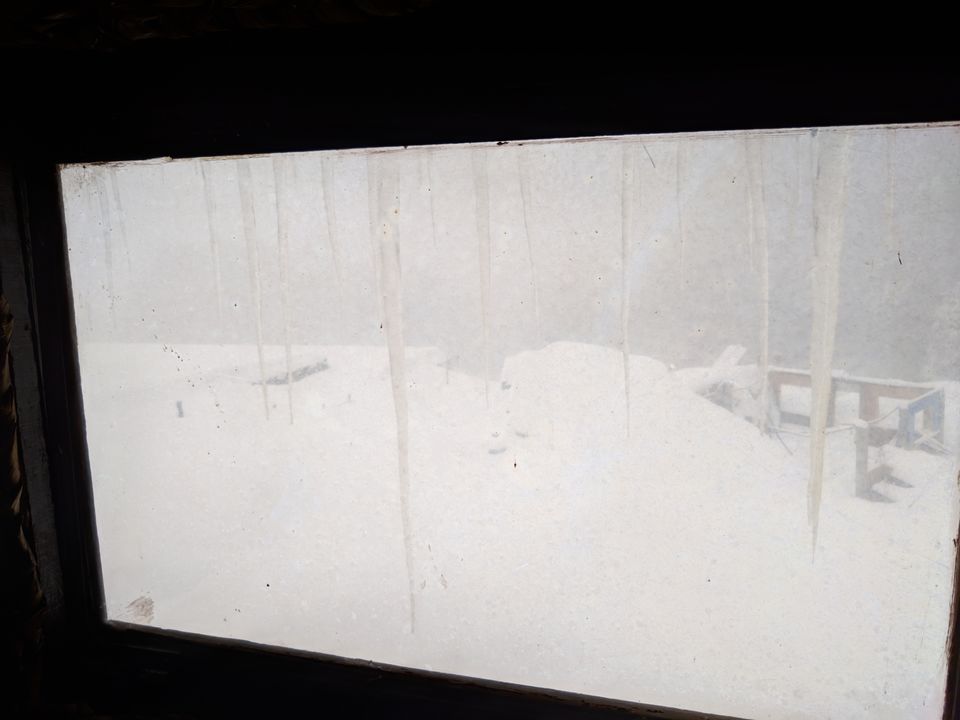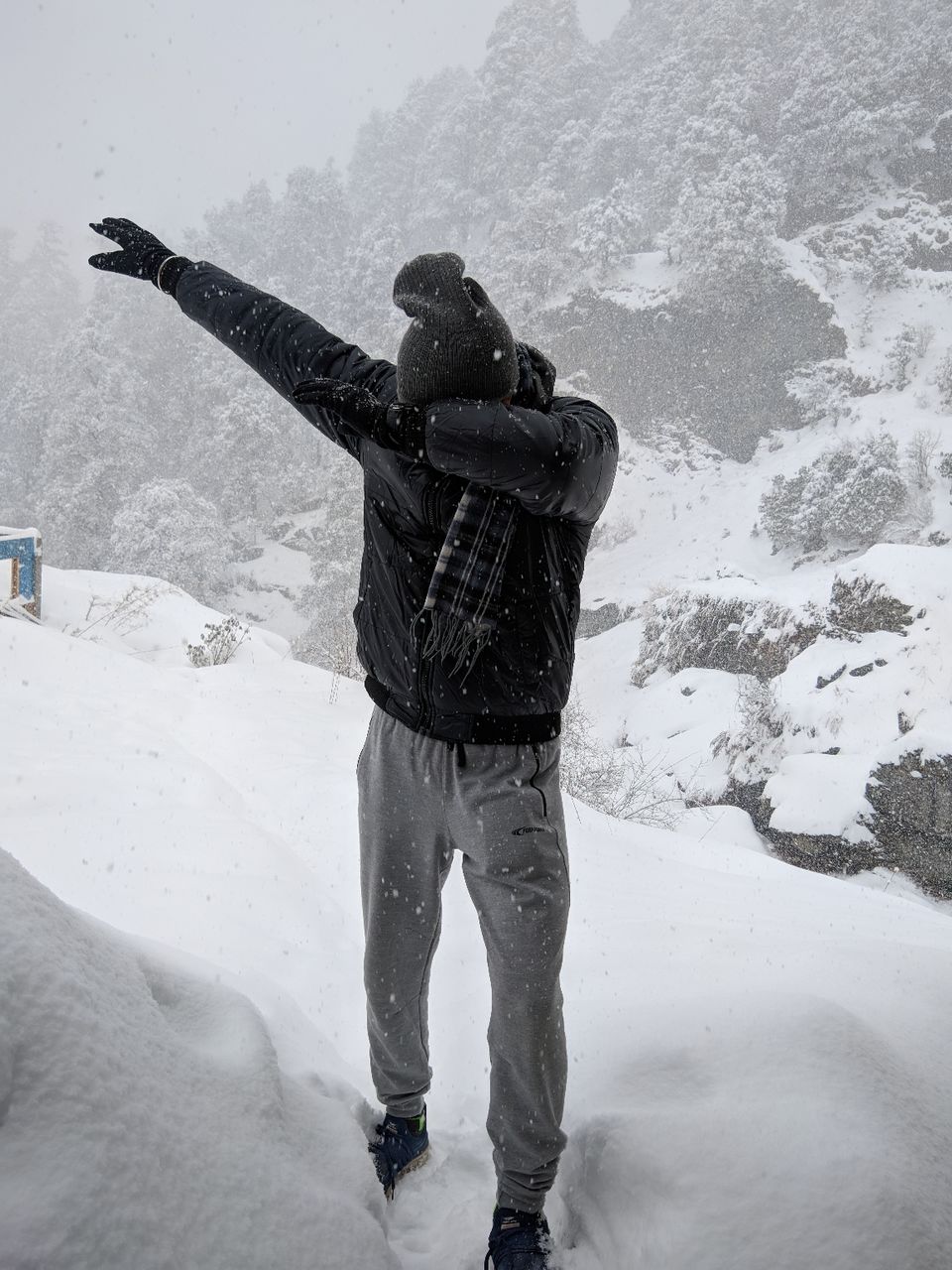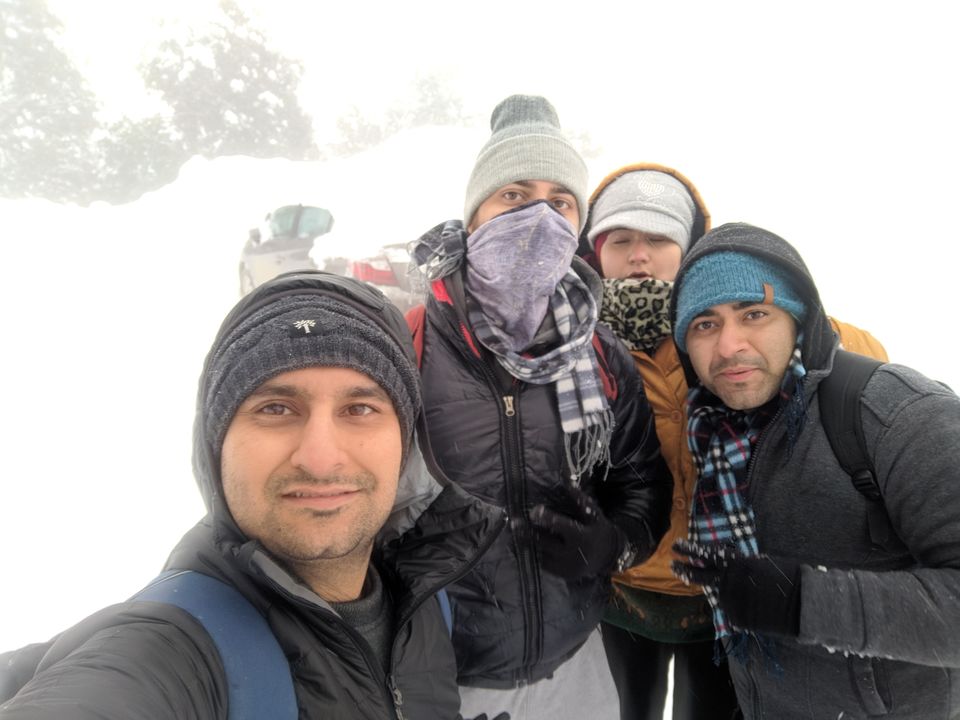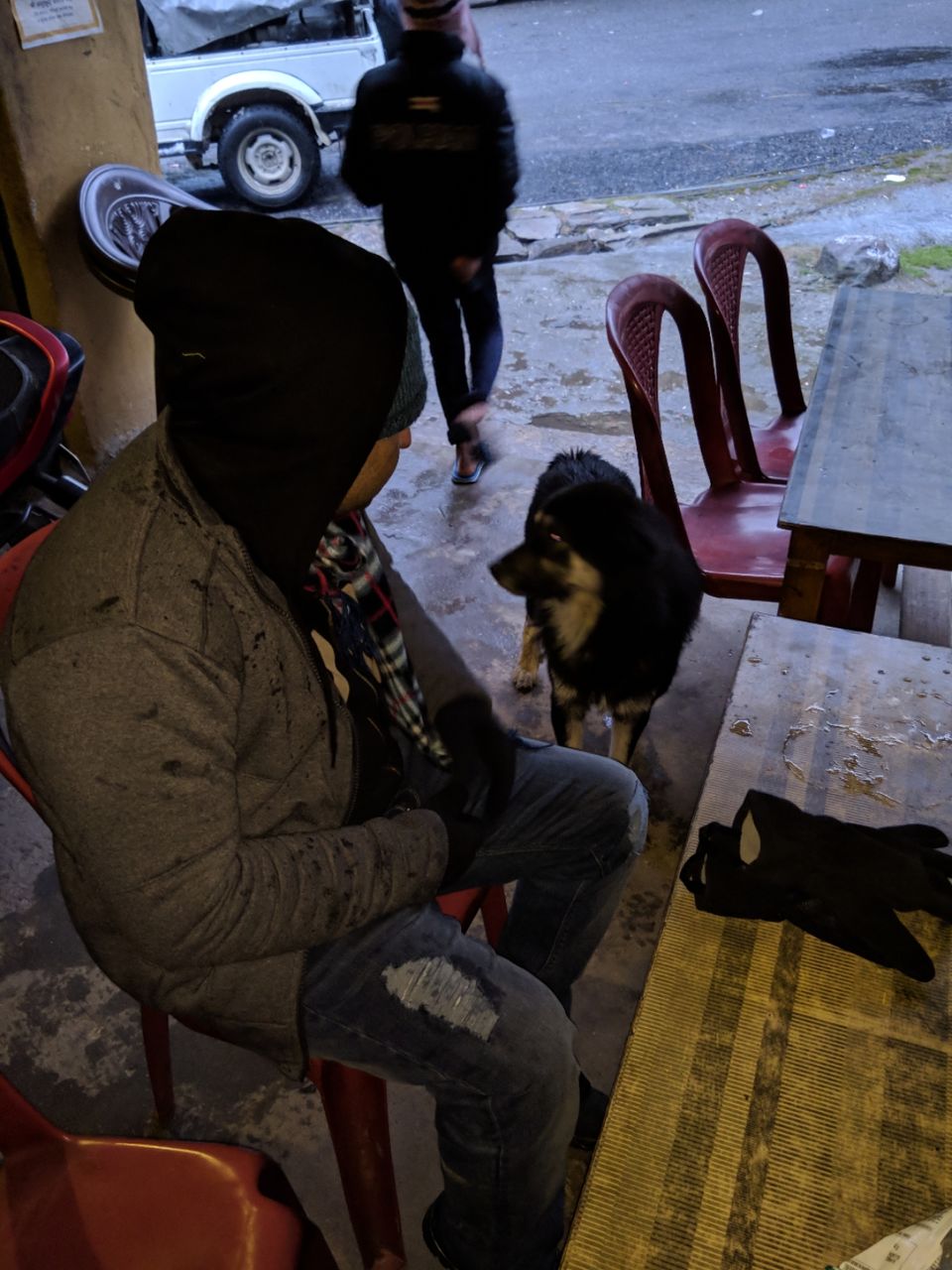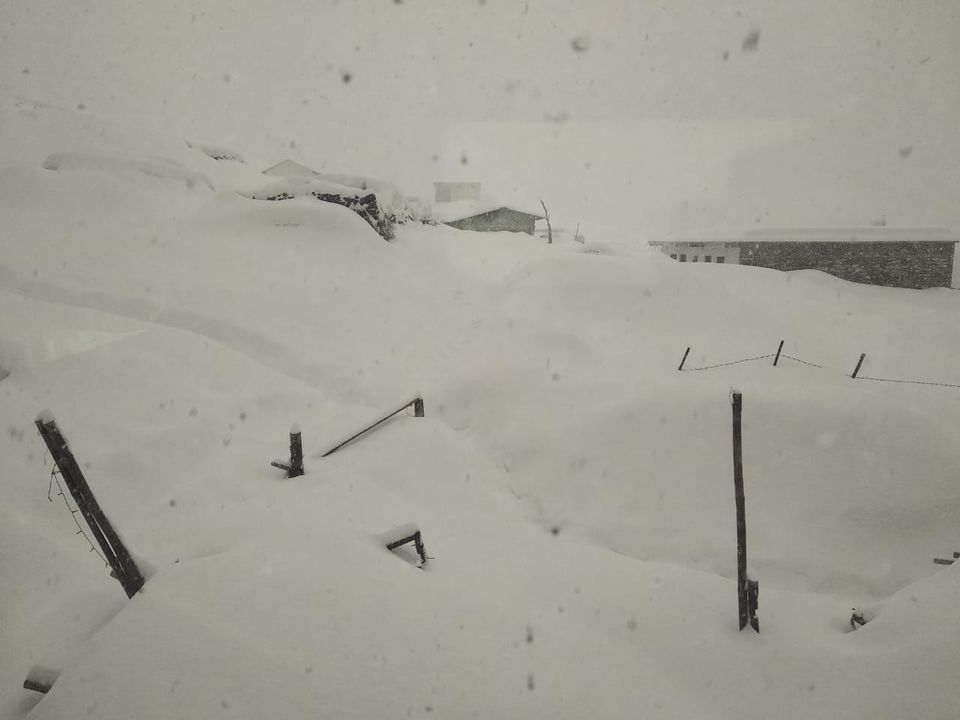 Day 3, we woke up in the morning and the view was absolutely majestic as we saw the mountain range of Badrinath,Kedarnath covered with snow. Finally we got to see some sunshine, we took a cab towards Auli as the ropeway was booked due to skiing festival going on there at that time.The roads were good only until some kilometers as again we saw roads covered with snow 5..6 K.ms before Auli, again the car started skidding and brakes were not working so the driver told us to push the car from behind but it didn't work as we were skidding too with no grip on snow and car started to skid downwards , we asked the driver to don't do anything as it could fell down, we took our bags and started moving towards Auli by foot.
We reached there in 1 hour, a shop was there so we rested there and took some snacks and then went to Skiing station. We enjoyed there and it's an awesome and must visit place with an amazing scenic beauty and good for skiing too. We didn't want to get stuck again so we decided we will not stay on top as there was a forecast of snowfall again at night, we did trekk towards the last station of skiing and then around 5 p.m we took a cab from the below Auli camp to our Hotel in Joshimath and rested there as we had to leave early in the morning around 4 a.m towards Haridwar as the construction work was going on the route, our train was around 11 p.m next day. So we went to sleep early. P.S: We took snow boots on rent for around 80 bucks per pair near the snack shop in Auli and skiing at the base station costs around 400 bucks.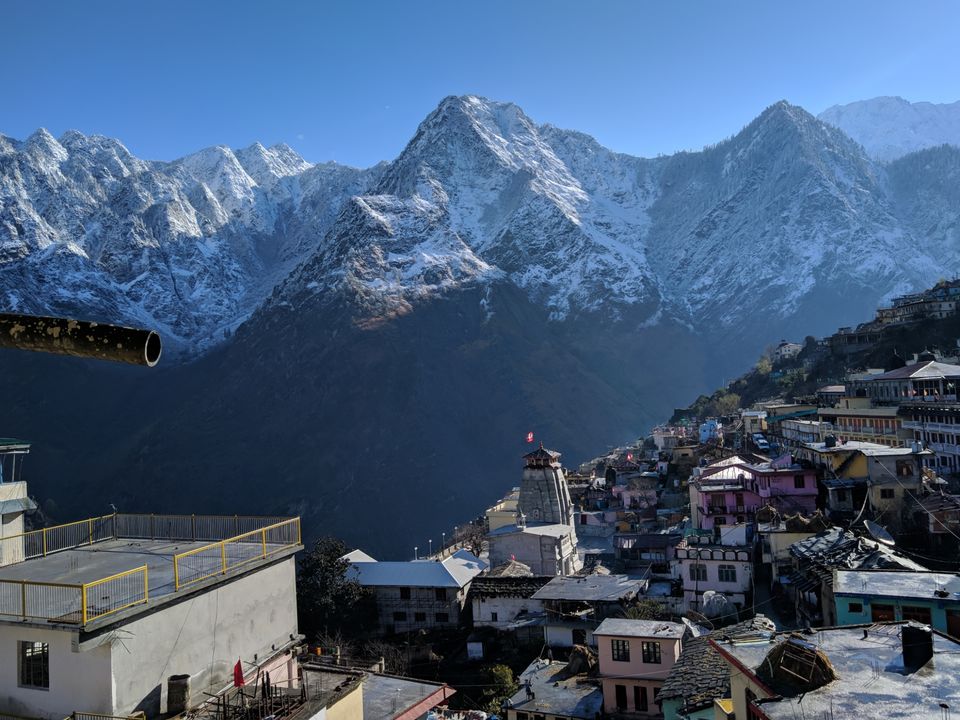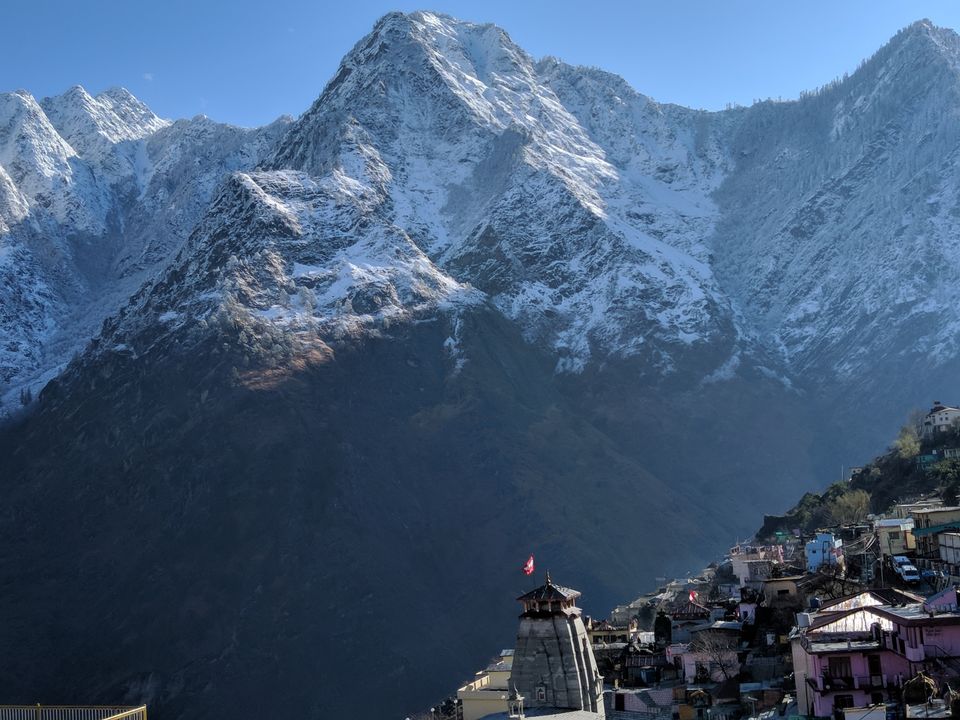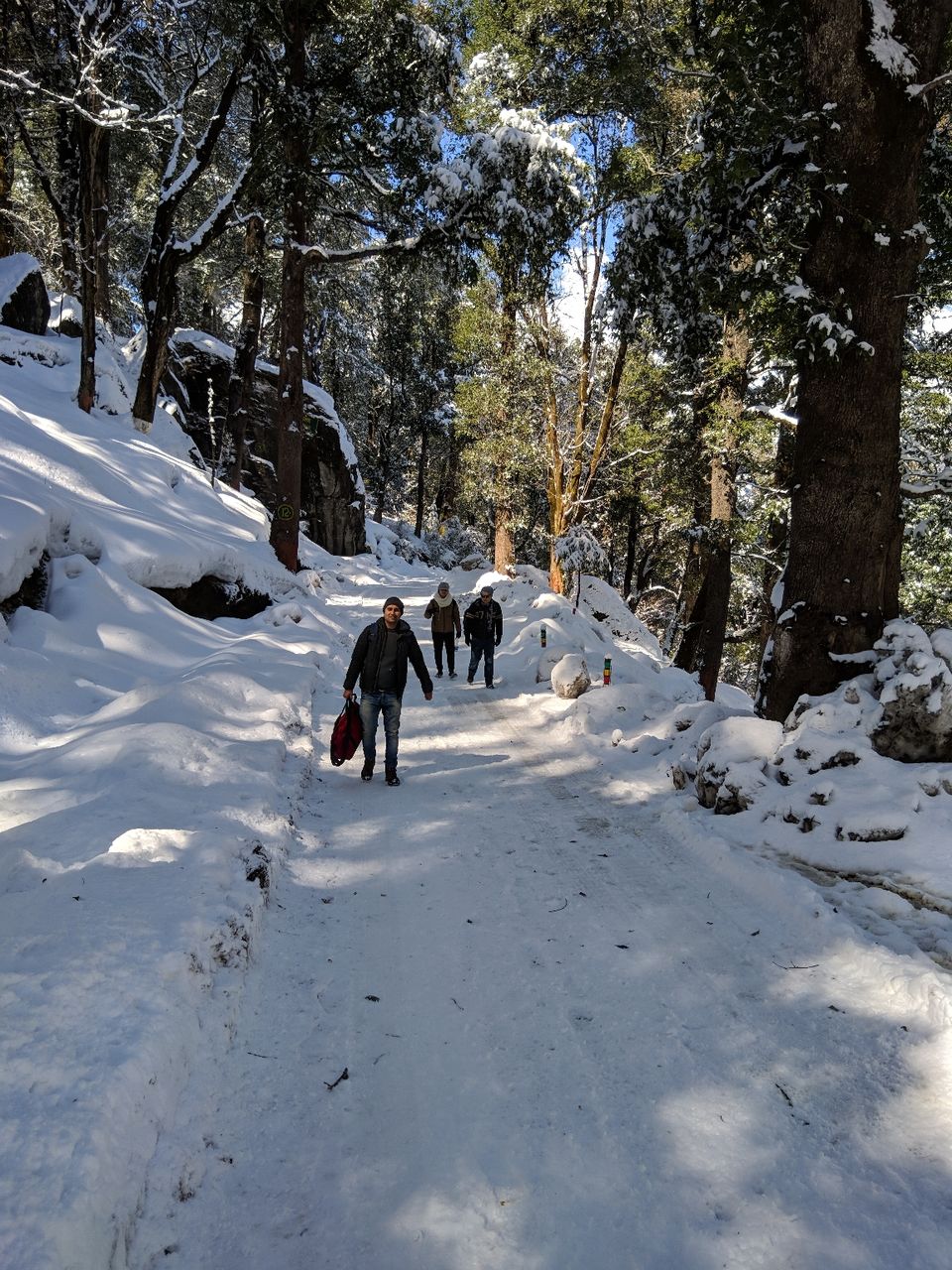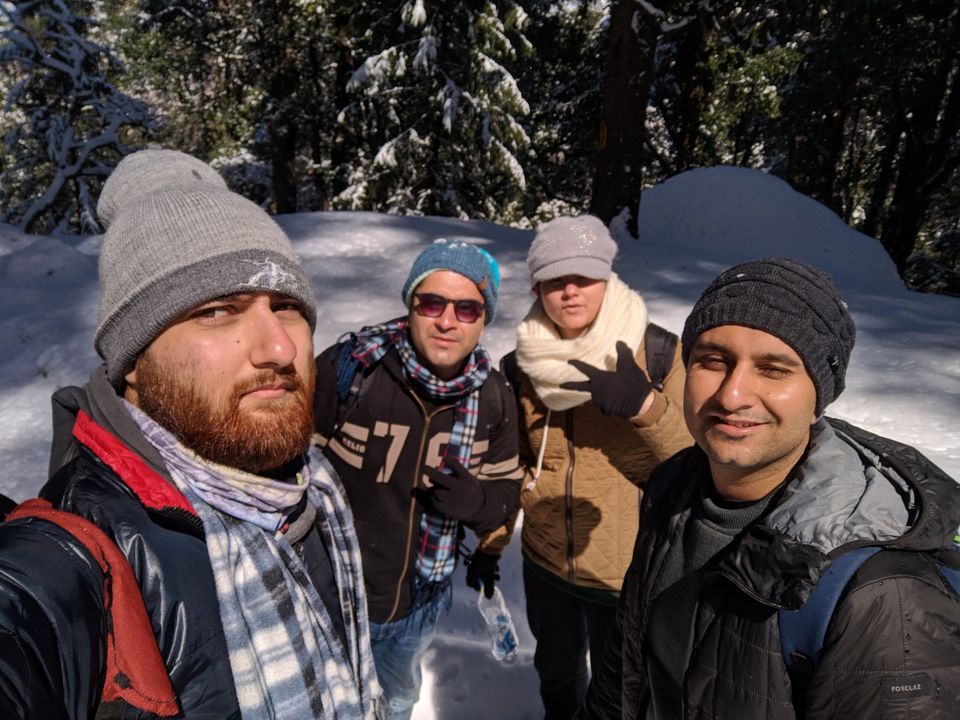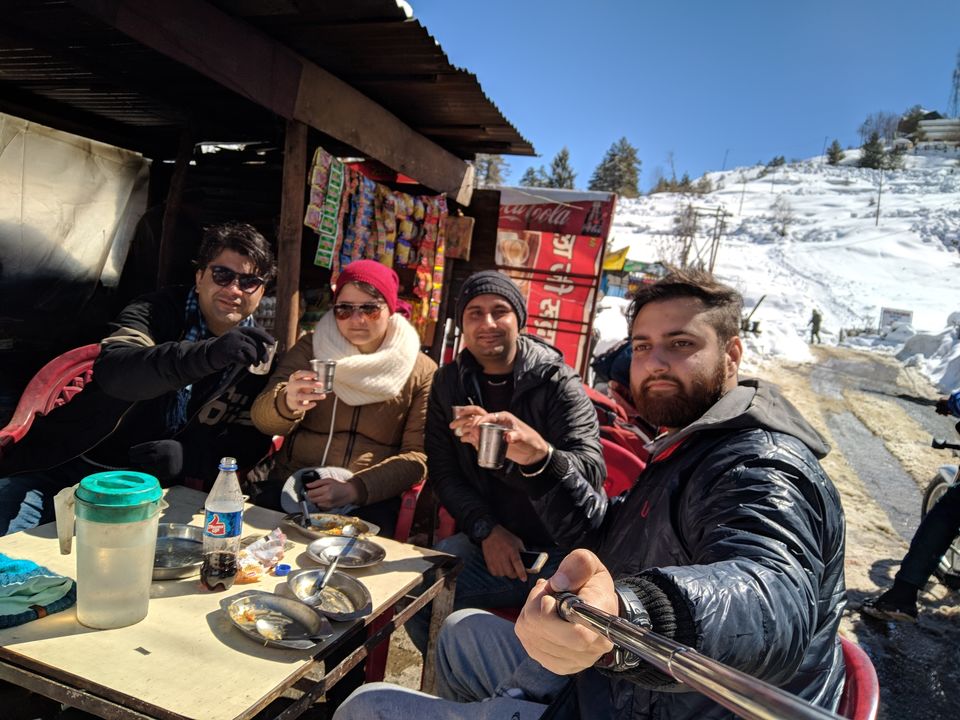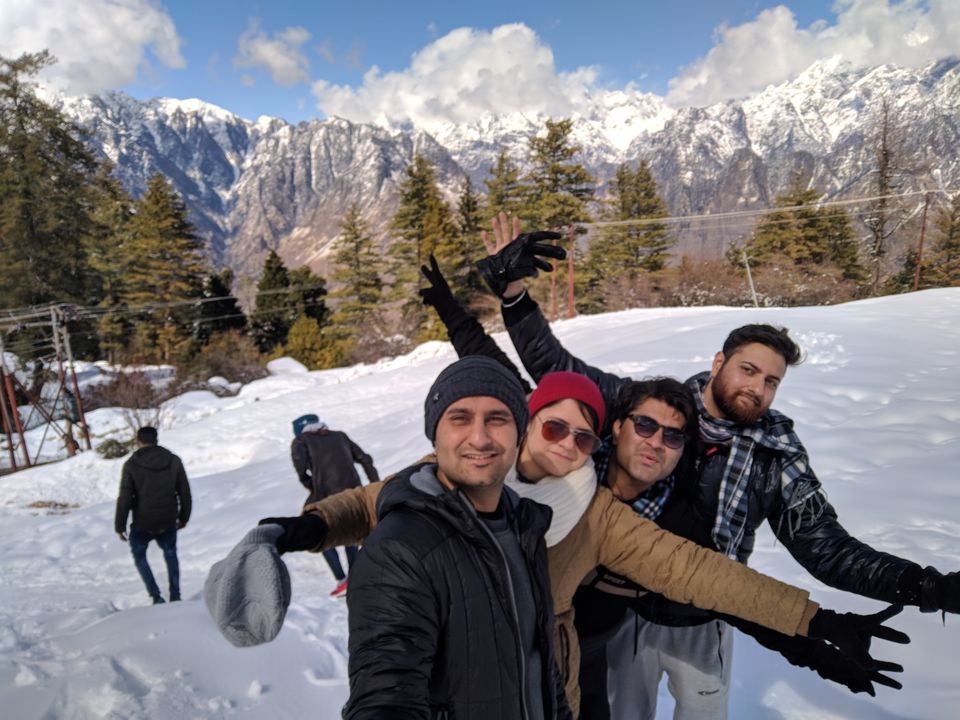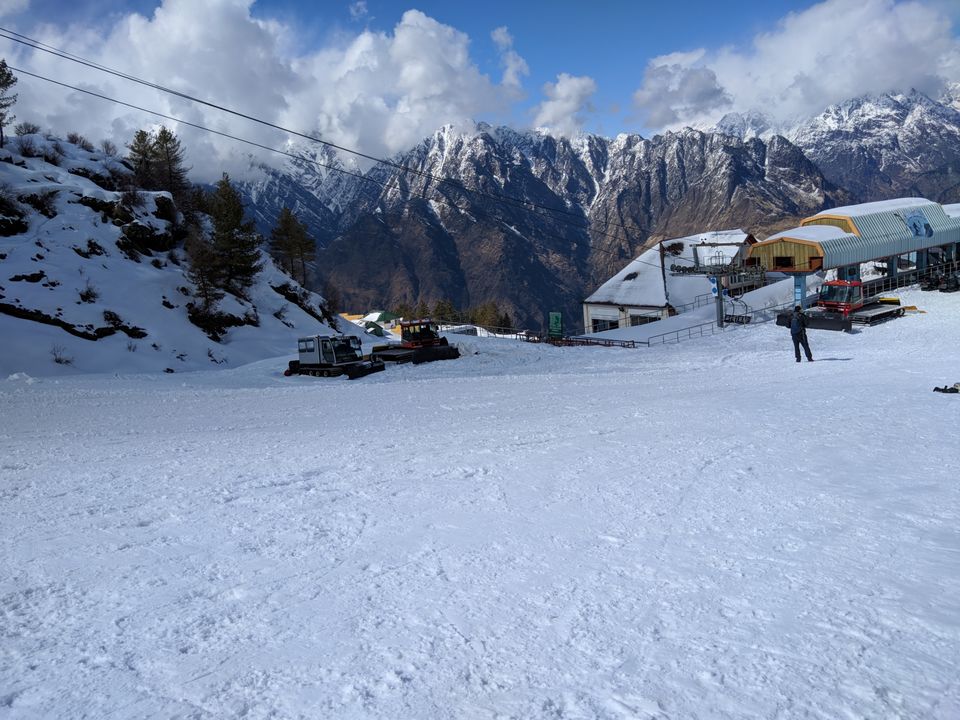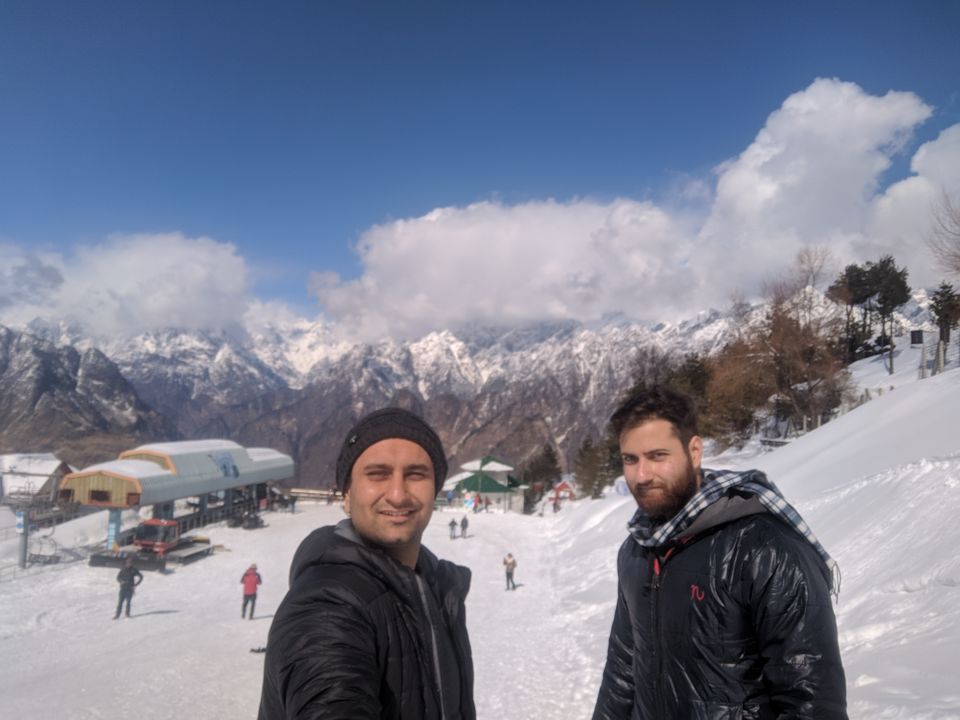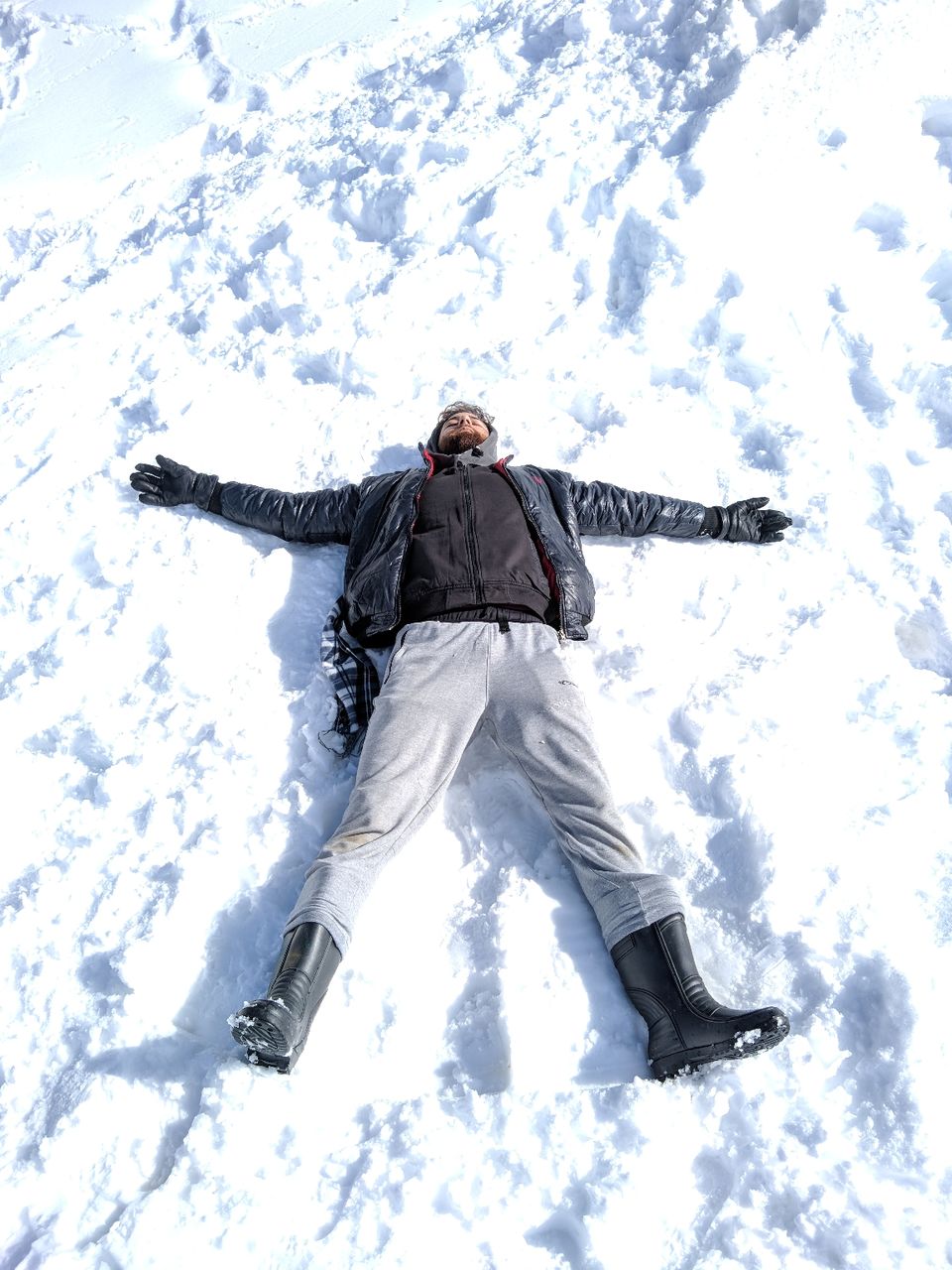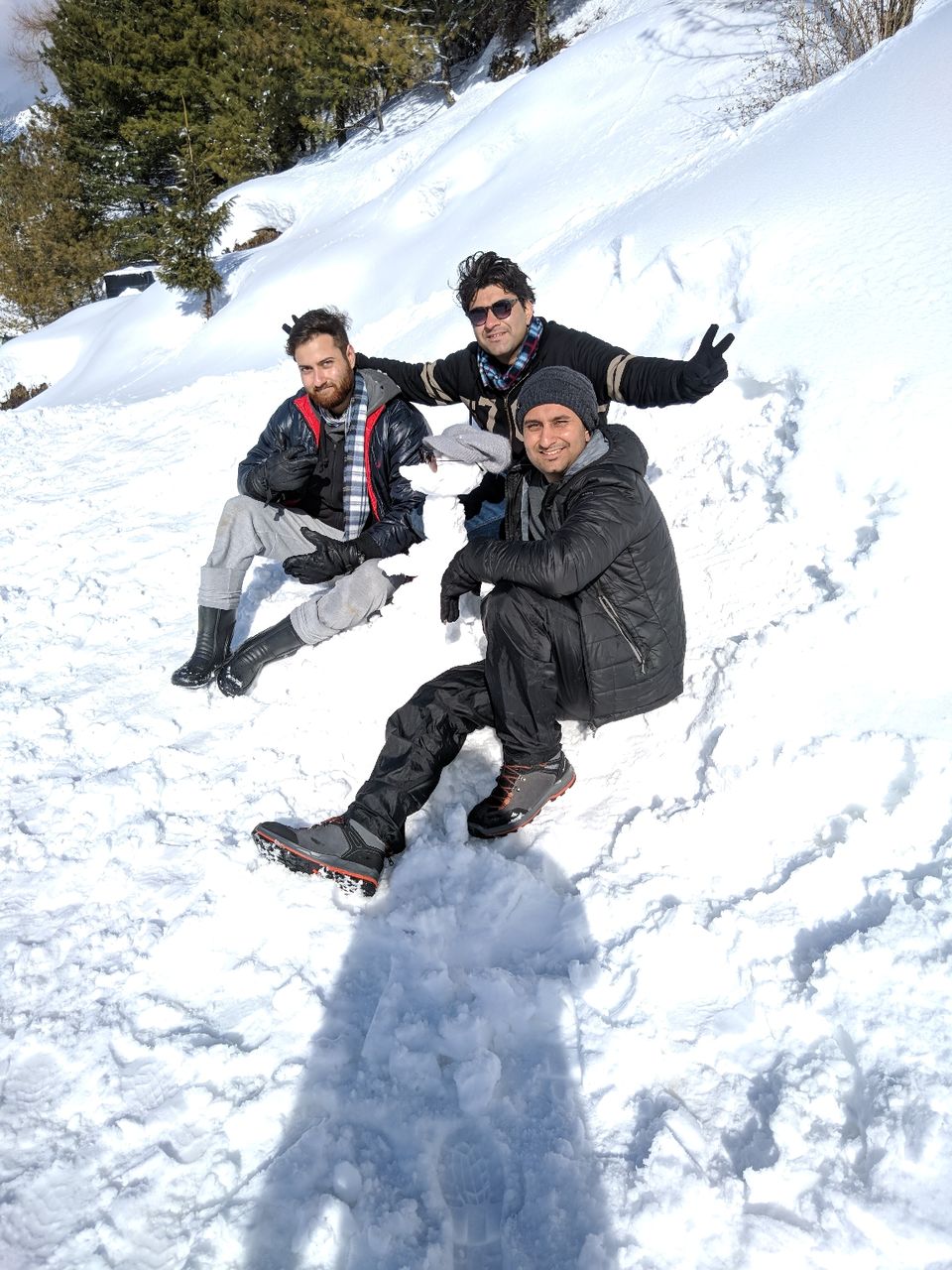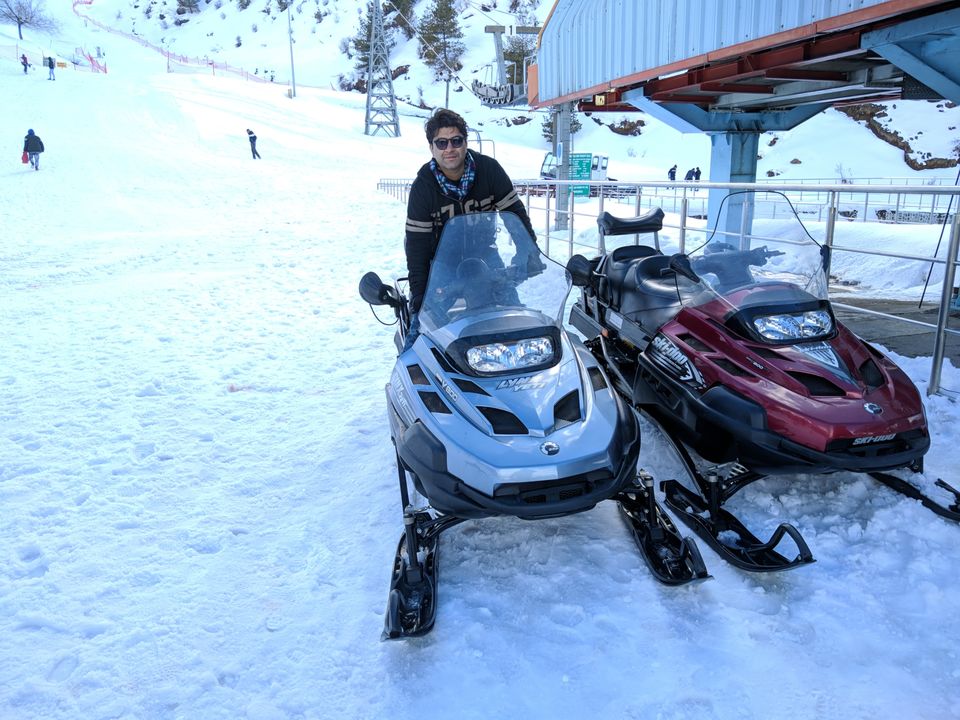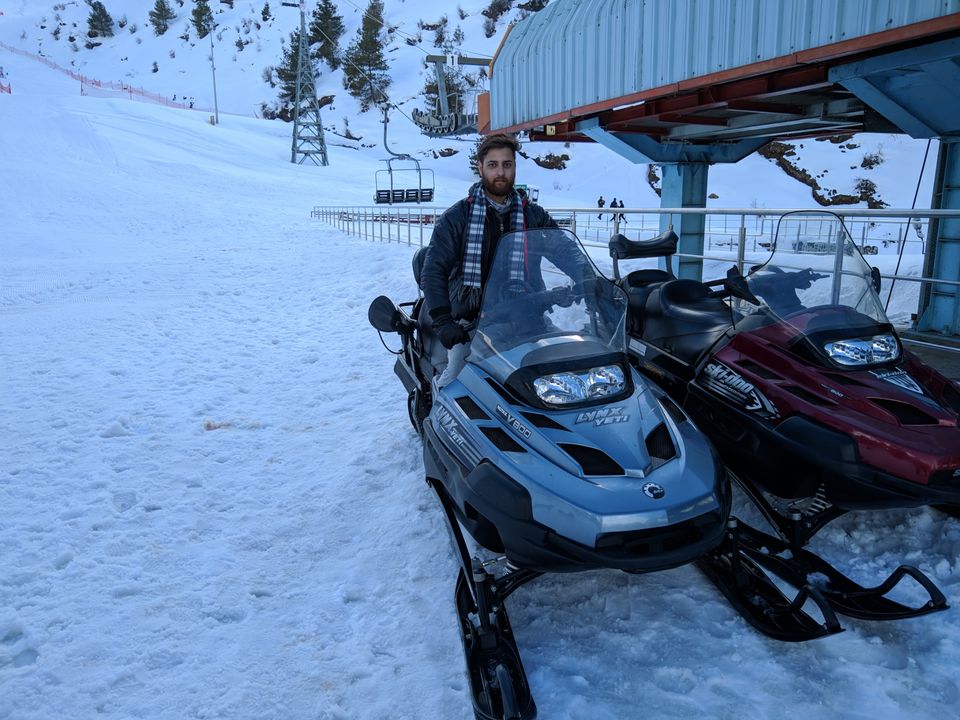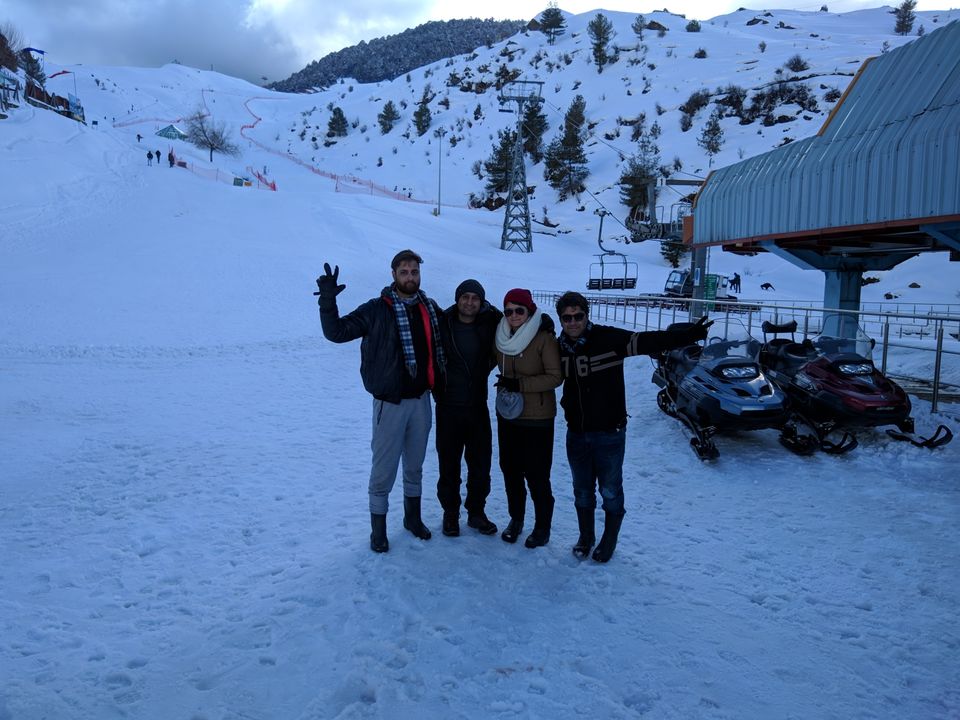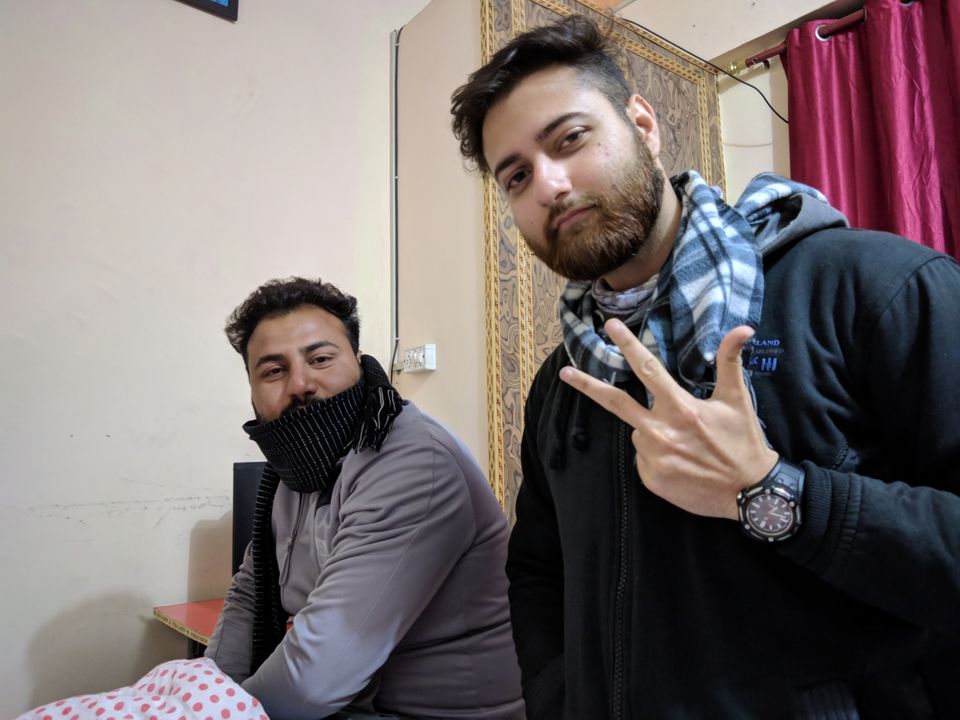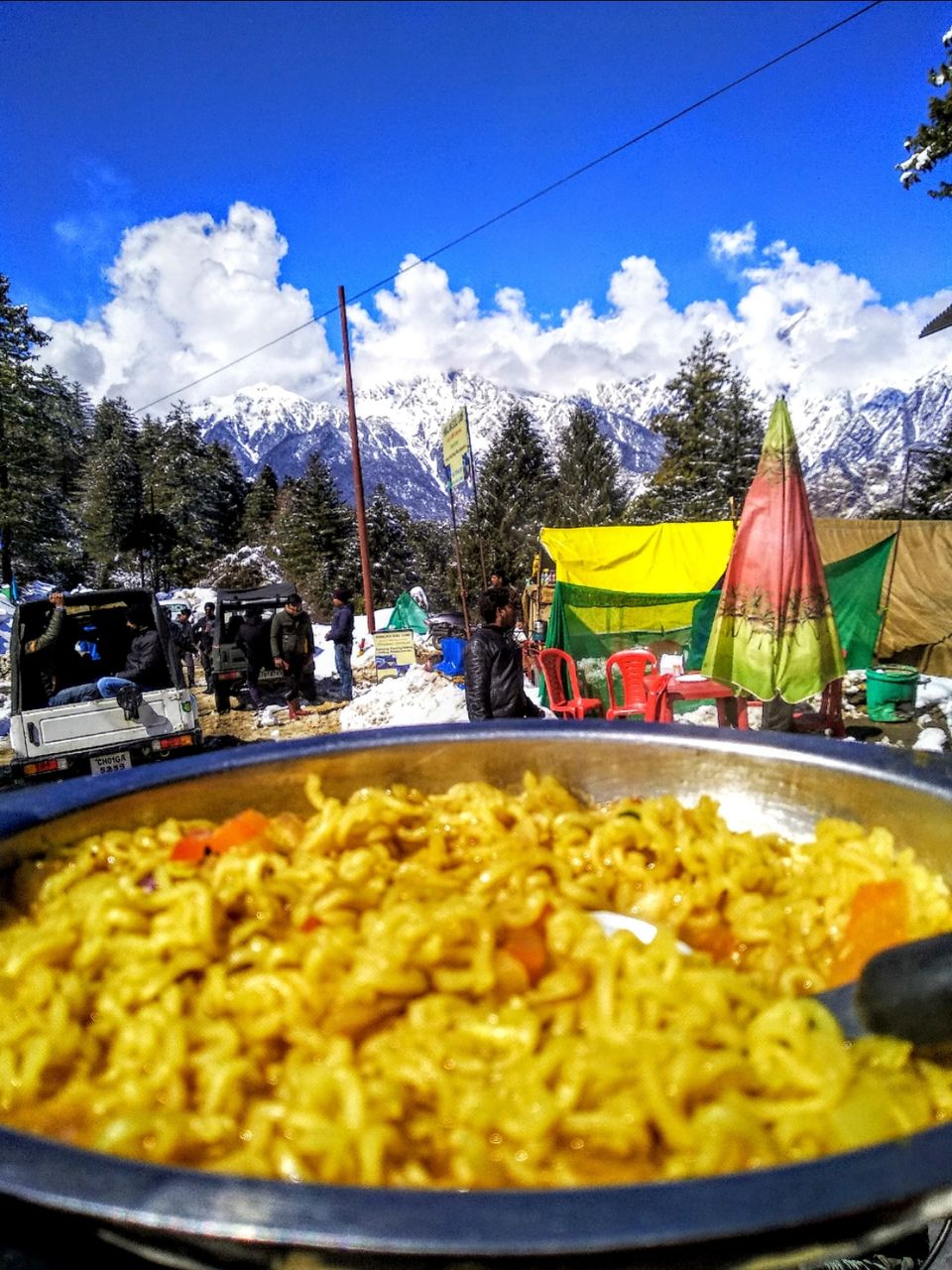 Day 4, The final day , we started our journey towards Haridwar around 4 a.m, and the return time is the time when you just don't want to do anything and straight away reach home , same is as we did took a few break stops to have some snacks  and reached Haridwar, attended the aarti around 6 p.m and then roamed around the market of Haridwar to explore things to eat and buy as well.
Then we we went to station to catch our train to Delhi, and finally the roller coaster ride of our trip ended safely. P.S: No snow for some years now🙇🏻‍♂️