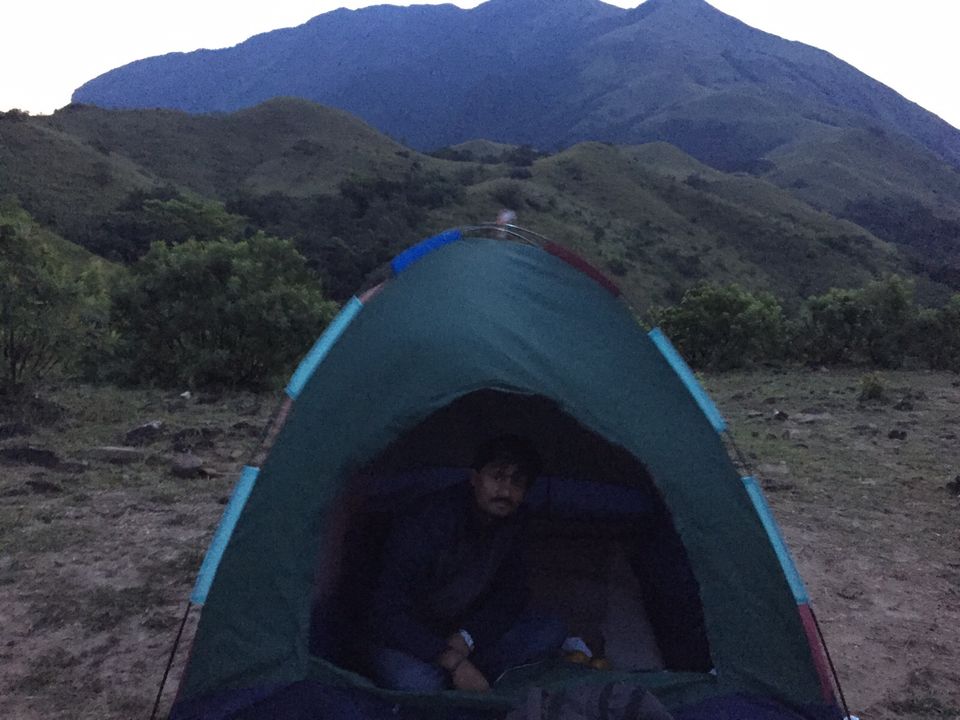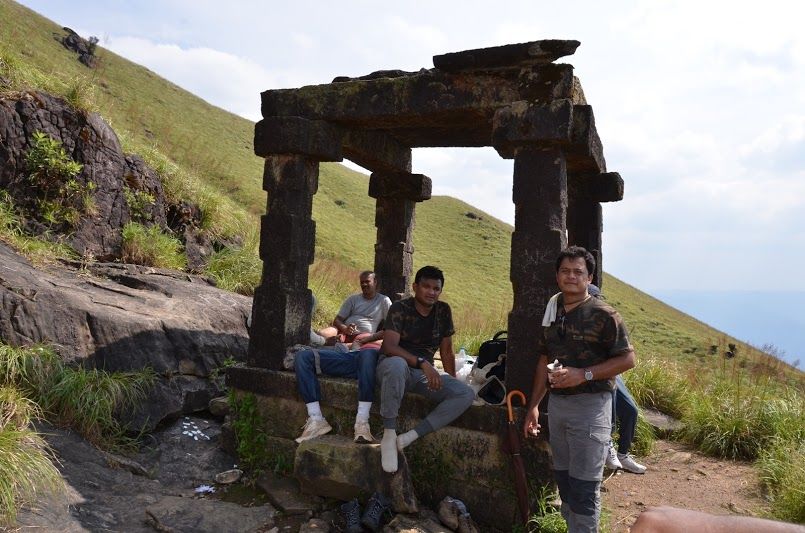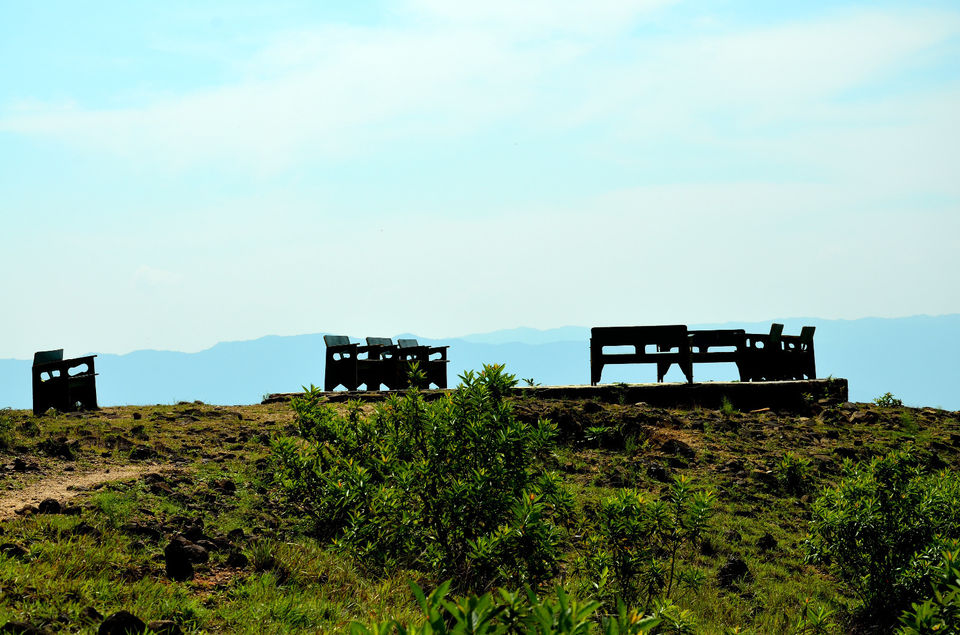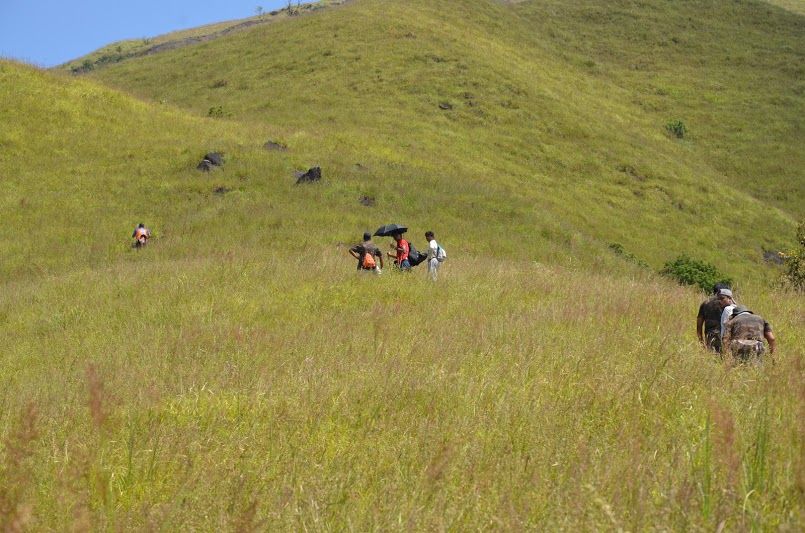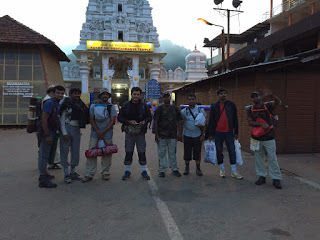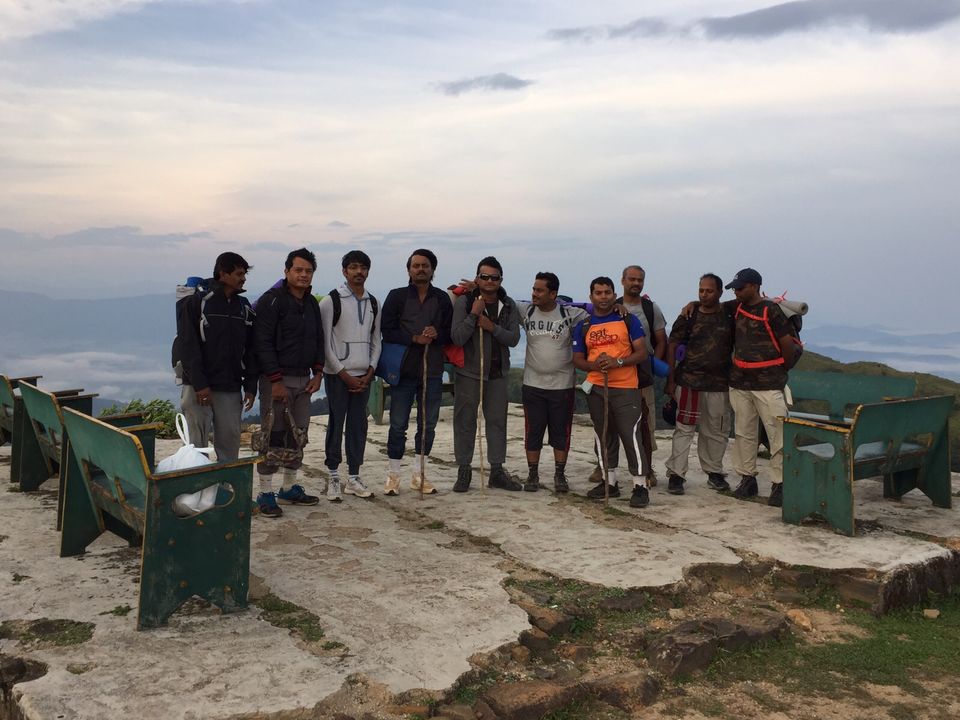 Exactly a year after our first nocturnal trek at Nandi Hills, we embarked on this journey to Kumara Parvata.
Well, for those of you who haven't heard of Kumar Parvata, at 5,617 ft. it is one of the highest peaks in Karnataka on the western Ghats & and hosts the route of the longest and the most strenuous trek in the state. Trekking can be done from 2 sides; the Eastern entrance that can be reached from Somwarapet & the Western entrance from Kukke Subramanya which we took.
As always, Charlie (aka Prasad) is the brain child behind this trek & because of the long hours of planning preceding to the event, the "Weekend Getaway" group had around 16 confirmations before some people dropped out & the final tally was 10 viz.. Charlie, Babu, Diwakar, Ravikumar(RK), Ravikumar(RKN), Raghu, Krishnaprasad(KP), Vimal, Manju & I.
Day 1: 4.30 a.m to 5.45 a.m, Kumaradhara( Kukke Subramanya)
After picking up Babu from his residence at 11.45 p.m we started our journey in a TT & reached Kumaradhara at 4.30 in the morning. Our driver Nagaraju covered the 280 kms distance in 4.5 hours flat. Got fresh & repacked our bags with the food items, water bottles that got distributed amongst the team & we were ready.
6.00 to 9.30 a.m: Take the right turn before the Kukke temple & the entry point to the trek is 1.2kms behind the temple which is a walk by road. The plan was to reach half way to a place named "Bhatru mane" before the sun gets hotter. Just a few minutes into the forest trail & we encountered the biggest challenge which we had anticipated-the leeches. Salt, Tobacco(Hoge Soppu), Mosquito repellent & pain relief spray were duly packed & applied onto the shoes & socks but none seemed to help. We had to move carefully to purge from this freaky bloodsucker. Though we were heedful, few of these parasites trekked on to our legs & inside our shoes and were able to guzzle up some blood. Though everybody panicked, Charlie was the most disturbed & troubled. He thought Kitta( our mate) was wise in pulling out of this trek although he had other valid reasons. One of these suckers pierced thru the aerial pores of my shoes & had sucked out some blood which I realized only after reaching Bhatru mane. It was one hell of a climb for about 2 hours in the forest trail. Manju, a wildlife photographer & an otherwise fit guy had severe cramps on his legs which hampered his climb. Ravi N & Raghu eased him of his luggage & with some Volini he continued further. Though the mutually agreed thumb rule was to "stay together" throughout, we did not adhere to it owing to the fear of Leeches. Even a mild break would mean few leeches climbing onto you & hence it was a literally a race to the top. 2 hours of trekking takes you above the forest canopy and it is now that one can get a good view of all the surrounding mountain ranges. We thought we had seen the Summit, but we were wrong. You can't see Kumar Parvata till the very end of your Trek. The mountain you can see from here is Sesha Parvata. On the way we met couple of interesting people: 1) Jayaraj- the forest officer who was a valuable help with his inputs & motivation 2) The domestic helps of Narayana Bhattaru. Must share this amazing with you all. These domestic helps climb up & down to the Subramanya town to carry essential provision viz. Rice, Oil, Daal, Salt & they do this Every day. Hats Off !!
Babu, Diwa, Vimal, RK, Raghu & I had reached the Bhatru mane by 9 followed by Ravi N, Charlie, Manju, & KP. By now Ravi N was fuming for not following the thumb rule which augured well for the rest of the trek because together we can face the challenge & not by splitting up. We were the first set of people to reach Bhatru Mane that day & based on our request he served us some broken wheat Uppittu with Uppinakayi. They charge Rs. 100/plate of food but considering the kind of efforts that goes into it, it is not expensive. Apart from providing food, toilets & water you can charge your mobile, (Yes he has electricity), use his mats to rest & of course a satellite connection for television. But the most beautiful thing is, you can leave your extra luggage here and carry exactly what you need further which is what we did. Except for Babu all of us had carried heavy bags. After relaxing for an hour there, we embarked on our 2nd part of the trek.
12 noon to 5.00 pm (Bhatru mane to Kumara Parvata)
The 2nd part of the trek is from Bhatru Mane to Kallu Mantapa which is 3.5 kms. We'll need to register our names with the Forest officer & pay an entry fee of Rs. 200/head. Camping on the peak is prohibited now & hence we were advised to return back well before dark. Though we had kept your excess luggage in Bhatru mane, you can't ignore the fact that, you have covered already 6-7 Kms in high slope. Along with that, it is a race against time. We started from Bhatru Mane around 12PM. Target was to reach the peak by 4 and then start descending back to Bhatru Mane. This is long stretch, mostly can be segmented into 3 parts.
From Bhatru Mane to Kallu Mantapa
Kallu Mantapa to Sesha Parvata
Sesha Parvata to Kumara Parvata peak
Leg 1: (12 noon to 2.15 p.m)
The forest cover was no more and we were directly exposed to the merciless sun. The next point was Kallu Mantapa, a partially ruined structure. You pass thru two View Points which is useful for some clicks. This is mostly a walk thru the grasslands & hence relatively easy. Vimal had a narrow escape when he slipped at a curve. Though he recovered quickly, things could have gone wrong, sigh ! There is a stream flowing nearby which is a pretty sight and forms the camping place for most of the trekkers. We refilled our water bottles & quenched our thirst. Reached Kallu Manatapa @ 2.30 p.m & spent some time taking rest there.
Leg 2: (2.15 to 3.15 p.m)
Kallu Mantapa is the foot hill of Sesha Parvata. After resting for a while, there was a debate if we should continue further or return to Bhatru Mane coz by then we were all almost drained out. Not many of them try to do the Peak & return on the same day. The next 4.5 kms was very steep & hence we were apprehensive about being able to come back before dark. Babu, Diwa, Vimal & Ravi N were clear in their minds about going ahead & it needed some pep talks from them & few Redbulls to inspire the others. From here it is a steep climb to Sesha Parvata which we covered in an hour & reached the spot by 3.15 p.m.
Leg 3: (3.15 to 5.00 p.m)
Still there was no sight of the Kumara Parvata. Some of us were still wondering if it was a wise decision to continue further. Our bodies were almost giving up & only the mind was pulling it. Sun was settling down which was a good thing but confusion was arising among us. We were still together, but there was no sign of concurrence on continuing further. People coming from other side were giving conflicting opinion. Though the question was simple,"how much left?". Answer was varying from 45min- to 2 hours journey. I could see, we all were tried and confused. Somehow Babu, Diwa, Ravi N & Vimal took charge of it.
From Sesha Parvathe you have to climb down a little bit and then climb up again. We'll have to pass thru a dense forest & there was the Leech threat again. Somehow we crossed it without much trouble& then there is this monolithic rock which was slippery due to the preceding days' rains. Vimal again had a slip though nothing to worry. At the end of that rock, the path splits into two. We could now see the way to Pushpagiri peak & continuing the climb little further…reached the peak of KUMARA PARVATA, Voila! Finally we were there, after almost 10 hours of climbing and countless plan & debate.
THE DESCENT
After spending some time in the peak we started the climb down. We were running behind schedule & hence did not spend much time clicking pics. I always thought that climbing down was easy but mark my words it isn't .From a distance, things look easy. But as you climb down, every step is challenging. It is slippery sand, odd shaped pebbles and tightly packed odd shaped stones. Every step has to be careful or else you can fall or twist your ankle. Heavy on your knees and this is where you need lots of fluid consumption to keep up your energy and focus. But we had run out of water & food. We helped ourselves with some Peanut Butter & Nutella which was all that was left out. It was getting dark & trust me when I say this, not many people risk climbing down after dark but we had no other choice since we had run out of food & water. We had to come back to Bhatru mane. We kept on nudging one another to be safe & not to rush. A small mistake can be scary. Slowly but steadily we climbed down & reached the Forest office at around 8.30 p.m.
To me the best part of the trek started thereafter. Since we were late most of the safe places were already occupied by other trekkers to set up camps. So, we were left with only a choice of camping near the 1st View point. Though we thought it was a great spot, what we experienced thereafter was damn interesting. We pitched in our tents for the night & headed to Bhatru Mane for Dinner. The menu was hot rice, Sambar, Majjige( Butter Milk) & Uppinakayi. There's nothing like a Good Meal after all the hard work J. Bigg Boss Kannada is quite popular now & Bhatru Mane was "HouseFull" with audience for this show. Cheers Huccha Venkat . Bhatru Mane was we bid adieu to Mr. Narayana Bhatru.
We had set up the camping tents at a place which was at the edge of a cliff, surrounded by lush-green mountain ranges, clouds and mist. The gushy winds almost blew away our tents & the mist water was dripping inside the tents which meant it would be a Loong night. Most of us could catch some sleep only for a few hours .The next morning served us with the most serene views we could ever hope to lay our eyes on. It is something that I've yearned for all my life, Truly Blissful!
7 a.m (Day-2): We packed our tents & left for Kukke Subramanya. Luckily we did not encounter much of Leech problem during the climb down & reached Subramanya by 9.30 a.m. Once we reached Kukke Subramanya town, the most important thing to do was to take bath, and there is no better place than Kumara Dhara River. To our surprise, there was hardly any water in the river. The deepest point was only upto the waist . But nevertheless, a wonderful place to cool down the body and wash all the sweat and salt from the skin. River bath is a must before visiting Kukke Subramanya Temple. Let's do things the proper way! Charlie's words which we adhered to. After seeking the lord's blessings & breakfast at Neo Mysore Café, we started from Kukke Subramanya & reached Bangalore at 8 p.m.
This blog was first published on My Cuppa Coffe.