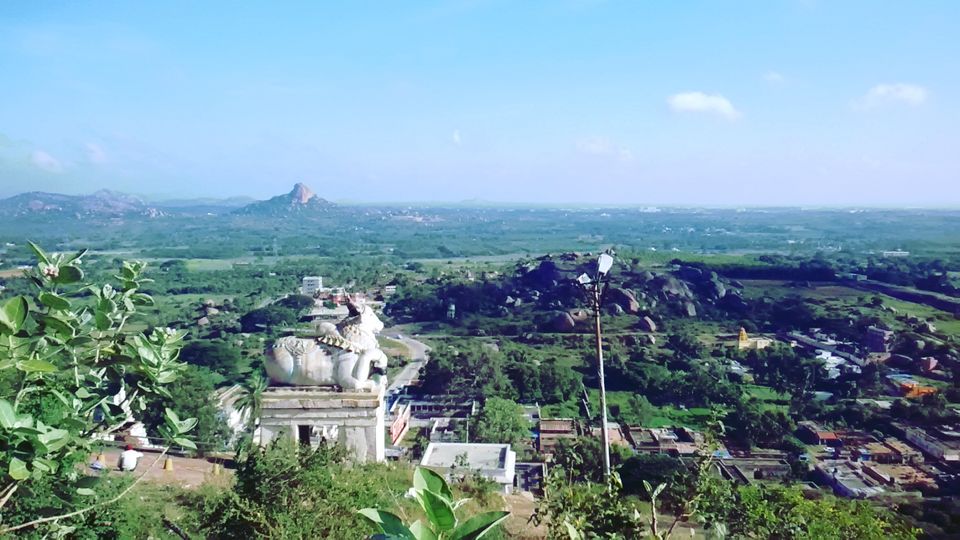 We planned for a night trek to Shivagange hill as during the day time these peaks don't give the feels of a "trek" these seems more of a pilgrimage.
We a group of 6 people on 3 bikes, started around 1 in night and used Google maps to reach there. As it was night time so we couldn't see how the view was on the way.. it was highways and twinkling City lights far away.
The route on Google maps is apt, the roads were in good condition. We reached around 4 am as we stopped on the way for few clicks and tea break as weather around this time of the year is cold and rainy.
Once reached we saw the gates of the temple closed and there was no place for parking, then after a few moments a person showed up and asked us to park the bikes in front of the gates. Seeing no other choice we did as he said and proceeded for the trek from the side of iron gates which was a broken wall as if broken specially for trekkers.
Moving up it was too cold and it started to drizzle.. we continued to take the steps to reach upstairs and see where the trek actually started, the temple was closed but there stood so many ruined Temple like ancient structures which gave kick to out curiosities and we went in all those ruins looking at the carvings on the walls through our phone's flash. It did felt good feeding our curiosities but also scared us a bit as it started raining the moment we got in those structures so we came out and sat under a shelter till rain stopped or turned into light drizzle.
The weather became colder and colder and we finally found out way up as we saw the hill lacked steps and there were just small pits done in the hill to ease the climbing and iron grills were provided all the way which was rusty & wet due to weather but those were the only way one could hold those and climb up the hill. Walking for a km or two the steep staircases started to climb up.. those steps were wide enough just to accommodate half of an Average human foot. Steps so small that we had to keep our feet horizontally on those and clinging to dripping red rusty railings we found our way up when the light came up.. a sunrise with sun hidden in the clouds and fog.
Our hair and clothes were all wet due to fog, hands wet and red due to railings, we reached a top where surprisingly was a tea stall.. and we thought our trek has ended as we couldn't see anything upwards.. just clouds and fogg but then the person at tea stall told there're more steps to the top and to the "nandi statue".
So we climbed up the stairs and as me move upwards the we could see some big stone structures and the view below was fading away in fogg.
The moment we reached the top there stood a temple and a big gang of monkeys ready to snatch the things from us.
The hill above gave a feeling of accomplishment as this trek was all in all the best we ever did : cold, scary, adventurous, thrilling!!
Sun was giving us few glances out of the clouds every now and then.. it felt soooooo good to be on the top finally.
There was a separate 14-15 step staircase for nandi statue. That could accommodate only one person at a time because of the width of that staircase.
As we made our way down we could see the whole trail we covered had big stones with some murals painted on them, localities started showing up for the temple and we came back to our bikes saying bye to an amazing and thrilling trek so far!