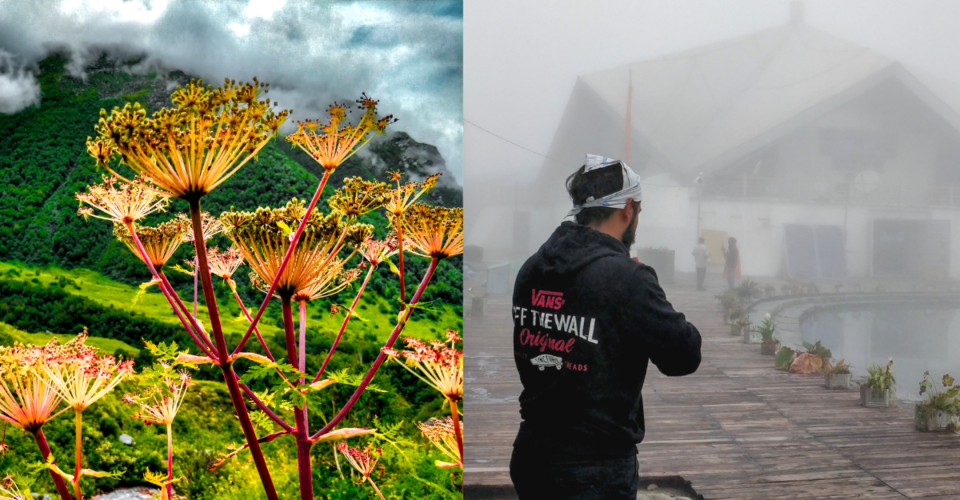 Read a lot of itineraries on travelling to Valley of flowers and Hemkund Sahib Gurudwara spending more than INR 5,000 made me a bit skeptical about travelling alone because of all the expenses made for taxi and other things alone. Birthday being on 21st August, I wanted to make sure that I have a different and a blessed one this year.
Made my mind that I'll be travelling alone and setting goals for a lot of other budget travellers and for the ones who are concerned about travelling solo. The trip starts from Delhi and ends in Delhi from 17th August - 22nd August.
Valley of flower to be known as one of the best valleys in the world. The peak season to visit is mid-July to mid-August to see the valley on its boom. This stunning landscape of Valley of the flower is in the western part of Uttarakhand in Chamoli district. I shall be sharing all the necessary information about this trip in details.
Took an overnight bus from Delhi ISBT to Rishikesh bus stand to go ahead on my journey to reach Joshimath. Price for Delhi to Rishikesh bus is INR 265. Please ensure to reach Rishikesh bus stand by or before 6 am, or else you'll be missing the direct bus to Joshimath. Then, you need to change the bus on the way, or once you reach Srinagar, you can board the bus going towards Badrinath or Joshimath. The plan was to reach Gobind Ghat by evening to take the first halt of this trip. I was late to board the direct bus for Joshimath. Instead, I had to board the bus until Sri Nagar and then change to reach my final destination.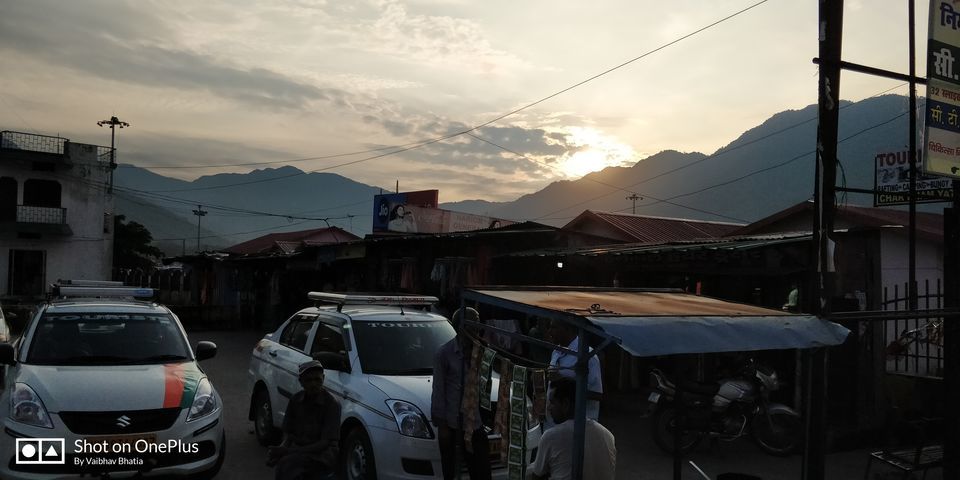 Following the trail, reached Ghangaria in 4 hours after starting the trek from Pulna. It's a decent trek. Neither hard nor easy. Took a bed in Dormitory (Govind-Dham Gurudwara). A lot of other pilgrims also made a stop-over at the same place. If you wish to stay in a hotel, you can get a room in INR 500 per night as well. Gurudwara Gobind Dham is located at the height of 3,048 meters. The Langar or free community kitchen is a sign of the Sikh faith. Don't miss to have langar at Gurudwara Gobind Dham.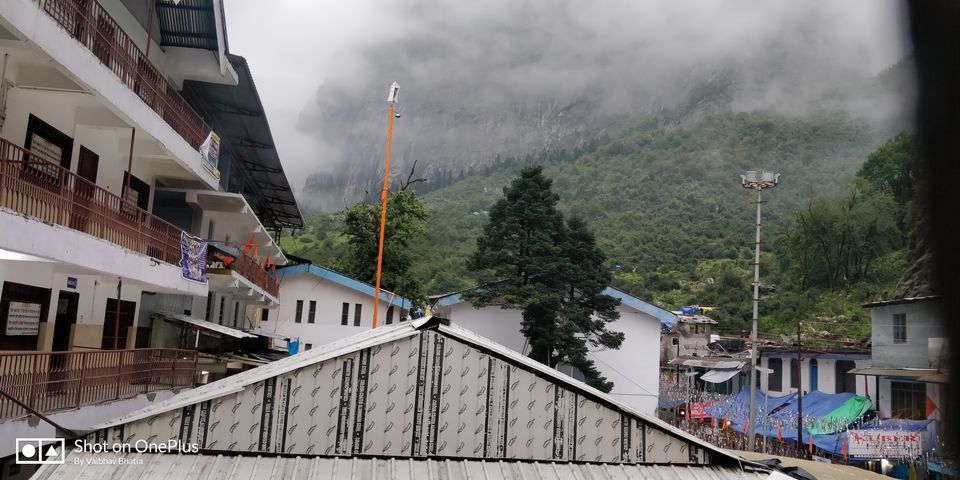 This is the board at the beginning of Valley of Flower checkpoint. You have to buy the pass of INR 150, and now you are good to go. For the security purpose, they keep track of all the people who go up and come down.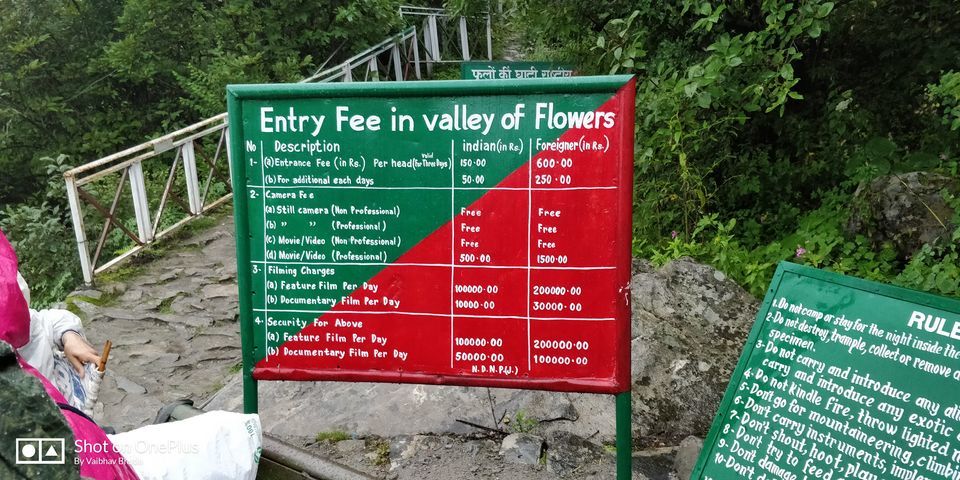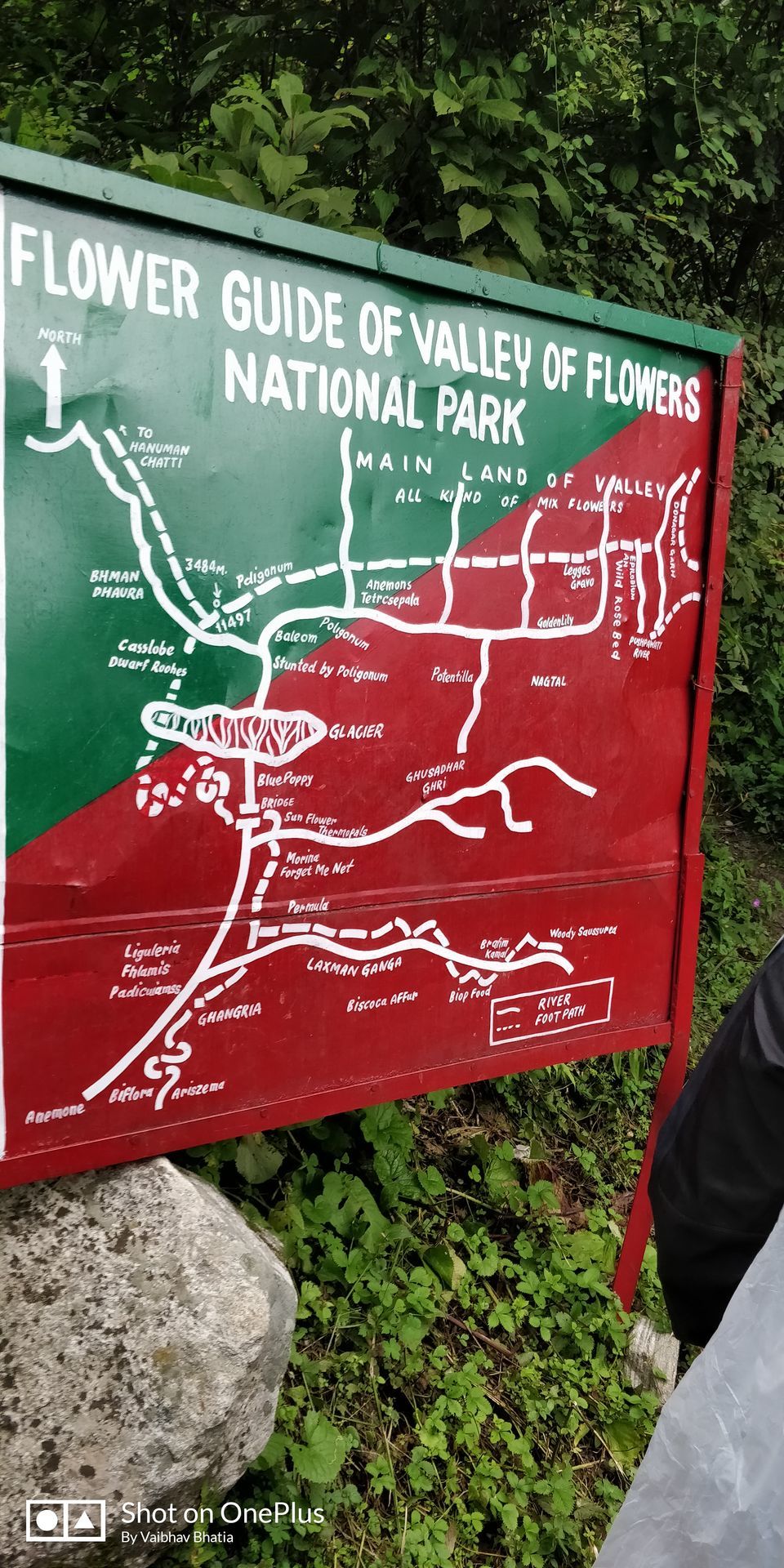 Buses for Rishikesh starts at 4:30 am.
I reached Rishikesh by 3 pm and took a break of 15 minutes to board the bus going towards Delhi. The journey summed up with the lifelong memories, and those memories will be the only possessions that I'll own.
Summing up on how I did this trip in INR 1,670, check out the expenses below.
Delhi - Rishikesh - Rs 265 (Deluxe Bus)
Rishikesh - Joshimath - Rs 415 (Rishikesh - Joshimath)
Joshimath - Gobind Ghat - Pulna - Rs 50 + Rs 35 (Shared Taxi)
Valley of flower entry fee - INR 150
Pulna - Gobind Ghat - Joshimath - Rs 50 + Rs 35 (Shared Taxi)
Joshimath - Rishikesh - INR 375
Rishikesh - Delhi - 275 (Deluxe bus)
I did not spend money on stay and food as the dormitory was available and you can have langar as per your wish.
एक रोज खुशी करीब आई अब ताउम्र दर्द का गम नहीं|
I boarded the bus at 6:30 in the morning on August 18 from Rishikesh, reached Joshimath by 6 in the evening. Yes, it shouldn't take 12 hours for this journey. However, due to landslides and so many breaks in between, it became a 12-hour journey. On the way, you will experience the immense beauty of Uttarakhand mountains. I wish I could stay there for the rest of my life. It felt free as a bird on the top. The best thing when you are in the mountains is, letting nature take its cause. You'll witness yourself going through the cloud, and it's always worth taking the scenic route.
The point now is to spend as less as I can and find a place to stay and to have some food. I'd strongly recommend you to stay in the Dormitory of Joshimath Gurudwara. May to August is the period when a lot of pilgrims does Hemkund Sahib Yatra. I was also one of them. I couldn't get the taxi to reach Govind Ghat from Joshimath because of Landslide. It was quite late, and I was feeling a bit tired because of the continuous ride of 18 hours from Delhi to Joshimath.
Went to Joshimath gurudwara to stay there for the night. They do not charge for the stay in Dormitory. Found three young fellows from Jammu came all the way to seek blessings at Hemkund Sahib Gurudwara. After a while, another group of 3 friends entered the room, and they happened to be from Delhi itself. In another few minutes, no one felt like we were meeting for the first time. We shared each other's experience to reach here and surprisingly, those three guys came down from Govind-Dham to Joshimath on the same day and were planning to head back to Delhi next morning.
To head towards the start of Pulna, a 10 km trek to reach Govind-Dham, taxi's are available on sharing basis from Joshimath. It's a 24 Km motorable road and post which it's a trek. On the way, one can find tea stalls and snacks available at a certain distance. Tips - Must have two water bottle and don't overeat before starting a trek. Use a good pair of trekking shoes and keep yourself fueled.
Need to chill for the rest of the day as the next morning has been kept for Valley of Flowers Trek! :)
Started the day with Langar again. Had to fuel up for the exciting trek. This happens to be an easier trek as compared to the one going towards Gurudwara Hemkund Sahib.
You should follow map once you reach the valley. It's huge. Insanely huge. No boards are demonstrating the right direction on how far is the end. I found a mix of a few flowers. However, mostly, the pink sheet was spread over the entire valley. That flower spreading its beauty is known as Epilobium Latifolium. To witness a lot more other options, you should visit from mid-June to mid-August.
That is the end of Valley of flowers. River bed shows the way to Niti valley and glaciers are hidden in the sheet of clouds.
Beyond Niti valley, within a few kms, you'll see yourself walking around Tibet border.
For a complete view of The Valley of Flower, please watch this video below. It will give you an urge to travel this season! :)
रख होंसला वह मंजर भी आएगा
प्यासे के पास चलकर समंदर भी आएगा
थक कर ना बैठ, मंजिल के मुसाफिर
मंजिल भी मिलेगी और मिलने का मजा भी आएगा|
Could there be any better way to celebrate the day other than being on the world's highest situated gurudwara? "Hemkund Sahib Gurudwara" is situated at the insane height of 15,200ft. Following the trail of an entire steep trek for next 7-8 km, it will give you the thrilling feel of walking into the clouds. Something about this place is a little too perfect to be real. Four hours climb through a narrow path, and then the mother nature opens up her abode to you. Crazy clouds, beautiful streams, wildflowers and misty mountains all around.
It's a bit challenging if you want to reach Joshimath on the same evening. However, it can be done if planned accordingly! I started the trek by 6 in the morning towards Hemkund Sahib gurudwara to complete the prayer (Ardaas) and started my descend by 11 am. Took a halt at Gobind Dham gurudwara to have langar and pick up the luggage to start the journey back towards Pulna (The start of the trek). Pulna is a place where you can find taxi's for as cheap as Rs 35 as fare price till Govind Ghat. The condition only followed if ten people are going along. From the same stand at Govind Ghat, you can board another taxi towards Joshimath to stay for the night.