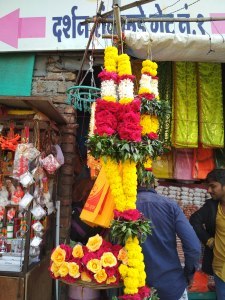 A place to feel liberated, a place that leaves you in awe. I could not be happier than to share this experience of spiritual journey that is an epitome of simplicity and harmony.
An abode of the most revered saint, Sai Baba-Shirdi since years is a compulsory destination that at least one member of my family travels to every year. The teachings of Sai Baba inspire millions of devotees from across the world to visit Shirdi and I am definitely one of them.
Shirdi, a small town near Nasik, Maharashtra (India) is centred around the Sai Baba Temple complex and is one of the richest temple organisations. You will find it most crowded usually at year-end or on major festivals.
As most of you know, I moved to Pune a year ago, so it was quite easy for me to plan it and reach the destination. My family flew from my home-town to Pune and I met them at the airport only. It was 9 p.m that we started our 4 hour drive ( We wanted to cover the journey during night only to be able to attend the morning aarti that I will talk about little later). This 4 hour drive turned out to be quite long because of packed traffic and we reached at 3am in the morning.
My father did an advanced booking of the cab but you can easily find this one pre-paid cab counter outside Pune airport that gives you an option for Shirdi drop. ( I would advise to make pre-bookings to avoid last-minute chaos ).
Coming to the stay, then there is no dearth of hotels in Shirdi. You can easily find good and decent hotel in the range of 700-1500 per day and if you manage to go during off-season the prices are even low (Yeah! I will talk about the best time to plan your trip). Also, not just money but the location is also a big plus factor. The basic budget hotels there are located in the vicinity of the Shirdi temple complex and one can easily roam around the temple and bazaars around.
If staying in guest houses/ashram/dharamshalas is not what you avoid, then you can easily book a room in Shri Sai Baba Sansthan Trust. We booked a room here online and got it very conveniently at very low prices.
If you have not pre-booked your hotel don't worry. As soon as you get down at Shirdi bus stand, you'll be greeted by touts to help you find a hotel. I would personally suggest avoiding them and getting it done in advance.
Since we reached mid night, we missed the morning aarti and reached temple by 11 am.
Usually there are 4 Aartis that take place at temple during different times of the day
Kakad Aarti (Morning: 4.30 - 5) Madhyan Aarti (Noon: 12 - 12.30) Dhoom Aarti (Evening: At Sunset)
Shej Aarti (Night: 10.30 - 10.50)
Well if you are extremely new to this place, book Aarti online for Rs. 500 and can take part in any Aarti you wants. At times devotees do not know about various facilities offered by Sai Baba Trust and fall prey to touts and anti-social elements. It is very convenient to book Sai Baba Darshan and Aarti online. All you need is to sign up or register on http://online.sai.org.in/
The temple premises is large and for darshan one has to cross few barricades. You can never predict how long will it take to do darshan because it greatly depends on the crowd which varies a lot.
You will enter from one and came out from another door, just opposite to entrance. After darshan you can also we also go to Dwarkamai, Chavadi and Gurusthan. These all places are on the backside of Samadhi temple.
After the delightful darshan of Baba, we decided to go around and find new places. Our friends who have visited earlier have talked a lot about Sai Heritage Village and thus was on the list of our one day trip.
This Landmark village reflects life during the Sai Baba's time with historic statues & activities. To my amazement I wondered why we did not come across this place earlier.
At a distance of 2 km from Shirdi Bus Stand and 3 km from Shirdi Sai Baba Temple, Sai Heritage Village is the first ever pilgrimage cum picnic based theme park situated on Shirdi - Ahmednagar Highway in Shirdi.
It is a beautiful themed park that reflects the life of Baba & Shirdi Villagers during the Sai Baba's time. All the major events in Baba's life and Baba's leela & Life Style of Shirdi Villagers, are created in the form of Statue. Baba's Palkhi Scene, Babs Serving food to devotees, Medicating to needy & poor people, and many more events are made live at "Sai Heritage Village".
To add, all these scene in "Sai Heritage Village" are made under 100 years old Sapota (Chiku) Tree plantation. Amusement Park is for children & elders is created with different type of adventure game's equipment. Hammocks, Machanas in Trees, Mono Rail & Ropeway are some of Major among it.
Timings: 9 AM to 11 PM Entry Fee: Rs. 150 per Adults and free for Children below 5 years
We came back by 3 pm in our rooms and decided to spend the sunny afternoon here itself. ( The sun can make you feel sick). By 6pm we again went back to temple area , once again took the darshan and later explored the bazaar around. It is always good to come back with gifts for relatives and friends after shirdi trip. You don't just give gifts but seems to share blessings too.
Pick Up The Most Important facts
BEST TIME TO VISIT SHIRDI - October to March is the best time to visit Shirdi. The temple gets really crowded during summer vacations in May-June and during festivals especially on Ramnavmi, Gurupurnima and Vijayadashmi. Besides, a large number of devotees also visit on Thursdays, which is considered Sai Baba's day.
Keep Travelling! Love, Palak!