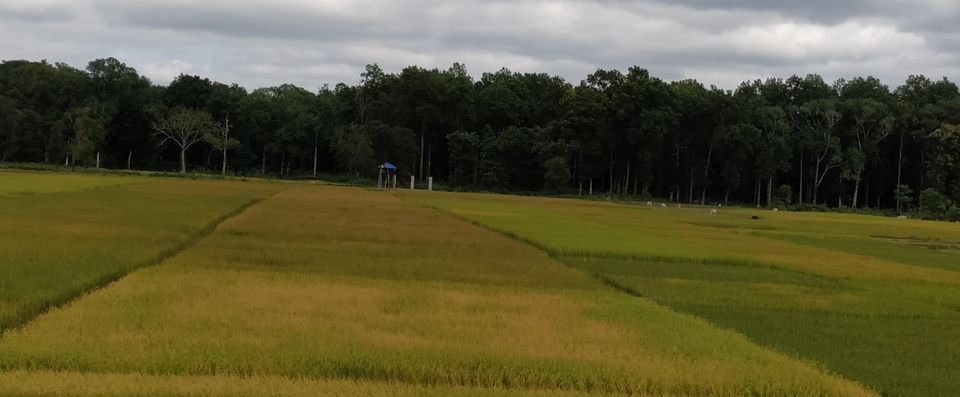 It was a clear sunny morning i got down at Falakata railway station. My 8 year old son was with me on this trip. We hired a car to drop us at Chilapata forest. It took about 40 minutes through Sonapur to reach Kumai Busty, a small forest village at the southern fringe of Chilapata forest. We were put up at a log house of a rava family. The accommodation was modest with a vast paddy field in the front. Dense forest covered the other side of the plantation. Wild elephants, bisons, deers and leopards are common visitors to such human habitats.
We had a delicious lunch of local cuisines. Steamed rice was accompanied with dal, potato fry with mustard leaves and fish curry served hot. We went back to our room to prepare for the afternoon jungle safari.
The gypsy arrived by 4 p.m. with a forest guard. We were informed about a lone tusker roaming nearby, which killed a tribal woman a day before as she went to the jungle to collect woods.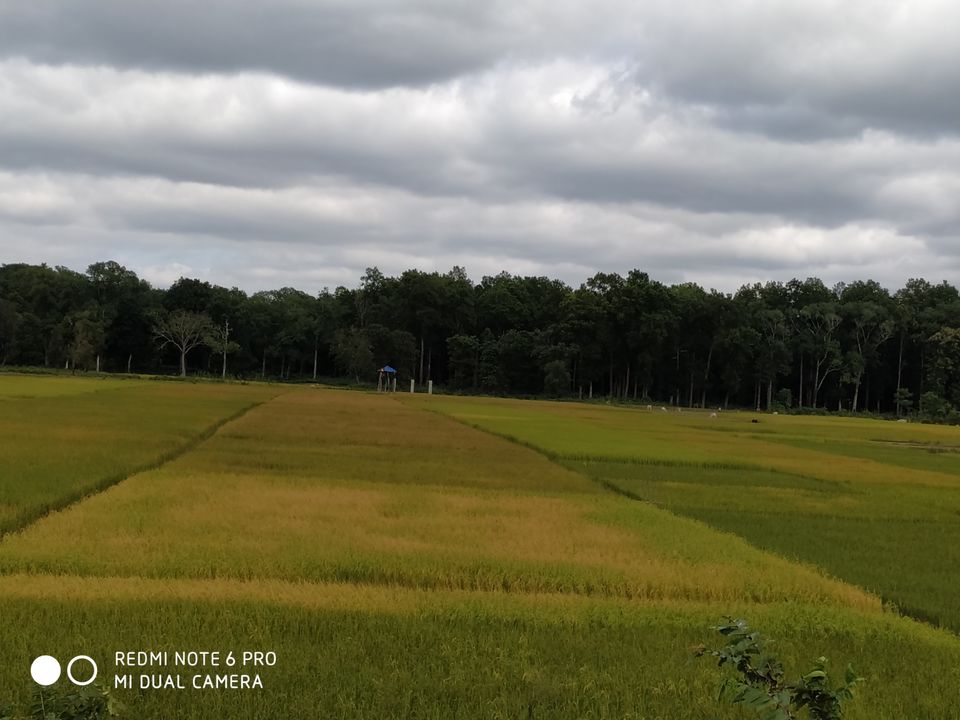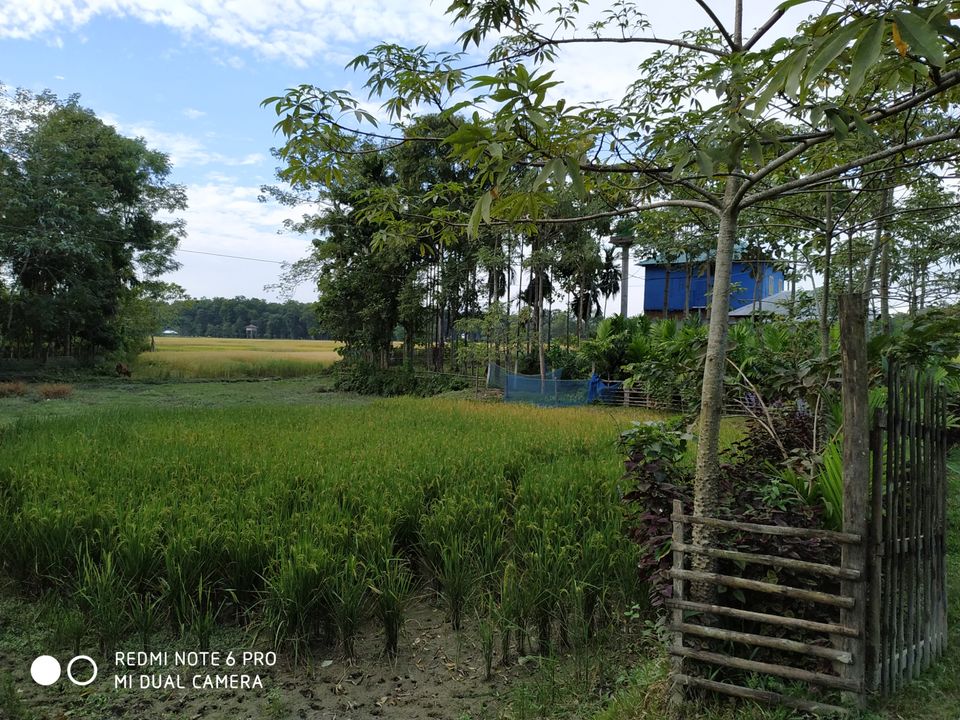 As we drove into the core of the chilapata beat, we observed the dense growth of unexplored wilderness where even sunlight can't penetrate in day time. The narrow forest trail almost infested by wild scrubs hindered the smooth movement of our gypsy. After driving through the stretch for few kilometers, we got down infront a forest check post which lays broken probably by any angry outburst of a wild elephant. The forest guard accompanying us guessed it might be a recent nuisance of the rogue tusker.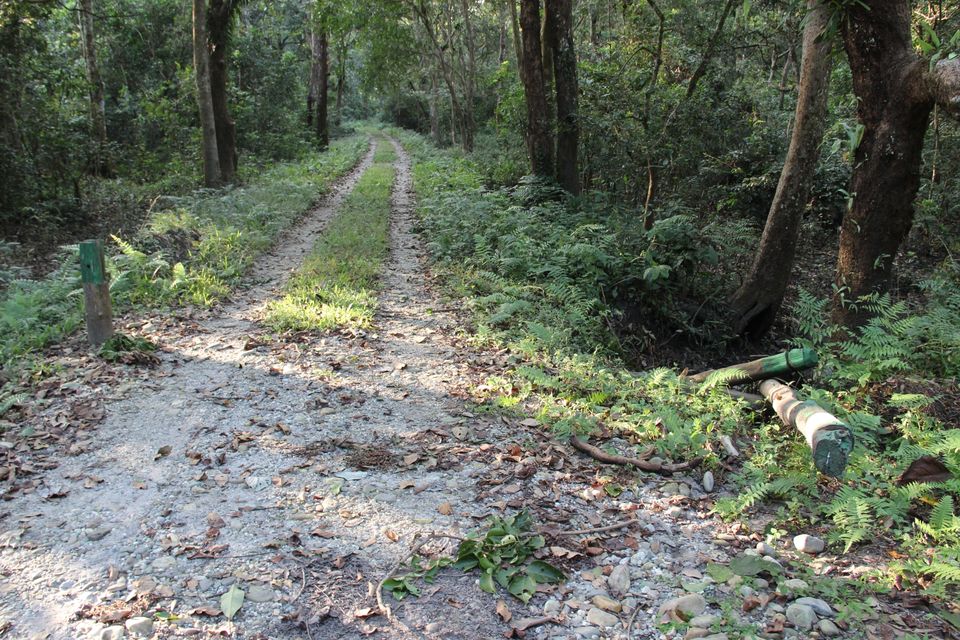 While we were sceptical about our movement into the jungle further, we saw a bike approaching us with its headlight on. It was the beat officer on patrol. Within minutes, a couple of armed forest guards arrived from the other side. They informed the officer about the tusker's movements. We stood perplexed in mid of the confused forest staffs. It was my decision to move into the core area further along with two armed guards on our vehicle. It was categorically stated by the officer to stop the gypsy at a distance as soon as we spot the angry lone tusker, which seemed inevitable. Moving through the deep jungle for another 30 minutes we  noticed the remains of nal rajar garh, which speaks of the historic and strategic position of this dense jungle of frontier. It is said to be a fort built by the Nal kings during Gupta era in the 5th century and later used for defense against the Bhutanese invasions against the kingdom of the cooch. The illustrious chief of cooch army "chila ray" is said to be the man in-charge of this fort. Hence, the deep jungle surrounding this is named after him as "chilapata". As we passed by the stretches of this thick impenetrable vegetation, we sighted sambars, deers, peacocks and on a high branch of a tall tree a full grown serpent eagle. Forget about the reptiles infesting this jungle, including a wide variety of poisonous snakes such as king cobra and vipers.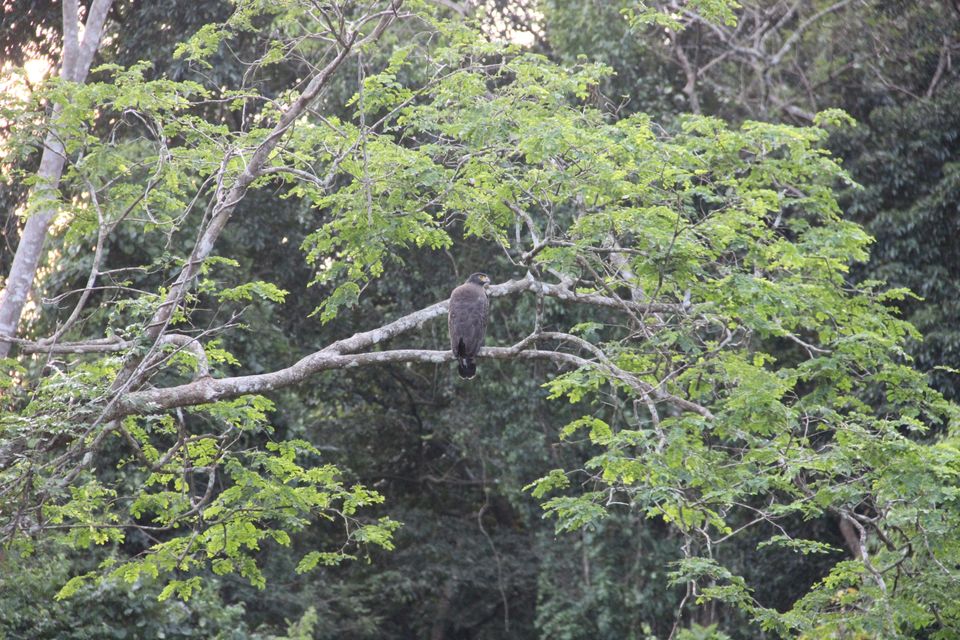 It was almost dusk, we were in the jungle journey for the past one and half hours. Moving within mendabari beat near bania jhora, our gypsy was speeding through the rough terrains. A sudden jerk, the driver pulled brake. I could see a large elephant on the trail merely 100 meters from where we stopped. It was a adult male of about 2.5 meters at shoulder. It had two long curved tusks, each of a meter in length. The forest guards whispered among them - " The rowdy tusker". I was standing erect with my fingers on the shutter of my dslr. Click click click was the only thing i could do for the next few minutes. The tusker took a stern glance towards us for few minutes. We felt palpitations  and sweating. He then slowly moved down into the forest breaking the electric fencing by throwing a long twig from a nearby tree. We got a sigh of relief as it is never more dangerous than facing a charging tusker within a dense jungle. Moreover a lone tusker out of his herd is far more prone to attack and cause fatalities even without slightest provocation.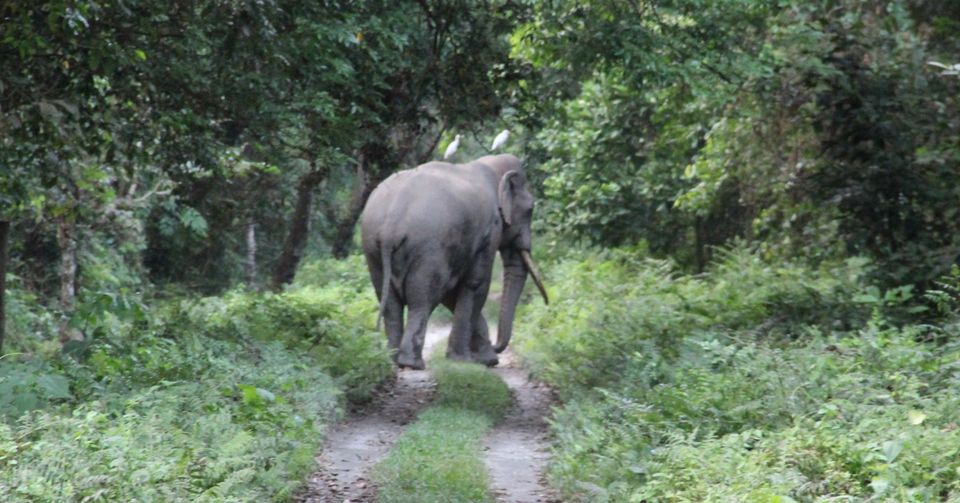 My son was gleeful asking the driver to get near the jumbo. Fear don't occupy his thoughts, as he has been through most of these jungle safaris with substantial wildlife sightings since his early childhood.
With evening setting in, we decided to get out of the core, drove past a forest outpost near the hasimara - coochbehar SH12A taking a left turn and sped towards chilapata range office. It was dark enough we entered kumai busty for our over night stay. Evening chill along with the cold breeze we fought sitting on the gypsy made us crave for sipping hot tea. By 8 o'clock in the evening, dinner was served. Desi chicken curry with tawa roti and salad was on the menu. It was minutes within which we grabbed up the entire meal as we were too hungry for a slow intake. We took the bed early after a tiresome whole day filled with fondly memories.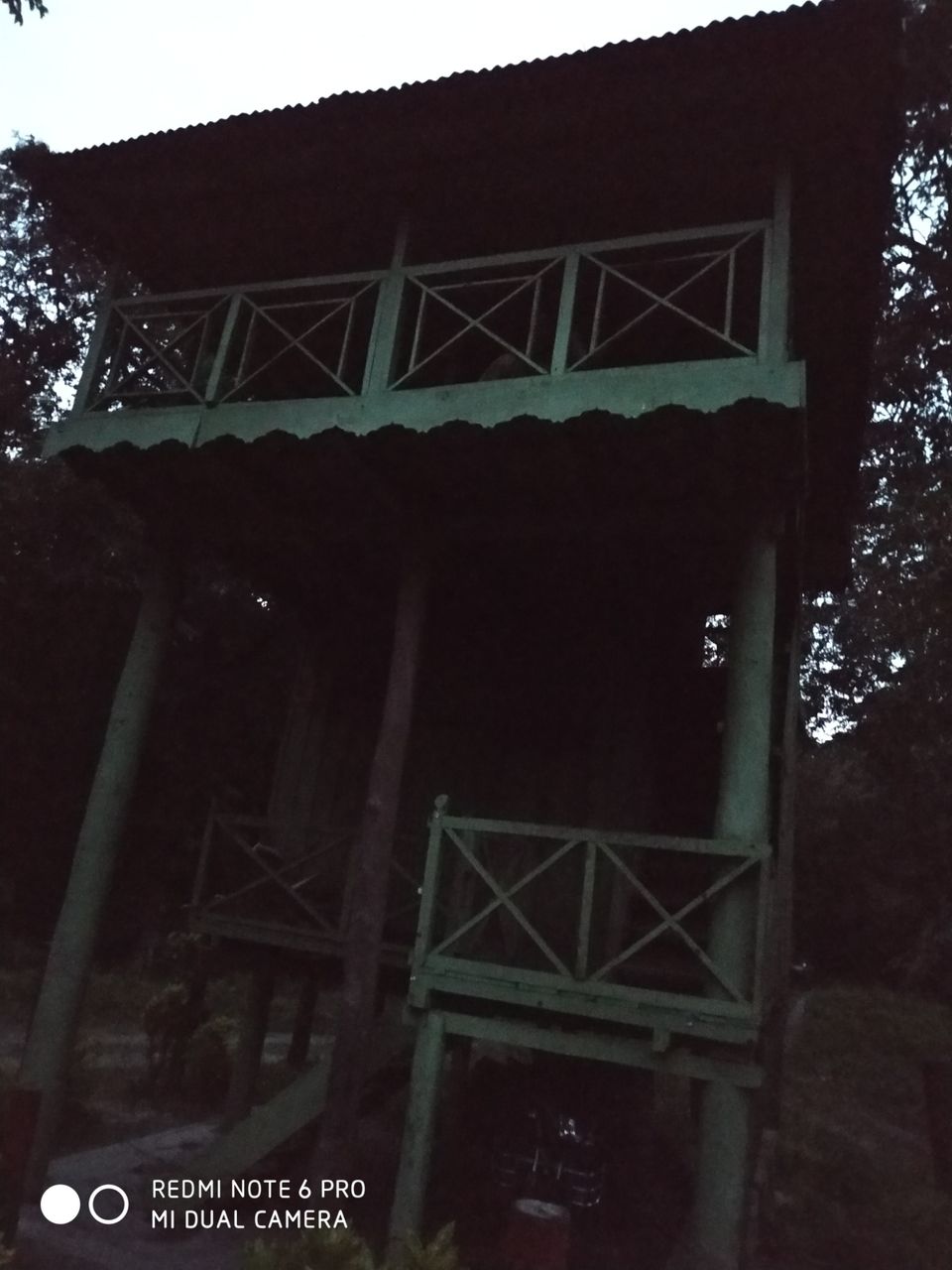 Tok tok tok... Knock on the door. I hurriedly got up from my bed and opened the door. It was already morning and our host came with a cane tray in his hand. Two cups of black tea and toast biscuits. Waking up my son, we got freshened ourselves and together had the morning tea. Got dressed up and my son ran down into the paddy fields. I started following him but was far slower and behind. There was a watchman on the tong ghar who informed us about invading elephants during last night. They came from the forest into the plantations and ate up a junk portion of ripe paddy. The watchman alerted others from the busty by beating tin boxes. Fire crackers were bursted and large torches were focused to drive them away. But the jumbos fulfilled their hunger before leaving for the jungle. This is a regular phenomenon during the harvesting season that spans months of October and November.
We returned in our stay compound to be served with delicious puri, sabji and hot boiled eggs as breakfast. My son was excited and put most of the portion of egg in his mouth only to ask for water soon after. It was 9.30 am already and we moved to our room to pack the luggage and get ready for our back journey. The day was of Diwali and we needed to return back to our home town before traffic restrictions are imposed.