Jim Corbett National Park, Uttarakhand is well know for its serene landscapes, flora & fauna. Being a nature lover, this national park is always on my bucket list. I started almost 1 month back to plan this exciting trip knowing the fact that getting night stay inside the Dhikala Zone is next to impossible. Luckily, I got the stay via Corbett website(https://www.corbettonline.uk.gov.in/) and we are all set to explore Corbett. Without any further delay I booked the Safari Jeep through KMVN Ramnagar contact and its all set.
How to Reach :
Ramnagar(250km from Ghaziabad) is the base camp for safari to any zone. (Except sonanadi zone). You can go by trains(there are 3 daily trains) or commute by rental vehicles or drive on your own. It will take 6-7 hours to drive.
Where to Stay:
If you are getting online booking inside Dhikala zone then go for Dhikala( FRH & Dorm), Sarpduli Dormitory or Gairal(FRH & Dorm). Distance matters alot and reduces your safari duration if the FRH location is far from Dhikala FRH. Sultan FRH is least preferred due to long distance from Dhikala core zone. Bijrani zone also offers night stay. You can book stay online. Sonandi zone is altogether a separate zone and you need to go Kotdwar to cover that zone, not feasible from Ramnagar. It also offers very secluded night stay option in Halduparao and Rathuthab FRH. Other than these FRH, if you want then you can stay outside in a resort and book day safari gypsy to Bijrani or Canter ride to Dhikala. KMVN Ramnagar is good option for overnight stay in Ramnagar before your FRH stay.
What to see:
Garjiya mata temple, Dhikala zone, Bijrani zone. If you are staying outside in a resort then don't fall into trap of sitabani safari. Its a purely buffer zone with least present of wild animals. Better go for day safaris in Dhikala/Brijrani. During safari don't rely only on your guide/driver to locate animals for you. You need to be very vigilant to spot the animals on your own and engage the guide /driver in a conversation you will hear numerous stories.
Safari Booking:
You need not to book safari separately if you have booked your night stay in Dhikala & Bijrani zones. The interesting part is that you need to hire an authorised gypsy from outside to accompany you during your stay in FRH. Simple trick is to connect with local gypsy operator and bargain for your entire stay ,fix the number of safaris. You can also get some reliable gypsy operator at reasonable prices from KMVN Ramnagar contacts. We paid 11K INR for gypsy that covered 5 safaris.For Dhikala zone only canters are available for day safaris that can be booked online.For Bijrani zone gypsies are available for day safaris online.
What to Carry:
Binoculars, you will get it on rent at zone gates. Camera with good battery life , you will not get electricity to charge your devices anywhere except Dhikala FRH. Carry water bottles and some edible items that can last for 2-3 days. All FRH have canteen facility except Sarpduli FRH, you need to carry raw food items with you and you will get cook to prepare your food with small tips. For summers do carry mosquito repellents and for winters carry good woollens.
When to Go:
Winters are preferred choice for me anytime. Summers may give you tough time in open gypsies. Park opens from nov to jun only.
We started Our long awaiting trip for Jim Corbett from Ghaziabad. We boarded our train to Ramnagar at 5 PM and reached Ramnagar around 10 pm, took a shared auto and checked in to KMVN Ramnagar around 10pm. KMVN Ramnagar(Govt. Tourist Rest House) is good bet for your interim 1 night stay. There are many resorts available on Dhikuli road but you need to decide between a luxury or budget stay.
Bijrani zone - Garjia Mata - Dhikala Zone: The next morning we checked out and start our Safari to Bijrani zone.At 6 AM in the morning we settled our self in the Gypsy and we headed towards Bijrani. From KMVN Ramnagar, its hardly 15 mins drive. Soon after reaching the Bijrani FRH area Sambar deer calls intercepted & immediately everyone swung into action and our gypsy sped inside the jungle. Sambar deer call is most authentic call that signals the presence of tiger in the area. But no luck, we have to console ourself by a long distance roar of a Tiger and few deers only. Bijrani Zone is good but I feel its bit small as compared to Dhikala Zone. You will come across same roads again and again. We came out of Bijrani zone around 10.30AM and did some pet pooja.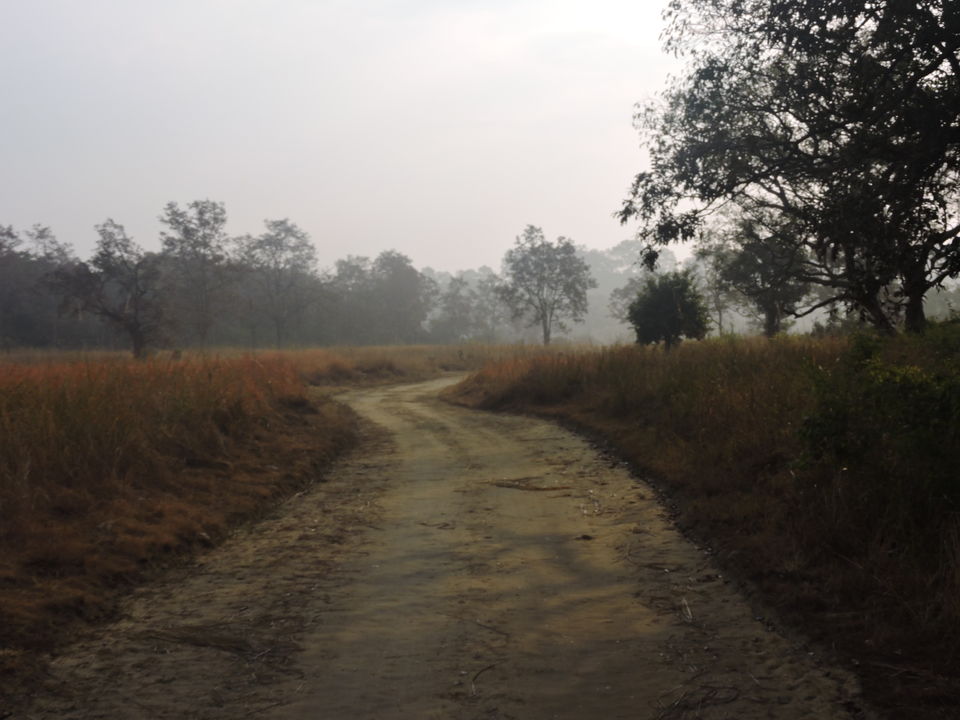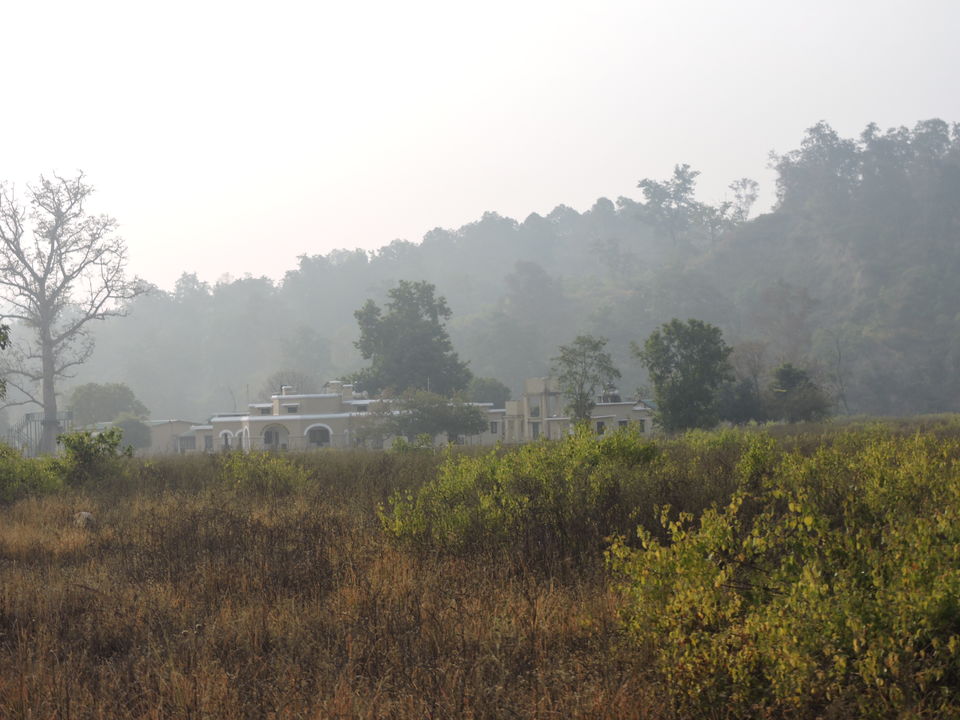 Our Driver Ganesh Bhai advised us to take blessings of mata Garijiya before we move to Dhikala Zone. We crossed Dhikuli, most of the Corbett resorts are situated on this Dhikuli belt only. We reached Garijiya mata temple around 12 noon and offered prayers to the Goddess. The temple is situated on a large rock & Kosi river bed. Soon after offering prayers we started for our destination.
We reached Dhikala Zone gate(Dhangarhi Gate, closes at 4 PM), after doing the check in formalities at the gate and stocking ourself with water bottles and eatables we started our safari. Safari timings are morning 6-10 and evening 2-6, but you can still make an entry into the complex towards your stay.Our stay was 35 kms deep inside the jungle from the Dhangarhi gate. There are 5 FRH inside Dhikala Zone, Sultan - 2 Kms, Gairal - 15 kms, Sarpduli - 25, Khinnauli -30(For VVIPs stay only), Dhikala -35 kms from the Dhangarhi gate. We stopped at Sultan FRH for taking short break, by this time the silence & fear of wild animals of Jungle has already engulfed us. So we exchanged seats and gave front seat(safe seat) to most feared person in the group :). After crossing Sultan FRH, I asked Ganesh Bhai in excitement to show some thing different and we are not here for Tigers only, listening to this he paused for few moments and said let me show you take you on a hidden route and he suddenly took a turn in the dirt road , we are off from the main gravel road. Now we are on Shikari peta road, a least travelled road by the gypsies because there is not enough space on the road to give side to other vehicle also if elephant come on your way then you don have flexibility to reverse your Gypsy. The jungle was so dense here and everyone in the gypsy went on mute mode and stunned by the beauty of this area and the fear of wild animals.
After 1 hour drive, we came out of that road and merged on to the main road. We were already doing our after noon safari on the way to FRH. We stopped at Crocodile point at a height and witnessed crocodiles, Ghariyal and many fishes in the Kosi river taking sun bath. On the way to Dhikala FRH lot of guides told us that there is a good number Tiger sighting in Dhikala grasslands along with cubs. We headed towards grasslands after quick checkin into our Cabins rooms at Dhikala FRH. We roamed around grasslands, champion road and sambar road and witnessed many animals on the way, but still Mr. King was playing hide and seek. By 6pm we entered back into the FRH complex and forest guards closed the gates fenced with electric wires. It was freezing cold in the night and we ventured inside the pitch dark forest complex illuminated with battery lights only. Dhikala has a canteen facility and you will get buffet lunch/dinner at Rs 350 pp rate. After little chit chat we were off to bed and excited to start next morning again on safari.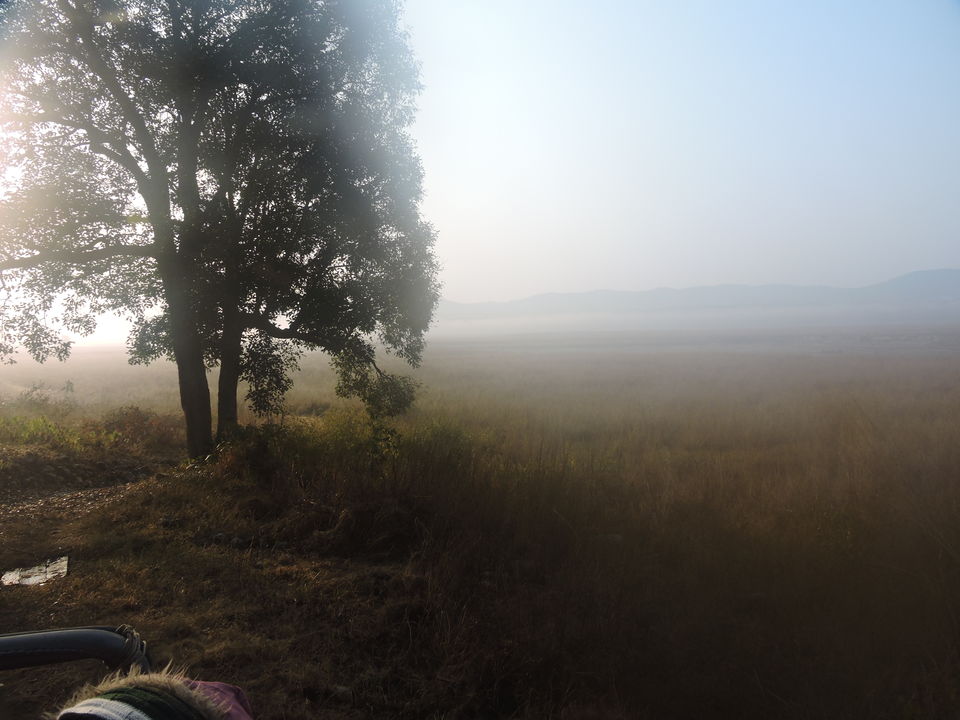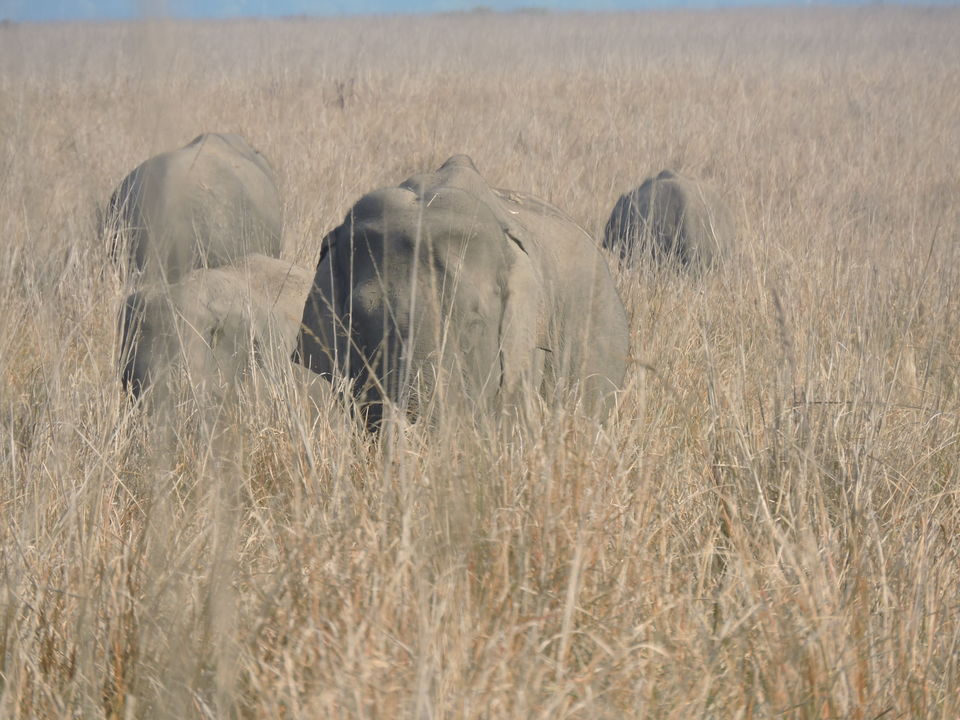 Next morning without any delay we glued ourself on gypsy for next safari round. We started with Sambar road, the most popular one because of maximum number of tiger sightings on the road. We witnessed Martin, Sambar deer, Pair of Owls(never seen such a big owl),wild boar etc. Few Sambar deer calls gave us a ray of hope to get a darshan of tiger, but no luck. One thing I keep telling to all my fellow travellers & trip buddies is that don't look only for tiger in Corbett, its injustice to the beauty of other wild animals, flora & fauna of Corbett. It's a very rich and dense forest and one should enjoy the beauty of this forest instead of focussing their trip to see Tiger. We returned back to FRH for lunch. Did some photo shoot of monkeys in the complex and again geared up for evening safari.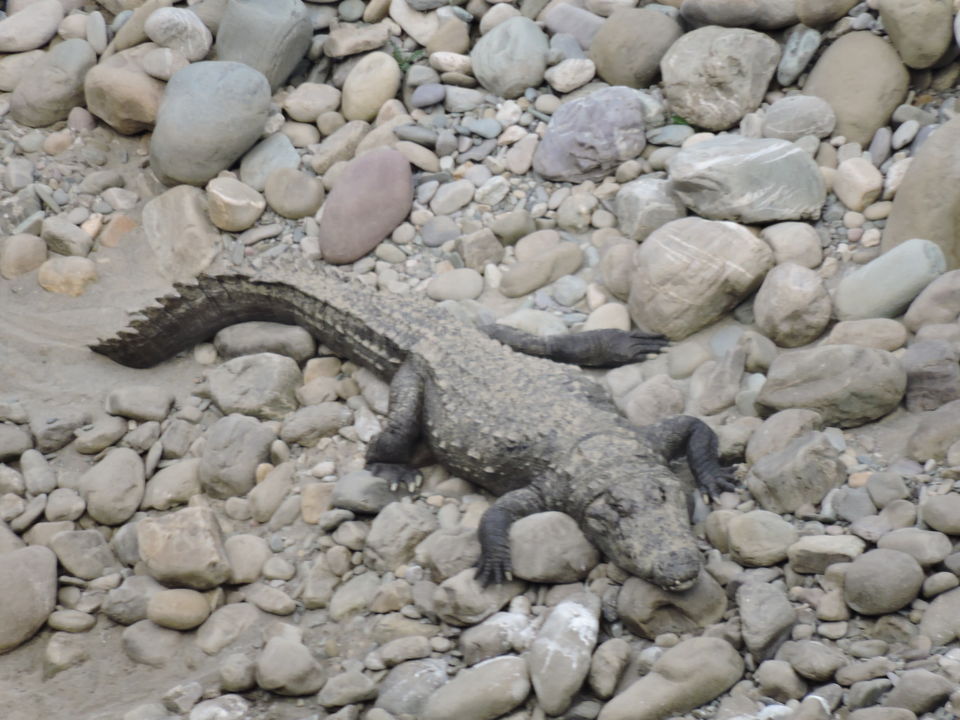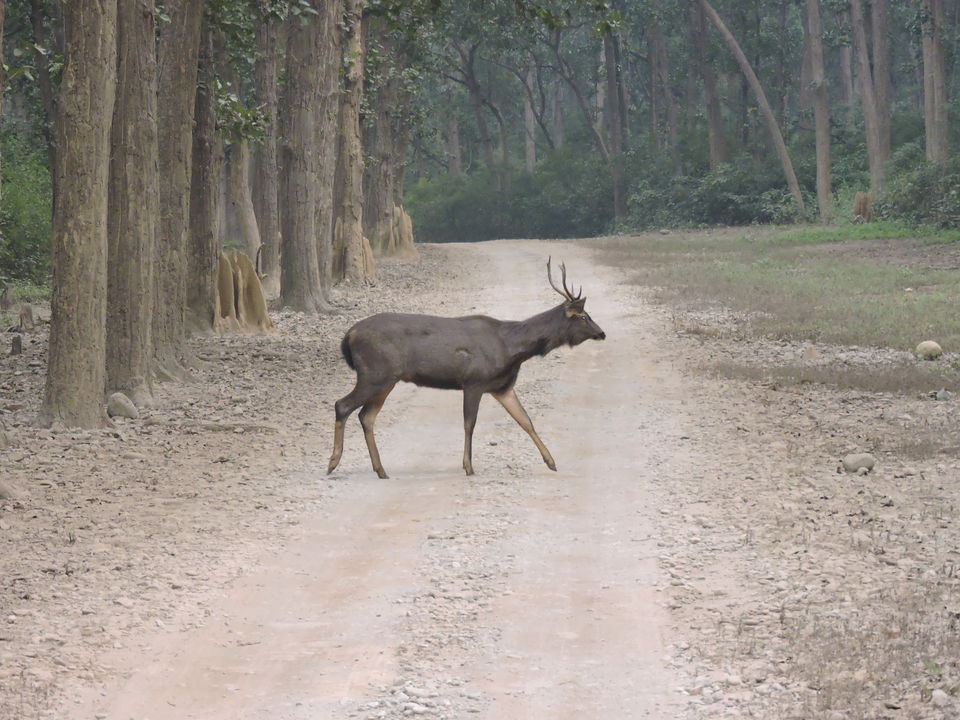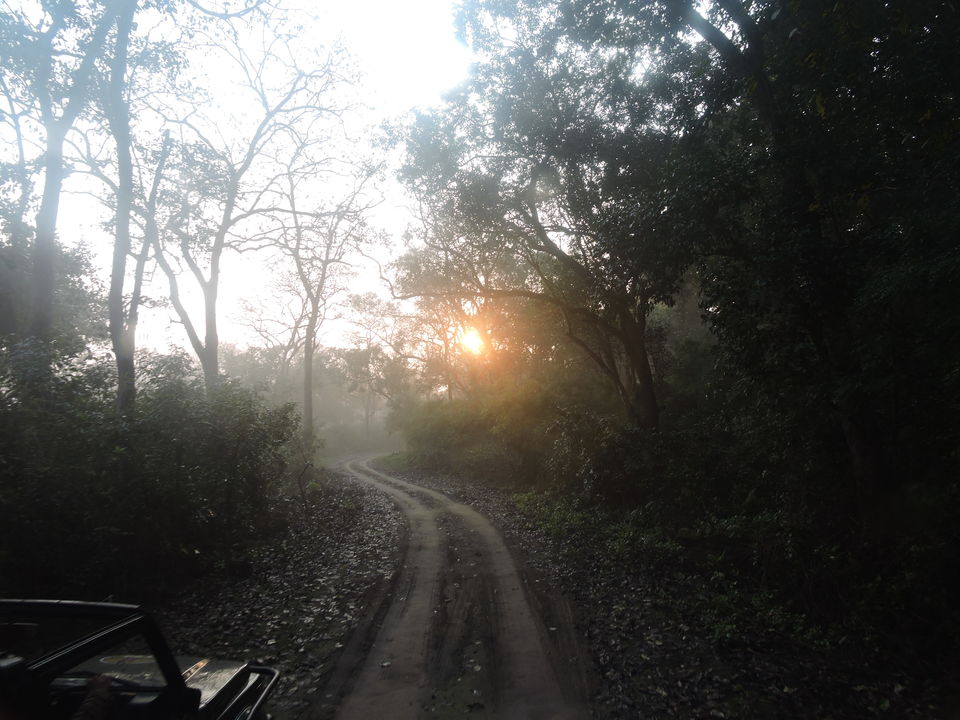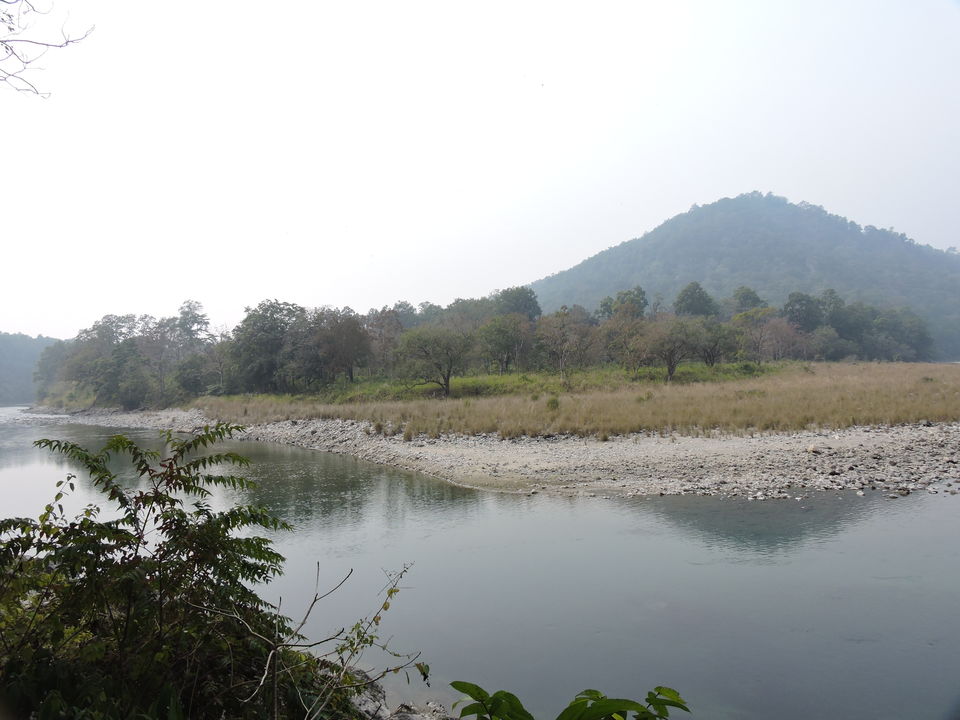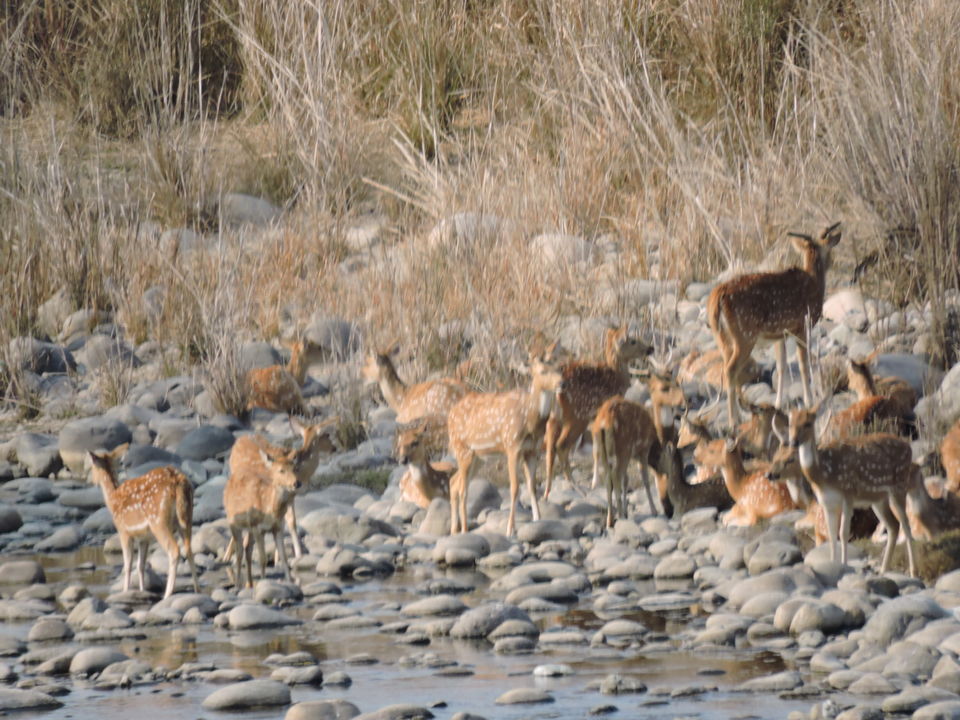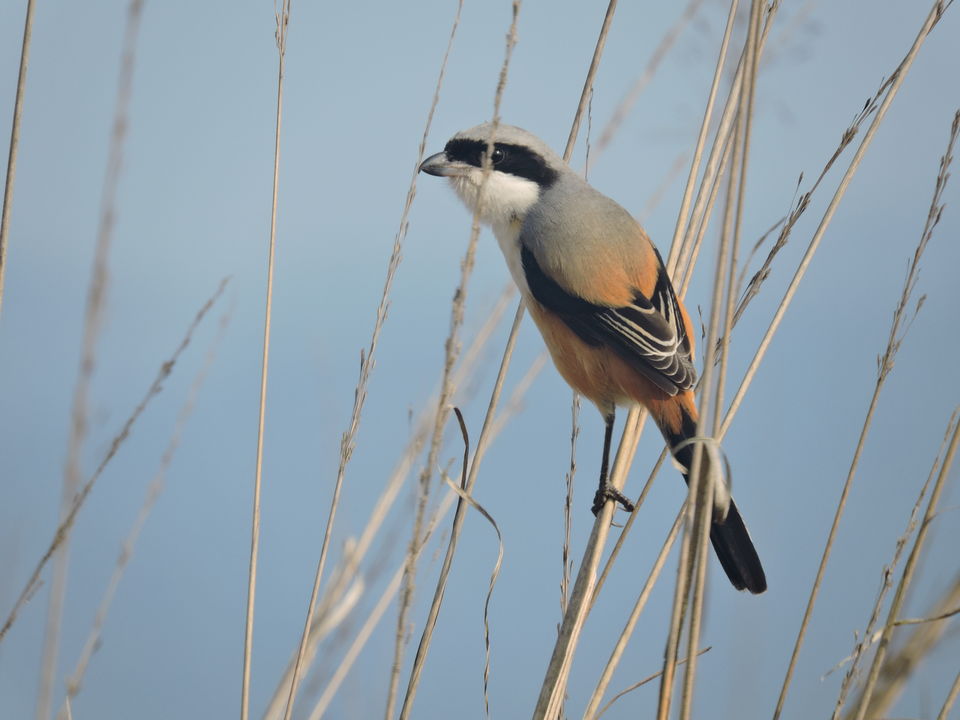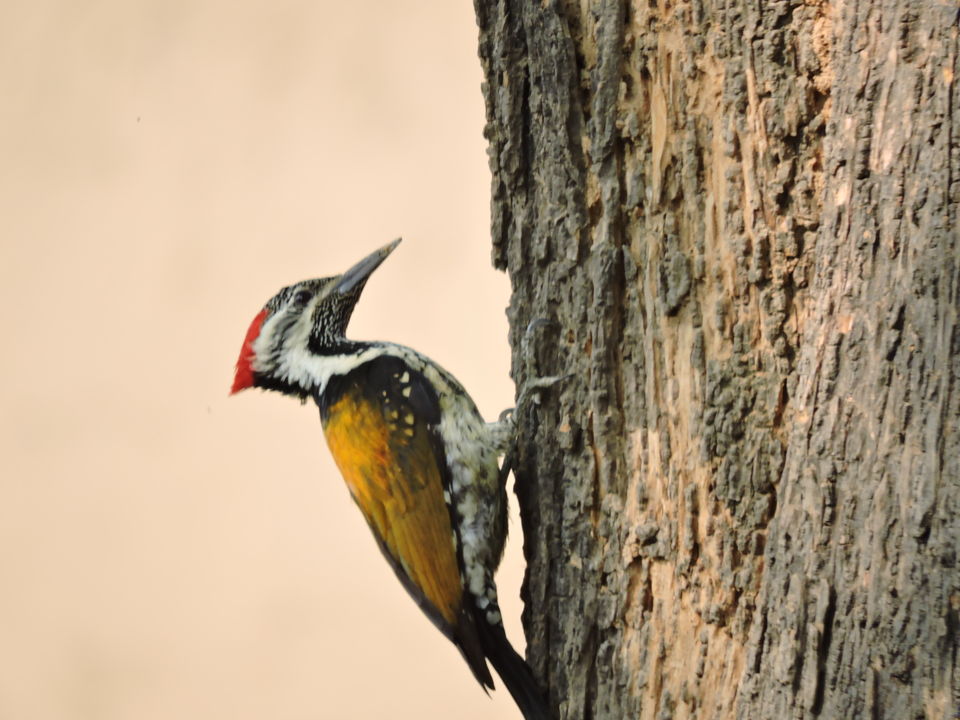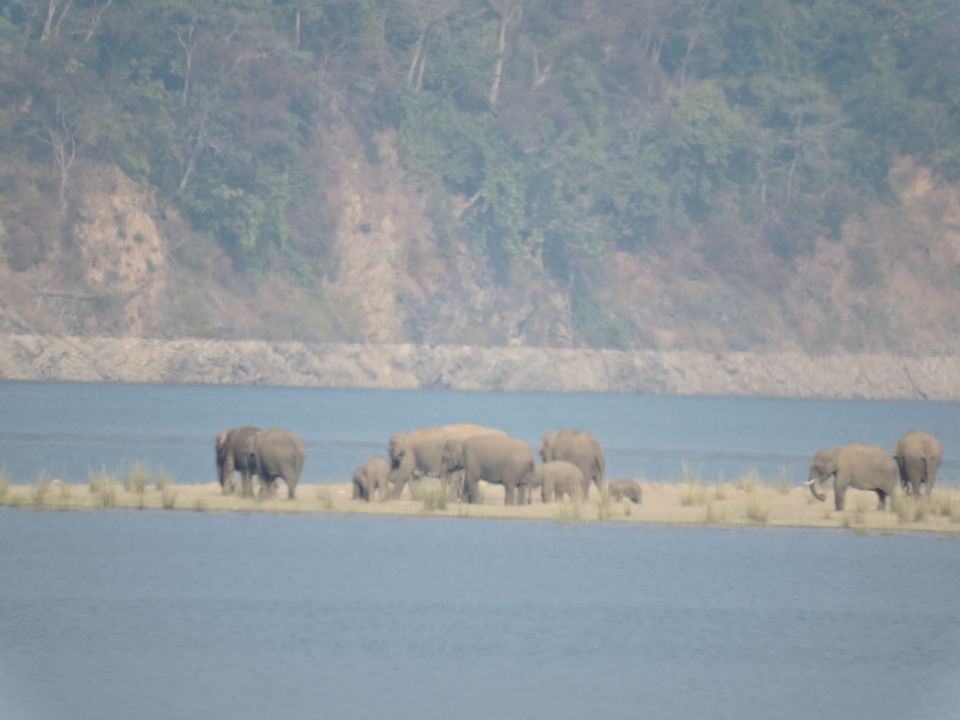 For evening safari we started with grassland and other side of the river by crossing a wooden bridge. Grassland is one of the biggest in Asia and favourite spot for elephants. Elephants & deers were enjoying in the grasslands. We went close to them took some pictures and waited until a young elephant charged us. We returned back to FRH around 4 pm as our driver Ganesh forgot his mobile charger. By this time everyone had very least hope left to see Tiger. I consoled kids and myself again saying Corbett is not only about tigers and everyone again boarded the gypsy to our next night stay at Gairal FRH.(We did one night stay in Dhikala & 1 night in Gairal). As you start moving away from Dhikala zone chances to see a tiger diminishes. Ganesh asked me which route he should take? Sambar road or main road to reach Gairal FRH. I was confused now,But again I bet on the Sambar road and we started the last 1 hour of our evening Safari towards Gairal FRH. Ganesh was taking stops at many points and carefully listening to Sambar deer calls, I also asked everyone to be vigilant and scan as much as possible the side areas while driving through. We reached Kosi river bank and waited over there for sometime and started moving again. By this time Ganesh Bhai also accelerated the Gypsy and picked good speed to reach FRH before 6 pm as the gates will close and it was becoming dark. Kids were in sleep mode on the back seat and only I was bit vigilant on one side of the gypsy. Suddenly, I realised something was standing behind the bushes like a statue. By the time I could told this to Ganesh he almost moved 100 mtr ahead of that point. I was not sure wether it was tiger or a camouflage, I recalled past 5 seconds memory and with full affirmation I shouted TIGER. Screeching brakes applied immediately, everyone came to their senses. By this time I was standing on my seat and dropped my camera on Gypsy floor and gave direction to Ganesh. He immediately reversed the gypsy and here Mr. King was standing like a statue 10 feet away looking at us and waiting to cross the road. Looking at our intention he changed his way and started going inside the Jungle but parallel to road, we were also moving back along with him. And suddenly he disappeared on the way to river. Ganesh came to full action and said tiger might have gone towards river we reversed the Gypsy to get ourself in front of river view, stayed there for 5 seconds looking at the river side, I looked in front of the road and a full male TIGER was crossing the road . He paused , gave a look and went inside the jungle. Everyone was thrilled and happy that we witnessed the tiger. The entire event happened in 1 min and unfortunately we didn't take any pic of tiger. We moved ahead further and feeling proud to witness Mr. King. On the way we saw snake, deer, monkeys & elephants. We reached Gairal FRH and after having Buffet dinner we are again off to bed.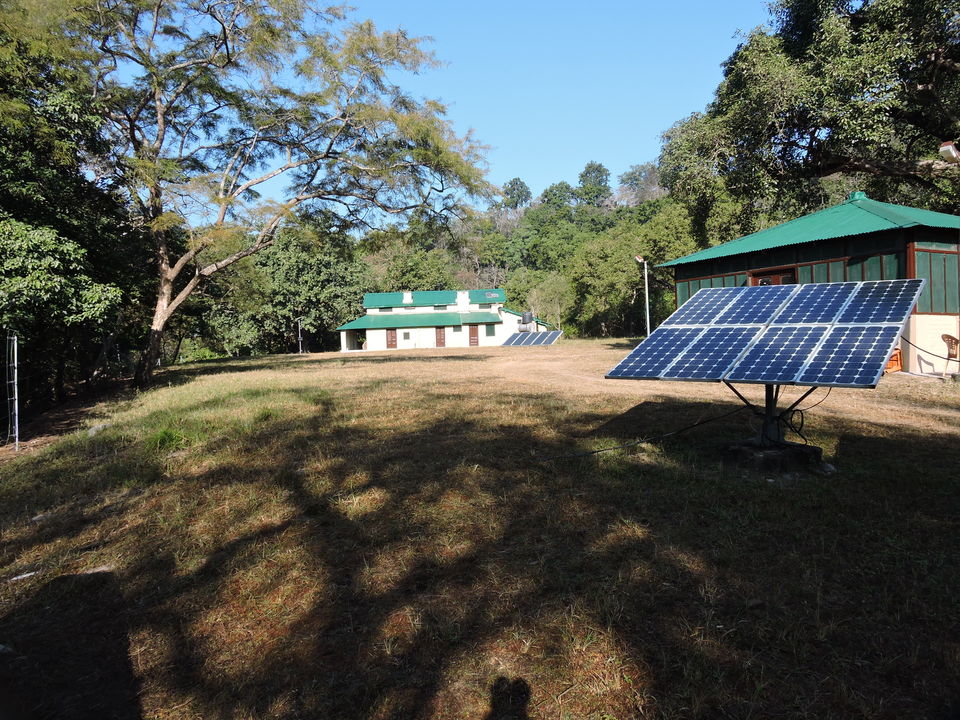 Next morning, we had to catch our train at 10AM from Ramnagar station back to Ghaziabad. We checked out from Gairal FRH and Ganesh bhai said let's take a round of champion road, we went there and saw fresh pug marks of tiger. Moving further, we saw broken trees big stones on the road which stopped us moving further . Ganesh bhai stopped the Gypsy and soon he realised there is a big tusker on the way , but with his experience he managed to drive the gypsy safely and we reached Ramnagar at 9.30 am. We thanked Ganesh bhai, stocked ourself with bread pakoras and snacks and boarded our train back to Ghaziabad.