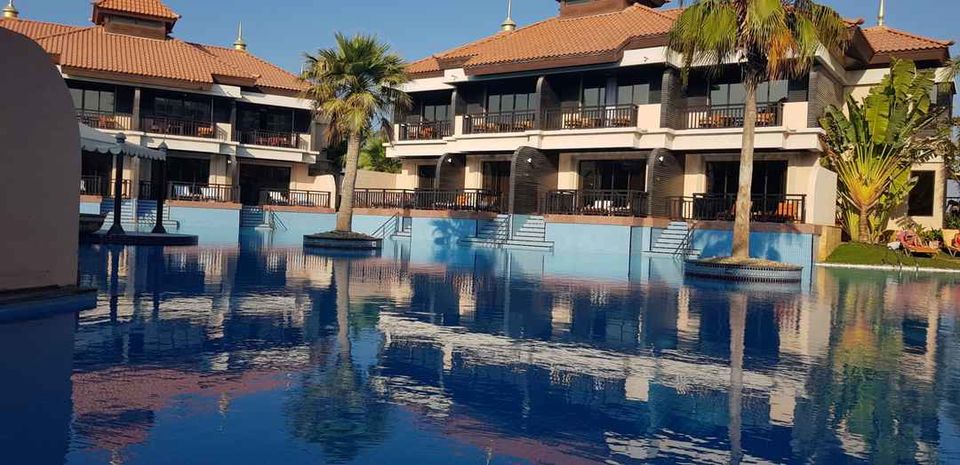 Well...Ever since the Covid-19 has happened and all put our travel plans and dreams on hold until when, the importance of Staycation arise. No matter where you are, you will try to discover and explore new options in the place where you stay. After the first and last staycation I did in 2020 in Ajman, I felt so relaxing and was looking forward for the next one. It was our 4th wedding anniversary on February 12th and I started to look for a place where we can have a different experience. That's how I came across Anantara The Palm resort. After going through the pictures and videos, I fell in love with the resort and booked our room in advance so that the price will not increase due to the peak Valentines week.
Basically they have many options available, ranging from the Premier Lagoon View Rooms where you can enjoy the view of the common Lagoon, Premier Lagoon Access Rooms where you will have direct access to Lagoon 24/7, Deluxe Lagoon View and Deluxe Lagoon access rooms which are more spacious than Premier rooms, Over Water Villas which reminds us of the Bali Villas.
https://www.anantara.com/en/palm-dubai
I have booked for Premier Lagoon Access Room. We were soo excited for the day and was eagerly waiting for the same. We packed with full of excitement and drive all the way to Palm Jumeirah. We fell in love with the resort the at the first sight itself. They welcomed us with a lemongrass ginger drink which was very refreshing. We showed our booking confirmation details and completed the payment. Then we went to the lobby area and the representative was there waiting in the show car. We entered the car and he gave us resort tour. We were completely mesmerized by the beauty of the resort. It really feels like we are in Thailand or Bali. The climate was also amazing. He gave us a room tour and left and we were super excited to explore the place. We kept our luggage inside and went out for a small walk. It was soo refreshing and a feast for the eyes. We could hear the chirping sound of various variety of birds. I was amazed by seeing this much variety of birds here. I felt like I'm in Bali and Thailand.
We walked along the beachside and it was very cold. We clicked many pictures on the beachside and we could even see photoshoots happening at the beach because of the perfect beach frame. I have reserved a dinner at the 'Little Miss India Restaurant in Palm Jumeirah. (https://www.fairmont.com/palm-dubai/dining/little-miss-india/). After finishing our small walk, we went back to our room and could see a small piece of red velvet cake which the resort has provided us. We happily cut the cake and had a slice. there is a small balcony connected to our room and we sat there for sometime. The view was exceptionally beautiful- the slow songs playing in the background, amazing blue coloured lagoon in front of us and the foggy climate- it was very peaceful. After a small nap, we went to the Little Miss India restaurant which is located in Fairmont (palm Jumeriah). I loved the place as it was having a different ambience- may be the unique interiors with greenery, may be the lighting and small LED lights, may be the Music or may be the Feel Good or Peaceful moment with your loved one. I have ordered paneer Tikka and Nan and my hubby ordered Chicken Biriyani. The food was too yummy. The restaurant then gave us a sweet surprise in the form of a Fusion Ras Malai Cake. It was the best cake we had for our Anniversary. After finishing the dinner, we went back to the Hotel. Since the Lagoon is temperature controlled, even though its very cold climate, you can easily dip yourselves in the pool at any time. I went inside the Lagoon and felt very nice. Its been too long that I have entered a pool. After relaxing for a while we watched TV for some time and went back to Sleep. We woke up at around 8am. We can choose 2 cafes for having our buffet breakfast. We choose the 'Crescendo' and went for having our heavy breakfast. One of the things which I like about staycations is the complementary breakfast which they provide. We choose an outdoor seated location and there was fog outside. It felt very peaceful and serene. We had our hot cappuccino, masala omelette, toasted bread, baked white beans, hot croissants, potato nuggets, pancakes, cut fruits and shakshuka. We have tried shakshuka for the first time and it was super delicious. After sitting there for a while, we went for a short walk again in order to feed our eyes and mind. We could see vegetable garden on the sides of the pathway- we could see small cherry tomatoes, lemongrass, green chillies, cauliflower, lemon etc. The whole area was filled with lemongrass smell. We could see many trees which they have planted during their 1st Anniversary, 2nd Anniversary etc. After he short morning walk, we went back to our room by around 10.45am. I felt very sad thinking about leaving the resort. My husband called the reception to enquire about the check-out time. They told us that they have extended our check-out time from 12pm to 1pm and they told that after the room checkout, we can still access the beach, pool and outdoor facilities . I felt soo happy and without wasting time, I went back to the Lagoon and spend almost 1 hour in the Lagoon. After checkout from our room, we kept our luggage at the lobby and went back to the beach.
We sat on the Deck Chairs and listened the song 'Gregory Alan Isakov - If I Go, I'm Going' . This was really like a Therapy. It remind me of the quote I have read somewhere-"At the beach, life is different. Time doesn't move hour to hour. We live by the currents, plan by the tides, and follow the sun". It was the most peaceful moment I have experienced throughout the last year. I told my mind- I don't want to go back home, I don't want this moment to end. We saw someone on the other deck sipping coconut water and we also ordered for a coconut water drink, it costs around AED 55/-. The peaceful wind which is blowing across, chirping sound of birds, view of bungalow house on the other end of Palm Jumeriah, sipping the yummy Coconut Water drink- my stress level was completely Zero and I guess my Dopamine level should have reached at its peak. Thinking about that peaceful mode makes me happy. Its was pure bliss. We sat there for around 2 hours. After 4pm, we collected our luggage and waved goodbye to Anantara and thankyou for all the good peaceful memory. Since we had a heavy breakfast, we skipped lunch. On the way back home, we went to City Centre Me'aisem and had Mc Donald's Burger. Such an amazing trip has ended just like that. Sometimes the best vacation is a Staycation! I really hope and pray that this pandemic to end as soon as possible so that I can travel again!