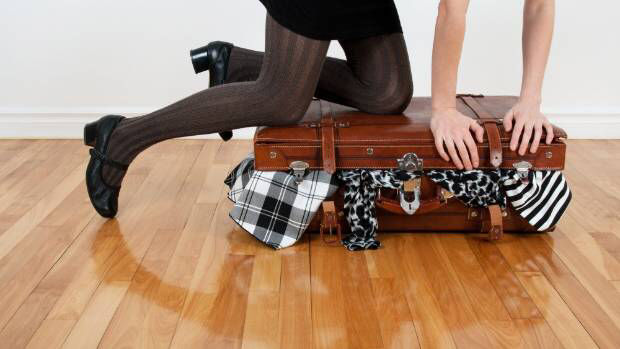 Who doesn't love traveling? Traveling liberates us, it energizes us but do you know one thing that enervates you? It's traveling with big, heavy suitcases and trolleys. While the idea of traveling is so much fun, the stuff that goes with it(and comes back) seems to lessen the overall experience. I have always been a take-more-than-you-will-ever-need kinda traveler but after traveling to places where I couldn't carry a lot of things I slowly and gradually learnt the subtle art of traveling light ????. When I got to know that I had to take a small bag for my recent trip to South Africa I was a little shocked but then God blessed me with some instructions and I was good to go! Traveling light becomes all the more important when we have to change cities every 3-4 days especially when you are on a road trip. You don't want to pack and unpack every other day. Second reason to pack light is that it ends the hassle of checking-in the bags and then waiting at the baggage carousal for your bags which always seems to arrive at the end and God forbids if it ever gets lost then you have to ruin one day of your trip to get it back :(. While this article has something for both males and females, my fellow girl travelers will have more tips ofcourse..:P
So here are some of the tips and tricks that you can follow:
1. Decide on the bag first. The bigger the bag, the more stuff you're going to carry. So always carry a bag according to your requirement. After a long time I have realized that backpacks are any day better than trolley bags or suitcases. Invest in a high quality carry on backpack and you will thank me till your last day on Jupiter. Always try to carry one bag. In that way you are in more control of yourself and your surroundings.
2. Always lay out everything you think you'll need and then carefully remove half of them..;)
3. Keep way less clothing than you think you'll actually need. The trick is to take neutral colors(white, black, grey, tan) and basic pattern of clothing which you can easily mix n match to create different looks.
4. Use two-sided scarves to give a pop of color to your outfit. Remember the material of the clothing should be light weight. Carry statement neck pieces which will give variety and will raise your style quotient.
5. After clothes, the next important item is shoes. Never ever carry more than 3 pair of shoes(party, casual, sports included). Out of these always wear the heaviest while traveling. Never wear any shoes directly on the trip. Always try them and walk in them for a day or two.
6. Two pair of pants is more than enough. Pants can be re-worn a zillion times before they need to be washed. So take a basic blue jeans and a black pant. You can keep a linen pant if the place you are going to is hot. Shorts also work well in case you aren't into pants too much. Remember, you will definitely be shopping during the trip so don't fill your bag upto the brim.
7. Roll your clothes while packing them since they take less space and remain ironed. But remember that you don't have to roll eveything. Thick garments and heavy pieces should be folded and kept.
8. The next space taking thing is makeup and toiletries. The catch here is buy a hanging toiletry organizer and lay it flat in your bag. It takes less space this way. Never take full bottles of your oh-so-fav body wash or your lovey dovey moisturiser. Take whatever sample products you have esp packets. They come in handy and save you a lot of space. as far as makeup is concerned guys don't need to worry but girls you should know that the experience of being in a place is better than your pinterest pictures. Keep basic makeup stuff and that too of travel friendly sizes.
9. Always wear your bulkiest item while traveling. They save space and also wearing them is better than carrying those extra kilos. Plan your airport look accordingly..;)
10. Three weeks of trip needs you to do your laundry. While you can get it cleaned at laundries which you'll find in most of the places, some of us travel on budget so always carry a small soap with you so that you can wash your own small clothes( Don't you worry the world won't collapse).
11. Get yourself some organisational stuff like compression sacks, ziplock bags, packing cubes, etc. They ease the whole process of packing and you can take out exactly what you want from the bag.
12. Carry a tote or a duffel with your backpack. Most airlines allow one extra bag with the main carry on. You can use this tote for your docs, chargers, money and other things which you need handy.
13. Try stuffing your socks and undies in your shoes and bras and whatever visible space you have.
14. For Girls:
Here are some tips you can follow:
A. 1 week trip- 2 bottoms and 4 tops
2 weeks trip- 4 bottoms and 8 tops
B. Carry one dress for party and one athletic gear for trek or exercise(only if u are planning on doing any of these)
C. Keep 3-4 bras(yes you need to wash them) and 7-8 undies.
D. Keep 1 black belt(works for all) and 2 sleepwear.
E. Carry more light weight dresses if you are comfortable in them. They take less space and give you varying styles to post pictures in ????
15. Remember that you have to play around with your clothes and will have to mix and match everything to create different ensembles.
I hope these trips and tricks will help you in your next trip. Have a happy journey...