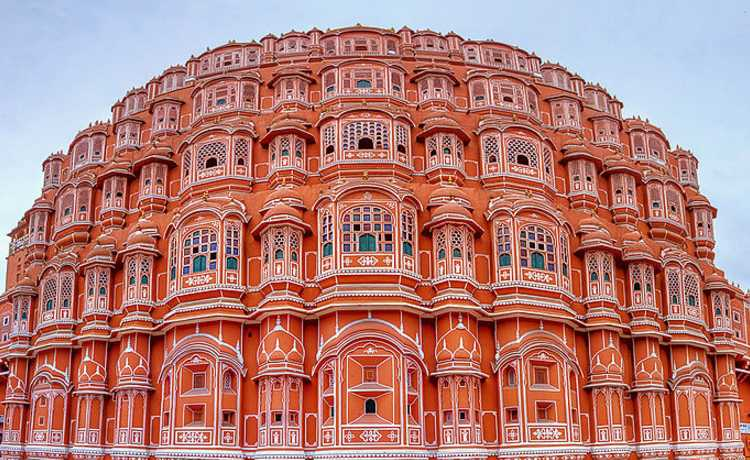 Jaipur's most iconic landmark, Hawa Mahal literally translates to 'Palace of the Winds' and is perhaps the most photographed monument in the historical pink city. It is situated bang in the middle of the Old City or Walled City of Jaipur and is akin to a fairytale come true.
It was constructed in 1799 as an extension to Royal City Palace and is a dazzling structure in pink-sandstone that rises an astonishing five storeys. It was originally constructed by Maharaja Sawai Pratap Singh to enable ladies of the royal household to watch everyday street scenes of Jaipur and the various processions on festivals without being seen.
It lies near Choti Choupad and has 953 windows on the outside walls. I had seen it a million times from outside and at night it looked even prettier. So, when an opportunity came knocking I knew it was time to visit the Hawa Mahal, for real. And what a glorious experience indeed.
Beautiful windows of Hawa Mahal from the inside.The Hawa Mahal ticket is a gateway to all the riches of the golden times of Jaipur.A closer look at the resplendent yellow; I almost felt like a Rajasthani king amid such grandeur.Belgian glass used in the windows of Hawa Mahal, a tourist poses.They don't call it pink city for nothing! Roaming around the hallowed interiors of Hawa Mahal.Peeping through the windows; camels and elephants abound the streets during the festivals of yore – in Rajasthan.A window to see the world, how the royal ladies would have loved this part of their daily lives!Tourists queuing up on the top; it is fascinating to observe them peeping and click selfies in this 200 year old structure.My favourite part in Jaipur, life in the walled city is an absolute delight and the newly built Jaipur metro seems to have spoiled the fun.
On another one of my explorations in Rajasthan, I visited Jaisalmer but am yet to write about it. In the meanwhile, here is a fantastic post by Rashmi and Chalukya on Top things to do in Jaisalmer Fort. Do check it for their detailed explorations.
Like a typical tourist, I had walked the lane near Hawa Mahal and bargained for these brightly coloured umbrellas. Pretty, isn't it?Quintessentially Rajasthani, puppets for sale at a shop in the old part of Pink City in Jaipur.
So in the never ending tourist vs traveller debate, I simply say that as human beings we want to be everything without being judged. My travel style is that I move around like a local and avoid touristy things yet once in a while it is absolutely normal to become a tourist in my own city. I loved walking down the street of Hawa Mahal feeling like an outsider!
And yes, this Hawa Mahal experience tells me that monsoons are the best time to visit Jaipur. There are hardly any tourists here right now, the hotels are cheap, you can have the sights to yourself and taste authentic Rajasthani food, experience the various colourful festivals like Teej for a peek at Rajasthani life. Come October and the world will descend, then the locals hardly have time to talk as it is high season awash with foreigners.
Happy travelling, even if you can't venture outside all it needs is a change in mindset. Travel, be a tourist in your own city. Do not let the world tell you won't enjoy it, the monsoons are a time for the outdoors. Make the most of the bounty.