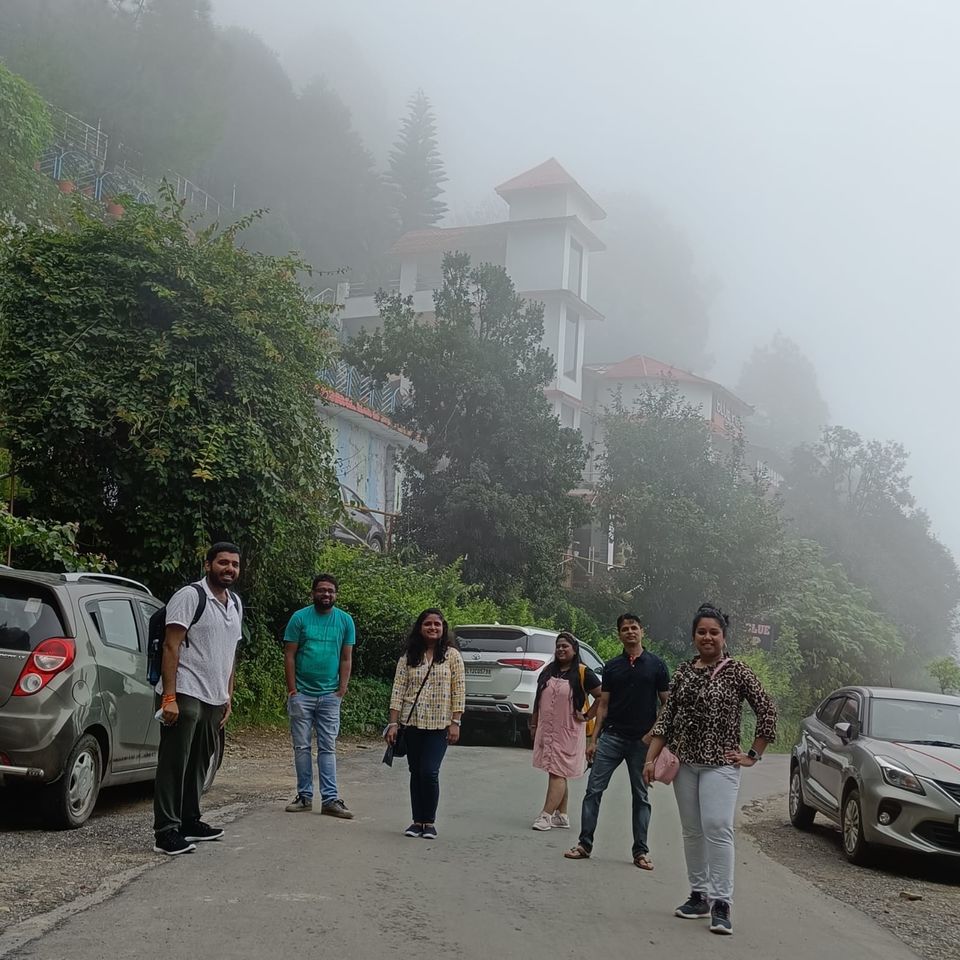 Planned in just one week...this weekend getaway to Lansdowne, one of the closest hill stations from Delhi ncr, was much needed break from the recent stressful times.
This time me and my husband were accompanied by 2 more couples.
As always, we started the journey by our cars from Delhi at 6 am and reached Lansdowne around 2 pm as rain and bad roads slowed us a bit.We checked in our pre booked Blue pine resort and after having lunch in the in-house restaurant in the resort, we explored the resort.It was beautifully constructed,surrounded by oak and pine trees, perfect hill views (had it been less fog) and had infinity swimming pool which as per us was its usp(we liked it the most). The pool offered spectacular views of the natural surroundings and the mesmerizing view of hills covered in dense fog. After the relaxing dip in the pool, it was time to enjoy the DJ night accompanied by delicious snacks and drinks.This was all arranged on the roof of the hotel so you can be close to nature at the same time.Since it was rainy reason, bonfire was not available.As per the resort staff,it is usually done in winters.If you still want it, you have to inform the hotel staff in the morning so that they can arrange wood for bonfire. All this was followed by dinner buffet. After a delightful day 1, we went to our beds and had a sound sleep.
2nd day started with breakfast and relaxing in one of the multiple garden areas in the resort and admiring the breathtaking views. It was so peaceful, so calm,so serene ...we almost forgot the city life for a moment.After getting ready we drove to Bhulla taal(lake).The roads were somewhat narrow but in good condition and since it was foggy we drove slowly. It was very scenic view from our car windows. On the way , we saw the cantonment area of Garhwal rifles.Lansdowne is the command office of Garhwal rifles division of the Indian army.We reached Bhulla taal in around 25 mins.It is a small lake made and maintained by the Army. It has entry fee of 150rs per head which includes boating as well.The weather was very pleasant, it rained for few mins and next moment it was sunlight and next it was fog all over,we spent 1 hour waiting for our turn for boating. Meanwhile we clicked pics on the bridge over the lake( it was perfect location for photos), had bhutta(my fav ,especially in rain) and ate patty.And then boating in the fog covered lake was cherry on the cake. From the lake, we went to Tip in Top point, a small hill top view point from where one can watch complete skyline with magnificent Shivalik ranges.Since it was foggy , we could not see the view this point is known for.This point had an entry fee of 20rs per person. It was almost evening and on our way back to resort, we thought of eating maggi( yes , trip to hill station is incomplete without maggi).There was a 'Mast maggi point' near our resort where we had the mast maggi, it was made in desi style with vegetables and spices. We did not like it that much as it was too salty ( I personally like plain maggi more) but eating maggi in any form is always welcomed. Then we reached resort and relaxed for a while.Since it was raining , we decided to stay indoors and play card games( hours passed by with the blink of an eye when you have good company) followed by mouth watering dinner( must say, in-house restaurant did an awesome job be it breakfast,lunch or dinner). We slipped into our blankets and had a peaceful sleep in the calm surroundings.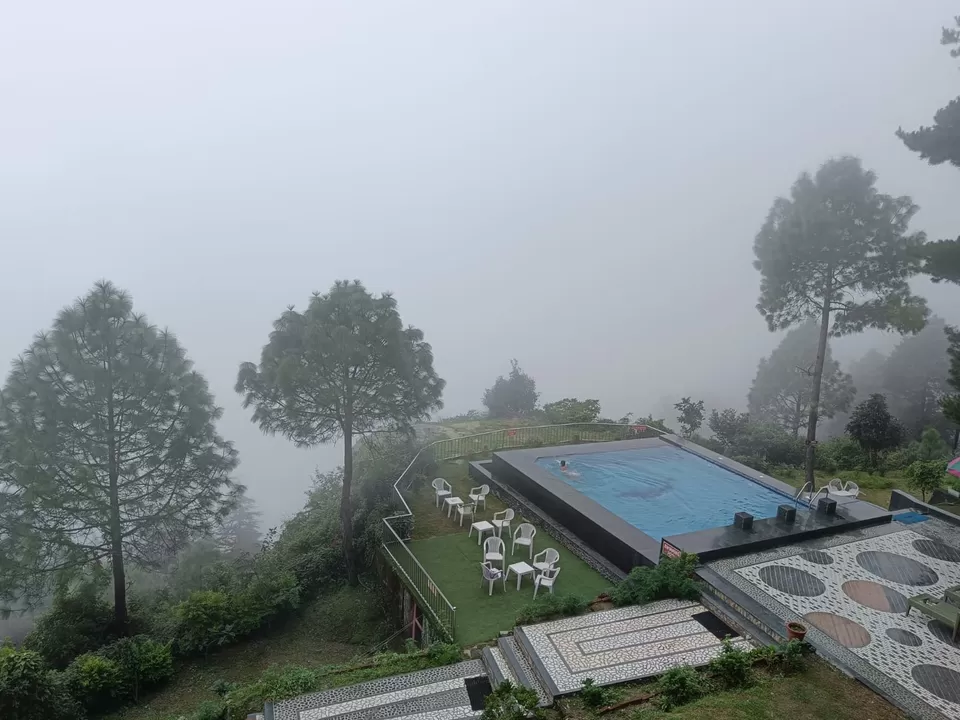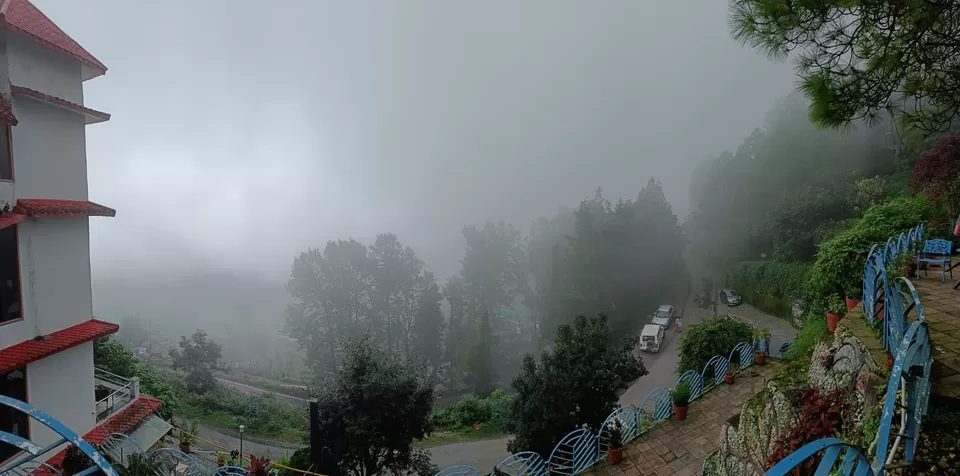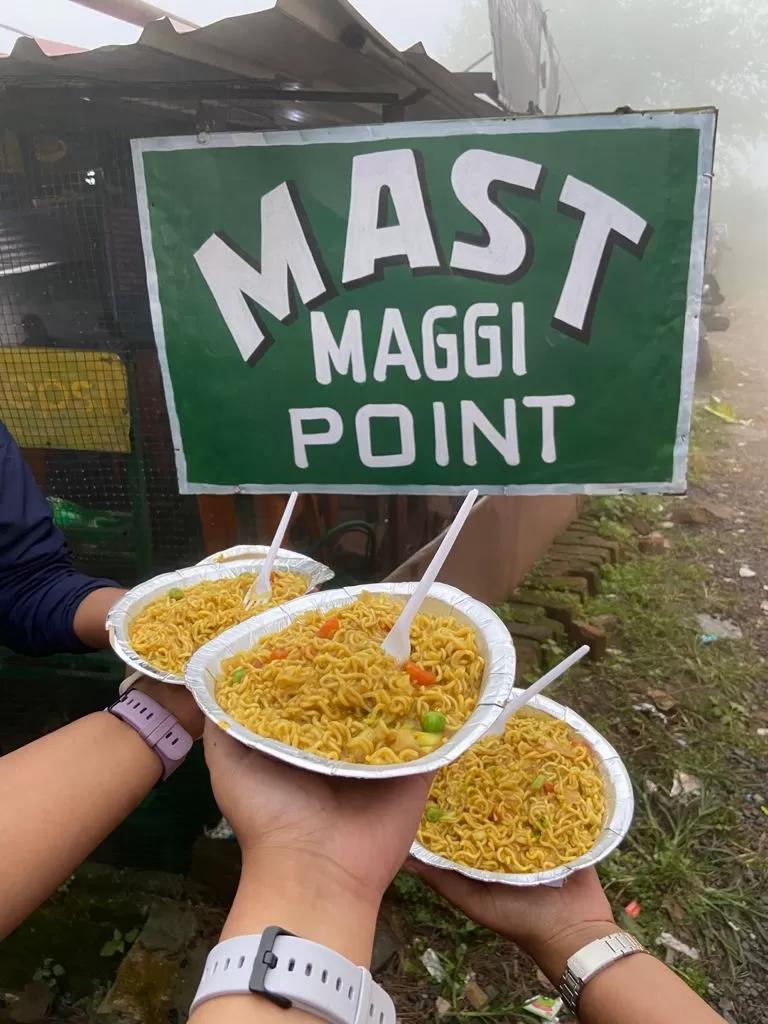 3rd day started with sipping tea( the tea from the restaurant was like heaven for tea lovers) in the resort garden again while enjoying the calmness and serenity of the place . It was last day of the trip so we wanted to capture the beauty of the place as much as we could.There were some activities as well in the resort like bridge walk, net climbing and rock climbing. We did all of these and had yummy breakfast. After capturing all the memories,it was time to get ready and leave this heaven like place to come back to our maddening crowded city life .
These 3 days were mind refreshing,full of peace and enjoyment at the same time.
I would recommend anyone who is looking for a quick escape from the everyday city life to plan a trip to Lansdowne .It is a perfect place for relaxing and recharge oneself.