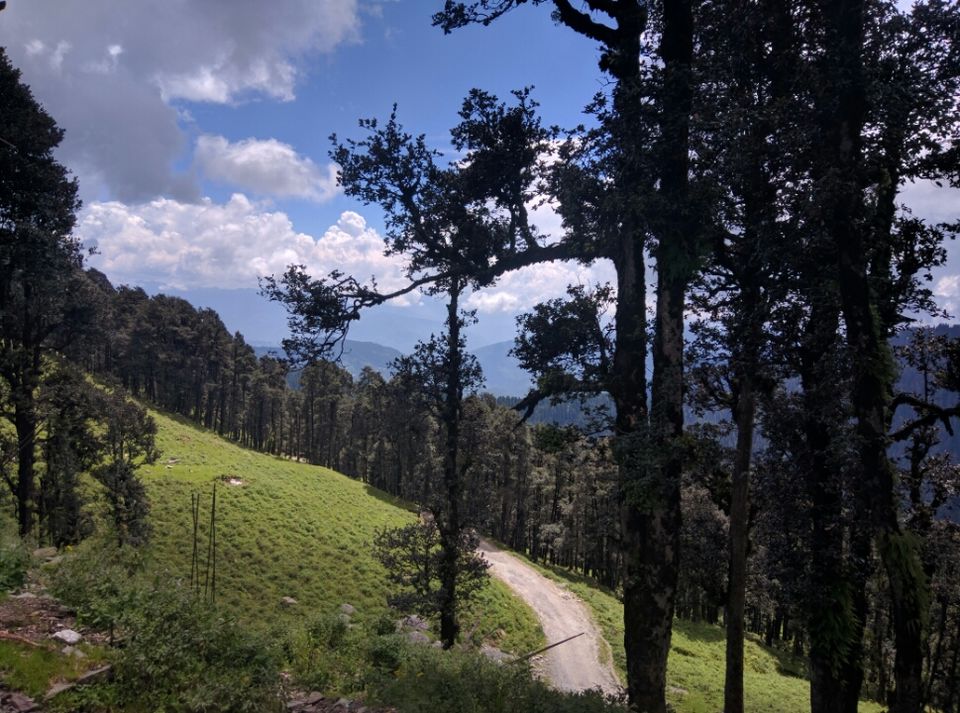 The best thing about having colleagues who share your interests, is that, not only will they keep your interests alive but they will also happily be your partners in crime, who'd help you wipe your footprints after you've left the crime scene. In my case, I can only be thankful for having met Kriti and Ujjwal at work, who also have the same love for the hills and off-beat destinations as I do.
It had only been a week that I had got back from my solo trip to Kasol, that Kriti started to get these sudden pangs for heading to the mountains. These pangs only grew stronger when we checked out the calendar to find out that we were going to get an extended weekend at the end of the month. Having set our dates for travel, and having found the perfect excuse for a leave from work (thanks to Kriti!), after quite a few lunch break deliberations, we zeroed in on Tirthan Valley in Himachal.
Having decided the "when and where", we needed to figure out the "with who and how" parts of the trip. We were joined in by one of Kriti's friends and Ujjwal was kind of in and out of the plan owing to whether he will get a leave or not. Since there is no direct bus service to the Tirthan Valley from Delhi, we had to take the bus till Aut and then take a cab to the Tirthan, so we booked three tickets for the rest of us, which we planned to cancel and go by car if Ujjwal came along. Shortly after a few days of booking the bus tickets, my new car arrived and now I really wanted to take my Tiago on a roadtrip. I suggested the same to Kriti and Ujjwal and after much prodding and coaxing and emotional blackmailing (and even threatening), Ujjwal agreed to join us for the trip and we gladly cancelled our bus tickets. We now planned a car ride in my car from Delhi to Tirthan Valley, and being a complete noob about driving, I automatically had to rely on Ujjwal and Sachin on the driving bit.
Finally the d-day arrived and we set out for Tirthan at 4:00 AM on the 25th, and set out on our route from Delhi-Chandigarh-Sundernagar-Mandi-Aut-Gushaini.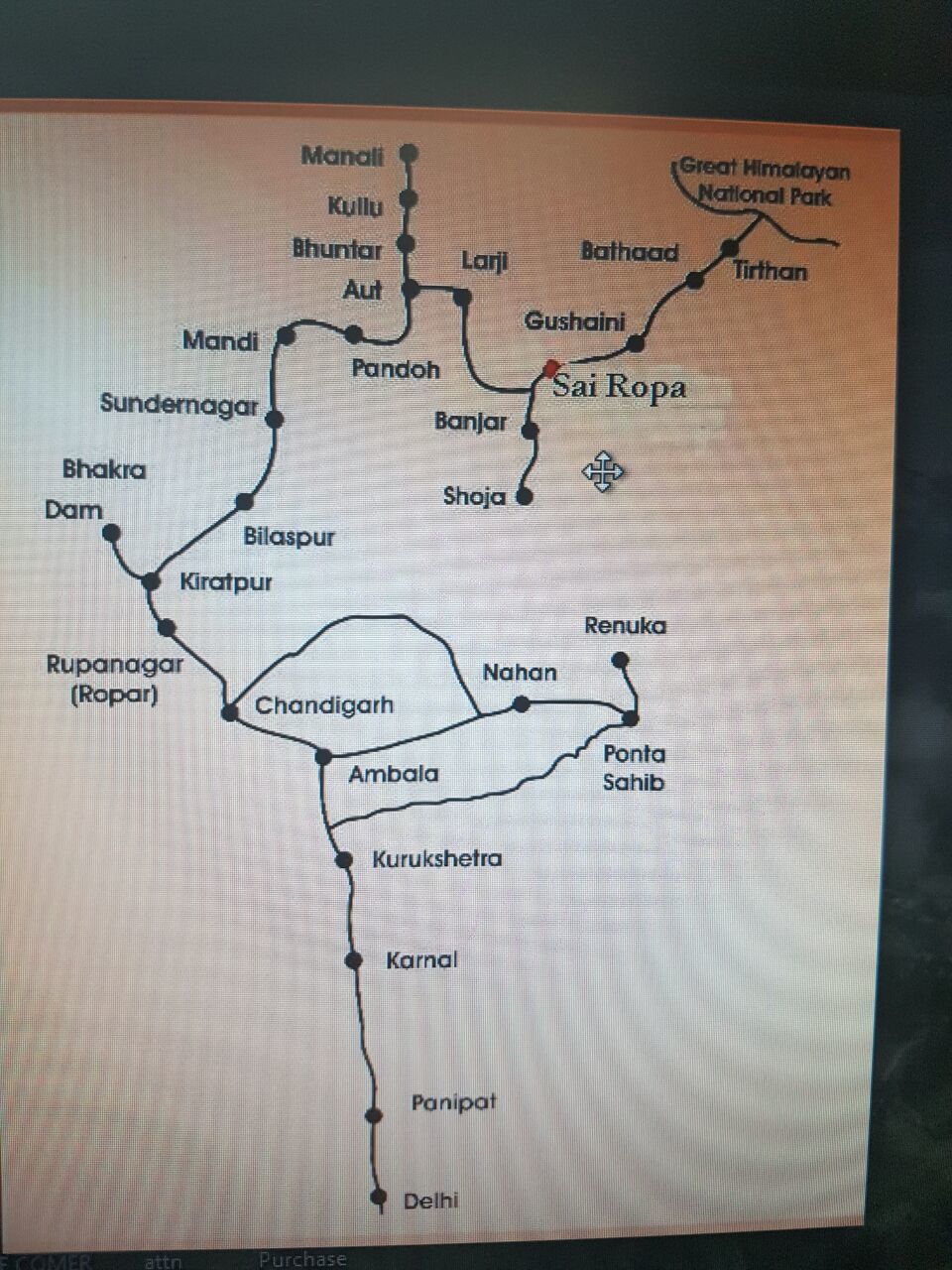 Being more seasoned than the rest of us, Ujjwal took charge of the wheels on the hills. With occasional breaks on the way for snacking and stretching, we made our first stop near the Aut tunnel. After enjoying the winds and the river Beas for a while, we made our way to Gushaini, where we had made arrangements for our stay for the two nights that we were going to stay at the valley.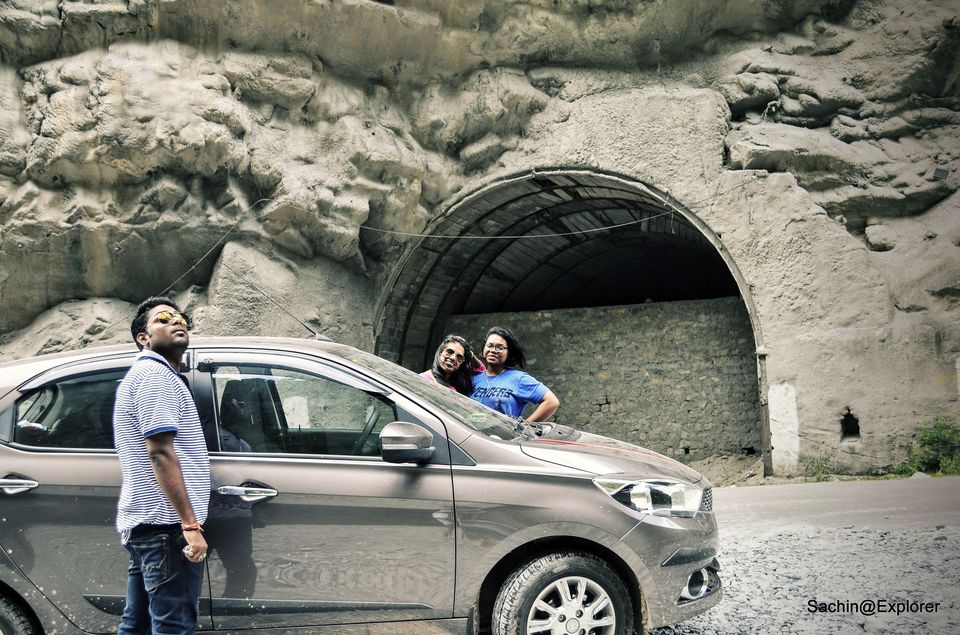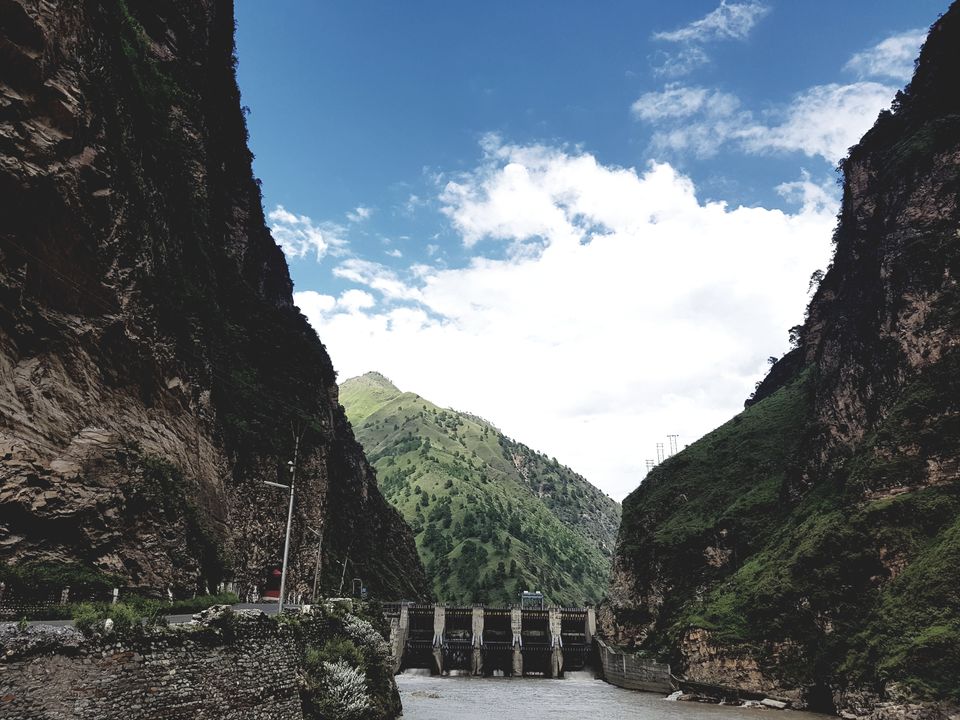 The ride up until the tunnel was as usual and smooth, except for the stretch near Mandi where some maintenance work was being done. However, the ride after Aut got quite bumpy- the roads were broken because of the frequent downpour that the Himachals received this season. The roads are more curvy and you see more of hairpin bends than usual. And the roads seemed to be getting narrower as we moved from Larji to Gushaini. There is a sharp left towards a narrow and steep ascend where you have to leave the Larji-Banjar road to reach Gushaini, which we missed and had to backtrack to back to that point. And this was the exact moment in the trip that I began to truly appreciate the mean driving skills that Ujjwal actually has.
After a 12 hour car ride, we finally reached our Cottage, which was a little hard to find at first, since it was actually on the other side of the river. We had to take a right to get off the road to park the car and then cross the river to get to our cottage.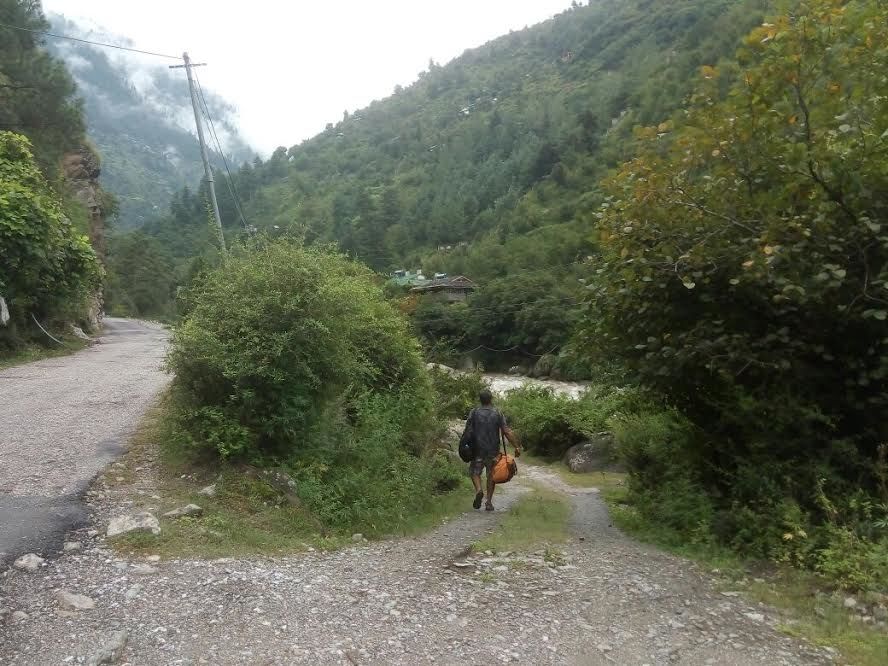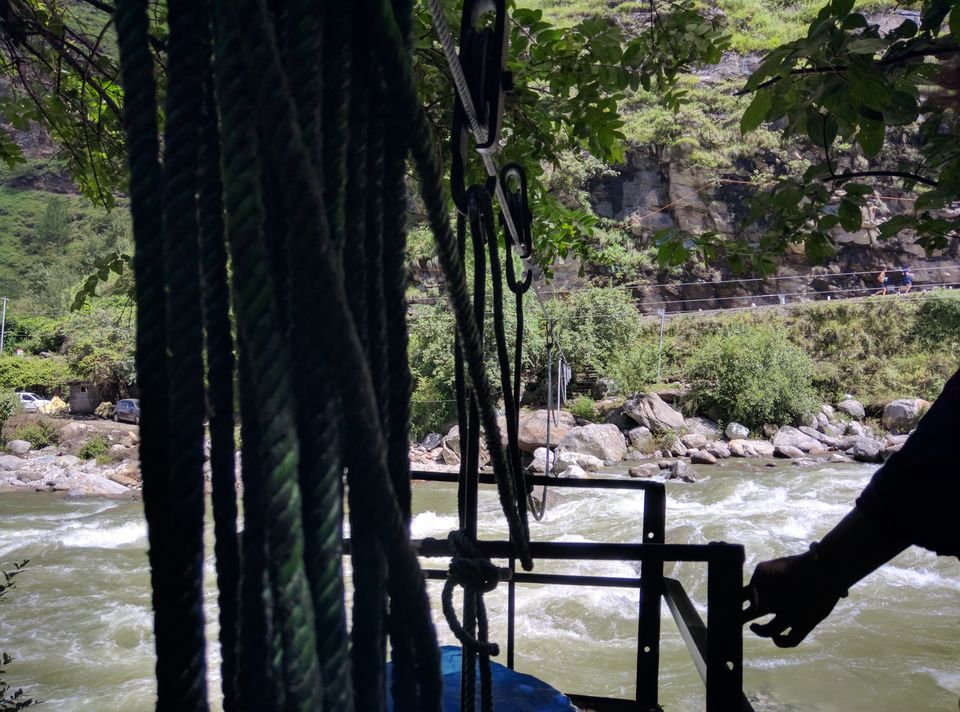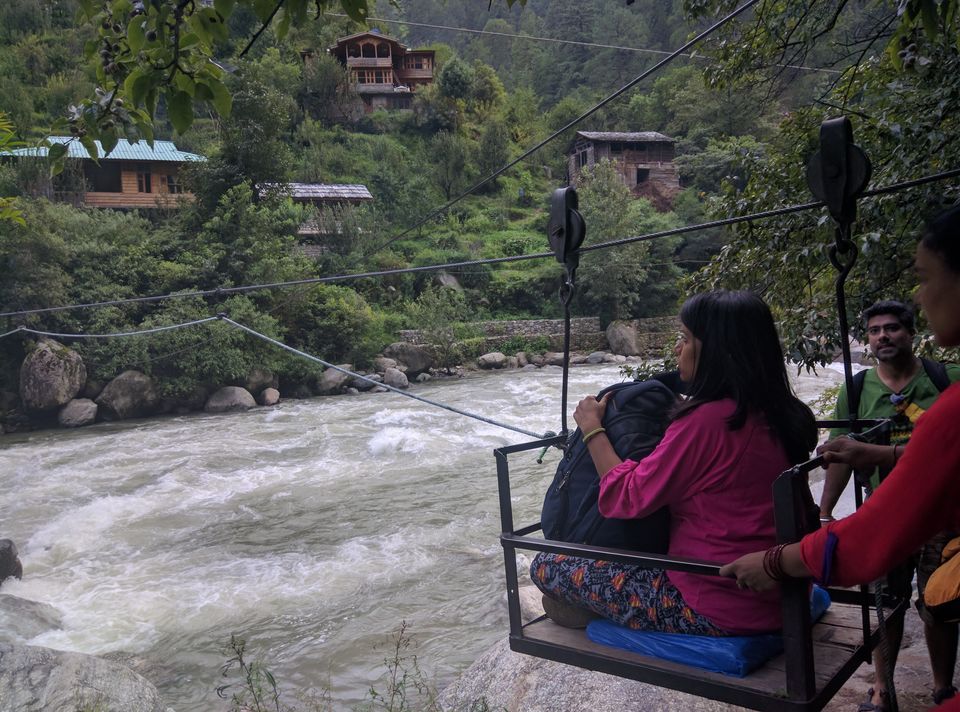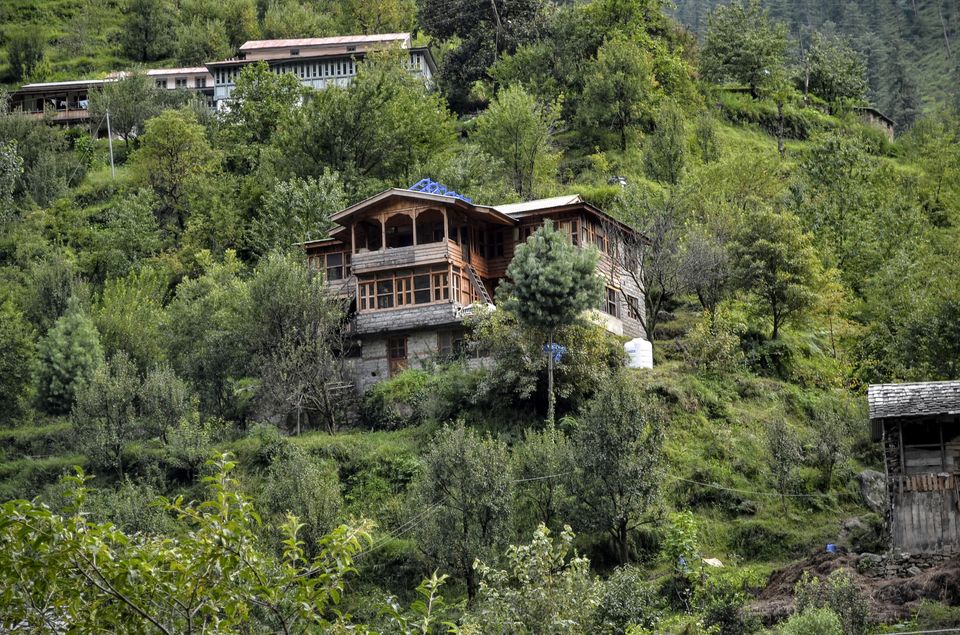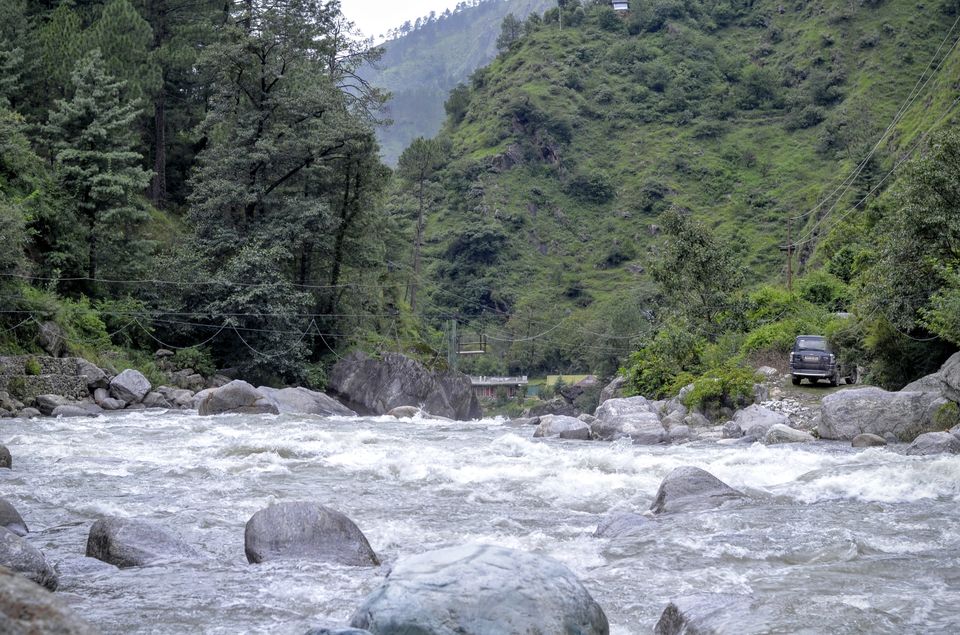 Getting to our cottage finally felt like an achievement for the day. As soon as we got to the other side of the river, we were welcomed by the cottage owner's pet dogs, which were very friendly and stood guard at nights to keep the leopards away. We got two spacious cabins for ourselves, which had electricity and hot water too. Ours had a backdoor, which opened to the view of the Tirthan river. They had a separate Dining space, which was decorated with small tokens that the guests left behind to be remembered by. These people have been in business for quite some years now, since 1991 to be exact. Raju, who started it all is now a grandfather and is helped by his nephews, Varun and Vicky to run the business. I personally was impressed by the assortment of homemade jams, jellies and pickles they had made from the fruits that they grew themselves (I, Kriti and Sachin made it a point to taste each on the last day of our stay). They also had an open space for bonfire just outside the cabins and also a Gazebo with a place for bonfire, just in case it rains. There was also a way leading toward the riverside. And we took no time to go and sit by the riverfront.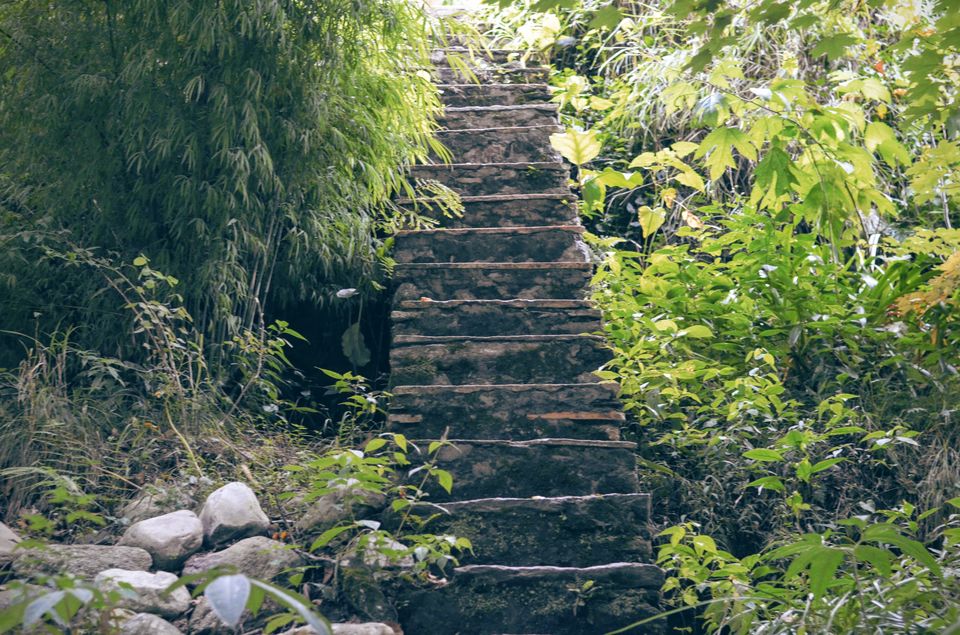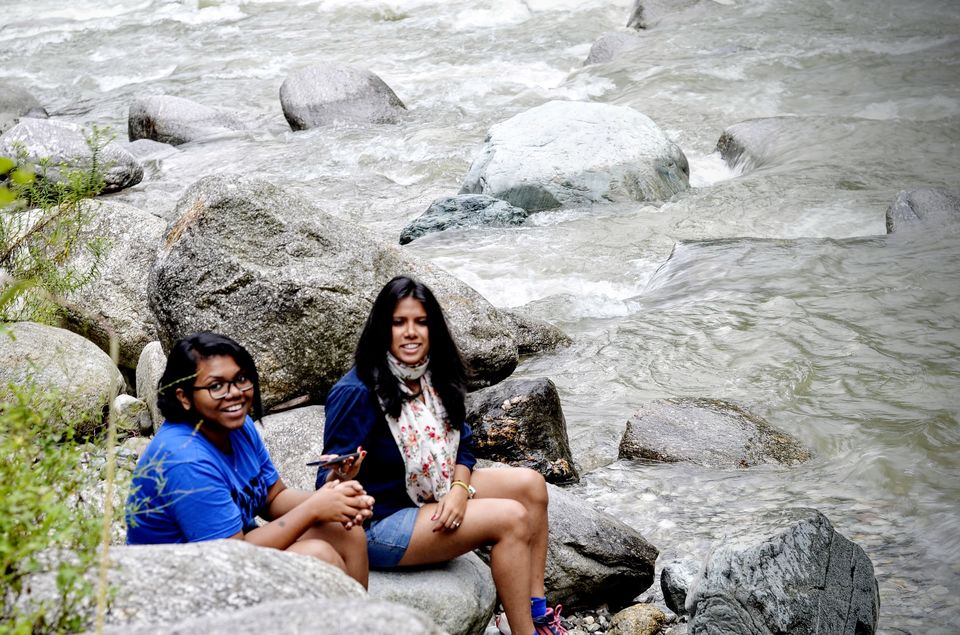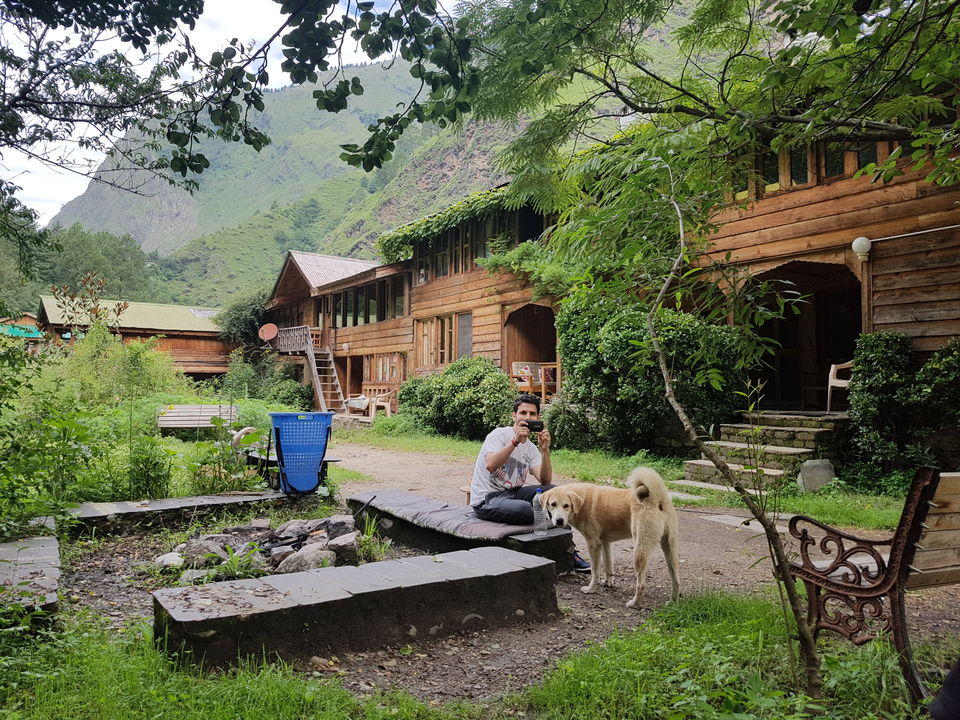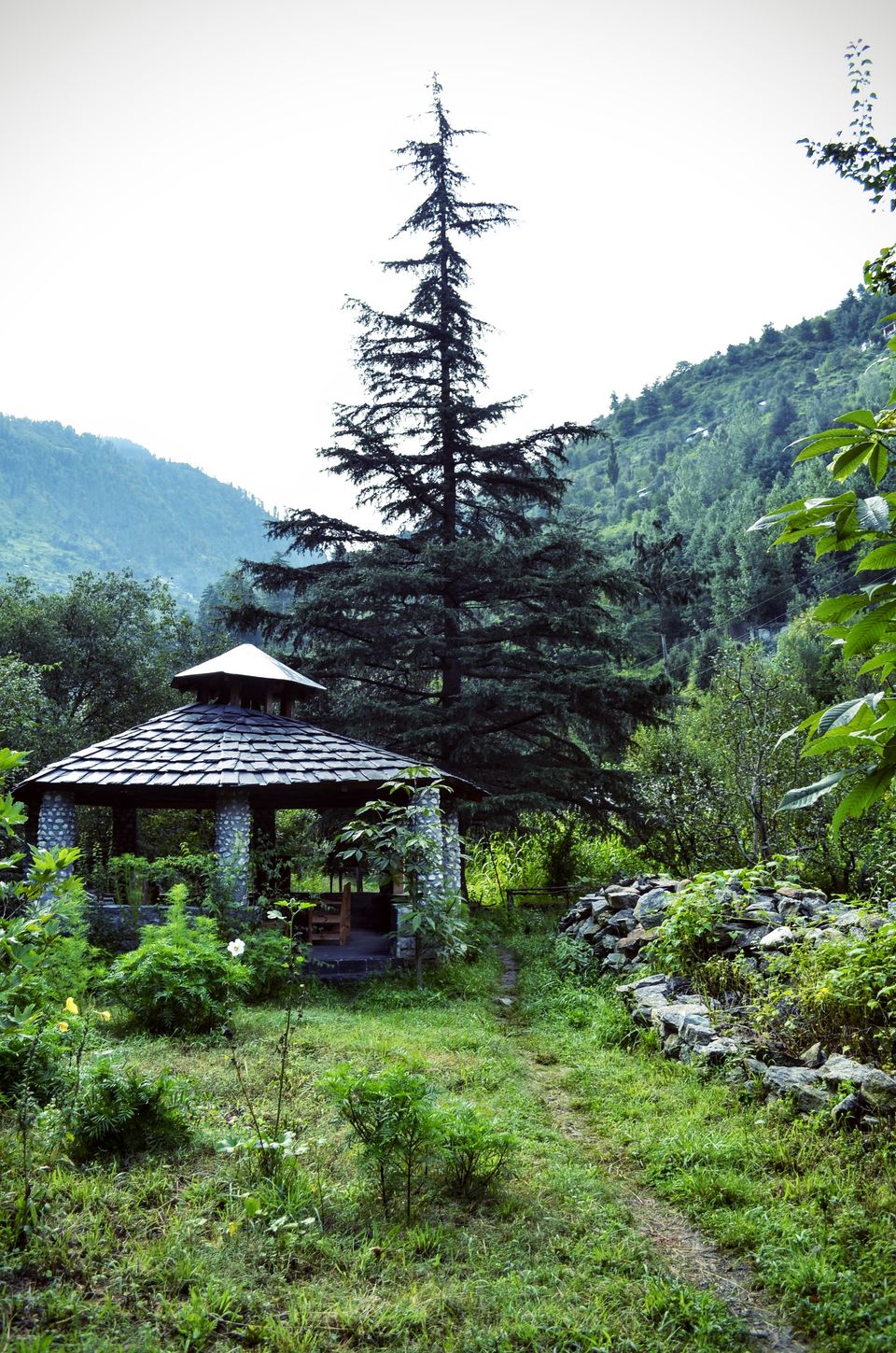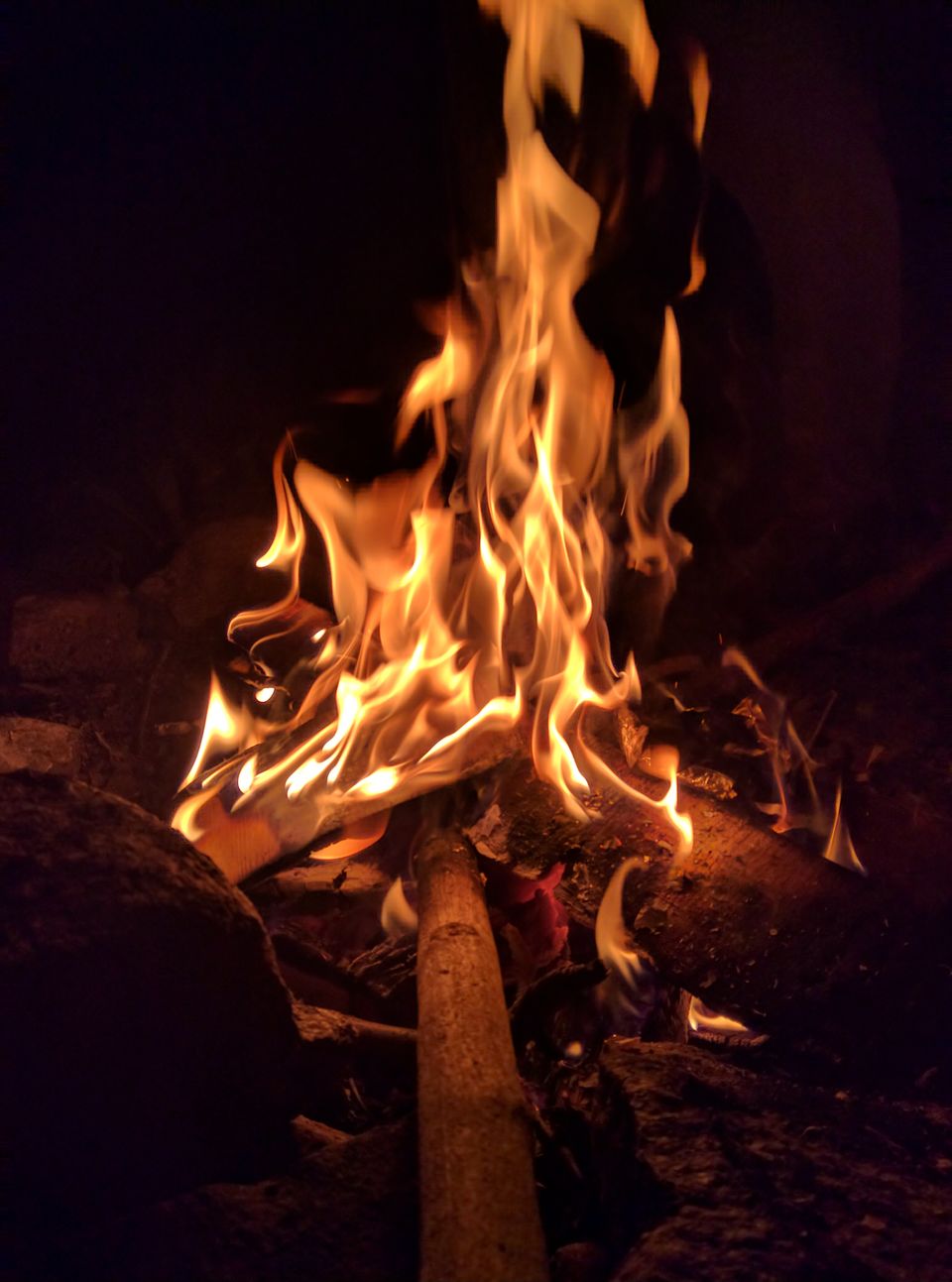 The first night at the cottage was all about relaxing. So we sat by the warm bonfire, had dinner, asked for places we could explore the next day and called it a night.
Tirthan is mostly known for trout fishing and the Great Himalayan National Park, and we had planned to go trout fishing the next day. However, because of the rains, we were told that trout fishing was closed. We asked about other options, and we were told about Jalori pass, and that we could see the Serloskar lake and that there is the Raghupur fort that we could visit. Before coming to Tirthan, I did some reading about Jalori pass and got to know that it is quite a famous trekking destination, but it was nowhere on our list when we decided to come here. With no other option left, we took no time to sit in the car and head towards Jalori pass. We had to again take the same Larji-Banjar road, cross Shoja at 8787 ft and reach our destination at Jalori pass at 10275 ft.
I must mention again, that the roads are broken and are quite steep. And I thought I had seen dangerous and risky drives in my previous trips, but this one by far bags the top spot! There were 3-4 occasions where we got stuck on the steep road, where the tires kept slipping, and there was this one very steep turn which really did scare the day lights out of us. But, yet again, Ujjwal did show his metal, and we reached our destination without a scratch. This trip was like the ultimate test that a car could go through and I can proudly say my Tiago did pretty decently.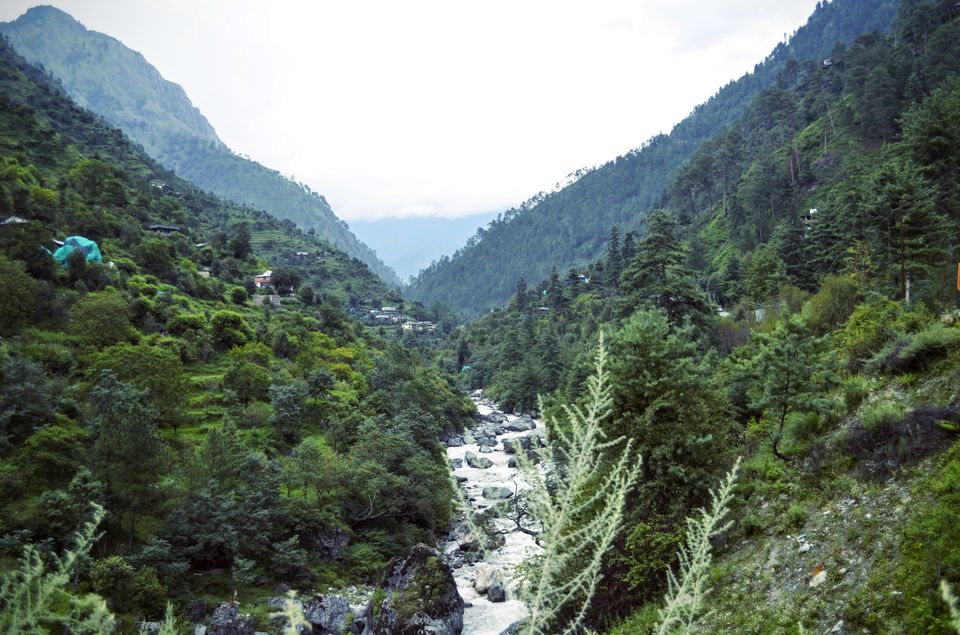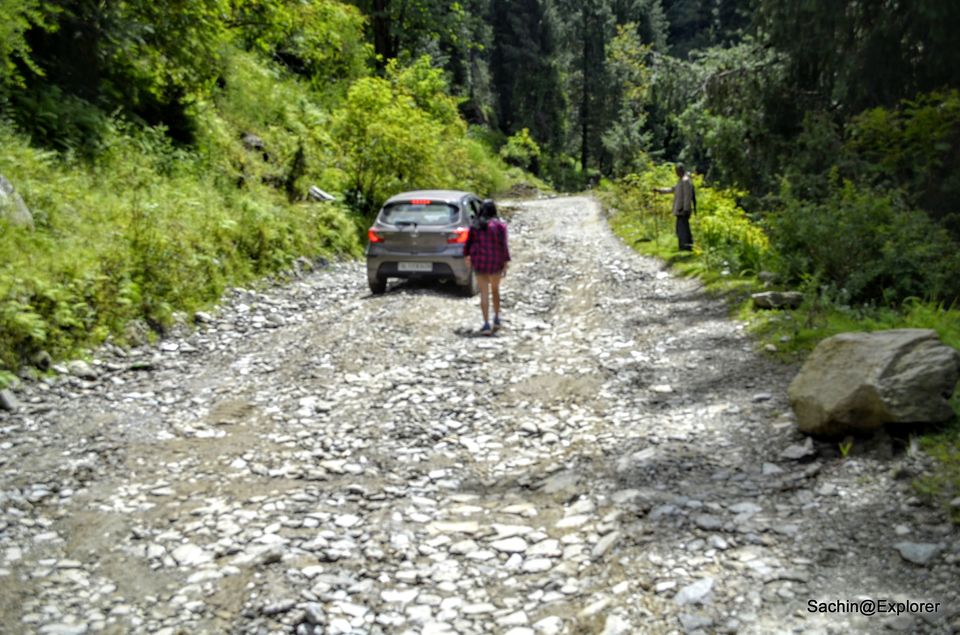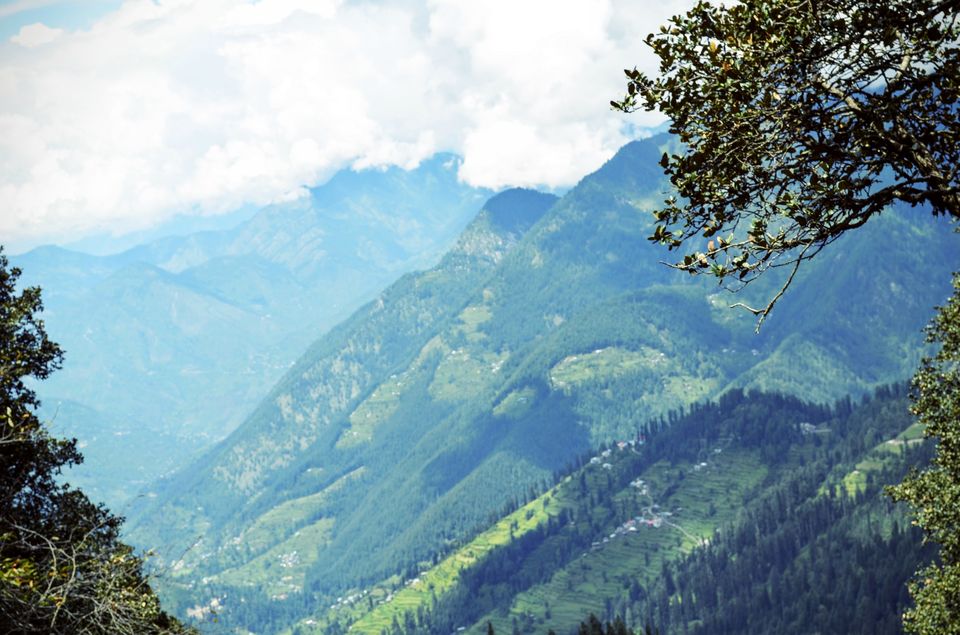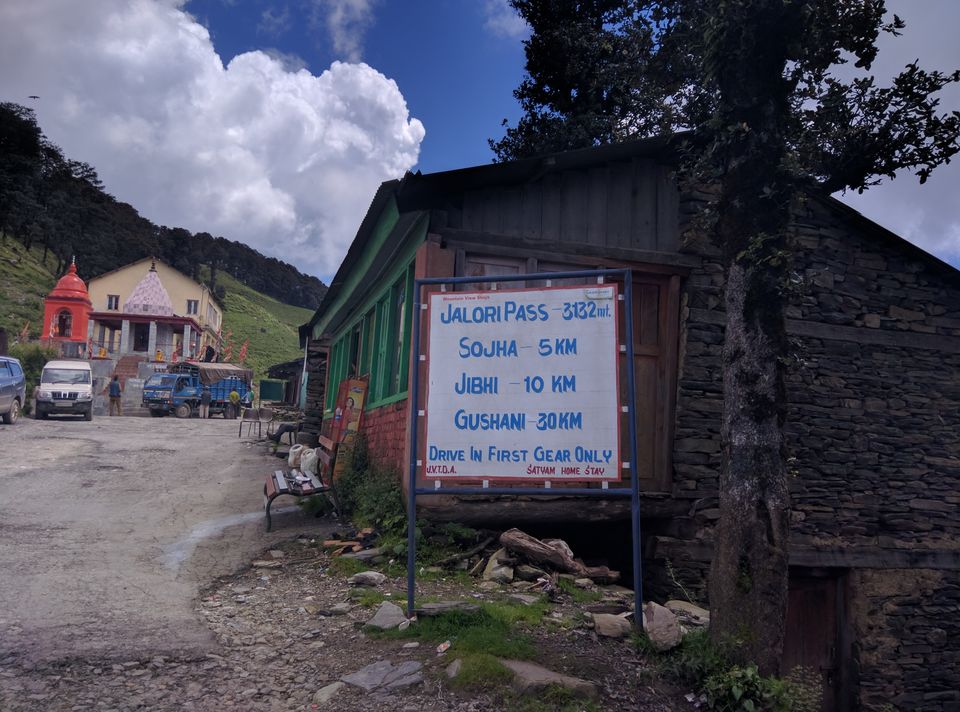 The Raghupur fort was only a short distance from the Jalori pass bus stop, with a 3 km trek on a non-motorable path leading towards it. It however, began to rain, and we knew that the roads would only get worse once it starts to rain, so we quickly made our way to head back to our cottage.
On getting back to our rooms, we spent the evening lazing around, painting rocks for Raju's cottage, to remember us by. We spent the night outside, by the fire, chatting till late night, and we left for Delhi the next day.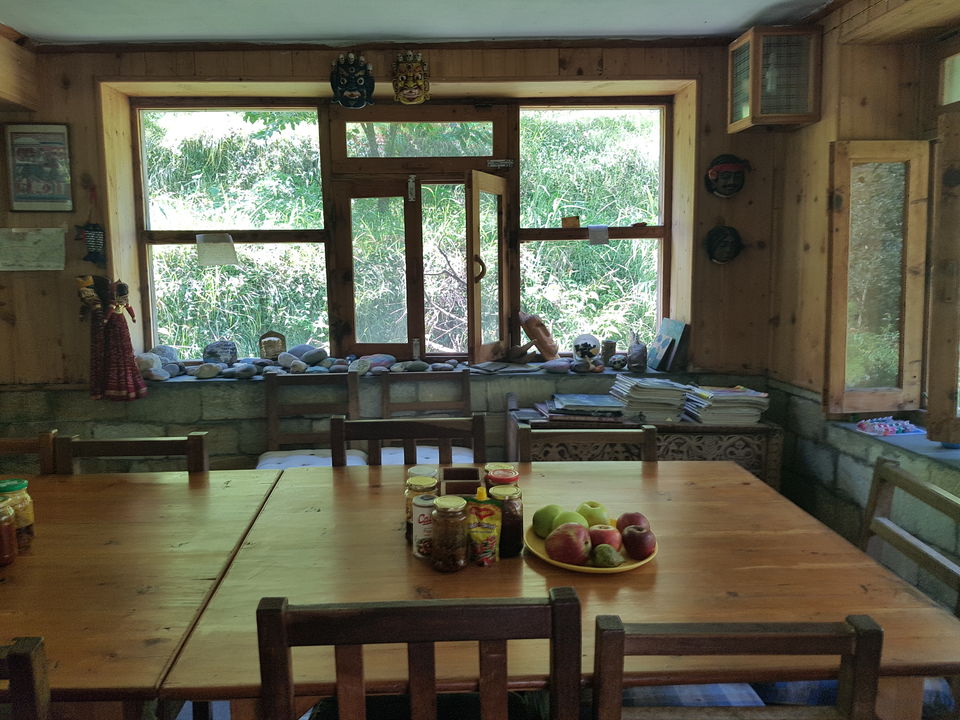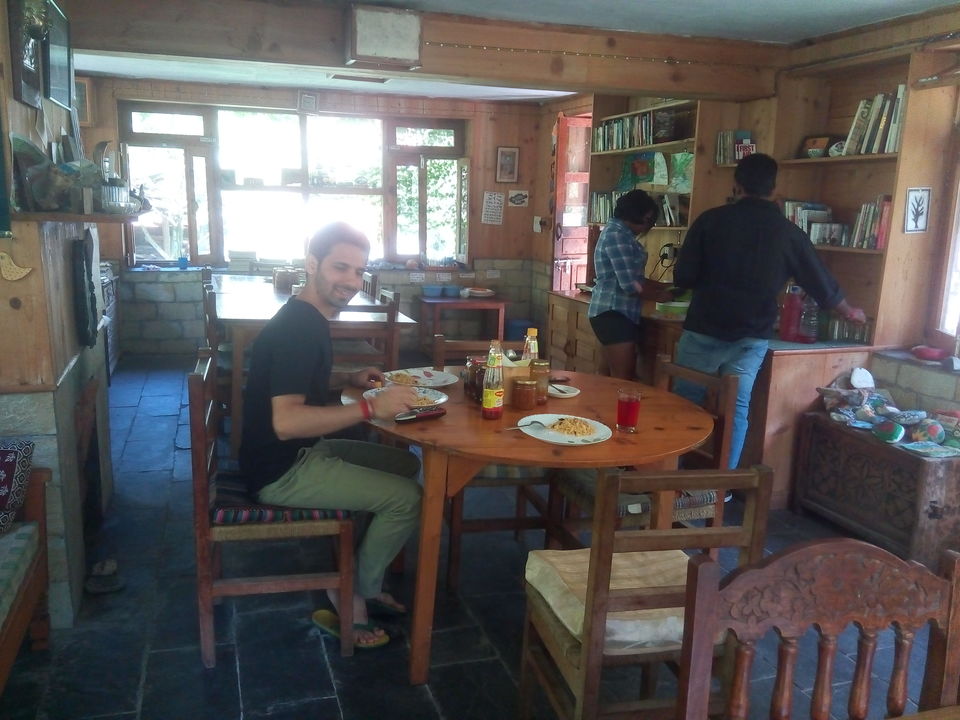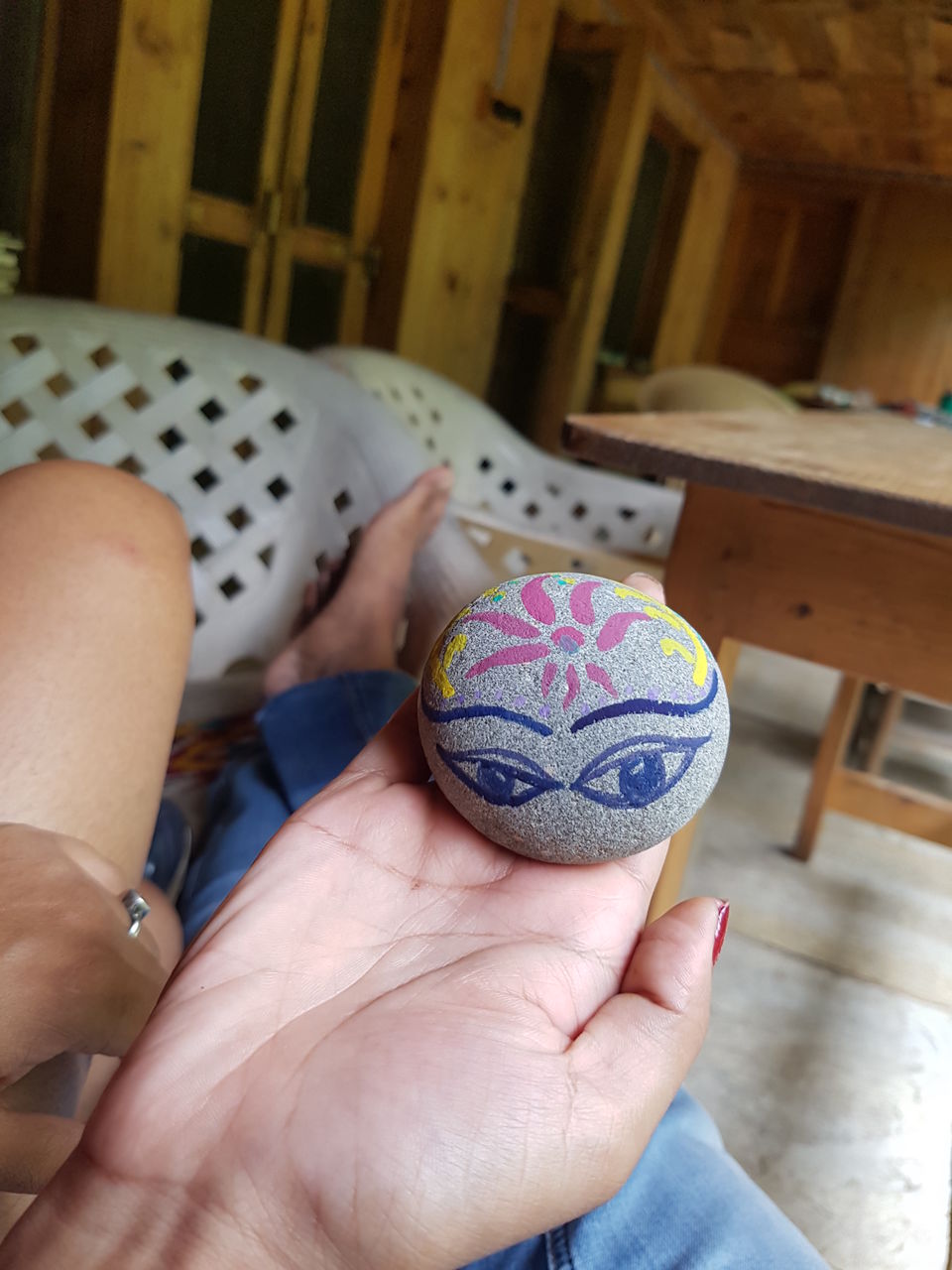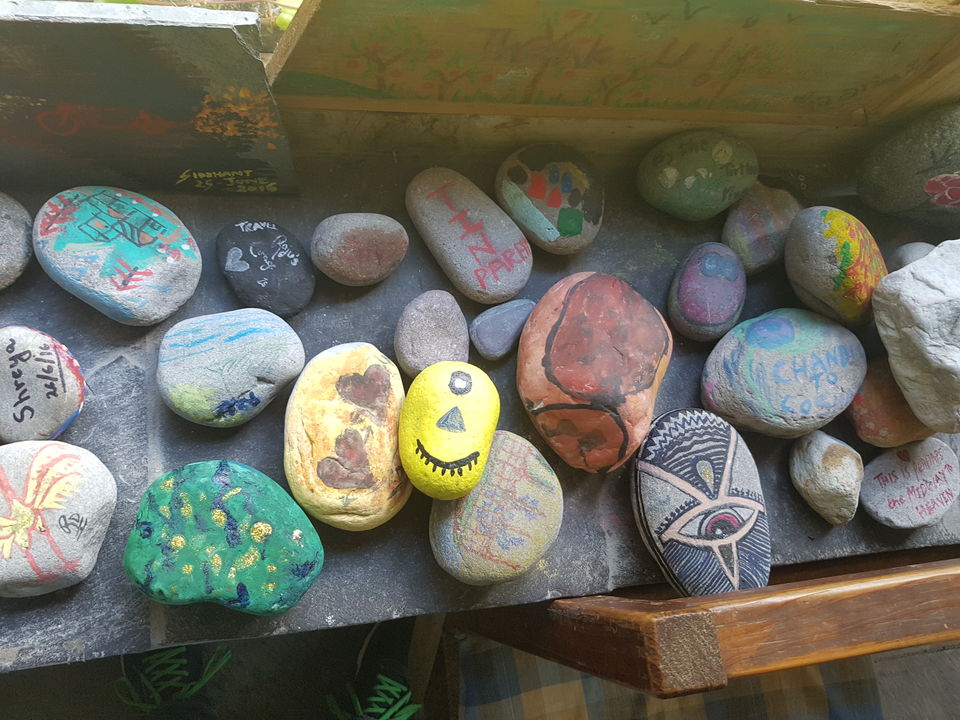 The stay at the cottage was truly a retreat for us, and especially for somebody like me who is totally hooked on to the Internet because I absolutely got no signals on my phone (#vodafone, you need to up your game brah!). All jokes aside though, this trip left me with even more respect for the people who live in such difficult places.
And finally, as is the case with all my trips, this trip too left me in awe with the beauty that Himachal offers and it still has so many places still unexplored and untouched by commercialisation. Such visits give you that peaceful and warm fussy feeling, that is so addictive you want to keep coming back for more.