Ujjain- known as Avantika in ancient times- situated on the banks of Kshipra river is one of the seven holiest cities in Hinduism known as Saptapuris. As the saying goes 'Ayodhya, Mathura, Maya, Kashi, Kanchi, Avantika. Dwaravati chaiva saptaita mokshadayika'- pilgrimage to these seven cities leads one to Moksha. Well, the reason behind me visiting Ujjain was definitely NOT to attain Moksha (im just 27 anyway!) but being a huge fan of Lord Shiva, Mahakaleshwar Temple- one of the 12 jyotirlingas of Shiva; was always on my bucket list.
Me and my pals took the first morning flight from Mumbai to Indore's Ahilyabai Holkar Airport. Being August, the climate wasn't too hot when we landed. We had booked room in one of the hotels in Sarawate Bus stand area of Indore over the phone a couple of days before. But when we actually visited the hotel, it turned out to be pretty shady for our taste and with mosquitoes flying around. After checking out few other hotels in the vicinity, we settled in a cleaner budget hotel.
An hour later- after freshening up, we went to Sarawate bus stand and hopped into one of the 100's of buses that keep plying between Indore and Ujjain. Ujjain is just about 56 km from Indore and can be reached in less than 1.5 hrs by bus. Our visit to Ujjain coincided with the Holy Shravan month- which is why the entire highway was thronged by the kanwariyas (Devotees of Shiva- usually men who walk for miles and carry pots with them, fill them with water of Holy Kshipra and get it back to their place) causing our bus to slow a bit at several places.
Reaching Ujjain's bus stand, a lot of auto rickshaw drivers pounced on us- as is the case everywhere else in India- to take us the Mahakal temple. We got into one of those and reached near the barricaded area of the temple in another 15 mins. A further 2 mins walk through the crowded lane got us near the temple and we stood aghast at what we saw next- a really really REALLY long serpentine queue of devotees (probably running into couple of kilometres) waiting to enter the fortified temple complex. Not that we were not expecting crowd here but itna jyada!? My idea of devotion is definitely not to stand in the queue for hours and hours and to enter inside. It was already 12:30 by the time we decided what to do now! We had lunch in a place nearby (bazar around the temple has a lot of eateries serving Gujarati/ Maharashtrian food to even pizzas and Chinese. However they are extremely crowded.) Meanwhile we decided to go for Ujjain city tour first and later come back to Mahakal Temple and take darshan. Accordingly we informed the MPTDC office just outside the temple complex to book us seats in the van run by MPTDC around the city. The van leaves around 2pm every day from the gate of Mahakal temple (or from the gate of Harsiddhi temple nearby in case its difficult for the van to come till Mahakal temple due to crowd) and drops back around 5:30/6 pm- ticket cost for which is a nominal of 60 rupees per person.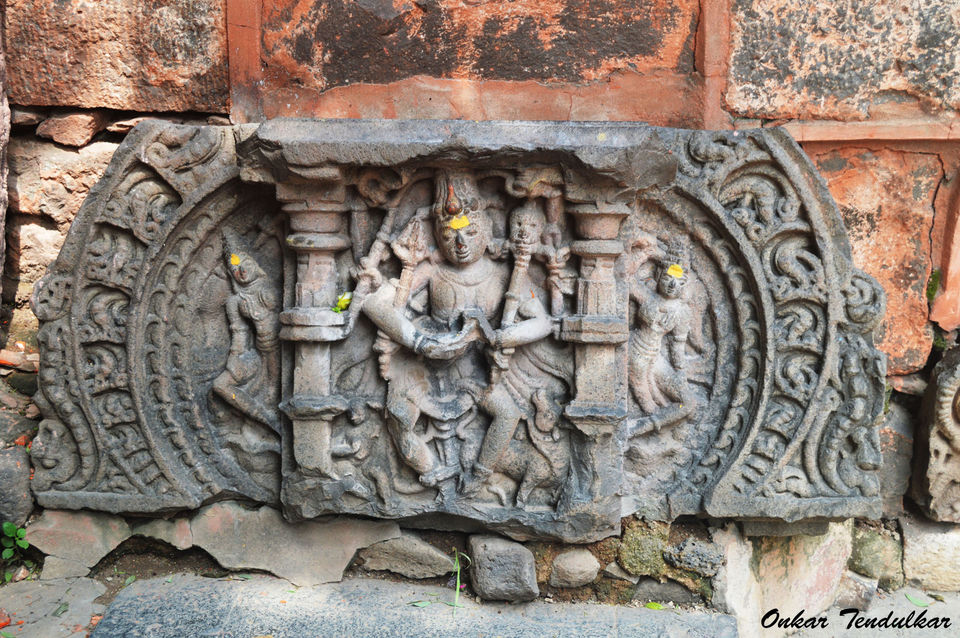 Driving through the dusty roads of Ujjain for 15 minutes, we reached our first destination- the Gadkalika temple. Locally known as a shaktipeeth, the current existing temple is the reconstruction of an earlier ancient temple that existed at the same place. This temple is where the great poet Kalidas is said to have got his boon from Maa Kalika. Just a stone's throw away distance from Gadkalika temple is Sthirman Ganesh temple.
Next we were taken to the ancient Kal Bhairav temple. The large gateway of the temple shows Maratha influence in the region. Just outside the temple's entrance, there are dozens of shops selling old monk, Mc Dowells, Smirnoff and black label. Oh no don't get me wrong, this alcoholic drinks are given to Kalbhairav as offering. Inside the stone gateway, a mid-sized temple sits in the middle of the court.
Our next stop- the Bhartrihari caves turned out to be a very interesting place. A number of steps descend from the main road and takes one to this fascinating underground cave like structure where the 5th century Sankskrit author- Bhartrihari (Step brother of king Vikramaditya) lived and wrote few of his famous literary works. These underground caves (actually small underground rooms) are accessed through very narrow stone staircases. Once you are inside its bound to scare the crap out of you as these structures are actually made by piling up large stones on one another and they look like they can fall off anytime on your head. Secondly these underground rooms are very small and claustrophobic that if a lot of people enter inside at a time they can easily suffocates one another. The heat inside was adding to the breathlessness. Coming out of the cave felt so relieving that I took a deep breath of fresh air before moving ahead. A few small shrines and ancient sculptures lie around the entrance of the caves. Wonder how this great man- Bhartrihari lived inside and on top managed to write his famous works here.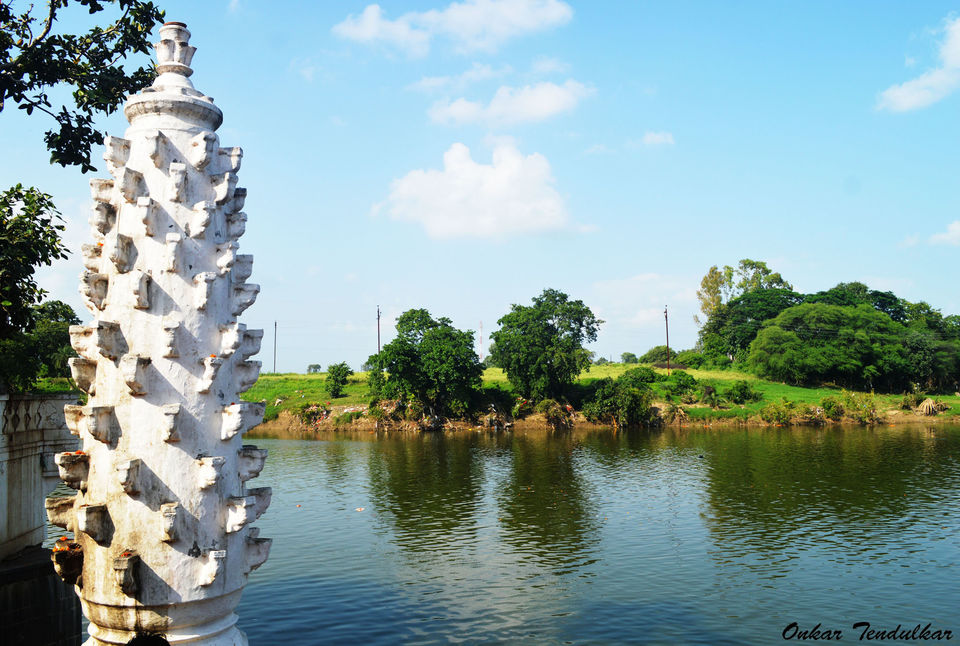 SiddhaVat, one of the four holy Vat Vrikshas i.e. Banyan trees in Hinduism (Before this I had no idea whatsoever that we even had holy Banyan trees in India) was our next destination. The other three holy Banyan trees are AsshyaVat in Prayag, BauddhaVat in Bodhgaya and BansiVat in Mathura. According to the Avani khand of Skanda Puranas, these 4 trees are immortal and hence worshipped as KalpaVrikshas (trees that fulfil your wishes). The information board near the SiddhaVat reads that, this tree was cut by Mughals and was buried under plates but the tree still managed to break out of it and is still alive today. Just like the other temples in Ujjain, even SiddhaVat has a typical Deepmala (Stone lantern) in front of it- which is a peculiar characteristic of Maratha architecture.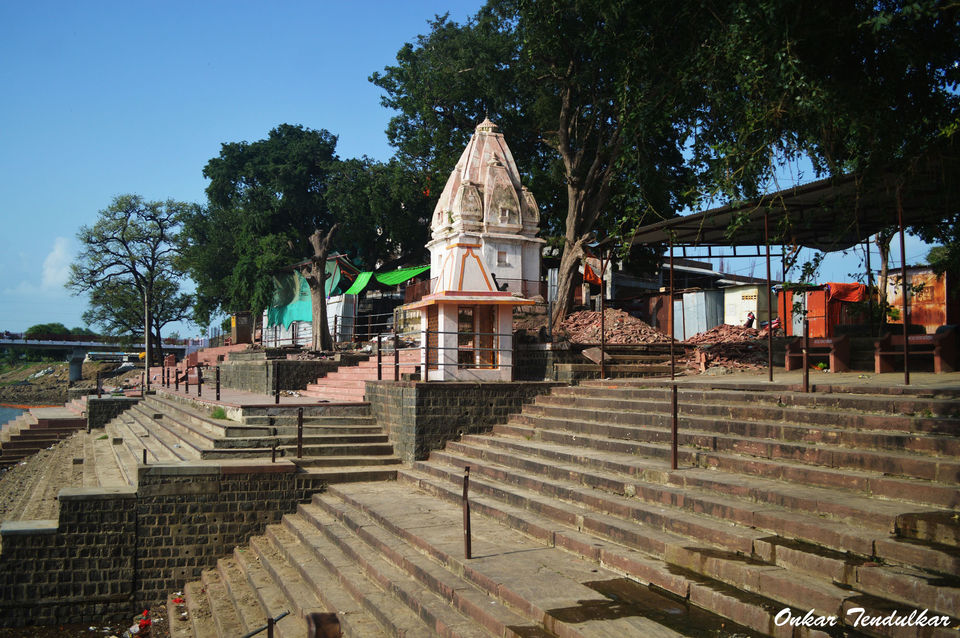 Mangal Graha Mandir- the temple dedicated to planet Mars is said to be one of its kinds in the world. This temple is situated atop a small hillock along the kshipra river ghat and hence is accessed through a flight of steps. What's interesting about this temple is that the Mars planet is worshipped here as a form of Lord Shiva and in place of Nandi Bull sits a ram- the mount of Mangal Graha.
Sandipani Ashram- the ashram where Guru Sandipani is believed to have taught Sudama and Sri Krishna was our next and second last stop before the Van would drop us outside Harsiddhi temple- the last stop and from where we had started the tour in the afternoon. Sandipani ashram now houses a few temples- dedicated to Shiva, Krishna and Sandipani himself. A standing and hence rare idol of nandi bull stands in front of the Shiva temple. The street outside the Ashram is just what I needed at that time- filled with pani puri and bhutta vendors!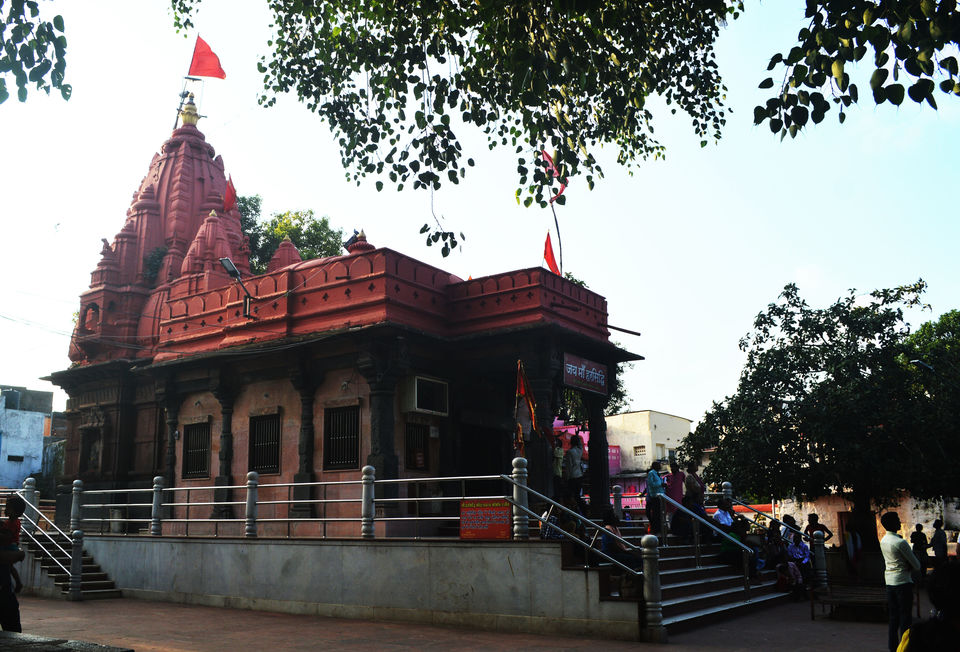 Harsiddhi temple- known as one of the 51 seats of Goddess Shakti (i.e. Skatipeeths) is a very beautiful temple situated at a 5 minutes' walk from the Mahakal temple. Harsiddhi temple is built in stone in Maratha style of architecture and is adorned by two very tall stone lanterns in the front yard. Was lucky enough to be present there to see a man manually climbing on those really tall deepmalas and putting oil in each of the diya to be lit when it gets dark.
Now it was around 6 pm in the evening. We straight away headed to the Mahakal temple to try our luck- really really wanting to go inside and take darshan but dead tired post this tiring temple tour we had just finished.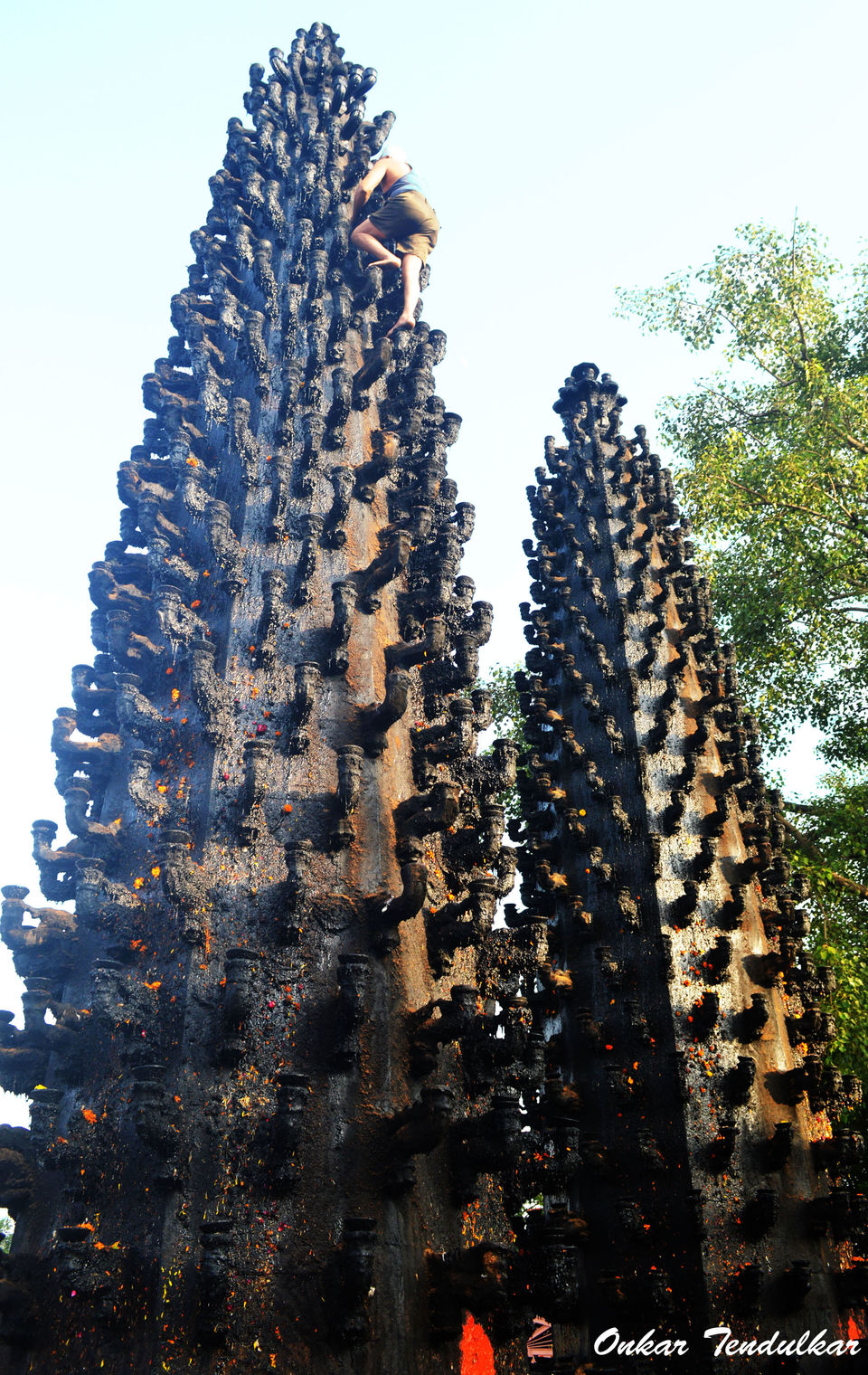 To our surprise, there was no queue at this time and we could enter the sanctum of the temple within 10 minutes flat. The temple complex of Mahakal is massive from inside. One will never be able to imagine the scale of the temple complex from outside- so many big- small shrines, large water tanks, massive open courts! We were so glad we finally made it inside. Happily we sat in front of the sanctum for a while and prayed to Mahakal. Later we visited the other smaller temples in the complex and took exit in the bazar.
Really exhausted that we were, we ate a bit and had M.P. Govt's 'Sanchi' flavoured milk (which by now had become my favourite- similar to what we get in Mumbai as 'Energy' milk) before heading to the bus stand.
Traffic was a lot lesser at this time and the champ bus driver got us back to Indore in flat 1 hour 15 minutes!