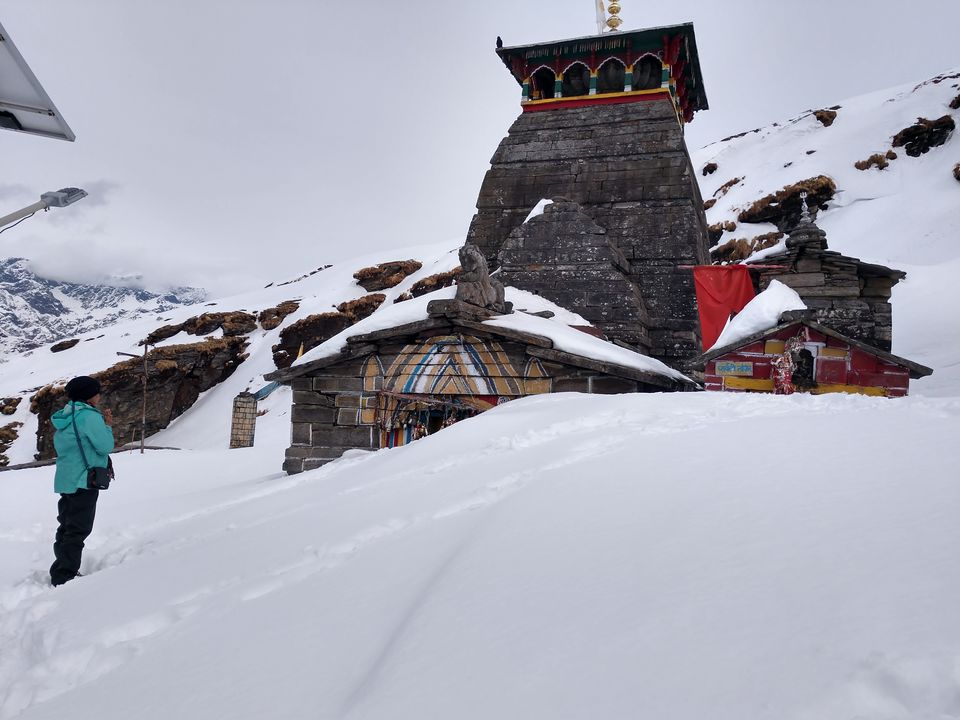 8 Days in Uttarakhand's remote villages in extreme weather and high alerts. Yes, this year in February 2019 Uttarakhand received heavy snow fall that broke 5 yrs record.
The trip plan was as twisted as the roads of Uttarakhand.
In this blog I am covering my 11 days unplanned trip to below destinations and trek to Deoria Tal and Chandrashila Peak.
Pune – New Delhi – Haridwar – Rishikesh – Devprayag – Rudraprayag – Ukhimath – Sari – Trek to Deoria Tal – Dugalbhitta – Trek to Chopta , Tungnath & Chnadrashila – Ukhimath – Rishikesh – Haridwar – Agra – New Delhi - Pune

(Note :If you want a summary of travel, budget and schedule of this please refer the table uploaded at the end of the blog).
This was my 3rd Himalayan trek. After Kedarkantha and Hampta Pass, this time we were planning to achieve higher altitude and "moderate to difficult" grade trek. We booked for Winter Kuari Pass trek and started preparations. Altitude 14000Ft. (Kuari pass and winter kuari pass are two different trek routs)
Applied leaves, booked travel tickets, started fitness exercise, running and healthy diet 3 months before the trip.
To our shock, just a week before our trek state Govt. declared high alert in the region and trek organizers canceled all the treks.
We inquired a lot but couldn't find any option. Finally we decided to at least visit the state and find out if any trek is accessible.
Our plan was to leave for Delhi on the night of 6th Feb. But weather reports forecast heavy rain and hail storms in Delhi. We decided to wait for a day and finally cancelled our confirmed ticket for Delhi (Such a painful decision when you already have packed your bags ☹).
By the next morning we became so restless that we directly went to the station and bought tickets from the counter. Yes! The trip had begun.
DAY 1:
Plan: To reach new Delhi and catch another train for Haridwar.
Travel: Pune to Delhi via train (Jhelum Jammu Tawi Express)
Timings : Boarded at 5.20 pm
Travel Duration: 28 Hrs
Train Fare: 645/- (Sleeper Coach)
we were travelling without confirmed tickets but fortunately at around 9.30 pm we got confirmed seats.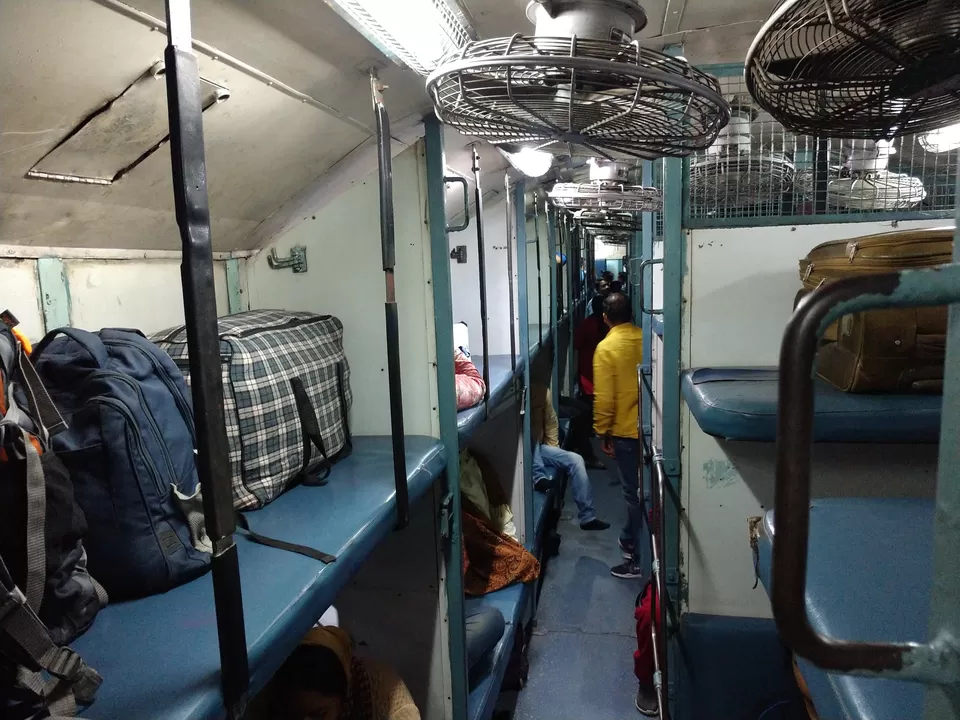 Plan : To reach New Delhi and board another train for Haridwar.
Train Name : Nandadevi Express (New Delhi to Haridwar)
Timings: Boarded at 11.50 Pm from New Delhi railway station.
Journey Duration: 4 Hrs
Fare: 645/- INR (AC)
Whole day we travelled in the same train and reached New Delhi at 9.30pm. After 2 hrs we boarded NandaDevi Express for Haridwar.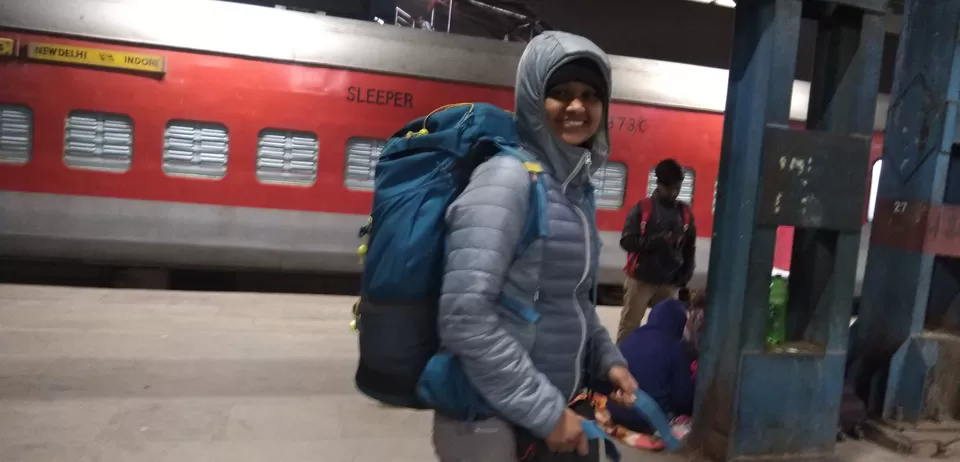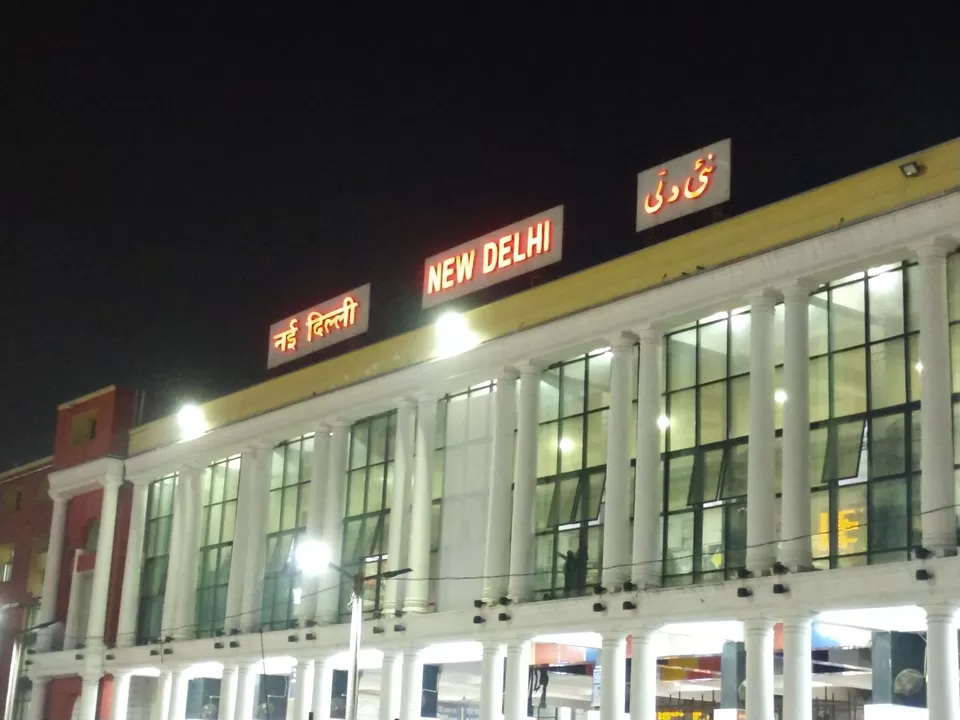 Day 3:
Plan : Reach Haridwar and inquire for treks.
We finally reached Haridwar at 4.00 am on 3rd day of our trip. The moment I got down of the train I felt chilled breeze on my face and just in few seconds I realised what the winter of Uttarakhand means.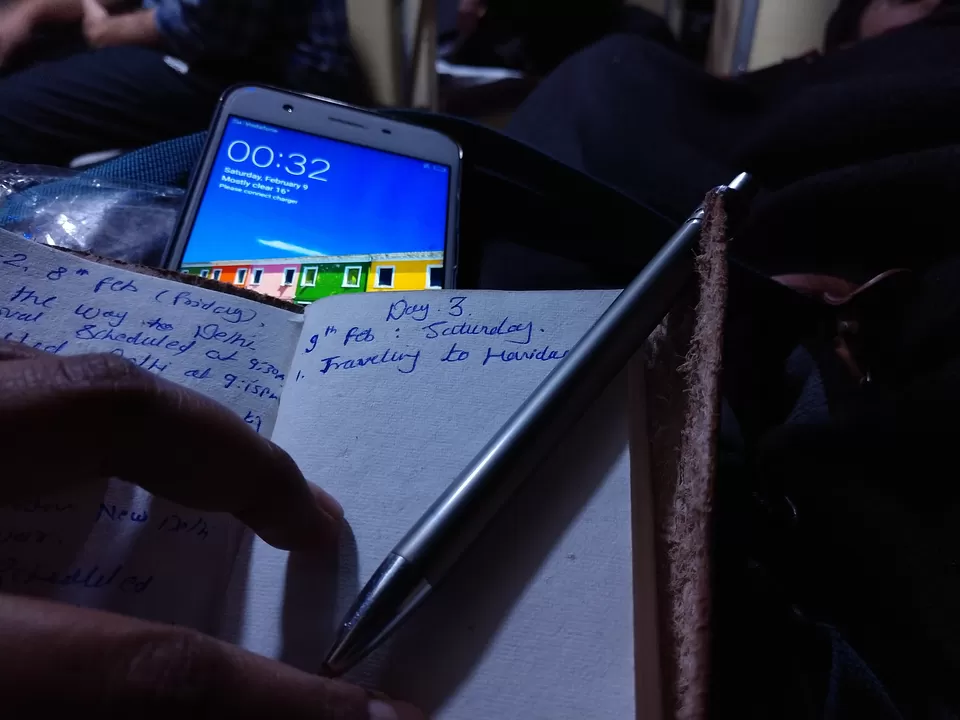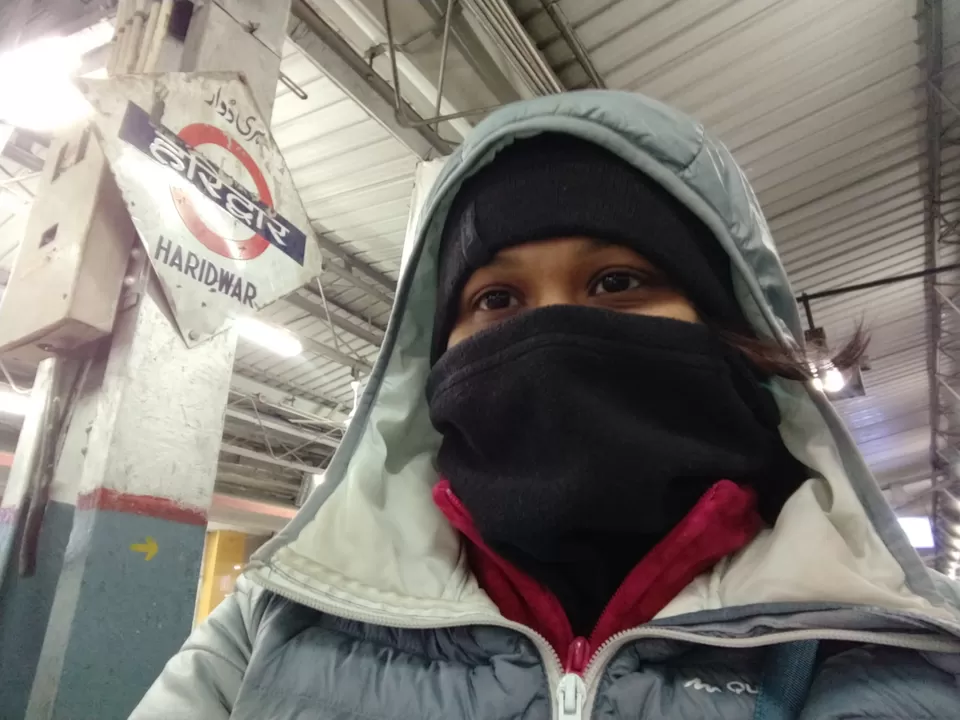 Even after 2 days of continuous travel I was not feeling tired at all. I was happy and excited to finally be there. Had some tea and took a walk on the station. I avoid stepping out in the new cities in dark so waited till 6.30am and then left for hotel.
About Haridwar : Haridwar is the headquarters and the largest city of the district.
It's very well connected to main cities of india. Haridwar is one of the seven holiest places to Hindus. It's also one of the four holy sites where Kumbh Mela is celebrated every 12 years. Millions of pilgrims, devotees, and tourists congregate in Haridwar to perform ritualistic bathing on the banks of the river Ganges to wash away their sins to attain moksha.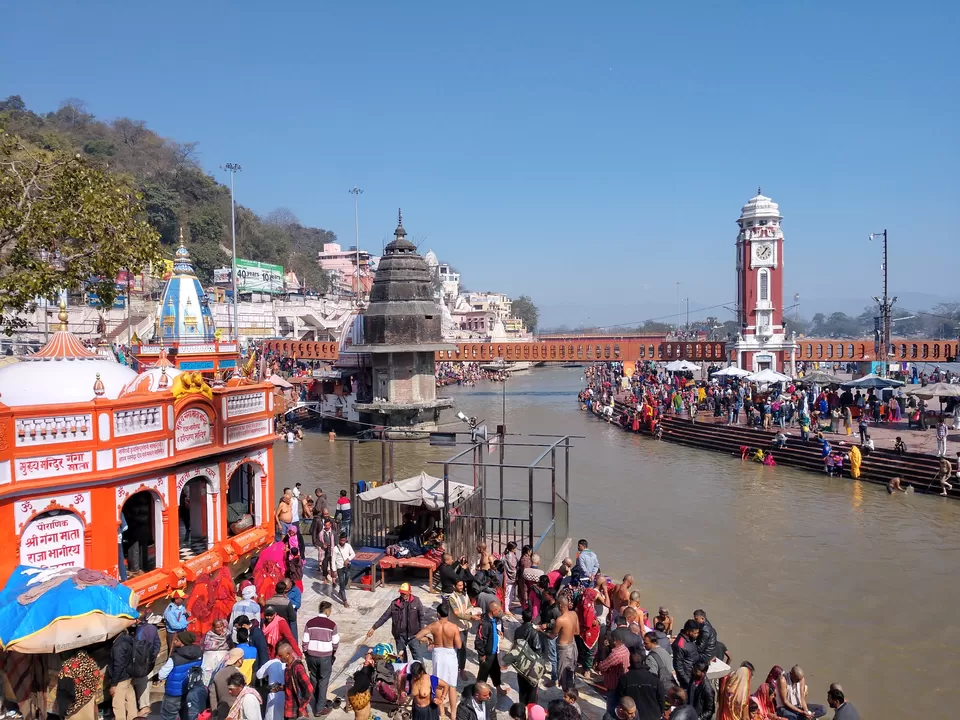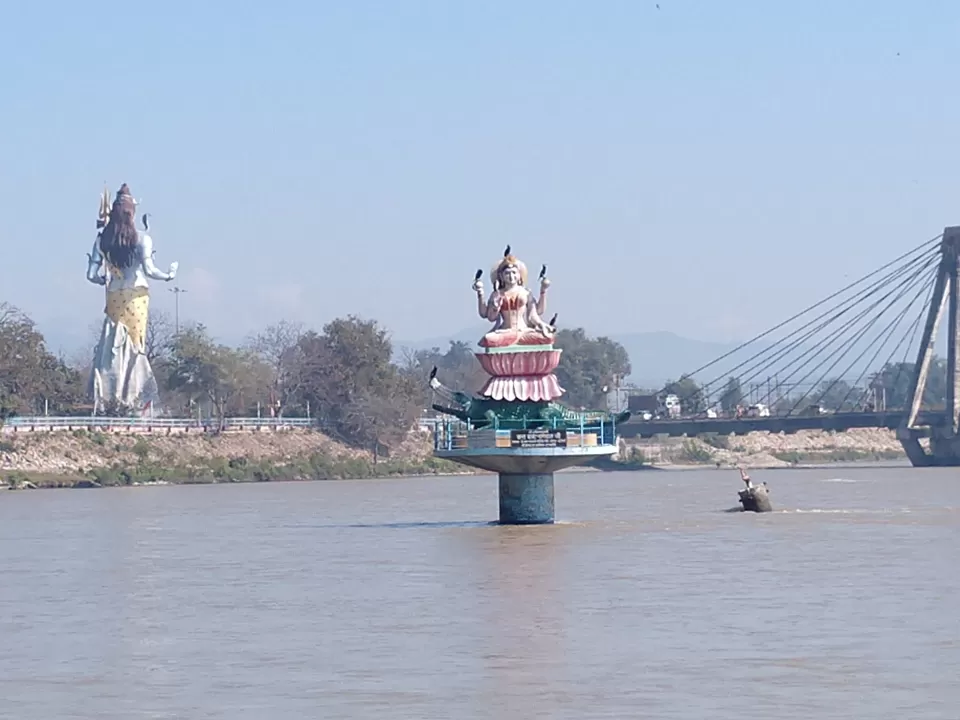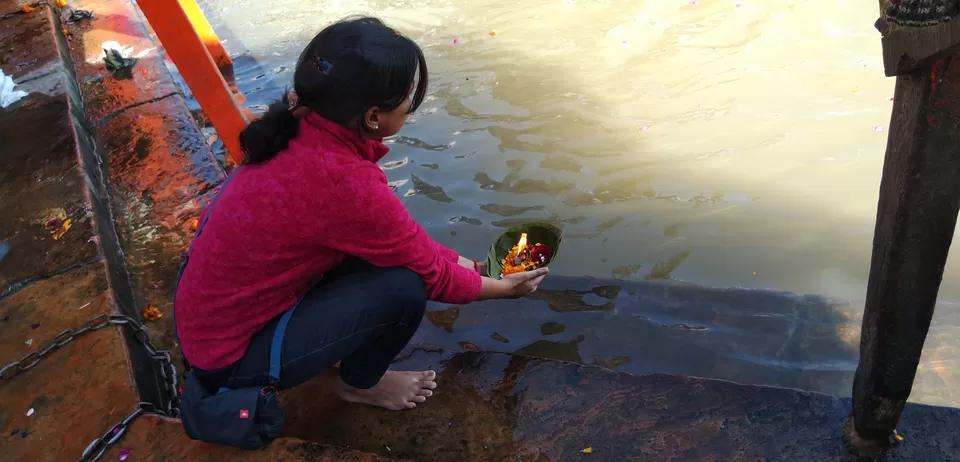 We spent some time at Har ki Pauri Ganga Ghat and left for Rishikesh at around 1.00pm. At Rishikesh, we inquired in some adventure sports offices but dint get anything. No one was ready to organise any trek.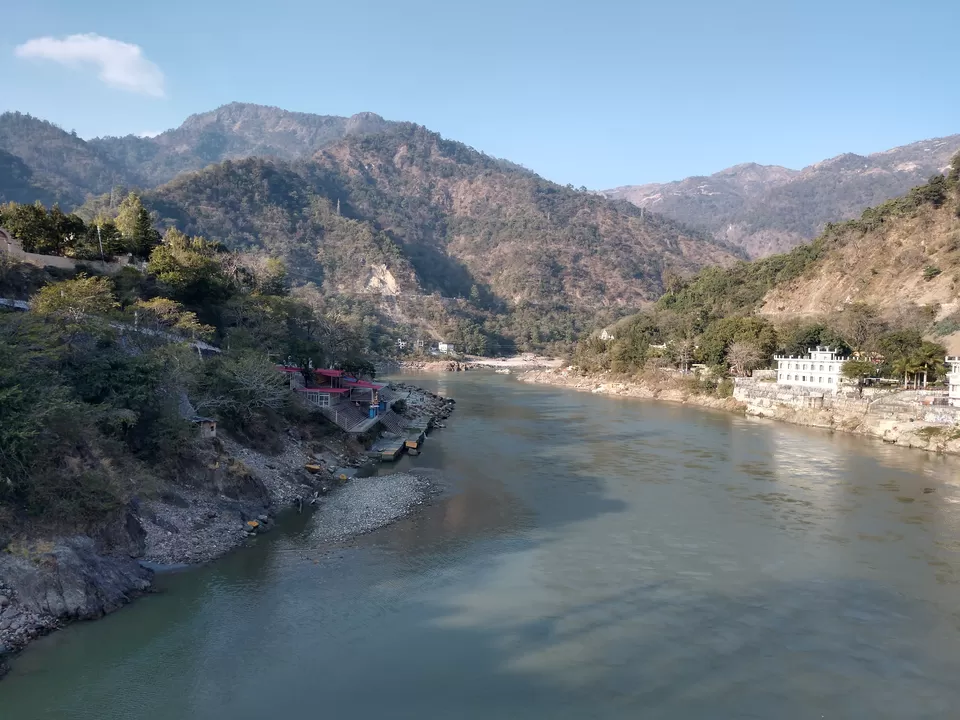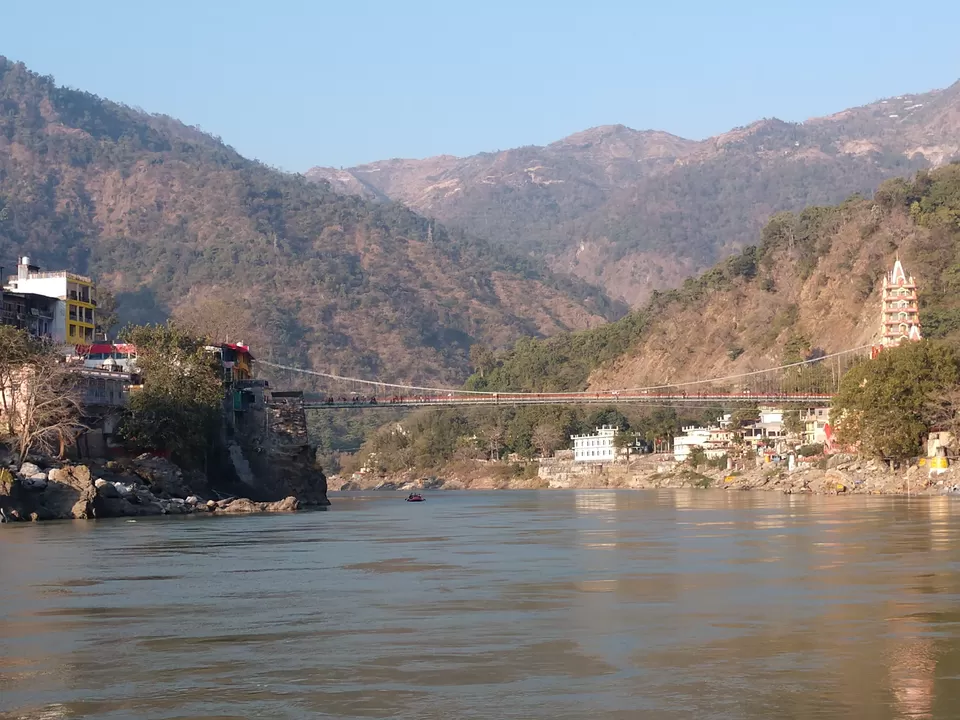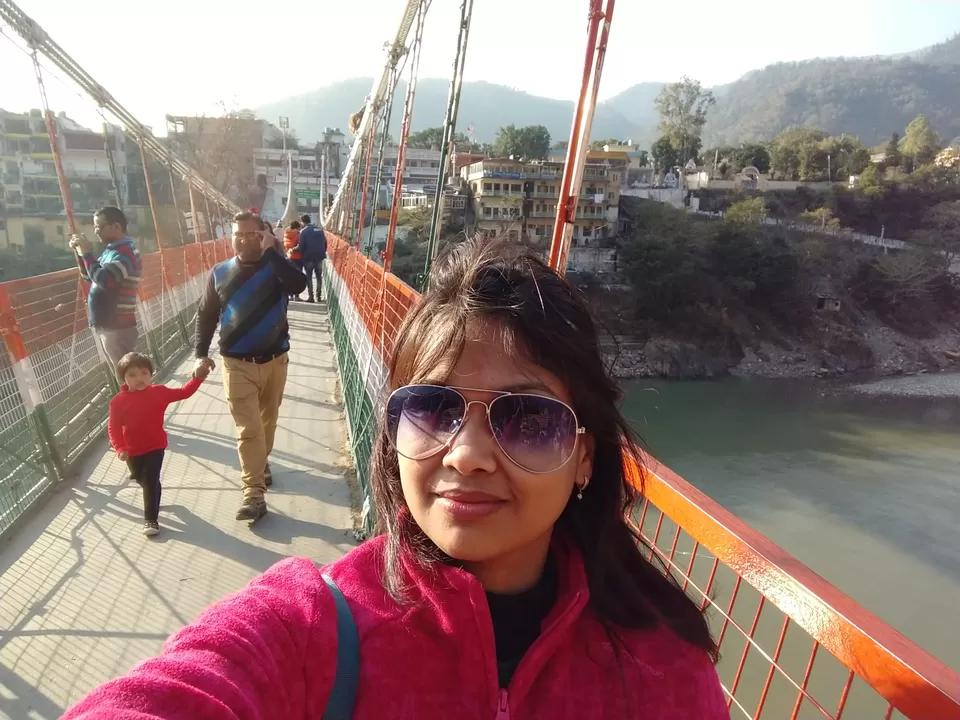 We came back to Haridwar at around 8pm.
Total Cost For the Day:
Hotel: 1150/-
Local Transport: 130/-
Day 4:
Plan: Explore Rishikesh and plan the trek.
We packed our bags and left from the hotel at Haridwar.Had breakfast at the famous "Mohan ji Puri wale" at Har ki Pauri and left for Rishikesh.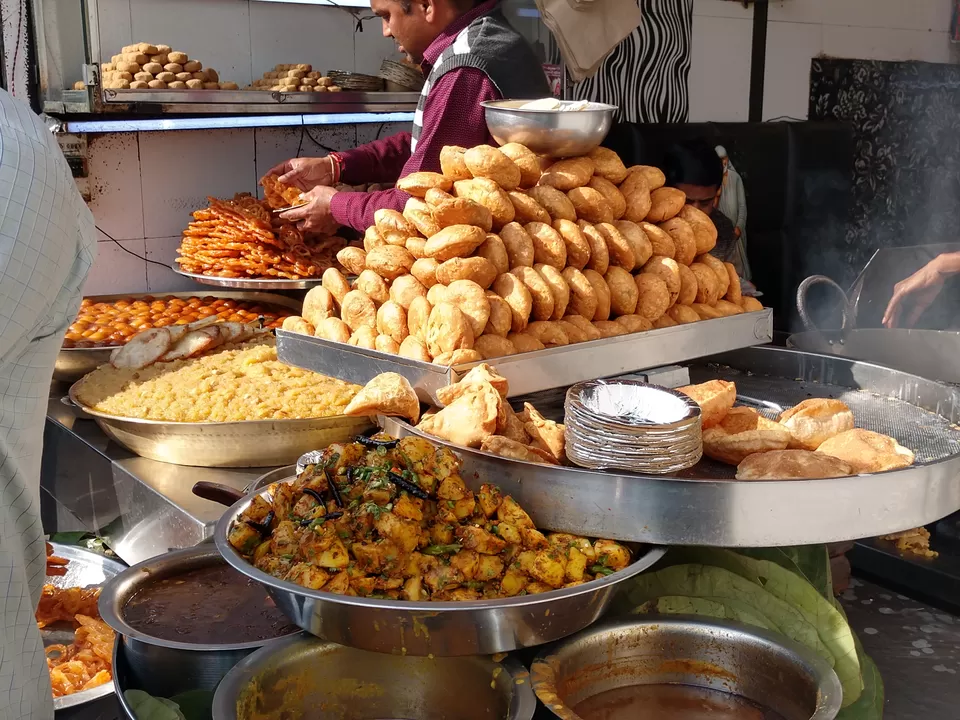 Travel: Haridwar to Rishikesh via sharing auto (boarded at 1pm)
Travel Duration: 1hr (25 Kms)
Fare: 70/-
About Rishikesh: Rishikesh is the city of adventure. It's just 25 kms. From Haridwar. It's known as the Yoga Capital of the world. If you want a peaceful break from your routine life and looking for a meditation site, then Rishikesh is the place. There are many temples, ashrams, Yoga and massage centres. If you are an adventure lover then you must try bungee jumping and river rafting in Rishikesh.
Things to do in Rishikesh:
• River Rafting
• Camping
• Adventure Sports
Places To Visit In Rishikesh:
• Triveni Ghat
• Lakshman Jhula
• The Beatles Ashram
• Ram Jhula
• Parmath Niketan Temple
As soon as we reached Rishikesh, we parked our bags in hotel rooms and left to inquire for treks. But all in vain, we dint get any organisors.
Some of my friends went for rafting and I went to Triveni ghat to attend Ganga Aarati.
Ganga Aarati at Rishikesh :
Ganga Aarati Timings – 6.00pm to 7.00pm. No Fee. Sitting arrangements available.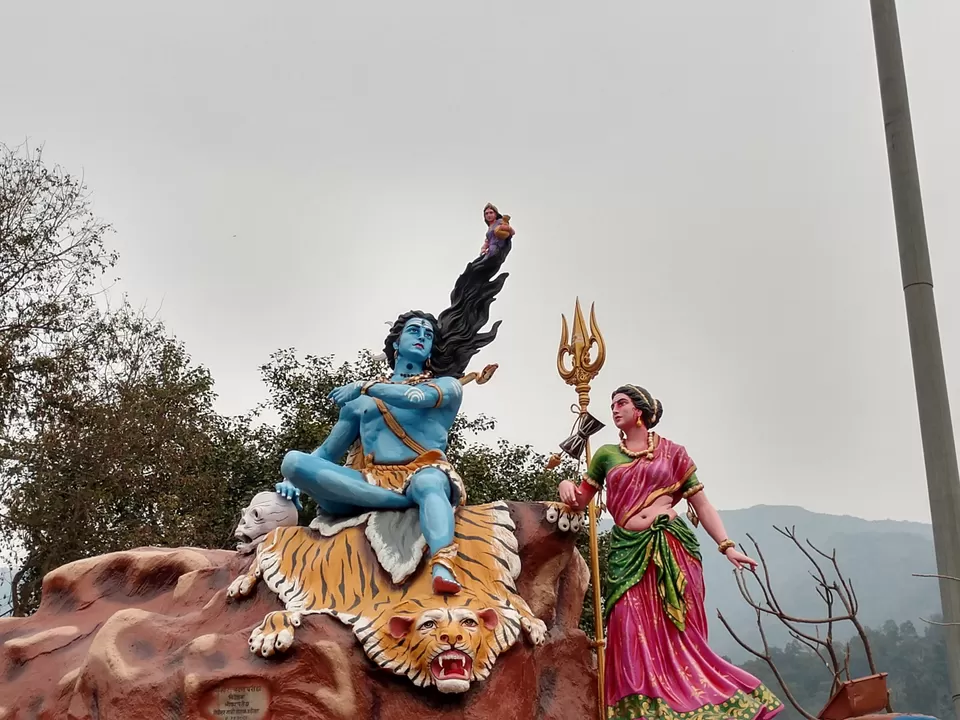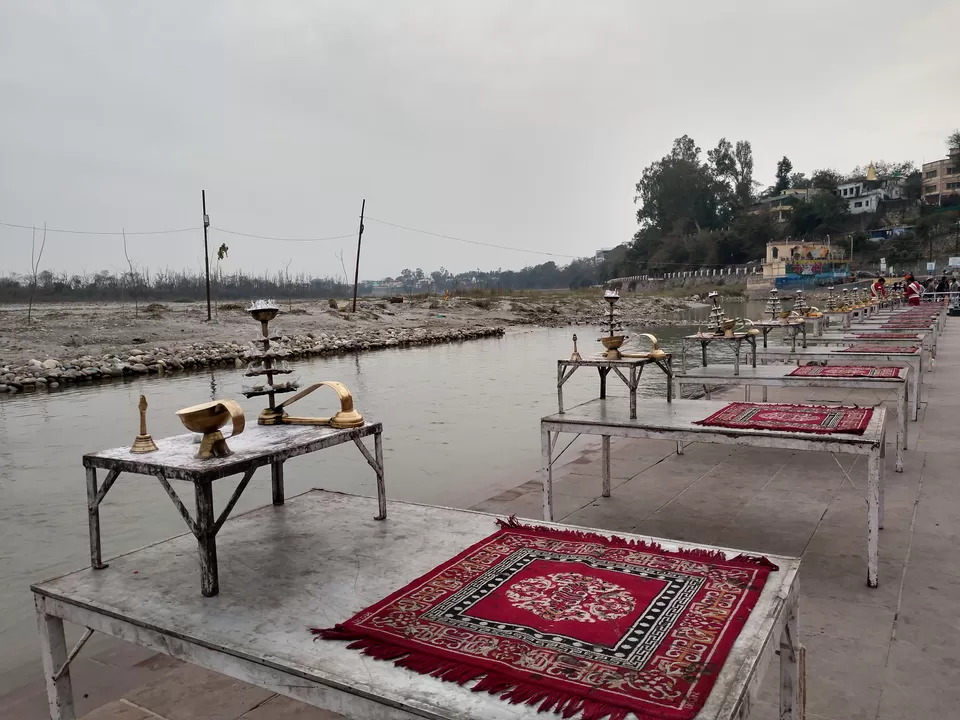 You can sit calmly and witness the ritual or join the crowds singing Bhajans with them.
The ceremony commences with the singing of bhajans, prayers, and a purifying and sacred ritual that takes place around a fire, with the offerings made to Agni, the fire god. The lamps are lit and the aarti takes place as the final part of the ceremony.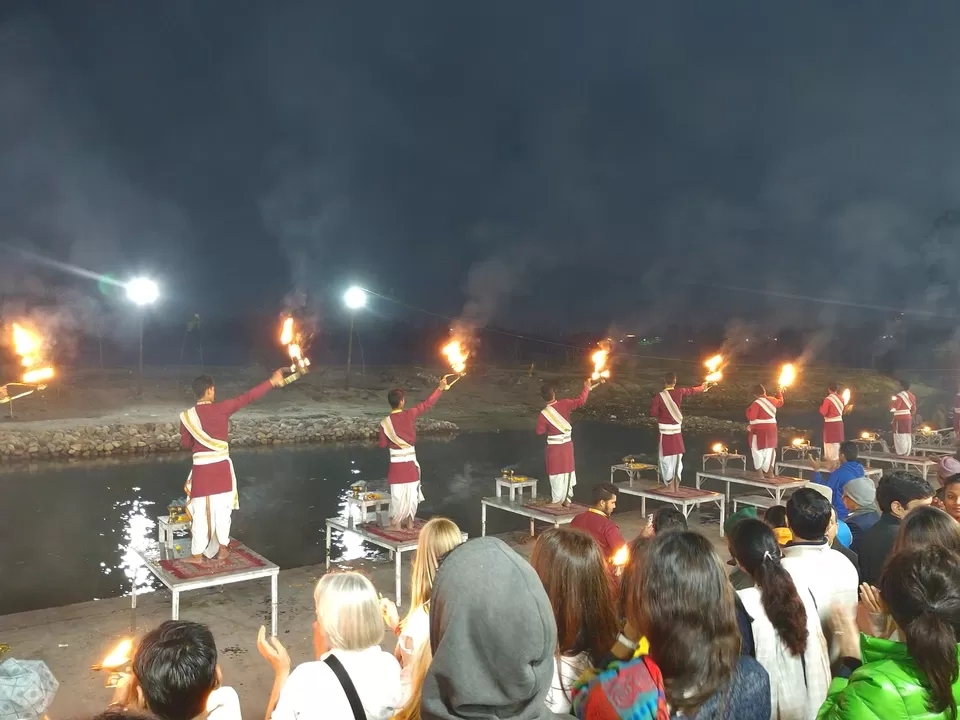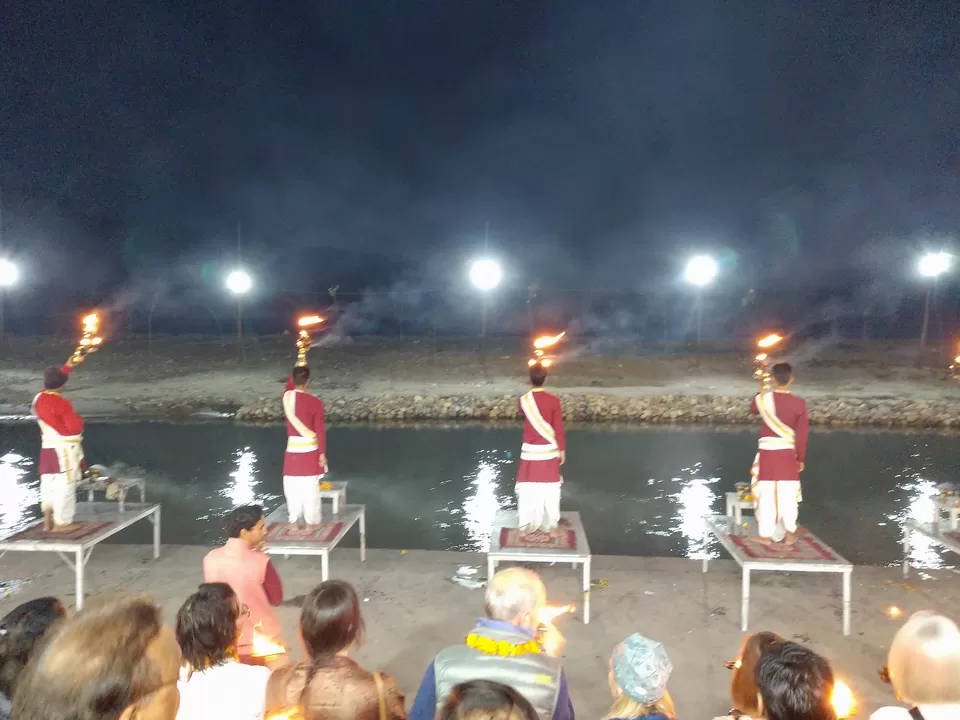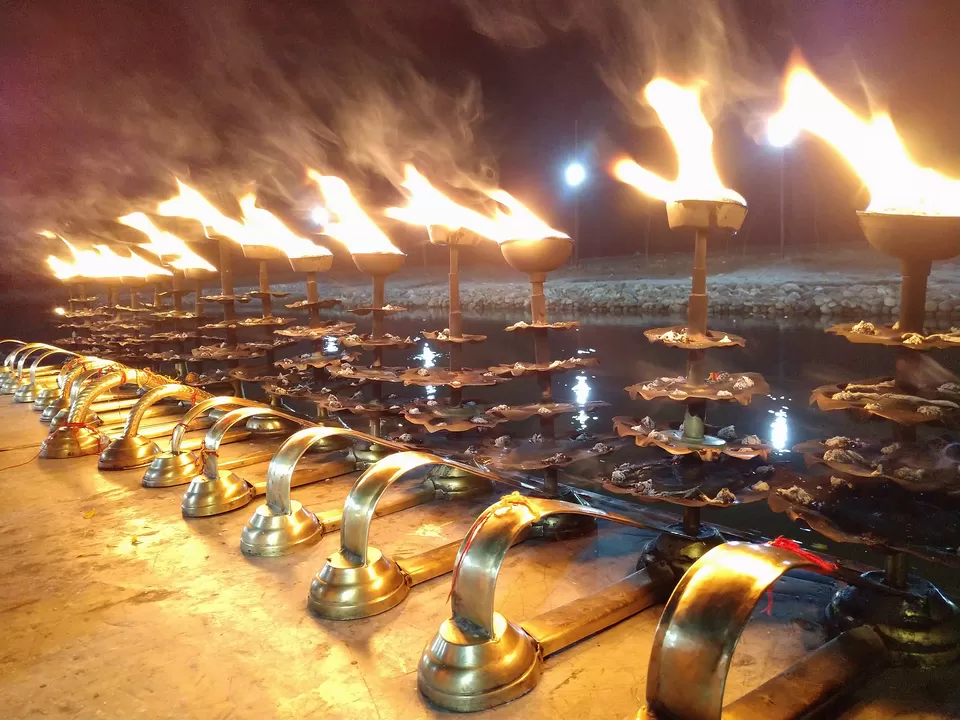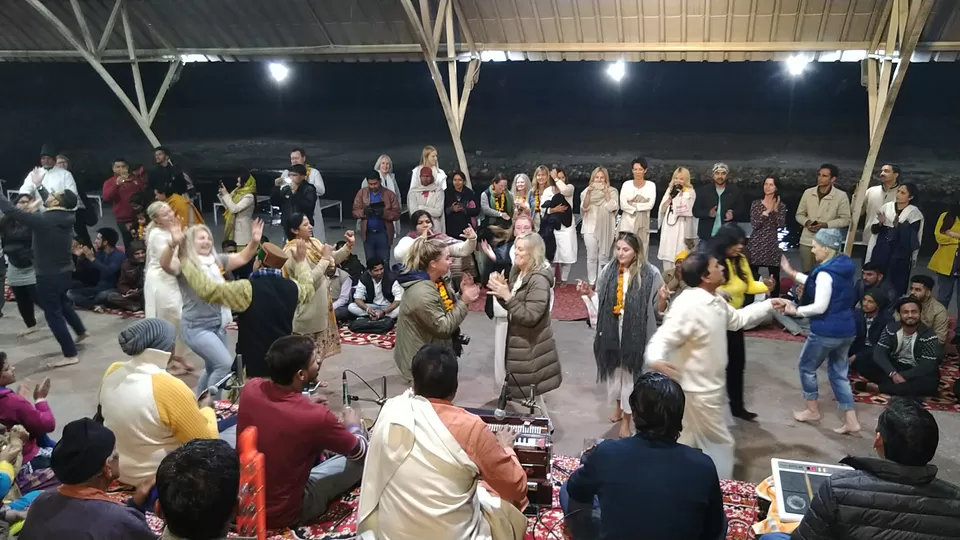 After shopping and having some delicious local food we reached hotel and planned a trek to Deoria Tal. Its around 9000 Ft and was the only accessible trek in that week.
We planned to first reach at the base village called Sari, complete the trek and check if someone can take us to the Chandrashila peak. It's one of the best treks in the same region.(Greedy people! We want more.)
Total Cost For the Day:
Hotel: 900/-
Local Transport: 100/-
DAY 5:
Plan : To cover the maximum distance to reach Sari village located at a distance of 192 kms from Rishikesh.
Rout : Rishikesh - Devprayag – Rudraprayag – Ukhimath – Sari – Deoria Tal
Travel 1 : Rishikesh to Devprayag via bus (Private bus, boarded at 1.00pm)
Bus Fare: 100/-
Distance : 130 Kms
Travel Duration: 3 hrs
In Uttarakhand, in these areas driving is strictly banned after 7pm. only a few vehicles can be seen on the roads after 7 pm. If you want to catch a bus for any town better to start early in the morning. Its very difficult to get conveyance after 2pm.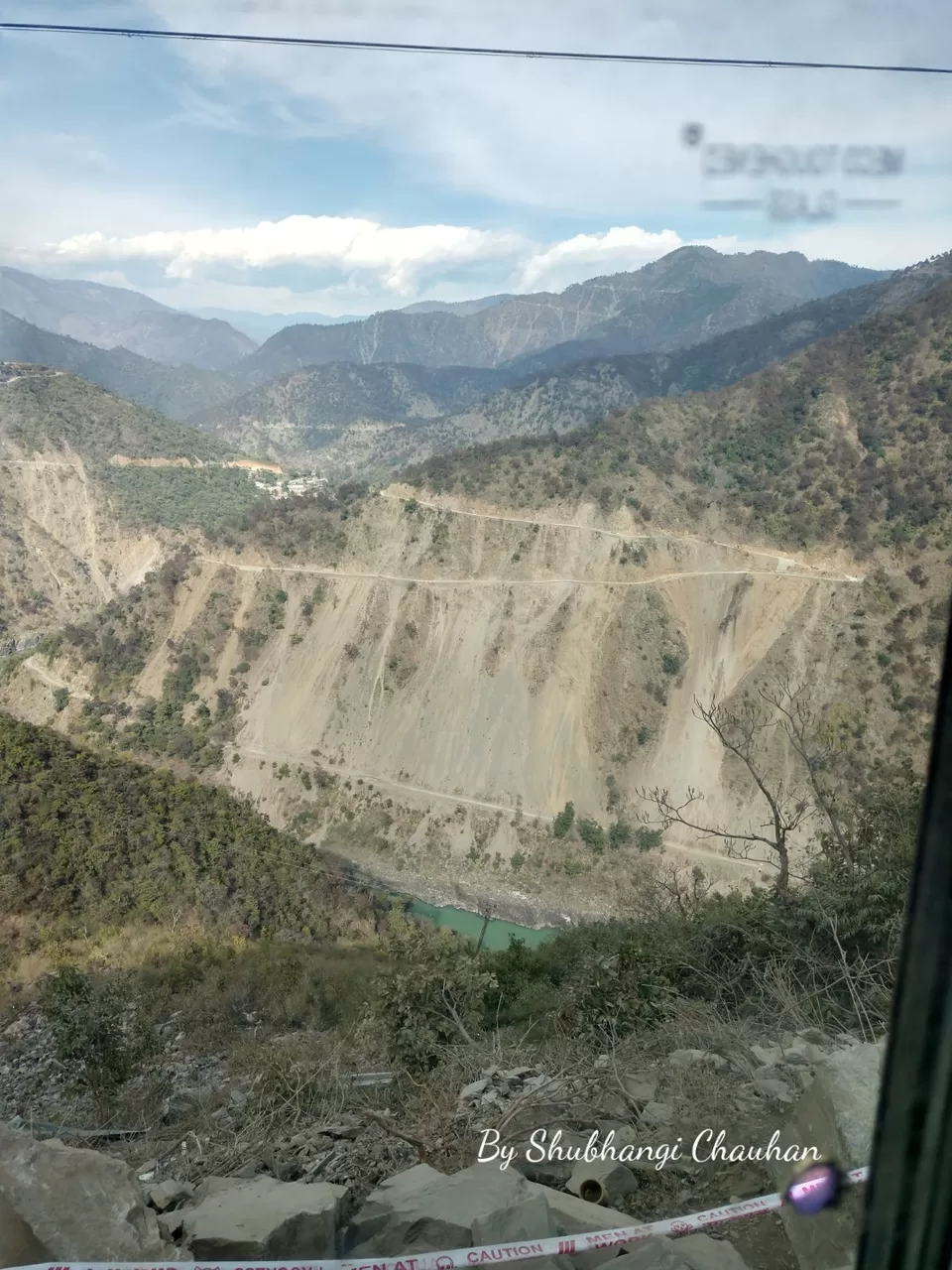 As we boarded our bus at 1.00pm it was completely packed. We went all the way standing.
After 3 hrs, we got down at Devprayag to visit the Prayag site. This site is just infront of the bus stop.
About Devprayag : Devprayag is known as the birthplace of Ganga. Here, rivers Alaknanda & Bhagirathi confluence and take the Name Ganga.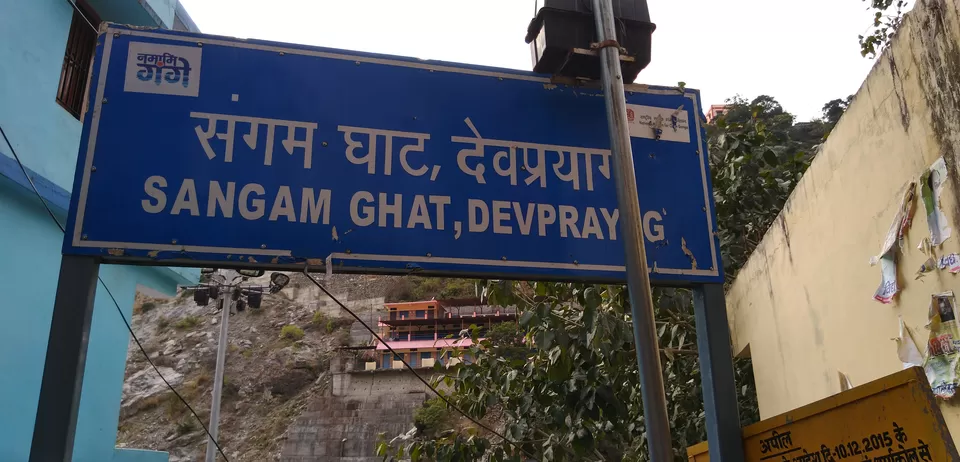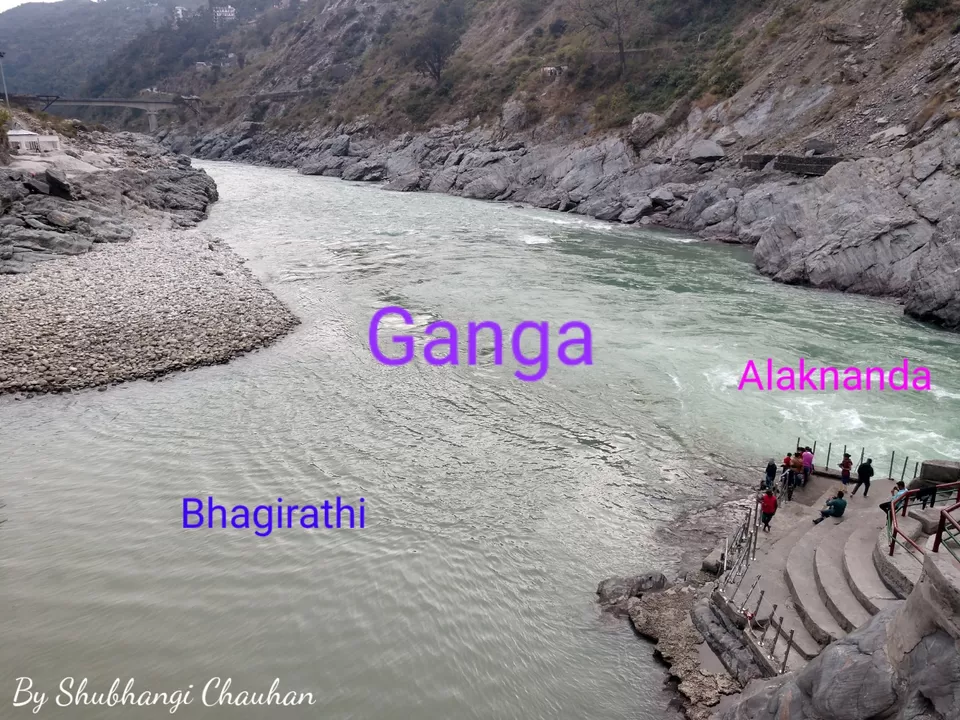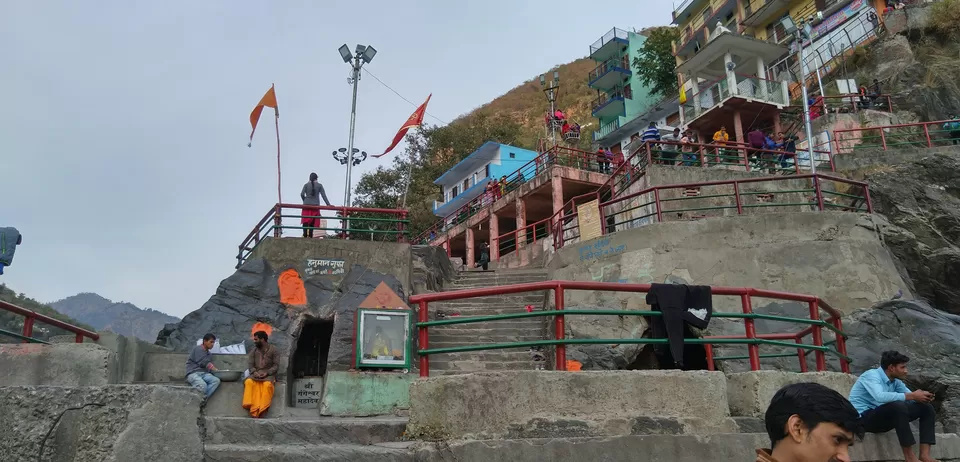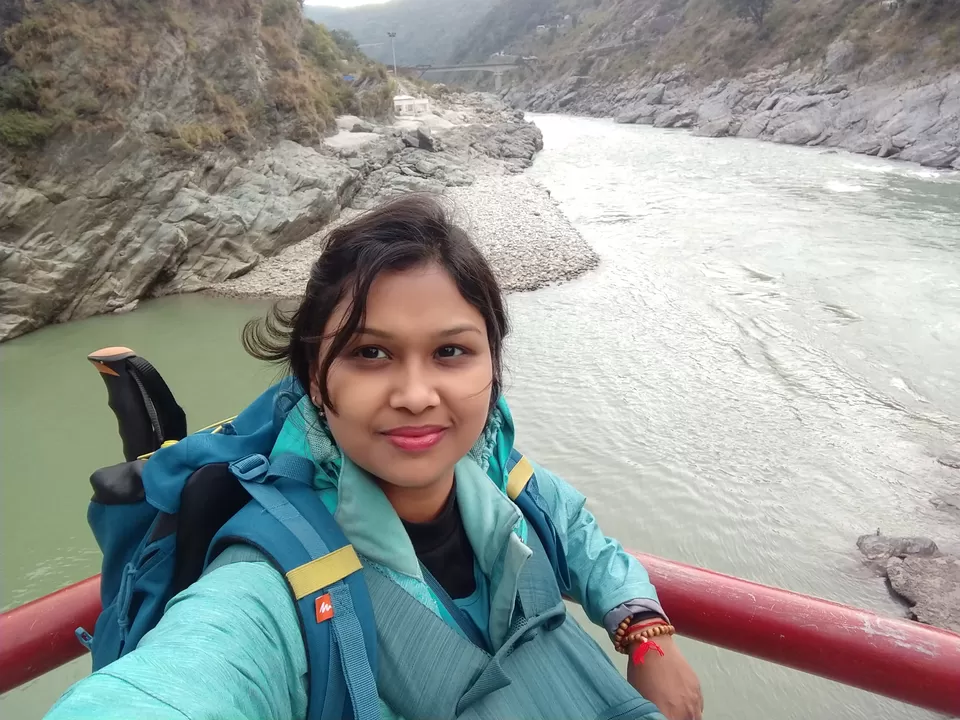 After quickly visiting the site in around 1.5 hrs, we boarded a private shared jeep to reach Rudraprayag.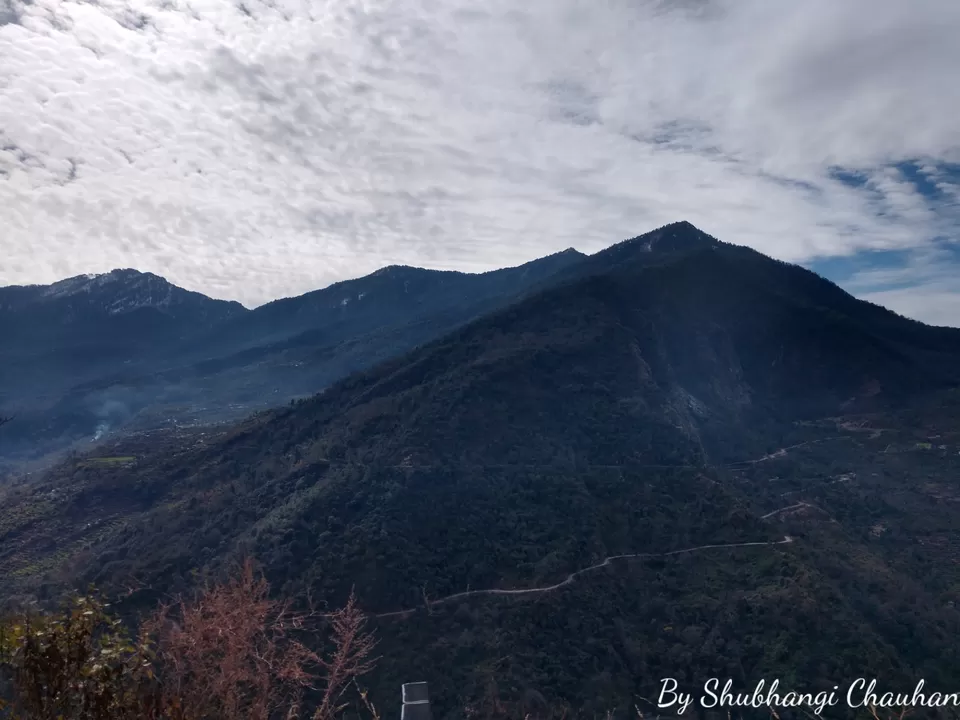 Travel 2: Devprayag to Rudraprayag via jeep (Sharing Jeep, boarded at 5.45pm)
Fare: 150/-
Distance: 50 Kms.
Travel Duration: 2 Hrs.
Due to a boulder on the way it took us additional 45 mins. We reached Rudrapyarag at around 9.30 pm.
We could not travel further, and had to stay in a lodge for the night. Days are too short here. Markets get closed by 8.00pm, cant travel in the nights. It's a big disadvantage. I usually like to travel in the nights to save time and accommodation cost.
But it's not possible here...Its Uttarakhand!
Total Cost for the Day:
Transport: 250/-
Lodge Charges: 400/-
Day 6:
Plan : Reach Sari village and complete Deoria Tal Trek and plan for Chandrashila trek.
Travel 1: Boarded a press jeep at 6.30 am for Ukhimath.
Distance: 45 Kms.
Duration: 2.15 Hrs
Fare: Rs 100/- (Shared Jeep)
Though I travel a lot but I have severe motion sickness problem. I take tablets during most of my travels, and on these wavy roads I had to take medicines for every single travel. This travel from Rudraprayag to Ukhimath was the worst among all.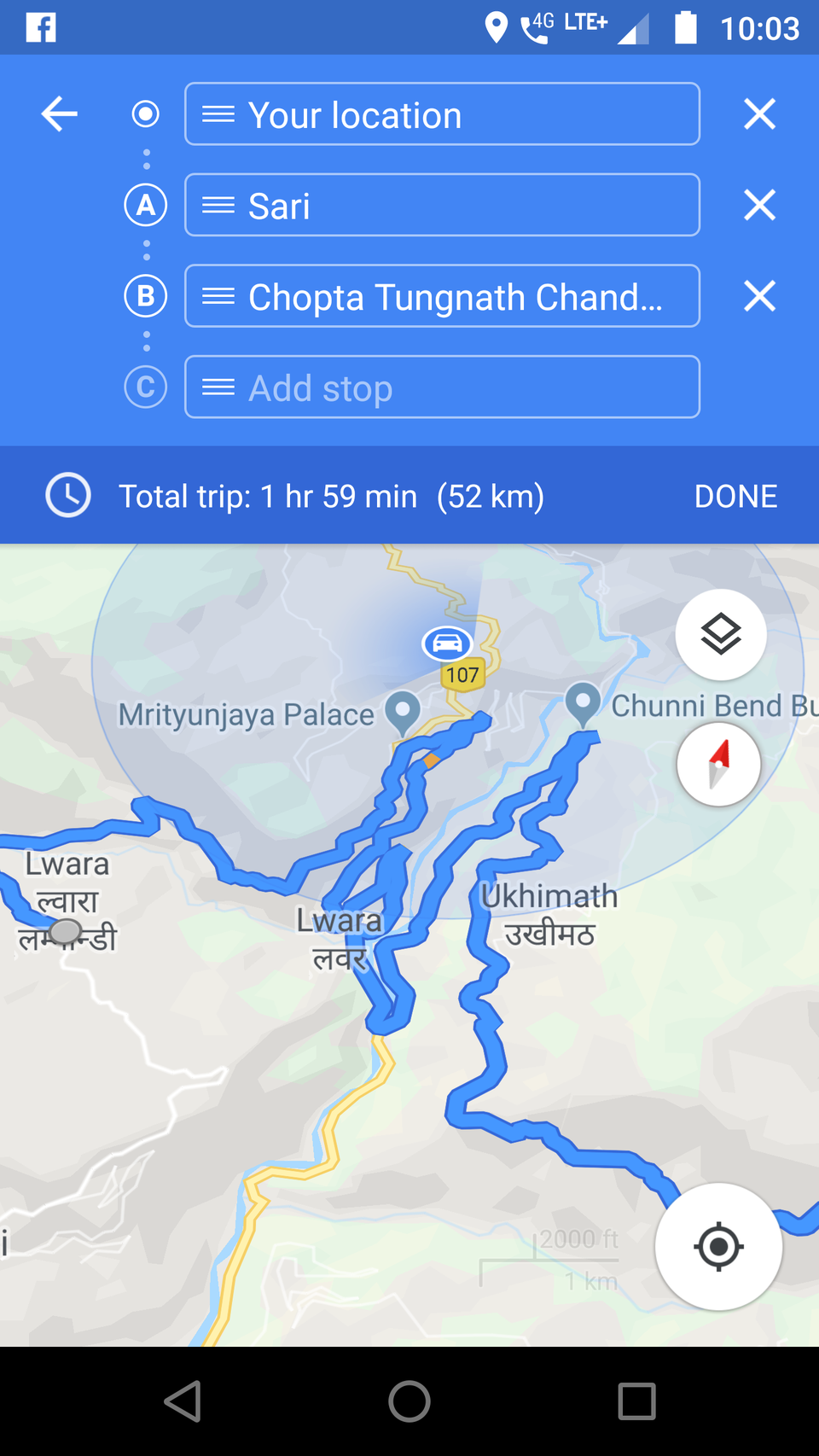 After reaching Ukhimath at around 9.00am we spoke to some localites about the weather, snow fall and after getting a go ahead from them we started looking for a conveyance to reach base village, Sari.
About Sari : Sari village, located at 6,601 ft thrives on farming and livestock rearing. Being a remote village, no regular transport is available. You have to book a personal cab to reach at the village.You get a perfect view of Chandrashila peak from the village.
Travel 2: Ukhimath to Sari
Distance : 25 Kms.
Duration: 30 Mins
Fare: 400/- (Personal hired cab)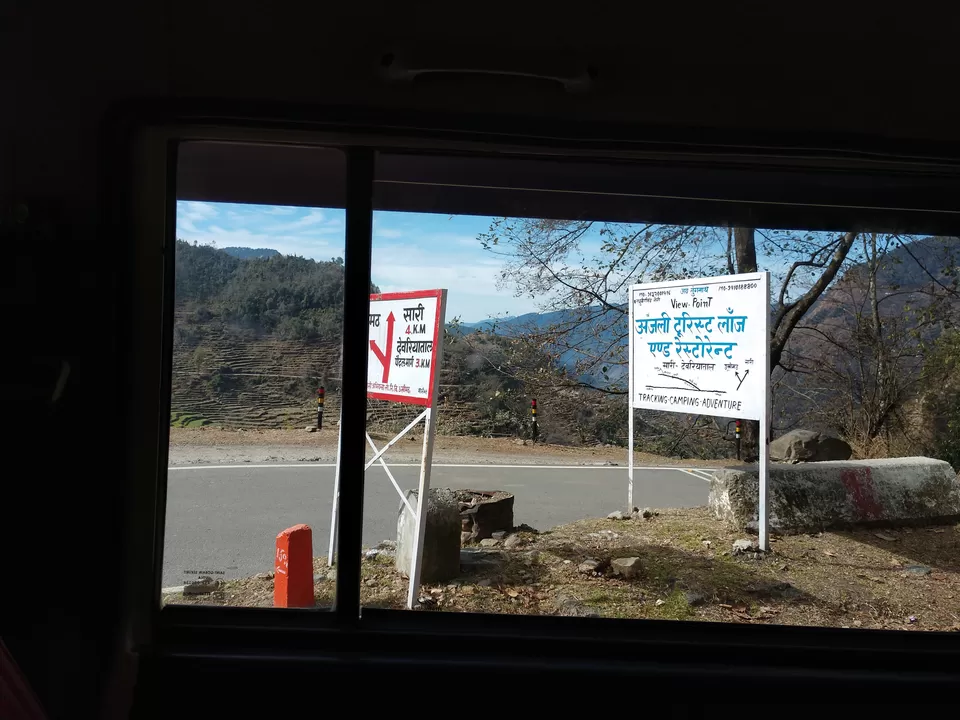 This trip small journey from Ukhimath to sari turned to be lucky for us. While talking to the driver, I told the whole story of our trek cancellation. Luckily, he knew a Sherpa (Local Himalayan guide). We called him and planned a meeting in the evening at a village nearest to Chandrashila peak trek base.
Soon we reached Sari and started our trek to Deoria Tal.
About Deoria Tal Trek:
Distance: 3 Kms Trek
Difficulty Level: Easy
Duration: 3 Hrs
It's a very simple and scenic trek. can be climbed in 1.5 hrs. You get the views of Chaukhamba and Kedar range mountains from the top. Chandrashila, the mountain I was hoping to trek the vary next day was right ahead of me.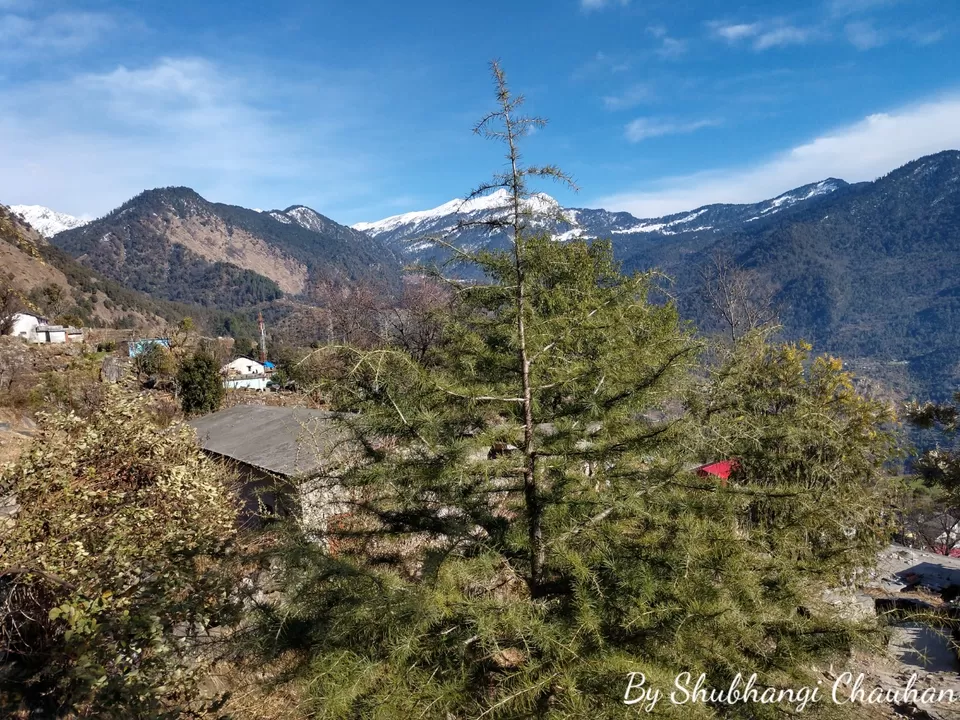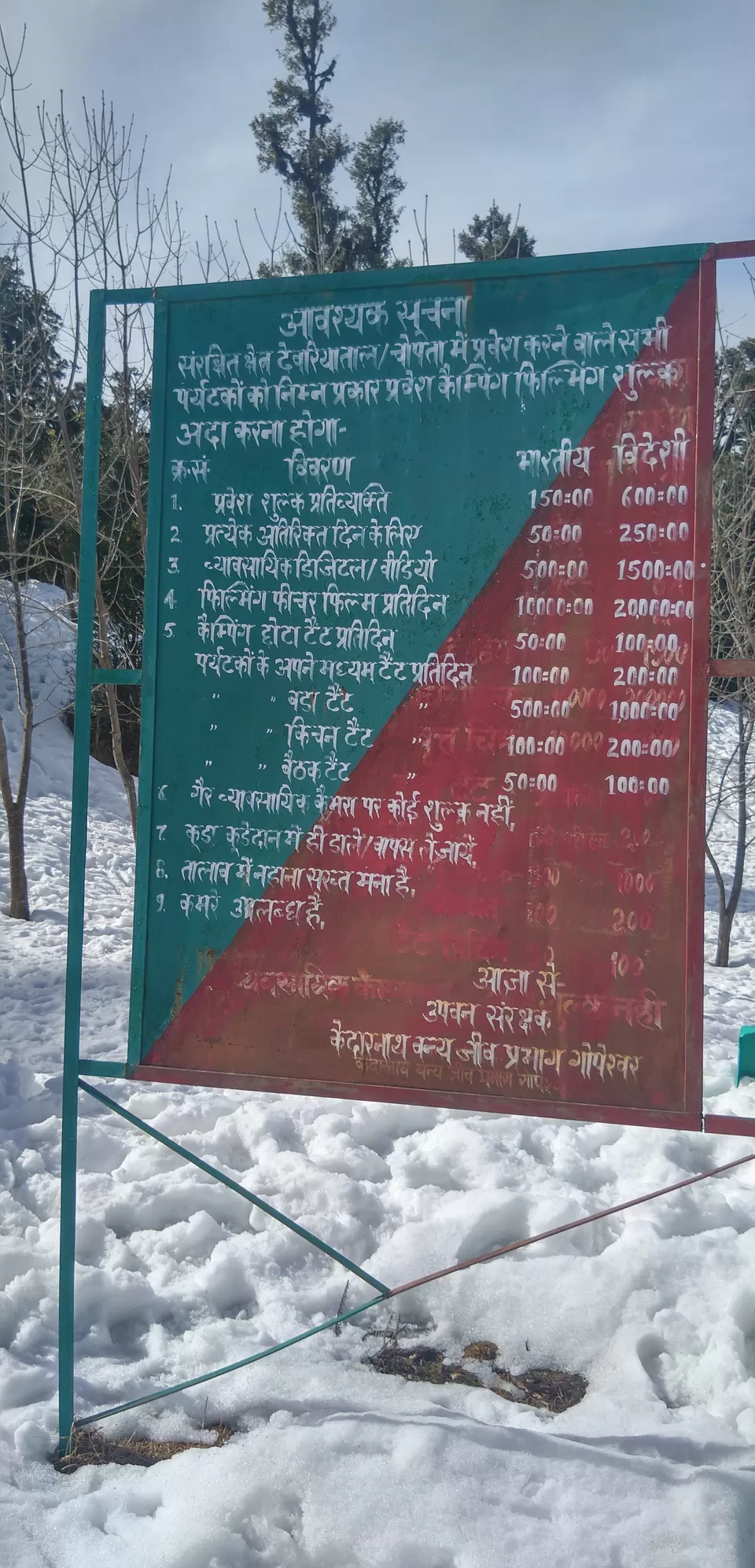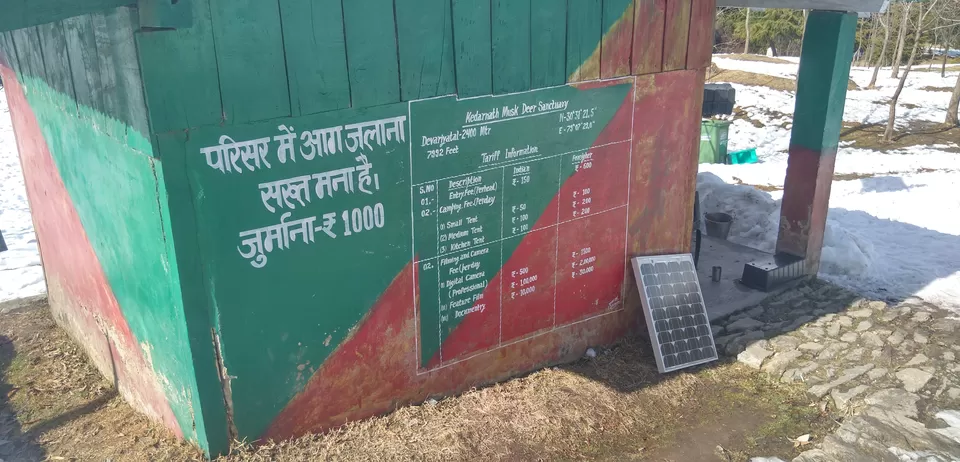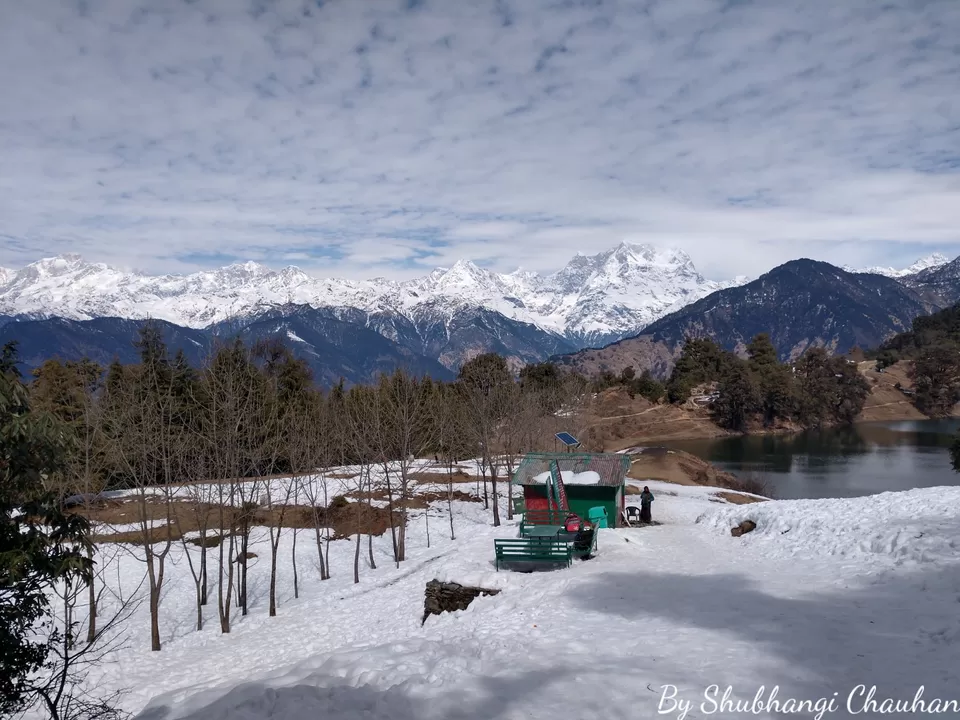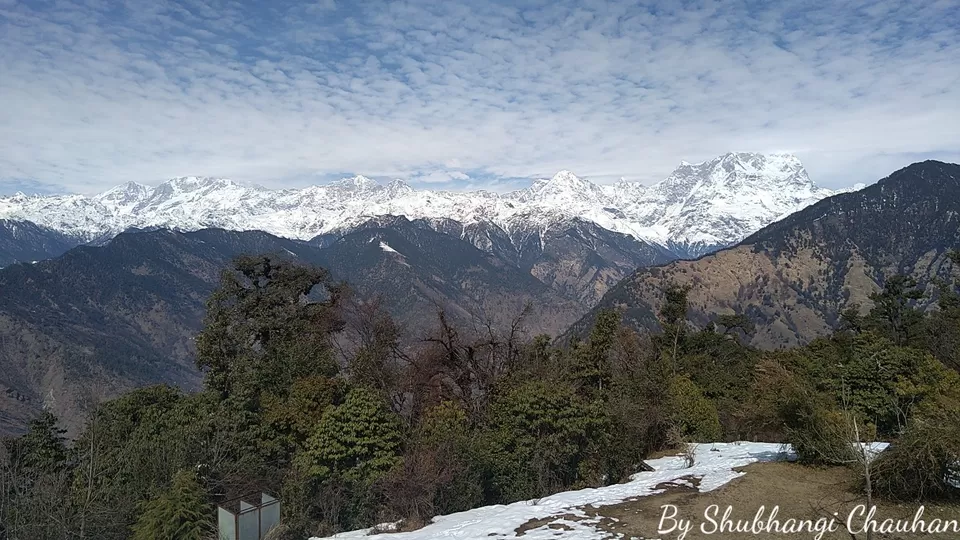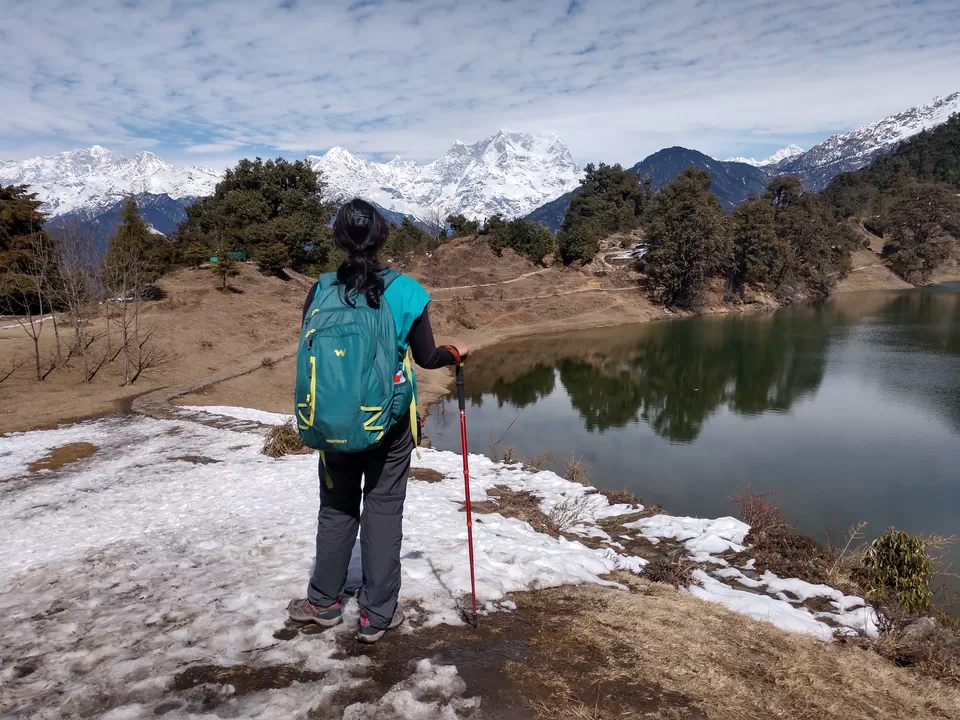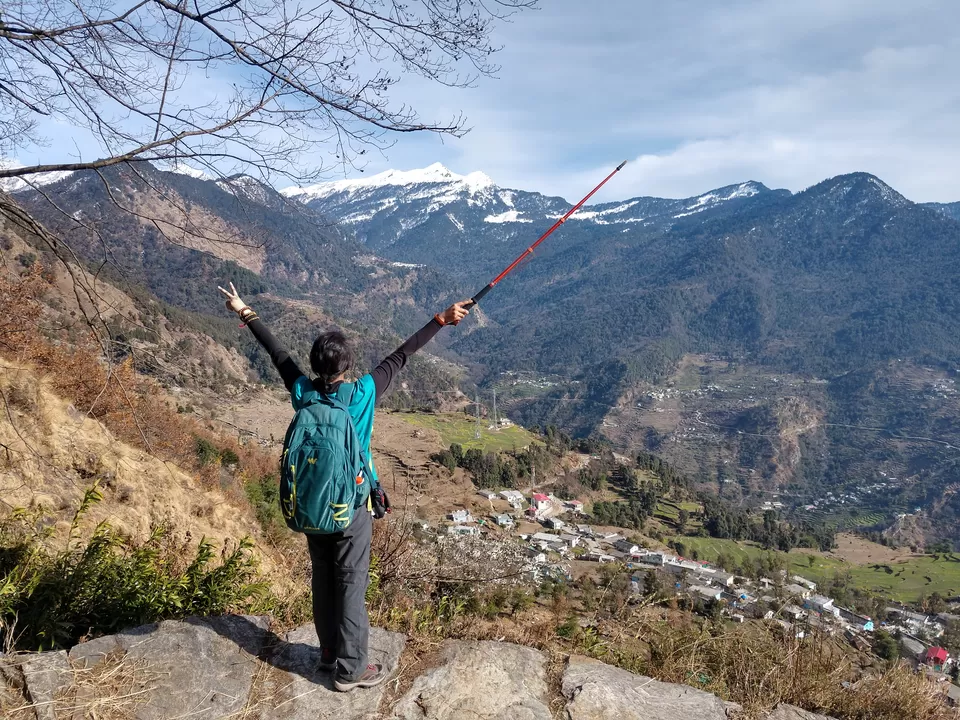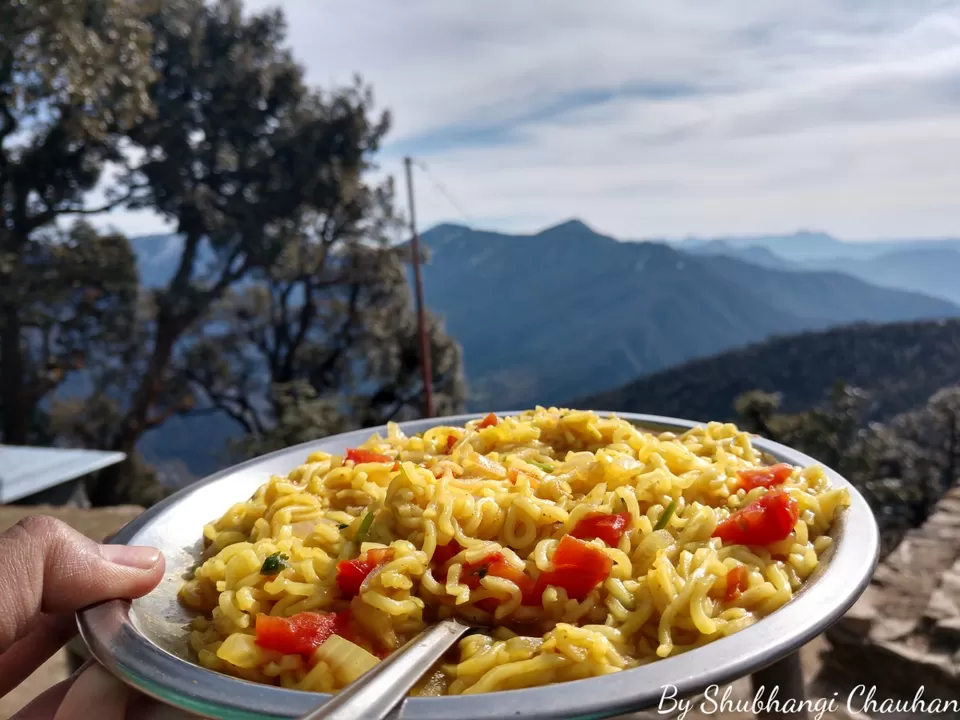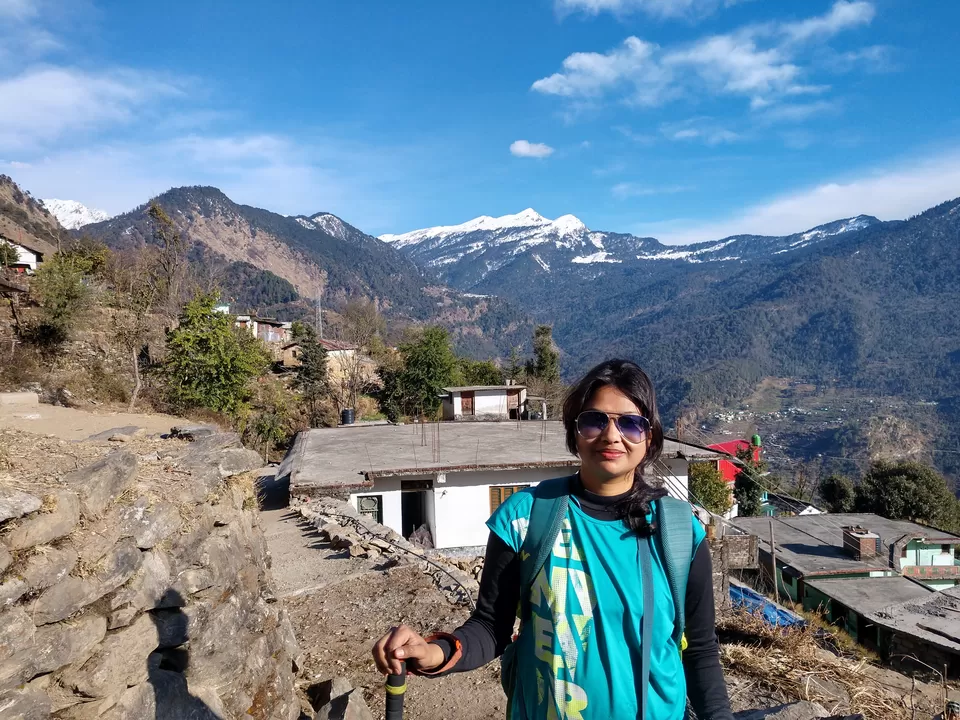 We spent a lot of time staring at the Himalayan mountains up there and came back at base at 4.00pm.
Travel 3: Sari To Dugalbhitta (Dugalbhitta is 8 Kms before Chopta. We could not go till Chopta village as it was not accessible. Roads and the whole village was covered under thick snow).
Distance : 45 Km
Duration: 1 hour
Fare: 1000/- (Personal hired cab)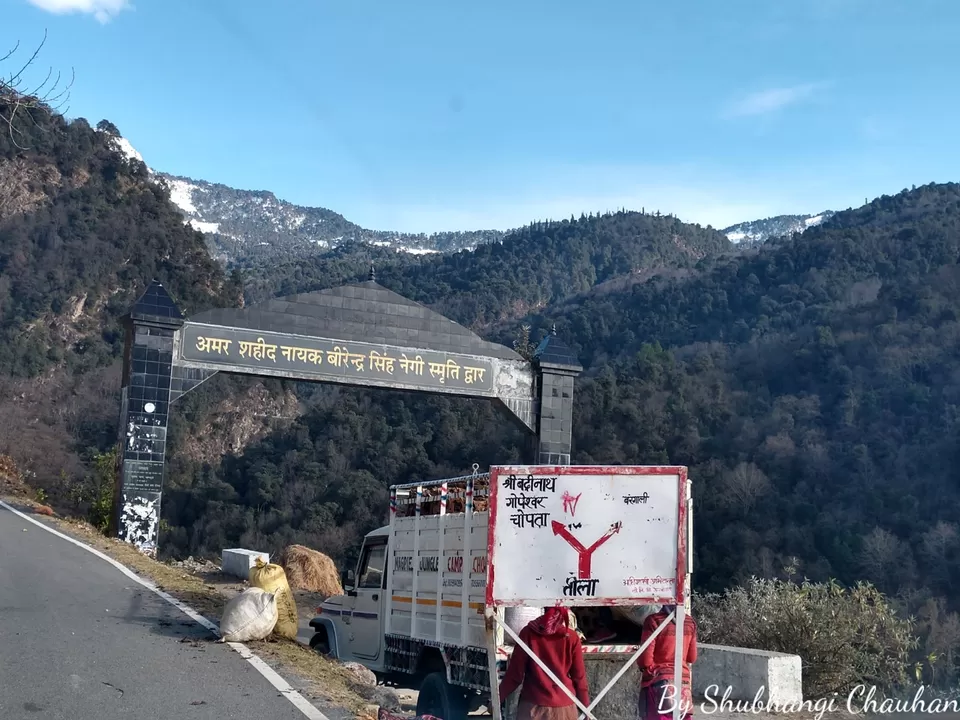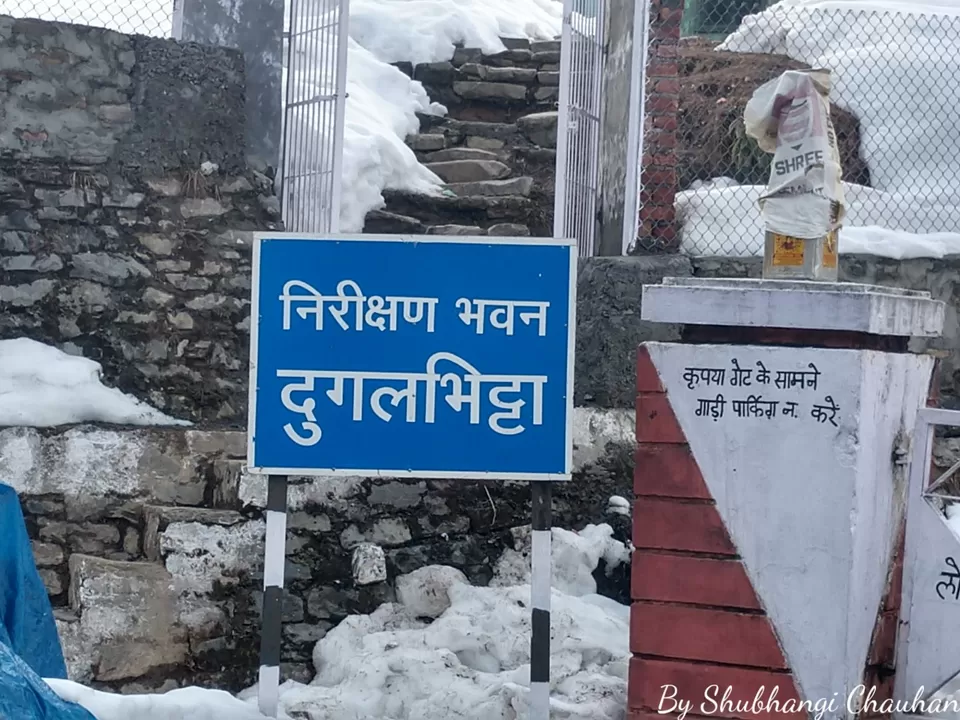 About Dugalbhitta : We reached Dugalbhitta at 6pm. That's another remote village. Dugalbhitta means space or location between two mountains. And the location of Duggalbitta is exactly the same surrounded two mountains and providing the perfect hamlet for birds, streams and meadows.I could see some snow covered campsites and a few houses & small hotels. Dugalbhitta receives heavy snow fall every year and this year it was a 5 year record breaking snowfall in the region. You can imaging the situation.
Cab driver helped us to book a room in a small hotel.
During this season , Feb 2019 the whole village was surviving on solar power. There was no electricity. According to villagers this is an off season and usually there is no electricity in the village during winters. They gave us some emergency lights to use inside the rooms with limited batteries and instructed us to use them only when required. Also, the water in the taps had frozen so they gave us some water in buckets separately.
People like us come to such places only once in a while that too only for a day or two. Still it's difficult to manage. I wonder how these people survive there with limited sources of water and electricity.
I was tired that day because of trek, travels and extreme low temperature. My body starts swelling in such climate. I removed my gloves to have tea and within a few minutes my fingers swelled due to cold.
I entered my room to get some rest. Room was very cold, in fact everything was too cold to touch. I opened a window, and i saw heaps of snow all around. It was a beautiful black and white world. I had never seen that much of snow ever in my life.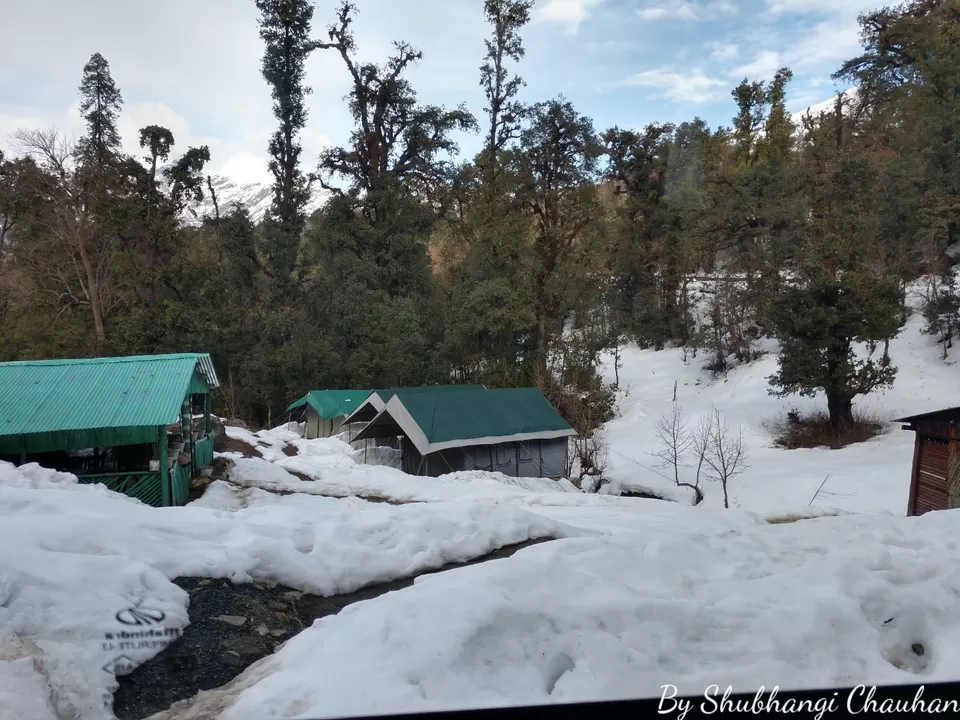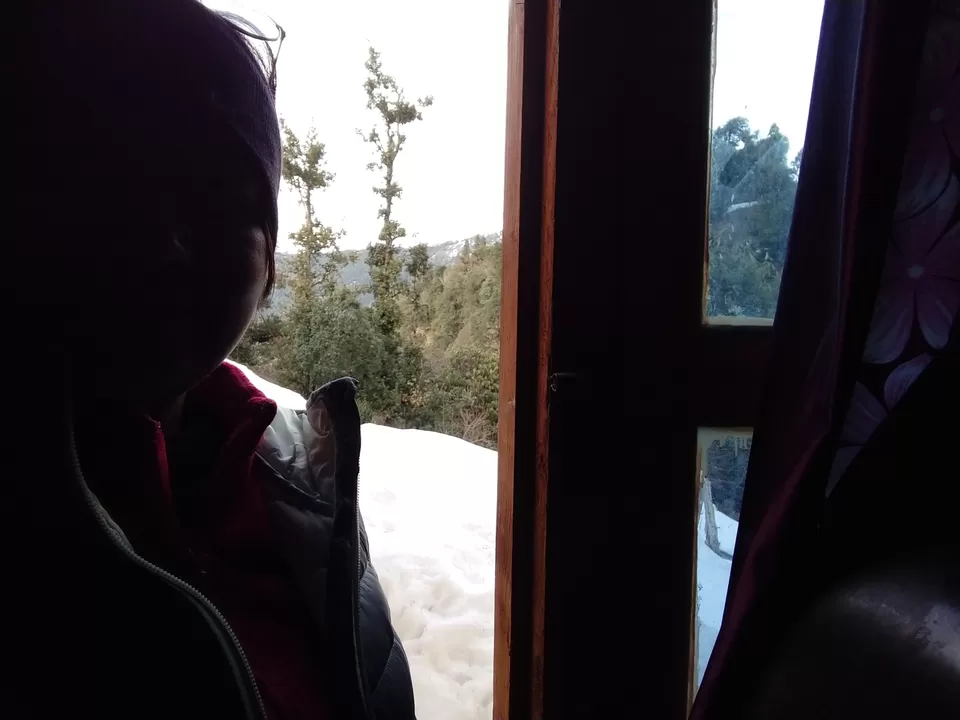 I wanted to wash my face but removing gloves was itself a challenge forget about touching the water. I switched off the emergency light and got into the blankets.
I swear, getting up from the bed and touching the water are the two most difficult tasks in such places. I am not a morning person and here in the minus temperatures I was managing to wake up early in the morning, travel in the buses (with avomine tablets off course), walk minimum 10 kms a day with two bagpacks on my shoulders and what not. but eventually i learnt how to manage. Thats what travelling teach us!
Total Cost for the Day:
Transport: 1500/-
Hotel at Dugalbhitta: 1000/-
Planning the trek –
After dinner we were waiting for the trek guide to come to plan the Trek to Chopta – Tungnath – Chandrashila next day.
About Chopta – Tungnath – Chandrashila peak :
Chopta Village : (There are two Chopta villages in this area. Do not get confused with the routs. For Chandrashila trek you should always mention full name "Ukhimath – Chopta" while talking to localites).
Chopta is A Small Region Of Meadows And Evergreen Forest Area And It Has The Most Picturesque Sights But In Feb 2019 Chopta Was Completely Under Snow. It Is The Base point For Tungnath And Chandrashilla Peak. It Is Also Known As Mini Switzerland.
Tungnath : Tunganth is one of panch Kedars. Its popular as world's highest Siva temples in the world.
Chandrashila Peak: It is the summit point at the height of 12080 ft. It literally means "moon rock". This is the place where lord Rama mediated after defeating the demon king Ravana.
Chandrashilla peak provides views of the Himalayas like nandadevi peak,trisul,kedar peak,bandarpunch and chaukhamba peaks.
At around 8.30 came our trek guide. He warned us about the weather and snow level. He informed us that only a few people attempted this trek in last few days but they could not even reach upto Tungnath temple as all trails were lost due to thick snow.
Another Challenge : This trek starts from Chopta village. But as the roads for Chopta were completely covered by snow we couldn't reach there and we were staying in Dugalbhiita which is around 8 KMs away from Chopta. Our challenge was to cover this distance, reach Chopta and then start the actual trek .
After half an hrs discussion we set the timelines and fixed the plan. Plan was to start trekking early morning sharp at 5.00am. First trek was from Dugalbhitta to Chopta (through forest) which takes around 3 Hrs, and then second one from Chopta to Tunganath and then the third one to Chandrashila Peak.
Only one of my friends and I were ready to attempt this. Guide clearly instructed us to maintain the speed throughout the trek. He planned to start descend latest by 2.30 pm. He had set the timings and asked us to follow. He was clear that even if we dont make it to the top we will have to start descending by 2.30pm. So, we had only 9.5 hrs to reach at Chandrashila peak.
Now, the whole plan was on our speed and stamina. Being a devotee of Siva I was feeling a strong urge to at least reach upto the Tungnath temple.
We packed our bags, informed parents about the trek , set alarms and slept.
Day 7 :
Trek to Chopta – Tungnath – Chandrashila Peak
No spikes, no gaiter. This is the luxury of trekking with a real Sherpa. They don't use all this.
Just to keep our feet dry while trekking in deep snow , we wore one layer of woollen socks then a polythene and then a layer of tight sports socks. This was a hack for waterproofing I discovered. (Smart me ☺!)
Finally the time came. We three started from hotel in at 5.00am.
It was a chilled morning. In the beginning we were not able to even walk properly as without spikes it was very slippery for us. At some spots whole foot was going inside the snow. It was really very difficult and we were very slow in covering the distance. After around half an hour we got comfortable and geared up.
Now here was the moment we started enjoying it. It was beautiful. Untouched snow beauty all around.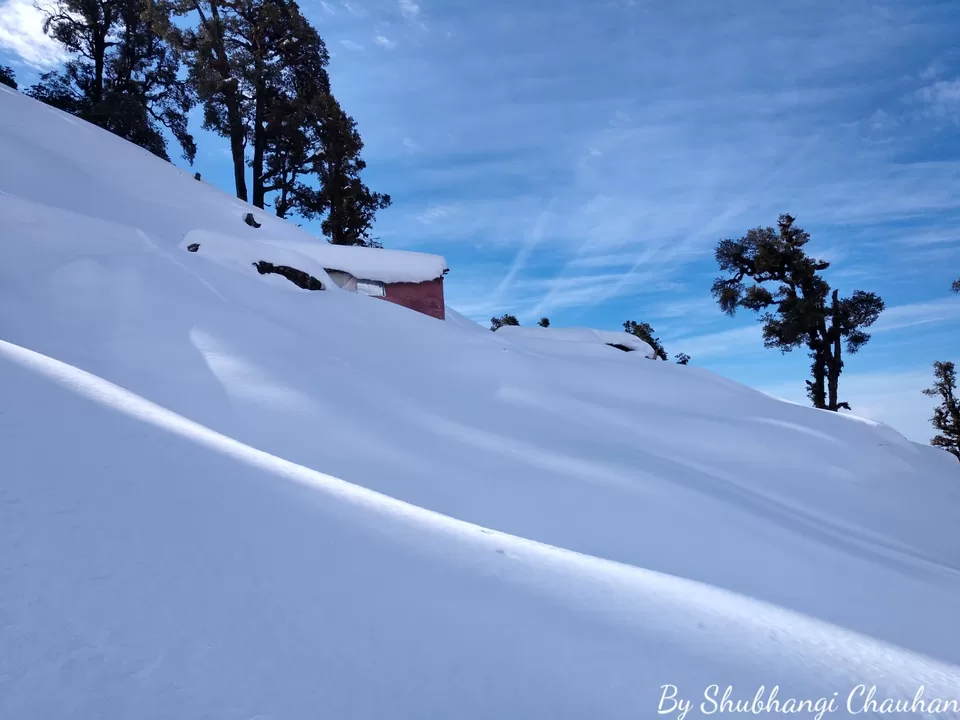 Soon we reached Chopta. We had breakfast at a small restaurant and started for Tungath at around 8.15am. From there, a stray black dog started following us.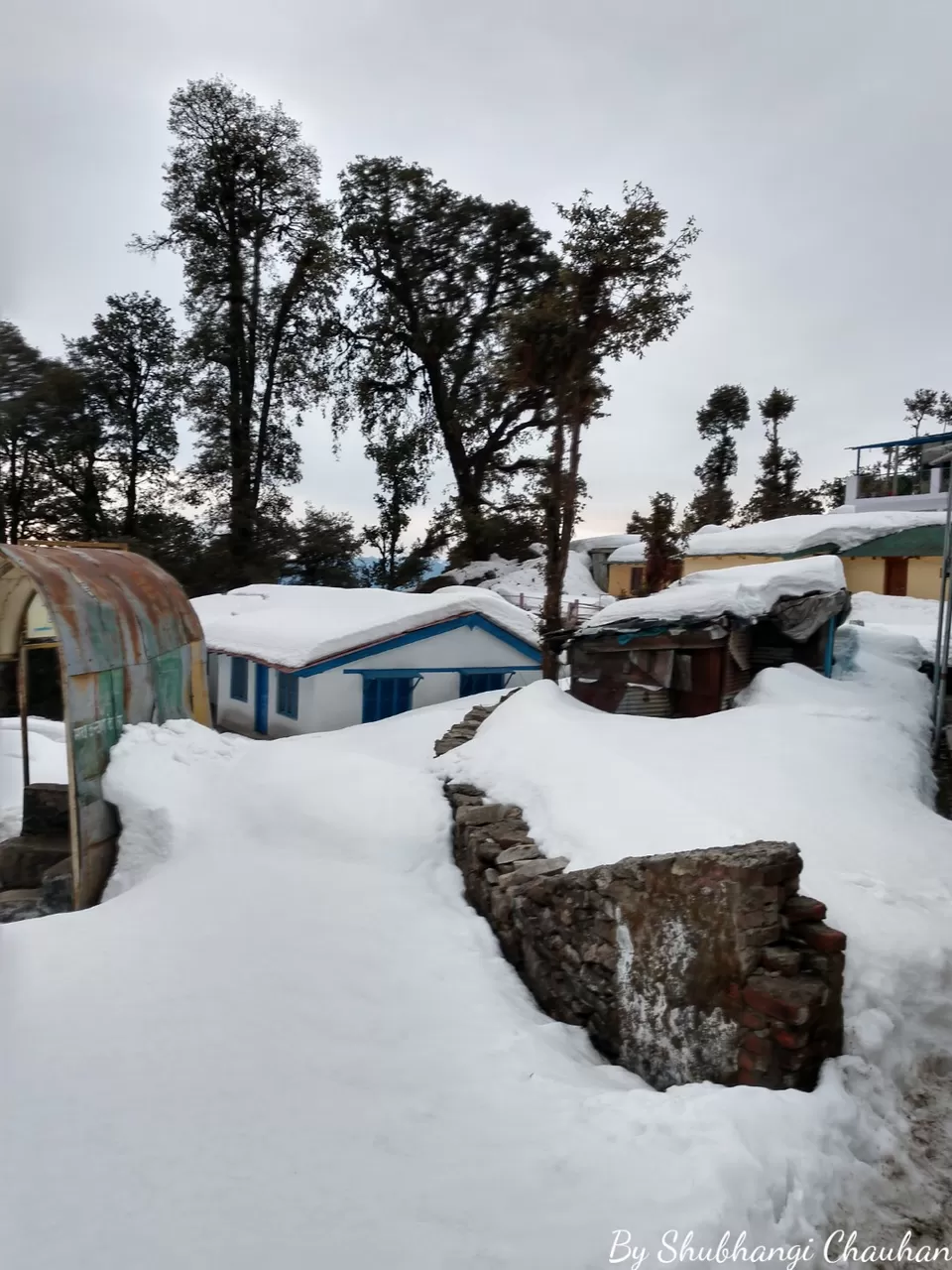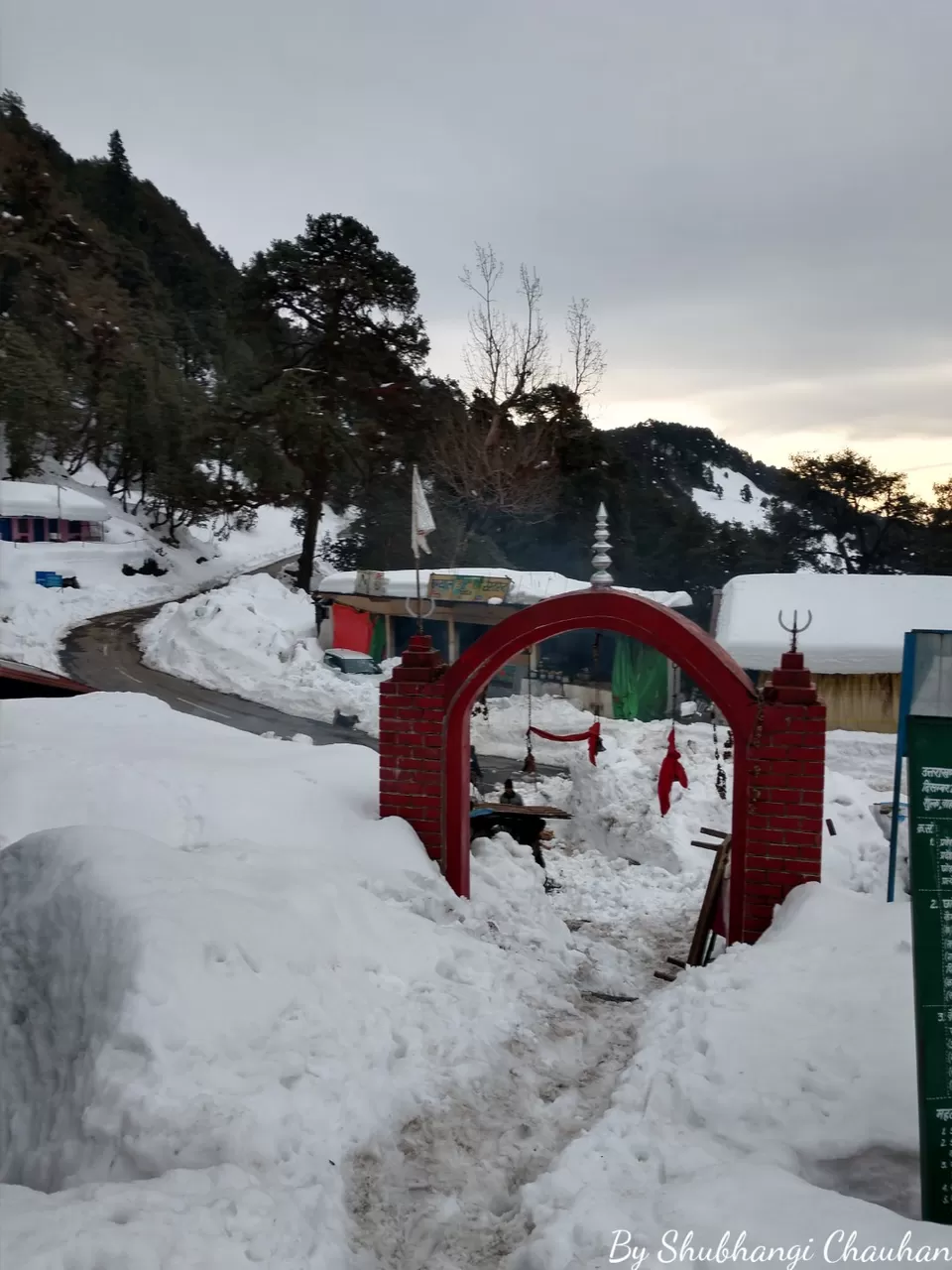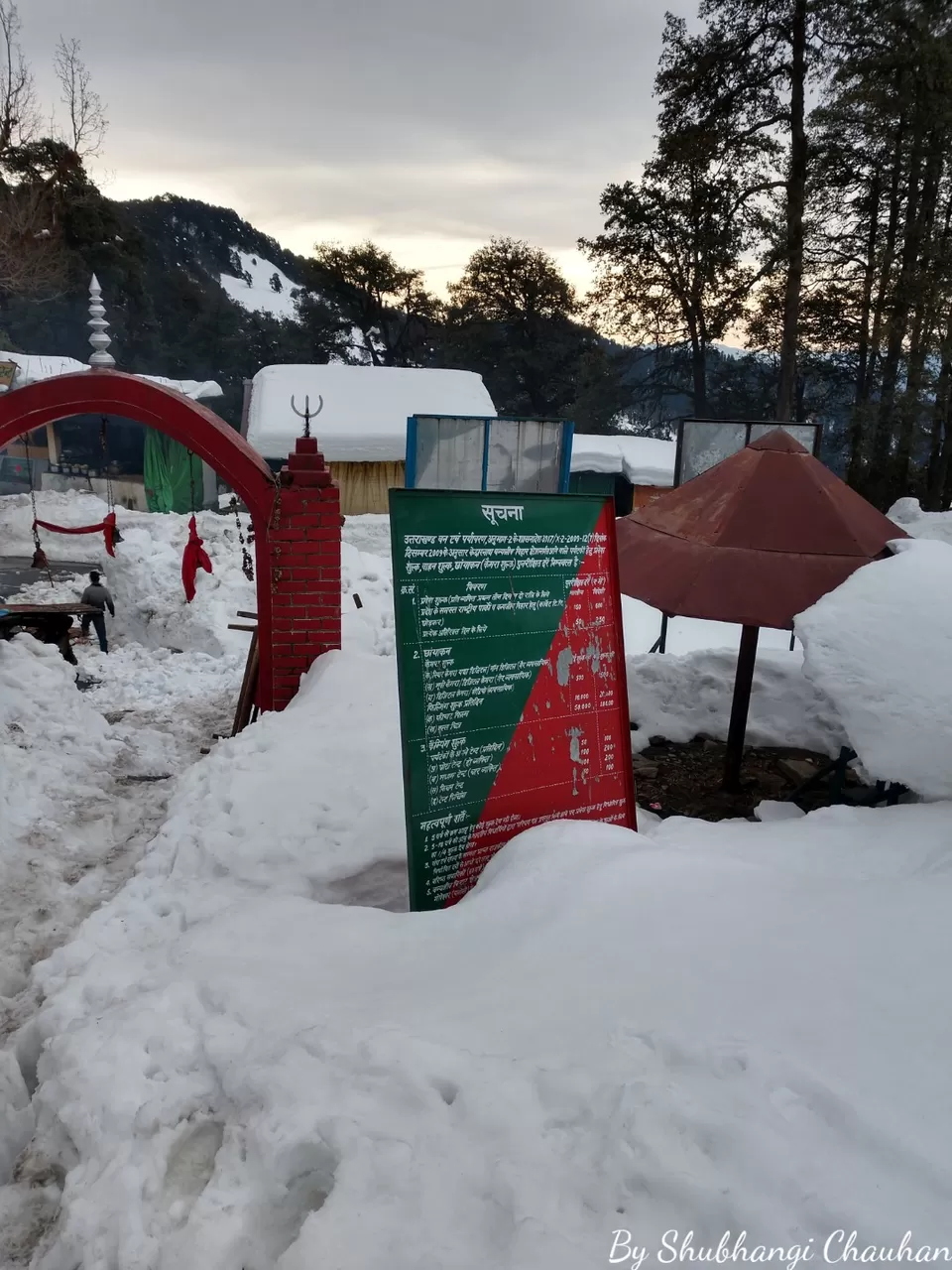 Every second was important for us. We restricted taking photos on the way to save time.That dog was walking right next to me. It was a hight alert situation and no one was there on the trek that day except us. And this cute and brave fellow won my heart as he was with us throughout the trek.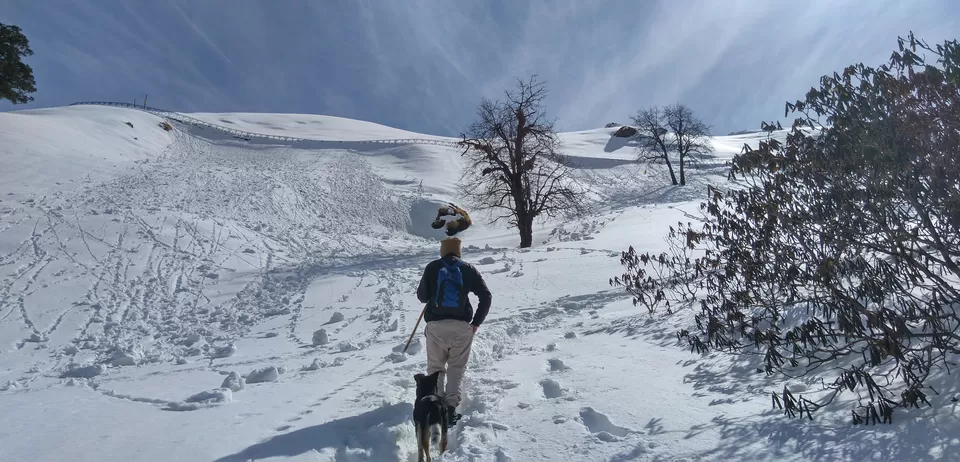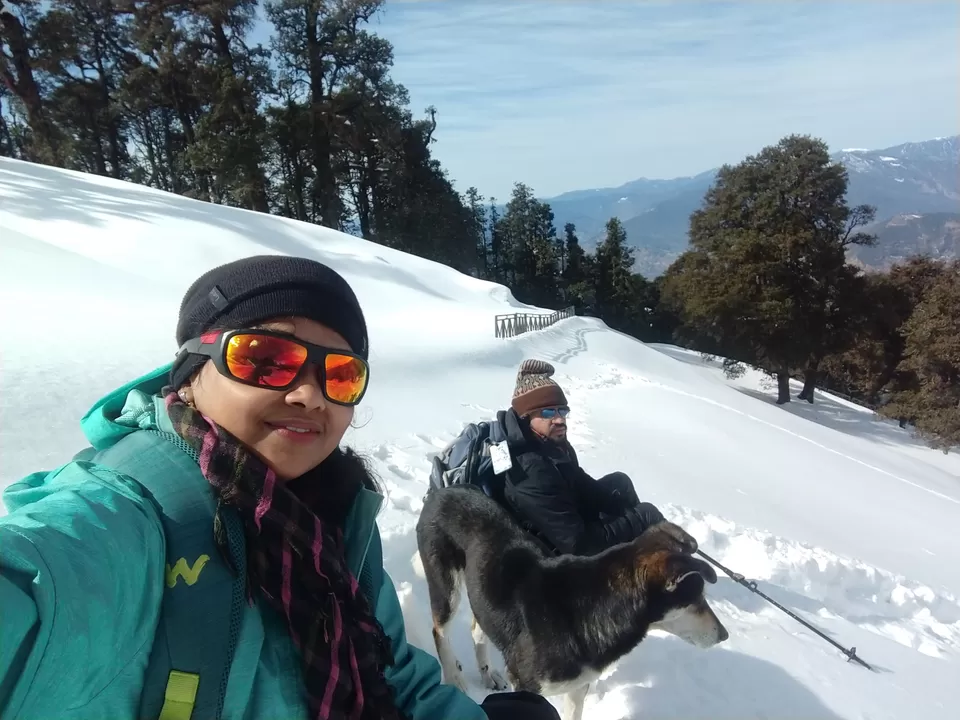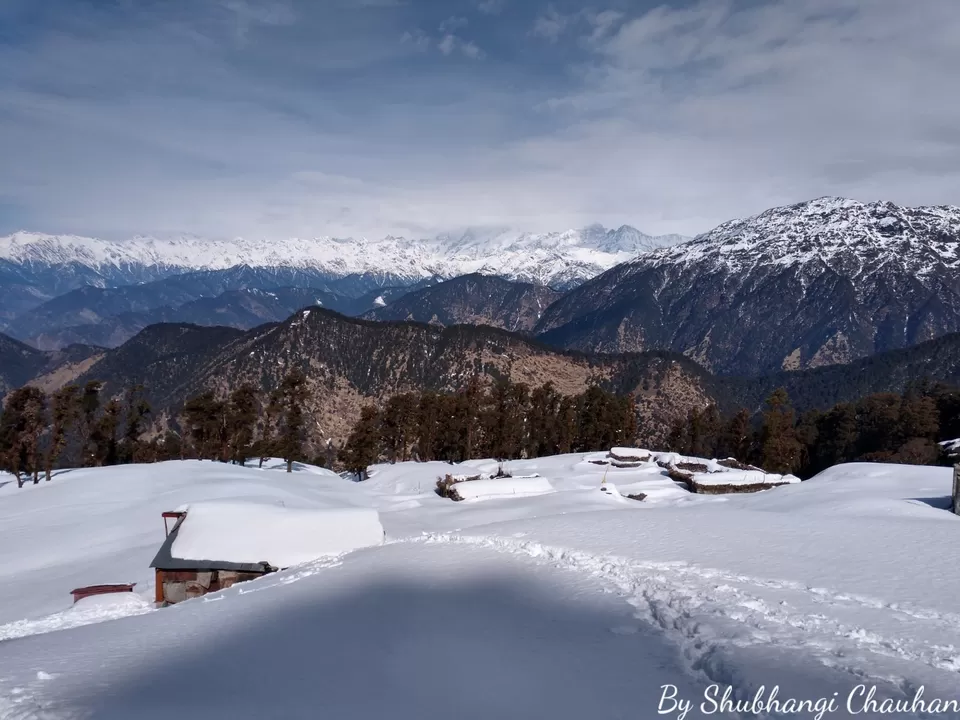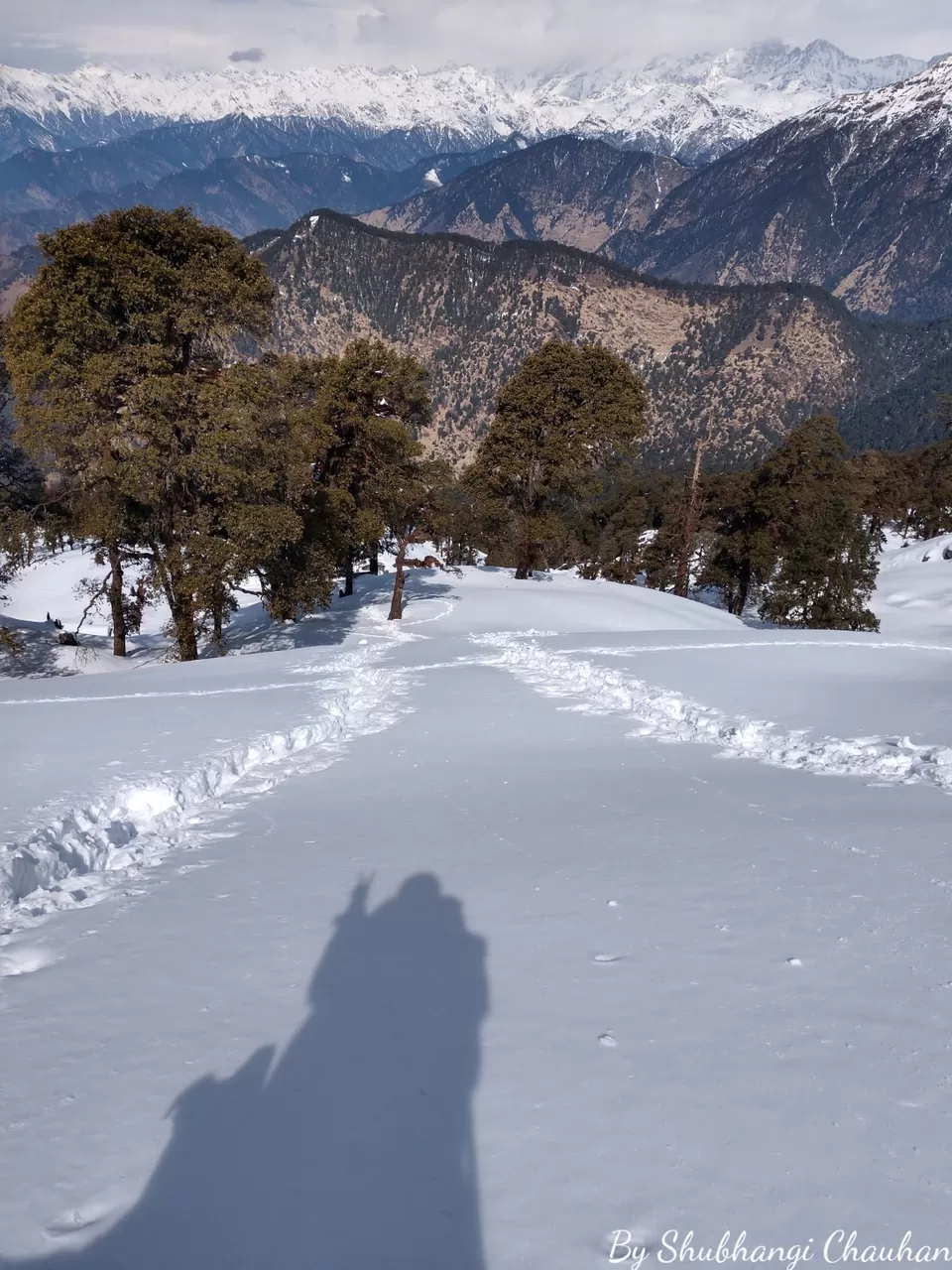 After this white carpet trek, all four of us reached Tungnath temple at 12.45 pm. I cant explain how happy, lucky and blessed I was feeling that time. I only know how much I urged to attempt a Himalayan trek in this trip. And finally i was there infront of World's highest Siva temple.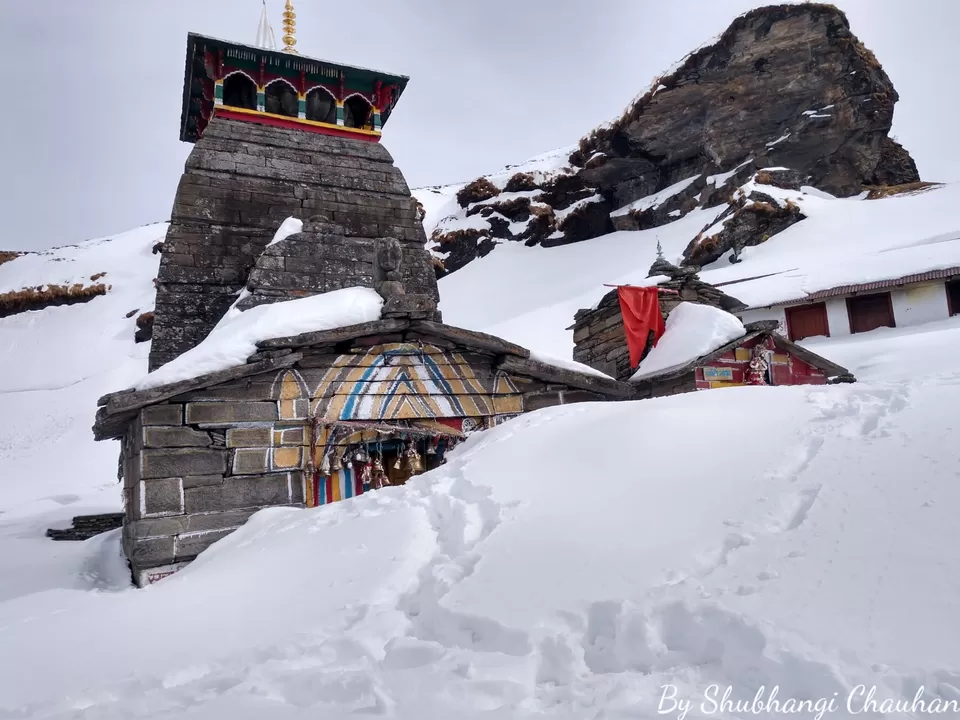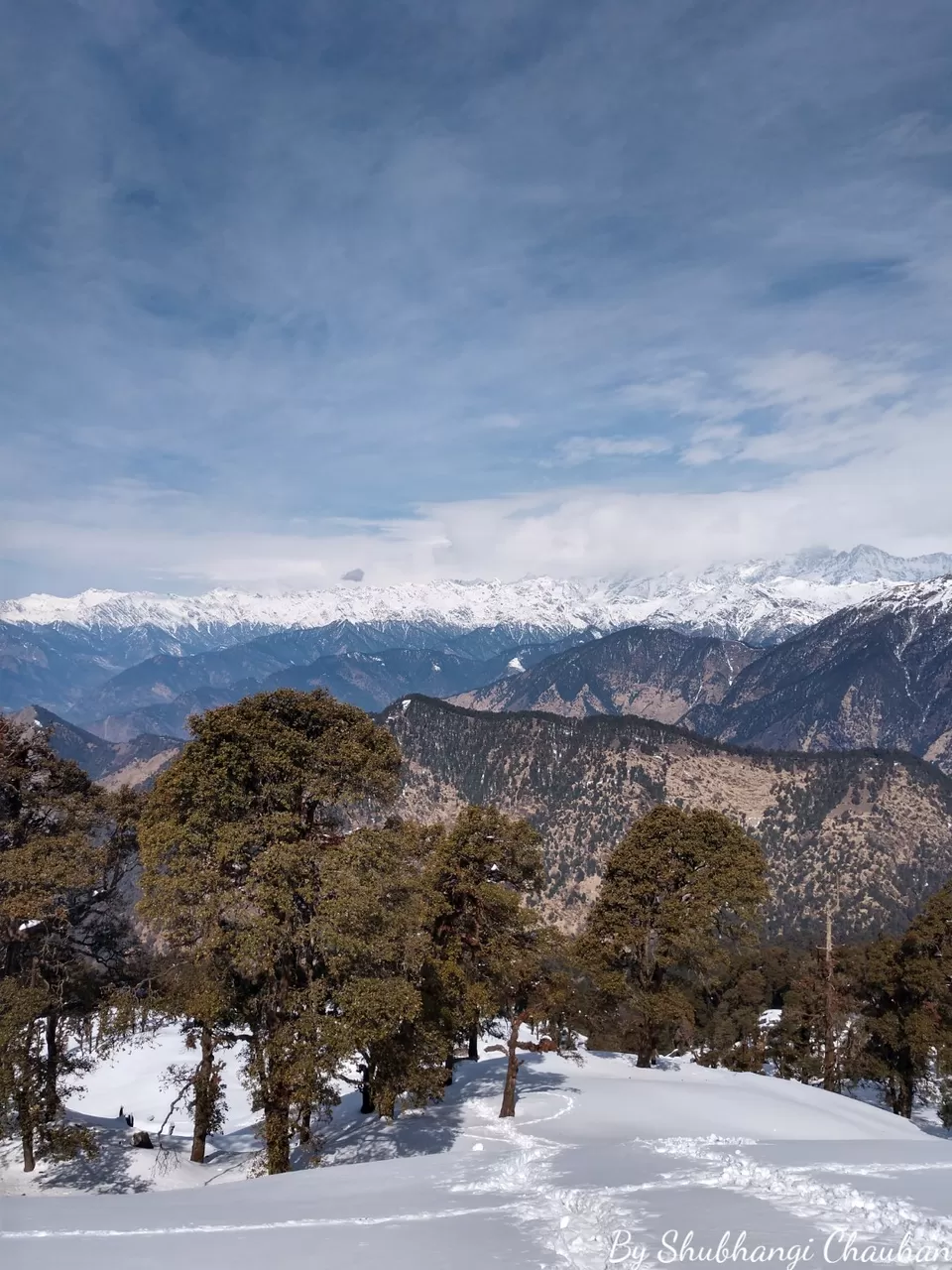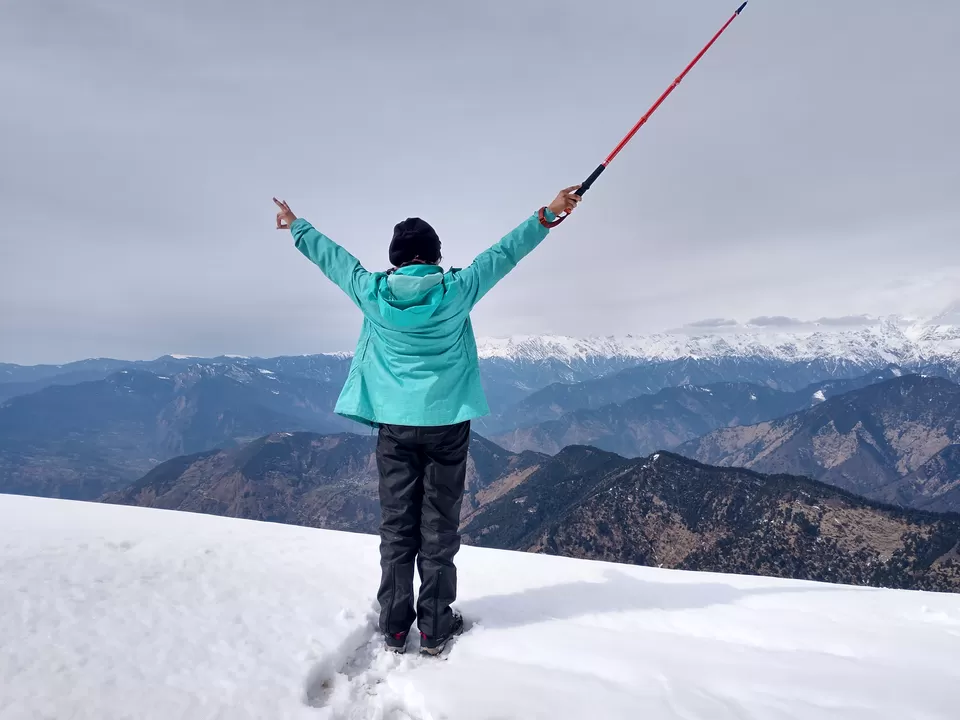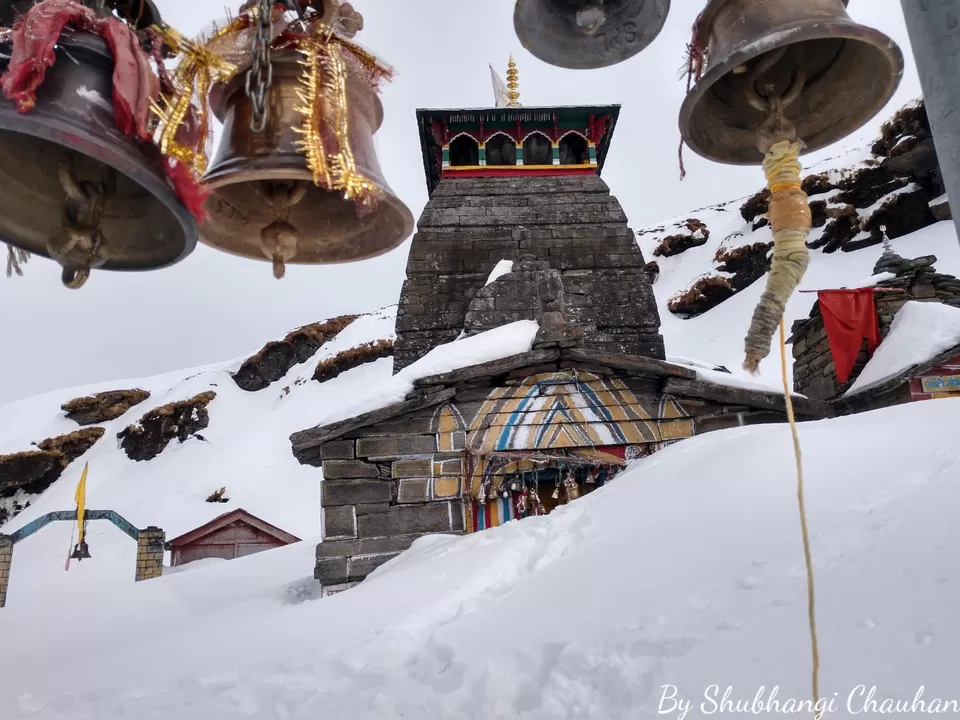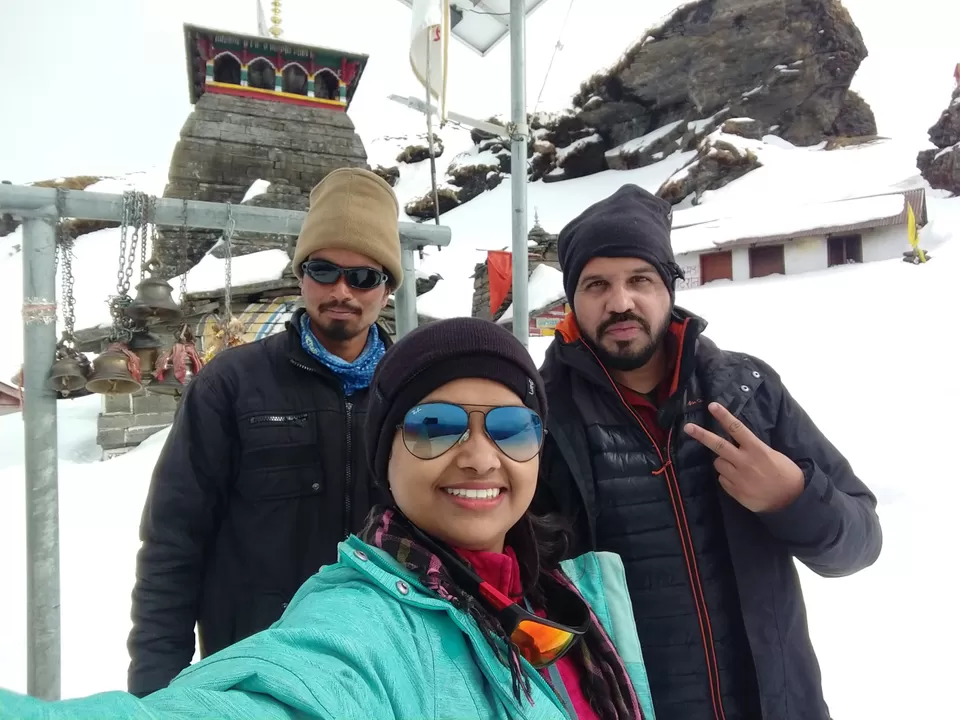 Next was Chandrashila peak. It took us an hour to reach the top.
This peak provides views of the Himalayas, including Nandadevi, Trisul, Kedar Peak, Bandarpunch and Chaukhamba peaks.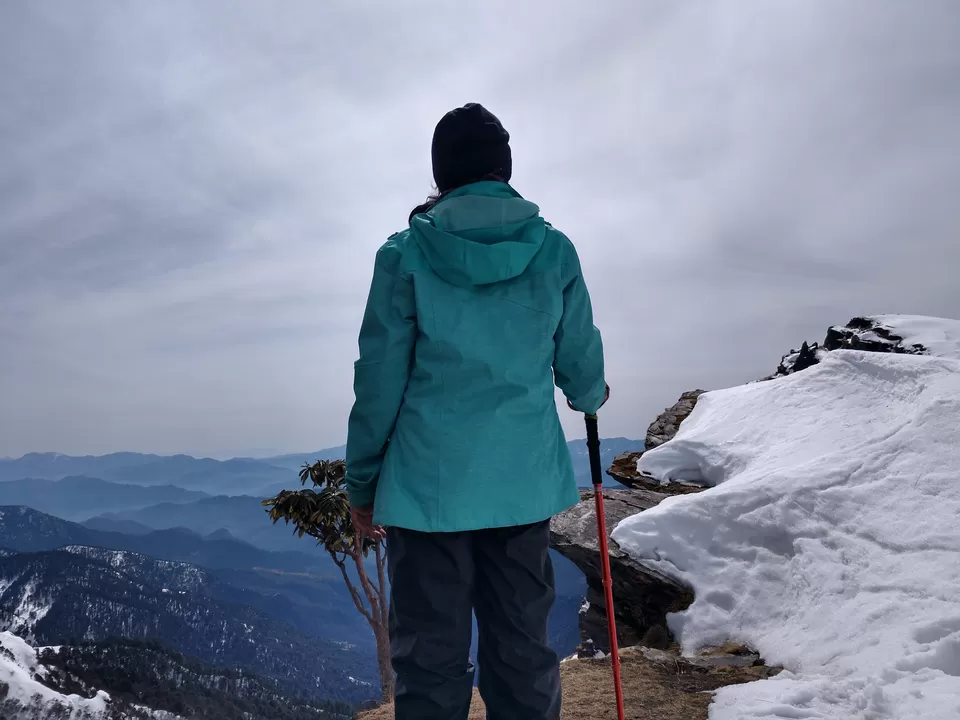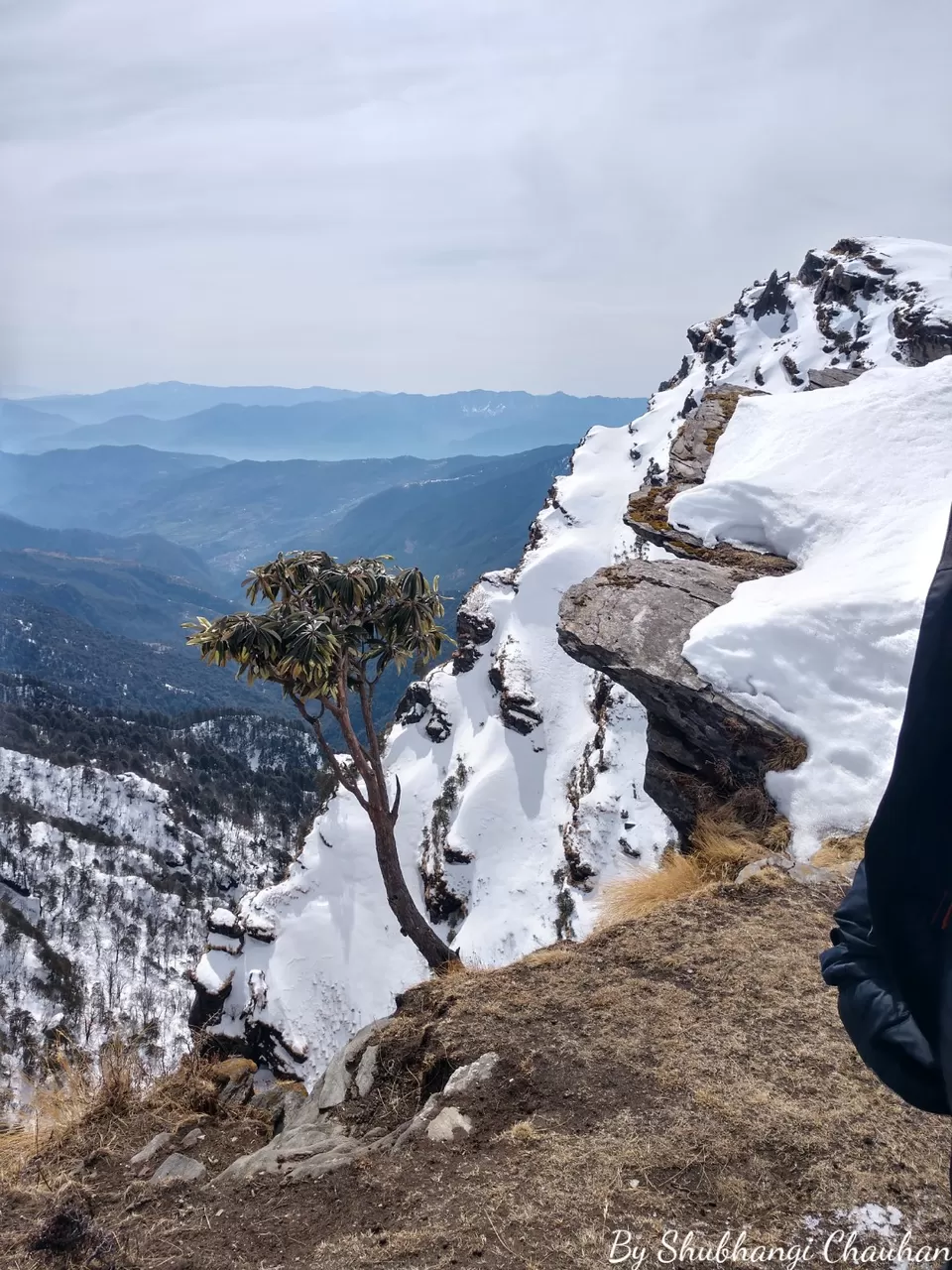 As planned we started descending at 2.30 pm.
Descend was very challenging because the snow was melting and our feet were sinking in.
It was really tough. We were falling on every single step. We tried slipping off the slopes that worked at some spots, rest we crossed running, falling, sinking...It was fun. Snow snow and snow all over me.
We reached at the base Chopta at 5.30pm and luckily there was a JCB machine which regularly go to Dugalbhitta at that time for removing snow from the road.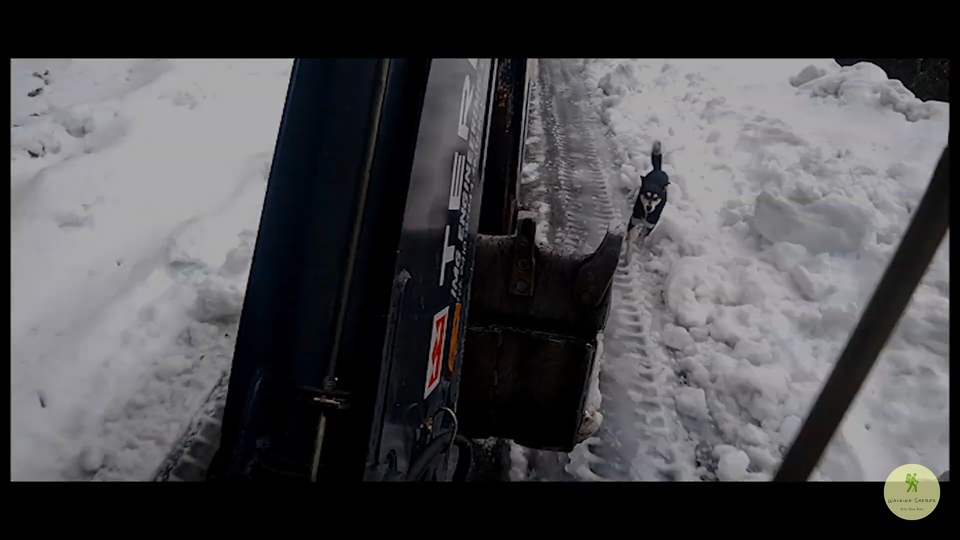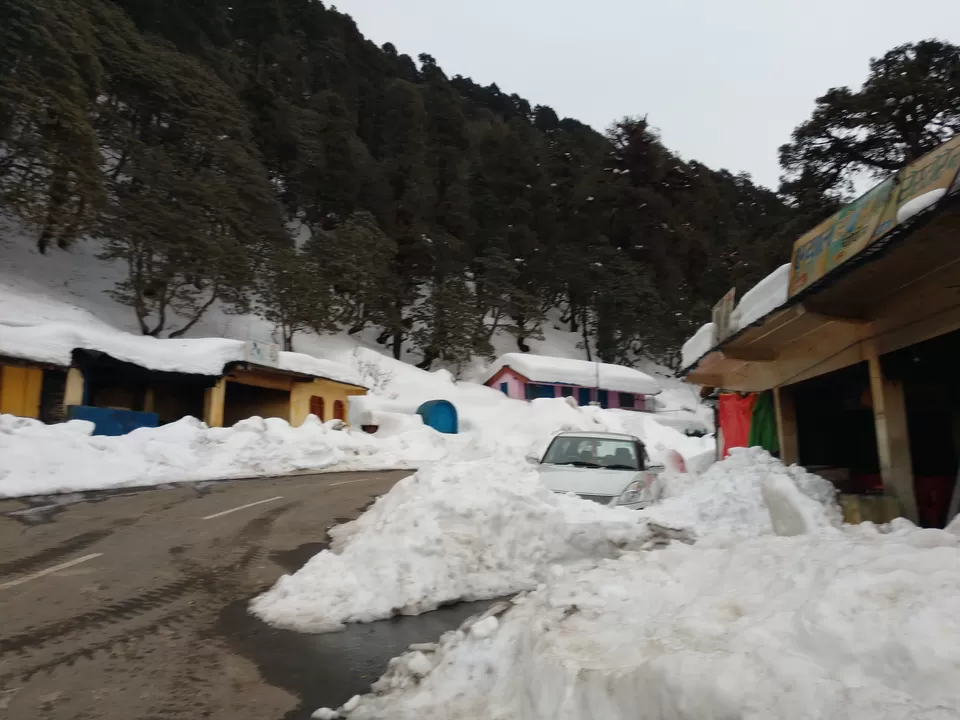 We reached our hotel at dugalbhitta at 6.30 pm. We got to know from villagers that state Govt. declared high alerts for next two day in this area.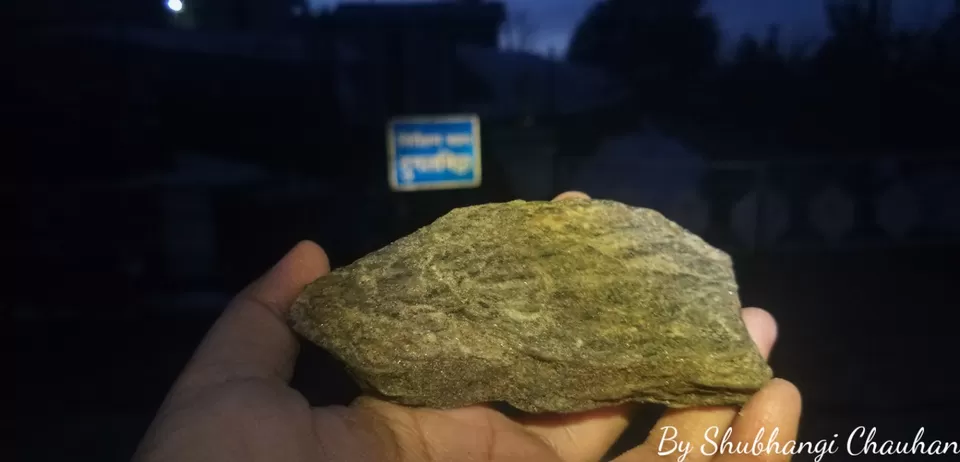 We booked the same private cab and reached Ukhimath the same evening.
Travel: From Dugalbhitta to Ukhimath via Jeep (Private Jeep, boarded at 7pm)
Travel Duration: 1 Hr (26 Kms)
Fare: 1000/-
Total Cost:
Trek Guide charges: 1200/-
Transport: 1000/-
Hotel at Ukhimath: 800/-
Day 8 :
Plan : To reach Rishikesh
After two back to back treks in last two days I was completely exhausted. Somehow woke up at 5.30 am and dragged myself to pack bags and got ready. Boarded state transport bus at 5.45am. On the way it started raining. It was a right decision to get out of that place otherwise we could have stuck in the roadways due to small landslides. Its very common there during rains and snow fall.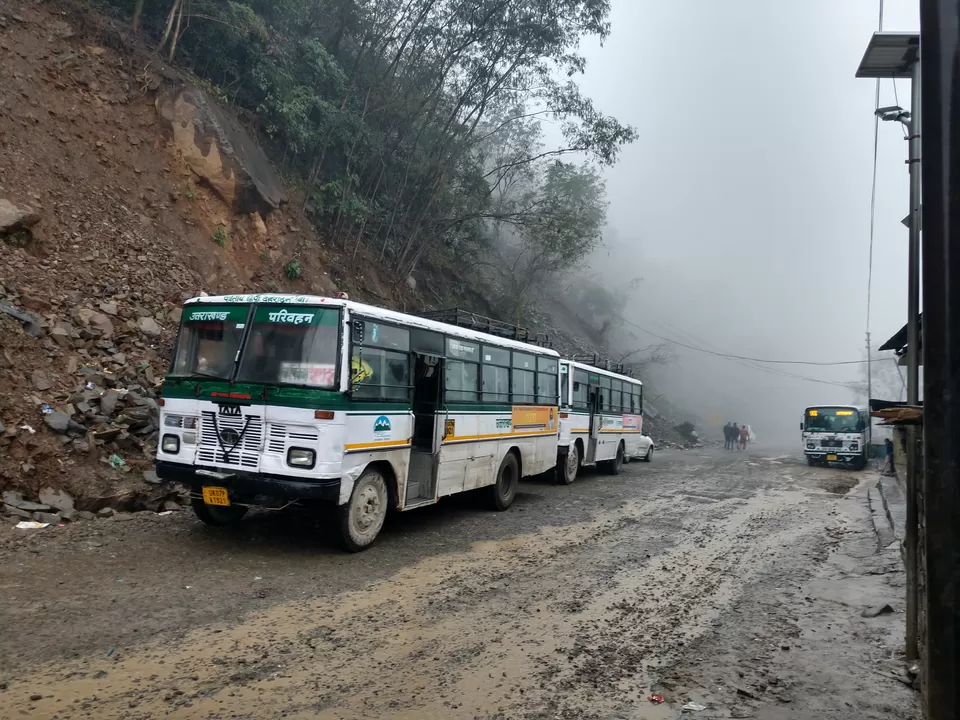 Travel: From Ukhimath to Rishikesh via bus (ST Bus, boarded at 5.45am)
Travel Duration: 6 Hrs (180 Kms)
Fare: 335/-
We reached Rishikesh at 12.30 pm. I slept till 3.30pm that day.
Cost of the day :
Transport: 335/-
Hotel at Rishikesh: 500/-
We din't do much that day. Just local market visit and some good food.
Day 9 :
Plan : Explore Rishikesh
Spent whole day in Rishikesh. Visited Bhutnath temple, Swarg Ashram, Parmarth Ashram, Ganga snan at Triveni Ghat, Ganga Arati, Beatles Ashram, Ram Jhula, Laxman Jhula and spent lot of time in cold water of Ganga.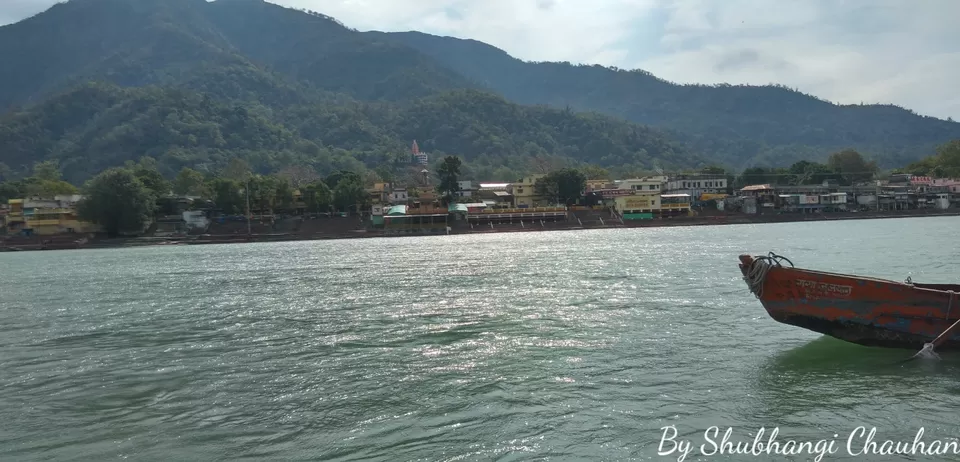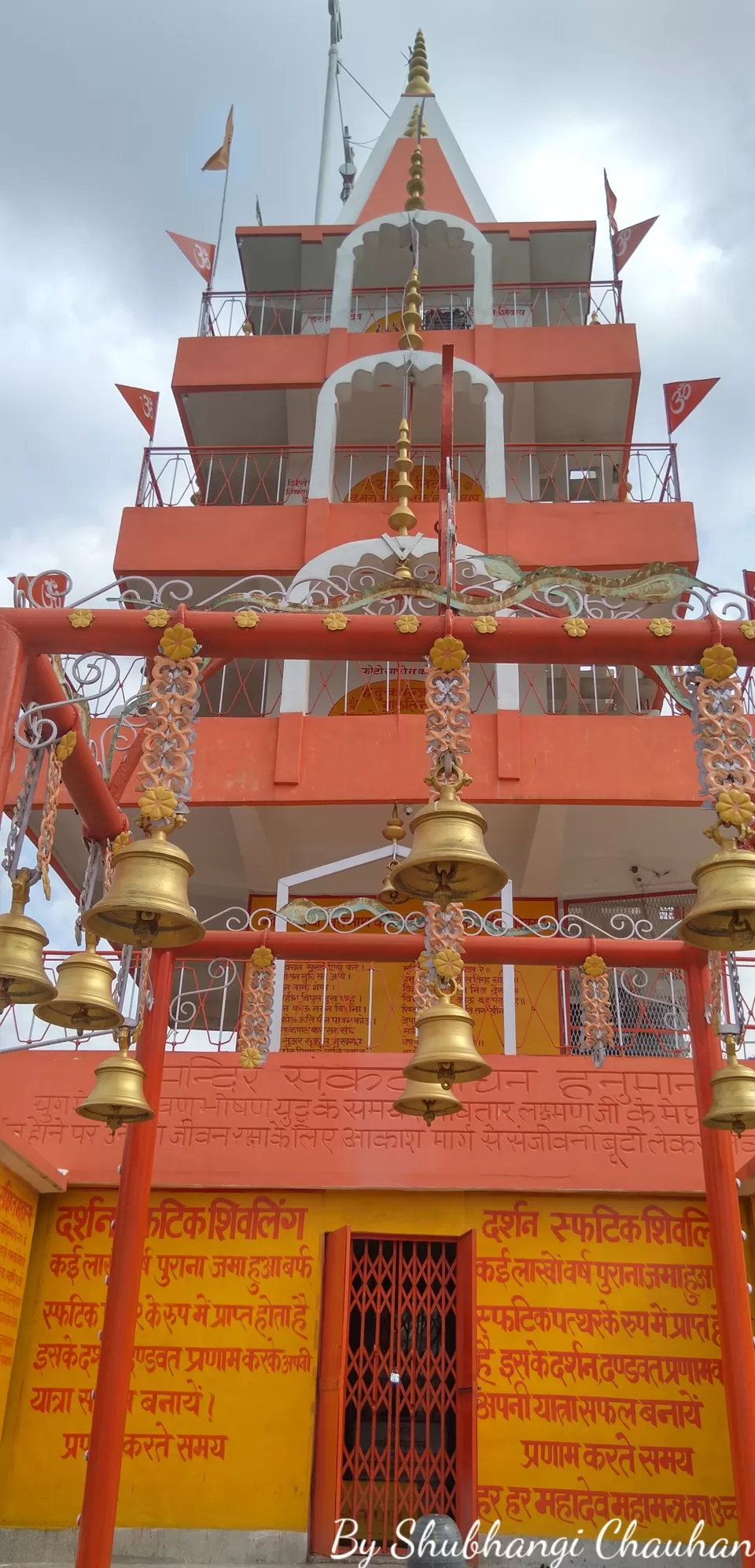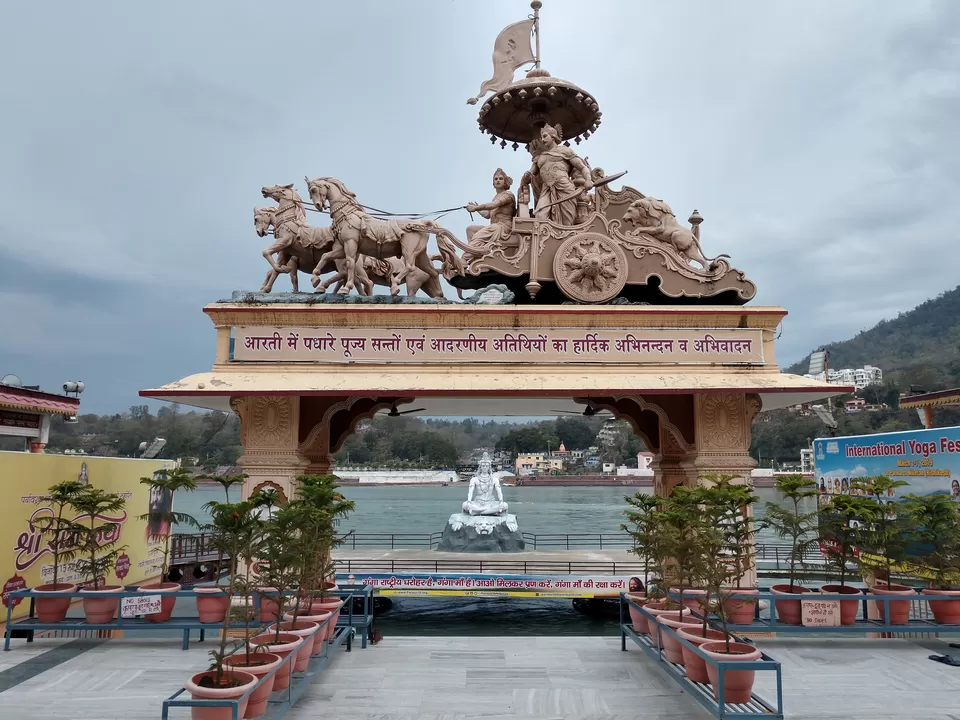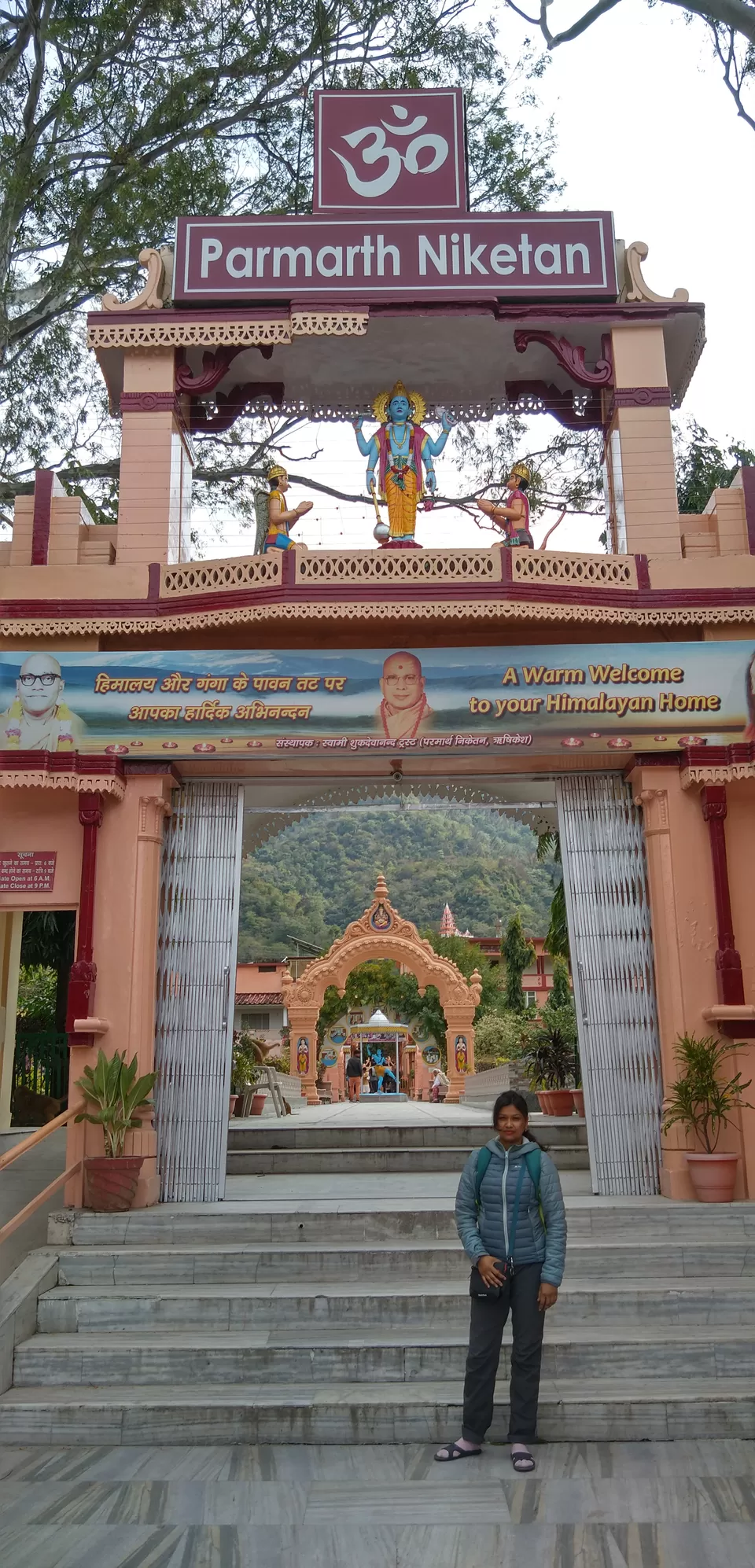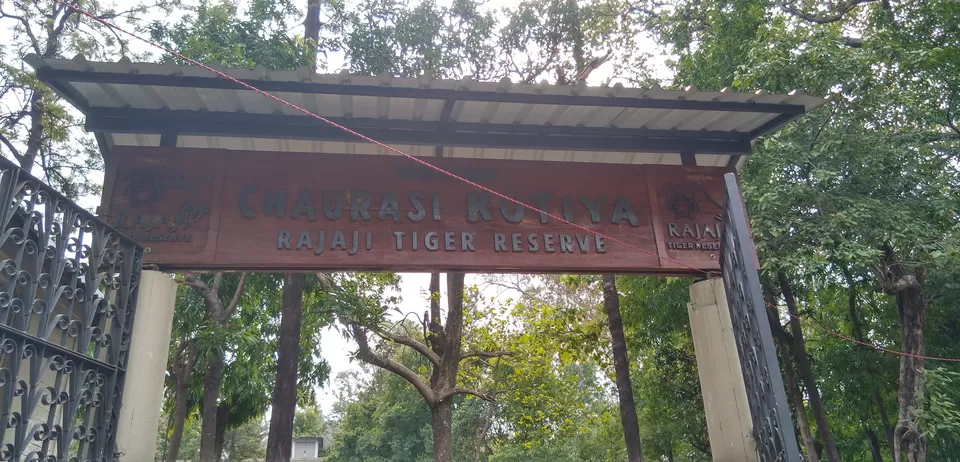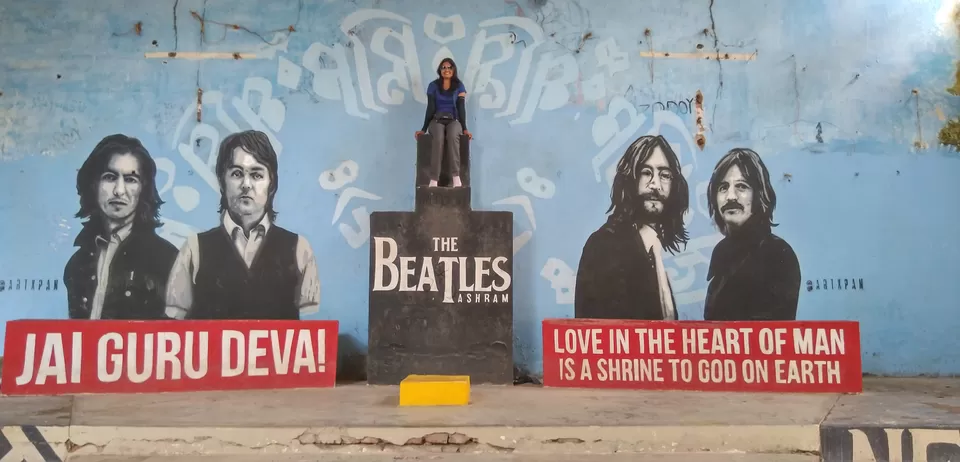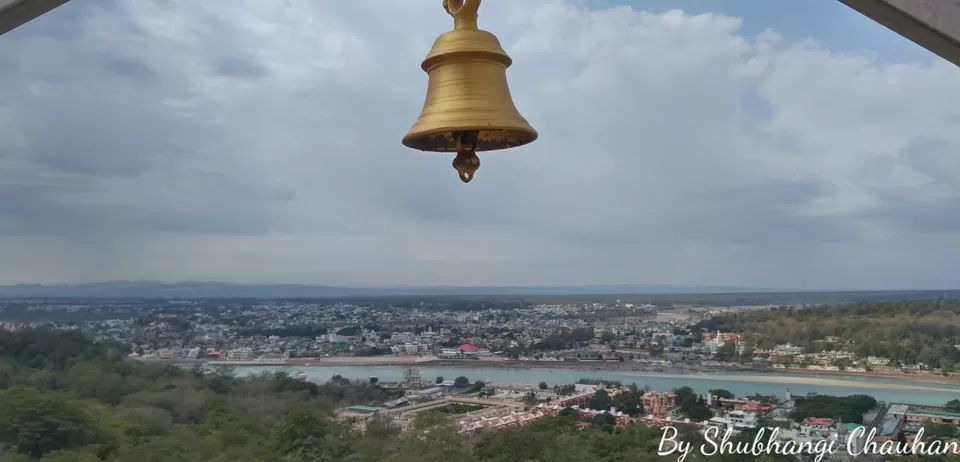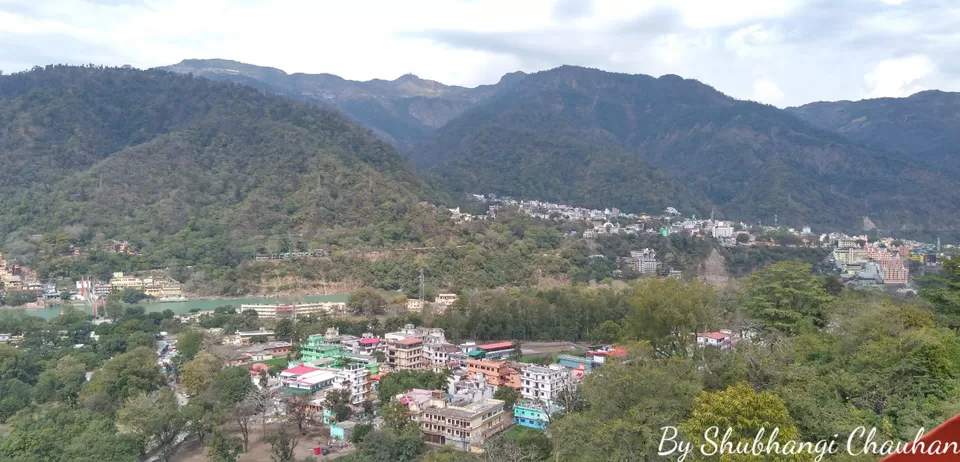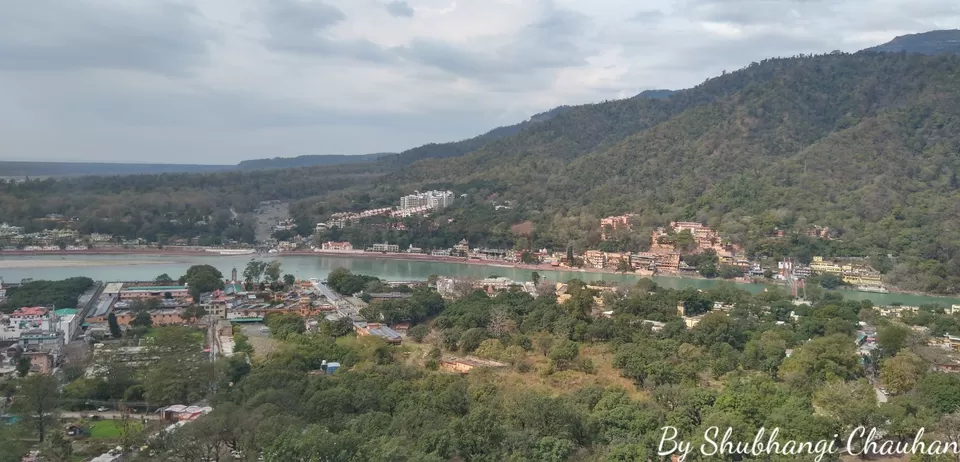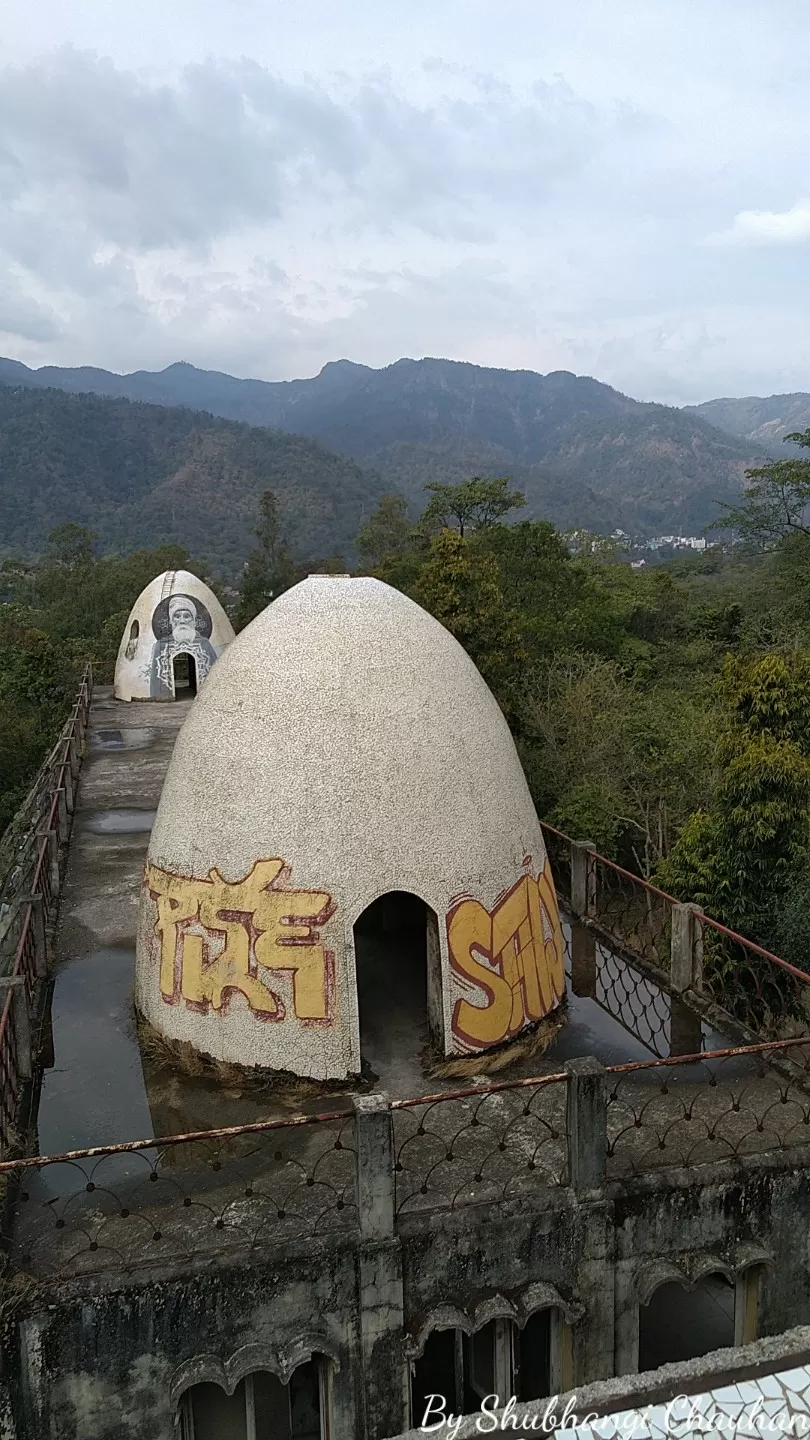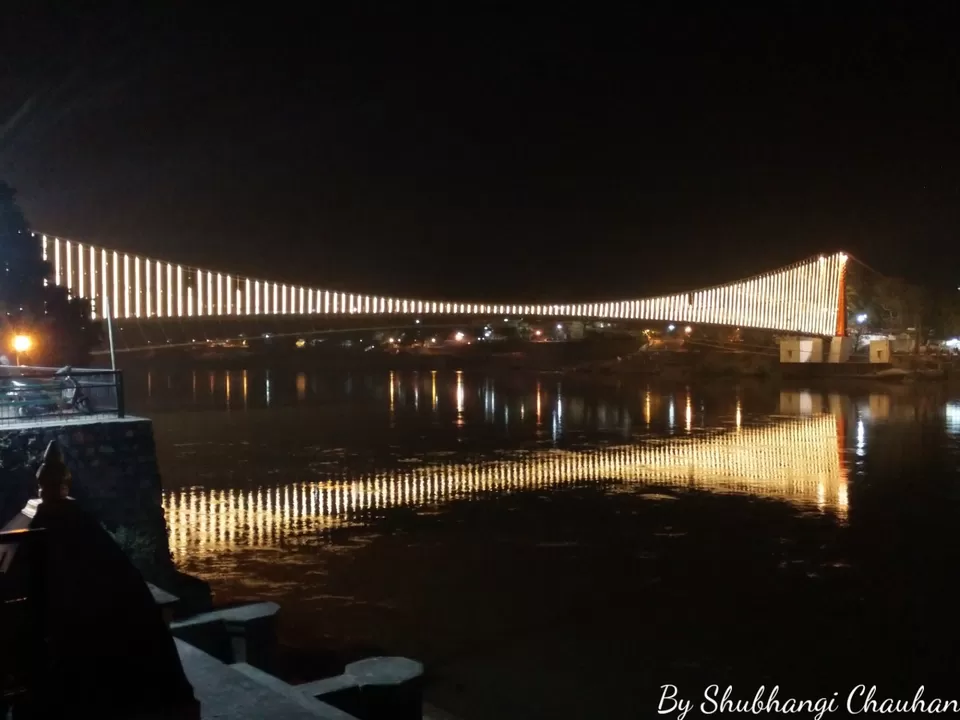 Total Cost for the day :
Transport (Local): 30/-
Beatles Ashram Entry Fee: 150/-
Hotel in Rishikesh: 800/-
Day 10:
Plan : To board Bus for Agra from Haridwar
Till afternoon we were at Ganga ghat, Rishikesh, cleansing our sins with ice cold water, then left for Haridwar.
Travel 1: from Rishikesh to Haridwar via Sharing auto. (From 5.00pm to 6.30pm)
Fare: 70/-
Travel 2: From Haridwar to Agra via Bus (ST Bus, boarded at 9.00pm)
Travel Duration: 8 Hrs (400 kms)
Fare: 1000/-
Total Cost for the day:
Transport: 1070/-
Day 11 :
Plan: To visit Taj Mahal & Red fort and reach Delhi Airport by 11.00pm to catch a flight scheduled at 3.00am.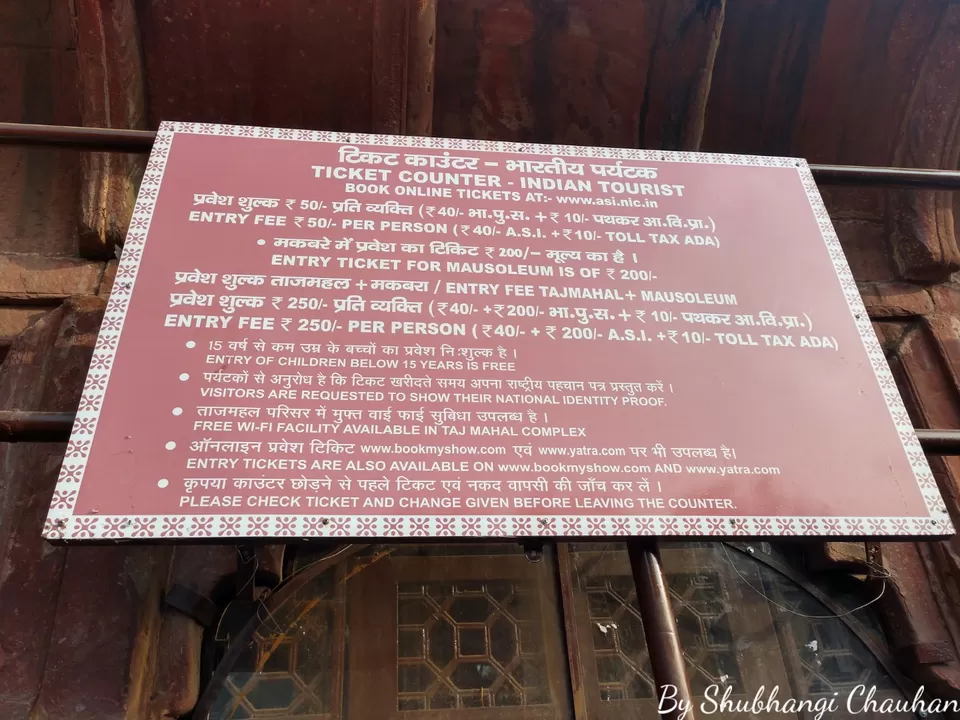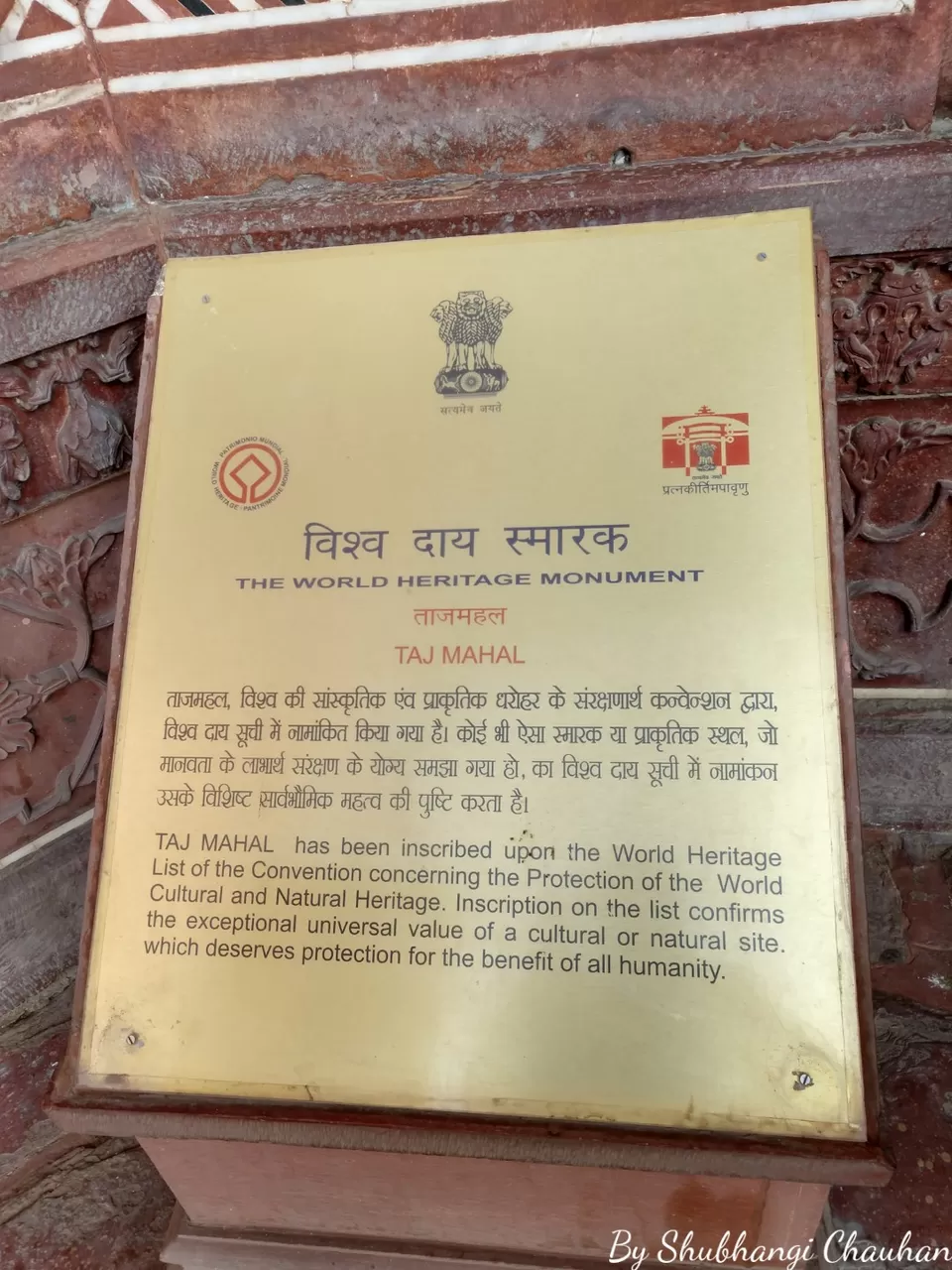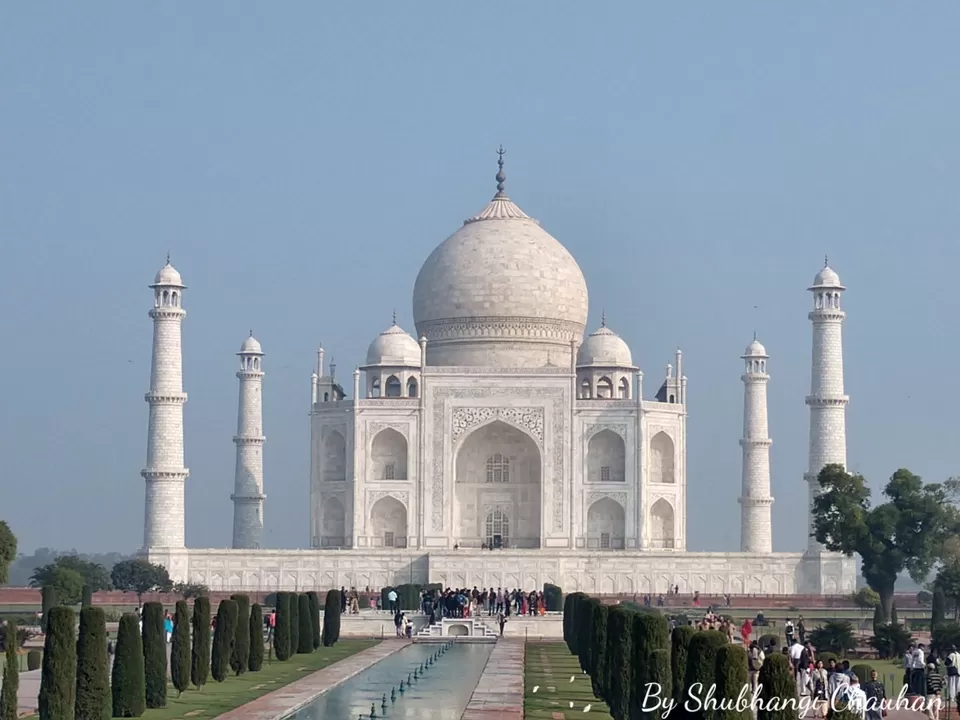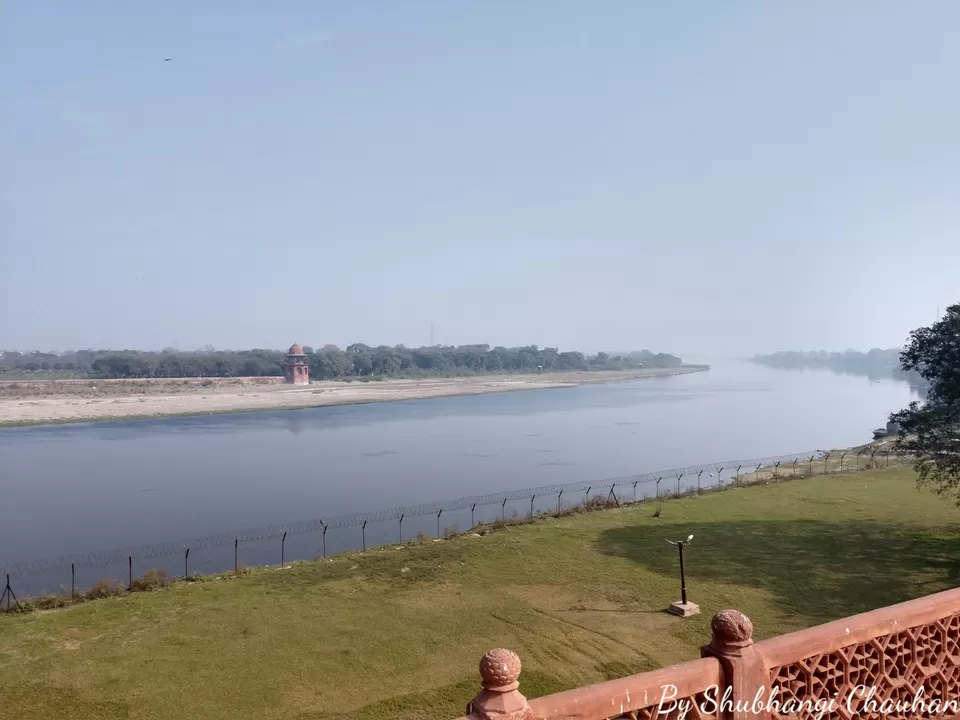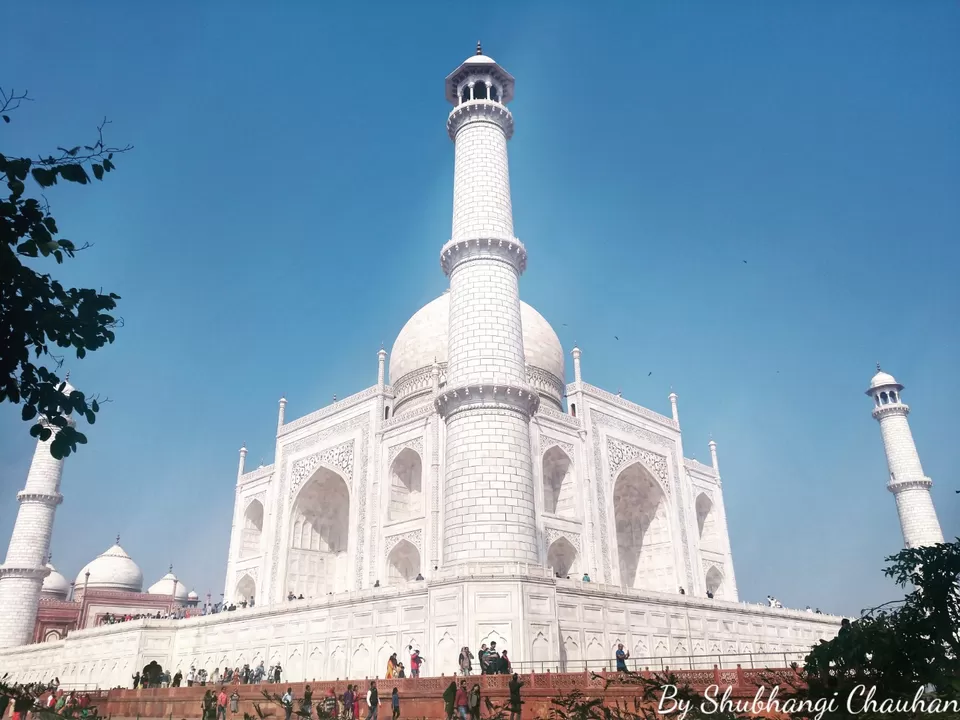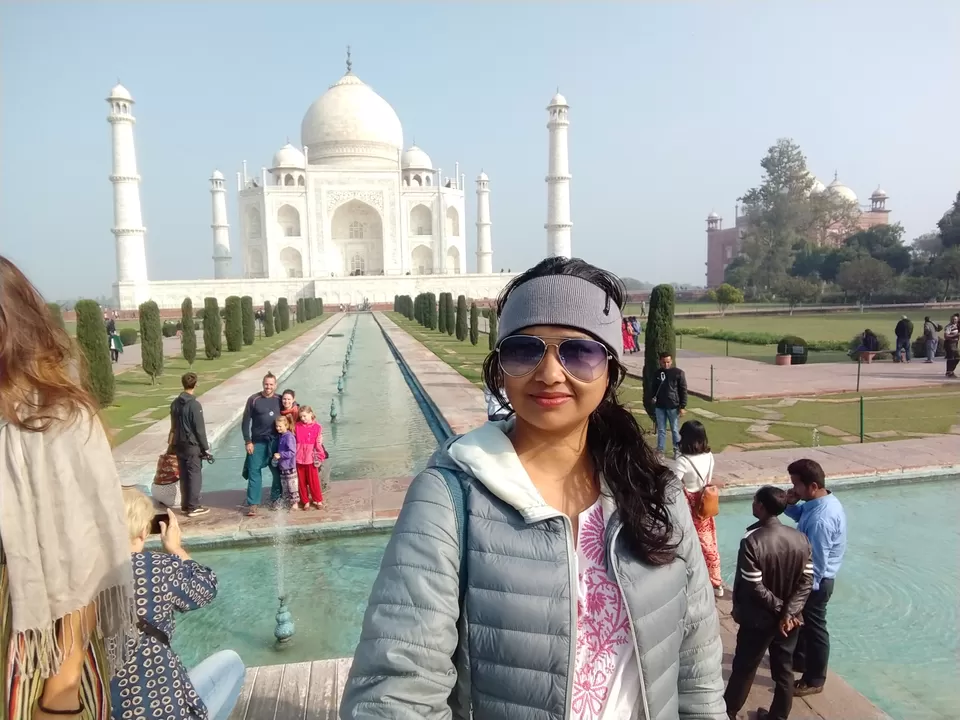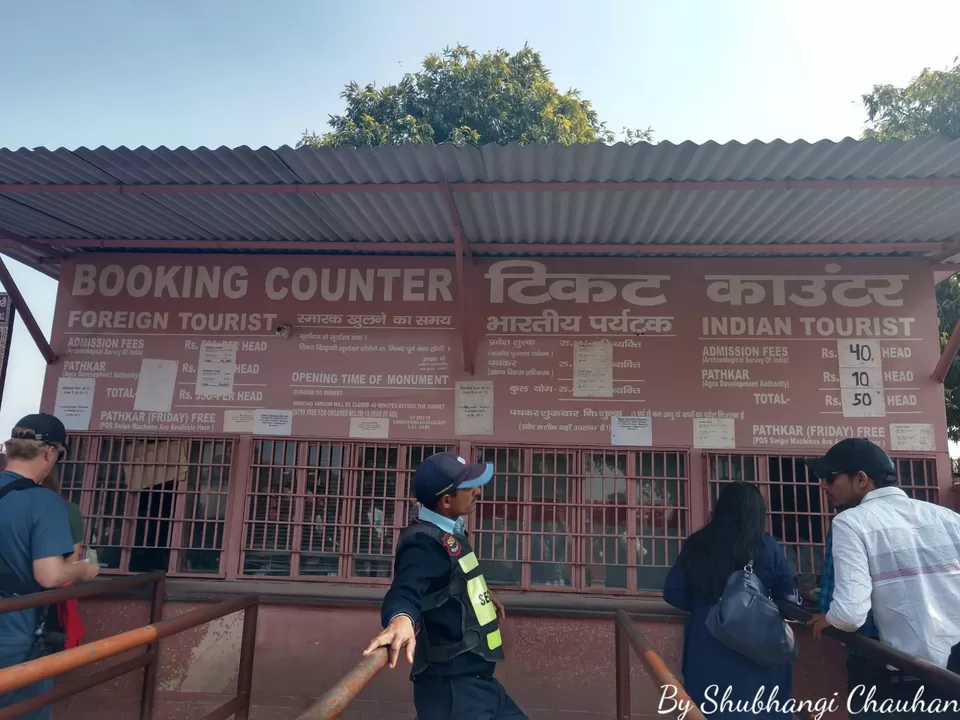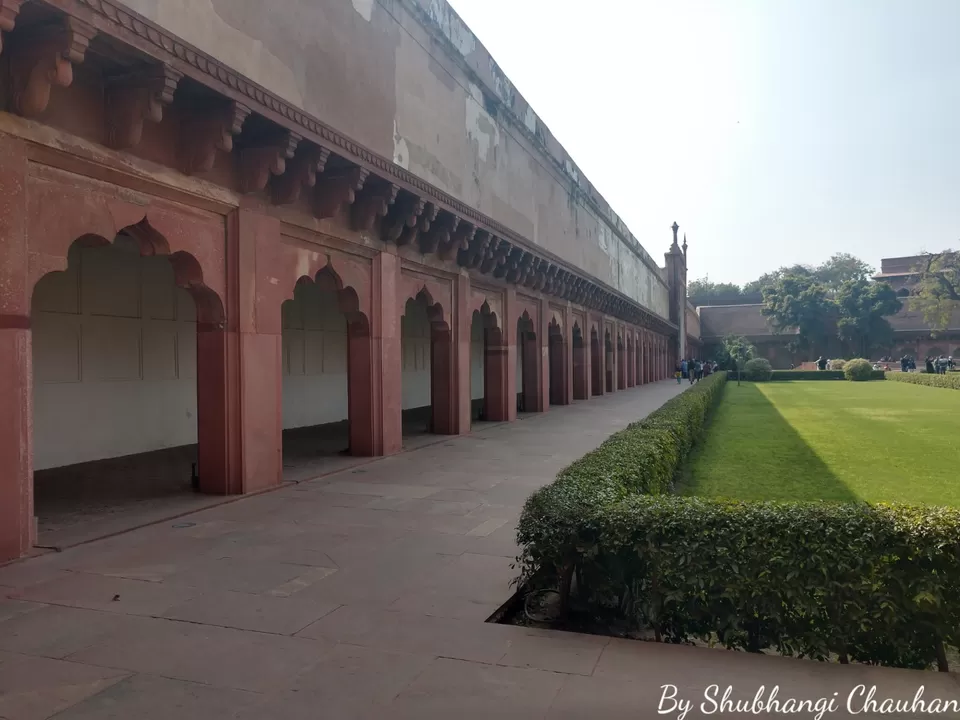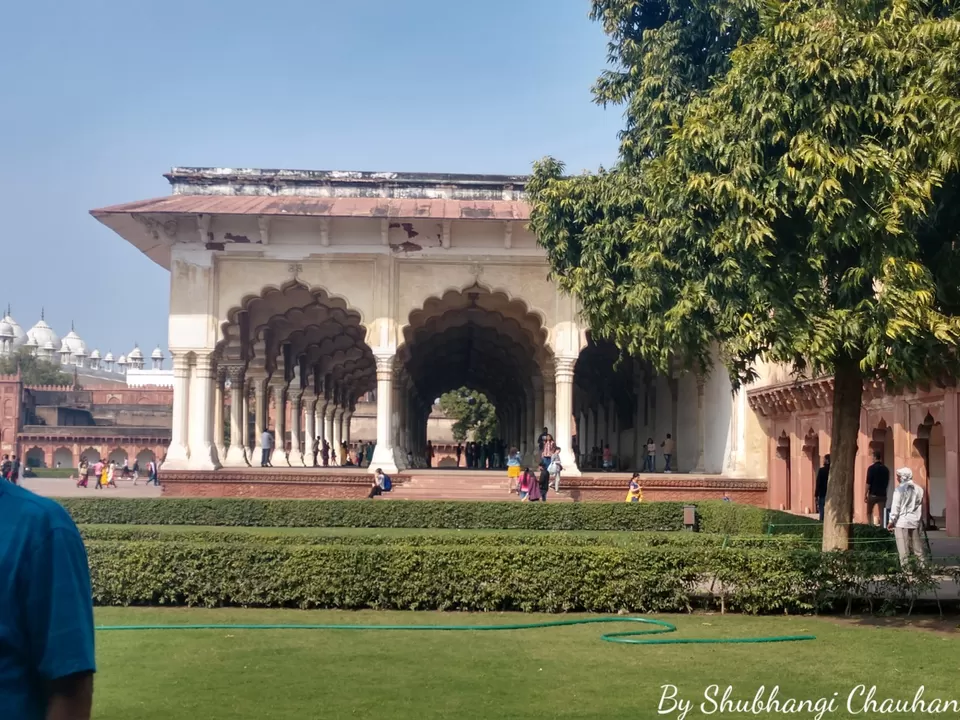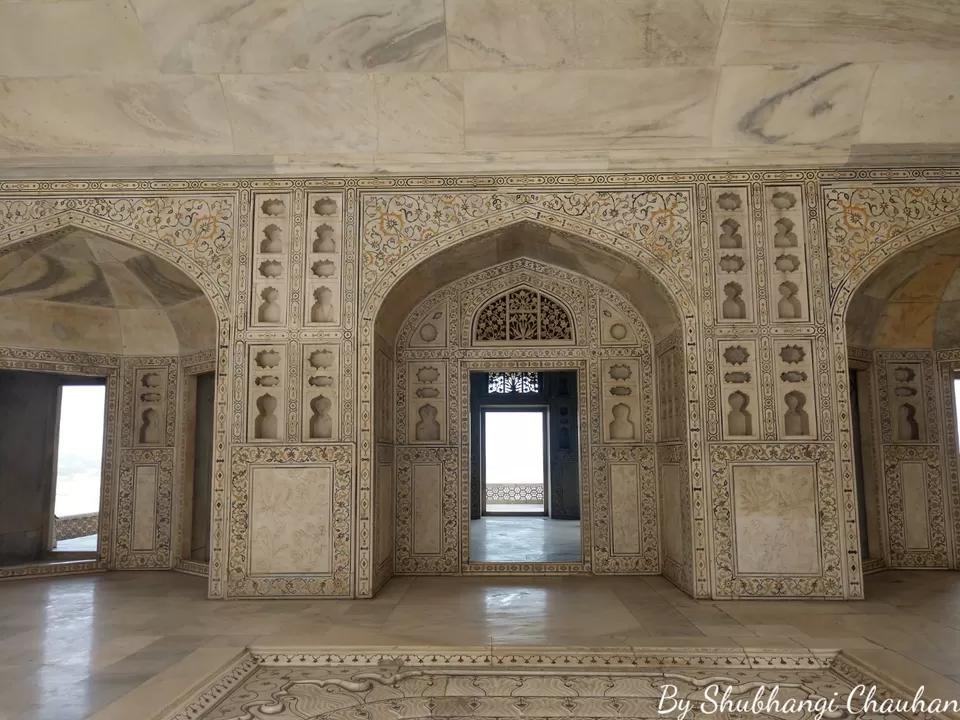 Arrived at Agra at 4.30 am. Waited till 7am in the waiting room at Bus Stop.
1. Visit to Taj Mahal
Entry Fee: 250/- for Indians
Visit Duration:1 Hr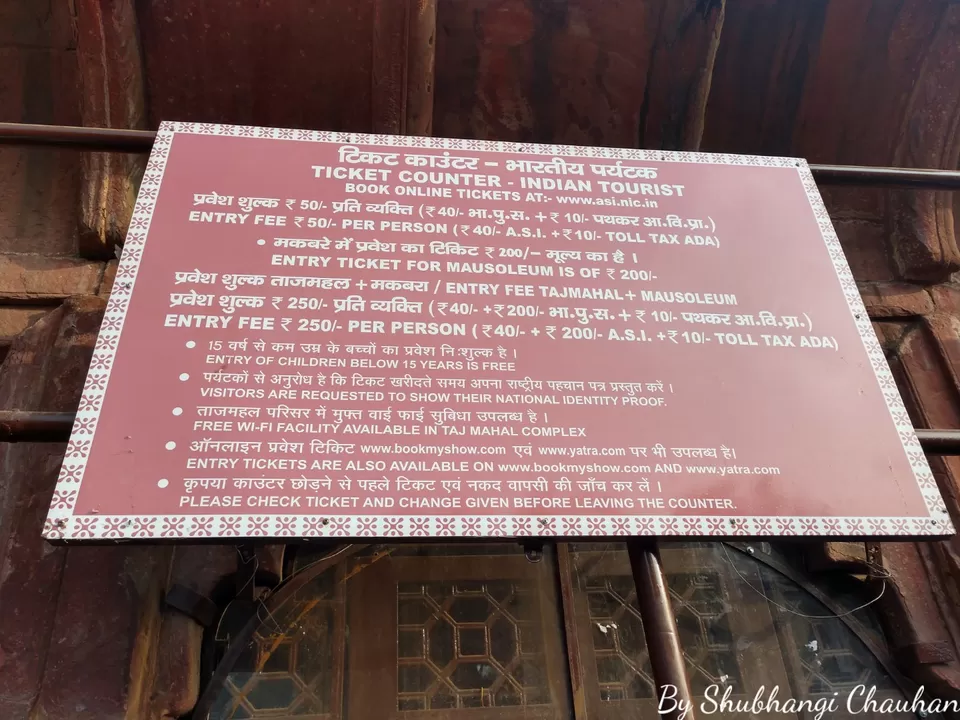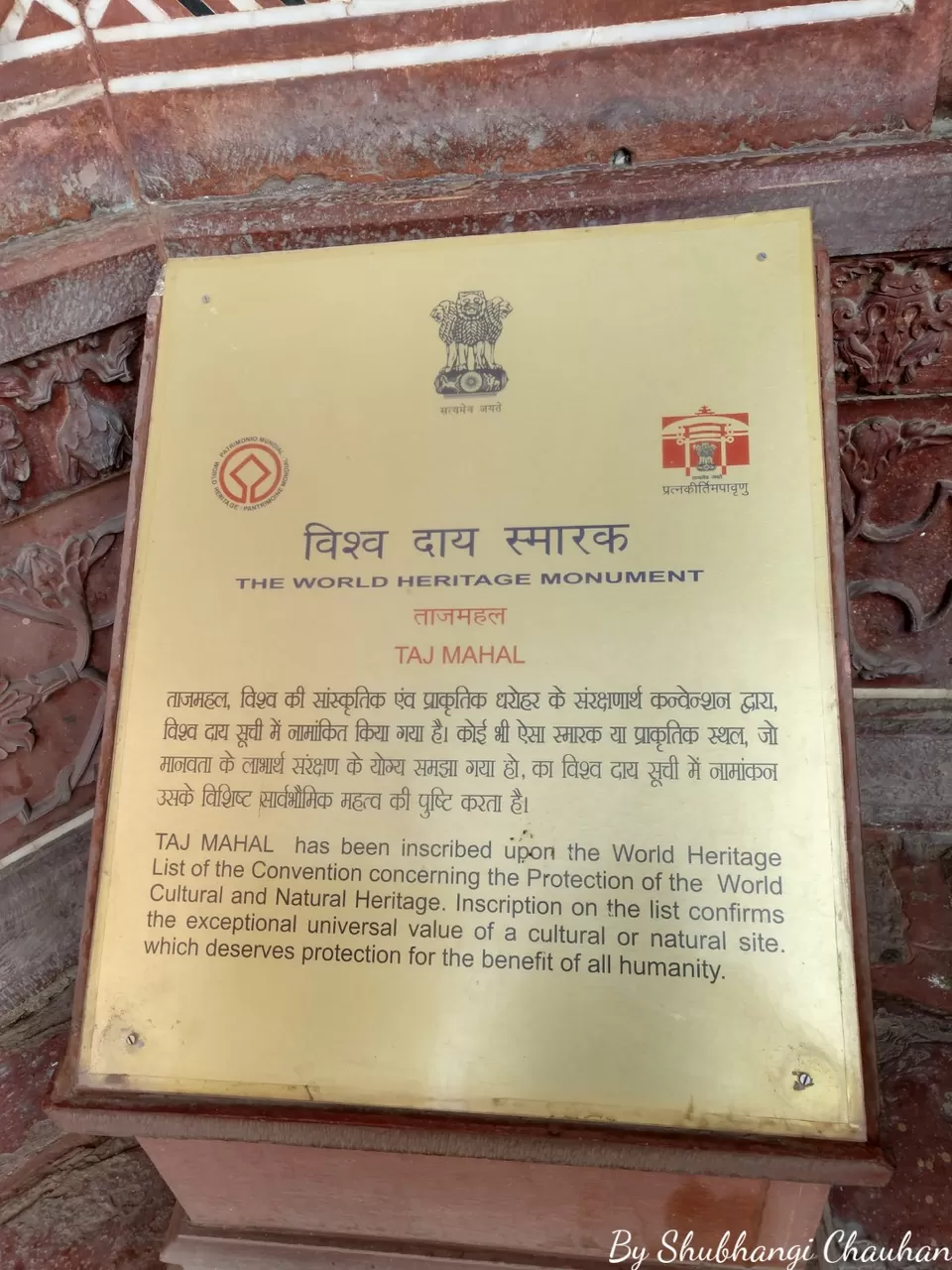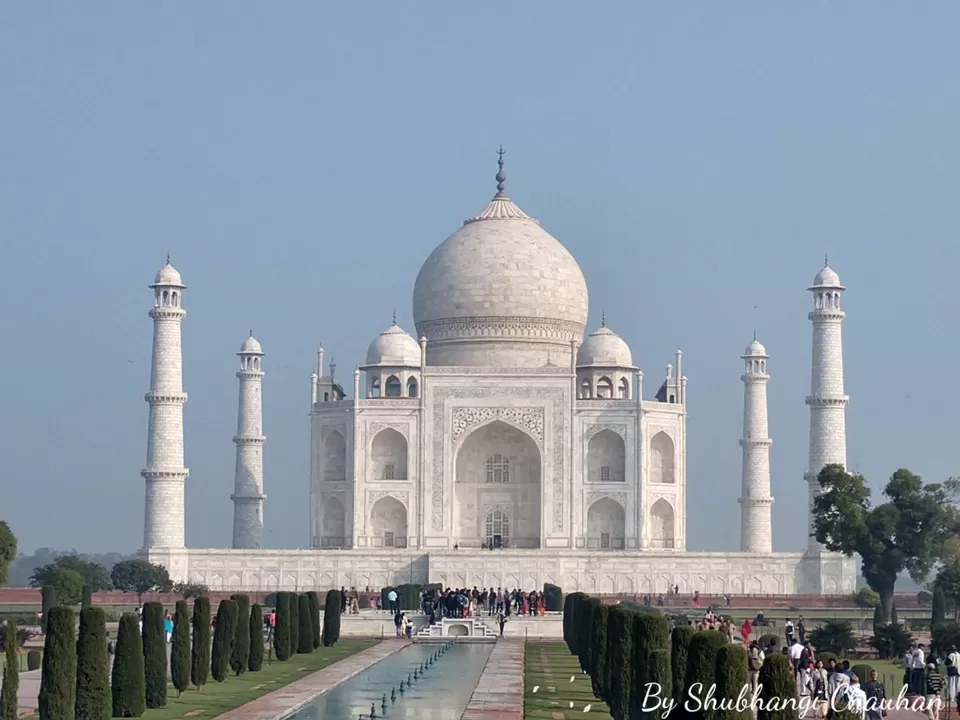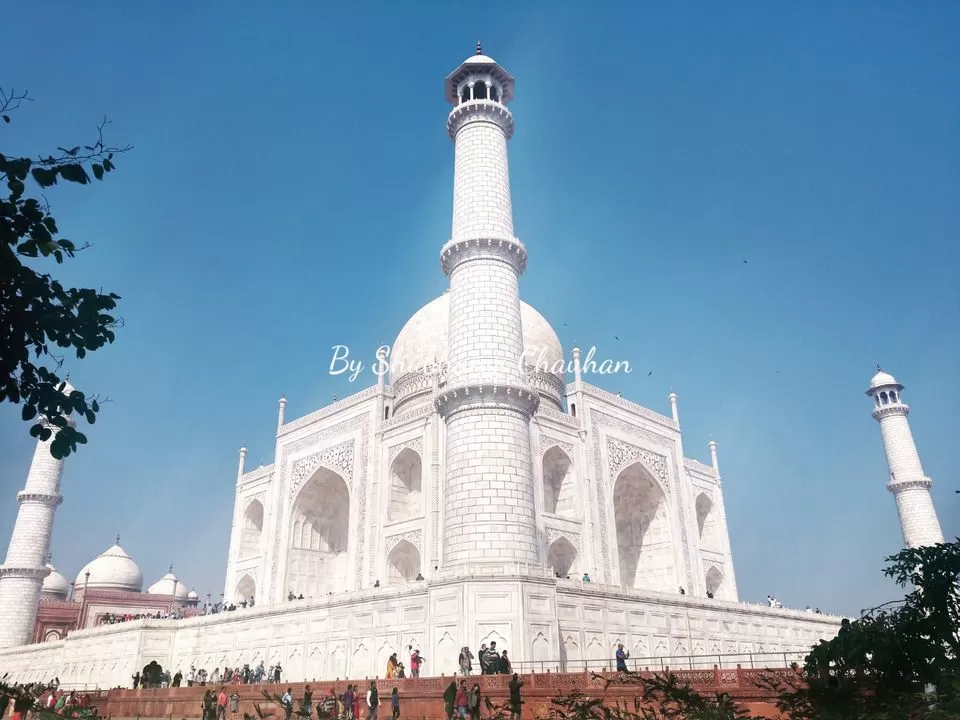 2. Visit to Red Fort
Entry Fee: 50/- for Indians
Visit Duration: 2 Hrs
We left from Agar at around 4.30pm.
Travel 1: From Agra to Noida by bus (UPST bus, boarded at 4.30pm)
Travel Duration: 3.5 Hrs (205 Kms)
Fare:350/-
Travel 2: from Noida to New Delhi Airport via Train (Metro train)
Fare:120/-
Travel 3 : from Delhi to Pune via Flight (Flight boarded at 3.00am)
Travel Duration: 2 hrs
Fare:3500/-
Total Cost for the Day:
Site Entry Fee: 300/-
Cloak Room charges at Agra: 120/-
Local Transport in Agra: 450/-
Bus Fare: 350/-
Metro fare: 120/-
Flight Fare: 3500/-
Cab fare in Pune: 350/-
Arrived at Pune at around 5.00am. To be precise t was 12th Day of trip. After 3 hrs of sleep I reported at my office.
Back to my equally important 9 to 5 life !
Summary of the trip (Food expenses excluded):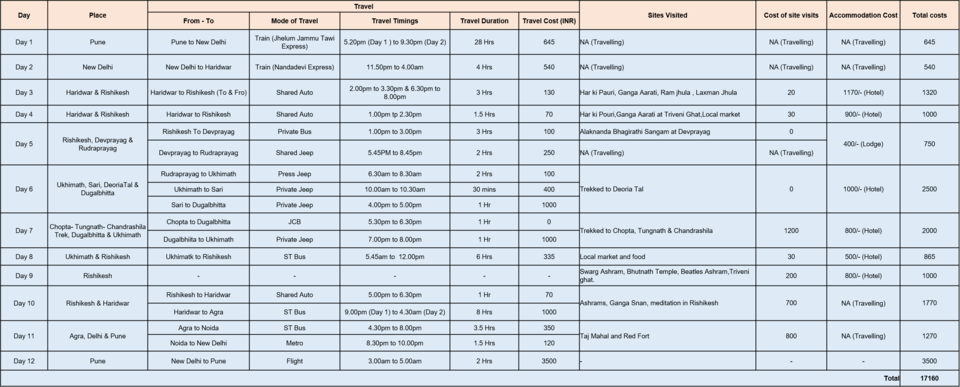 #himalayantrek #explorer #uttarakhand #incredibleindia