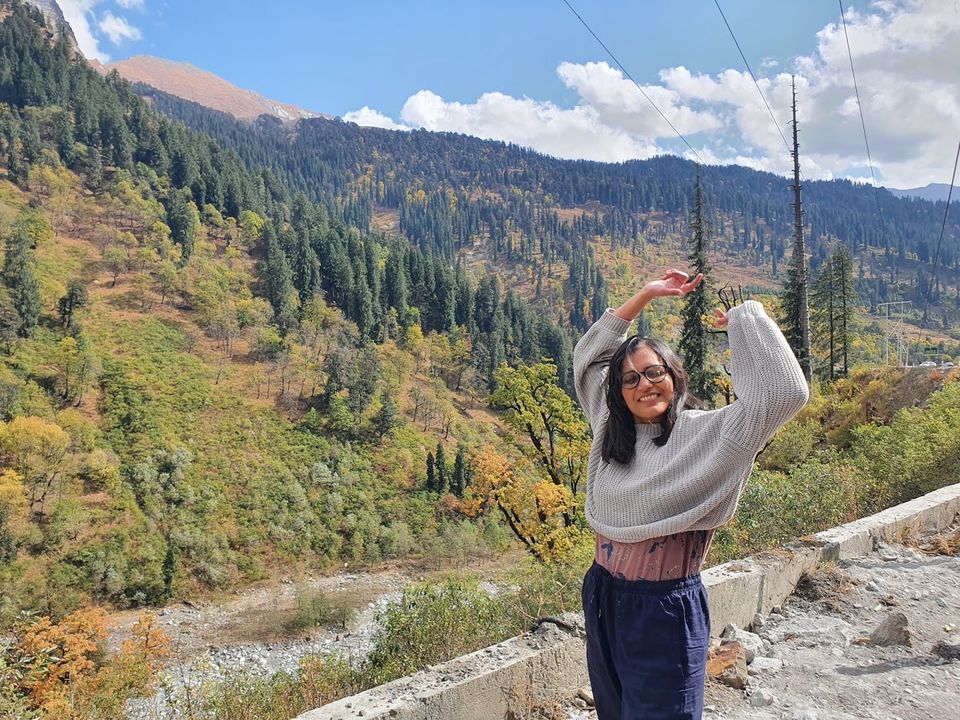 Sissu to Manali
I woke up with this view in front of me. This is exact photograph of how it looked from my bed. Snow all around, on everything I could see from my wooden window pane. I was super-duper-excited to see that, so I ran towards my balcony only to realize it was freaking freezing over there. There was ice beneath my shoes, and snowfall before my sight. I picked up the snow from the balcony grill and ate it. It was yum.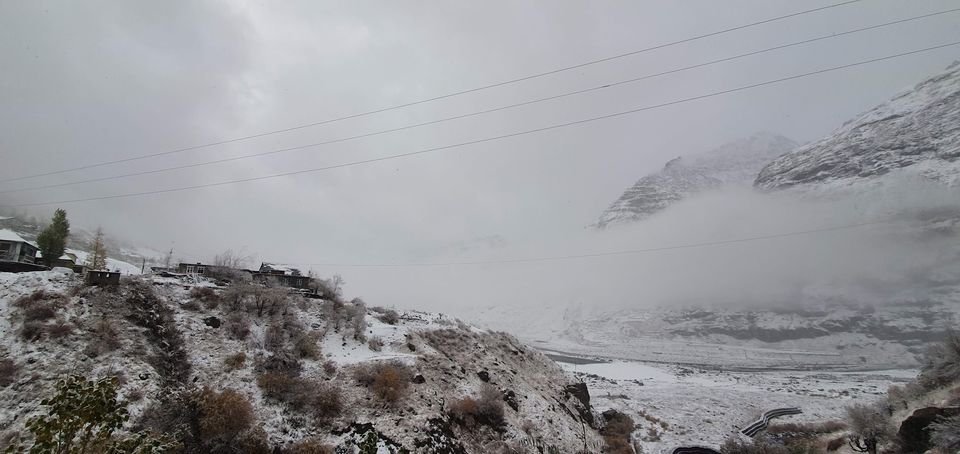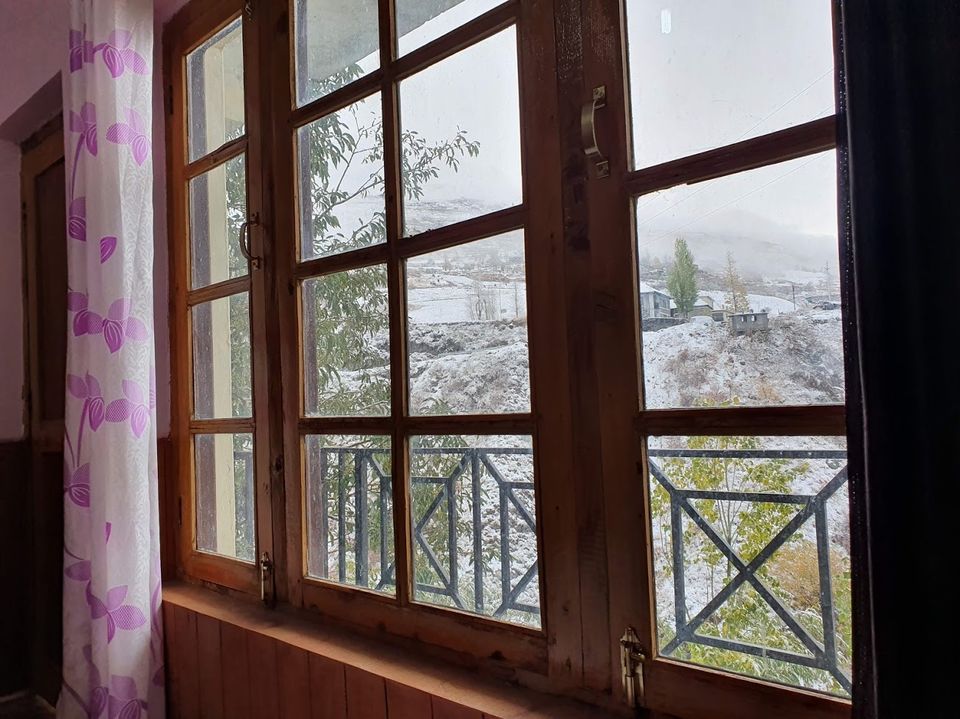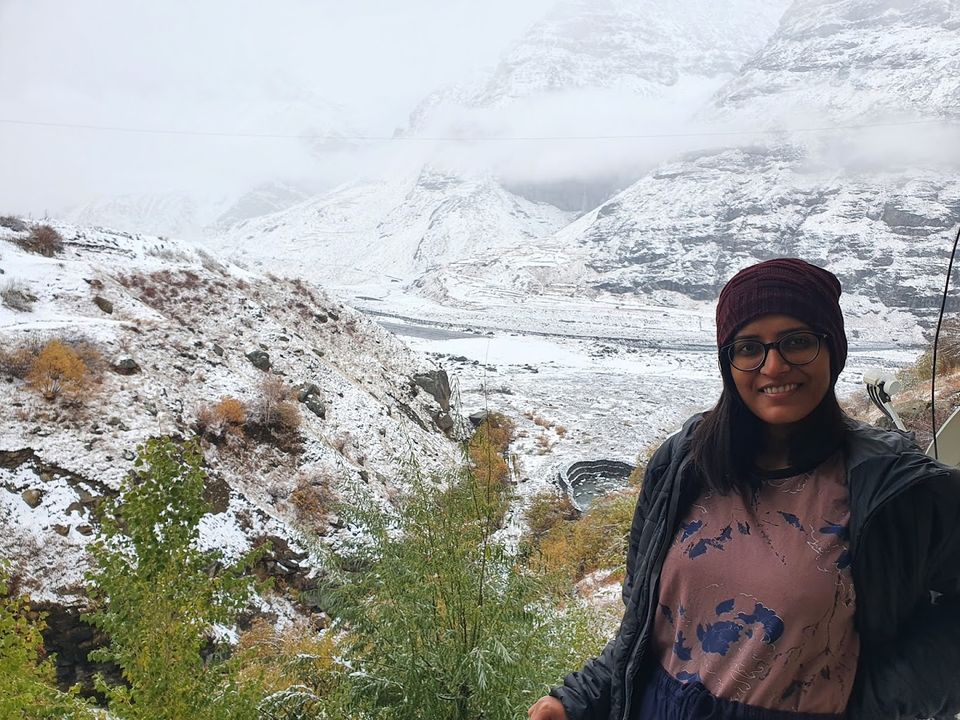 We got to know from the hotel staff that it was snowing since 11 pm in the night, and it was still snowing. We could see a blanket of snow till wherever our eyes could see. The second thought that hit me was how would we drive our bikes back to Manali? We could have stayed over there, but then there was this possibility that it would keep snowing and we'd get stuck. After fussing ourselves for a while, we went out to find out the roads were completely clear. Yes there was snow all around, but not on the roads. So we clicked some photos, packed our bags, took a sip of rum, and left for Manali.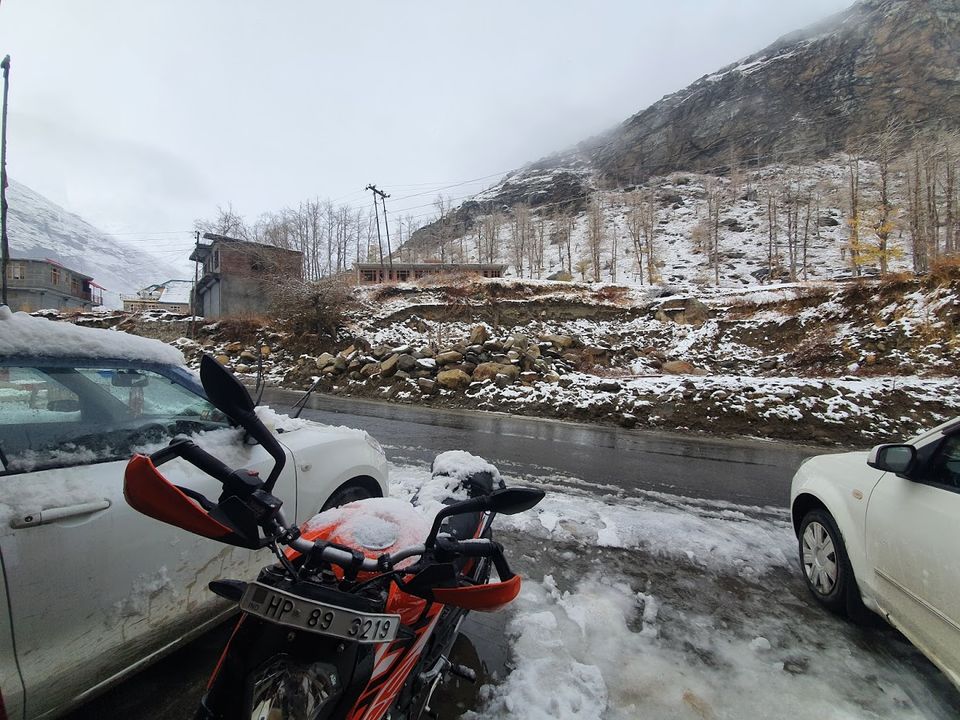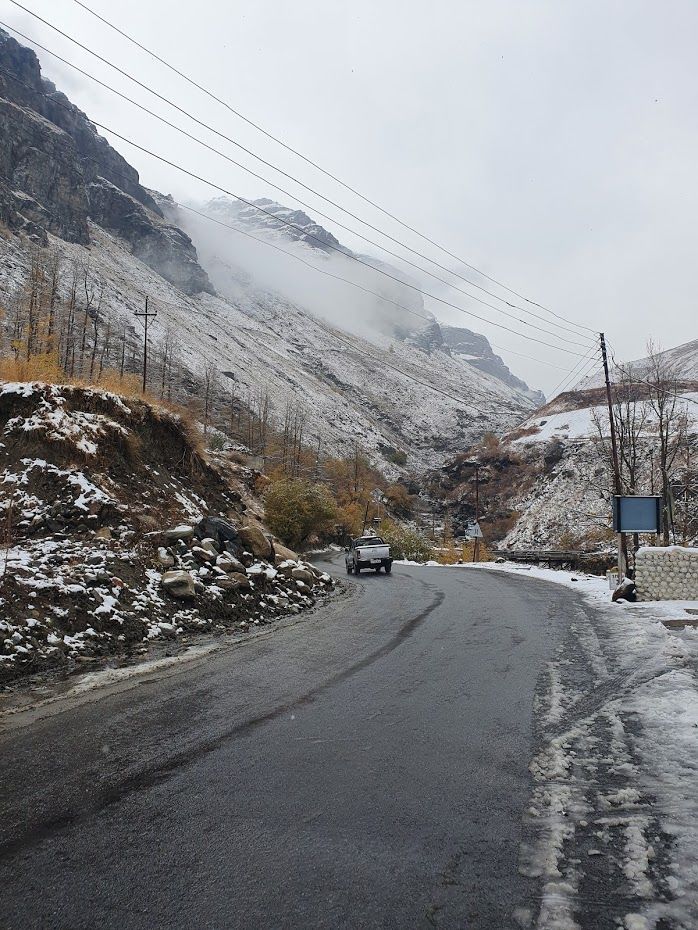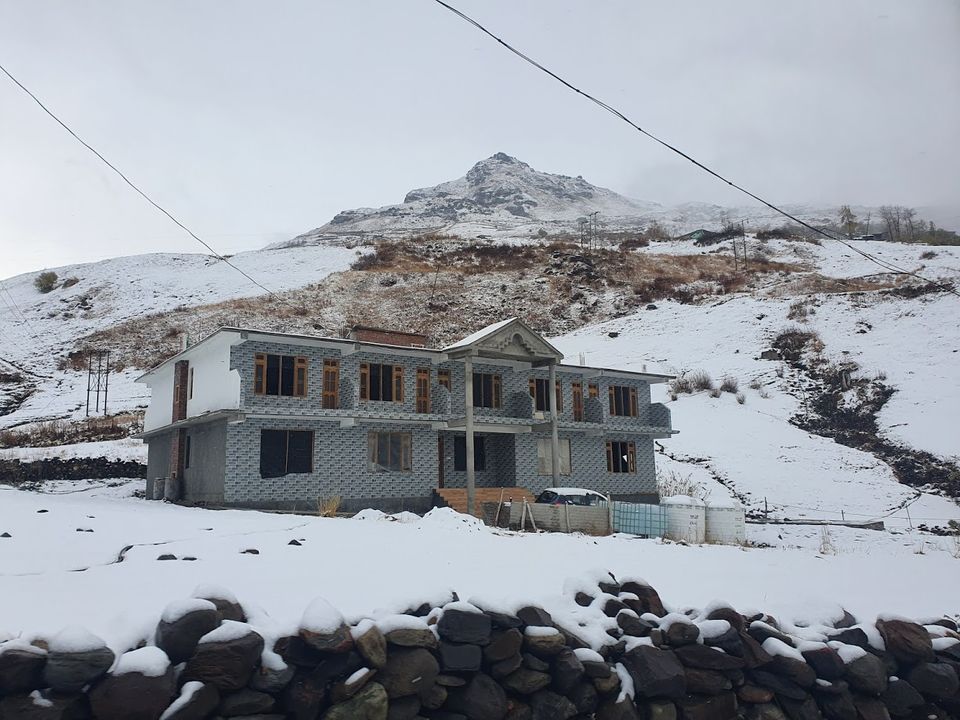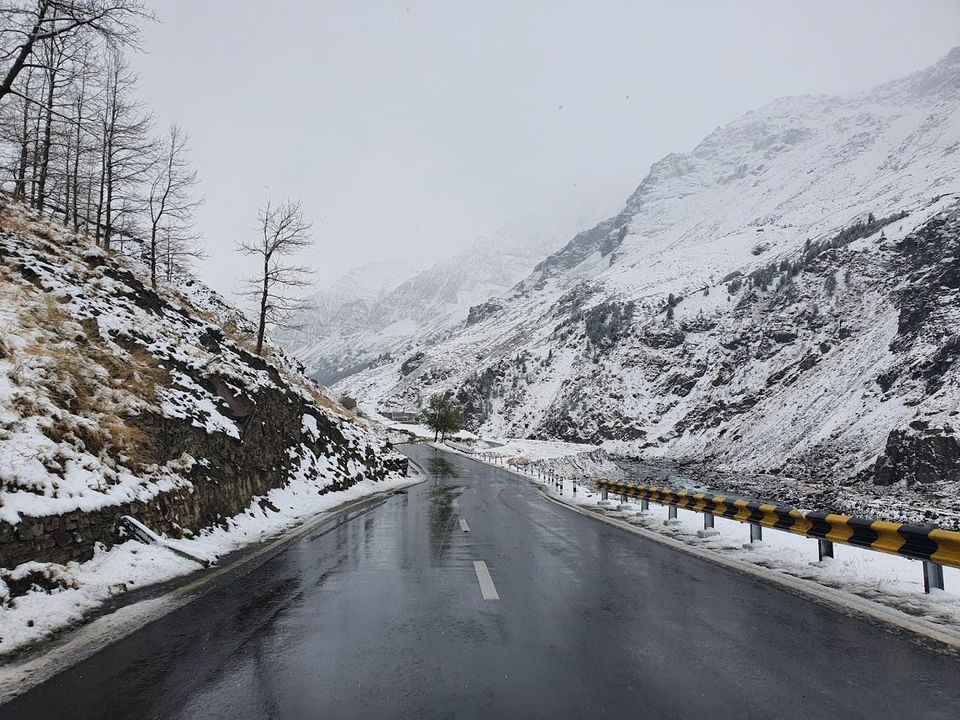 We had to shove the snow down from our vehicles. And our hands froze while driving since we didn't have gloves (mine froze while taking pictures). But once we were in the Atal Tunnel, we knew we had crossed through the sea of snow. On the way, people were taking pictures on every significant snow patch we could spot. I drove our scooty inside the Atal Tunnel, and through the whole way to Manali. I was driving on the mountains for the first time, but the Lahaul-Spiti highway was so amazing, the roads were so smooth, that it felt like my Activa was driving itself.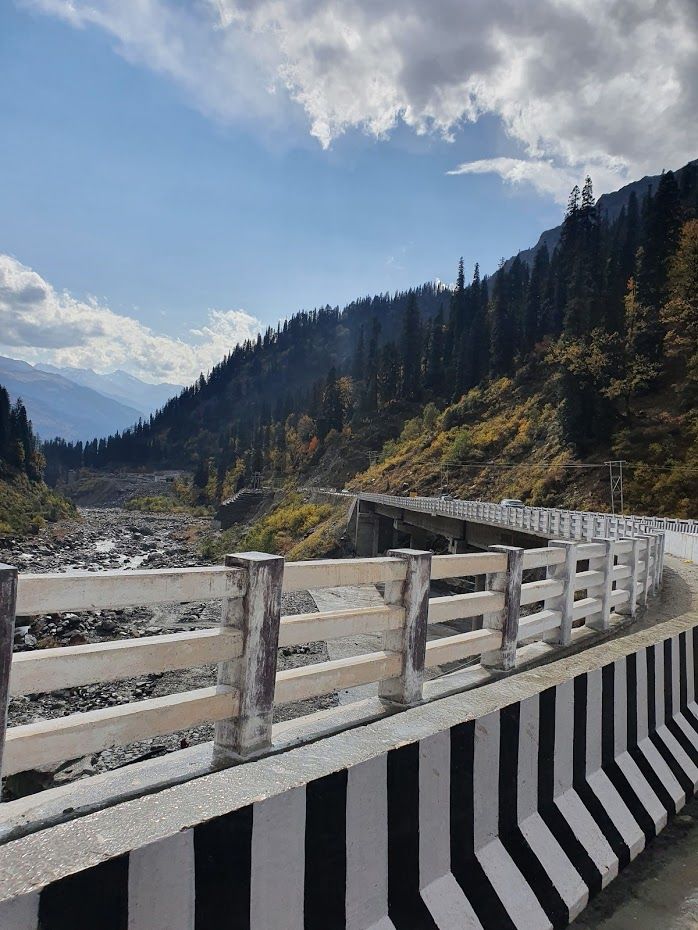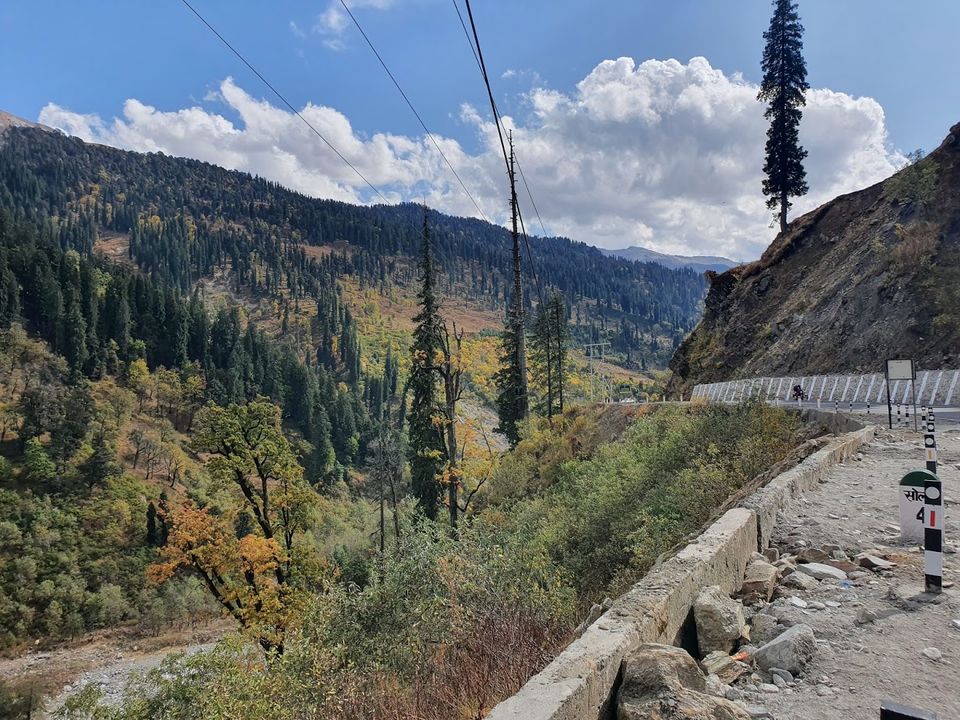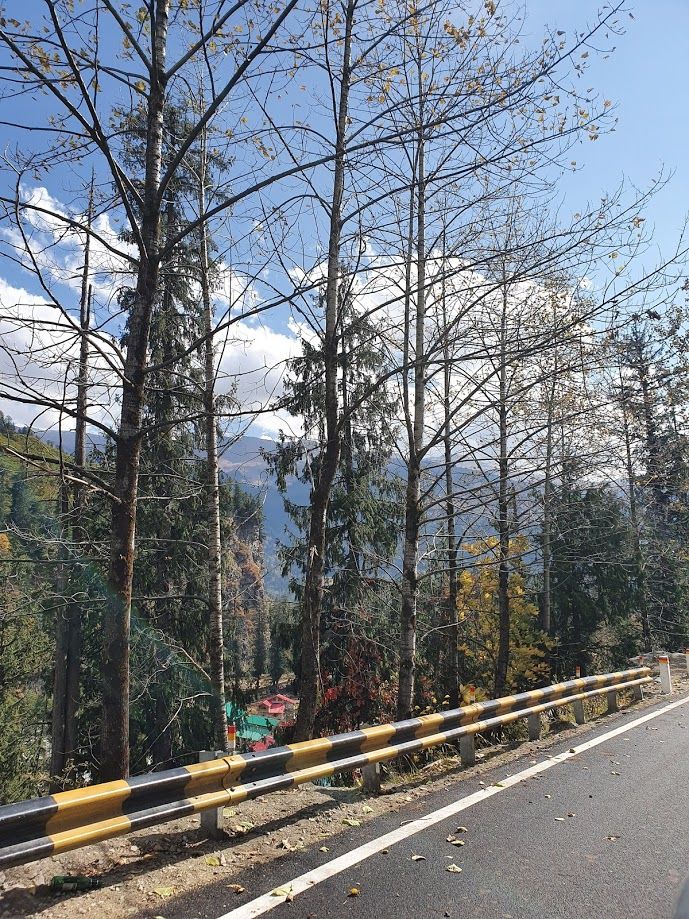 When we came out of the Atal Tunnel, all the snow had disappeared magically, and all of a sudden we were in autumn. The tunnel was like an anywhere door out of Doremon's pocket, it transported me from winters to autumn. The trees on the ranges, fallen leaves by the roadside, warmer shades of the skyline, all welcomed us to autumn. I could see shades and tints of ochre, mustard, amber, and scarlet all around.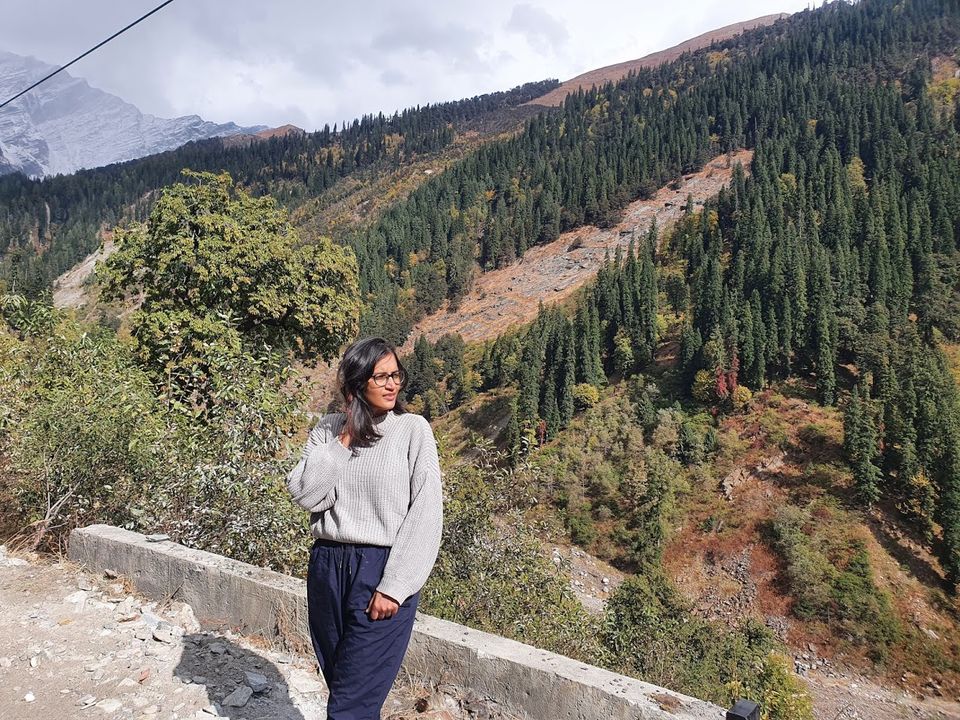 Manali to Bir
We reached Manali at about 12, had our breakfast, and left for Mandi. From Manali bus depot, we got the bus which took us to Kullu. From Kullu we got a bus for Mandi, and from there we took a bus for Bir. It was straight 8 hrs of travel in the mountains. And it was the first time my motion sickness reached to a level where I puked from the bus. Super gross, but really relieving. Mountain Tip: Don't forget to carry vomit stop medicines on the mountains.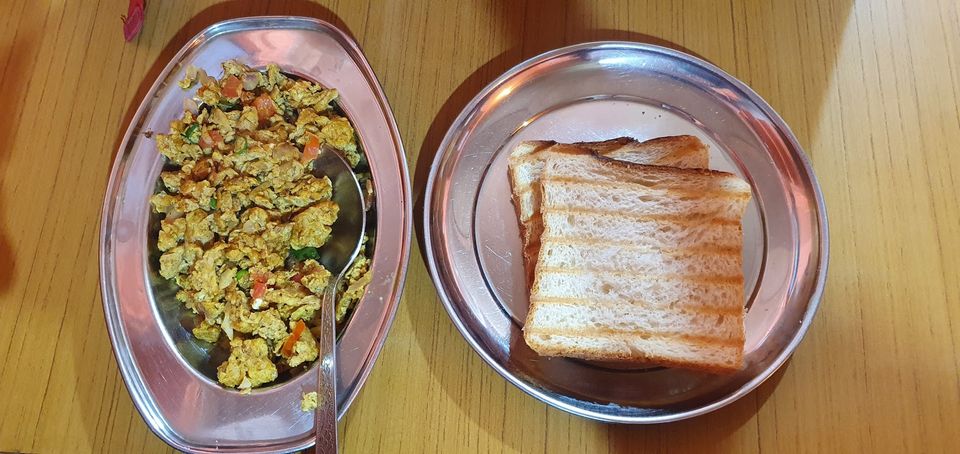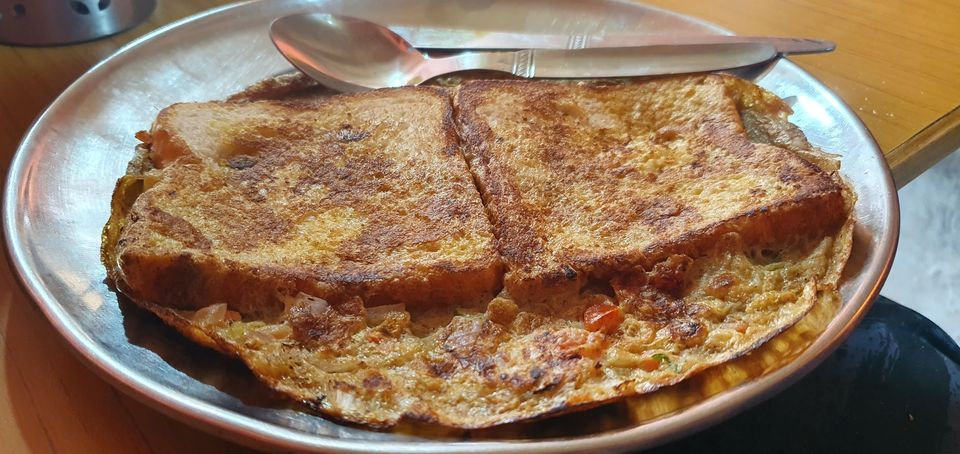 On the way we had super cheap and super tasty dinner on a dhaba. And we reached Bir at about 10:30 pm. The bus actually left us on the road to Baijnath, and at this time of the night you won't find any taxi to Bir. So we had already talked to our host at the hostel who had given us the number for a taxi which was there to receive us on the otherwise deserted road. This was the scene we saw at The Hosteller, Bir.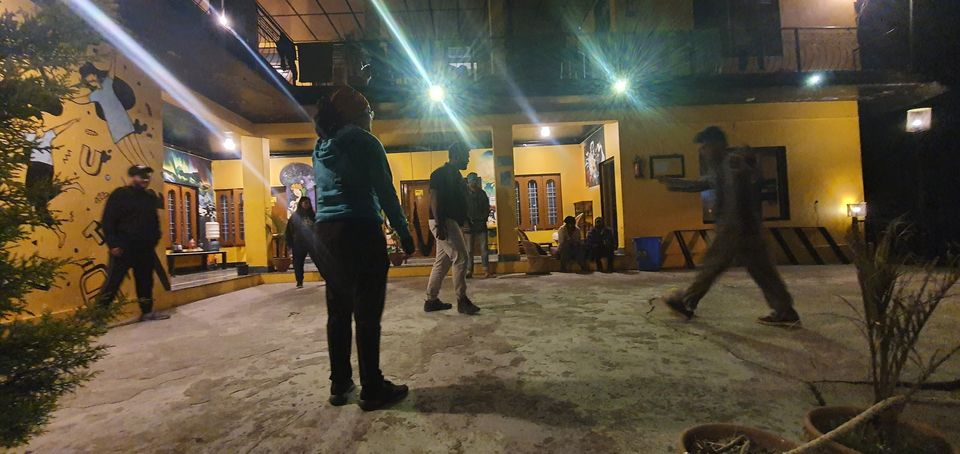 The vibe was ultra chill at The Hosteller. People were playing football, some were chilling around the bonfire, some were talking in groups here and there. There were songs playing on the speakers, and with that I could hear people laughing along. I love this place from the first look, let's see where the journey at this new destination takes us.
Musings
You leave your home to go to a journey. You reach a place, roam around, meet new people. If you stay long enough, you explore the place and get accustomed to it. You start feeling like a local there, the place that was new just a few days ago starts feeling like home. Then comes a day when it's time to move on, to a new town, for new adventures, among new people. But during the process of transitioning, there's a time when you look out the window and feel like, yes you've grown a little. Somewhere deep down, you know you've gained new perspectives, gathered new experiences, and added some remarkable stories to your ever-growing bag of memories!
This is an article in my series 'Workation 2020', which is a 16-Day post-lockdown trip to Himachal. Follow me to live the whole experience along. Check out the posts and story highlights of this trip on Instagram at my handle @divyagolyan!