Come to my arms,
or,
let me live in your stomach.
Wake up your sleeping taste bud,
immersing with food.
Only food and travelling should not be wasted in the world. Turkish cuisine is counted as one of the best in the world, ranking the third place apart from China and France. This summer, I finally made a tour to my obsessed Turkey with excitement.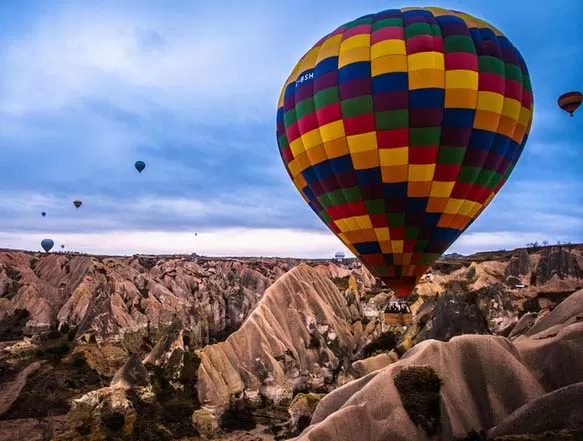 As a foodie, I have to make full preparation in order to taste yummy food. On the first day in Goreme, we couldn't wait to go to Pumpkin Restaurant, ranking top 3 on Tripadvisor. We had planned to try the top 2, but only to find ourselves fall in love with the food there. And we even became obsessed with it.
Located in the center of Goreme, Pumpkin Restaurant can be easily found and was opened by Chief Oguz and his family a few years ago. On the first visit, we found it was a small simple-decorated but warm and sweet restaurant with no particular luxuriant arrangement (ps: designed and decorated by the chief himself!). What's more, lamps in the dining area are quite special and comforting, with soft light from the hallowed-out fixtures. We observed the cooking process in the open kitchen. This made me wonder he was engraving flowers instead of cooking? How careful and delicate!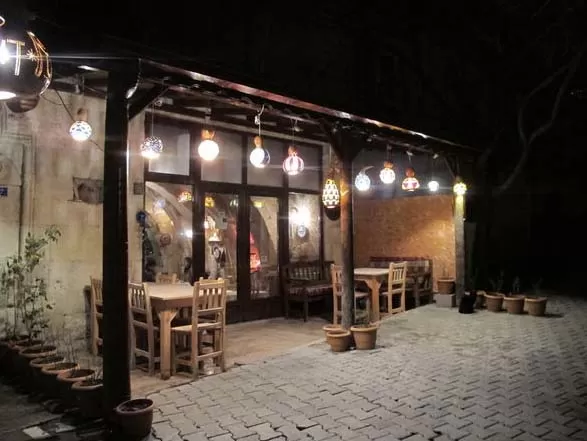 Ordering is always tiresome for me (Though I am a foodie). As luck would have it, there's no menu in the restaurant at all, partly because it serves differently each day, so it only offer packages, including soup, salads, main courses, dessert and tea or coffee. Compared with price of commodities in Turkey, it is a little bit higher, while full mark should be given to the chief for his diligence to cook cuisine with local ingredients and distinguished ideas.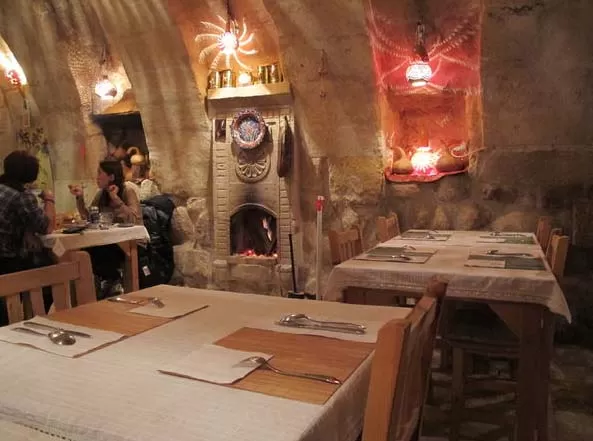 What a flavor to dip the specially-cooked bread with local olive oil! One can eat up a whole basket of such bread!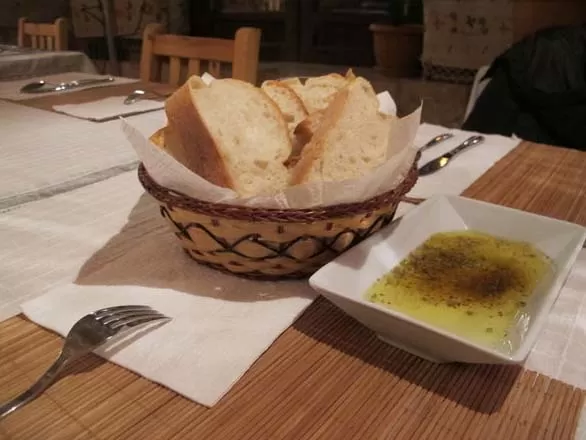 Each day, soup and salad bear different flavors! The salad served combines traditional Turkish food and salad. It is especially great both for its amount and flavor. Even a person like me who dislikes salad can make a clean sweep of the salad in this restaurant.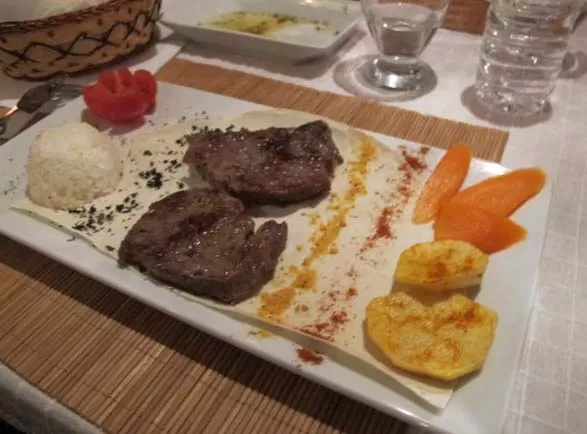 It serves two main courses- beef and chicken. In spite of cooking skills, all beef served is well-done and I have no idea whether it is Muslim. The chicken it serves is a great taste in the world. Europeans love chicken breast while it may be likely to be too dry. Chicken served in this restaurant is the best I have ever had in recent years! After having the chicken there, you will find chicken in other restaurants inferior. If it is possible, I want to try again the chicken cooked by Oguz.
Traditional Turkish desserts and fruits of the season are mainly served as desserts.
Surprisingly, I could eat the persimmon I had being long for. Persimmons of Turkey are sweet and big in size. Speaking of desserts, I was fully convinced. Turkish desserts are extremely sweet and mainly fried. Although I am a fried-food lover, I can't bear the greasy taste. Maybe only the Turkish love it. Although I have the reputation of easily accepting food of various Countries, I still can't appreciate Turkish desserts. This marks a tiny pity during my trip of food tasting.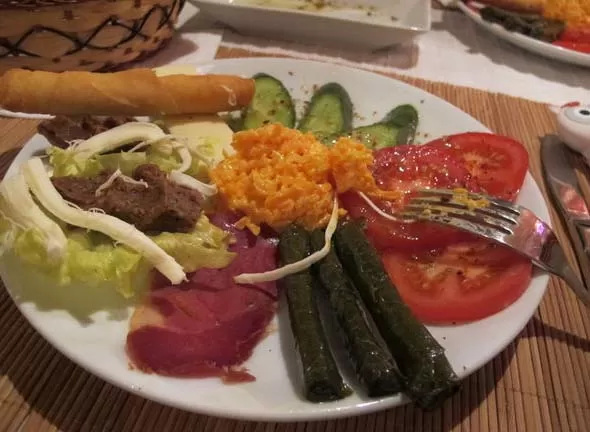 Luckily, plenty of fresh fruits make up for it!
Chief Oguz was very nice and talkative. After dinner, we usually ordered a cup of local wine, after Oguz closing the restaurant and then we would have a chat. Oguz told us he had worked in Berlin for two years after graduating from catering school over twenty years ago, and then went to work in Istanbul due to one of the chains' opening-up in Istanbul. He determined to come back hometown just a couple years ago. ------To open a restaurant in Goreme where received most tourists in Nevsehir. Only after a few years, Pumpkin Restaurant ranks the top places of Tripadvisor in Goreme.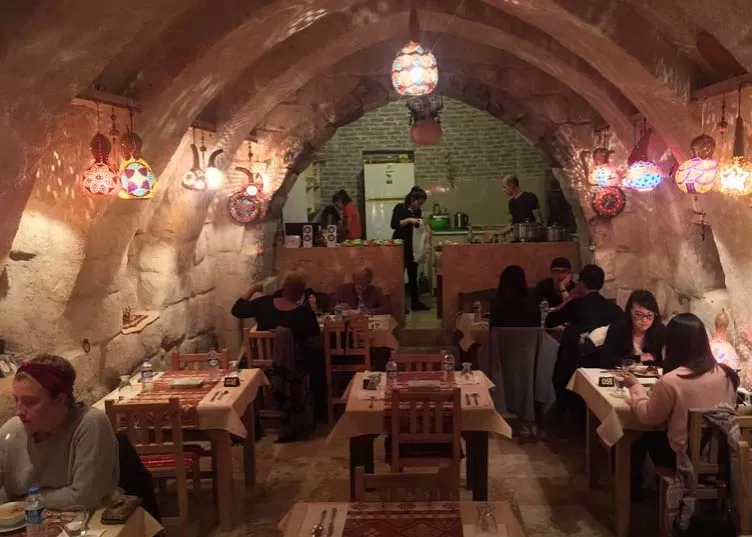 Anyway, thank Oguz for his considerate thoughts, bringing us a cheerful memory every evening of Goreme. Though missing the top 1 restaurant, I feel no regret at all, strangely.
Within a short period of days, we have established profound friendship with Oguz unexpectedly. There's more than just eating in the world of a foodie! We can make friends while enjoying delicious food!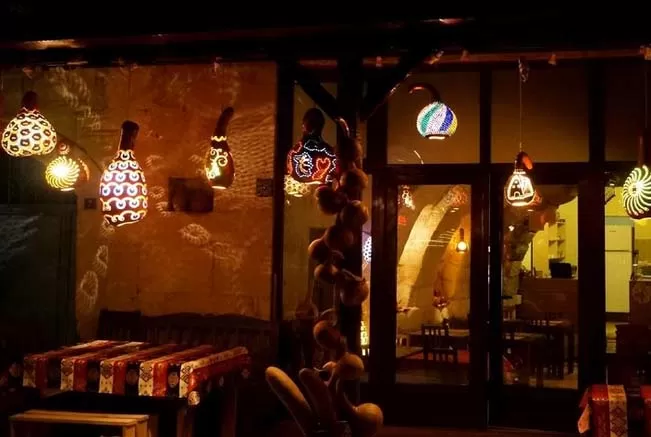 There are two kinds of foodie in the world, the one just like eating, and the other like travelling to search for yummy food. I belong to the latter, travelling throughout the whole world only for a different dish. Well ~ well~~
Summary: Only food and travelling should not be wasted in the world. Let Turkish food waken up your taste.