Straddling two continents and rising from the shores of the Bosporus, Istanbul is a charmer in every sense of the word. Apart from its famous mosques and palaces and stunning views, the city happens to be a foodie's dream come true. Every nook, every cranny here is rife with eateries, and as you walk down, the aroma of freshly baked bread or smoking hot kebabs wafts past, dragging you to indulge in some glorious food. While the city is bursting at its seams with new-age restaurants, it's a good idea to sample authentic Turkish food while you're here. From borek to baklava, kebabs and ice cream, here's a quick lowdown on some of Istanbul's iconic local foods and where to find them. Most of them are hole-in-the-wall eateries or streetside carts, but they're legendary in their own right, and a whole lot of fun to eat at.

Hafiz Mustafa 1864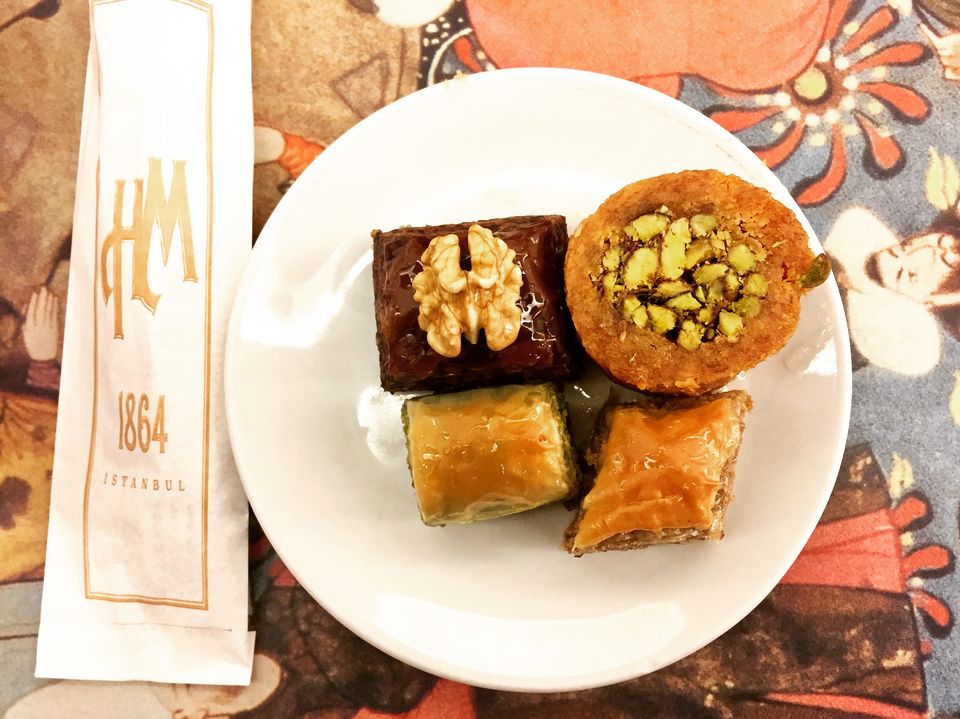 This place is an institution in its own right, and if you have a sweet tooth, chances are you'll want to sample everything that the shop offers. Started by a money lender called Ismail Hakki Zade in 1864, this is where you go to get your fix of lokum (Turkish delight), baklavas, halva and a whole lot of sweets and candies smothered in butter, phyllo pastry and nuts. Both the lokum and the baklava come in a variety of flavours including chocolate, pistachio, pomegranate, and it's a good idea to get them packed for family and friends back home.
Karakoy Güllüoğlu
Locals and tourists swear by this place and with good reason. Laying claim to the best baklavas in Istanbul, this iconic establishment has been functional since 1949, and continues to lure people with its insane varieties of the famous dish. The one with clotted cream comes highly recommended and is best had with a side of cay (Turkish tea). Güllüoğlu also does a mean chocolate baklava – dark, decadent and sinful, this is a hot favourite. The best part? They ship around the world.
Simit Sarayi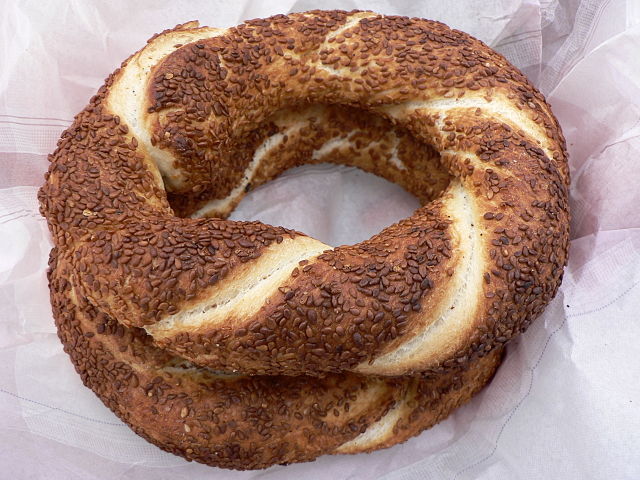 As you walk down the streets of Istanbul, you'll come across several street vendors selling fresh bagel rings encrusted with sesame seeds from their carts. Called simit, this is a popular snack or breakfast all over the city. But if you're looking for a simit with a twist, head to Simit Sarayi, a large chain of bakeries in the city that specialises in this ubiquitous pastry. At Simit Sarayi, you could whop down a Nutella simit or wolf down a simit sandwich filled with smoked salmon. The chain is so popular that it has branches in London as well.
It's sacrilege to leave Istanbul without digging into its legendary kofte or meatballs. And this tiny nondescript joint in Sultanahmet in the Old City is hands down the best place to sample this delicacy. With a history of close to 100 years (the place was started in 1920), this eatery is always packed with loyalists and tourists alike, with everyone making a beeline for the grilled meatballs that the place dishes out. Served with chillies and a spicy chilli sauce, ayran (a local buttermilk-like drink) makes for the best accompaniment to the dish here.
Sehzade Cag Kebap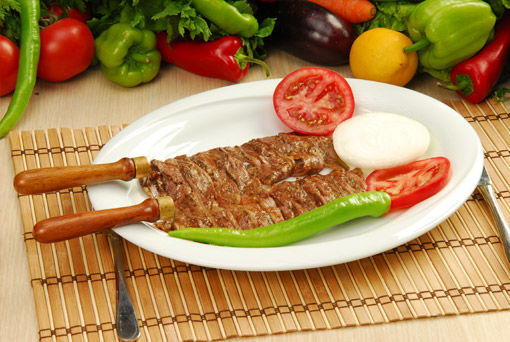 Located in Sirkeci, near Sultanahmet, this little eatery serves perhaps the most delicious cag kebap in all of Istanbul; made essentially of lamb meat marinated in spices and onions, the kebaps are cooked on a skewer, lending it a rustic taste. The no-frills restaurant takes its kebaps very seriously, so much so that it's the only main dish you get here. You could, of course, have it with lavas (a local flatbread) or a sandwich with a side of yoghurt or a salad. And then round it all up with the supremely tasty kadayifli dolma, a dessert made of walnuts and phyllo pastry.
Emin Usta's Balik Ekmek
Fish sandwich or balik ekmek is kind of a staple in these parts, and if you're anywhere close to the sea, you'll find plenty of vendors and tiny eateries selling these, fresh off the boat. But the best balik ekmek in all of Istanbul is found not in restaurants but served by a man called Emin Utsa who runs a tiny cart in Beyoglu near the Golden Horn. People make a beeline for his perfectly grilled sandwiches served with a secret sauce.
Durumzade
Durum is a Turkish wrap filled with minced meat, and is a must try if you're in Istanbul. For a taste of this flavourful dish, head to Durumzade in Beyoglu. Open all night, this place makes a legendary durum with lavas (Turkish flatbread) wrapped around spiced and grilled minced meat and an assortment of vegetables. The durum here is sinfully good and is a meal in itself.
Tahrihi Sariyer Muhallabicisi
This family-run restaurant overlooking the Bosphorus has been around since the late 1920s and while it was traditionally meant to be a dessert place, especially milk-based ones, it has a variety of snacks, sandwiches, puddings and desserts intrinsic to the region. If there's one item that you want to try here, pick the borek. The borek is a pastry made of yufka, a flaky dough, and is one of the most commonly found snacks in the city, at roadside eateries and fancy restaurants alike. This restaurant has several varieties of borek with a range of fillings from ground meat to cheese and peppers.
Simsek Pide Salonu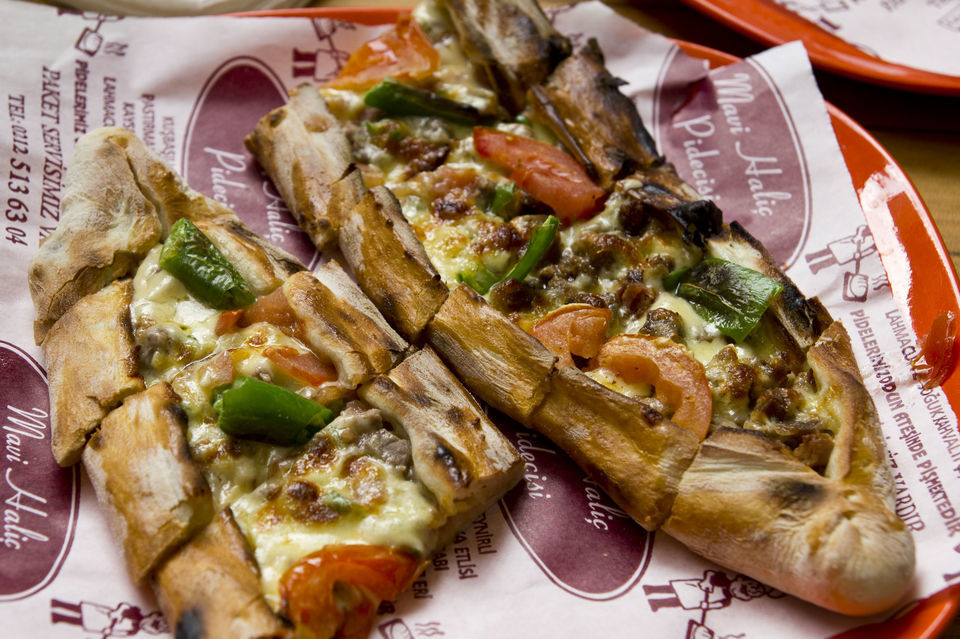 The Turkish version of the pizza, or pide, is a delightful mix of dough, cheese, meat and vegetables that can be had any time of the day. Simsek Pide Salonu in Taksim has been whipping up some of the best pides for years together, and here you can get your order customised, right from the shape of the pide (oblong, round or a calzone) to the toppings (a choice of vegetables and meat). Finished with a glaze of melted butter, the golden crusted pide here is all kinds of awesome.
Mini Dondurma
Located in Bebek, this has remained an iconic place for dondurma (Turkish ice cream) in the city for decades. Turkish ice cream is characterised by its distinct texture, thanks to the addition of salep (a kind of flour) and mastic, a resin; the ice cream is hence a bit chewy and doesn't melt. At Mini Dondurma, one can sample a variety of flavours such a pistachio, banana, sour cherry and caramel, to name just a few.
Frequent Searches Leading To This Page:-
Turkey Holiday Package, Tour Packages Turkey, Family Tour Packages For Turkey, Holiday Packages For Turkey, Best Turkey Tour Packages, Holiday Packages To Turkey From Mumbai, Turkey Tour Packages Price