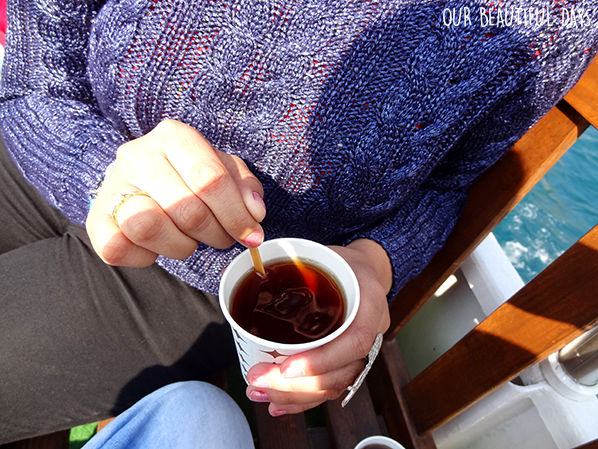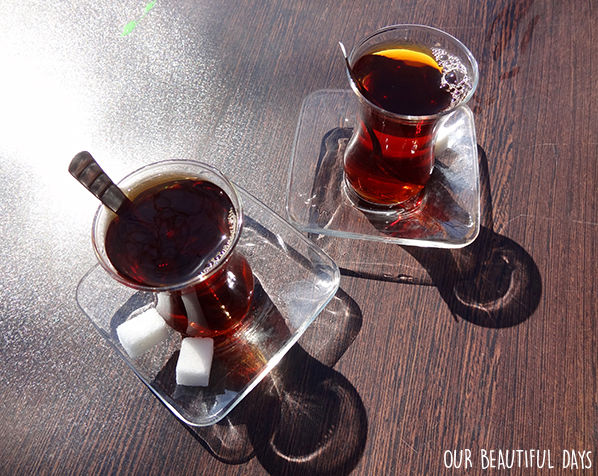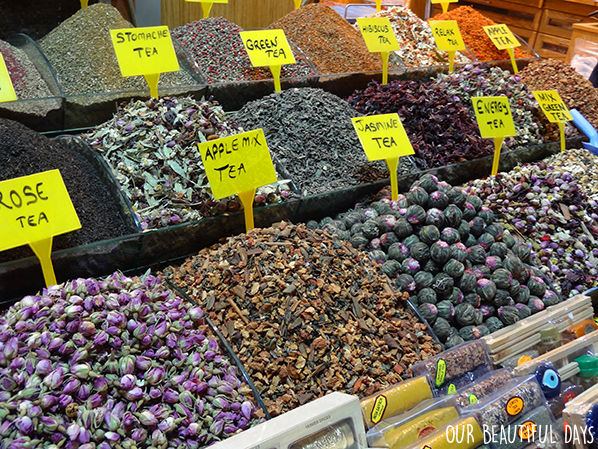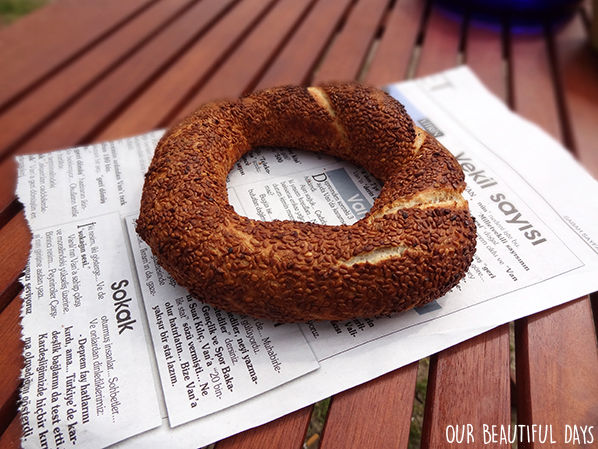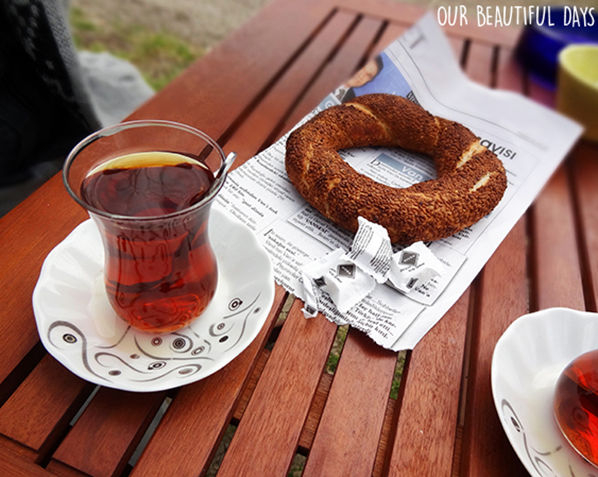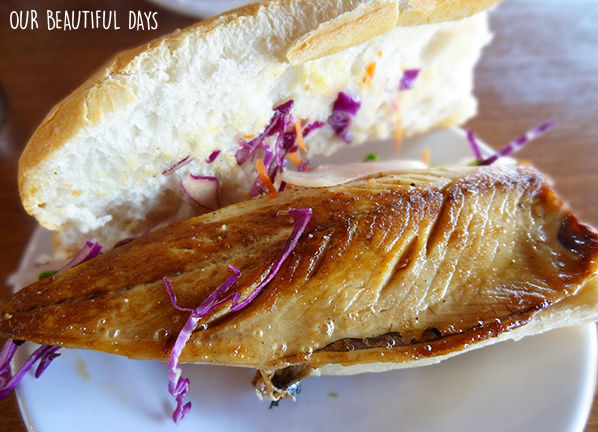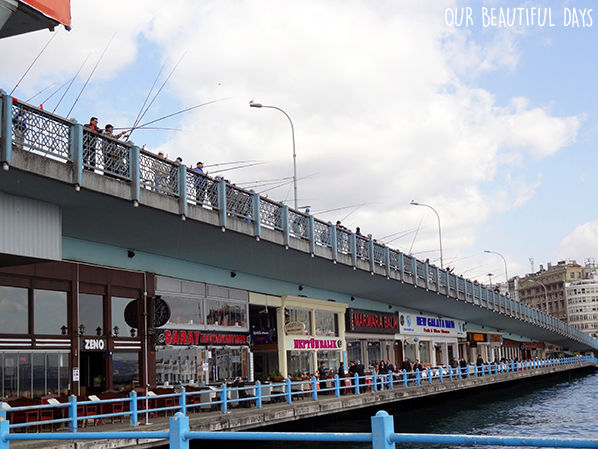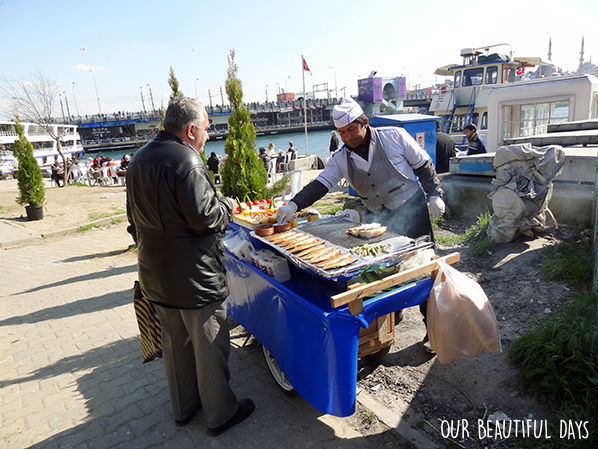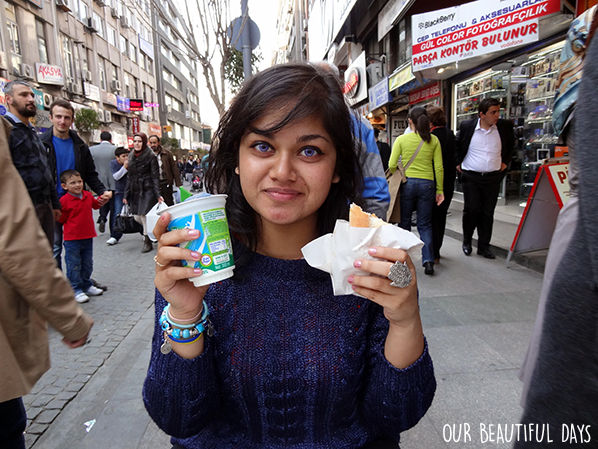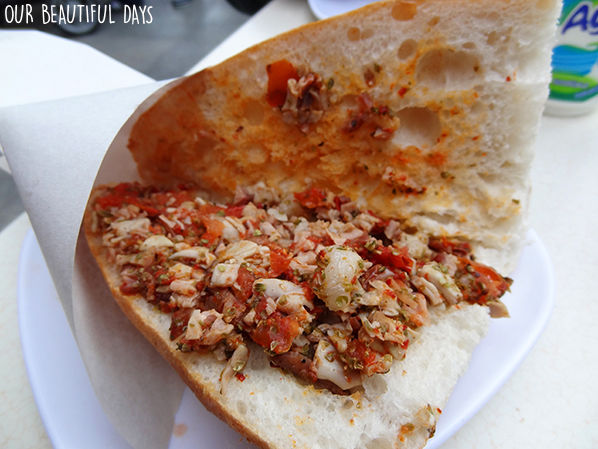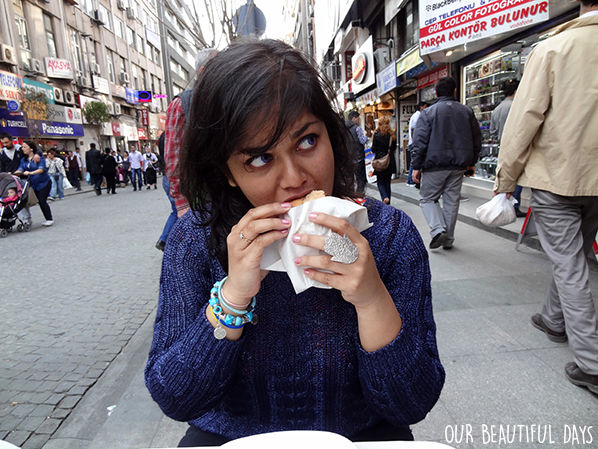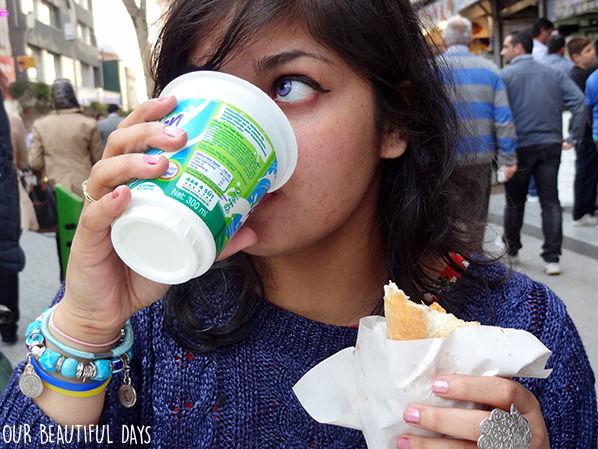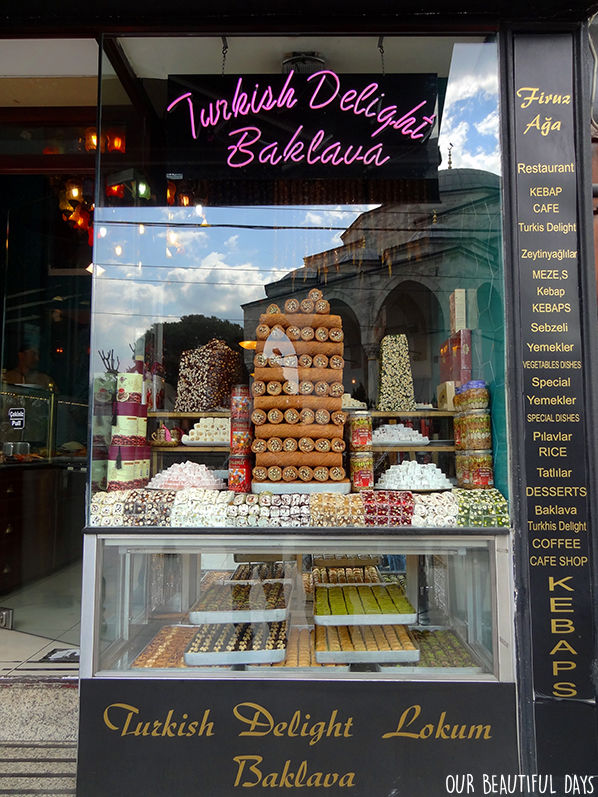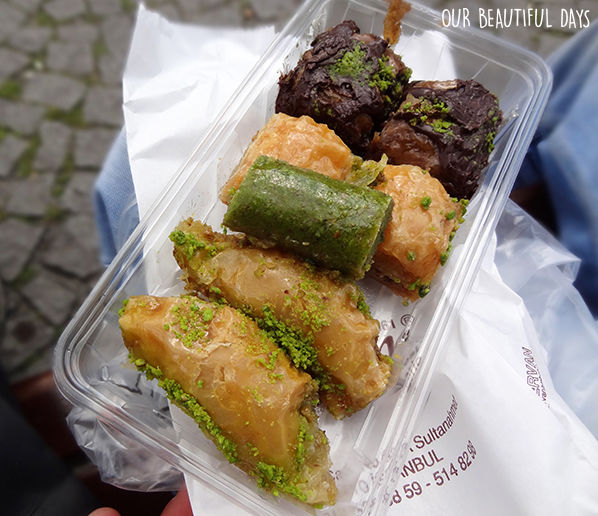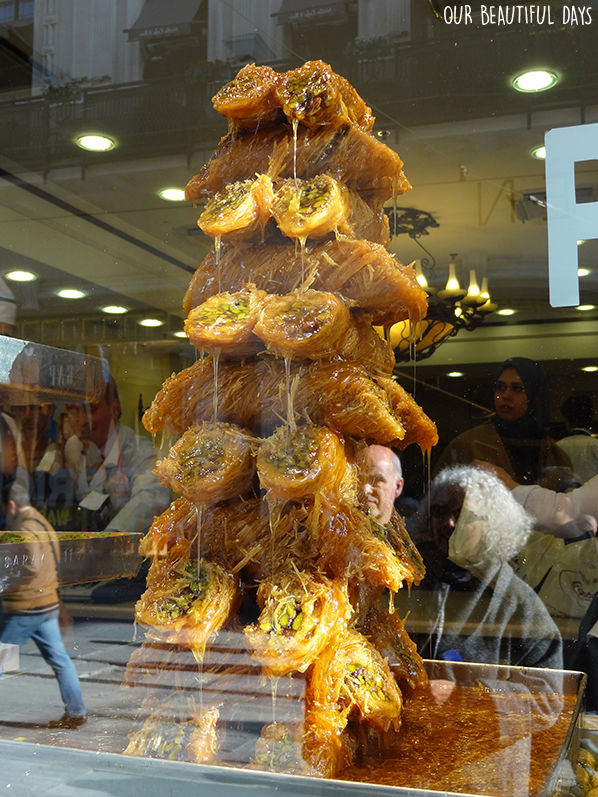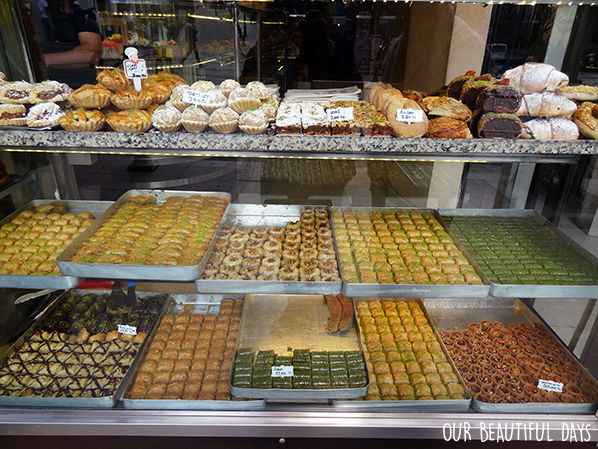 All those who know me are fully aware of my love affair with all things Turkish. While I've only explored the tip of the iceberg Turkey that is Istanbul, there is a reason why the city alone is enough to satiate my wanderlust. At risk of sounding like a major cliche, it's impossible to talk about Istanbul without referring to it at least once as a melting pot of cultures, for it truly is. The melting pot reference becomes that much more literal for it isn't just Istanbullus (or, the people of Istanbul) who straddle the intricacies of East and West. The intertwining of cultures seeps down and permeates through the city's cuisine, as it has for centuries, making food in Istanbul a whole new ballgame for foodies. My own experience with and knowledge of Turkish foods has increased dramatically over the years and a singular piece on all the delicacies I love so much would be a mammoth of a post. Here I make it simple for you and take you through 5 glorious foods I ate during my time in Istanbul... And strongly recommend you do too!1. Çay // Tea
In my mind the strongest physical embodiment of hospitality in Istanbul is çay (pronounced: chai). In fact, there are few interactions I've had with Turks that do not involve tea, whether they be close friends or strangers.
I spotted (and slurped) multiple cups of strong, crimson-hued tea while I was in Istanbul - no locations barred. I drank tea post-meals in restaurants, I drank tea while chatting with shopkeepers in their stores, I drank tea while cruising down the Bosphorus, I drank tea while I strolled around the city.
Ubiquitously served in delicate, tulip-shaped glasses Turkish tea is essentially strong black tea served with cubes of sugar on the side for those who are fond of a little bit of sweetness. Note that milk and sugar are not traditionally incorporated into these endless cups of tea that are consumed throughout the day and into the night.
Tea isn't just a drink but a way of life in Turkey. Hospitality, you say? Nay, hospitali-tea. Ba-dum-tshh.2. Simit
"If you like it then you should've put a ring on it!" Boy oh boy do Turks love their simit. The humble simit is all pervasive, perhaps the most popular Turkish street food. Omnipresent in little carts on the streets of Istanbul, simit gains its popularity from its lightness. It's a stop gap between meals and similar to tea, can be spotted in people's hands throughout the day.Simit is best when it comes from a freshly baked batch. When I think back to my own trysts with hot simit that has just been pulled recently out of the oven, food porn is truly the only way I can describe the feels.
Do I want to go on record deeming simit the Turkish bagel? Yes, but not because of taste. In fact, the two ring-shaped delights completely differ in texture with the simit boasting a crusty, sesame-coated shell which, once broken, reveals an airy inside - completely unlike the chewy bagel. However, while similarities between the two ring-shaped delights diverge at texture, they come together in their versatility. In the same way bagels have multiple permutations and combinations with stuffings, simit is the same. It can be devoured plain, it can be cut and layered with salad or white cheese for breakfast, it can be dipped into hummus for an evening snack, and it can even be toasted with jam and butter. Anything goes. And it's just so damn tasty.Oh, don't forget the tea.
3. Balık Ekmek
Balık ekmek, which literally translates to fish bread, is an Istanbul staple that cannot be missed. Around the Bosphorus, especially along the Galata Bridge and Karaköy neighbourhood, the streets (and river!) are lined with stalls and boats emblazoned with Balık Ekmek.
The fare is simple, cheap, and a foodie to do. Fresh mackerel is lightly grilled with herbs and slapped between bread along with colourful salad (ranging from the usual lettuce, onions, and tomatoes, to purple cabbage and parsley) and squirts of tangy lemon. Optional are the peppers and chilli sauce... For those who dare!
Local fishermen are a constant along the Galata Bridge but worry not, you won't be feasting on their catches of the day. The water near the Bridge is more than a little polluted but the husle bustle of the fish restaurants are quick to detract from the plastic bags floating in the water. Side note, one can also spot swarms of jellyfish right under the water's surface, which incidentally resemble plastic bags. Quite nice.Avoid the fish restaurants under the Bridge like the plague. Two words - tourist trap. Instead, spend some time walking around and find a stall brimming with locals. Make that your go to for a delicious balık ekmek that you will be sure to remember.
4. KokoreçThe faint hearted need to skip this one. Kokoreç is a Balkan/Anatolian dish made of lamb or goat intestines wrapped around offal, including hearts, lungs, and kidneys. Delish. So how exactly is this curious dish made? Let's find out.
The offal (and fat because mmmm, fat) is delicately seasoned with lemon, olive oil, salt, pepper, oregano, and other spices (optional) while the intestines are left to marinate in a mix of vinegar/lemon juice and water. The offal, which makes the filling, is wrapped with the intestine into compact rolls, horizontally skewered and then roasted over a charcoal grill for optimal flavour.I'd never even heard about kokoreç till I stumbled upon a street corner shop which sold just that. My friend described what it was to me in Turkish which I, with my beginner's Turkish, lapped up. Who doesn't love a new food challenge, right? Take a look at the beauty!
Kokoreç is again an immensely popular streetfood but unlike the simit, which holds universal appeal, kokoreç is indeed an acquired taste - not so much because of it's taste per se but because of it's ingredients. Offal is far from everyone's favourite go-to meal. It's important to eat kokoreç from somewhere that isn't dingy, simply because a lot of care is required during the cleaning and preparation process. Someone's gotta clean those intestines real good. That being said, whether sold from a cart or a shop, kokoreç has found its way into the hearts of many a person, even more so when hunger pangs begin at the end of a drunken night out. Real talk.
Kokoreç can be served in many different ways but the most noted method is inside bread for a quick, hearty meal on the go. Next time you're in Istanbul, do yourself a favour and try kokoreç, whether it's inside yarim ekmek (half bread) or çeyrek ekmek (quarter bread) as popularly sold. Wash it down with an ayran (a cold, whipped yogurt drink similar to lassi) and then order another!
5. Baklava

This is a dessert that needs no introduction nor much of a description. One of my fondest memories of my time in Istanbul (both in October 2010 and March 2012) is walking into a baklava shop in Sultanahmet, whose name I unfortunately do not remember, and walking out with a smattering of baklava, which I promptly went on to finish as I strolled around the city.
Variety is the spice of life and for die hard sweet tooths such as myself, baklavas are little pieces of heaven. Baklava can be found in a myriad of shapes and sizes with different fillings too. While I personally prefer the pistachio stuffed baklava over earthier (ahem, bitter-er) walnut insides, the one that you really need to look out for is chocolate baklava!
Yes, chocolate baklava! As they say, life is a little better with chocolate and life which chocolate baklava is basically the epitome of a good freakin' time. Life lesson.
Baklava, like anything else, must be done right. When superior ingredients aren't used, the entire baklava eating experience goes down the drain. What do I mean? When you bite into baklava, there should be:
A crackle and crunch, owing to its freshness. No crackle means old baklava. Boo.
A rich, buttery smell that transports you to paradise. A rich, buttery paradise.
Sweetness but not one that burns. There's no debating whether or not baklava is sweet (duh), but it should lack the artificial sweetness of sugar that stings. Instead, flavours of butter and honey should be paramount.
Turkey is famous for its honey and what you see above is just one of the many gorgeous shop windows with proud stacks of baklava displayed. A quick Google search uncovers some of Istanbul's best baklavas and where to find them. When you have a chance to explore the city, make it a mission to visit these haunts. You won't regret it.
To wrap up, Istanbul is a foodie's dream, with much to see and even more to eat. When you're in the city, ake your tastebuds on a glorious tour of centuries of cooking styles that have spawned across cultures and communities. You won't regret it. Afiyet olsun.
This post was originally published on Our Beautiful Days.
Frequent Searches Leading To This Page:-
Turkey Package Holidays From India, Turkey Honeymoon Package From India, Turkey Packages From Mumbai, Turkey Packages From Delhi, Turkey Trip Packages, Trip To Turkey From India