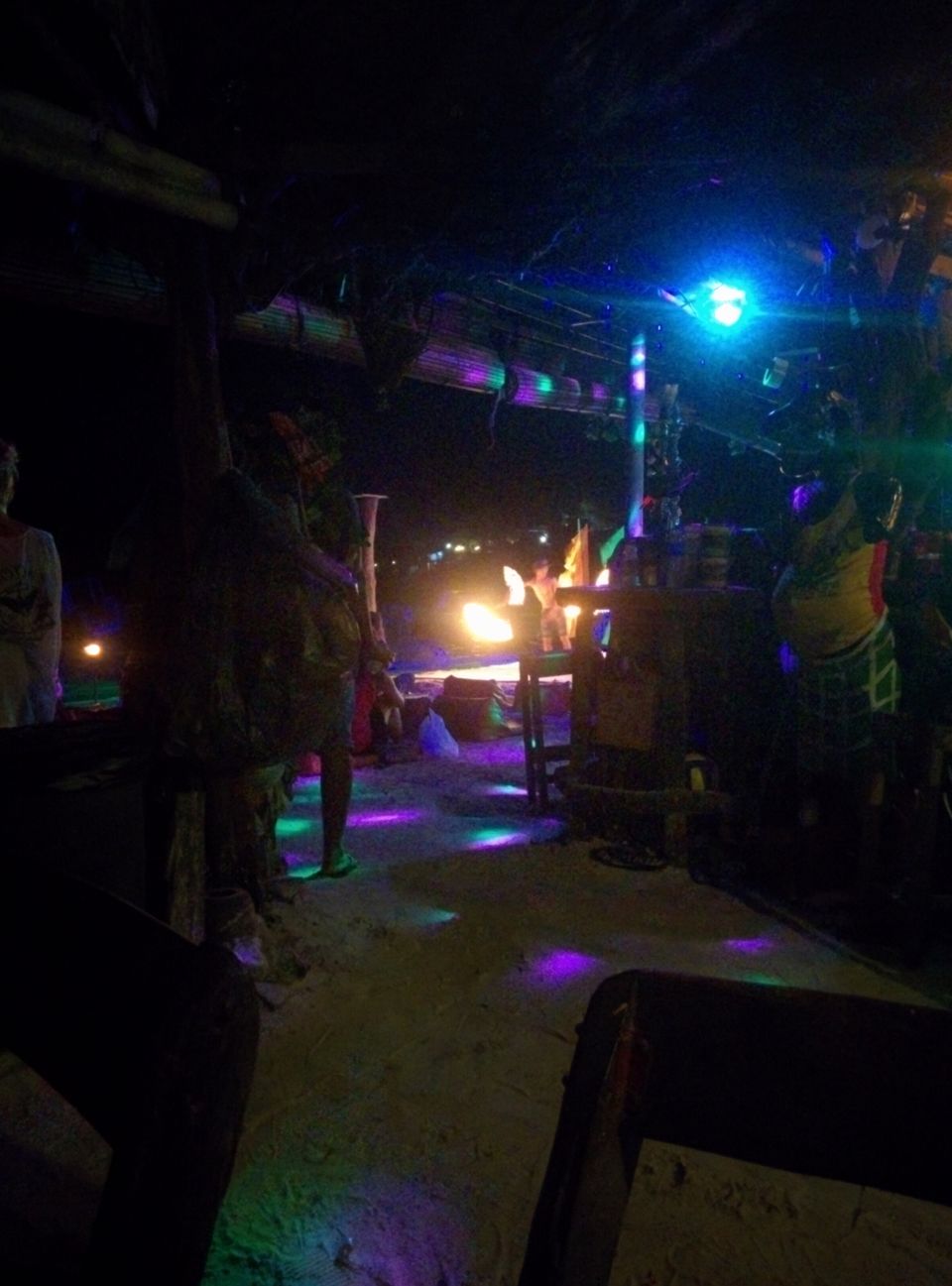 "Live it up, drink it down and party hard till you hit the ground".
I believe that there should be one drunk night in everybody's life which they should remember for a lifetime. Night where they should drink their guts out, tear the floor, do things which they can't when being sober and just let go off everything and enjoy to the core. I being lucky enough to have experienced one such night till date and I hope it's just the beginning.
It happened to me during my first solo backpack to Thailand. I was there at Koh phi phi Don Island and trust me it's the ultimate beach party destination. I reached there around 7PM and straight went to my hostel. Now as the sun was about to go down I hit the beach bar. There I met couple of Australian guys and we bonded over cricket while enjoying our beer. I don't exactly remember the number of beers I had during our whole conversation of about an hour but I guess it was around 3. By the time few other people from Australia, England joined us and the party started. They were absolutely strangers to me since I met them for the first time in my life but who cares when you have some alcohol in your belly and people to party along with. We all wanted to get drunk so we started playing drinking games. We started with "Never Have I Ever "and oh man listening to people's wildest fantasies and drinking to it was one crazy thing. It even landed me a chance to let out my craziest fantasies and to flirt around with the gorgeous girls present there. Few other games followed it and by the time it was 11PM I was a bit drunk as in it started feeling good. I was getting in the mood.
We moved to next bar where the crowd was going mad over local artist who were doing this limbo dance. I was mesmerized and excited since I was seeing something like this for the first time in my life. Limbo flame bar is supported by 2 vertical bars. People had to go under the bar with their face facing upwards and back facing the floor and with each round the bar is slightly lowered. That was something fun. The bar was offering free shots to the contestants and so this gave me another reason to do that limbo dance. Every time I went under the bar the only thing which was running in my mind was rum shot. It was around 12:30AM and stage was set to dance. I along with the people there started dancing. I bought myself a bucket of rum punch and took it to dance floor while dancing and drinking and then another round of rum punch went on and by the time I got totally high. Soon the crowd went mad as 2 lovely girls holding a banner came in middle and started showing that banner.
"2 free buckets for the guy who dance naked and to the lady who goes topless". This thing totally got on my nerves. Initially people got hesitated doing this but then there were couple of guys from Canada who were totally drunk and they went naked and started dancing. Limbo flame was bought on dance floor and they started crawling under it and suddenly crowd erupted wild and started cheering them. I don't know what got me inside and I bought one more bucket of rum punch and drank it bottoms up. I went to the dance floor, pulled out my clothes to the last and started dancing. I joined those guys and trust me I was quite wasted by then but still I remember the night of my life. I looked around for couple of seconds and saw people actually cheering me and enjoying it. I didn't grab such audience till date in my life and now here I was fully naked in some other country and dancing madly and people were cheering me. I was stunned.
I pulled myself and when I stepped down the dance floor people really appreciated me, girls hugged me and I put on my clothes and joined them on the dance floor. I danced with each and every person over there and they accepted me with their open arms. I can't forget that moment. Amidst of this a Punjabi couple came to me who were on their honeymoon and congratulated me for that act. Sardarji asked me what I wanted and I asked him if we could have some Punjabi song. Being Indian I love Punjabi music and feel of bhangra is just beyond imagination. To my surprise Sardarji knew the manager of the bar and he instantly arranged a Punjabi song. "Angrezi weed de" started playing and as soon as it got loud few other Indians came and joined us on the dance floor. In a different country with people from different parts of the globe I danced on Punjabi song and even taught those people Bhangra. That was one proud moment for me. People from all around the world are following my steps on dance floor and doing Bhangra with me is something I couldn't have imagined. After some time, English tracks started playing and we started grooving on them. I danced with almost each and every person out there.
Finally after getting exhausted I along with few others started wandering around the streets of that island in search for some food. It was around 3AM and I was starving to death. But as they say where there is a will there is a way and so finally we found a local street food vendor who was selling some lovely spring rolls. We quenched our hunger and since I was pretty exhausted by that time I decided to call it a day. I moved back to the hostel and only woke up in the morning to realize that another night here would be totally amazing and so I stayed there for one more day.
I can't forget that night for the rest of my life because it taught me that sometimes being reckless is a good thing. For once in some time you got to free yourself and let those emotions out. If you can't do it being sober then get drunk and let the alcohol do the work.