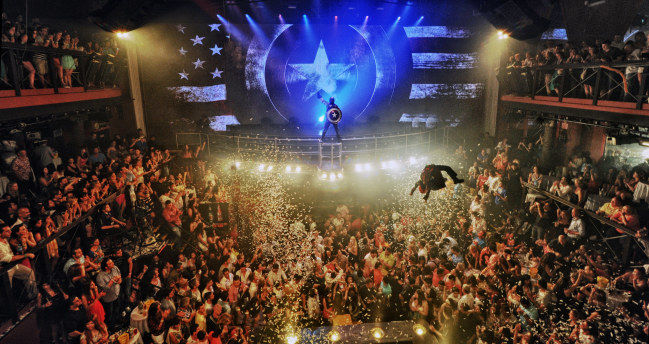 Think of a typical college spring break. What is the first destination that comes to mind?
Mexico, of course!
Cancun is the prime destination for a spring break vacay: it is known as the starter pack of wild raging college spring breaks for every undergrad. Though the ultimate aim is to party till you drop and feel fresh enough to start your day with mimosas again; this place has much more to offer. Other than the seemingly endless strip of bars and clubs, the city has a lot of things that could thrill the non-alcoholic in you. However, if it is spring break then why should the alcoholic in you take a break?

We stayed at Aloft Cancun, which was a 5 minute walk from the street where all the clubs were, aka party zone. And right behind our hotel was a little Mexican joint which became our go-to spot for tacos and margaritas. So after downing a drink each and devouring some tacos within the first two hours of us landing, we decided to find a good day party.
Now most hotels have wild day parties, so it's best to talk to your concierge and figure out the right one for you. We had friends at Grand Oasis who were making the most of the open bar by storming through free drinks, so we decided to stop by. The one-time entry fee inclusive of alcohol and food was $90, which sounded a bit steep. But oh was it worth it! For what you would pay at a bar, this place was definitely better. Pools with bars, pools without bars, beaches with bars and even a stand-alone bar next to the food counter. Each shelf packed with seemingly unlimited alcohol, all while having DJs playing the latest music in the background.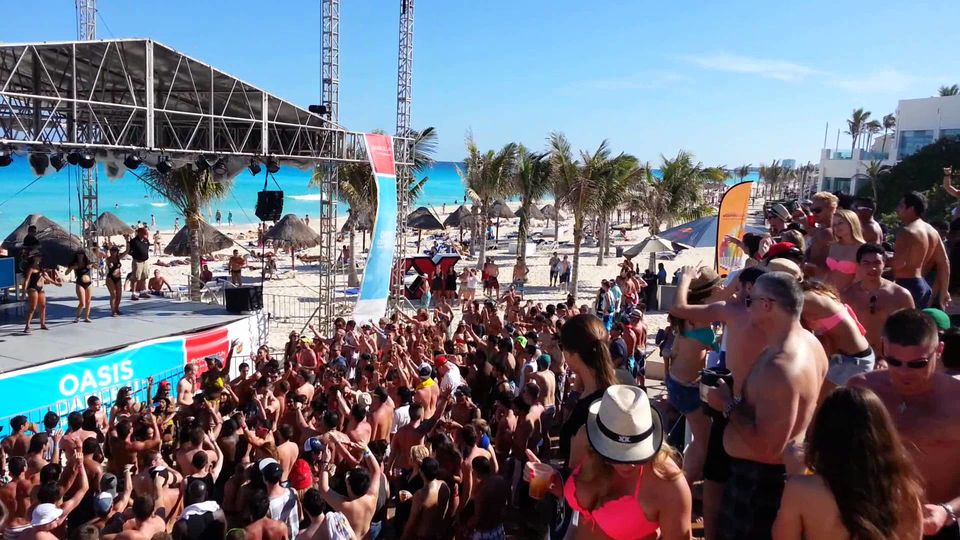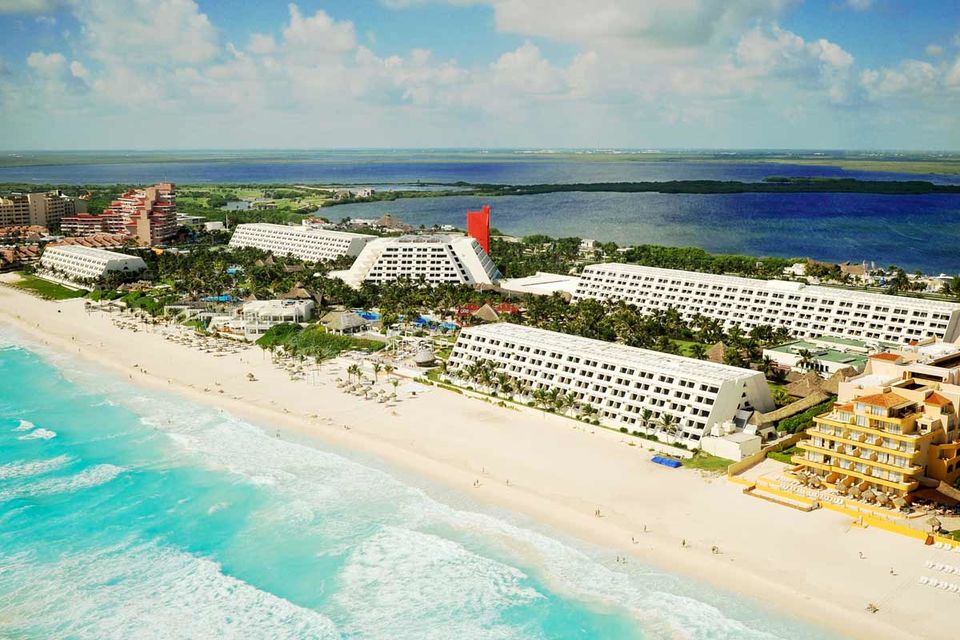 We left Grand Oasis pretty late in the evening and tried to make our way back to the hotel, in a boozy coma, smelling like the sea. We figured buses were the best option to travel: both cheap and convenient. And with Uber currently present but illegal in Cancun (our Uber driver from the airport told us to act like his friends in the car) we figured buses were the safest option as well.
After getting off at the spot nearest to our hotel, we decided to stroll around and explore the area. We discovered that we there was not only a Mexican food joint behind our hotel, but also a few strip clubs, several hookah bars, and quaint food emporiums. Following much exploration and a few creepy men, we finally decided to call it a night.
The first day involved a lot of alcohol so the next day we decided to diversify (but not much). We took a boat ride to the islands in the area, like Isla Mujeres. But this wasn't your typical boat ride. A so called "booze cruise", we could drink, dance and snorkel while exploring the area. There are a number of guides offering deals who you can contact: just be sure to negotiate in order to pull in all the best things possible. For instance, we got a private boat for the cruise despite paying the same price everyone else did for a shared boat. They also let us drive it around, so personalization and negotiation is key to a good budget spring break. My only regret from this day is that we didn't get to see Museo Subacuático de Arte, the aquatic museum.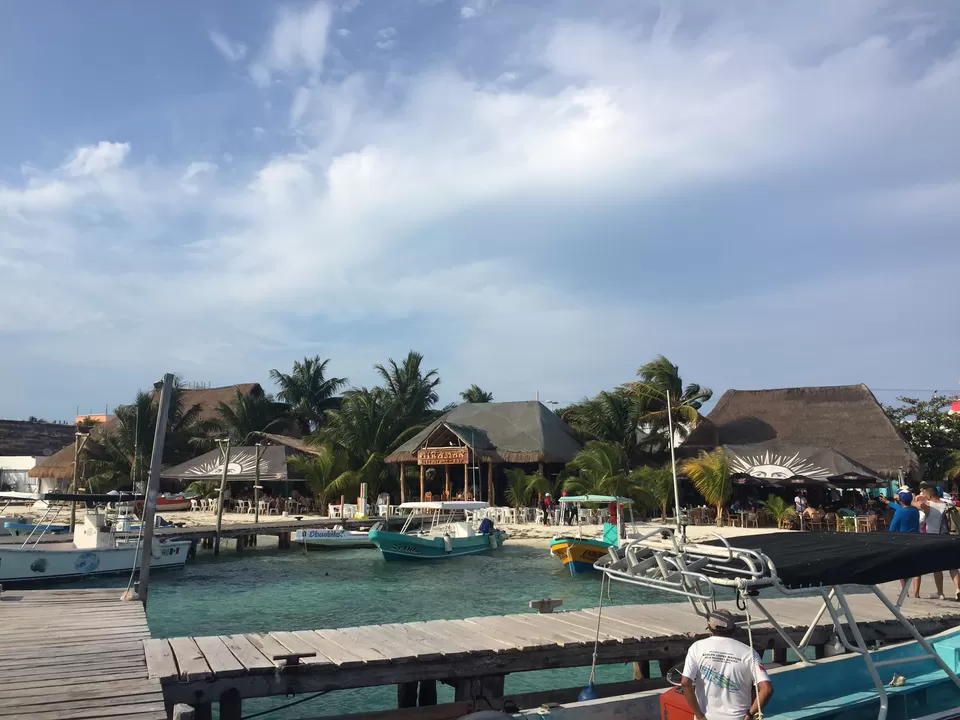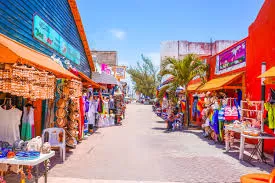 Second night in Cancun and sleep was the last thing on our minds. We got out on the streets where a million promoters were engulfing tourists by lashing out deep discounted prices for entering the clubs. You could get a band to enter all clubs, get one for each, get a table with alcohol or without or even just a general entry. You wouldn't know the best deals until you've grilled the promoters enough and they see that you are smarter than them. And because all the clubs are literally neighbors, you can always hop from one to another.
The first spot we hit was La Vaquita (The Little Cow). A club that is weirdly cow obsessed and has its interior and its waiters dressed like cows. The songs are mostly hip-hop but on the clubbing street, it is the best place to pregame. Their drinks are served in the ginormous glasses no matter what alcohol you choose. Once you finish that tower of a drink you are definitely tipsy enough to start the night and make irrational decisions. One of the guys on our adjacent our table pulled onto the teats of the waiter's cow costume and was immediately thrown out. I bet if we would have stayed longer we would have seen much worse, but a sinful foam party at The City awaited us.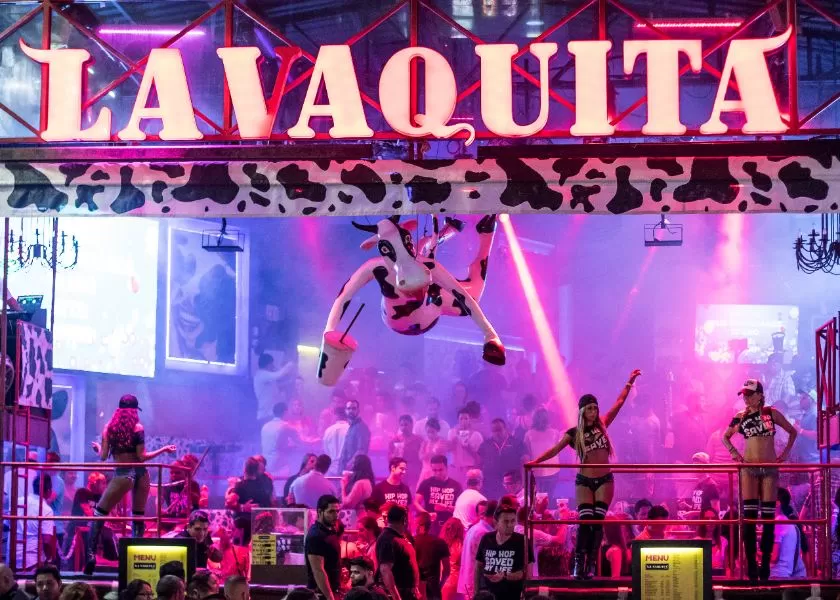 The foam party was definitely the highlight of my night. On the roof, there were two colossal beer cans almost the size of barrels pouring out foam all over the floor. The floor had two bars, one at each end, and a DJ in the front. We got a table before going in because we didn't know how crowded it would be inside. Usually when someone says foam party at midnight, not all grand images pop in your head. When we got to the tables, they gave us laser pointers. These weren't just for waving in your hand; they were also matchmakers. You could point at a guy or girl across the room and if they saw you and responded with their laser, you scoot onto the dance floor to meet each other. A floor which had oozes of bubbles formed in every corner giving each couple a perfect cover. Nonetheless, personally, I would recommend not paying the extra wad of cash for the table and just stepping onto the foam floor to fully enjoy the experience. (P.S. If you do end up going to The City for a foam night, which you most definitely should, carry a water pouch for your phones and wallets because it gets pretty wet.)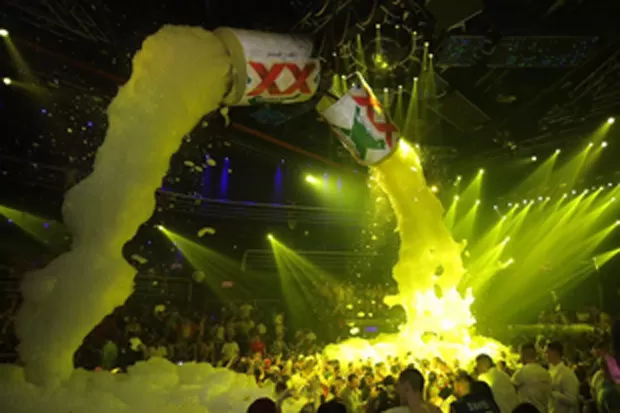 The third morning started with checking everyone's phone gallery to collect our thoughts from the previous night. After a bit of a vague image, we decided to first give priority to what we would do today and then piece the rest of the memory on the way. It was our last day in Cancun and we decided to go alcohol-free in the day so we could make the most of the night.
We got a tour of Tulum and our tour service picked and dropped us from the hotel, gave us a guided tour through the Mayan ruins, a taste of ethnicity at local food joints and showed us activities and festivities that the natives performed. Regardless of you being a history nerd, and regardless of it being a spring break, if you know this is the one time you'll visit Cancun I definitely recommend this. No vacation is complete without actually seeing what the city has to offer. And if you tell your Mexico story to any non-college student whether it's your parents or friends the first question they'll have is, "Did you visit Chichén Itzá?"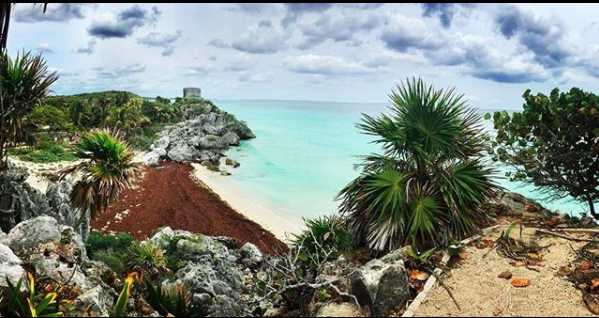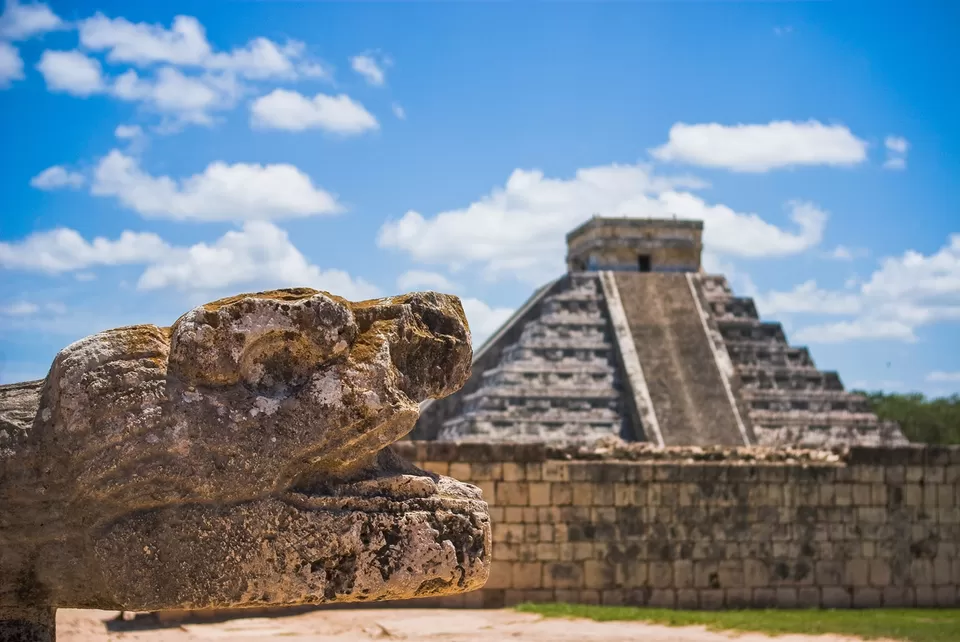 Tulum not only gave us an insight into the lives of early inhabitants but also allowed us to swallow the fresh aroma of the turquoise water that stretched far over the horizon. A moment of serenity that is hard to come by. However, this wasn't the only place. In our package, we had an added bonus of going to Cenote, a freshwater cave. It a pool of fresh water that stretches out deep inside and is built within a cave where tourists can go and swim. An experience that cannot be compared with any other.
For our last night, we decided to hit Cancun's hottest clubs: Coco Bongo and Mandala. That night DJ Snake was playing in The City as well so if you want to chart out your night plans according to who is performing you could do that as well. However, our philosophy was that we could see DJ Snake even at UMF but how could we experience these two clubs anywhere else?
Mandala was the first stop located between The City and Coco Bongo. I always recommend a table at your first stops for the night so that your friends can all get into the same mood. We had a bottle of vodka and rum for our table and after going through a decent amount of it, we thought about leaving. But as we stood up, they blasted Punjabi music onto the speakers. An omen of all kinds to stay till the beat dropped, which we did. So, after our little Punjabi soiree, we decided to bounce and hit Coco Bongo.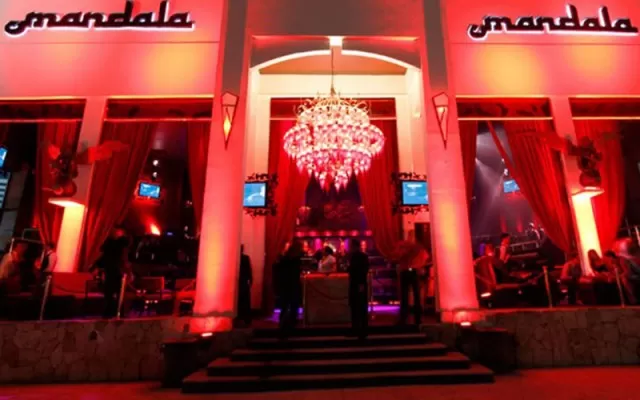 Coco Bongo is hands down Cancun's most unique club and should be left for the last if you don't want to mess up your expectations. One step in and you hear the music ranging from pop to old school to R&B. A look around and you notice lasers flashing all around and people being asked to jump on the bar and dance. A safe place is to be on the steps where you can see everything and not be ambushed by the crowd at the same time. The crowd at Coco Bongo is possibly its biggest con, but then what else do you expect out of Cancun's hottest club?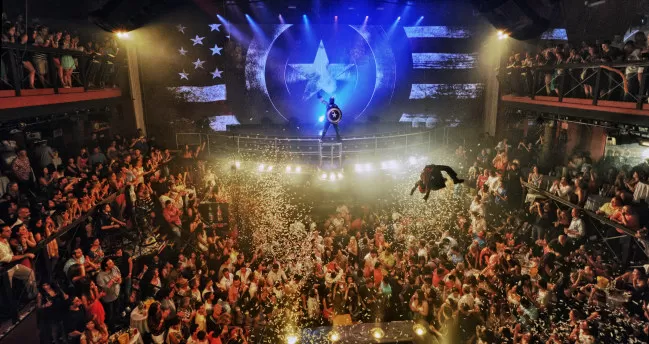 A club where Spiderman and acrobats fly, Power Rangers fight through laser swords and Michael Jackson and Pitbull impersonators light up the stage. Each act gives an edge to the place, and I advise you to hold your alcohol consumption during the night because if you go to pee you would not only miss out on the acts but most definitely not find your way back to your friends. Regardless, the club does highlight your night and gives a perfect ending to it with the staff finally taking over the stage and performing the dance of YMCA with the entire crowd of the club. Now, what gets better than that?