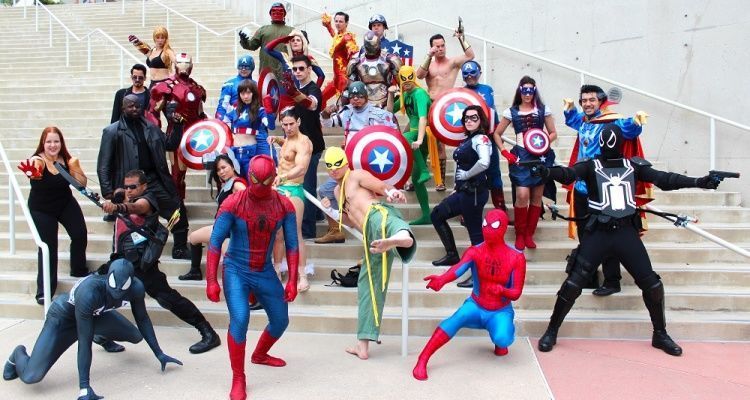 It's been a couple of weeks now since the last Marvel promo released and I am still trying to get over the hangover of watching my favourite superheroes come together. Fighting with imaginary characters and winning over powerful villains isn't just a fantasy for kids anymore. Adults all over the world go crazy over the possibility of revisiting their childhood dreams. While a visit to the Stark Tower or Asgard isn't really possible, there are destinations that come quite close to reliving this experience. Here is a list of some of my favourite superhero destinations around the world.
1.Universal Studios Islands of Adventure
This Florida theme park is a dream come true for all superhero fans. From character inspired rides to shopping for souvenirs and action figures and amazing restaurants, this one needs to be on top of your list. The attractions here include their most popular Incredible Hulk roller coaster ride which moves at 40 mph and the 3D inspired Amazing Adventures of Spider-man which has a lot of web slinging stimulating action. These are just the start though as the rides here take you through various levels of experience depending on your interest. Superhero characters can also be seen roaming around the park for you to take plenty of pictures!
2.Madame Tussauds
Similar to the New York one, Madame Tussauds,London offers you the chance to get close to your superheroes. Whether it's hanging from the ceiling with Spider-Man or standing alongside the other avengers like Iron Man and Captain America, you can do it all here. A major crowd puller here is the realistic 4D Marvel movie which has a lot of special effects guaranteed to amaze you.
3. Superhero Walking Tour
Most of the Marvel or other superhero movies have been shot extensively in New York and this gives you an opportunity to check out some of the iconic places that have been a part of these movies. From film shoot locations to historical landmarks such as the Grand Central Station or even the Marvel Enterprise Headquarters, this two-hour walking guided tour takes you through an exciting journey. Tour guides share behind the scene stories and trivia related to the movies which make it a must visit on your tour to the city!
4. Hall of Superhero Museum
This is a perfect option for all the bibliophiles. This Superhero museum is the only superhero and comic book museum in the world to have a collection of comics dating from 80 years back till date. With replicas from various movie sets and even a chance to see the original shield from Captain America, this is one of the best places to be. It also includes several of the first rare Marvel comics and several rare tin toys from the early 1900's. It also holds popular events on a regular basis for it's huge follower base.
5. Toy & Action Figure Museum
In early 2000, as a part of a citywide process, the local citizens came together to add a lot of new attractions to the city which would add value in the coming years. A part of this process was to start world's first museum dedicated to the art and sculpting of action figures. With the help of a local artist , they finally launched this in 2005 , and since then have witnessed a huge success with the ever growing popularity each year. You can see these superheroes all over the premise in combat mode or as a part of scavenger hunts which are popular with the visitors. With possibly every superhero that you can think of , this one is every superhero fan's dream place to visit.
Have you been to any of these places yet? Write about it on Tripoto.
Check out videos and more on Tripoto's YouTube page!