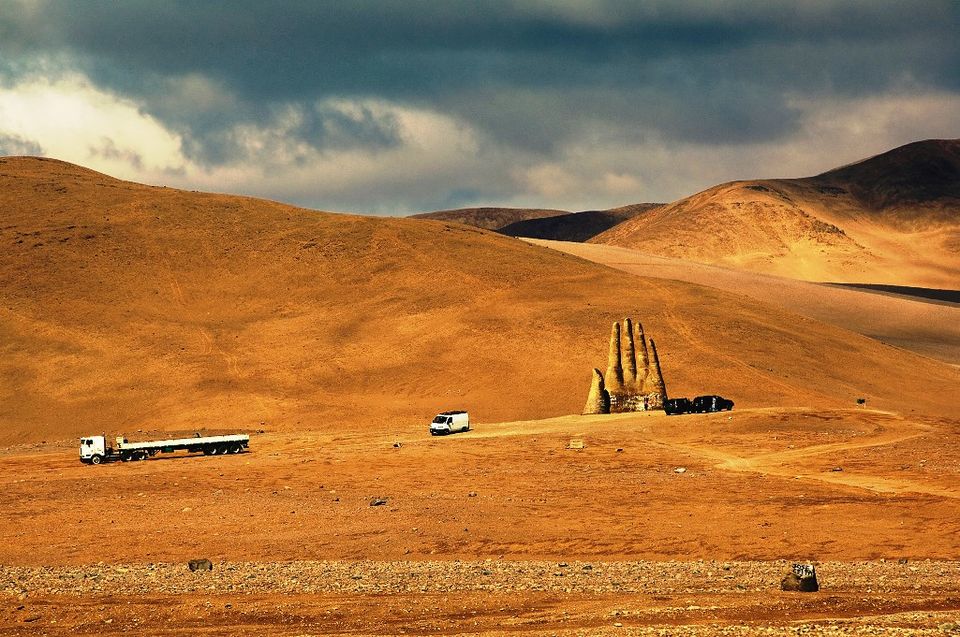 Spread across 1000km along the Pacific coastline, the Atacama Desert is the driest place in the world. However, there is one thing that might draw you towards this arid region with extreme climate. 75km from Antofagasta lies a giant human-shaped hand. Standing right in the middle of the desert with no sign of civilisation nearby, this hand is a refreshing break on the Pan-American Highway.
Mano del Desierto- "The Hand of the Desert"
The giant hand structure stands 11m out of sand right in the middle of a desert. Built by Chile's Mario Irarrázabal in the 1980s, the extravagant build of this human hand symbolises a man's vulnerability. The concrete structure of the hand has a base of iron.
The story behind the Giant Hand
In the 1980s the local booster organisation called Corporación Pro Antofagasta sponsored Mano del Desierto to break the monotony of the Atacama Desert. Inaugurated on 28th March 1992, the giant hand was unveiled and has since remained an attractive point for travellers and tourists.
The unique location and design of the hand not only attracts curious tourists but has also made it spot for creative graffiti. Therefore, every year the local community organise hand scrubs two times.
Man Emerging to Life
The sculptor behind Mano del Desierto is also the man behind the Man Emerging to Life built in Punta del Este, a city in Uruguay. It is locally known as the Monument to the Drowned or The Hand.
Have you visited Mano del Desierto already? If yes, share your travel experience with us here. Also, subscribe to Tripoto's Youtube channel for more travel ideas.