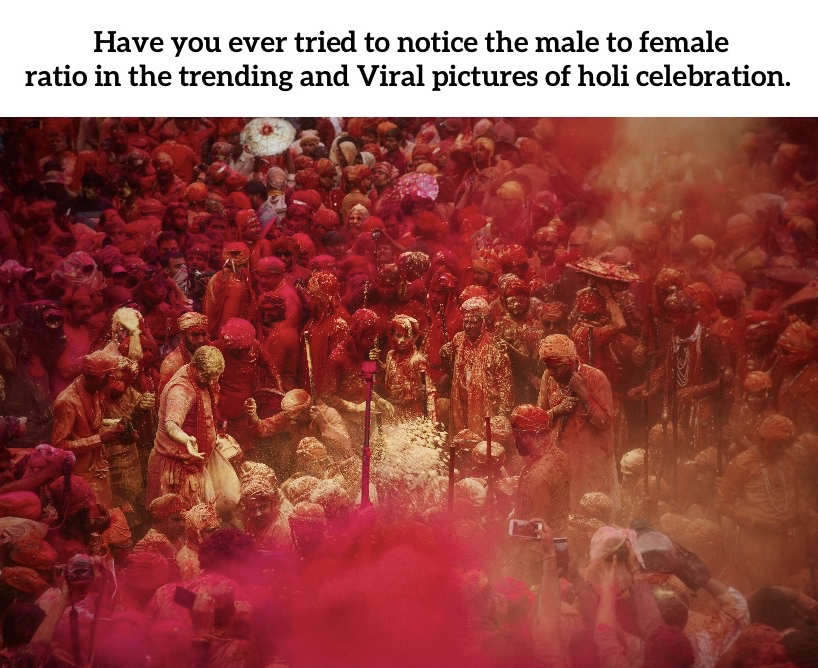 We all adore Holi ..especially Mathura ki 7 days holi celebration is quite famous which the world looks out for.
Beautiful Colors, People dancing and enjoying themselves !!
Vibrant Shots of People Covered in All Colors :)
But Have you ever tried to notice the male to female ratio in the trending and Virat pictures of holi celebration.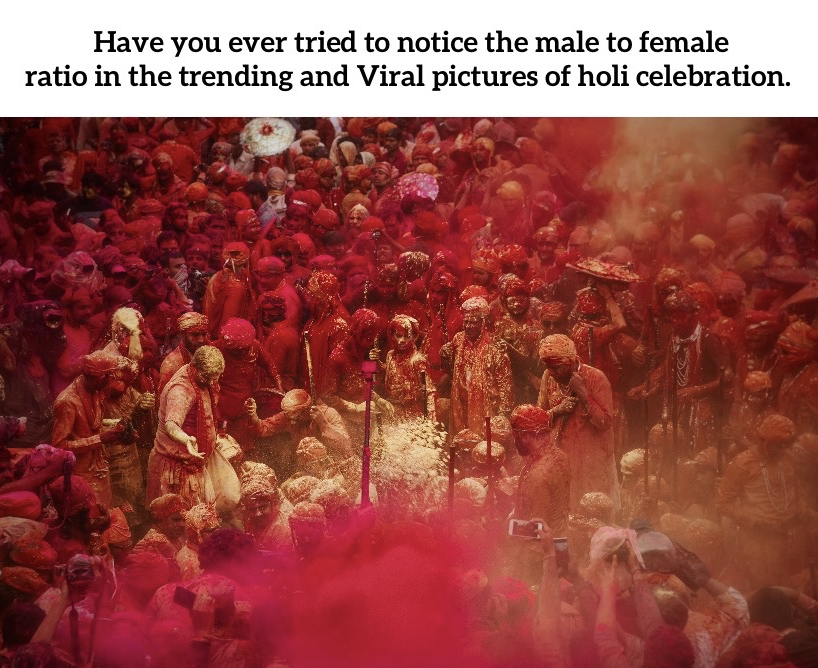 What is it for women to experience the same world famous Holi?
For me, along with those bright rosy colors, I also saw the dirty black truth of our society.
Holi Celebration and Being in a crowded places doesn't give you any right to scan us top to bottom from your eyes, pass idiotic comment on us , that unwelcomes & unwanted touch on my body and groping for worst.Attending the world famous LathMaar Holi in NandGaon and Barsana, was looking like the event that gave men all the power to harass women over there(Eve teasing is too small a word for that).
We were 5 girls attending this festival. As soon as we started to approach the temple premises for the celebration , We started to enjoy less and worried more about each other's safety. We were holding hands all the time to make sure, we all are together and safe in this uncontrolled crowd where anyone could come to you and put colors on you just because you are women in the middle of this madness.
Now you say - didn't you know it would be a crowded fest? Why did you go then?
As a female solo traveler for the last 3 years, I have been in crowded places before and I am very much aware of the struggles with that.But being a woman, we also very well understand the difference between the general push from the crowd and the inappropriate push/touch that was targeted towards you, just because you are a girl.
Wherever you walk, almost all people will make sure to throw those colors at you ..targeting your face or breasts. And You dare to say "Bura na Mano, holi hai". What made you think you have the right to harass and insult women just because it's crowded and it's a festival? I would strongly say "Bura Mano, kunki Holi Hai" . We wanted to enjoy this festival rather than go into this panic mode.
Another incident happened at Nandbaba Temple Terrace. People around us (all men obviously) asked us to move from there just because they were irritated by the continuous shots of Colors at us and wanted to avoid that. Whoa, is this the society we are part of, where victims are asked to change their attitude every time, rather than the offender ?
So,Yeah, I am saying big NO to these holi gatherings because it will take a long time for people to change their attitude and I definitely can't Be part of this.
PS: This is not a defame post for any festival or location. Just adding some more highlights and information on these festivities. I hope this will help my fellow women traveler to plan their Holi trip properly and may be some input for the other half to change their attitudes.