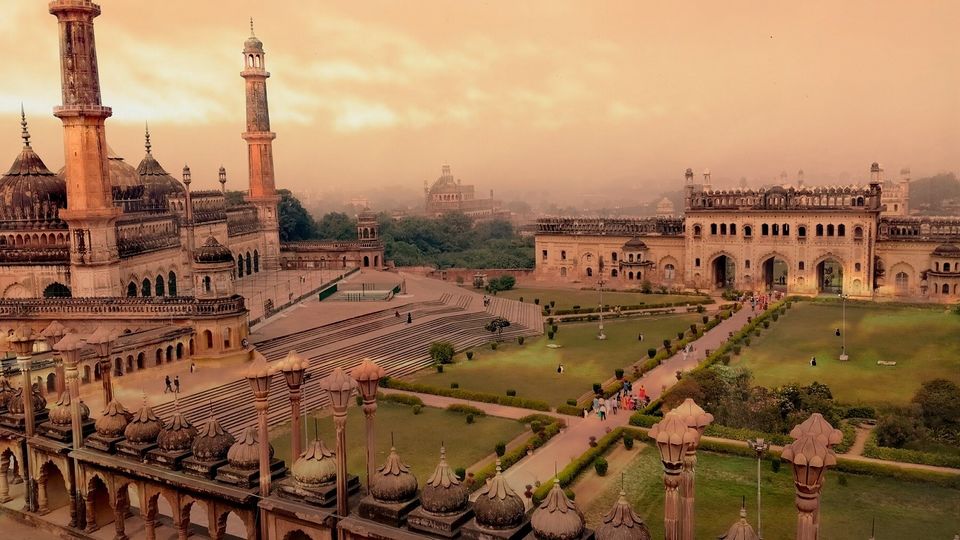 Bara Imambara the acclaimed largest unsupported structure, the realm of sealed-mystery, Prestige of the Mugal Crown and a many more synonyms to add.
Welcome to the monumental trademark of the city of Nawabs - Lucknow.
This is a beautifully designed mugal architectural monument and perfect example of the unparallel Mugal Architecture and Engineering.
The complex was one of the dream project of the 4th Nawab of Lucknow - Asaf-ud-daula, it includes several other structures build simultaneously or later including, the famous Bhool bhulaiya, Shahi Bouli, Ashifi Masjid.
I particularly believe.. It has myths more than hairs on a normal person's head. IT is said it has blocked passeges and tunnelways which leads to many far off locations from the complex including the side of the gomti river that's the major river of the city and a tributary of the Ganges(गंगा),it also said that these passages also leads to nearby districts/Town/cities.. Like Faizabad, Agra, Ayodhya, Prayagraj (earlier Allahabad) and even The indian capital city of Delhi. THese passages were secretly built for hiding or escaping of the Royal family and others during events like war and attacks, but later these were sealed as many people reported missing from the places.
There is a balcony legends too, the main entrance of the complex leads you to a hall that has a typical balcony like structure upside throughout said to he a seating for the women of the royal family and other people, who can see the hall activities., hearing, procedures etc from the top without themselves being revealed., now the hall is of a humongous size and there is a large gap between the two parallel walls, yet if you fire a matchstick near the walls on one side, you can hear the Crisp-and-Clear sound of the same on the other side, this actually feels magical when you experience it personally.
Overall, if you are in the city and wishing to have a tour.. This is the must visit place for you.
RECOMMENDATIONS - Prefer winter times for your visit, In Summers have sensibly light clothes as you will sweat even on the less hotter days as you have to walk a lot and inside it gets even more moist.
The Authorities will ask you to remove your shoes and shocks, as it is basically a mosque.. So keep that in mind.
There is a cloak room for keeping your bags, helmets etc.
Hope, you enjoy your visit there!